When Is the Best Time
The orcas usually approach the bay to rub against the pebbled beach in shallow water close to the shoreline, in as little as 1.8 m (6 feet) of water. At high tide, the orcas get very close to the beach. The best daytime is usually the calmer morning with a smooth surface making it easier to witness this unique behaviour. Therefore, avoid windy days.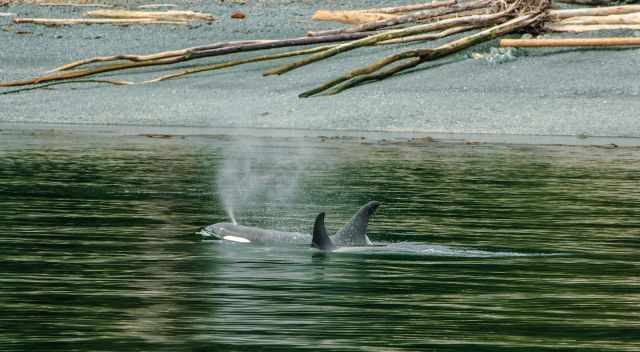 The chance to spot them increases if you stay overnight at Bere Point Regional Park campground. Select an ocean view site at this excellently located campground. It is serviced during summer only. In winter, stay in a lodge like the Ocean Front Hotel and witness this unique behaviour during the day. In mid-November 2021, there was a huge pod rubbing at the beach.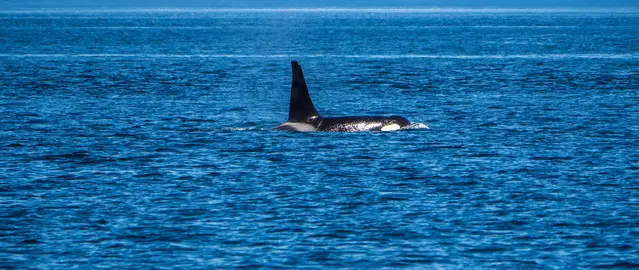 In the evening, we spotted humpback whales; in the morning, we heard orcas rubbing on the pebbles. This rubbing ritual lasts from 15 minutes until 2 hours sometimes. Four different types of orcas occur here around Vancouver Island.
Where is the Orca Rubbing Beach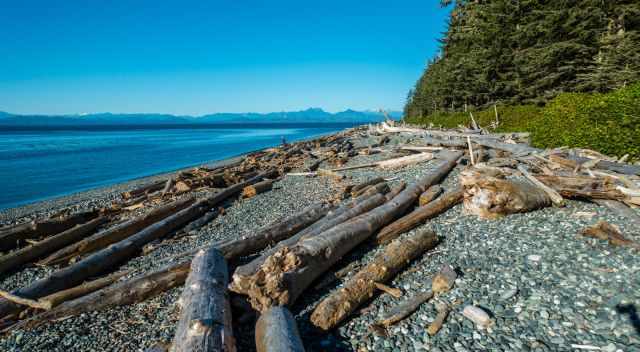 The so-called Orca Rubbing beach is located at Bere Point Beach on Malcolm Island, north-northwest of Vancouver Island. This specific beach is made up of millions of small smooth pebbles covering a long, wide gradual slope and perfect conditions for orcas to rub themselves up against without harm.
| | |
| --- | --- |
| | As an alternative to a mapping app or for planning, we recommend the National Geographic's Trails Illustrated map of Vancouver Island. The map delivers unmatched detail and valuable information to assist you in your exploration of this remote and colourful wilderness. It is printed on durable synthetic paper, making them waterproof, tear-resistant and tough. |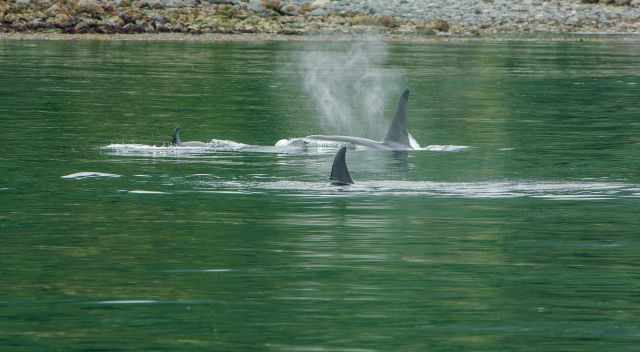 To get the best experience and cause no disturbance to the whales, simply sit down, remain quiet, and watch the wonder happen. 
3 Orca Rubbing Beaches in the North of Vancouver Island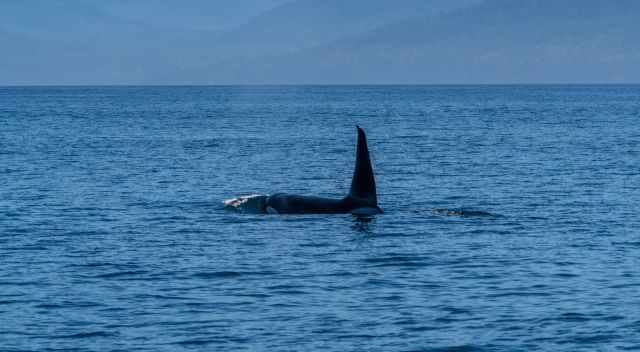 There are three beaches north of Vancouver Island where you can spot orcas rubbing their bellies. The most convenient to get to is Malcolm Island by ferry.
Orca Rubbing Beach and Bere Point Campsite are best accessible by car and ferry on Malcolm Island; Location Google Maps
The same orca behaviour can be seen at Hanson Island. If you cannot make it to the island, check out the webcam - consider the time difference between your location and Vancouver Island. However, to experience orcas rubbing in this outstanding nature is simply unique.
Another famous location and often mentioned is Strider Beach in the Robson Bight Ecological Reserve. Amazing video of the rubbing behaviour. Getting here is almost impossible best by boat.
Why Do Orcas Rub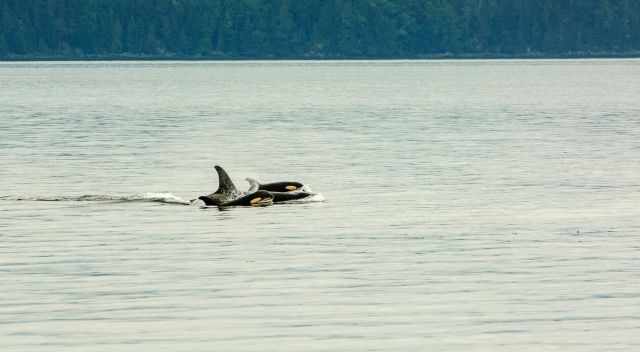 The rubbing orcas are the northern residents only. It is still unknown where the behaviour comes from. Is it a form of socializing or getting rid of parasites? The accepted hypothesis why these whales rub on these specific beaches is that it's a cultural behaviour for the Northern Resident Community of Orcas. It is passed from one generation to the next. The Orca move their bodies against the pebbles on the beach. They are often rolling upside down, rubbing them along it. All four orcas species have their "own language". They don't communicate or interbreed with each other.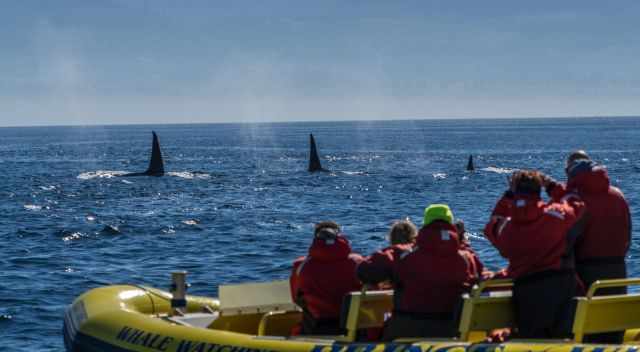 If you like to know more about the orcas and other occurring whales around Vancouver Island, check my Vancouver Island Whale Watching article.
Orcas Classification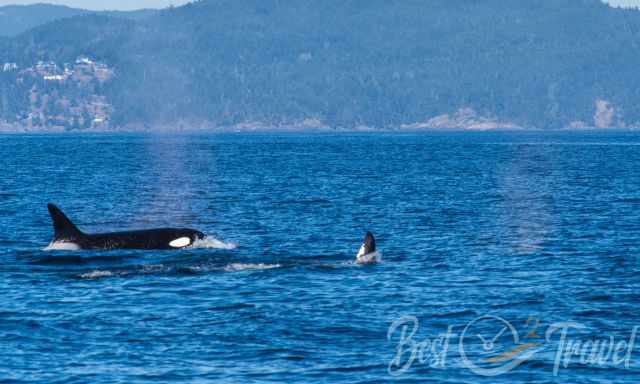 Resident and transient orcas occur around Vancouver Island. They are identified by their dorsal fin, and the markings - saddle patches - behind the dorsal fin and all of them got a name. It is most likely to spot transient orcas types A and B and resident orcas.
Type A: These are the largest killer whales with a size of almost 10 meters because of their diet of large prey like minke whales.
Type B: There are two types of B killer whales - bigger feeding on prey like seals - smaller feeding on penguins and fish.
Type C: Also called Ross Sea Orcas, mainly found in Antarctica in the Ross Sea - smaller in size up to 6 meters.
How to Get to Ora Rubbing Beach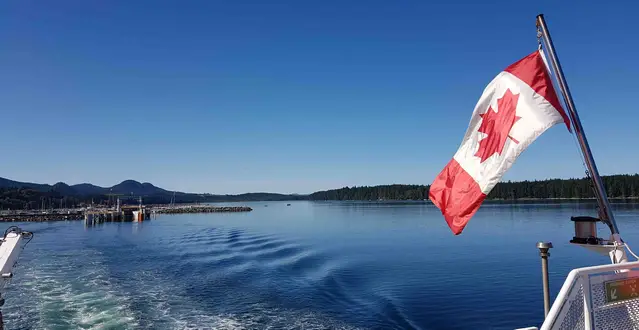 Take the BC Ferry to Malcolm Island; the ferry at Port McNeil departs year around several times to Sointula, the main town on Malcolm Island. The trip takes about half an hour and costs around 55 CAD (car + 2 people)
If you want to leave the Island, you should arrive early at the ferry terminal because the space for cars is limited. To get the early morning ferry at 7:55 am is almost impossible because many people park their car in the queue the evening before. During the summer months, BC Ferries uses a small ferry (~25 cars) compared to the wintertime when a larger ferry (~40 cars) is used. This makes the situation even worse.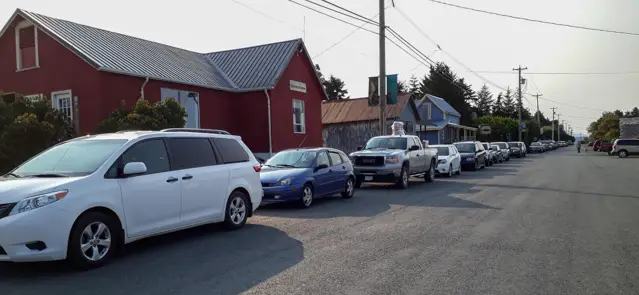 | | |
| --- | --- |
| | If you are looking to explore more, I highly recommend the new 2022 release of the Lonely Planet Vancouver & Victoria Travel Guide. This comprehensive guide covers all the region has to offer, with recommendations for both popular and lesser-known experiences. |
Weather and Season Details
The precipitation on Vancouver Island's east coast is just 700-800 mm per year. In contrast, the island's west coast is exposed to moisture-packed winds blowing from the Pacific Ocean and receives plenty of precipitation from October to March. Summers are, in general, relatively dry.
Spring (April-June)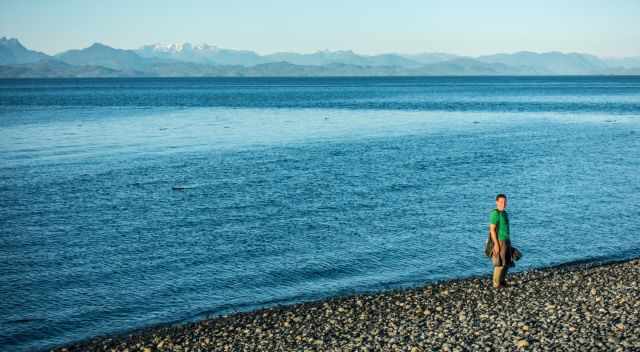 Spring is always a great time to visit Vancouver Island. Daily temperatures range from 11-15 ºC. It's a great time for wildlife viewing. The Pacify grey whales are on their route to Alaska, Grizzly and black bears finish their hibernation looking for food along the shoreline.
Summer (July-mid-September)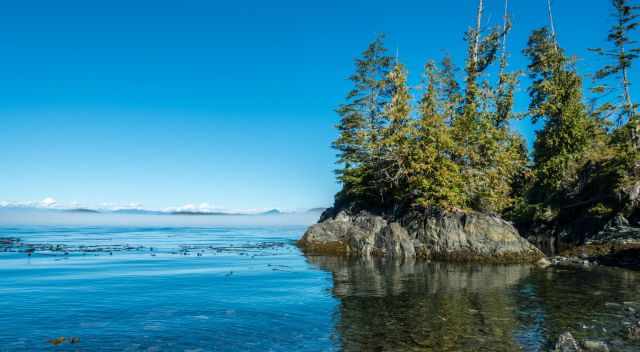 From June through September, Vancouver Island is typically sunny and mild, the temperature at Malcolm Island ranges from 15-17°C but can occasionally reach 25°C.
Autumn (late September-October)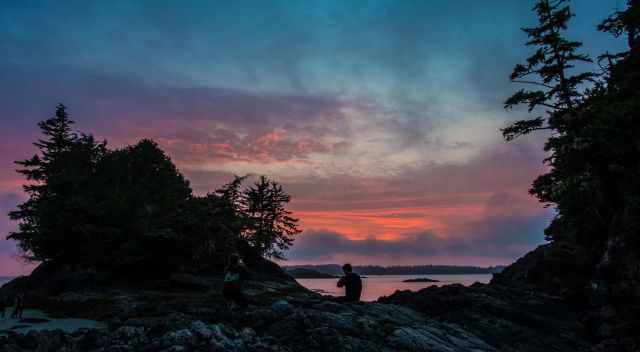 In fall, you may experience fog, especially in the morning, which could last until mid-day or even afternoon. The temperature is, on average, around 12°C during the day.
Winter (November-March)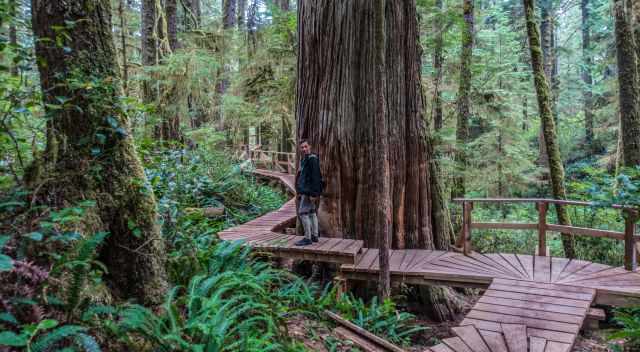 Vancouver Island enjoys a moderate and mild winter in most regions. Therefore outdoor activities such as fishing and hiking in the south-coastal areas are possible, even in January.  
Accommodation Tip
There are only a few possibilities to stay overnight on Malcolm Island. You can either camp or stay in one of the view guesthouses. The chance to spot the rubbing orcas increases if you overnight at Bere Point Regional Park campground and select an ocean view site. Our favourite guesthouse is the Ocean Front Hotel. The view from your room and patio to the sea is spectacular. Request a room with a fireplace. Check out the high tide and spend some time at the orca rubbing beach at this specific time.
Camping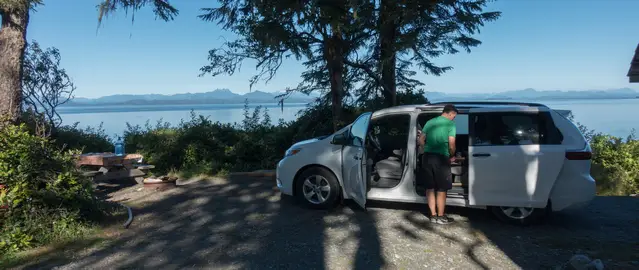 Bere Point Regional Park is about 6 km out of Sointula, where the ferry arrives. You must pass Solintula and drive kilometres on a gravel road. It offers 27 campsites, with 11 offering a stunning view across Queen Charlotte Strait. It is directly located close to the Beautiful Beach, which can be hiked via the Beautiful Bay Trail.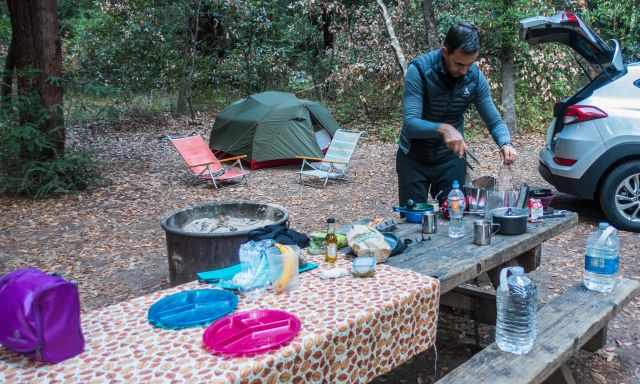 The campground doesn't provide power and has pit toilets only. You need to bring adequate drinking water. The campground is serviced during summer only. Another option is the Harmony Shores Campground.
Public showers, washrooms, laundry facilities, and water are available at Rough Bay harbour, which you pass when driving to Bere Point. Although the oceanfront sites cost 4 CAD more, it's worth getting one of them. You should choose site 1-11 or A-E. Reservation campground Bere Point
There are several lovely picnic day-use areas at Bere Point for public use if you can't stay overnight.
Which Camera Do I Use?
Most of my shots were taken with my Olympus OM-D EM 10 Mirrorless Micro-Four-Thirds camera. I love it so much because it's not too big for my hands and I can carry it easily everywhere. The wonderful EVF is extremely bright and works perfect outdoors. I never go without my camera.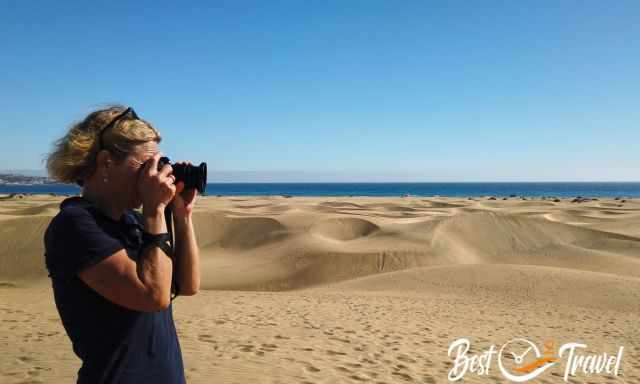 I use a Mark II and Mark III, but my next one will be the OM-D E-M5 because the body is splashproof, dustproof, and freezeproof and provides better image stabilization. Especially during rain, in the rain forest or close to a waterfall, it is sometimes impossible to use the camera. During our road Trip through Utah and Arizona I had issues with the strong wind and the sand. I had to clean my camera daily.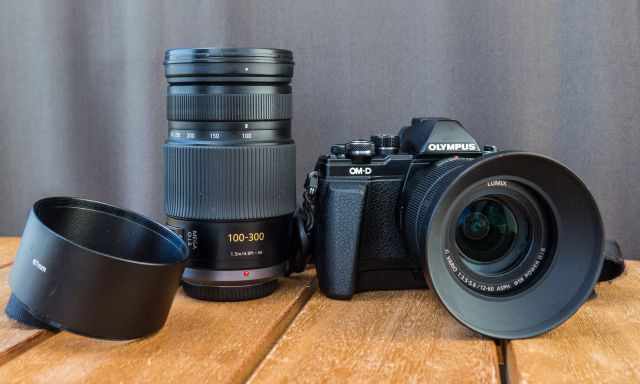 My day-to-day lens is a Panasonic Lumix G Vario 12-60 mm. The Micro-Four-Thirds Sensor makes it easy to use Panasonic Lumix G Vario 100-300 mm, which is equal to a 200-600mm lens for an APS-C Camera for shooting long range.
Location and Tips
British Columbia, Malcolm Island
Canada

Spotting the orca rubbing behaviour or seeing whales offshore is a memorable experience. You may see humpback whales swimming close to the shoreline and listen to breathing orcas enjoying the pebbled beach.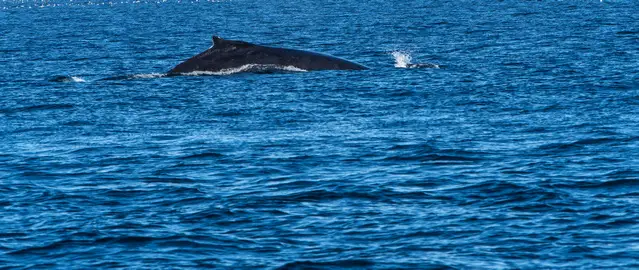 We hiked in the Bere Point Regional Park through the old rainforest and along the beach several times and spotted different whales.
Besides the orca's, eagles, dolphins, porpoise, sea lions, and humpback whales frequent the area. What a fantastic spot where you can see all this on your own.
Facts About the 4 Orca Populations in BC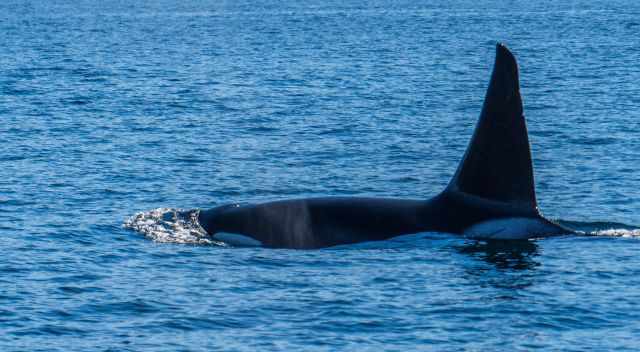 The orca is a toothed whale belonging to the oceanic dolphin family, of which it is the largest member. You can distinguish between four main types, the northern and southern residents, the transient  (also called Bigg's), and the offshore whales. Although all belong to the same species, their social behaviour, diet, and look are different.
Northern Resident Orcas can be found from Alaska to the coast of BC (British Columbia). They are salmon specialists, and chinook salmon make up the majority of their diet year-round. These whales rely on echolocation to find their prey. They follow the annual salmon migration and are the only orca community that rubs on the British Columbia coast.
Southern Resident Orcas can be found from Central Vancouver Island to Puget Sound (Washington State). They are also fish eaters.
Transient Orcas or Killer Whales live along the west coast of North America, from California to Alaska. They are mammal-eaters specializing in marine mammals such as seals, sea lions, porpoises, dolphins, and sometimes calves or youngsters of grey whales and humpback whales. That's why they are called "Killer Whale" and "Biggs".
Offshore Orcas live in the northeast Pacific and feed primarily from schooling fish.
 
| | |
| --- | --- |
| | If you want to know more details about the orcas, I recommend the Handbook of Whales, Dolphins, and Porpoises of the World. It is the most comprehensive and up-to-date guide to these fascinating mammals. I personally love the facts about behaviour, life history, and conservation. |
Facts About Malcolm Island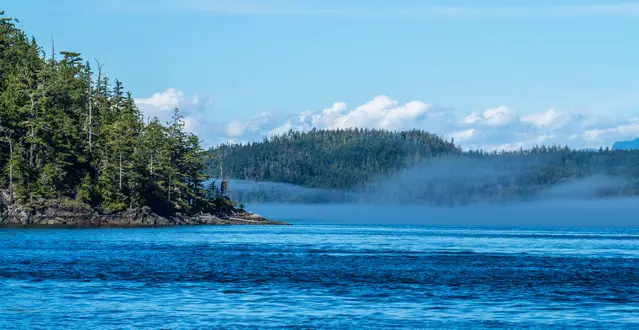 "Malcolm Island is a place where humans go to create lasting memories." Situated off the northeast shore of Vancouver Island, you will find this hidden gem. It's relatively small in size (24 km (14 miles) long and 3 km (1.8 miles ) wide at its narrowest point. But Malcolm Island offers breathtaking scenery, tranquillity, great outdoor experiences, many wildlife viewing opportunities, and fascinating history.
Top Tip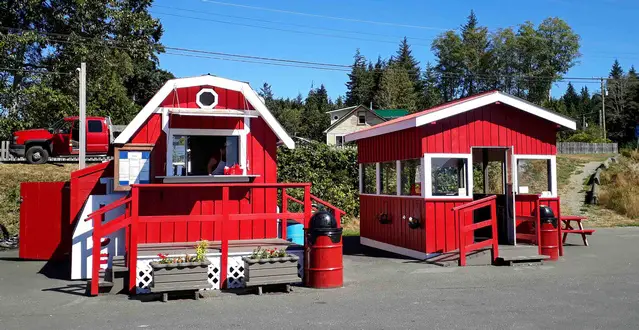 If you get hungry, don't miss the Burger Barn at the Marina; it opens seasonally from Thursday to Monday. They offer fresh local seafood burgers with fries and homemade coleslaw.

The Co-Op store is closed on Sundays and Mondays, but you may get what you need at the Co-Op Gas Station which is open daily.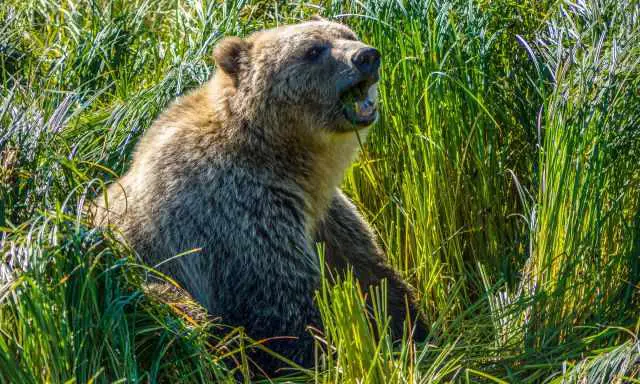 Don't miss out on the grizzly bears in the Knight Inlet nearby.
I took most of the pictures; a few are by my friend and photographer Chris. Do you want to obtain the usage right for my images? Contact me, but we will take action against picture theft.