Join us on our trip through the Southwest from Las Vegas to the Valley of Fire, Utah, and Arizona this June and July 2022. Finally, after two odd years, going again on an adventurous camping trip. We are so excited. You may think June is not the perfect time for this area, and you are right, but if you get three exciting permits, you don't care about the best time.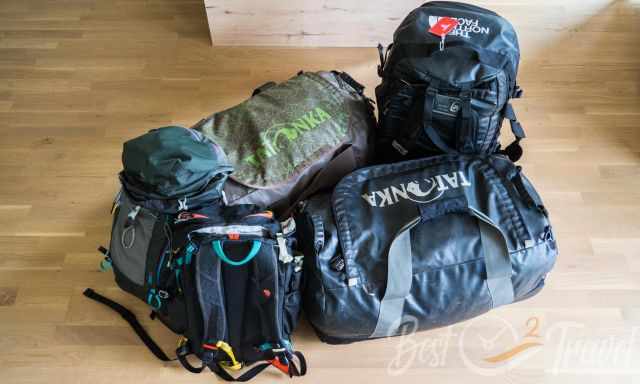 Most important for this journey is to beat the heat, get up at dawn and finish the hikes by midday. There are more tricks in my additional article all checked out during our trip. How to Beat the Heat
5 Planning Tips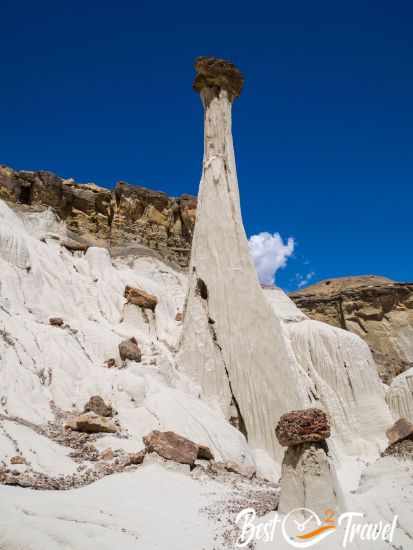 Planning such a trip took me months because I usually try to avoid the crowds and dig deep to find such unknown places. However, they still exist especially in the Grand Staircase Escalante National Monument, which we mainly focused on.
I joined different Facebook Groups to find those places but also for the best preparation. Follow the groups to get ideas and ask questions. These guys, often locals, are helpful giving mostly good advice. 
Are you travelling on a budget? For us from Europe, the hotel prices are far above our imagination, from $600 to 800 for three nights most of the time. The cheapest alternative is camping, for example, four nights at Mather Campground for $78, which is incredible for such a spectacular location in the Grand Canyon Village.
So, how to get such great spots for camping? I highly recommend booking your campsites three better four months in advance, and you can choose where to sleep and stargaze at night. If you have only one month left, the campgrounds are either fully booked, or the worst sites next to the restrooms are left. 
Have you ever heard of BLM? This is the Bureau of Land Management for public land. Now comes what I like most in the US; it is permitted to camp on these spots spread around the US for free and are mainly remotely located. However, do not leave any trash, including your poop, in the wilderness. 
What really matters for the future of this breathtaking landscape is don't destroy untouched areas. Pitch your tent or stay in your car where others had been before. Be aware that there aren't organisms in the dry desert soil to decompose your poop! That sound strange and wired, and you really don't want to think about that, but you have to if you wish to preserve this pristine nature for others or return visits. There is a solution which we will buy first when we arrive "wag bags".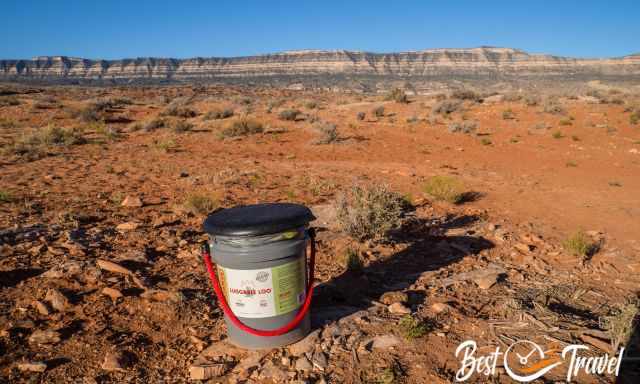 We won a fantastic permit, which I will tell you about during our trip. Thanks to this permit, we decided to book flights to Las Vegas, luckily nonstop. We know the day temperatures are in the high 30°C mid-90°F during the day and cooling down below 20°C/68°F at night. We don't care much about the heat because there are lots of tricks to handle it and make it bearable. More about this topic in my additional article, "How to Beat the Heat in Summer". All these tricks helped us to hike into the Grand Canyon, an unforgettable experience we had already done for the third time.
Las Vegas - Our Starting Point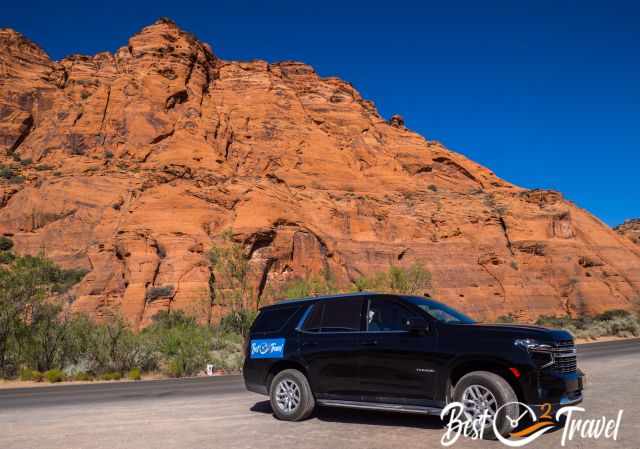 Our trip started in Vegas, and it was scorching here at 109°F/ 43°C. So, tomorrow we plan to get up at 4 am to hike a short trail in the Valley of Fire at sunrise. For those who don't know us, we aren't early risers and can handle heat well, but this was challenging even for us. However, this trip was one of the best ever, having such outstanding experiences and surprising hikes. We hiked 227 miles/ 365 km; our record days were Sedona (three trails in one day) and the Grand Canyon.
Bucketlist Destinations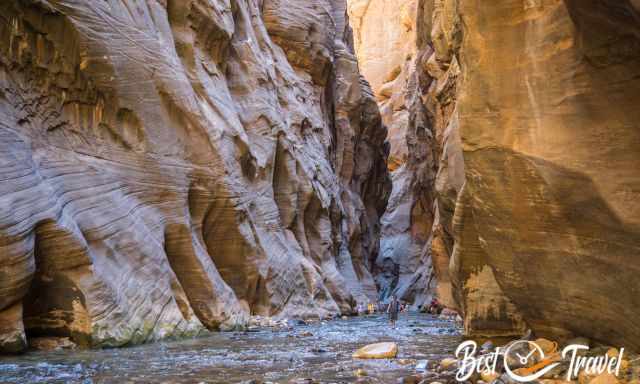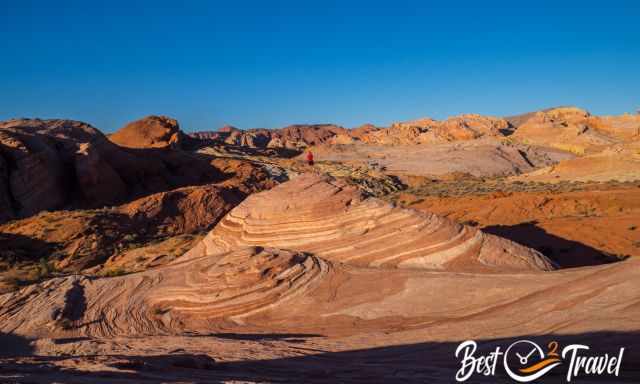 June is definitely a hot month, 109°F/ 43°C in the afternoon; this temp was topping our limit. We started hiking before 6 am and had breakfast at 9 am. We got rewarded with a group of bighorn sheep thanks to the early start.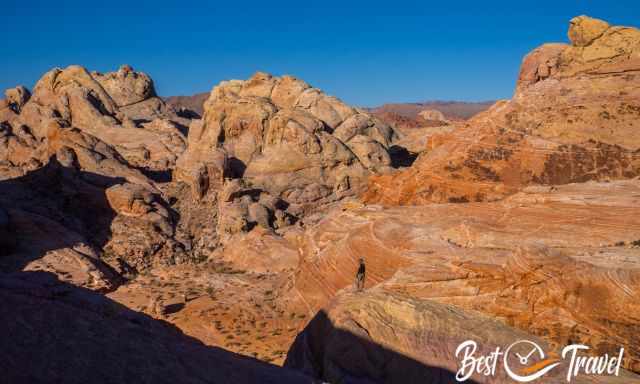 We were lucky to enter the park on Nevada State Parks Day and get free admission. Valley of Fire is a magnificent park, a colour explosion from the different sandstone formations. There is one petroglyphs trail, rock carvings from ancient tribes, a short but nice slot canyon, and the Fire Wave.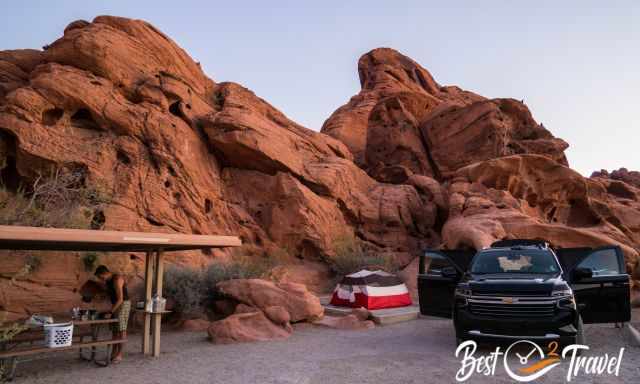 Due to the heat, the Atlatl Campground was not full, and we quickly got a nice spot and a breathtaking sunrise. My additional Valley of Fire article will be updated soon with tons of information and pictures.
Snow Canyon State Park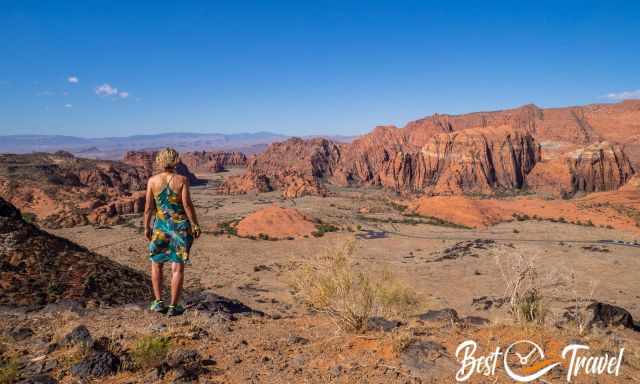 These smaller State Parks are often hidden gems - beautiful spots in the US and usually not overrun. Everybody is heading to Zion, but look at these pictures, and you know what I mean.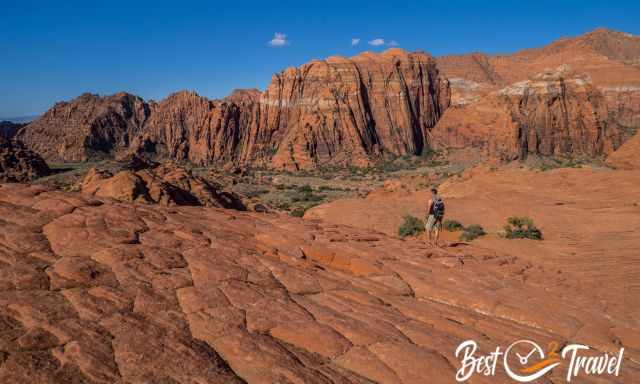 You can easily drive through the park and go on short, longer hiking trails or bring your bike. St. George has well-developed biking trails in the entire area. This park is a red and white rock sandstone formation beauty with petrified dunes, lava tubes, slot canyons, and a beautiful campground with lots of space in fascinating nature.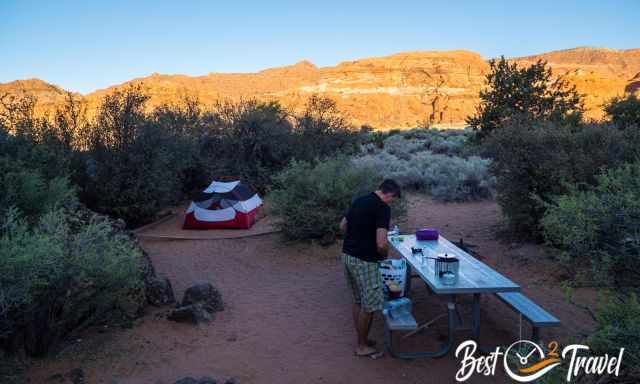 We left this park in awe and regretted not staying longer. All spacious campsites were excellently located with privacy.
Kanarra Falls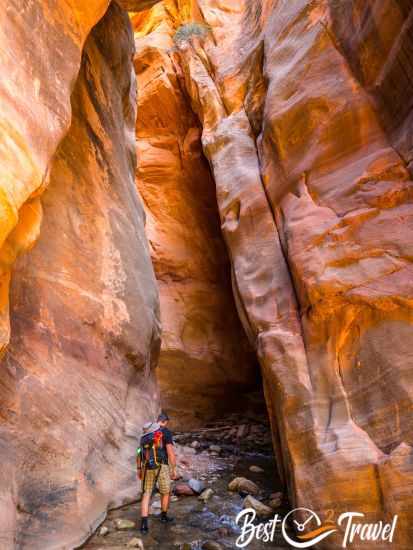 You need a permit to access this outstanding creek and Slot Canyon. Luckily the access is limited to 150 hikers daily and, therefore, not too crowded.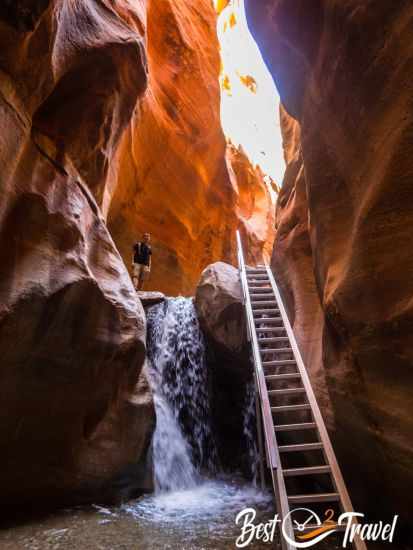 The high walls were shimmering in orange and red, and we walked through the creek, scrambled over rocks, and climbed a ladder.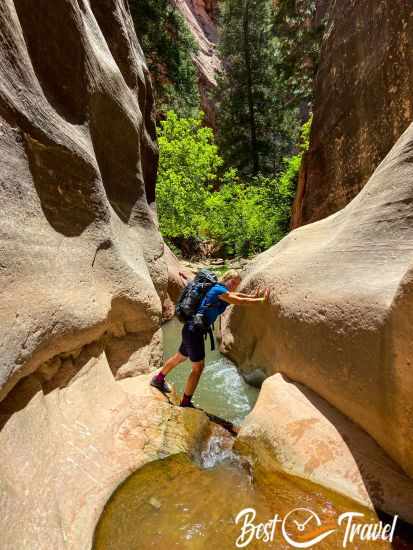 Finally, we appreciated the higher temps while walking through the cold water.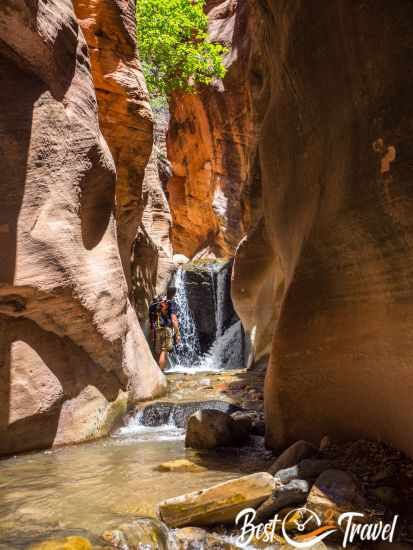 Most of the fellow hikers were astonished that people from Europe knew this place, and we enjoyed lovely chats and tons of recommendations on where to go at the end of the trip. 
Zion National Park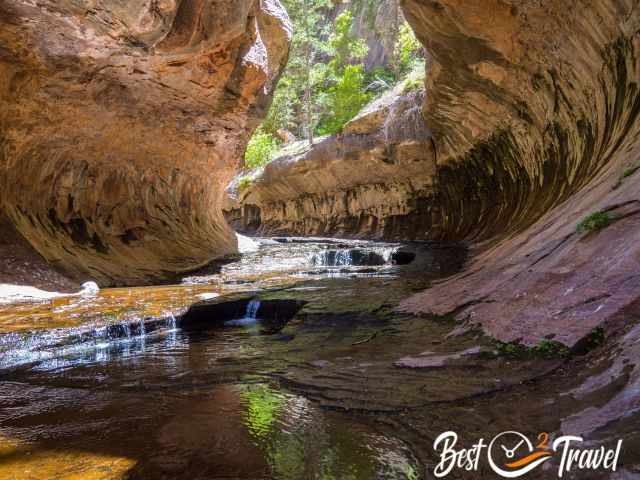 What a fantastic day and adventure in Zion. Just 80 permits are handed out daily. We hiked the Subway, which was on my bucket list since 2016.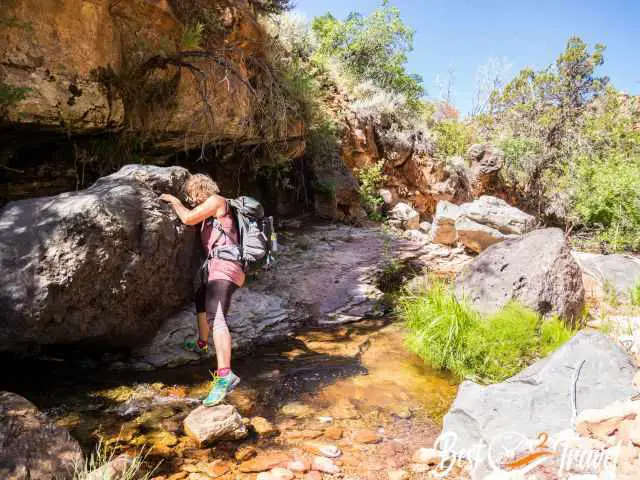 It is a tough hike for sure, often leading through the creek bed. Good navigation skills and a hiking app are essential.
In the beginning, we avoided changing our trail shoes into water shoes, but it was summertime and hot, and when the first water steps appeared, we couldn't resist and started hiking, wading, and scrambling through the North Creek the Left Fork.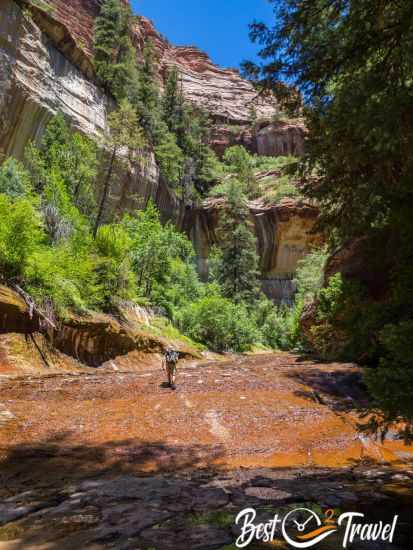 What is the Subway in Zion? These are narrow canyon walls; a slot canyon shaped like a subway tunnel to the right and left that were washed out during a high water level and continuously changed by the elements.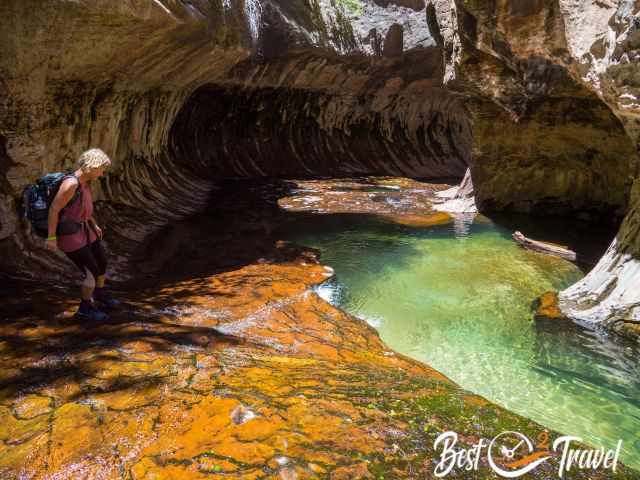 Some of the rocks in the creek are slippery, and I learnt my lesson using hiking poles. Thanks to my big packed backpack!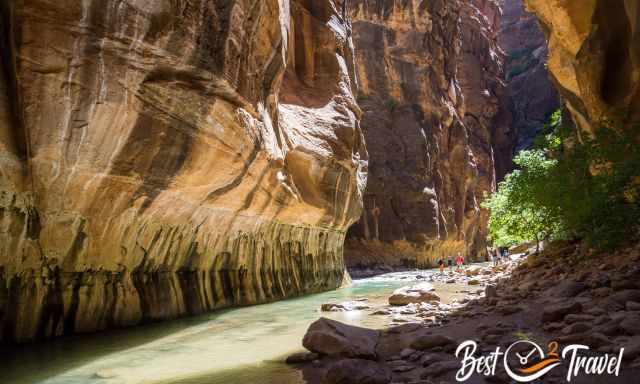 This is definitely not a hidden gem but an outstanding adventure, and Slot Canyon and excellent for days above 95°F/ 35°C.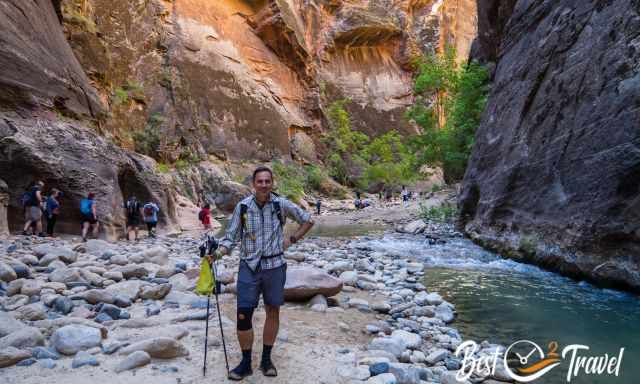 We were lucky to get a shuttle immediately, but when we arrived at the Narrows, we figured out there were already hundreds of people before 9 am mid-week.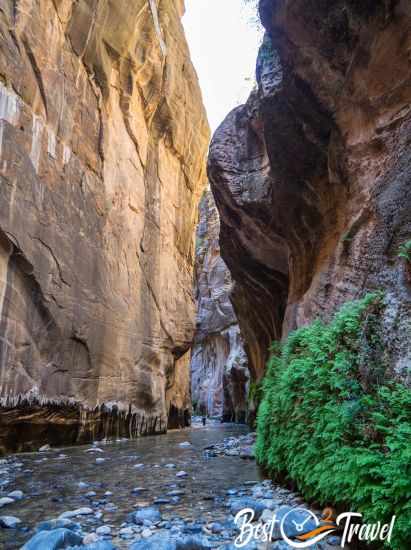 Honestly, the first mile was too crowded for us, but we got our moments, and the further you walk, the quieter it gets. Nevertheless, it is a strenuous tour wading through water for hours in neoprene socks. More pictures and information are in my additional article. Narrows
Coral Pink Sand Dunes and Dixie Forest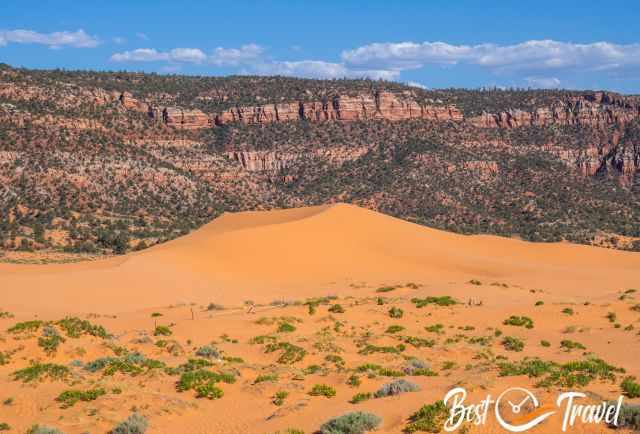 It is a wonderfully picturesque and unique park. The dunes are created by sand, high winds, and an influence of these winds, which no one can explain. This sand originates from the eroding Navajo sandstone, the typical sandstone formations in Utah. The endemic Coral Pink Tiger Beetle occurs in this tiny strip of dunes.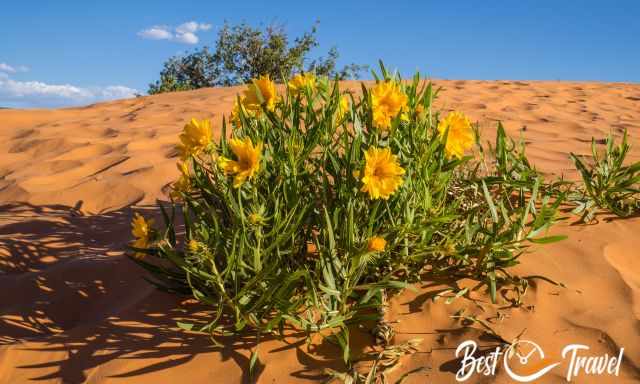 In June, the peak of the wildflowers and the dunes are dotted yellow with Rough Mulesears. I took tons of pictures of these colourful flowers; some are added below.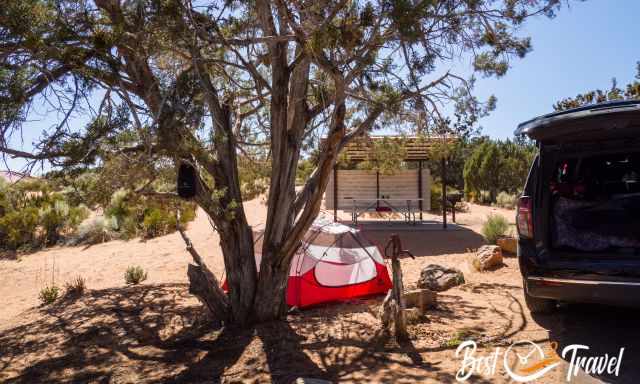 The campground is nestled inside the colourful dunes with juniper and pinon pines. It is a beautiful piece of mother nature, but we didn't know that it is also a playground for kids and adults alike driving through the dunes in their dune buggies and ATVs. They start at 7 am until 10 pm.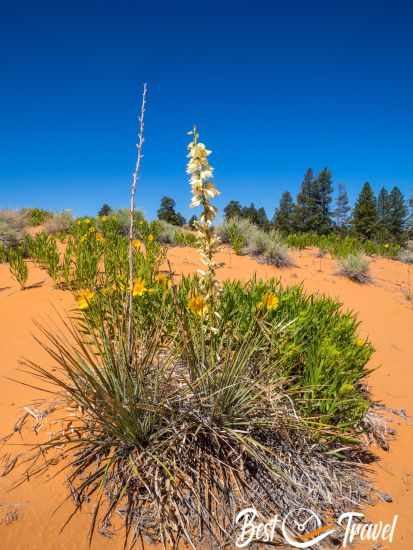 This is not the solitude we sought; we skipped our second night here. Of course, it is great heaven for those who like this activity. To be as sustainable as possible during the trip, we have a solar panel and recharge all our gear with it. Others did the same, but some still use generators, especially at the Pink Sand Dunes.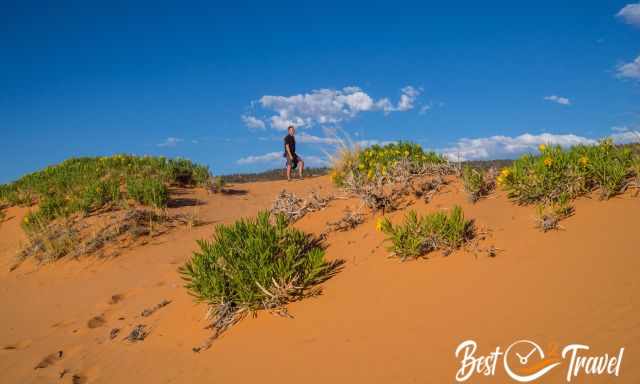 However, we had beautiful moments here. The State Park stretches much longer, and these parts are not much visited.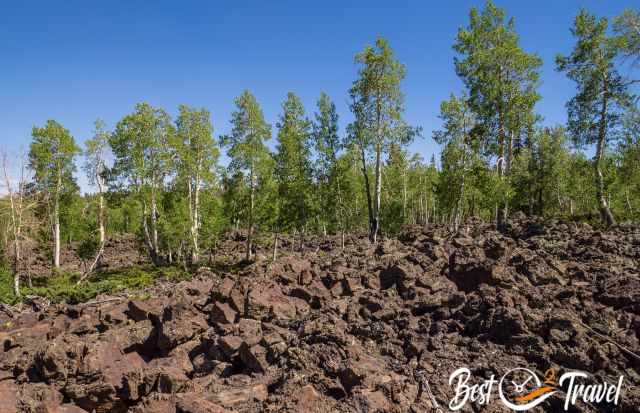 I think much in life is predetermined, so we ended up in the Dixie Forest at 7.500 ft/ 2.300 m elevation. We went swimming in a freezing cold lake to get rid of the dunes' sand and enjoyed that there wasn't any soul in sight, just cows.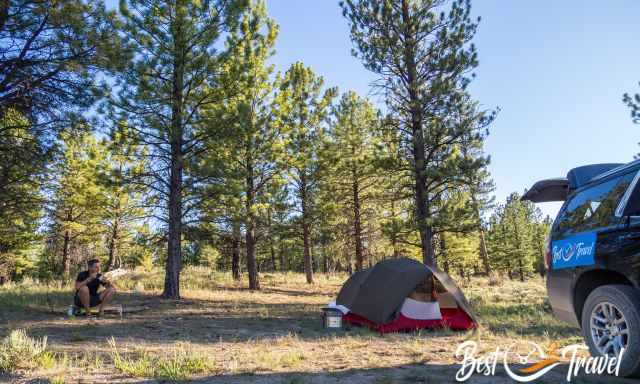 It was a spectacular dispersed camping site in the middle of nowhere. This was what we were looking for.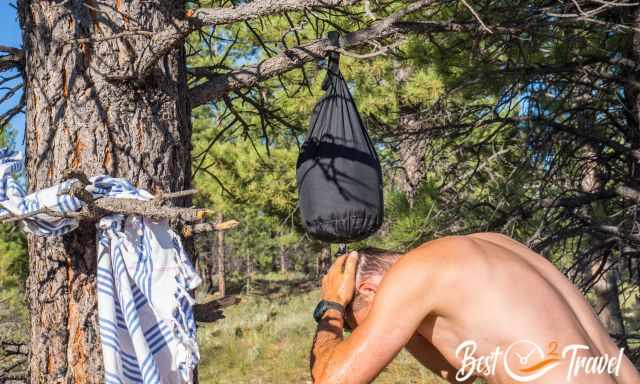 Kodachrome State Park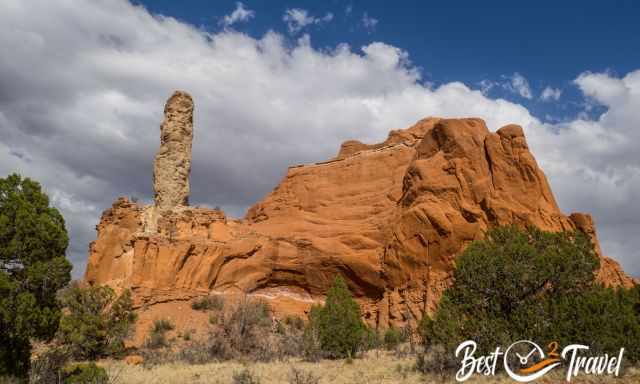 Finally, we are back in the Grand Staircase Escalante National Monument or GSENM.
We love this huge park of 760.000 hectares where most gems are accessible on gravel dirt roads only.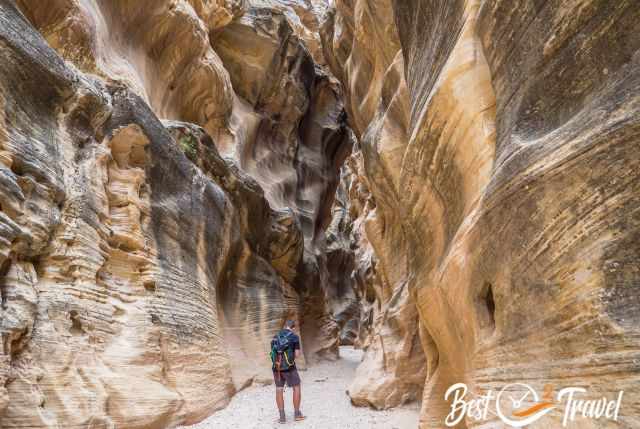 Before going to Kodachrome and our campsite in this State Park, we checked out Willis Creek Slot Canyon. It was worth the drive to this beautiful slot canyon with towering walls in yellow and black getting higher and higher.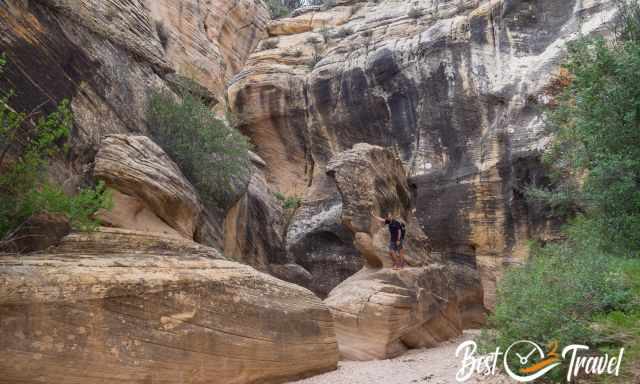 The dry creek made the walk a little less spectacular but easier to walk through. It has been very windy here for days already. Dust is part of our adventure, and our hairs are always full of sand.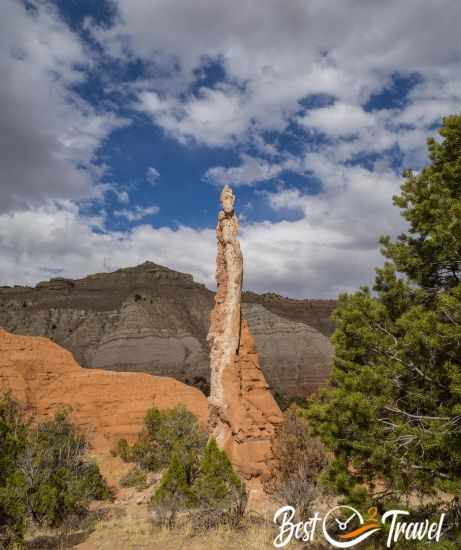 Kodachrome State Park, you immediately think to Kodak? National Geographic first explored this wild area in 1948, and they were astonished to find such a colourful and dramatic landscape. The area became a State Reserve in 1960, and the name was changed in consent with Kodak Film into Kodachrome.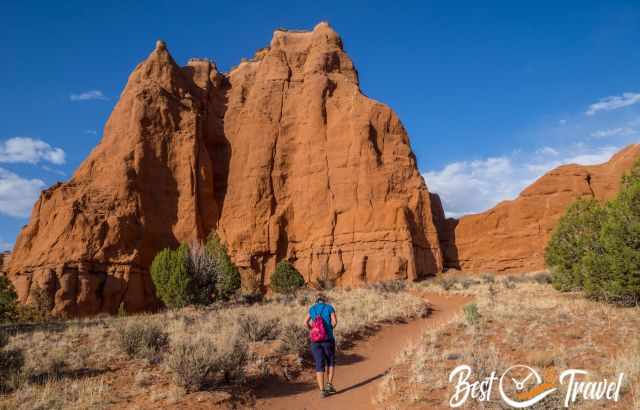 It is summer, and rain, wind, and thunderstorms occur, providing an even more dramatic sky and excellent picture options. We went on a hike and were amazed by the beauty and these colourful monolithic spires up to 170 feet high.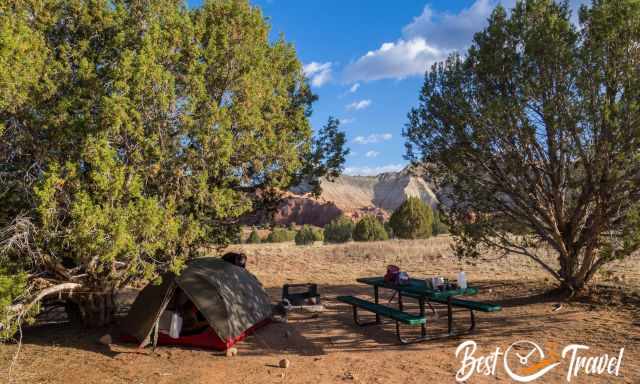 Three campgrounds belong to the State Park, a vast well maintained with flush toilets and showers, an RV site with electricity and our Bryce View. We have only pits but the best views and the most spacious sites. This is one of the best campsites we have ever been to. The park is located at a 5000 ft elevation, excellent for escaping the heat.
Yellow Rock - Cottonwood Canyon Road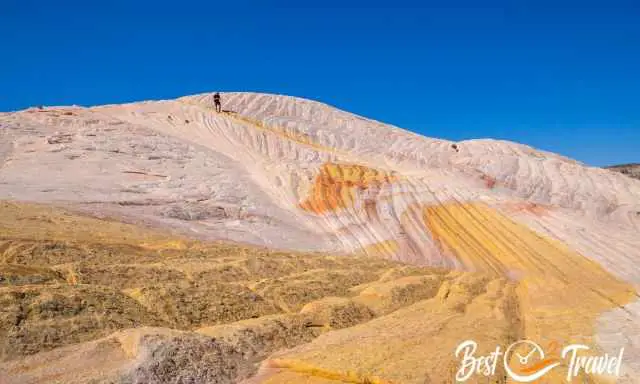 What an unforgettable day I would say we explored one of the most magical places on earth – a hundred times more beautiful than The Wave.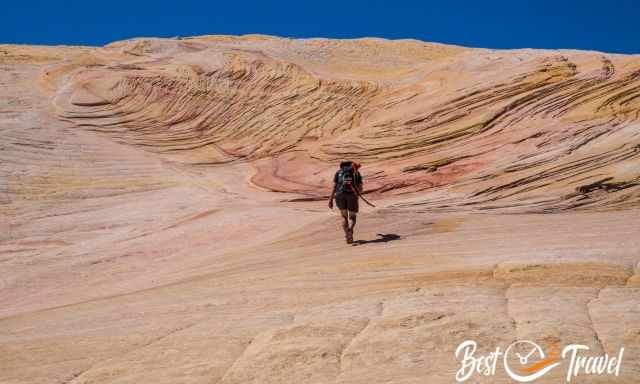 We couldn't believe the size with plenty of Wave formations in orange, red, yellow, and white. We spent hours here before we went back on the steep trail to our car.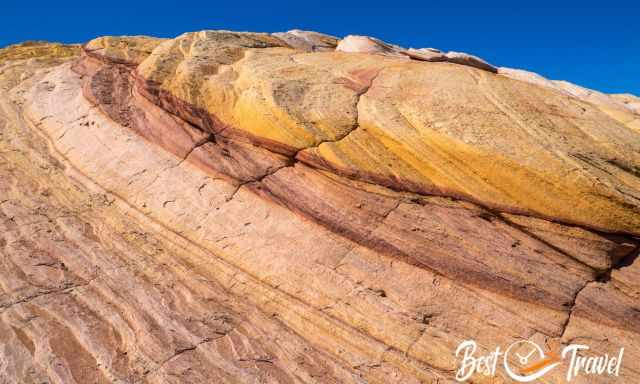 On top, we were alone at these unique rock formations the entire time. Where is it located? It is called Yellow Rock, and you can find all details in my additional article.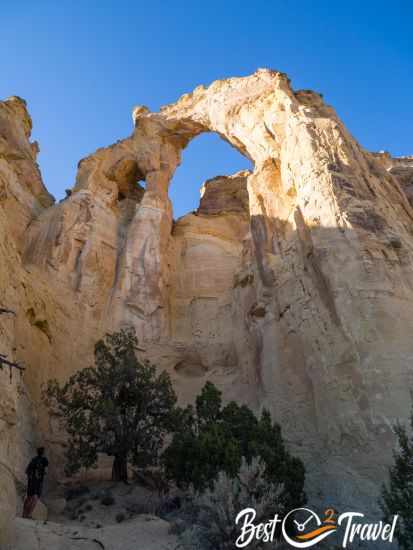 Later, we quickly looked at the vast Grosvenor Arch at Cottonwood Canyon Road. This arch is much bigger and more majestic than I expected.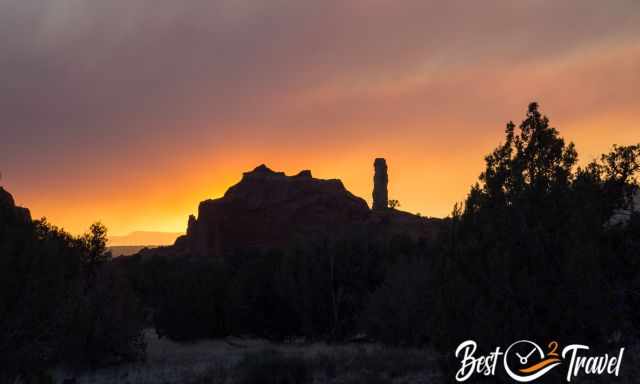 Unfortunately, it burns north of Bryce Canyon, and we can see and smell it here. Therefore, our sunset full of smog looked spectacular.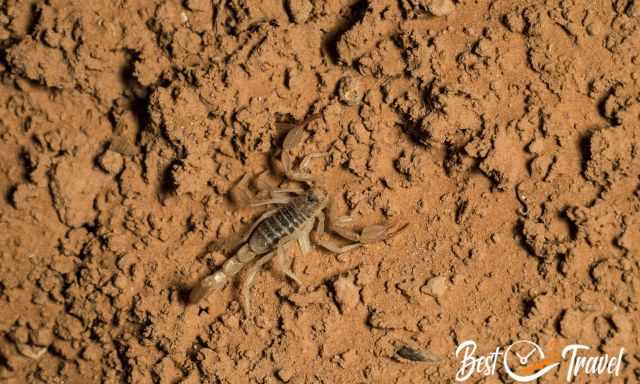 In the night, we joined a ranger-led tour to hunt scorpions. These creatures are tiny and can be spotted with UV light. Their entire body gleams in yellow, but they are not visible with a torch light. They are venomous, but most are not deadly in Utah and one in Arizona only. Scorpions can live without food for an entire year. 
Grand Staircase Escalante – GSENM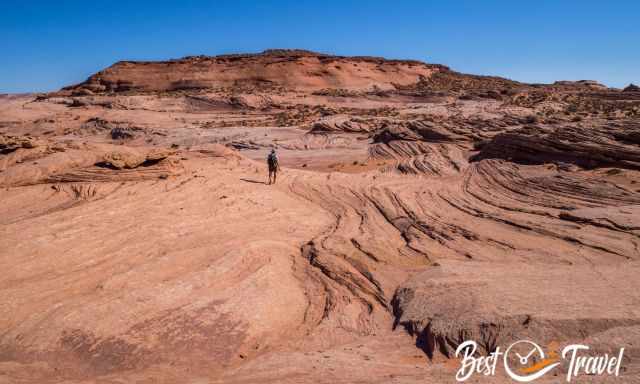 For me, the most fascinating park was already 20 years ago. It became a National Monument by Bill Clinton in 1996, in 2017, this valuable Monument was reduced in size by half by Trump and luckily restored in 2021 by Biden. Most of these unique spots were not protected during the Trump administration, and honestly, we have rarely seen such beautiful places as in GSENM.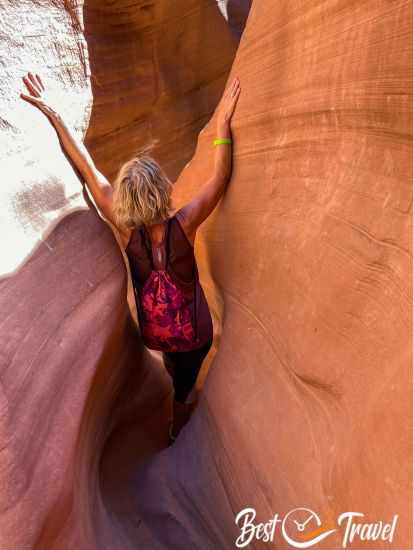 If I could visit only one park in the US, it would be GSENM (abbreviation for this park). It is still kept a secret, but I think everybody should get a glimpse of this magical area.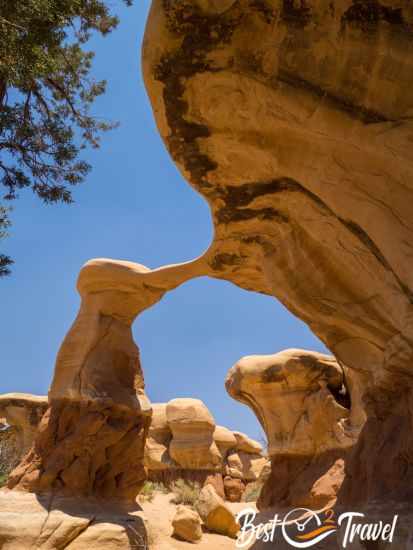 GSENM was the reason for our big rental car; otherwise, we couldn't explore the gravel Cottonwood Canyon Road and the Hole in the Rock Road and stay overnight.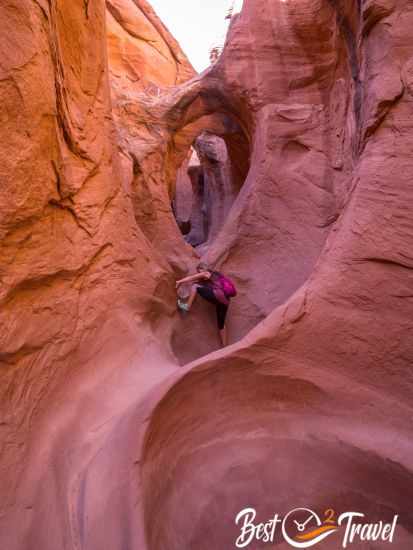 What a beautiful national monument and so quiet. We checked out the Spooky and Peek-A-Boo Slot Canyons, two slot canyons which are more known today.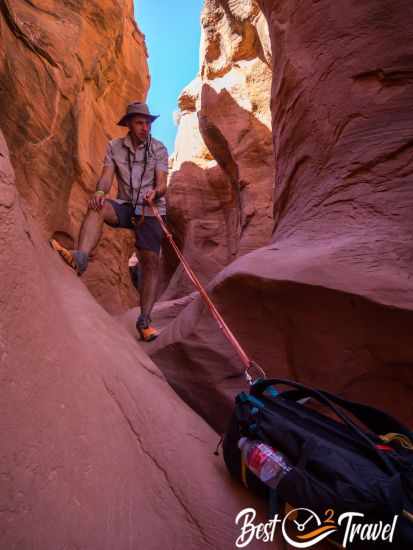 We arrived in the afternoon because we planned to spend the night in the remote wilderness in GSENM. Spooky is already worth coming here; narrow and much to climb inside.
We did the opposite of what people recommend. We started with the strenuous high-up climb and reached the highlights just in time with the perfect light.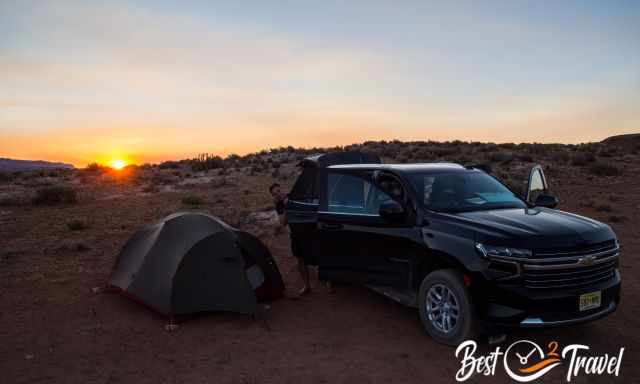 You are allowed to camp on BLM land, no permission is required, and we found the best spot ever. OMG, that was such a fantastic place for the night. The sound of silence the beauty.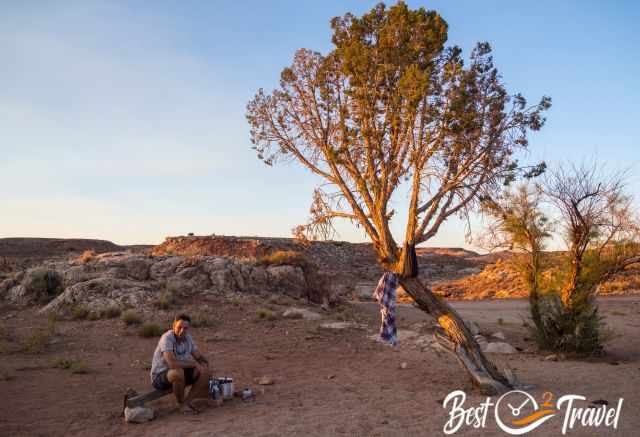 I was overwhelmed the following day at sunrise, and Markus asked to play the Sound of Silence from Disturbed. We sat in awe on a tree trunk and enjoyed this magnificent scenery.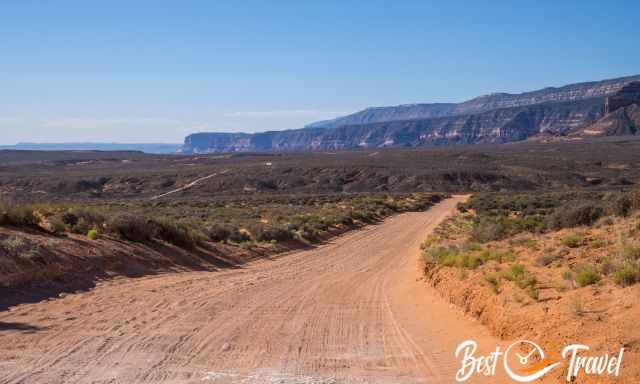 We started our drive early for more than an hour to the Jakob Hamlin Arch trailhead; the further we got, the worse the gravel road.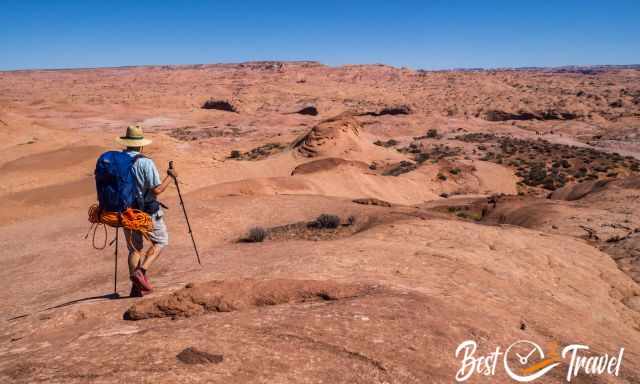 To be on the safe side, we planned the much longer trail of 23 km through the cracks down to the creek bed. We were fortunate that a group of four hikers from Salt Lake had chosen the shortest hike of 16 km, where a 200 ft/60 m rope is essential, and we joined them.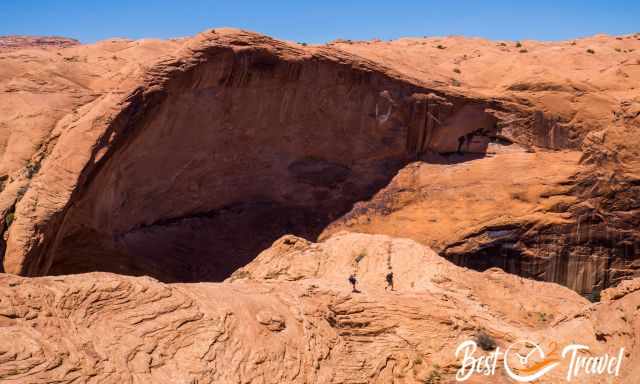 Ultimately, we were lucky that other hikers left an excellent rope. When we reached the bottom and the arch, we couldn't believe the size of Jakob Hamlin and how breathtaking this canyon is.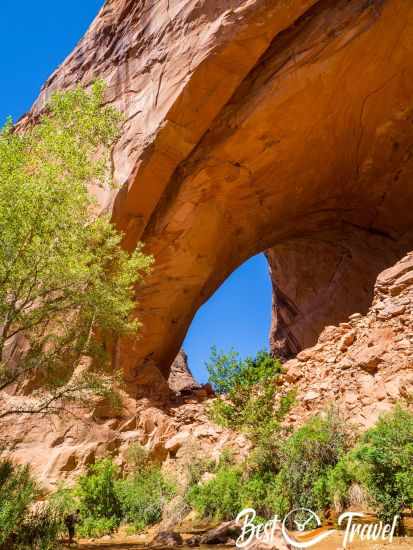 Another magnificent place here in Escalante, which we explored for hours while walking through the refreshing creek most of the time.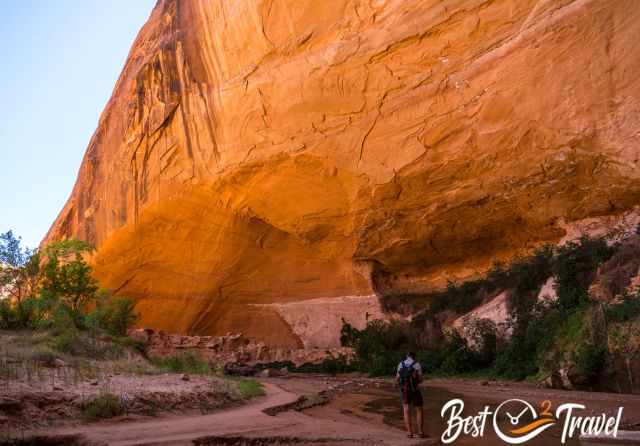 We planned another hike in this area, but it was weather dependent. Rain makes this gravel road impossible to pass in summer, and sand turns into clay. We were lucky it started raining when we returned to the main road. We couldn't explore one more of the slot canyons because it was still full of stinky water.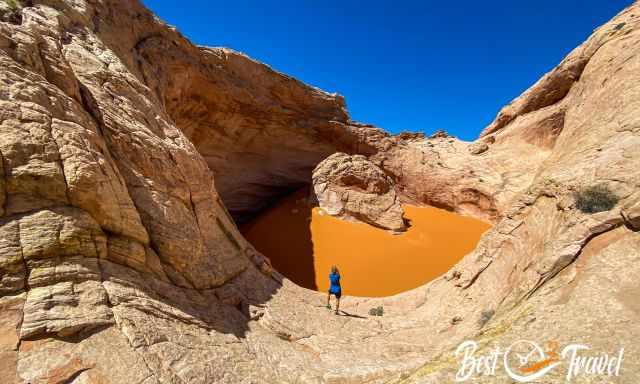 Unfortunately, we left Escalante now, but before, we did another otherworldly tour without anybody else around. Yep, those places still exist here in the US.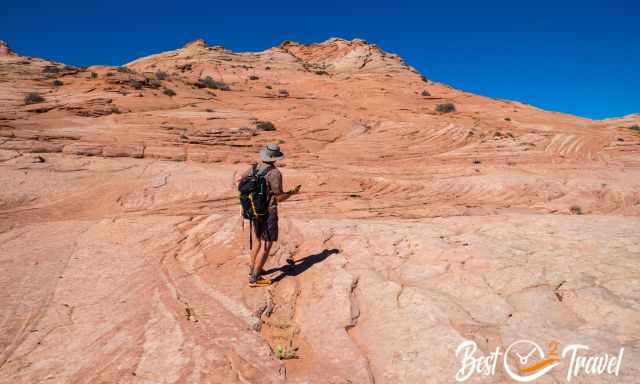 It took us almost two hours to get to the Cosmic Ashtray through the breathtaking landscape of GSENM.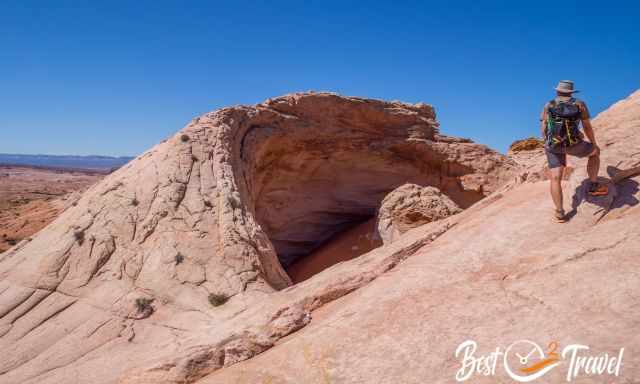 Honestly, if I could choose between a Wave permit and a visit to Escalante, I would refuse the permit - there is so much more in GSENM, and you mostly have it for yourselves.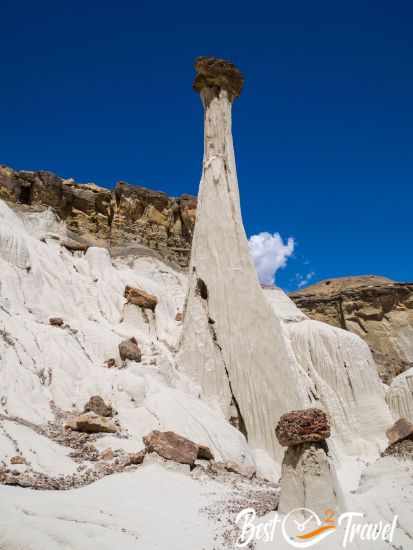 From the backwater village, Escalante, to the overrun Page at Lake Powell was a bit painful for us. Thanks to the recommendation of Ray, a great photographer and friend from the US, we escaped the crowds again on a hike.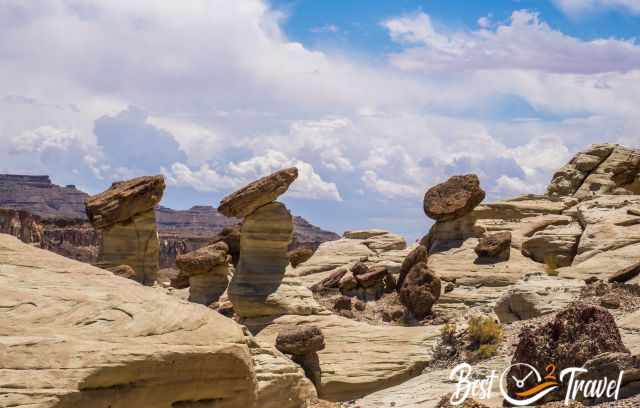 This trail leads into the unique GSENM from the south side. I cite Markus; when we arrived, he stood in awe and said just, "Wow". I added some pictures below about this otherwordly place. Page is located on a lower elevation; therefore, it is hot here during the day.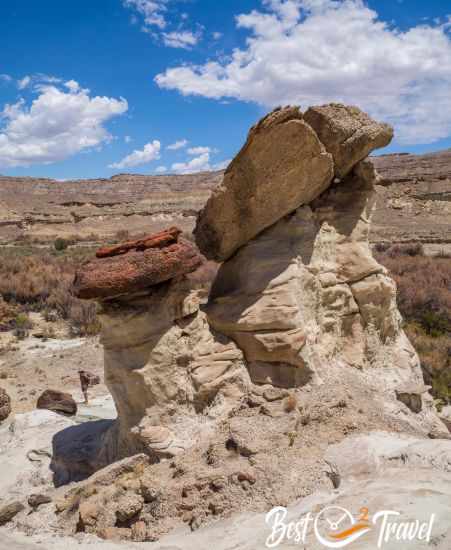 Tomorrow, we will continue to the spectacular Grand Canyon. Not a hidden gem but a Must-Visit place, and we are curious to see this impressive canyon again.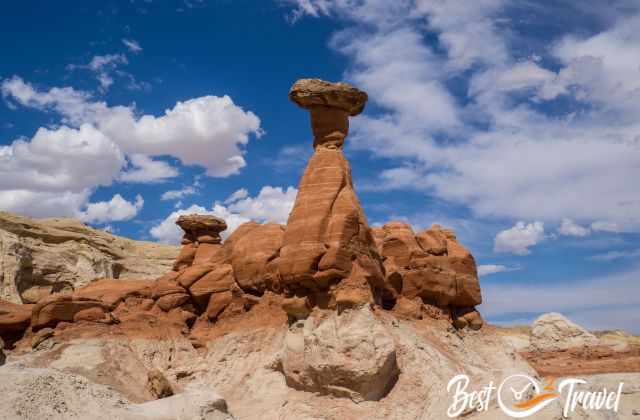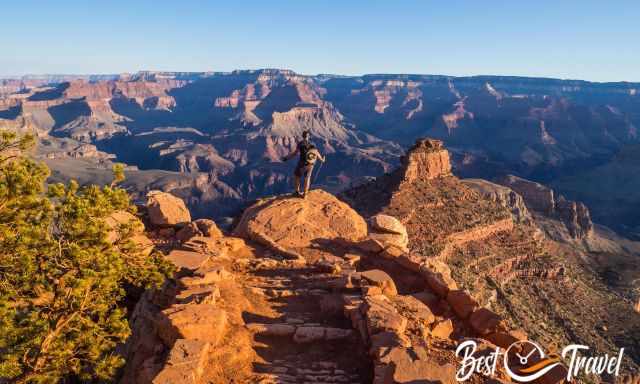 I can resist everything except temptation (Oscar Wilde)
When we arrived at the Grand Canyon, we asked ourselves after a quarter of an hour, "Why are we here? Do we really want to drive to the viewpoints only? No, and we checked out the visitor centre.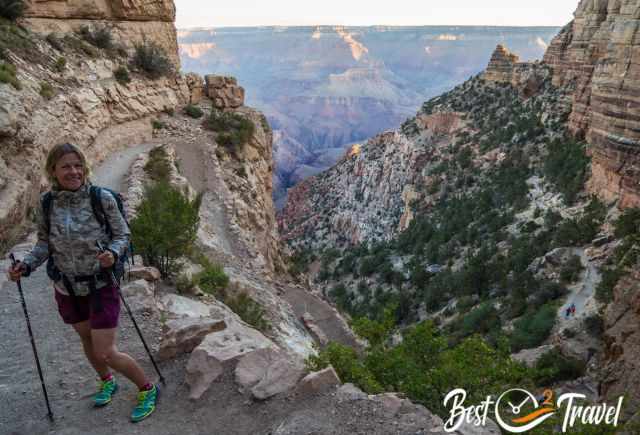 Thanks to the attentive ranger, we'd known everything about the weather and conditions inside the canyon. She encouraged us to do it when she heard we hiked almost 90 miles in seven days in the heat.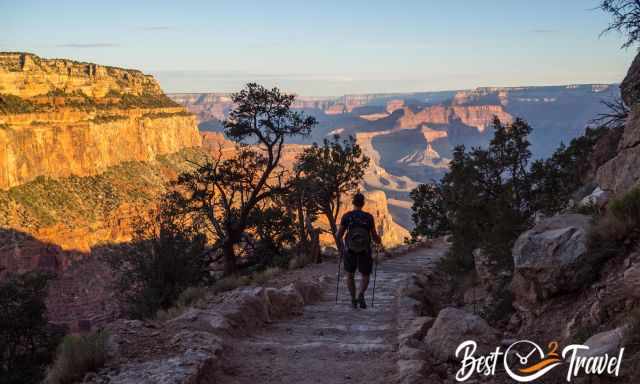 With all this information, we were capable of hiking down. OMG, what an experience, and we got so much in one day. Again we experienced this unique spirit. I was fallen onto my right knee, and immediately a hiker came, and she helped me out with an antibiotic cream and plaster. Thanks again!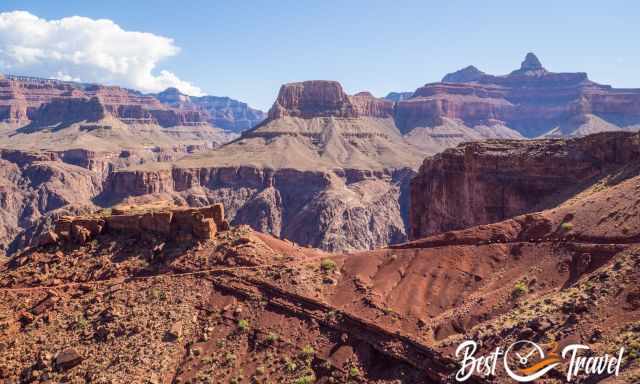 We got up at 4 am, took the shuttle at 5.15 and started hiking at 5.30 am. The South Kaibab Trail was spectacular in all its colours, changing after every corner.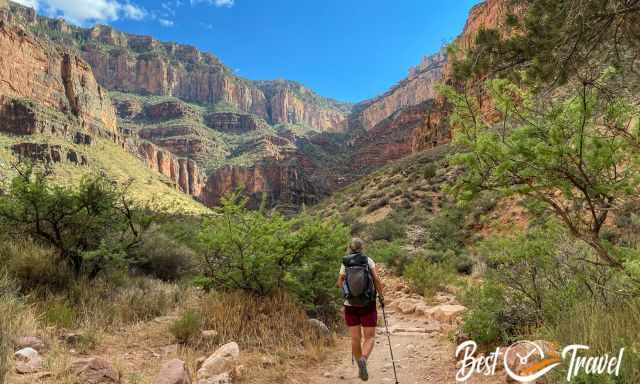 Many people hiked that early, but in the end, we were almost alone on the way along Colorado and up on the Bright Angel Trail.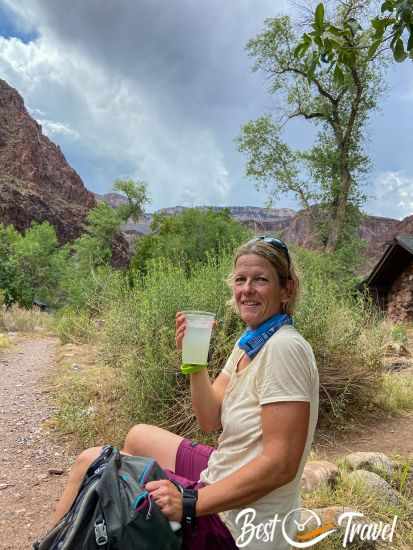 Of course, we went to Phantom Ranch in the canyon and drank the famous lemonade. Indeed, one of the best we have ever had and one dollar for a refill is pretty fair.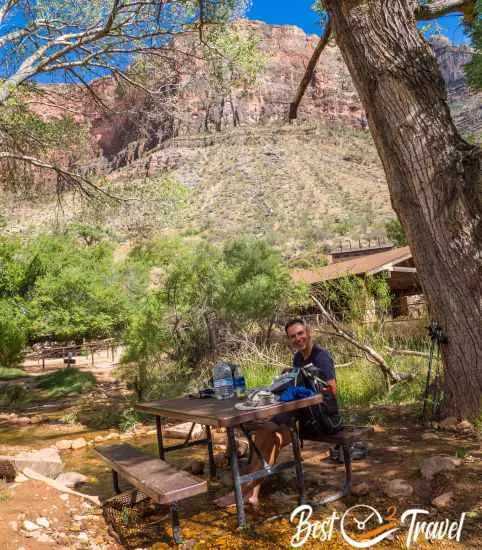 We got all-weather patterns from blue sky and sun to a thunderstorm at the rim, an overcast sky (the reason we could do it), and heavy rainfall.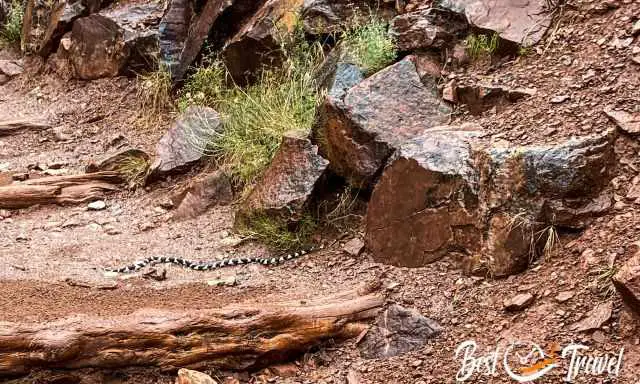 Because of that rainfall, a beautiful California Kingsnake crossed our path, and we watched her in awe for minutes like being in a BBC documentation. This snake is nonvenomous, and the main prey is rattlesnakes. So having her around is pretty safe.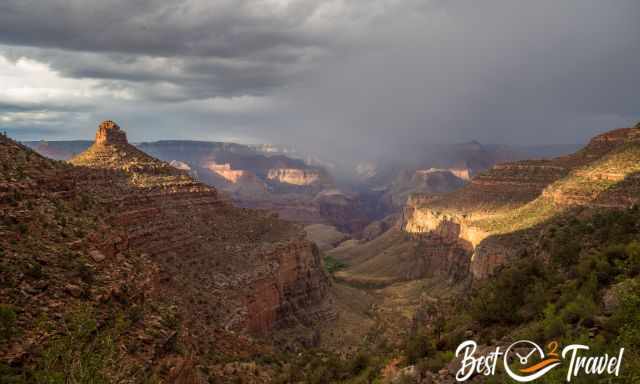 The sky looked amazing after the rainfall, and two rainbows appeared. As it is said, the last three miles are the worst, and you need twice the time.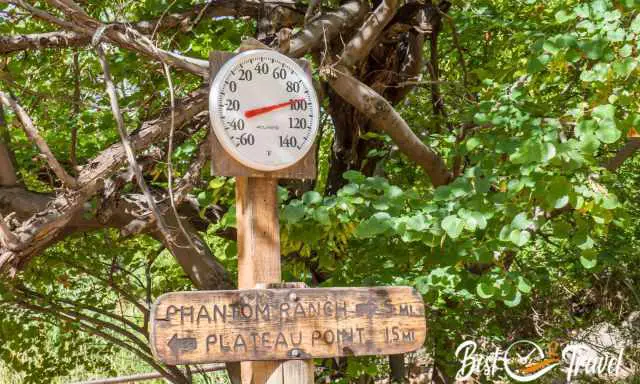 It took us two hours to master this last piece of the track, and we reached the rim at 8 pm. All visitors there were curious, asking if we came from the bottom.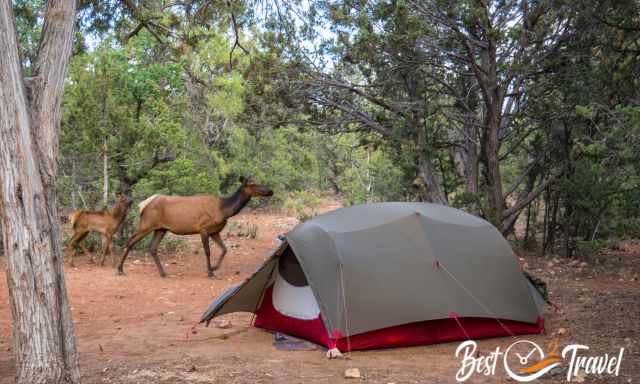 Our campground…. All State Parks were way better; the facilities need an upgrade.
Sedona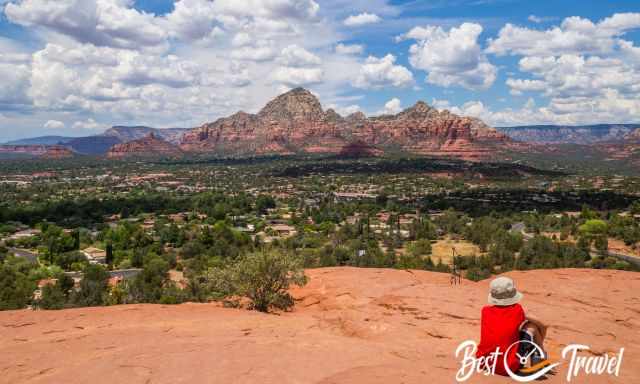 We came to Sedona more by accident. We were overwhelmed by the breathtaking landscape and the people in this laid-back town and decided to stay here until our trip's end, not going elsewhere. In Sedona is spiritual energy hard to describe, but many people have told us about it already, and it is true also we feel it, called Sedona Vortex. We will try to check out such a natural geomagnetic point tomorrow.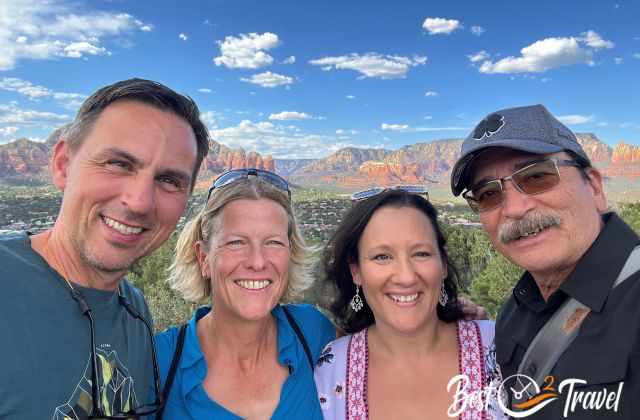 First, we met the fantastic photographer Ray Downs, with whom I have been working together for more than six years, and Liz in Sedona. We spent a fabulous day together and went swimming in the evening.
Sedona is hot during the day in summer, but there are many excellent places to cool down, like Slide Rock State Park.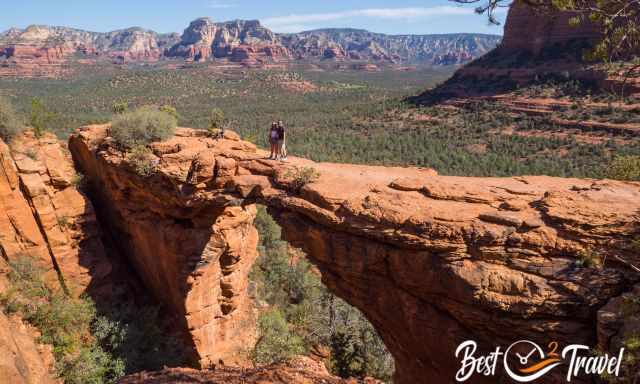 Markus and I did three hikes in one day, and more are on our bucket list. Sedona is a hiker's paradise, but it is all weather depending.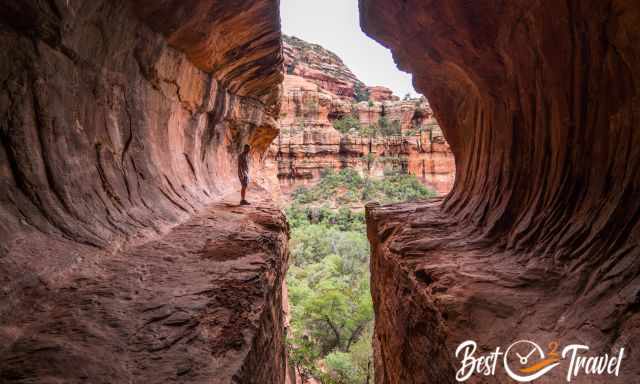 Luckily, our campground is located higher up in the canyon and not in Sedona; therefore, temps are pleasant during the night.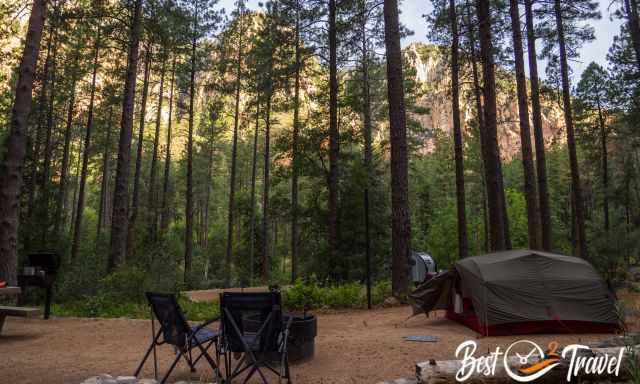 Sunsets in Sedona are spectacular each evening, and this viewpoint fills up with hundreds of people. This one was one of the best we've ever watched with a thunderstorm in the distance.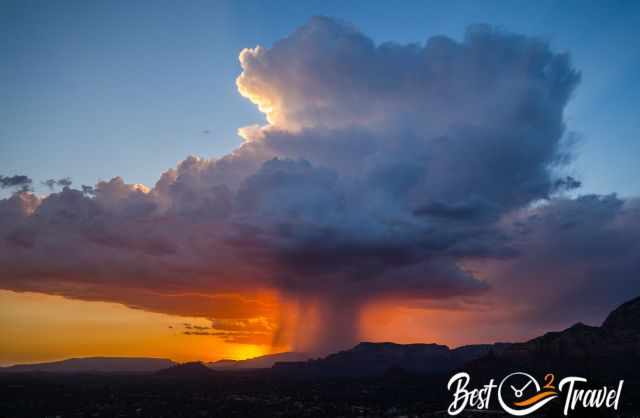 It is summer, and during this time of the year, we prefer "water hikes", trails which frequently lead through a creek like the West Fork Trail, with at least 13 river crossings depending on the track you choose.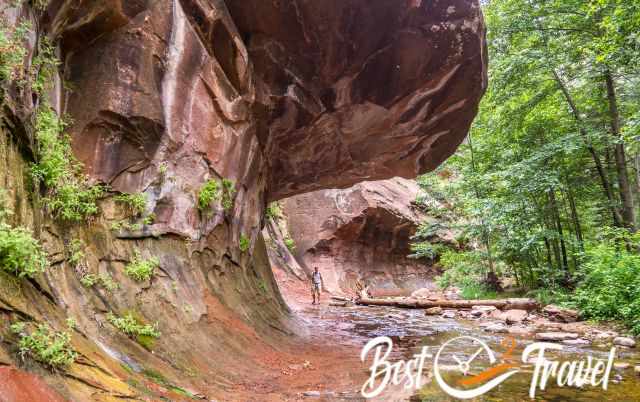 Although the return hike is only 6.6 mi/ 10.5 km long, it took us 8.7 mi/ 14 km because we hiked most of the time through the creek without shortcuts.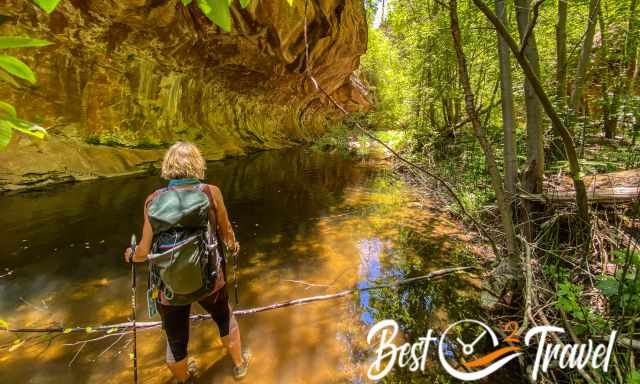 America, it was great being back. I can't explain why we are so addicted to the Southwestern part, but it is overwhelming, and we met wonderful like-minded hikers. Thx for these exceptional weeks.