When Is the Best Time
The name is already promising, and this place looks like being on another planet. The Cosmic Ashtray, also called the Volcano or Cosmic Navel, is located in the Grand Staircase Escalante National Monument, abbreviation GSENM.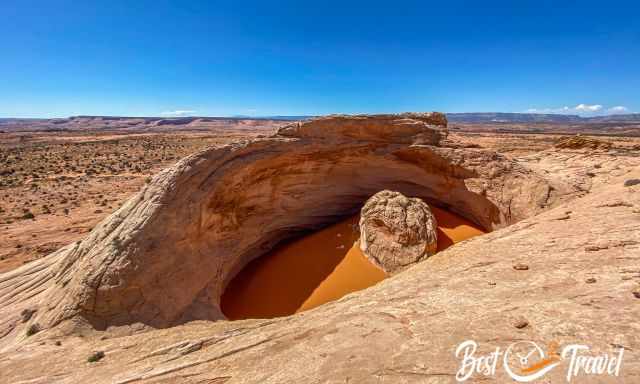 It is the largest weathered sandstone pit in the world and unique in its kind. Geologists name this type of landform "Inselberg Pit", which is German and means island mountain. I will give you all details about this hike, how to get to Cosmic Ashtray, our hiking route (map), and what to pack for this exceptional remotely located hidden gem.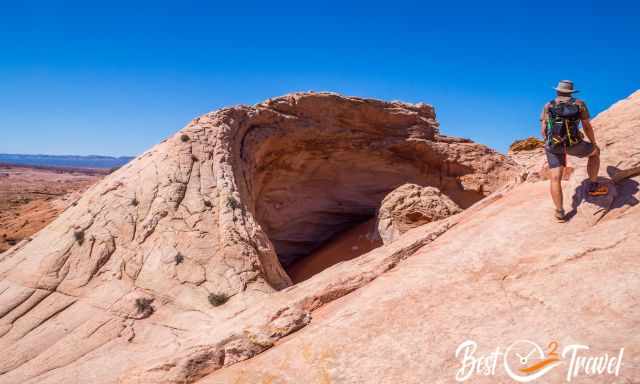 It is half an hour's drive from the town of Escalante and one hour from Bryce Canyon City to the trailhead. None of the hidden gems in Escalante is easy to reach, only on a gravel and sandy road that turns into clay if it rains.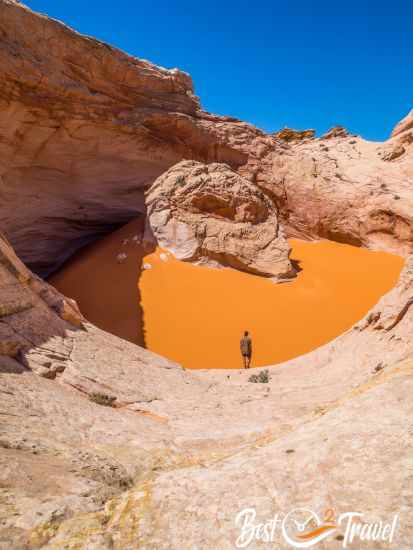 The best time to visit the Cosmic Ashtray is from late September to October and April until mid-June, and the best daytime with sunlight into the Cosmic Ashtray is the morning.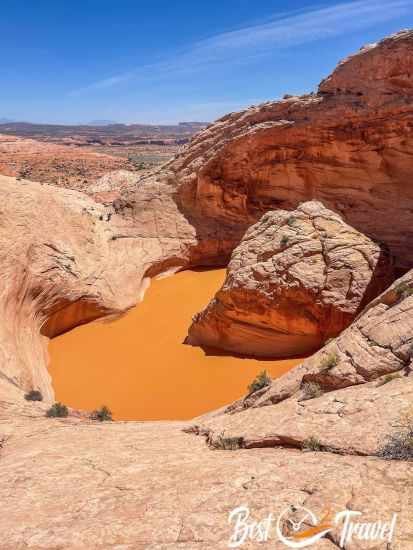 During summer, the rainy season starts in mid-June and lasts until late September. If it is raining, it is pouring from one moment to the other. Roads and trails can get flooded, and cars stuck on Spencer Flat Road and Hole in the Rock Road, the most famous for getting to Grand Staircase Escalante's main spots.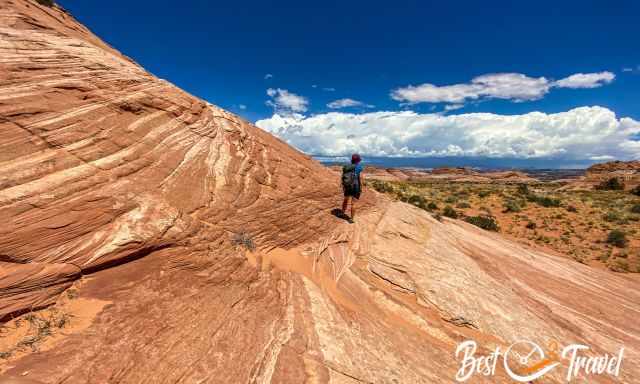 Day temperatures reach 90°F/ 32°C in the shade, and hiking is challenging without any shelter.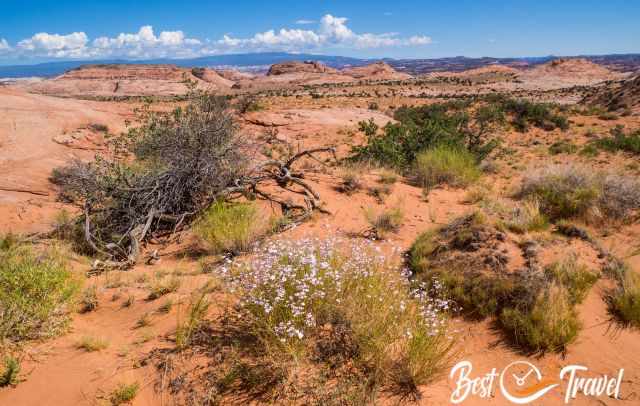 If you like to learn more about hikes in Grand Staircase Escalante, check out this guidebook.
The hikes featured in this book range from family-friendly day hikes to multi-day backpacking trips that will excite the most adventurous of spirits and will educate readers.
Location and Tips
Utah, Grand Staircase Escalante
United States

The Cosmic Ashtray in the GSENM is otherwordly and still a hidden gem. Exploring the greater Escalante National Monument always provides new fascinating masterpieces of mother earth. We got addicted to this monument and have already planned our next trip to Escalante.
What Is the Cosmic Ashtray?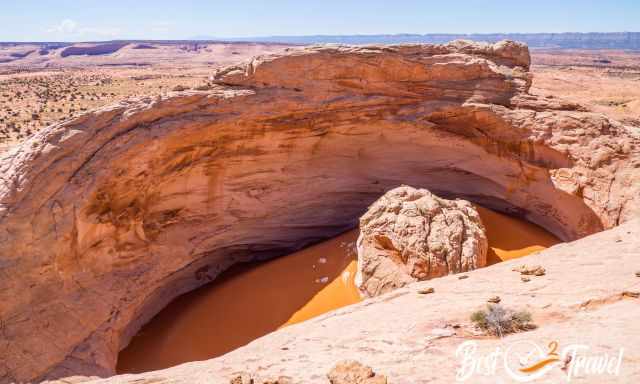 The Cosmic Ashtray is dome-like with a hollow and a rock island in the middle. The rock pillar in the middle is surrounded by reddish-orange sand developed by erosion.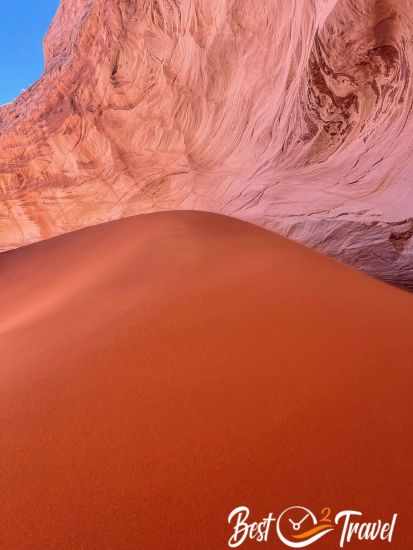 This orange sand in the pit is a moving sand dune changing its appearance by strong wind events. The cylindrical sandstone pit has an estimated depth of 65 ft/ 20m  at the highest point and 16 ft/ 5m at the fractured part of the rim, where you can enter the Cosmic Ashtray.
How to Get to Cosmic Ashtray?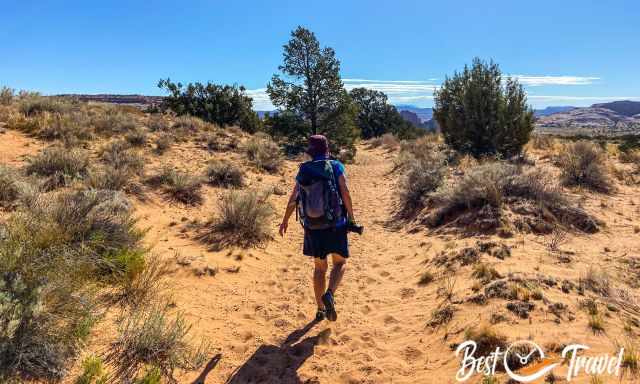 It is off the beaten path and not easily found. Two hiking trails lead to the Cosmic Ashtray. It doesn't matter which route you choose; you definitely need a 4 WD with high clearance.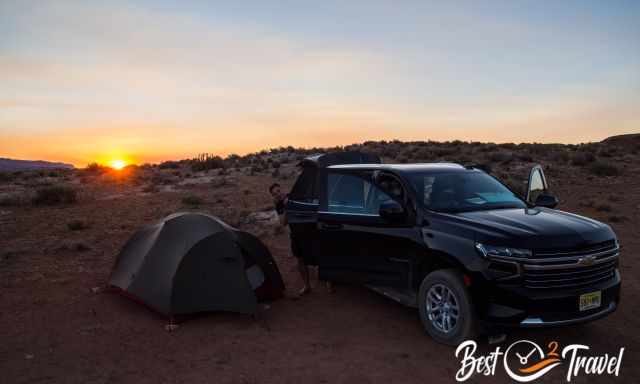 Please, take it seriously and don't come in a 2 WD, there are deep sand potholes, and you find yourselves quickly stuck. These two trails are not marked! To find the Cosmic Ashtray, you need a mobile hiking app or excellent map and navigation skills!
| | |
| --- | --- |
| | Do NOT go into the expansive Grand Staircase without this detailed map. For large amounts of time, you will not have cell phone service. It's a great alternative to a mapping app or for planning. The map delivers unmatched detail and valuable information to assist you in your exploration of this remote and colourful wilderness. It is printed on durable synthetic paper, making them waterproof, tear-resistant and tough. |
1 From Harris Wash (Southern Route) Google Maps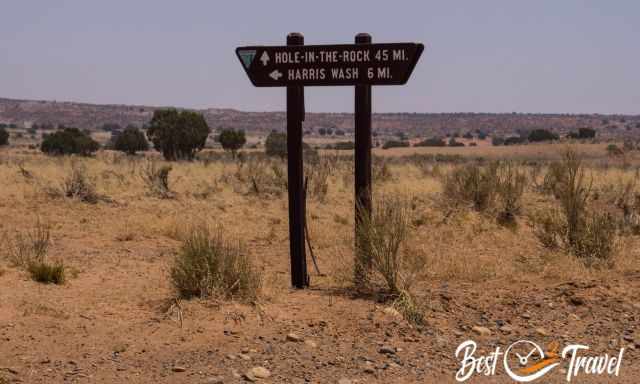 It is an almost 11-mile drive on Hole in the Rock Road until Harris Wash to the left. It is another 6 miles from here on a narrow, sandy road to the trailhead. This hike is roughly 9 mi/ 15 km long, longer than our chosen one. Honestly, this track is a bit boring just walking through a bushy plane field in the sand.
2 From Spencer Flat Road (Northern Route)  Trailhead Google Maps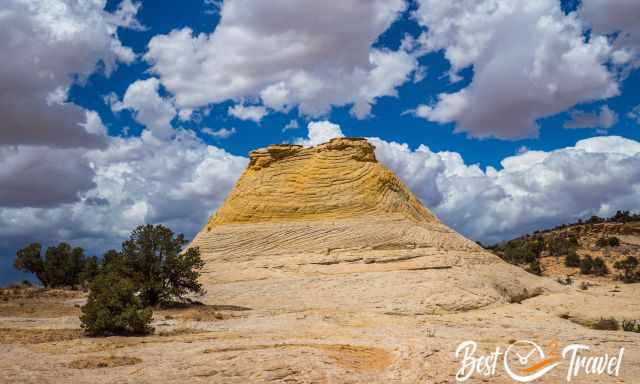 Trail Summary: 
Trail Length: 8,5-9,5/ 13,7-15,3 km - no trail markers - a hiking app and navigation skills are essential!
Duration: 4-6 hours, depending on your fitness level and the heat
Difficulty: Moderate in the winter with cooler temps but challenging in the scorching summer
Elevation Gain: roughly 950 ft/ 290 m
Hiking Map: Map by Locus Map App but you will not hike the exact route, there is no hiking path
Rating: One of the best day hikes in the US!
More pictures and details about this hiking trail below.
A shorter hike to Cosmic Ashtray is coming from the north from Scenic Road 12 to Spencer Flat Road to the right. Continue on this gravel road for 9.5 miles until the dirt road forks.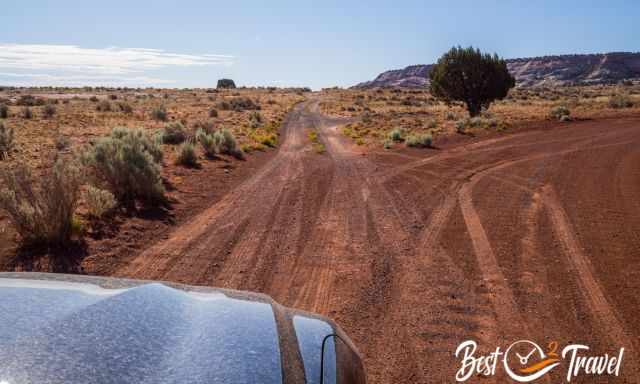 Take the minor left road for 1.2 miles until you reach a huge tree and flat area. This is the new trailhead; you can't continue furthermore by car. The Spencer Flat Road is already spectacular, with incredible rock formations and buttes to the right and left.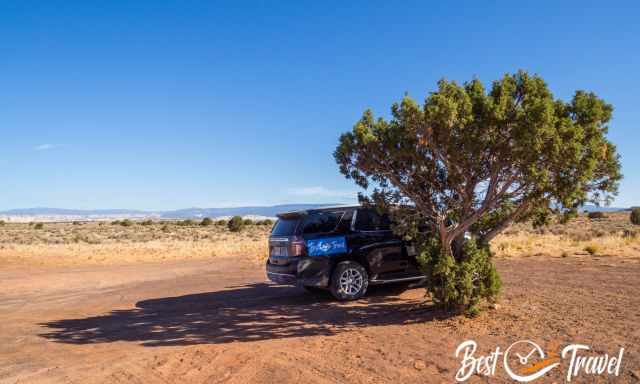 It took us 4.30 hours – 8.8 mi/ 14.13 km return and elevation gain of 950ft/ 290 m. However, there is no track; you need good navigation skills in the end; your hike can be shorter or longer. Our hiking route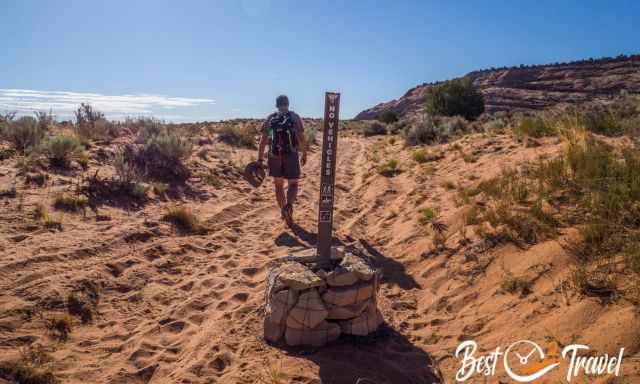 First, you walk on a sandy path, and it looks like it always goes straight forward, but you have to turn right, going downhill direction southeast.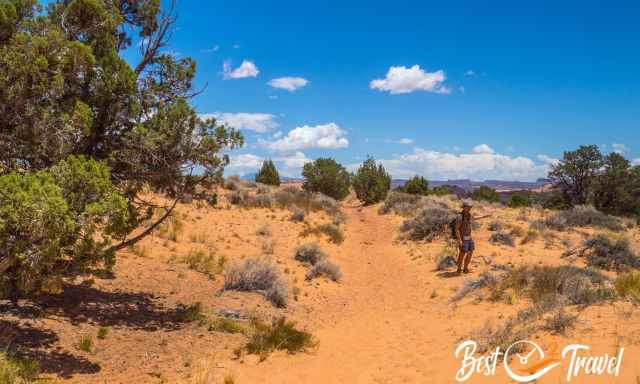 You continue another 10 minutes through sand but then most of the time over fascinating colourful rock formations with patterns like the Wave. The entire landscape is spectacular, with huge rocks in the distance. During the drive and hike, I already took tons of pictures.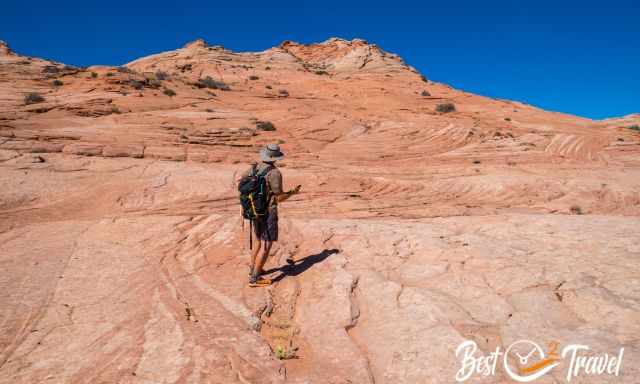 The later you start, the hotter it gets from spring to autumn. Bring plenty of water, at least one gallon for each hiker and a snack for this not-marked track. To find the Cosmic Ashtray, you definitely need a mobile hiking app!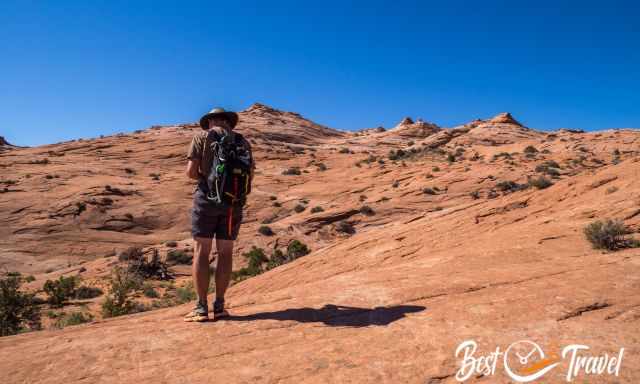 You climb up and down on the rocks until you can see a piece of the Cosmic Ashtray. It looks so close, but it still takes 20 minutes to get there. 
How Do I Get Into the Cosmic Ashtray?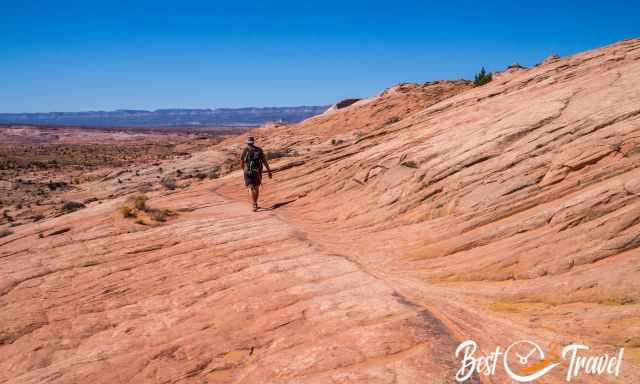 The Cosmic Ashtray is otherworldly and pristine. If you wish to climb into the Cosmic Ashtray, you leave footprints inside.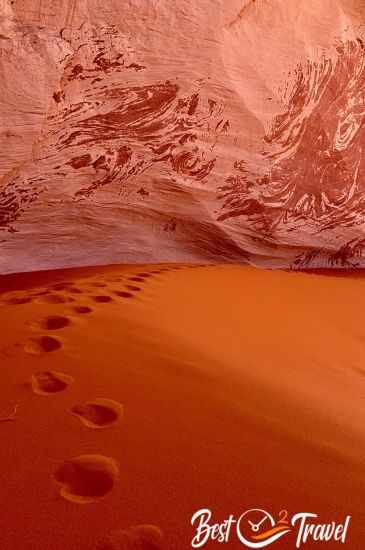 This unique and natural wonder gets destroyed until the wind erases all human traces. Definitely, don't climb into the Cosmic Ashtray if you are hiking alone.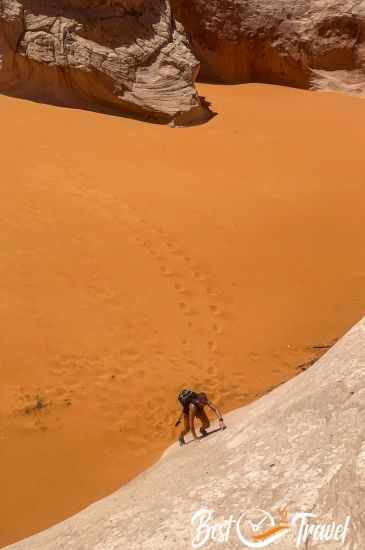 It is possible to climb out but much safer with a 33ft/ 10m long rope.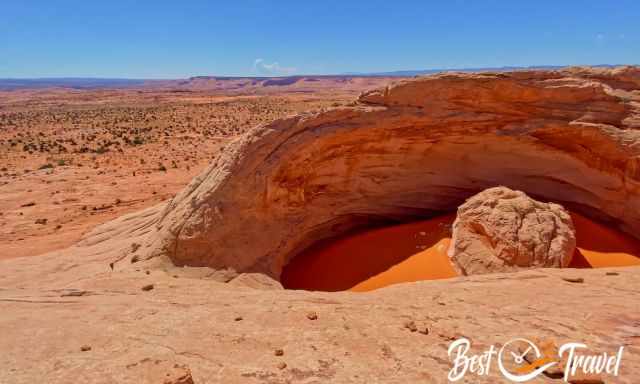 Enjoy the solitude of this stellar place and be aware of the desert-like climate. 
Can I Camp at the Cosmic Ashtray?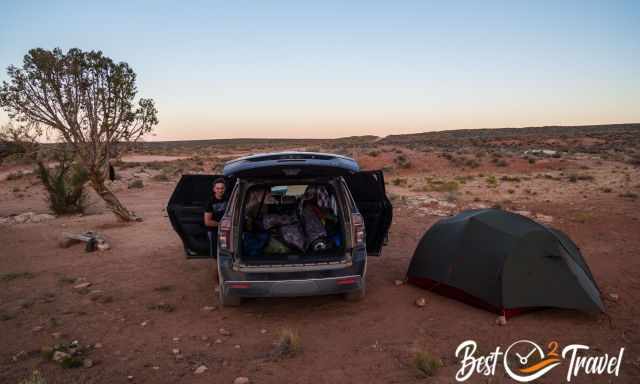 Literally, yes, but you need an overnight permit if you want to stay there during your hike. You quickly get your permit at the information centre. What I like most about Grand Staircase Escalante it is located on BLM Land, Buro of Land Management. This means you are allowed to camp almost everywhere.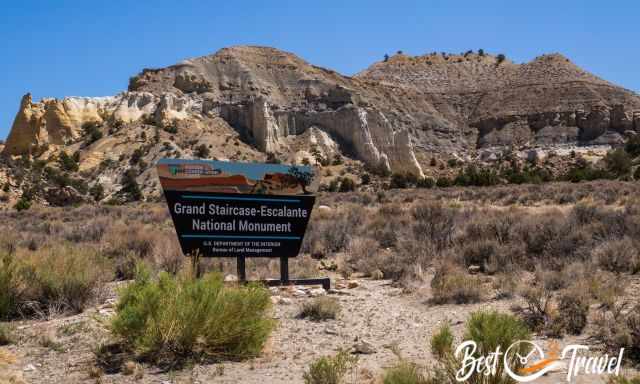 It is allowed without a permit if you plan to stay at the trailhead, Spencer Flat Road or the Harris Wash, where you get to by car. However, try pitching your tent or parking your vehicle where others already did. Take out what you took in. 
Geology – How Did Cosmic Ashtray Form?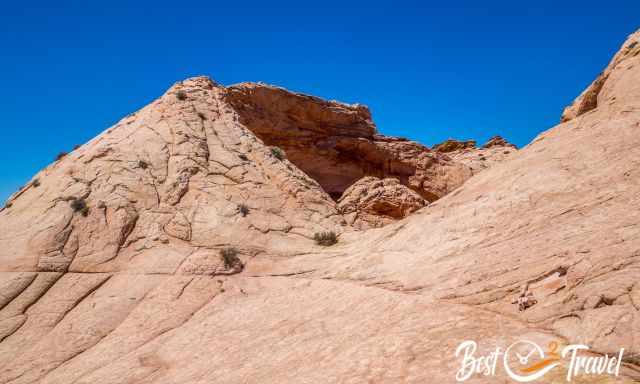 The Cosmic Ashtray is estimated to be at least 200.000 years old, a giant pothole filled with sand. It is mainly created by weathering and erosion. Strong winds occur; sandblast the pit and modelled the walls. The wind in the Cosmic Ashtray constantly changes the sand's height.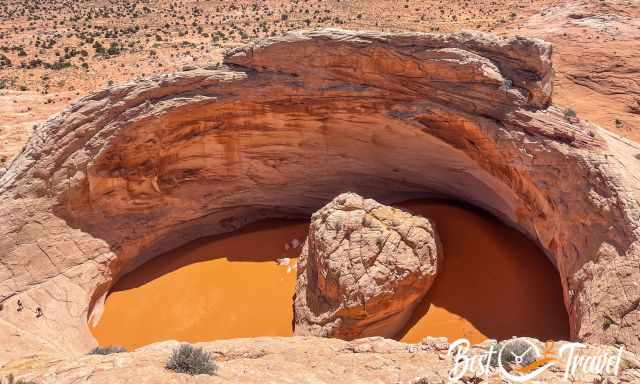 According to the Smithsonian, the sand inside the pit can be as high as the rock island in the middle and as low as you can see the bedrock.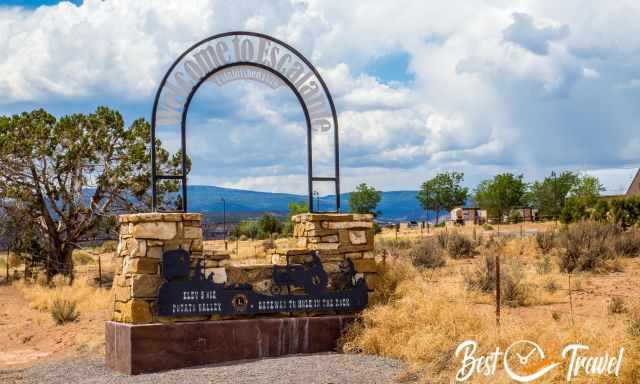 Looking for more hidden gems? Are you sick of trying to win the Wave lottery? This is the best Wave alternative which we checked out in late June.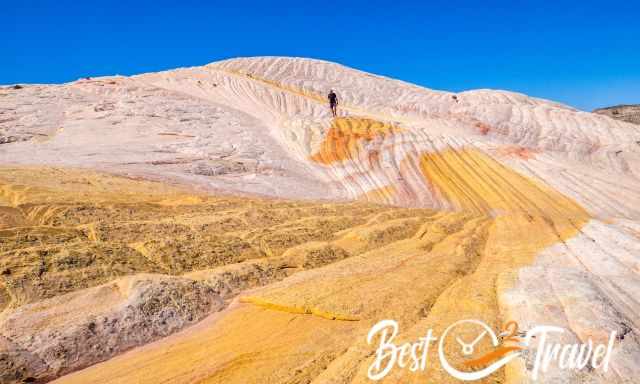 And there are more such places off the beaten path, not overrun, with no soul in sight, just you and this magnificent piece of mother nature, the Wahweap Hoodoos, just half an hour from Page.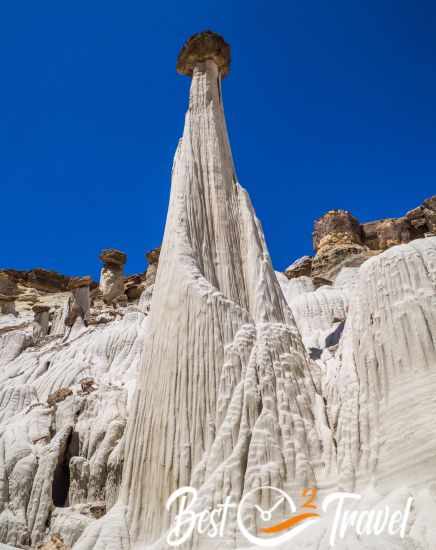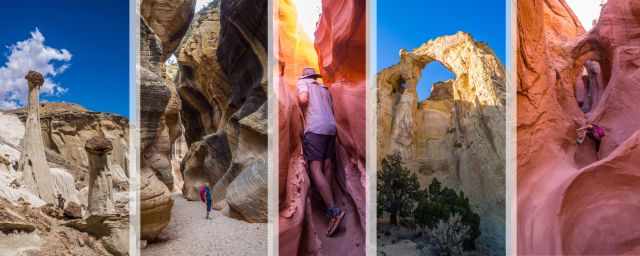 Do you wish to know more about the Grand Staircase Escalante National Monument? Check out my new guide and the 18 Must-Visit Places and where they are located. Not all are difficult to get to; some are even family and dog friendly.
Who We Are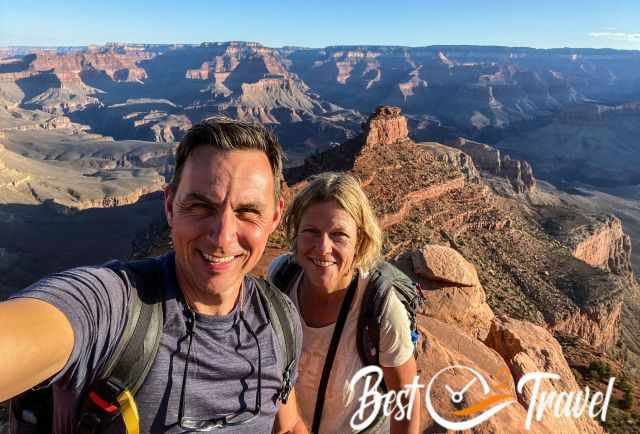 We are passionate travellers, married for almost 25 years, and we love discovering hidden gems around the globe. I am passionate about sharing some of the most beautiful places in the world with you, but I still can't live from my work, and we have regular jobs, too.
It is a tough business nowadays because fake travel websites rewrite content without effort and expense. Do you like to know more about fake travel websites, picture theft, and how to unmask them? Check out "The Truth About Fake Travel Websites"
Do you like my Cosmic Ashtray Guide? Please share it with your friends and on social media, subscribe to our  YouTube Channel.
Do You Like to Support Me - It's easy; use the Paypal Button below 😍
Do you want to obtain the usage right for my images? Contact me, but we will take action against picture theft.
** pictures by Rob