When Is the Best Time
Grand Staircase Escalante National Monument (GSENM) is a protected area of natural wonders. It is full of hidden treasures, excellent day and backpacking hikes, not overrun, no permits are required, there is no time entry slot, you do not have to pay an entrance fee and best of all, there is frequently no soul insight. The National Monument is more than 12 times the size of Zion but has only a fifth of the visitor number. Experience the real wilderness of Utah, one of the most beautiful states of the US in the Southwest.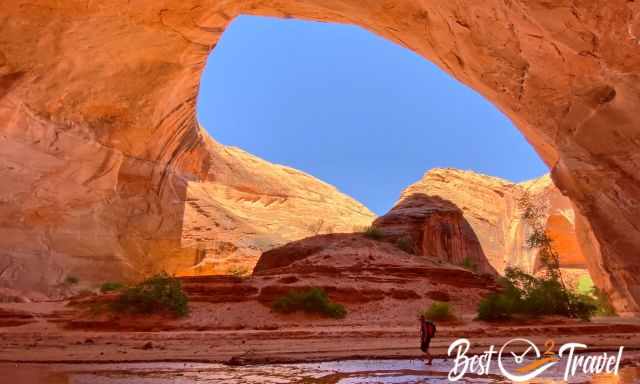 I will give you an overview of the 18 Must-Visit Places, the best time and seasons in the Grand Staircase Escalante. Some of these amazing hikes start in GSENM (abbreviation for Grand Staircase Escalante National Monument), but the highlights are protected under the Glen Canyon National Recreation Area (NRA). These two protection zones merge, but there isn't any permit needed, nor do you recognize this during the hike.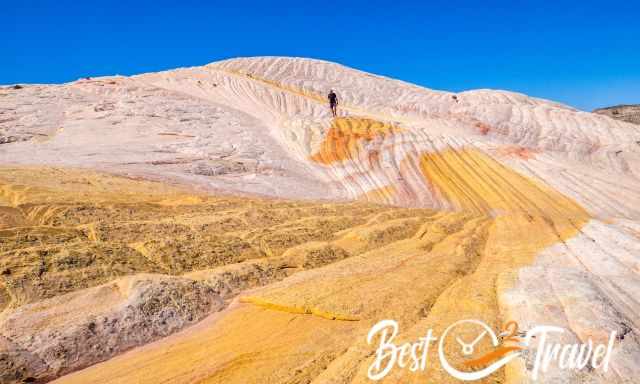 My guide became much bigger than expected, but this National Monument is simply unique, and there is so much you should know before travelling here. Therefore, check out my Table of Content and the section below: Camping Tips, Hotels and 7 Reasons Why Escalante is Unique at the end of this guide.
Update May 2023
The State of Utah plans to shrink the Bears Ears and Grand Staircase Escalante National Monument and attack the monuments in court. Yellow Rock, Cosmic Ashtray, Wahweap Hoodoos and most other places mentioned in my article could lose their protection. Without protection, these natural wonders are vulnerable and are under threat of exploitation by fossil fuel and uranium companies. These places can't get enough attention for their preservation.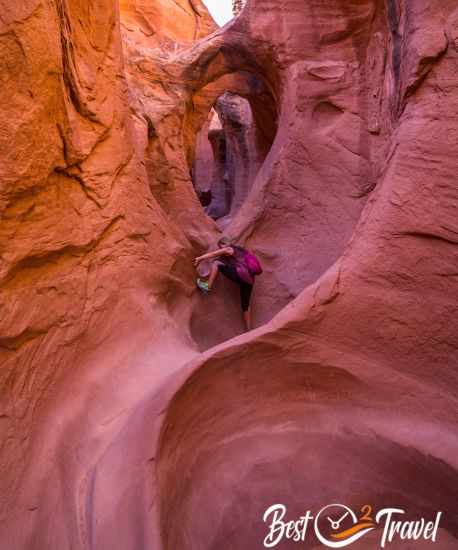 Escape the crowds and explore these 18 mostly remote-located hidden gems in this vast landscape. You may think soon it'll be here as busy as it is in most National Parks and State Parks. I visited Escalante and Calf Creek Falls for the first time in 2000. The Calf Creek Falls are easy to access from the Scenic Byway 12, and they are no longer a secret, but most listed spots below need proper planning to explore.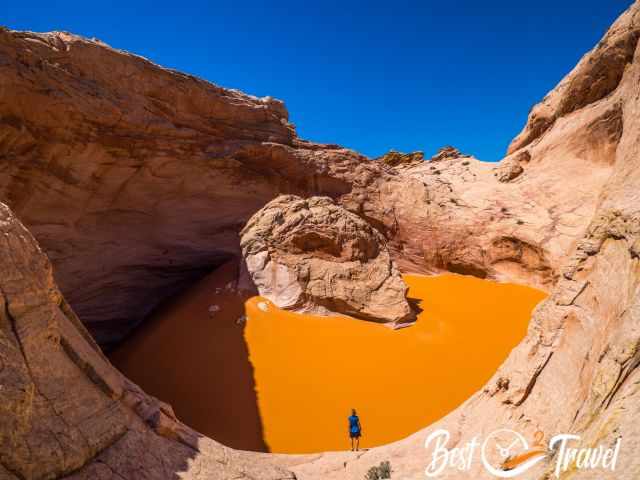 There isn't any sign for Cosmic Ashtray, Yellow Rock, Wahweap Hoodoos or Jacob Hamblin Arch. This is the real wild Southwest.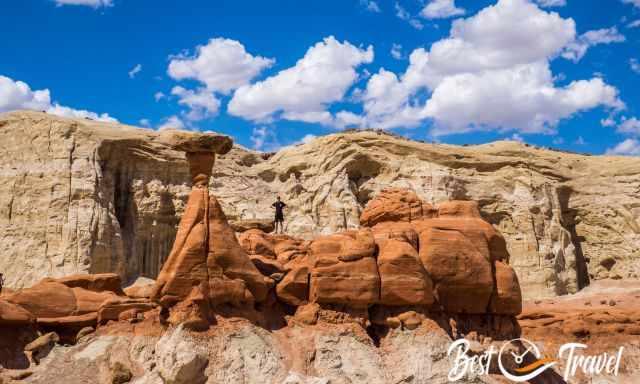 No entrance fee is requested for the Grand Staircase Escalante, just a parking fee at one of these attractions. For overnight hiking trips, backcountry permits are required. 
Do I Need a Permit for Escalante, And How Do I Get a Backcountry Permit?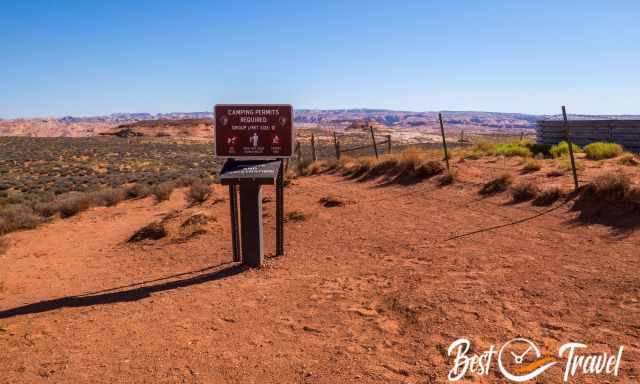 There is no permit required for any of the places in the massive National Monument. Escalante is not widely known and not overrun, so there is no need for this kind of protection. If you plan to stay overnight a backcountry permit is mandatory. Getting a backcountry permit is simple, just at the entry of the trailhead or at one of the Escalante District visitor centres.
Can I Drive Through Grand Staircase Escalante, And How Are the Road Conditions?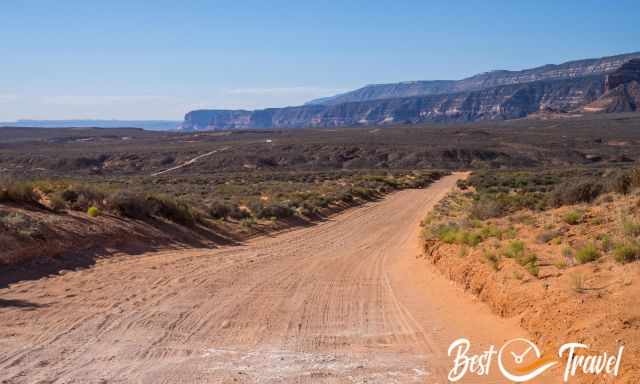 Several highways lead through the National Monument, like the famous Scenic Highway 12 to get to the Calf Creek Falls or Highway 89 from Page to Kanab, where you pass by the Toadstool Hoodoos or Nautilus. However, most of the hidden gems are accessible on gravel roads only. Four gravel main roads are the entry to the sheer beauty mother earth has created, which I describe in detail from Northeast to Southwest. There are plenty of dirt roads into the remote wilderness of the GSENM, but even more unknown than the ones mentioned below.
Do I Need a 4x4 For Escalante?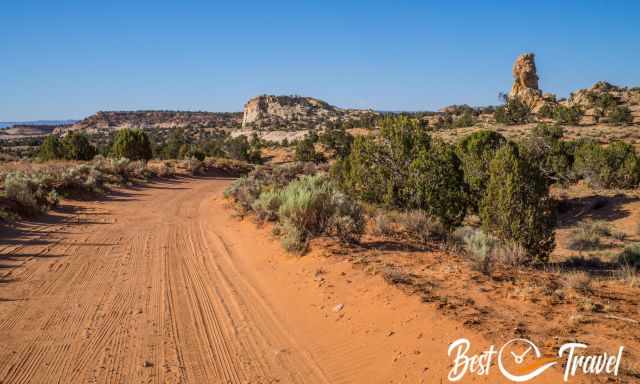 As mentioned above, some places are easy to access on paved highways, and a 2 WD is sufficient, while many others are remotely located and only accessible on dirt roads. A 4 WD with high clearance is a MUST to get there, except for the Calf Creek Falls and Toadstool Hoodoos. All these roads are impassable when wet means after heavy rain or snowfall. Therefore, always check the weather forecast before heading into the rugged high desert.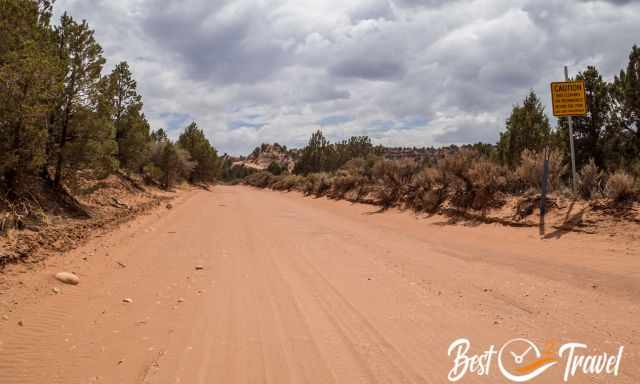 Good driving skills and navigation skills in the remote wilderness are essential too. This National Monument won't change much as long as these roads are undeveloped.
Grand Staircase Escalante Map - Access Roads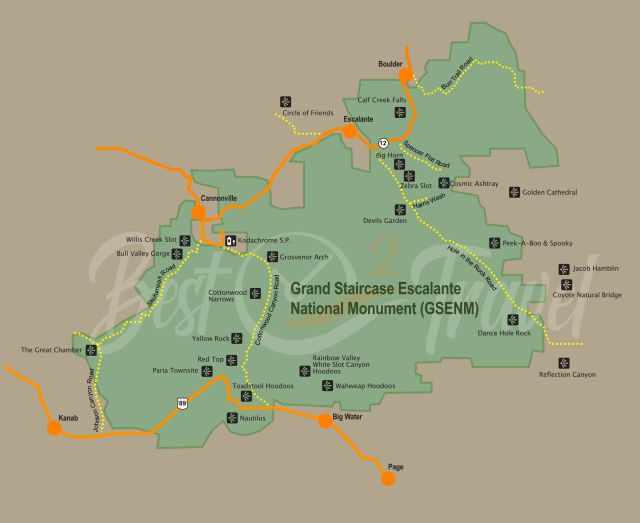 I have drawn this map to give you an overview of the massive Grand Staircase Escalante National Monument, the location of each of the Must-Visit places, and a more detailed view. So there is not only one entrance and exit to access Escalante; there are multiple entrances from highways and gravel roads. Afterwards, you must hike to get to these spots from half an hour to an entire day.
18 Must-Visit Attractions and Hikes in Escalante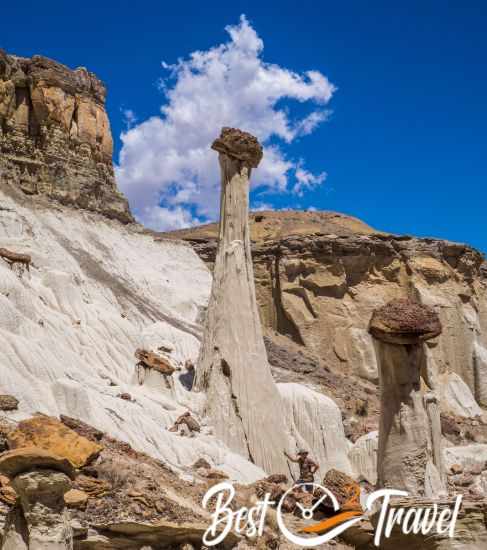 1 Lower Calf Creek Falls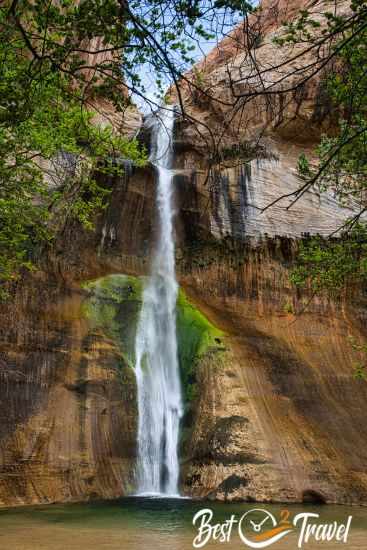 The 126 ft tall Lower Calf Creek Falls are simply beautiful and more popular nowadays. However, they are so totally worth hiking to. The best daytime is in the morning for sunshine on the falls and in the pool and to avoid the midday heat without shade. It is one of the most popular hikes in the Grand Staircase Escalante; you should arrive early because of limited parking. It is a family and dog-friendly flat trail that is a little strenuous because it leads through the sand. Restrooms are available at the parking lot. Bring bug spray – especially in summer; they are a bit annoying. Carry plenty of water.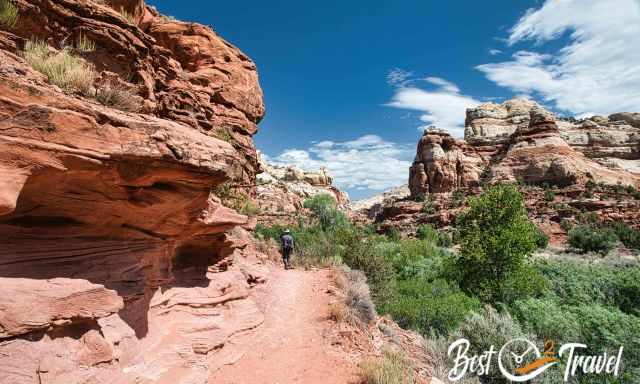 Trail Length: 6.4 miles roundtrip
Duration: 2.5-3 hours
Parking Fee: $5 self-pay with drop-in envelope
Camping at the Trailhead of the Calf Creek Falls – first come, first serve 
2 The Circle of Friends Pictograph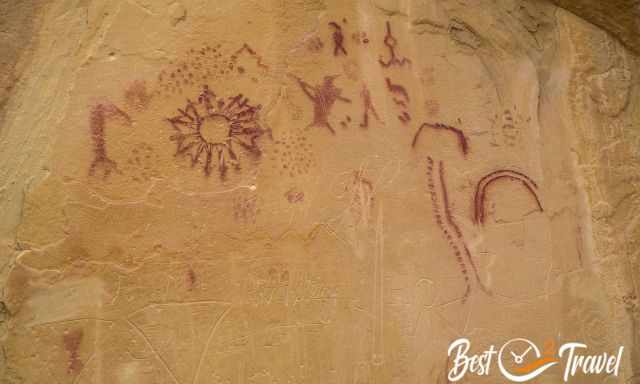 This is an excellent pictograph close to Escalante, easy to reach on a 5-minute walk, just 0,1 mile, which is a little steep. It is an incredible artwork – please leave it as beautiful as it is.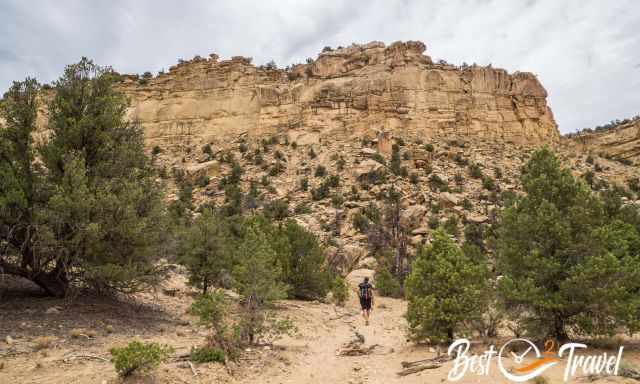 How to get to the Circle of Friends? From Escalante, on Scenic Byway 12 to the west, turn right into the Old Escalante Road FH17. From here, it is precisely 1.6 miles/ 2.6 km on a gravel road, accessible with a 2WD.
  Spencer Flat Road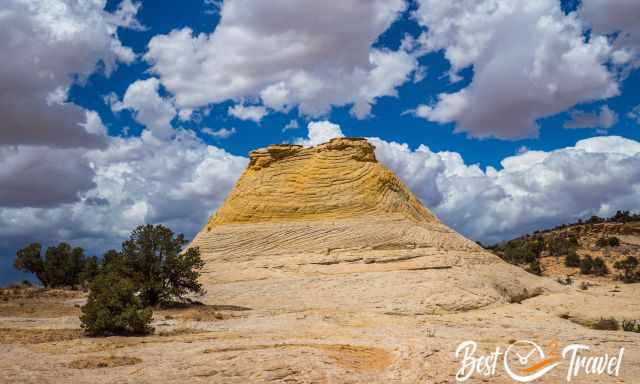 The Spencer Flat Road is strikingly beautiful, with rock formations next to the gravel road. It is one of the two access roads to the Cosmic Ashtray, off the beaten path and not easily found. It doesn't matter which route you choose to cosmic Ashtray; you definitely need a 4 WD with high clearance. Spencer Flat Road Google Maps
3 Cosmic Ashtray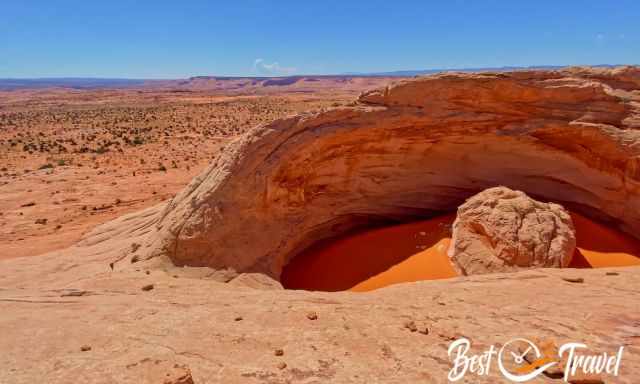 The name is already promising, and this surreal sandstone pit with orange sand looking like mud inside is absolutely unique. Walking through the sand of this masterpiece is simply breathtaking.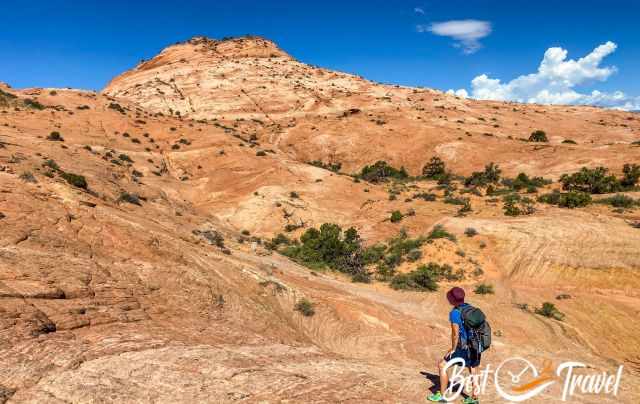 Thanks to the remote location and missing signs, it is hard to get here. Proper planning is essential to figure out how to find the Cosmic Navel. If you wish to explore the Cosmic Ashtray, you need an entire day for this trip. More information and how to get to the Cosmic Ashtray in my detailed Cosmic Ashtray Hiking Guide. 
Another highlight is the Red Breaks Slot which you are able to combine with Cosmic Ashtray.
  Hole in the Rock Road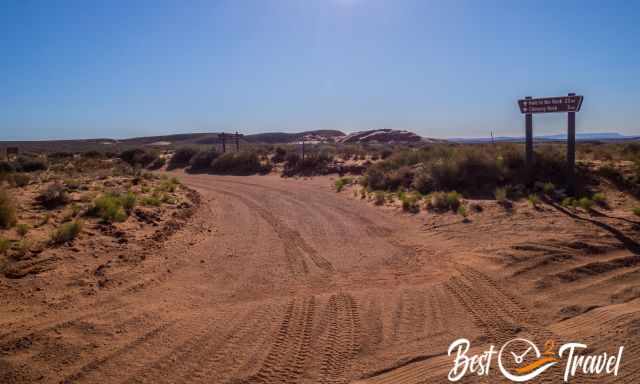 This gravel and dirt road starts five miles southeast of Escalante and ends at the western shore of Lake Powell. If carefully driving, you get until Devils Garden Picnic Area in a 2 WD, but I highly recommend a 4 WD with high clearance for the entire route of 56 miles/ 90 km. There are speed limit signs of 35 miles per hour, but some sections require you to drive more slowly if you do not want to mess up your vehicle. The last six miles of HITRR are the roughest section.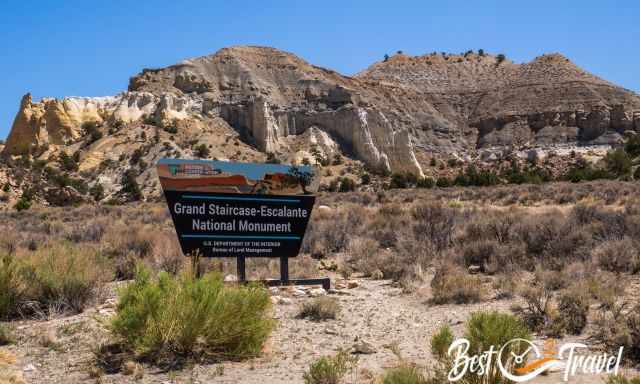 The HITRR is located at 5.800 ft/ 1.770 m elevation, which impacts the temperatures at night and in winter. If you wish to experience one of the most adventurous scenic roads, you can easily spend here an entire week, but you definitely can't explore Escalante in a single visit. There is no hotel, no comfort, just solitude and beauty.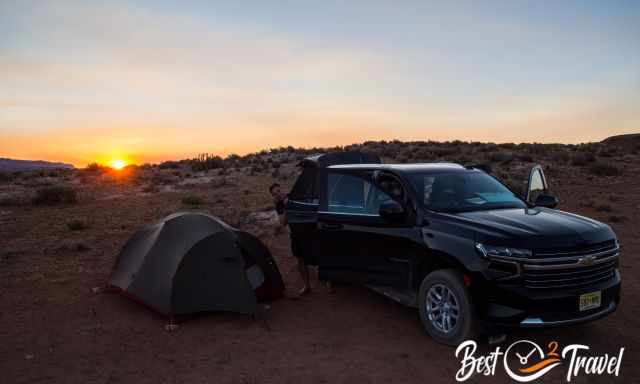 You can pitch your tent along the HITRR on BLM property but please camp only where others did already. Take out what you took in and listen to the sound of silence in the night. The only alternative is the lovely town of Escalante. We spent a few nights along HITRR and spoilt ourselves for two nights in the Canyon Country Lodge.
Why is this Road Called Hole in the Rock?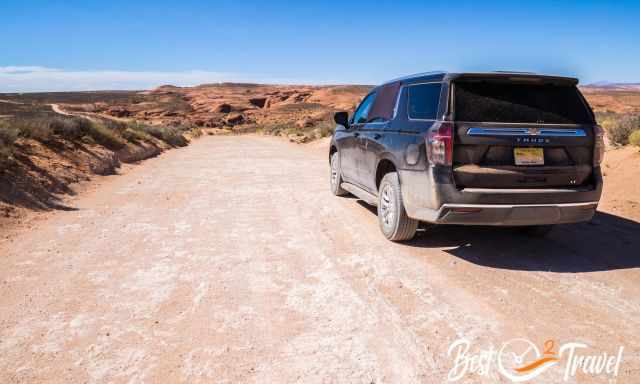 HITRR follows much of the Mormon settlers' original trail from 1880. Around 250 Mormons from Cedar City were asked to settle in the San Juan River Basin. Their real journey, or better risky adventure, began southwest of Escalante through rough and rocky terrain and deep gullies to get to the Colorado River.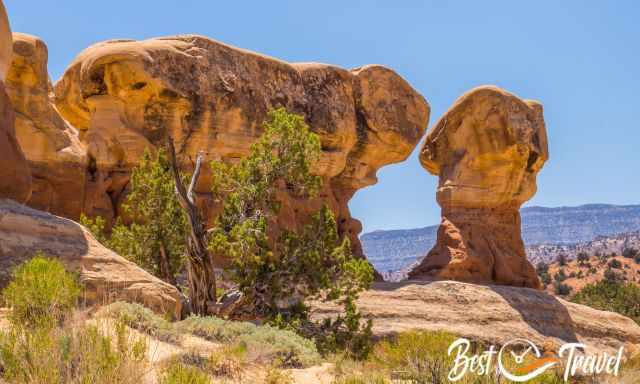 They had overcome immense obstacles. When the settlers got the first glimpse of Colorado from a cleft more than 1000 ft above, they were forced to blaze a trail through it.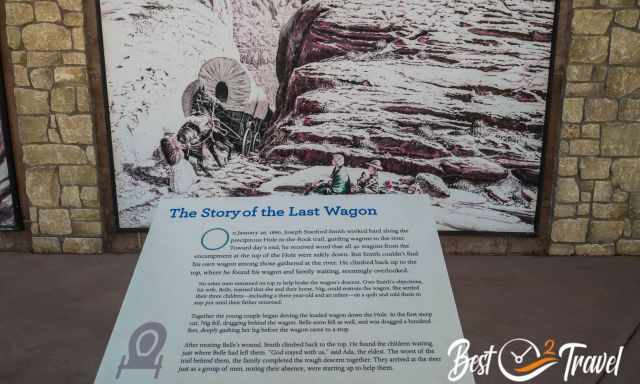 This crevice was named Hole in the Rock. It took them six months to reach their destination instead of the planned six weeks, but luckily without any fatalities.
4 Zebra Slot and Tunnel Slot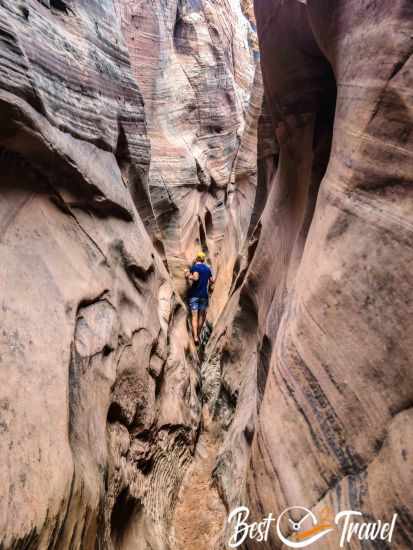 This short but photogenic slot canyon is a branch of Harris Wash and not for the faint-hearted. There is mostly cold and brackish water in the slot from knee-deep up to your head because the sun does not reach the bottom. But you get rewarded with perfect shots by an indirect light that lets the canyon walls glow. It is an extremely narrow slot, and you frequently can't put your feet on the ground.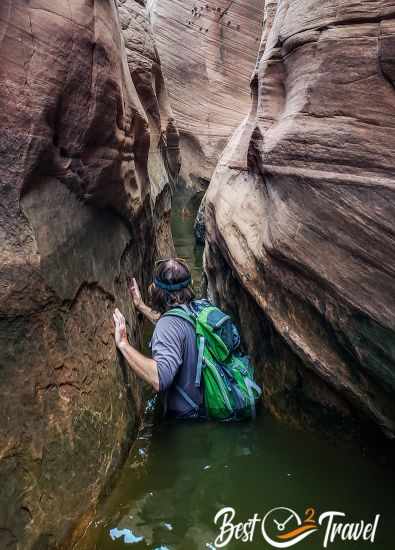 However, this slot canyon is great fun and can be combined with Tunnel Slot. Tunnel Slot is even narrower and simply unique but is also filled up with deep puddles. The high walls almost touch each other at the top. Neither Jeremy nor we could get to the far end of the slot's white and pink striped part, which Zebra is famous for.
Difficulty: Moderate
Trail Length: about 8 miles/ 13 km
Duration: 6 hours
Zebra Tunnel Trailhead and Parking Google Maps
Another colourful canyon nearby is Big Horn Canyon, marked on my map.
5 Devil's Garden and Picnic Area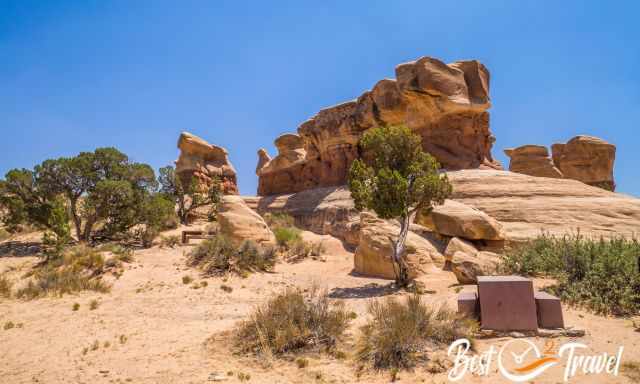 There are picnic tables here, so you can bring your lunch or make a BBQ on the charcoal grills and also, a pit toilet is available. It is a stunning area where you can wander and climb between fanciful hoodoos, goblins and arches with your family and kids.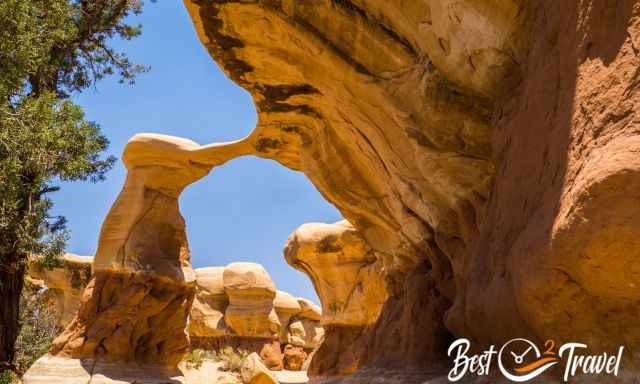 It is a stunning location with fantastic walks for everybody. This part of Escalante is made of Entrada Sandstones created by erosion-weathering from rain, wind, ice, and snow, and it is scorching in summer with almost no shade. 
6 Golden Cathedral – Neon Canyon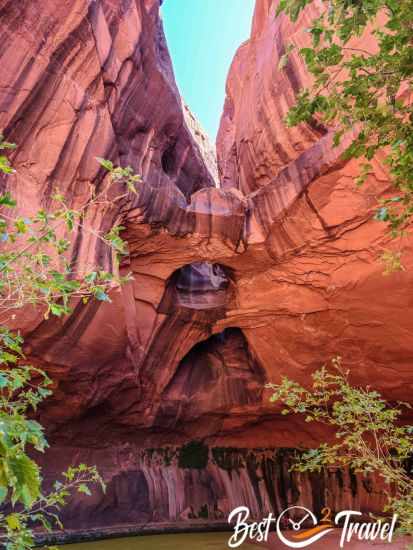 Golden Cathedral is a dried-up waterfall which nowadays only occurs after heavy rainfall. This rain has eroded a hole into the overhanging rock in Neon Canyon. The more adventurous can abseil through the hole from the top, but you are able to reach this highlight with a moderately difficult hike.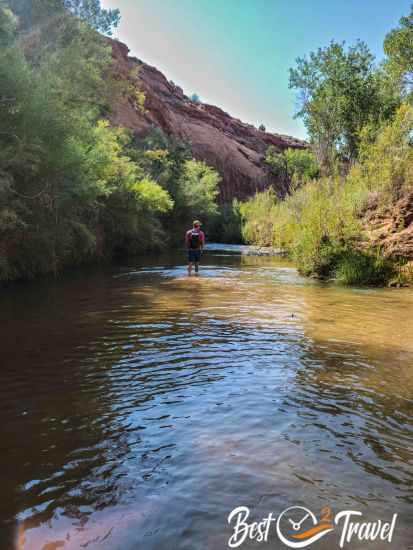 From the trailhead, you soon start descending for a few hundred feet with plenty of beautiful lookout points before you descend to the canyon and wade through the knee-deep Escalante River. Like most of the GSENM hikes, a proper planning, map, or hiking app is essential to find the entrance from the river to Neon Canyon.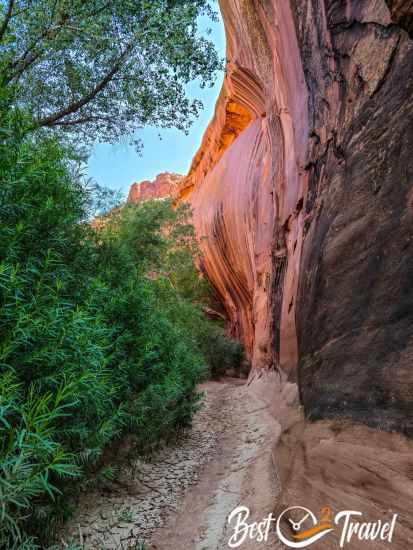 Between sky-high, vertical, orange-brown canyon walls, the path gets to its end. Here is the Golden Cathedral, a huge hole in the rock. Below, the rare rainwater formed a shallow pond. What a secluded and fascinating place. Bring plenty of water, at least one gallon for each hiker.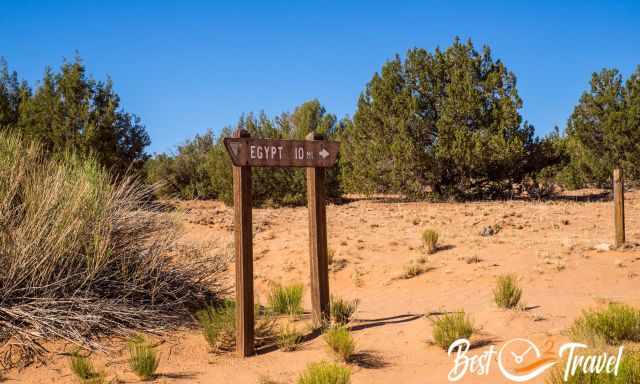 Egypt Trailhead, roughly 31 km from Escalante, the last ten miles from the crossing of HITRR to Egypt leads through a rocky and bumpy wash. Access from Escalante, but Neon Canyon is situated in the Glen Canyon NRA. 
You can hike a circular trail from Egypt Plateau to Neon Canyon and back via Fence Canyon.
Difficulty: Moderate to difficult
Trail Length: 12 km
Duration: 6-7 hours
Camping Tip: There is excellent camping on Egypt road about 5 minutes past the right-hand turn to the Golden Cathedral trailhead.

Here is the outstanding camping spot. Thanks, Jeremy!
7 Peek-A-Boo and Spooky Slot Canyon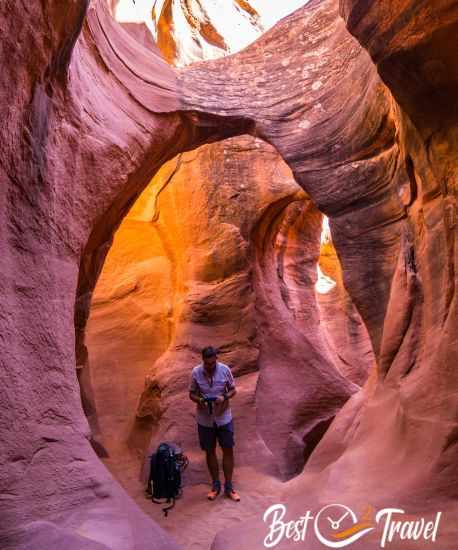 Although quite a rough drive of more than an hour, it is totally worth it. These Slot Canyons are a little busy nowadays, and a third parking lot was built for the Slot Canyons, so you can imagine weekends, spring, and autumn are busier.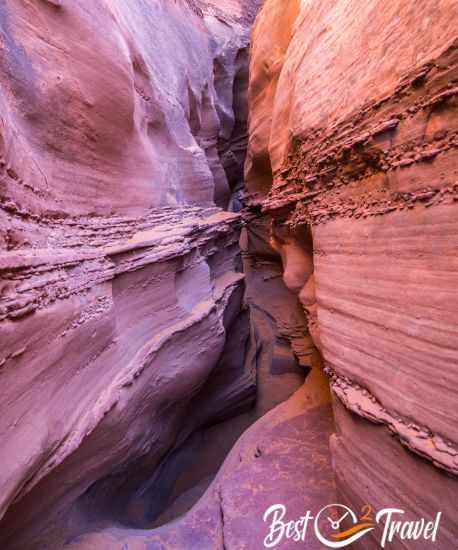 Check out my additional article with my 9 Must-Know Tips Before You Go for Peek-A-Boo and Spooky to get the most out of this spectacular track because it can end as a nightmare.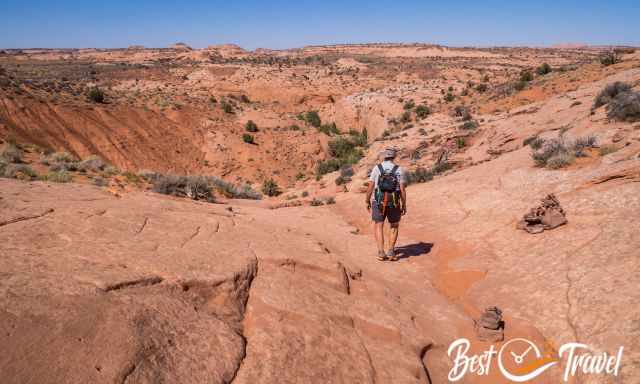 We saw a couple the following morning in their car. They told us they came back in darkness because they were unprepared and ran out of water. They feared going back to Escalante on this rough road in the night. It was terribly cold, although late June. So first, we offered them a hot coffee and snack before we continued to Jacob Hamblin.
Peek-A-Boo Slot Canyon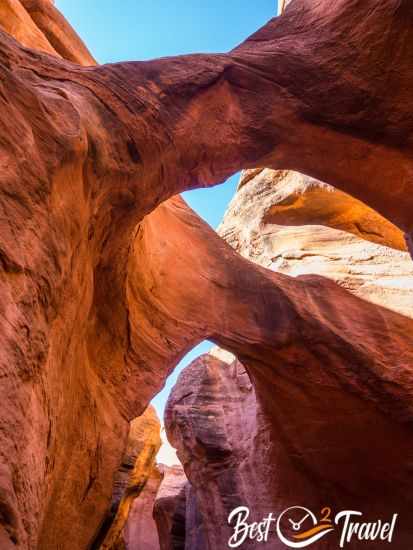 We accessed Peek-A-Boo, where many people leave the slot canyon. We decided it was safer to climb 15 feet up than down, and we never go without a rope. For safety reasons, bring a rope, especially if you plan to visit these Slot Canyons with children. This first section was my photographic highlight, although there are more.
Spooky Slot Canyon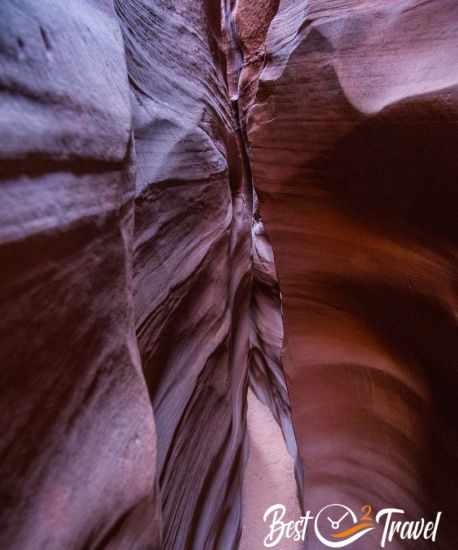 Narrow, narrower, narrowest, there is no other way to describe this Slot Canyon. My husband refused to hike through the last section, and I went alone. You can only get through this part with your backpack over your head; if you are claustrophobic, this canyon is not for you. I loved it - so totally thrilling.
8 Coyote Gulch and Jacob Hamblin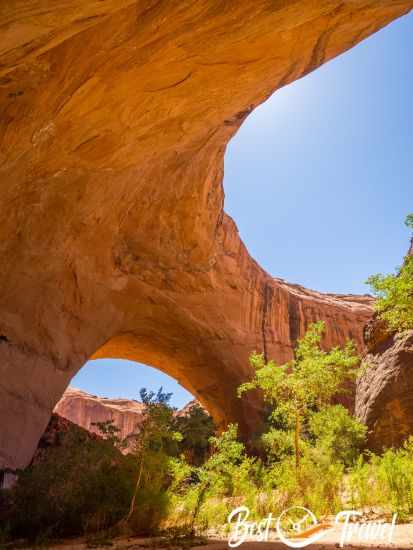 Jacob Hamblin and Coyote Gulch are simply a unique and adventurous hike. It took me plenty of time to figure out all details, but it was so totally worth it. Because of the remote location and the poor road conditions, the arches and the gulch are still hidden gems in the Grand Staircase Escalante National Monument. You do not have to fear it is getting overrun as long as these areas stay undeveloped!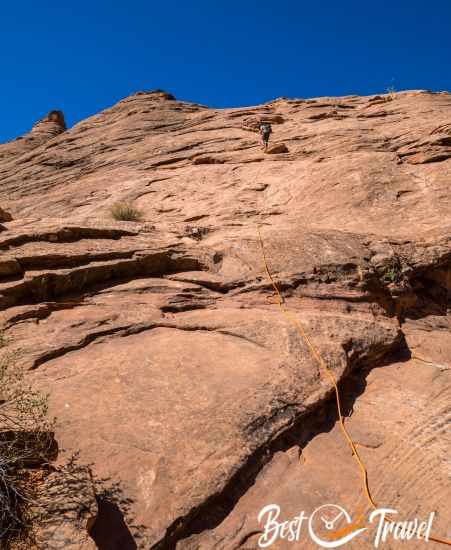 Good preparation and the right car are the key. If you wish to hike it in one day, you must camp the night before nearby. Coyote Gulch, Jacob Hamblin, and Coyote Natural Bridge are accessible via GSENM - Hole in the Rock Road but belong to the Glen Canyon NRA. This is one of my favourite hikes; therefore, you get all details in my additional Jacob Hamblin Hiking Guide.
9 Dance Hall Rock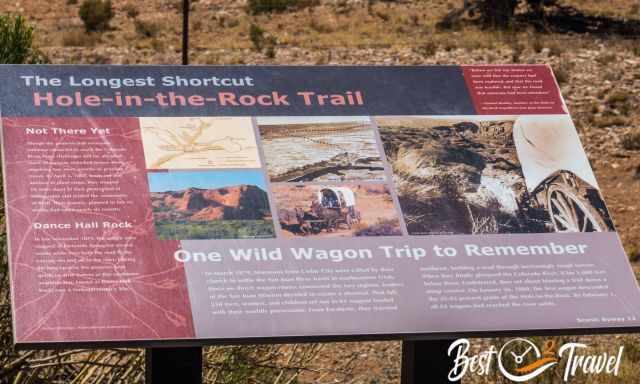 The name was given by the settlers in 1880, but there is so much more. It is a great natural amphitheatre with immense rocks, an excellent acoustic, and deep holes filled with nature and trees. It looks so bizarre, but be careful. These holes are deep that you are not able to climb out. The pioneers persevered here from mid-November until January 1880. They made music and danced Square Dances at Dance Hall Rock, waiting to continue but first to get the shortcut blasted down to Colorado. Pit toilets are available at the parking.
10 Reflection Canyon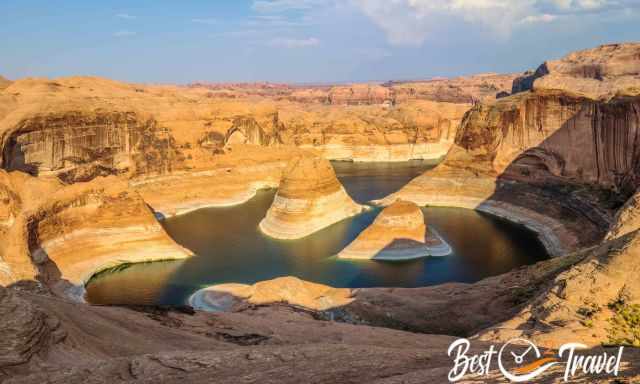 The trailhead of Reflection Canyon is located almost at the end of the Hole in the Rock Road – For experienced hikers only!
You access this trail from Grand Staircase Escalante, but the Reflection Canyon is situated and protected under the Glen Canyon NRA.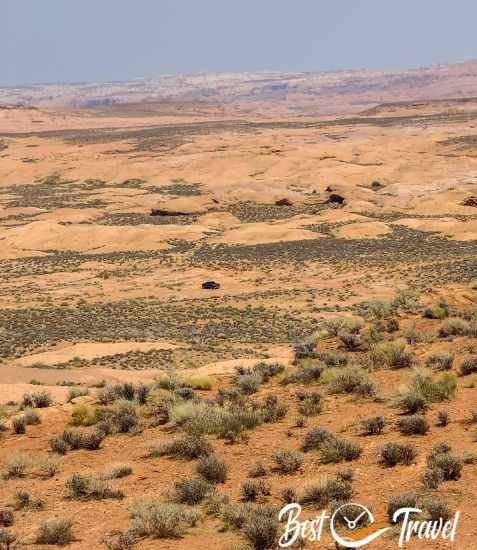 It is a three hours drive from Escalante; therefore, you need to camp nearby the night before you plan to hike. From here, it is a brutally long day hike of roughly 16-18 miles roundtrip without shade. This is not a real hiking trail; it is not marked.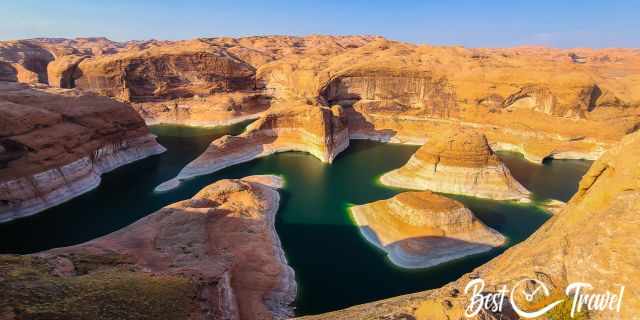 You need a hiking app or a map and navigation skills. Some hikers camp here, but the wind can be insane at the cliffs' edge! Summer temps easily top 100°F.  
11 Wahweap Hoodoos Close to Page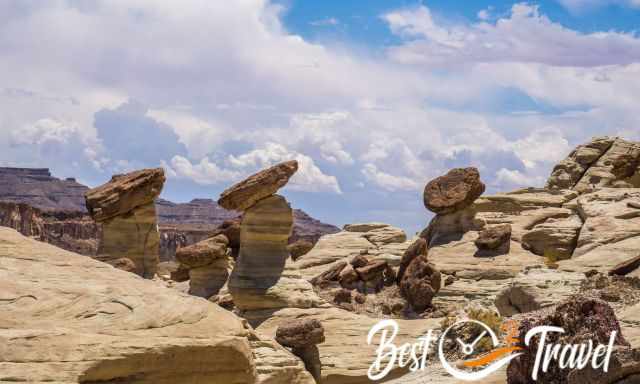 These are simply the most jaw-dropping hoodoos in Escalante. The trailhead and parking are 20 miles northwest of Page. You hike through a wash and, like always, without any shade. It is a tiring return hike of 9 miles which took us five hours, including a lunch break. The Wahweap Hoodoos are three groups of mushroom rocks spread in proximity, towering white rock needles with brown and red stone hats.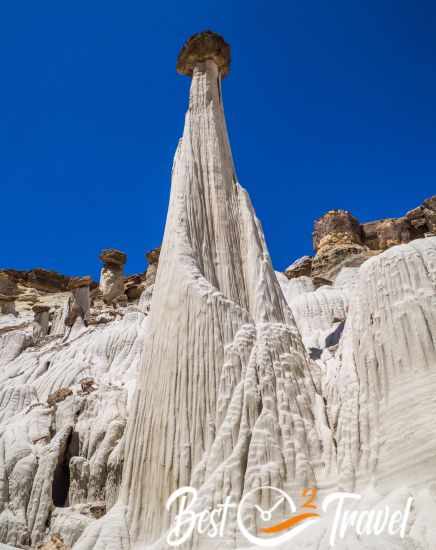 The third group, "The Tower of Silence" and "White Ghost", are the most famous. We were astonished when we reached this group. Do you like to take similar fantastic shots? Check out my additional article for the best daytime and more details about the Wahweap Hoodoos.
12 Toadstool Hoodoos Close to Page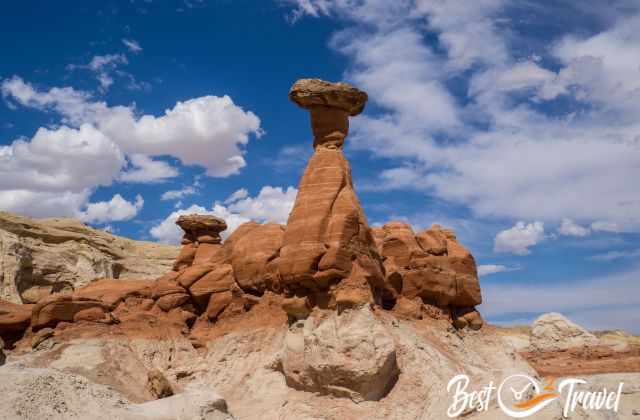 These hoodoos are good to reach from the parking next to HW 89 between Kanab and Page. It is less than half an hour walk – 1 mile - to get to those hoodoos, but you easily spend an hour here. Carry a bottle of water, especially in the summer. Please, don't underestimate you are walking in the desert—more about these picturesque Toadstool Hoodoos in my additional article, plus plenty of pictures.
13 The Nautilus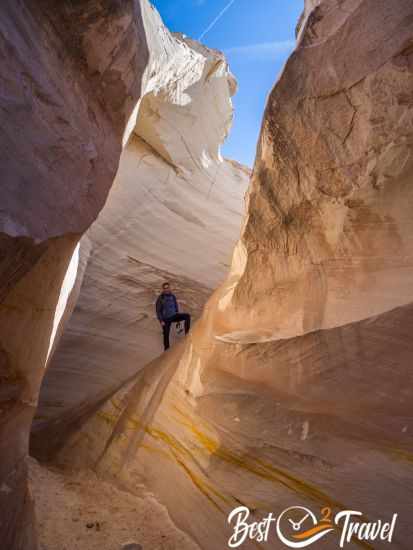 This unique twisted rock formation is one of our top five locations in Escalante. It is easily reached even in a 2 WD, a short 20 minutes walk, and when you reach this formation shaped like a sea shell, I promise you to get blown away. We were flashed by the beauty, the colourful sandstone, especially the yellow pattern.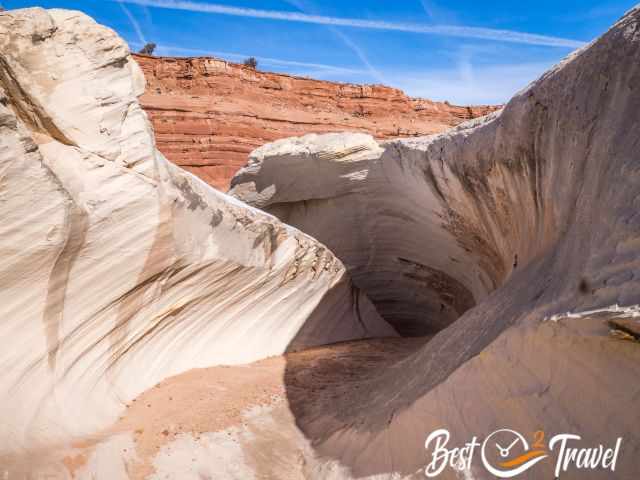 To access the Nautilus shoes with good traction are essential. You are able to walk down and up, and hands are needed at the steepest section. The shimmering light inside of the bizarre rock formation is best in the morning.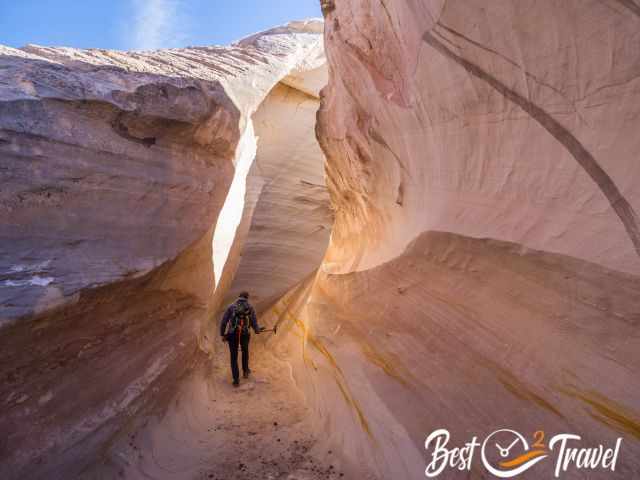 Please, don't use hiking poles, and don't stand on the top - the overhang of Nautilus. It is a fragile sandstone formation and has some fissures already. Please, no carvings or graffiti - soak in the beauty and leave no trash.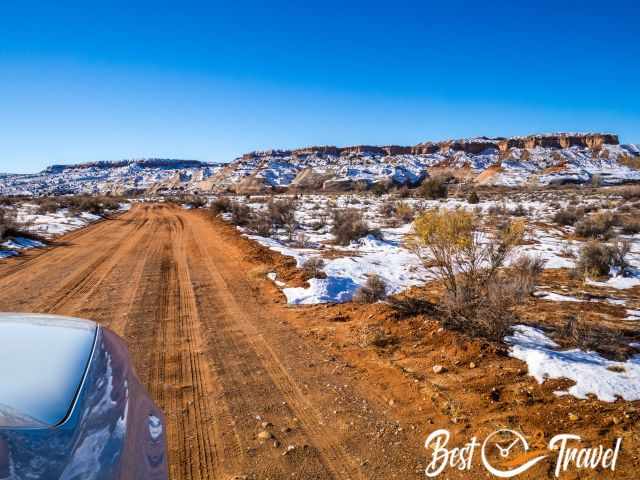 I assume you would like to know where it is exactly. Coming from Page, turn left from Kanab right to the Paria Contact station and follow the gravel White House Road for 1.5 miles. Even if the dirt road is wet and impassable in a 2 WD, you can hike from here to the trailhead. Parking and trailhead Google Maps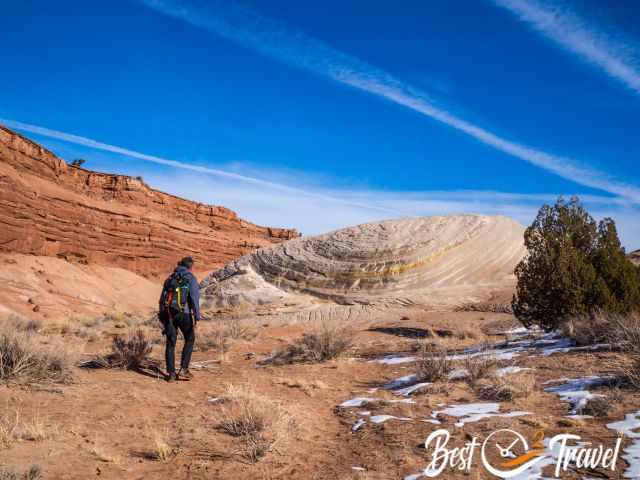 After parking the car, we followed the grey and orange rock formation until we reached the almost dried-out creek. Turn left and follow the creek for roughly 1000 ft/ 300 m until the mouth of Nautilus appears to the right in the distance. It is a half a mile walk to Nautilus - a one-mile return to the car. Hiking Map by Locus Map App
Watch our new The Nautilus Video on YouTube
  Cottonwood Canyon Road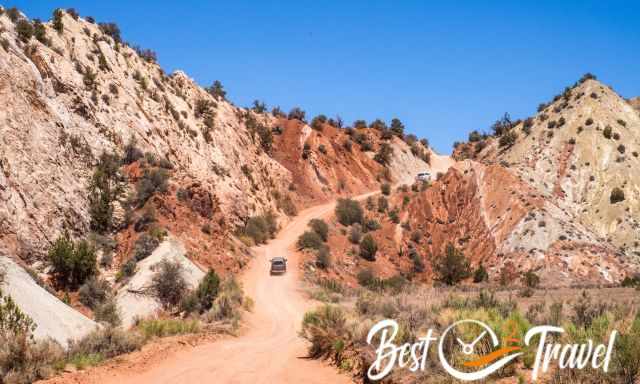 This dirt gravel road is simply spectacular, the earth upside down with colossal sandstone domes. My favourite spot is the downhill drive, the spectacular monocline "Cockscomb" shortly before the Narrows. The view is simply otherworldly, which you can see in our video. This is the unique GSENM.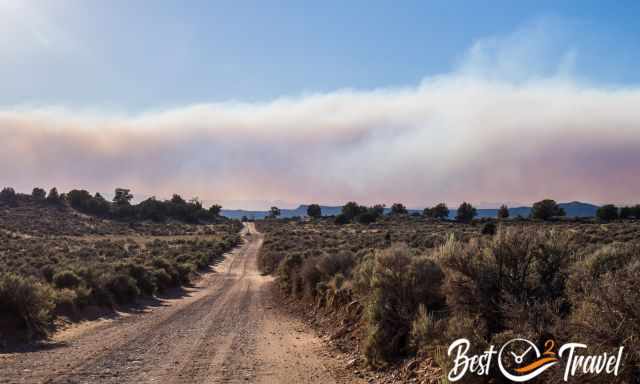 The dirt Cottonwood Canyon Road is 46 miles long from HW 89 in the south, close to Page to Cannonville in the north at Scenic Byway 12 and takes roughly 2 hours. Our base was Kodachrome State Park – Bryce View campground. It is a stunning State Park, and the campgrounds are situated in a beautiful landscape. The dirt road becomes extremely slick and treacherous when wet. Check the weather forecast if you wish to explore this magnificent road. 
14 Grosvenor Arch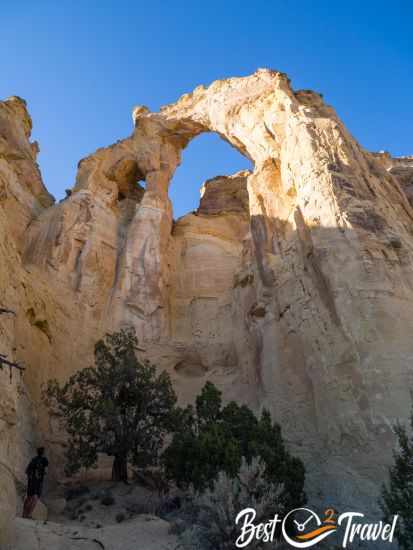 Actually, Grosvenor is two arches towering prominent in the desert with a height of 150 ft/46 m. I am fascinated by natural arches, and Grosvenor is for sure impressive, but I only recommend visiting Grosvenor Arch in combination with Kodachrome State Park (less than 30 minutes drive) or Yellow Rock and the Cottonwood Canyon Road.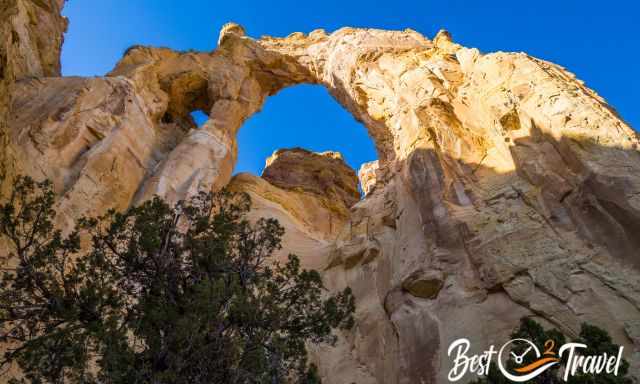 It is quite a ride, and also, for this arch, I highly recommend a 4 WD and high clearance vehicle. At the day-use parking is a picnic area and a pit toilet available. No overnight stays are permitted. You already see the massive arch from the dirt road before you arrive.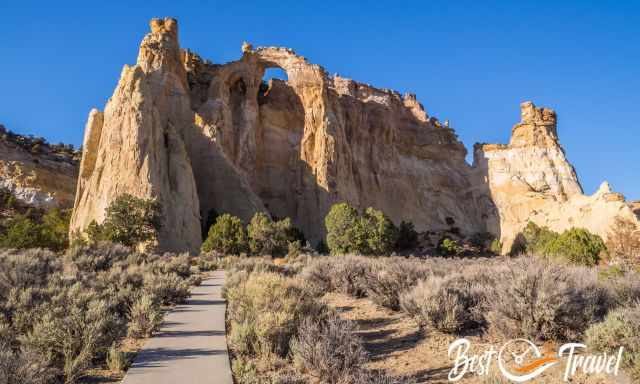 It is just a 5 minutes walk on an even path suitable for strollers and wheelchairs. No entrance fee, and the only visitors left when we arrived in the early evening. Also, here are no crowds due to the remote location. Location Google Maps
15 Cottonwood Narrows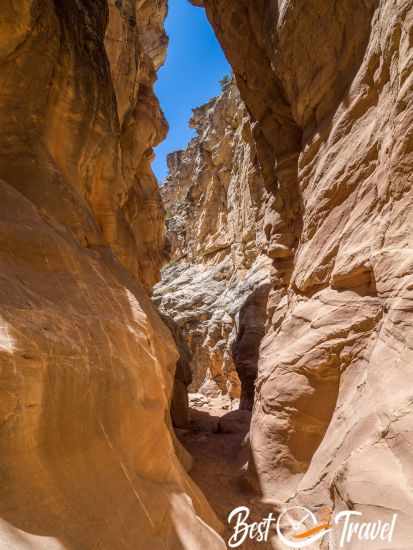 Cottonwood Narrows are a picturesque canyon, in sections more a slot canyon with two entrances: north and south. There is limited parking on either side of the Narrows. However, we met one couple only at the weekend. It is a flat and easy hike from north to south and back. It is a little cooler inside in the shade, but in some sections, the sun is directly overhead at midday so take a hat and sunscreen. The northern part is a bit more scenic and narrower. If you want a quick look, I suggest starting from the north for half a mile or so and back.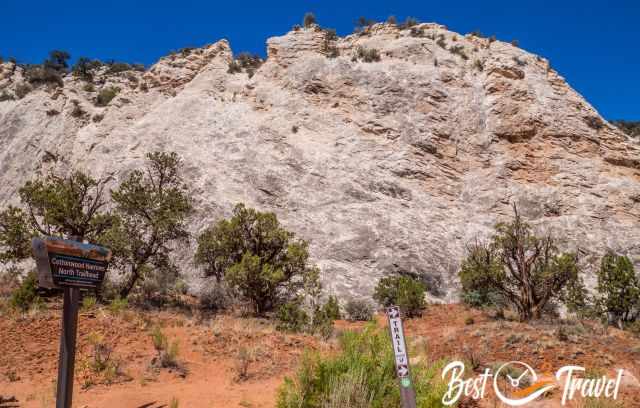 Trail difficulty: easy
Trail length: one way 1.6 miles – roundtrip 3.2 miles 
Duration: less than 2 hours for the flat and sandy track
Hiking Map Locus Map App
Cottonwood Canyon Road is impassable when wet or after heavy rainfall.  
16 Yellow Rock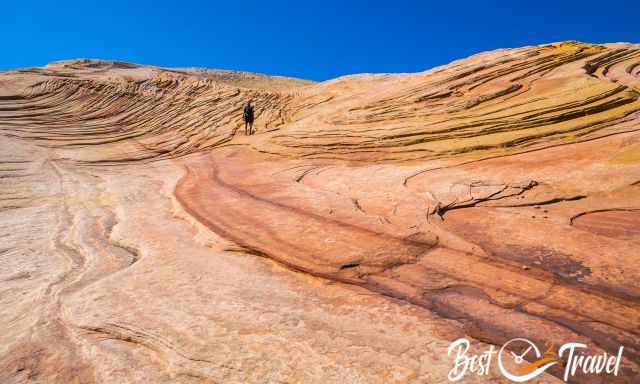 When we reached the ascent to Yellow Rock, we met one hiker. I saw his sparkling eyes and overwhelming facial expressions, which told me more than a thousand words. If I could, I would get back in a heartbeat. This vast rock is simply unique with all these different formations and colour explosions. This is one of the best masterpieces which mother earth created.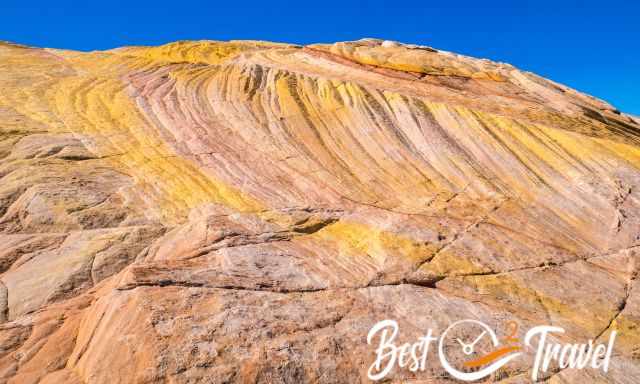 Bring plenty of time so that you can explore all of this area. It is bigger than you may think. Do you wish to visit this remote hidden gem with no one else around? Check out my detailed guide to finding Yellow Rock.
  Skutumpah Road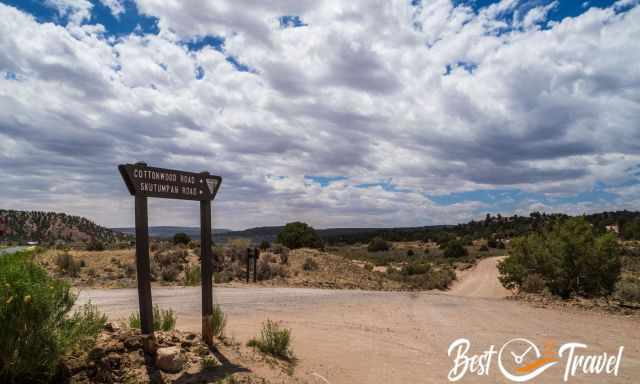 The 46 miles dirt road starts shortly after Cannonville before Kodachrome State Park and goes until Johnson Canyon Road, close to Cutler Point.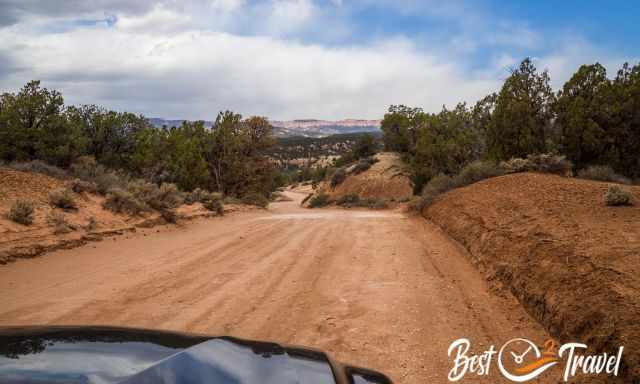 It is a poor, rough, dirt road; therefore, access to Willis Creek and Bull Valley Gorge is recommended from the north from Cannonville and Cutler Point, close to Kanab from the south via Johnson Canyon Road. Also, these roads are impassable when wet.
17 Willis Creek Slot Canyon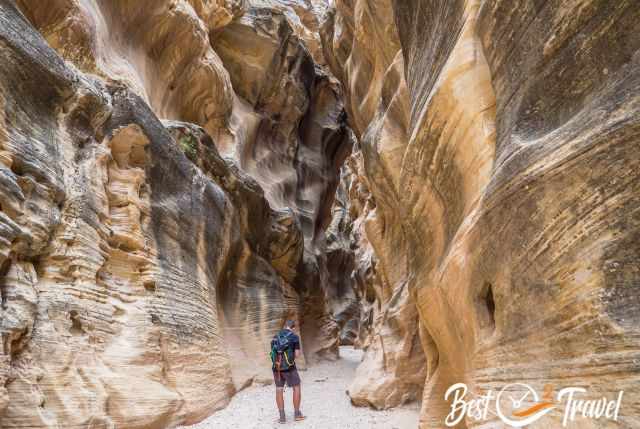 It is a 10 miles scenic drive from Kodachrome to Willis Creek Slot with spectacular views, which took us half an hour. This Slot Canyon is excellent for families with children because it is a minimal effort to hike through, and the canyon is neither narrow nor technical yet incredibly spectacular.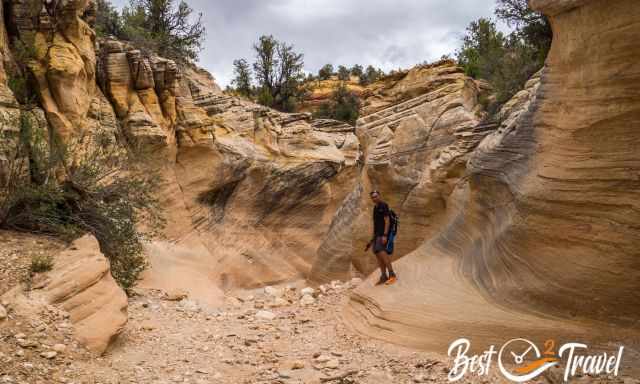 It is a dog-friendly spot; you can bring your dog on a leash. There is plenty of parking, and there were around ten cars, but it didn't feel crowded at all. It is a short walk from the parking to the Willis Creek Slot Canyon entrance.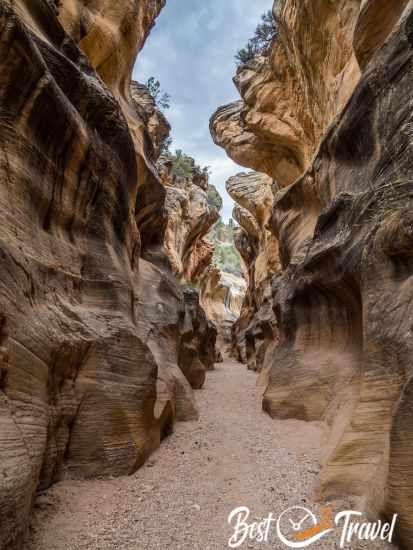 The canyon is frequently dry or has shallow water only after torrential summer rainfall. The colours in the canyon are very unusual, mainly in yellow and black sandstone and depending on the light; an orange appears too. In the beginning, the canyon is wide and open, and then the walls seem to squeeze tight, forming a Slot Canyon.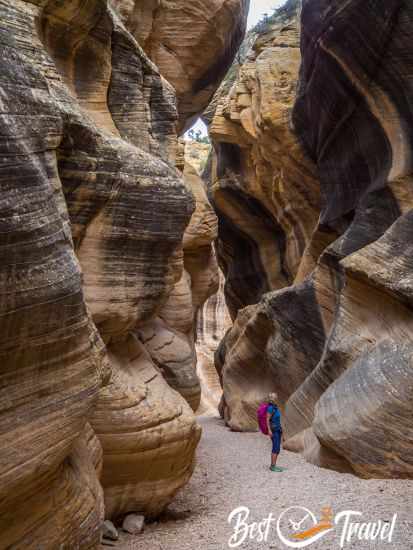 The further you walk, the more impressive Willis Creek Slot Canyon gets. You hike the same way in and out. The information board mentions 2.2 miles, but you can walk further.
Length: Information board 2.2 miles/ 3.5 km return. We recorded a little below 2 miles.
Duration: 2-3 hours
18 Cutler Point – The Great Chamber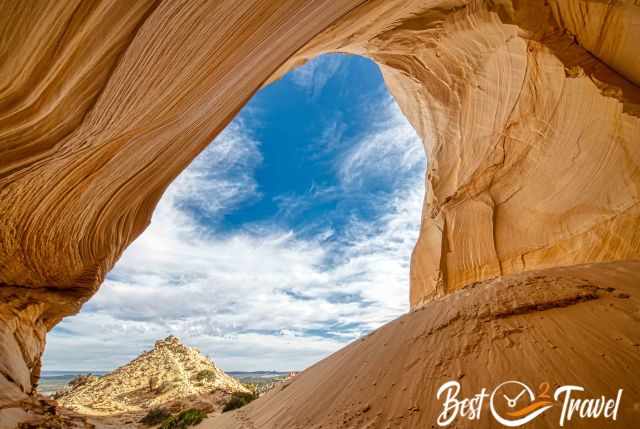 The Great Chambers at Cutlers Point is a fascinating geological formation, an immense alcove with a white sand dune inside. It is impressive what wind and rain created here. It is not easy to get to the Great Chamber through the sandy terrain; an ATV is the best vehicle.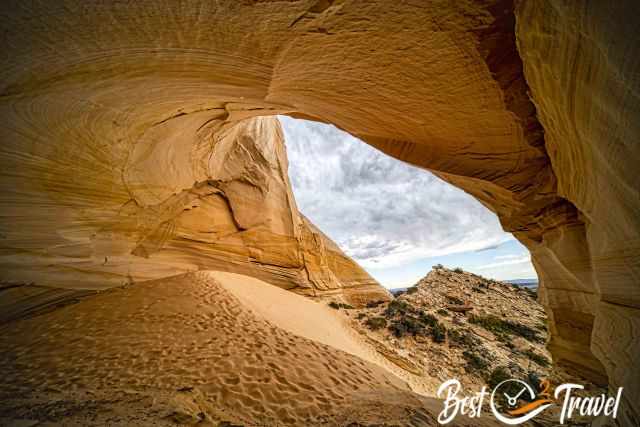 If you go on your own, please close all gates after passing! You must climb over a wire fence from the parking to get to the short but steep trail through the sand. The return hike is roughly a mile long. However, if you do not have the right vehicle, either rent it or book a tour from Kanab. Please keep this landmark as beautiful as it is and enjoy the breathtaking landscape from here.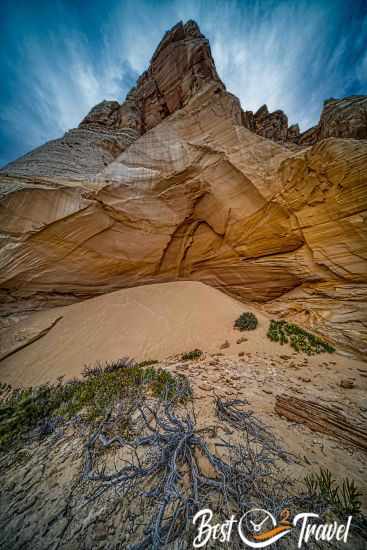 Photographer Tip by Ray Downs, who provided these fantastic images: Bring a white angle lens to get such fantastic shots; otherwise, you can't capture the entire scene. It is frequently windy, the reason for the immense sand dune inside. Protect your face with a buff, and be careful with your camera. It is often mentioned that Google has the wrong location for Cutler Point and the Great Chamber, but this is not correct. Google Maps Location  You can see the Great Chamber already from a distance.
Weather – Climate Escalante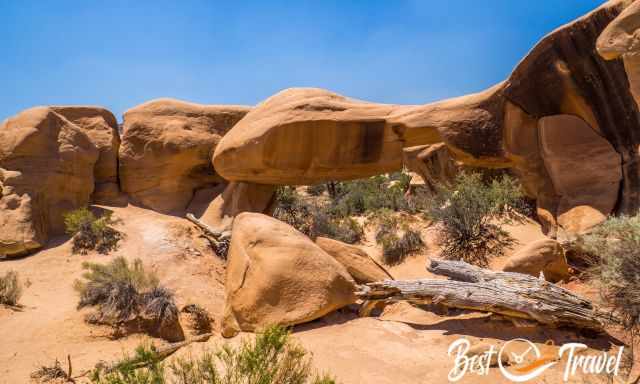 The Grand Staircase Escalante National Monument is situated in higher elevations from 5.800 ft/ 1.770 m in Escalante to 6.700 ft/ 2042 m in Boulder, 4.100 ft/ 1.250 m in Big Water and 4.900 ft/ 1.500 m Kanab and on lower elevation at the Escalante River.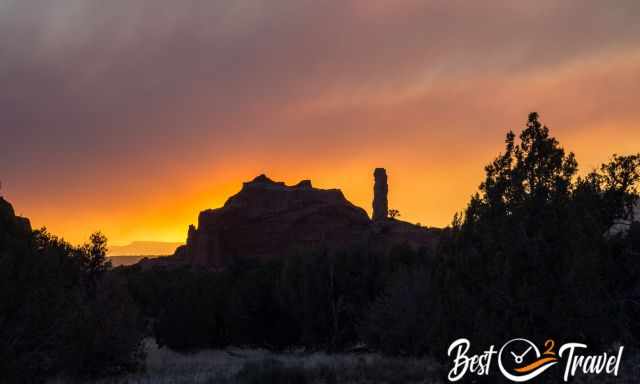 Before heading out, check out the weather forecast. The weather can change in minutes. Even in summer just warm and pleasant but due to the high elevation, nights can be chilly if a cold front moves in and temps drop below 50°F. Temperatures range roughly from 104°F/40°C in summer to 14°F/-10°C in the winter.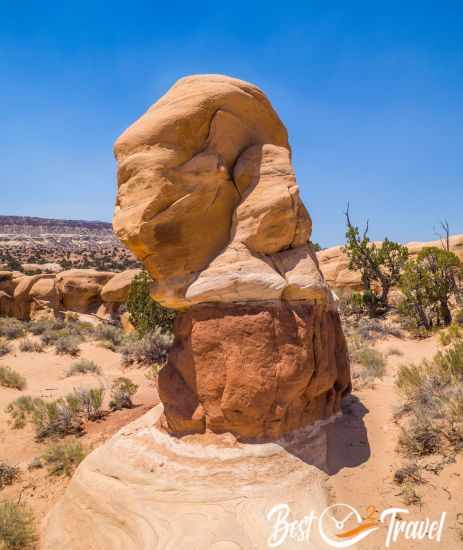 The best time to visit the Grand Staircase Escalante regarding the temperatures and precipitation is from mid-September to October and April until mid-June. The best daytime for the summer is early morning to finish the hike before midday.
Spring (April to mid-June)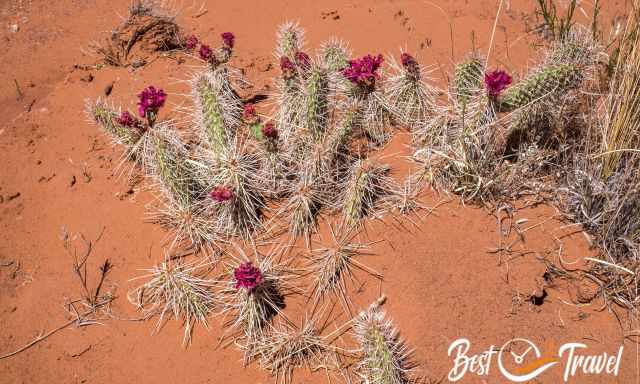 April and May are lovely, not too hot, with temperatures ranging from 66°F/ 19°C at the beginning of April to 77°F in May. However, due to the high elevations, nights are cold going from 35-42°F/ 2-6°C.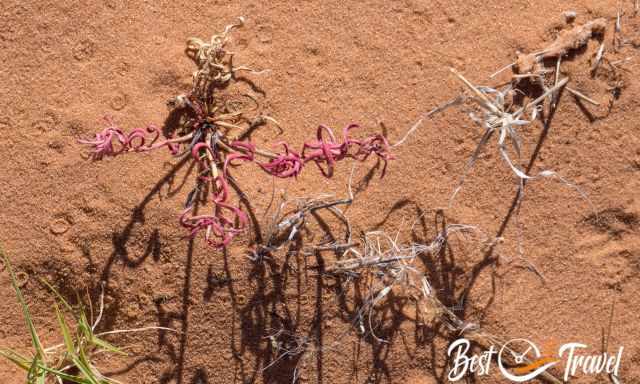 June already reaches 86°F/30°C in the shade, and spring is usually the driest time of the year. However, gnats and deerflies can be troublesome; therefore, I highly recommend bug spray.
Summer (mid-June to mid-September)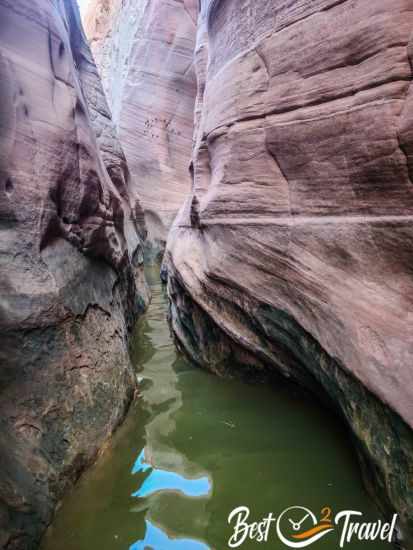 July, August, and the beginning of September are the monsoon season, notorious for intense rain and thunderstorms in the afternoon. Never camp in a canyon bottom; torrential floods are a significant threat. It doesn't happen frequently but always keep in mind it can. Summer is scorching, topping 104°F/40°C during the day in the sun though nights are still below 59°F/ 15°C. Start your hikes at sunrise if you plan to explore Escalante in the summer, and remember that many dirt roads become impassable when wet. 
Autumn (mid-September to October)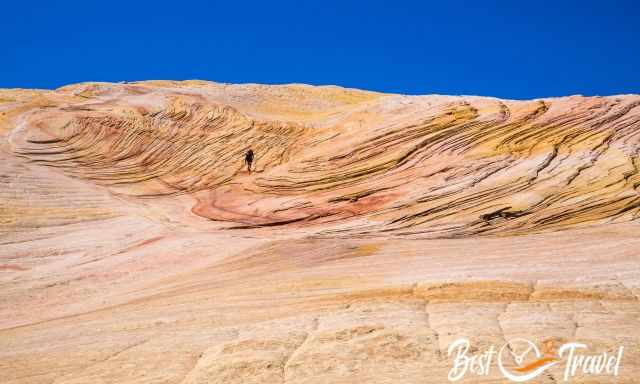 Temperatures are pleasant in fall above 70°F, and nights are already chilly, but it is not freezing yet. September and October are great months to visit Grand Staircase Escalante, and the fall foliage along the Escalante River and to the Lower Calf Creek Falls are stunning.
Winter (November-March)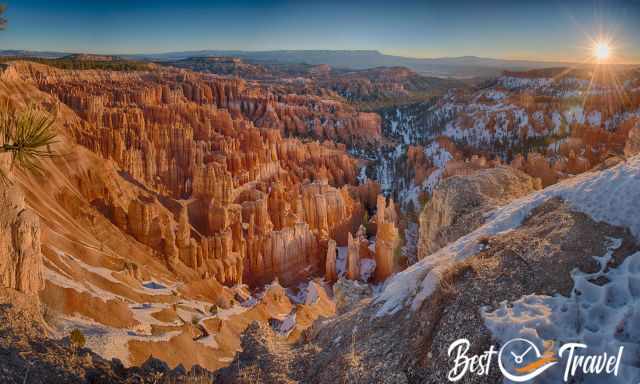 Most precipitation occurs in winter, from November to March. Due to the high elevation, the first snow may already fall in November in the entire Monument. When the dirt roads get wet, they are impassable, and you may get stuck. Cottonwood Canyon Road is frequently inaccessible and closed in the winter because of snow. 
Visiting Grand Staircase Escalante in winter can be awesome, with crisp blue skies, day temperatures below 50°F/10°C and nights experiencing sub-zero temperatures. Escalante is not as high as the Bryce Canyon or Zion National Parks, which experience more snow and colder temps.
Packing Checklist Escalante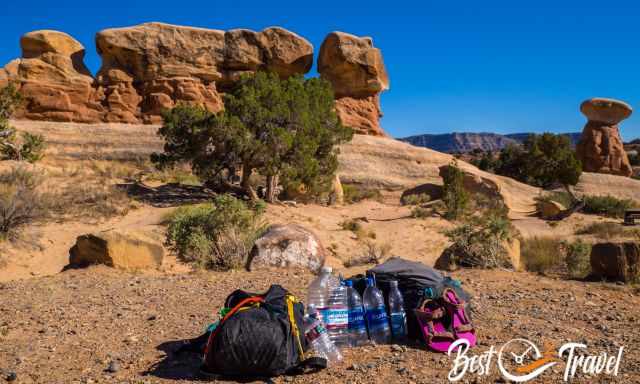 Plenty of water, especially if you plan to spend a few nights in the Escalante National Monument. Water sources are scarce, and the water must be treated or filtered. For a half-day hike like Peek-A-Boo and Spooky Slot Canyons in summer, I recommend one gallon plus electrolytes for each hiker. 
In summer, sun protection is essential, sunscreen, especially for the face, a hat, and sunglasses. Wear clothing layers for different temps during day and night and various elevations.
Some trails lead through a creek, like the Jacob Hamblin Arch trail. Bring Teva for the summer and wade through the refreshing cold creek water.
Bugs can be an issue, especially after the heavy summer monsoon. Carry a natural insect repellent in your bag.
In winter, protect against the cold in high elevations. Stay warm and dry with insulating layers. 
Almost no cell phone reception; let someone know your plans and when you want to return or carry a Garmin Inreach Mini 2 and never get lost. We rented this device once and felt a lot safer. The Garmin Inreach Mini 2 is a handheld satellite communication device that allows users to send and receive text messages, track their location, and access emergency services outside of cellular range.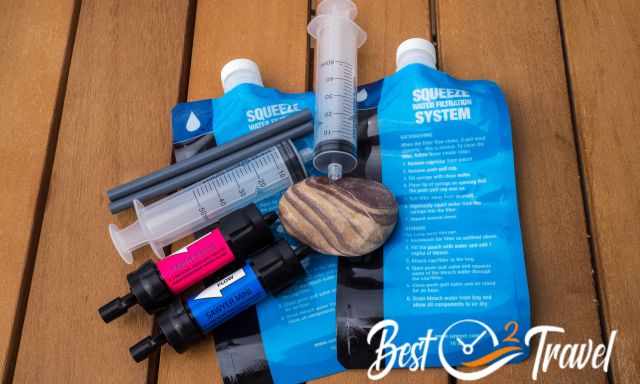 Where to Stay in the Grand Staircase Escalante?
There are three towns where you can easily book a hotel: Kanab, Cannonville, and Escalante. We camped most of the time except for our two-night stay in Escalante.
Hotel Tip Escalante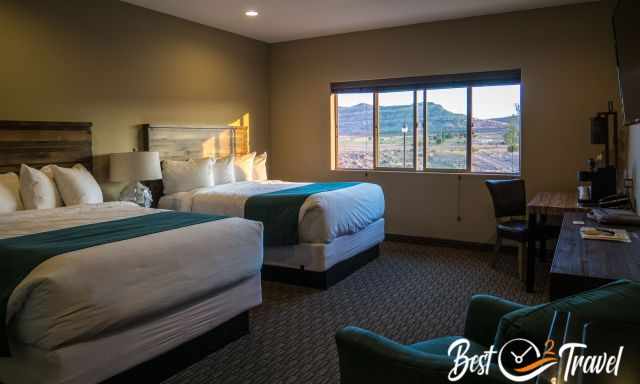 We camped on the BLM property along the Hole in the Rock for a couple of days which was a great experience, but afterwards, we were glad that we took a real shower and slept in a huge comfy bed. Also, the pool was amazing, and even breakfast was included in the Canyon Country Lodge in Escalante. There are limited hotels in Escalante. If you wish to visit this area during the high season, bank holiday weekends, summer or Christmas holidays, it is advisable to pre-book your hotel.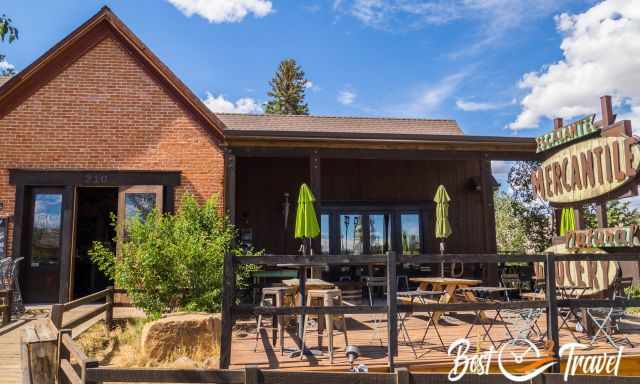 Camping in Grand Staircase Escalante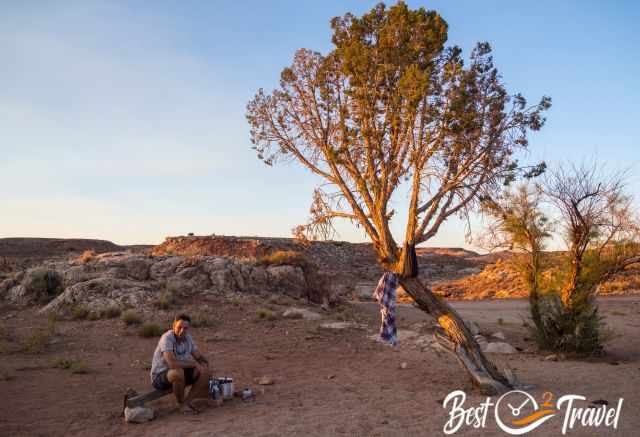 It is dispersed camping in the National Monument, but this means good preparation before or choose one of the following maintained campgrounds. There are three campgrounds with plenty of space, showers and restrooms in the Kodachrome State Park close to Cottonwood Canyon Road.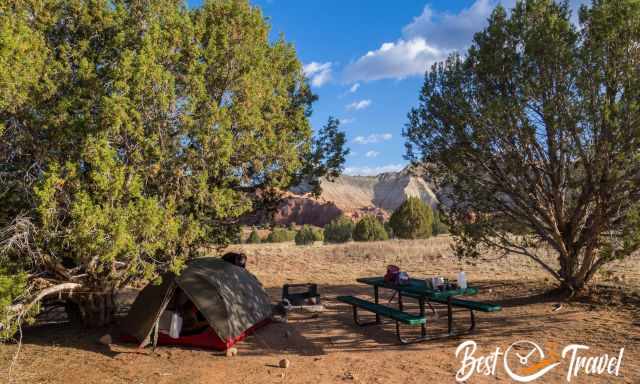 In Escalante, you can either camp at Lower Calf Creek Falls or the Petrified Forest State Park with showers and restrooms.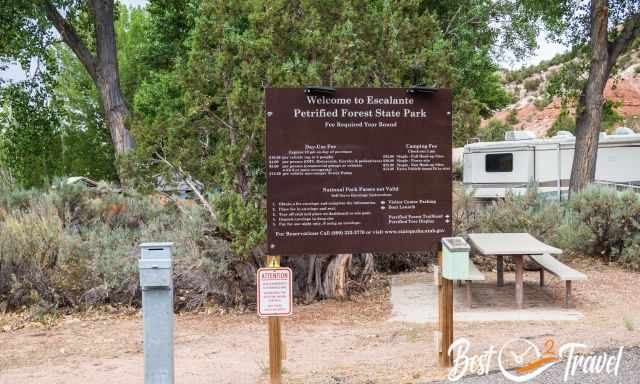 If you plan to camp in the desert wilderness, please keep in mind it is primitive camping. There aren't organisms in the dry desert soil to decompose your poop! I know you don't want to think about that, but this really matters for the future of this breathtaking landscape. Please, preserve this pristine nature for others or your return visits. Don't destroy untouched areas. Pitch your tent or stay in your car where others had been before.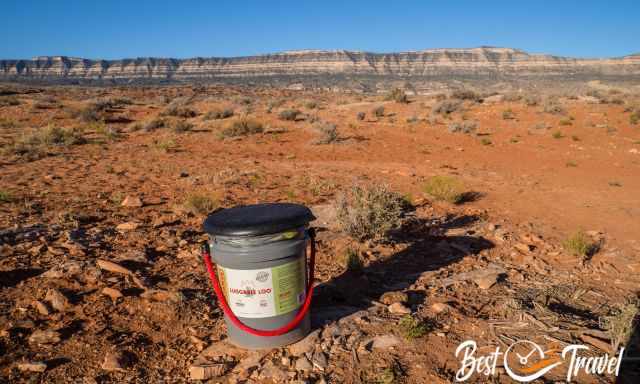 I bet you like to take a shower after a long and strenuous hike. Please keep in mind to use an environmental friendly soap and shampoo. If you wish to know more about a proper shower in the remote wilderness, check out my additional article about outdoor body care and shower.
Hotel Tips for Page and Kanab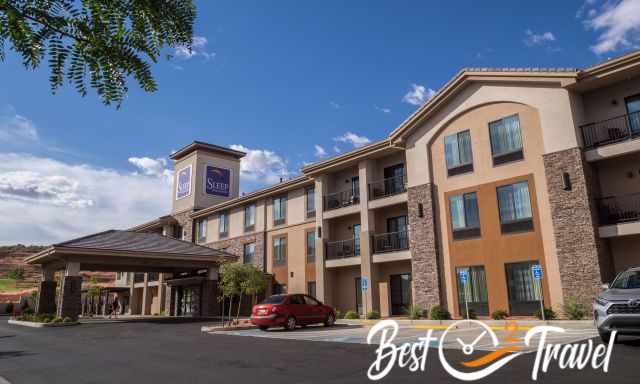 Page is the main service hub and a good starting point with a population of 7.500. Page is excellently located at the Colorado and Lake Powell. You may think there are plenty of hotels in Page, and that's right, but each evening we figured out the hotels; also, ours were fully booked. Many visitors stay here for a couple of nights to visit Horseshoe Bend, Antelope Canyon, the Toadstools, Yellow Rock, and more beautiful places. If you plan to travel to Page in the peak season or at weekends, I highly recommend booking a room in advance.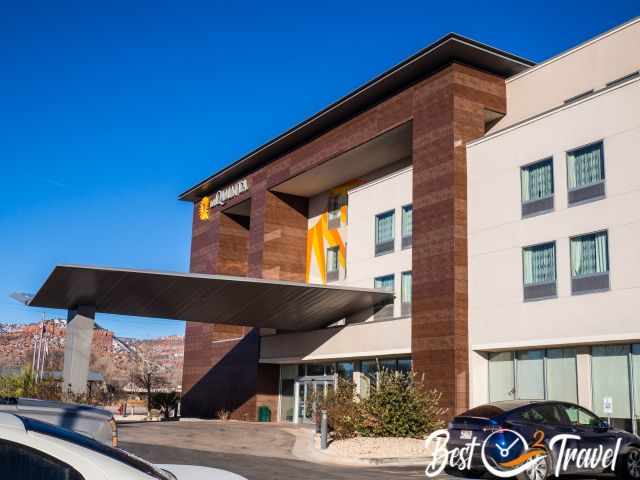 To explore the area, you either stay in Page or in Kanab. Last winter, we spent two nights in Kanab because of a guided tour. Kanab is a fantastic town to explore the Vermillion Cliffs Wilderness's unique landscape and sandstone formations. Thx for booking via my website 😊
Location and Tips
Escalante, Utah
United States

The Escalante National Monument was established in 1996 by President Clinton, and its size nowadays is 7.610 km². This indicates that these bizarre land formations are not next to each other. The unique monument was reduced by half in 2017, which meant almost all marvellous places listed above lost their protected status. There were even staked claims, but that is a thing of the past. Since 2021 Escalante has gotten back to its previous size and status.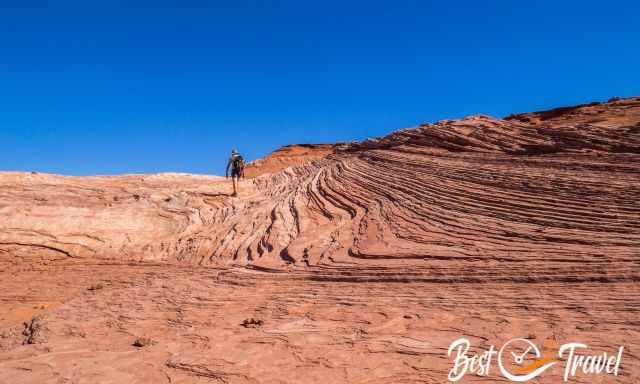 The BLM, the Bureau of Land Management, administer GSENM. The BLM is responsible for many parks in the west and very few in the east. The Grand Staircase Escalante National Monument borders are: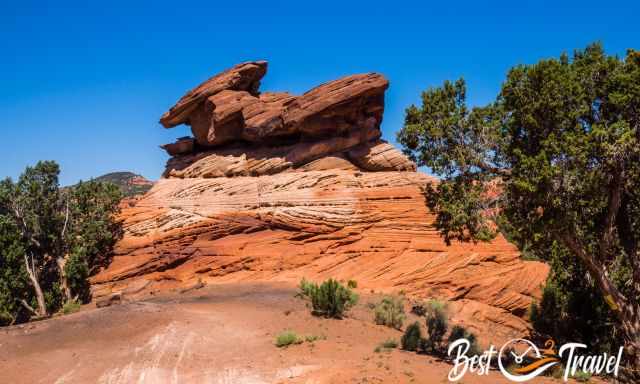 In the west, between Kanab and Cannonville
In the north, from Escalante to Boulder
The east borders are Capital Reef National Park and Glen Canyon NRA
In the south, also the Glen Canyon NRA and Big Water.
Why is the Monument Called Grand Staircase Escalante?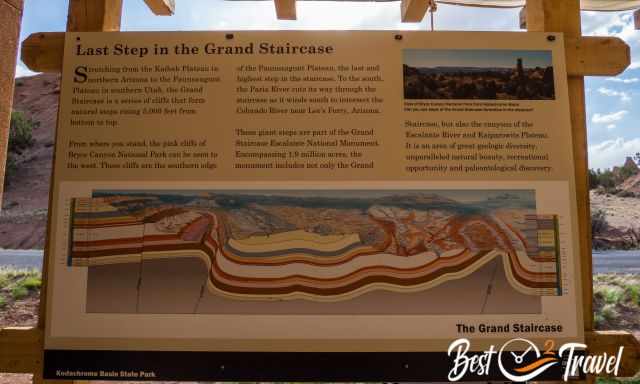 These terraced formations are natural steps which stretch from southern Utah to northern Arizona, like a staircase leading down from 7.660 ft at Bryce Canyon down to Cannonville and Escalante of about 5.800 ft, Kanab is just 5000 ft high and up again to 8.300 ft at the North Rim of the Grand Canyon. The Pink Cliffs at Bryce Canyon are the highest step on the staircase.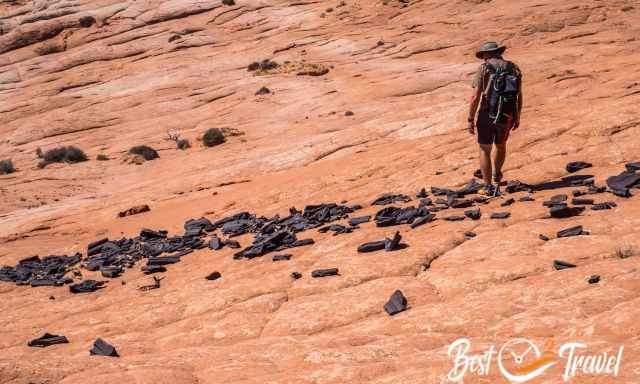 The Paria River and the Escalante River have the lowest elevation cutting their way through the staircase with an elevation difference of 5000 ft to the highest point. It is an area of great geological diversity with many different sandstone layers from different periods. You can witness such natural wonders at the Wahweap Hoodoos consisting of different sandstone layers.
7 Reasons Why Grand Staircase Escalante Is Special and Unique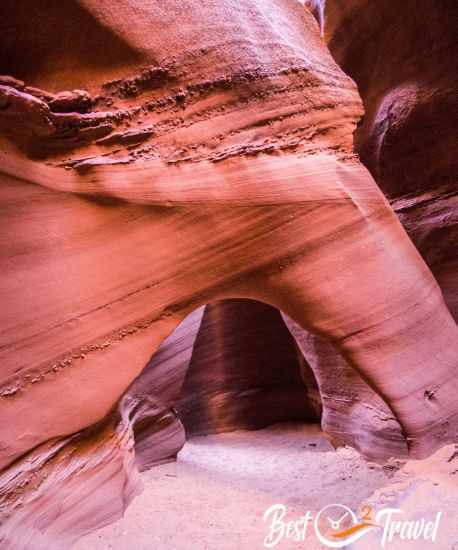 Most of the spots are remotely located and not marked.
GSENM is not crowded; my guide won't change it as long as only dirt roads lead to these otherworldly hidden gems.
You need a 4x4 or ATV for most of the listed highlights. 
There isn't any entrance fee requested for visiting these picturesque natural wonders.
You can pitch your tent nearby most of the trailheads or request an overnight permit for one of those hikes.
Grand Staircase Escalante has some of the world's most beautiful rock formations, cliffs, gulches, and thrilling slot canyons. Here you can experience the real southwest of the US.
If you are into hiking, you will find adventure trails, also backpacking tracks but not overrun.
Is it Worth Visiting Grand Staircase Escalante?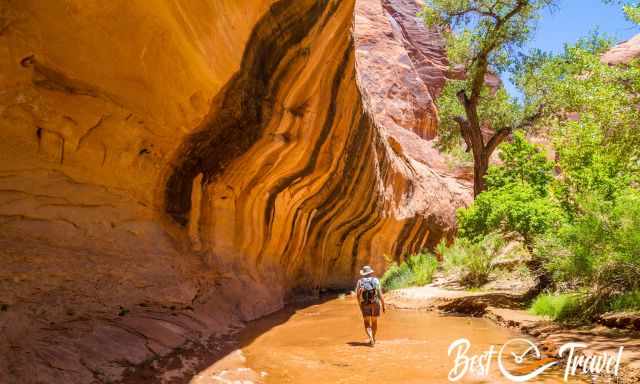 YES! I am pretty sure after you have read this guide and seen all these pictures, you know that it is not a question if it is worth visiting Grand Staircase Escalante. The only question is, when can you get some days off to explore this unique monument in Utah? One thing I can guarantee you will return as we did already twice.
How Many Days Should I Spend in Escalante?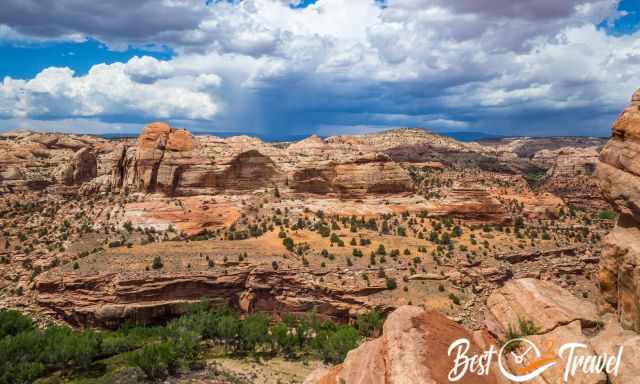 At least one week, but you can't see all these breathtaking spots in a single visit. You may spot most of it if you can afford to stay in this area for at least two weeks.
Who Are We?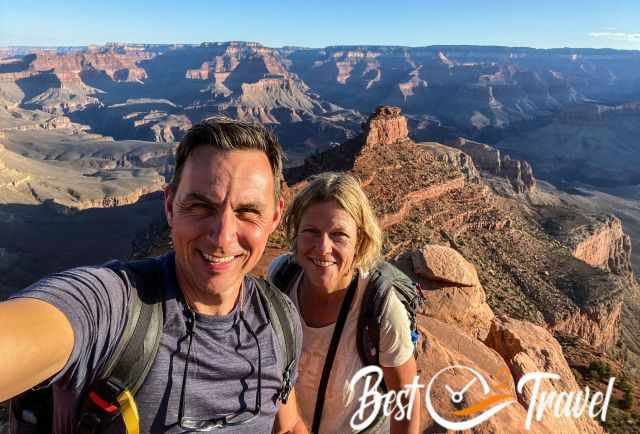 We are passionate travellers, married for almost 25 years, and we love discovering hidden gems around the globe. I am passionate about sharing some of the most beautiful places in the world with you, but I still can't live from my work, and we have regular jobs, too.
It is a tough business nowadays because fake travel websites rewrite content without effort and expense. Do you like to know more about fake travel websites and how to unmask them? Check out "The Truth About Fake Travel Websites"
Do you like my Escalante Guide? Please share it with your friends and on social media, subscribe to our  YouTube Channel.
Do You Like to Support Me - It's easy; use the Paypal Button below 😍
Do you want to obtain the usage right for my images? Contact me, but we will take action against picture theft.
The pictures of the Calf Creek Falls are from the marvellous photographer Toshimi Izumi Kristof. We met her and her husband in Escalante and spent a wonderful evening together.
* Pictures by the like-minded hiker Jeremy from Colorado.
The Great Chamber and the Bryce Canyon covered in snow photos are by Ray Downs, an excellent photographer and friend from Arizona whom we met in Sedona.