When Is the Best Time
White Pocket is a colourful swirling sandstone formation and is still accessible without a permit and for free. This place is otherworldly, and I give you all the details of how to get here and all you need to know. Although it looks like more people speak and hear about White Pocket, it is far from being crowded due to the remote location and the difficult road conditions to get there.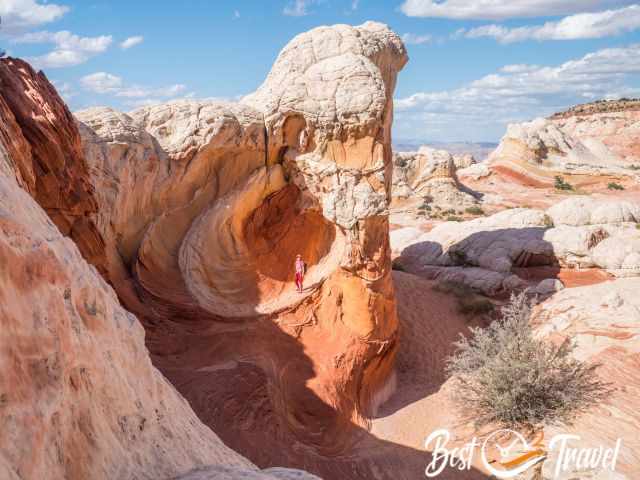 It resembles Coyote Buttes North, but the Navajo sandstone is mainly white, grey and, in parts, reddish. We visited White Pocket and the Wave in a row in September 2023, and the beauty flashed us.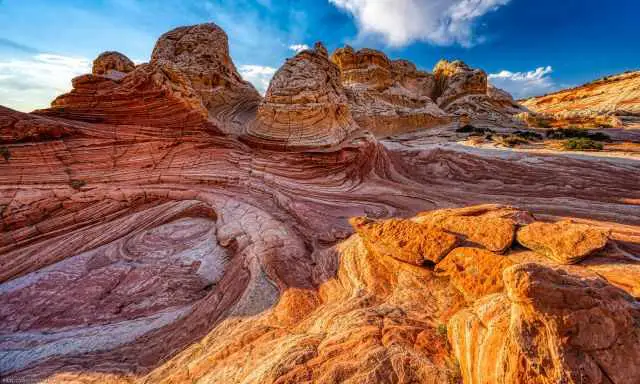 The White Pocket and Coyote Buttes are part of the exceptional Vermillion Cliffs National Monument and Wilderness. These petrified dunes took millions of years in the making and are a magical area. The Wave in Coyote Buttes North is just 5 miles away on the Paria Plateau.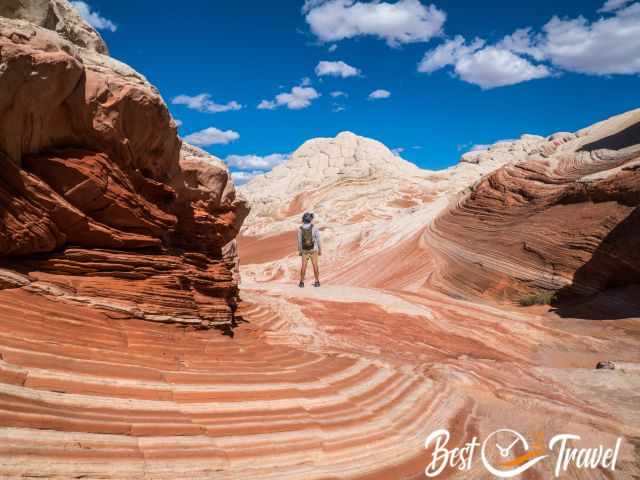 The plateau ranges from 3,100 to 7,100 feet (945 - 2.164 m) above sea level. The White Pocket is accessible throughout the year, but the track is impassible after heavy rain because you are stuck in the sand, which behaves like clay.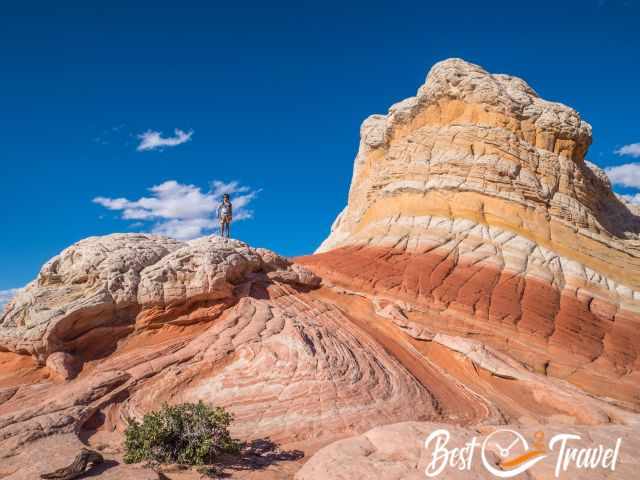 I will give you an overview of the best times to visit White Pocket, weather patterns which occur in the high desert, how to get to White Pocket, the difference between White Pocket and the Wave and nine things you must know before you go. Good preparation is key to reaching White Pocket safely.
Why is White Pocket a Great Alternative for the Wave?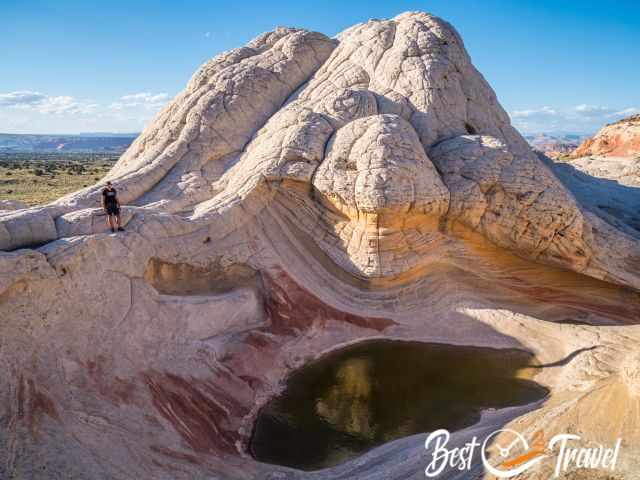 What we experienced at the Wave is that most people hiked to this rock formation only and back. If I had to choose between The Wave only (because there is much more) and White Pocket, I would always go for White Pocket. The Wave is a small area, and it is a strenuous, not marked hike to get there.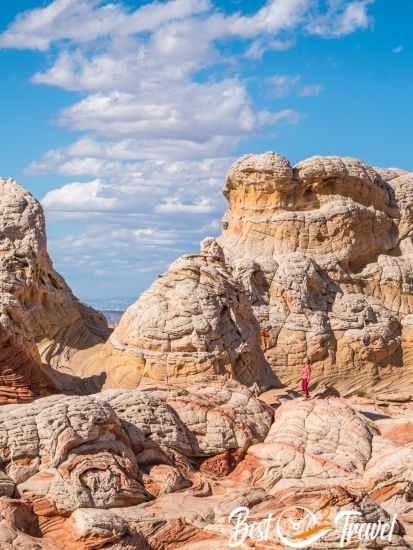 White Pocket can be done by most people because it takes just ten minutes to walk, and you are inside the stunning and swirling rock formations. You must not be in good shape to get here; you only need a 4 WD with high clearance to be safe.
Best Daytime for White Pocket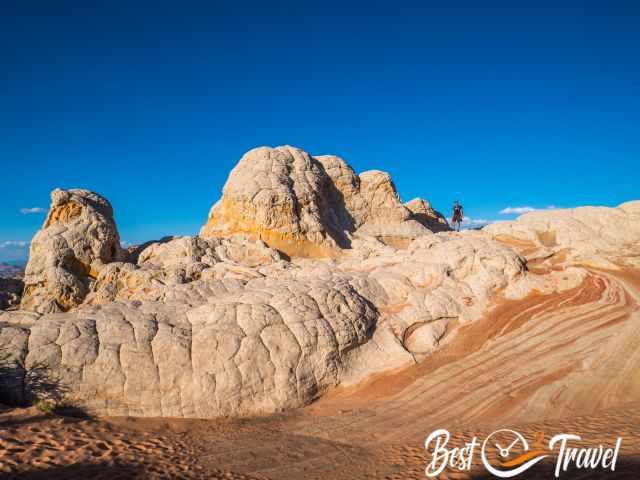 From our experience, the timing is essential, and the best times to visit White Pocket is either after midday, around 1 or 2 p.m., for perfect sunlight or the sunset. If you are going on your own, I would spend the entire day at White Pocket.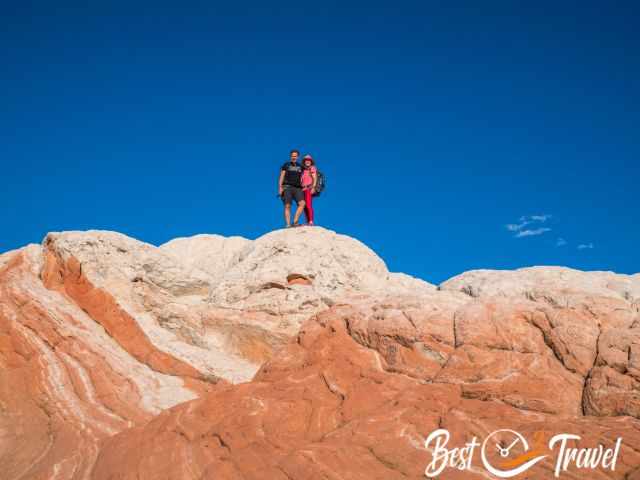 Booking a guided tour gives you roughly three hours to explore White Pocket. This is simply too short. Therefore, book the perfect time regarding the sunlight. This makes the difference. In summer after 5 p.m., several highlights are in the shade in winter, even earlier.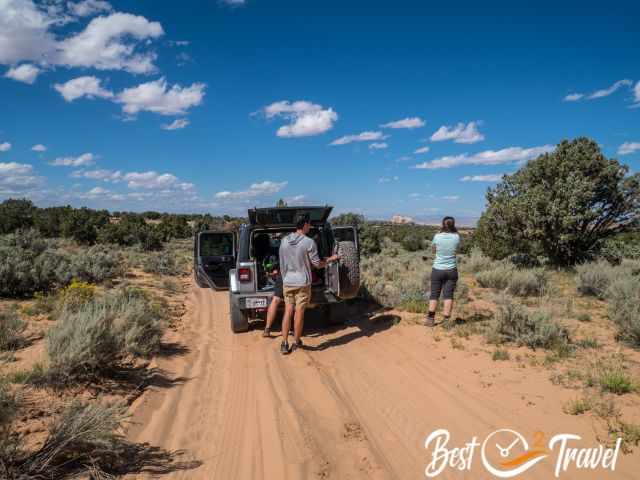 We booked a private tour and asked for a later start with an arrival at 2 p.m. Another couple from Germany joined us and agreed that this was the best time.
Do I Need a Permit to Visit White Pocket?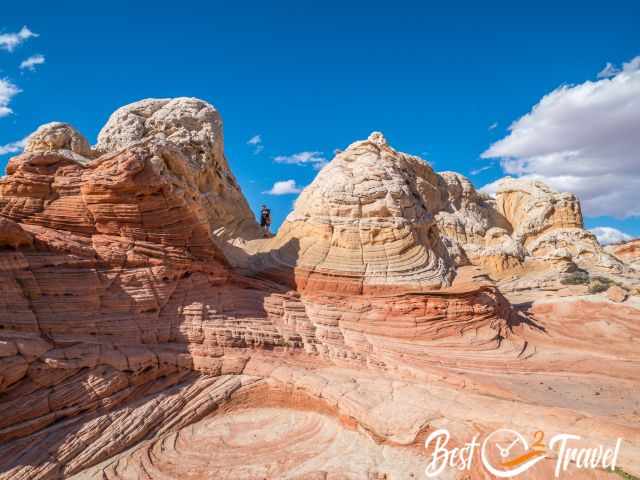 No, you don't need a permit, and none will be introduced in the near future. First, White Pocket is an important destination for tour companies, and people must stay in Kanab. The Vermillion Cliffs are a big business for Kanab.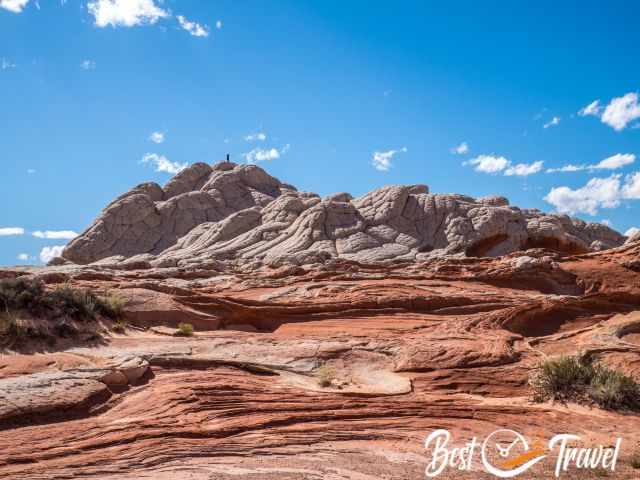 The second reason is that if the BLM wants to introduce a permit, requirements must be fulfilled. This means they have to provide vault toilets in the parking lot. The BLM must inform about the road conditions to White Pocket daily, which is impossible.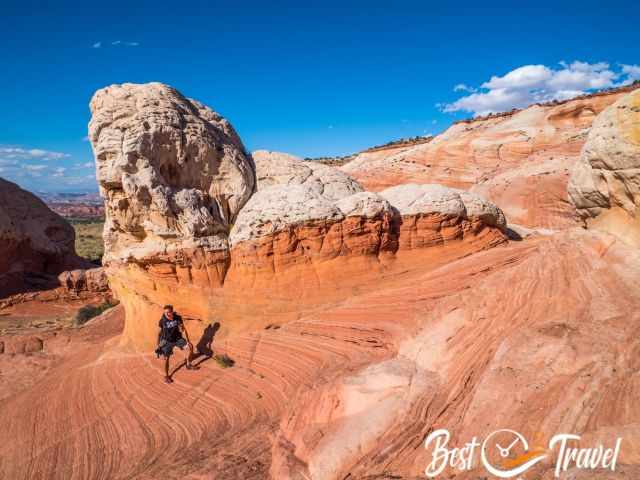 The most crucial reason which prevents the BLM from introducing a permit for accessing White Pocket is that some parts in the south of the House Rock Valley Road are private property only from the north it is completely BLM land.
Are Guided Tours Available for White Pocket?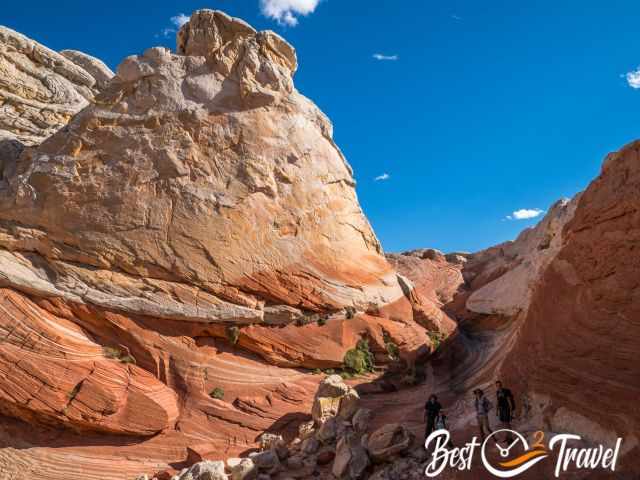 Several tour operators offer a guided tour to White Pocket from Kanab. Usually, tours start at 7 or 8 a.m. Getting to White Pocket from Kanab on our guided tour took us more than 2 1/2 hours and the same back. Ultimately, you have just three hours for these massive rock formations, which is definitely too short.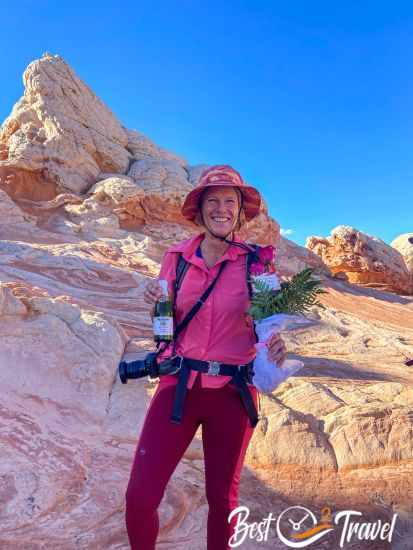 Overall, it means a five-hour tourney for a max of three hours at this marvellous location. The pro for White Pocket is that you must not hike far; it is an easy walk and doable for all ages. My tour company recommendation is below.
For more impressions of our Wave and White Pocket tour, watch our YouTube Short.
How to Get to White Pocket?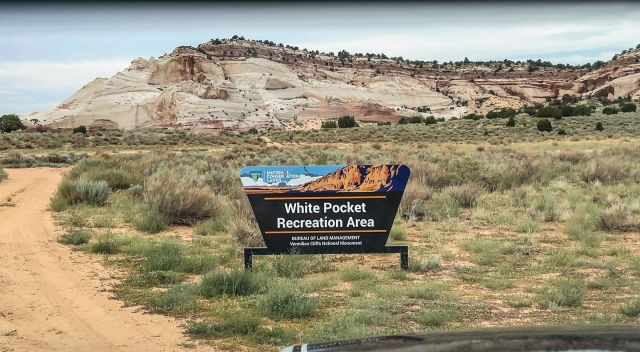 The White Pocket is located at the Arizona/Utah border in the Vermillion Cliffs Wilderness. I describe in detail the directions from Kanab and Page coming from the north on HW 89 and south on HW 89A because of changed road conditions. I also added the GPS directions by Gaia GPS.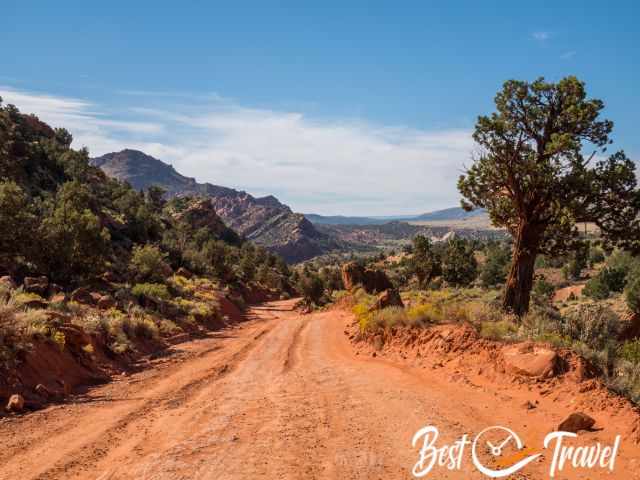 Due to heavy rainfall in 2023, the dirt road became bumpy and more difficult to drive after Wire Pass Trailhead. We went to White Pocket from the south because it was more convenient and less bumpy.
White Pocket From the North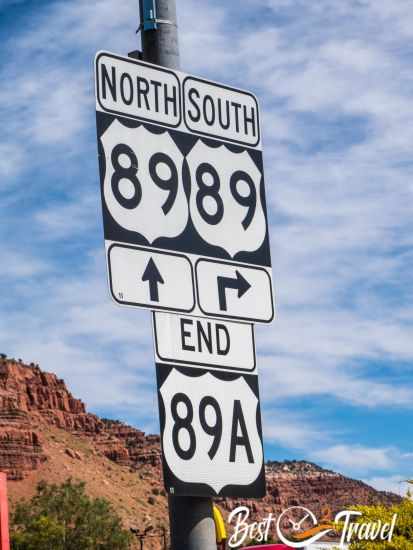 The gravel  House Rock Valley Road to The Wave and Wire Pass Trailhead is straightened twice a year, usually once after the monsoon season until the parking lot, but gets worse soon after. Ask about the road conditions at the visitor centre before heading here.
Kanab, Utah - Take HW 89 and drive to the east for 38 miles until you reach the House Rock Valley Junction. 
Page, Arizona - Take HW 89 and drive to the west for 36 miles until you reach the House Rock Valley Junction.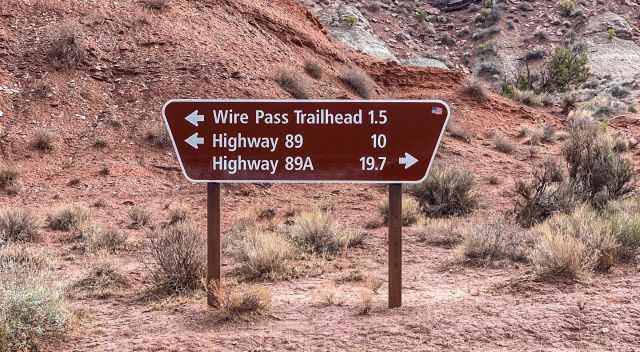 Between milepost 26 and 25, you will see the dirt road, BLM 1065, the 30 miles long House Rock Valley Road..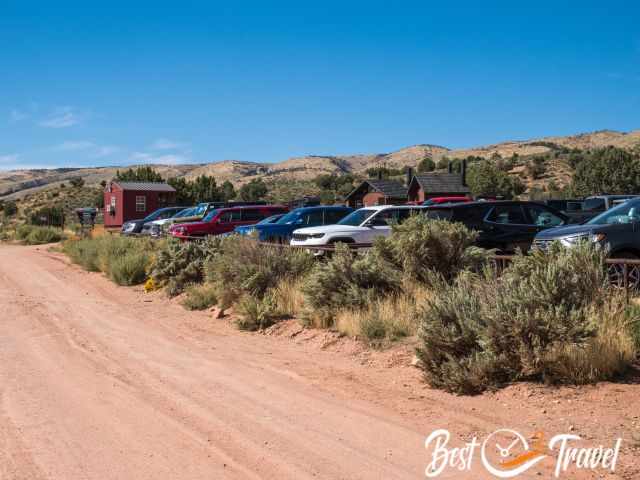 The House Rock Valley Road is a maintained hard-pack dirt road. You pass by Buckskin Gulch and Wire Pass, and Maze Rock Art Site soon after.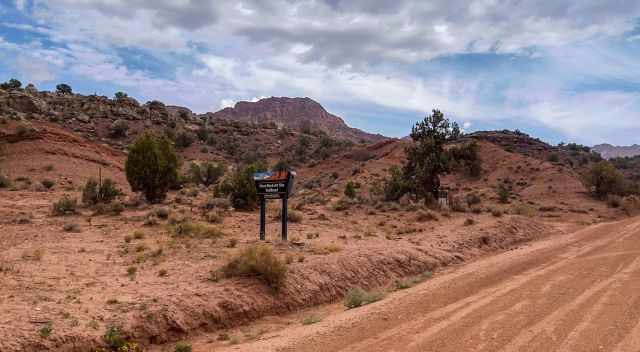 Plenty of incredible rock formations are along the House Rock Valley Road and the famous Coyote Buttes.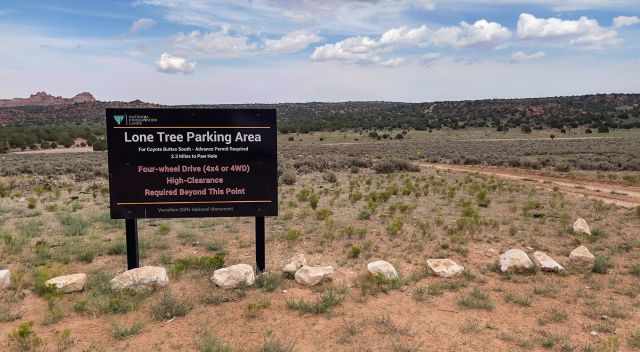 We already parked our car here for the south part. Of course, not as spectacular as the Wave, but also fascinating.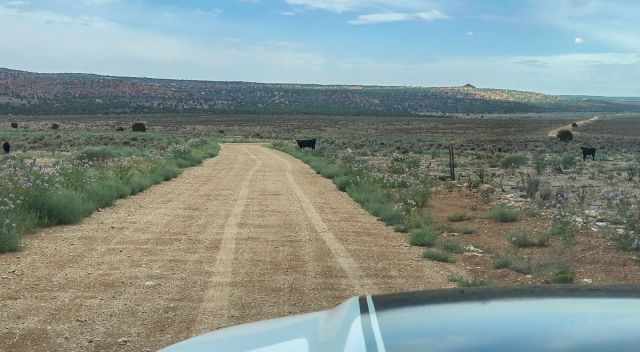 Please respect their properties and animals along the gravel roads to White Pocket.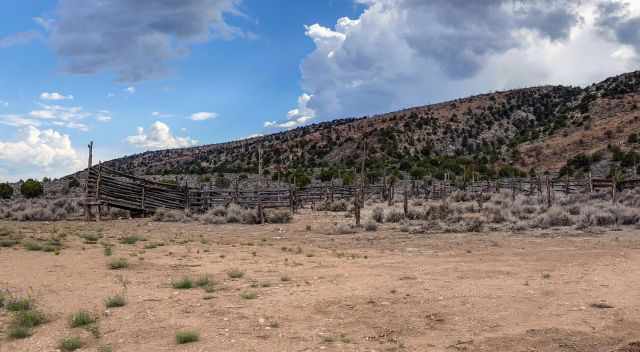 Now starts the real driving adventure, and experience is needed.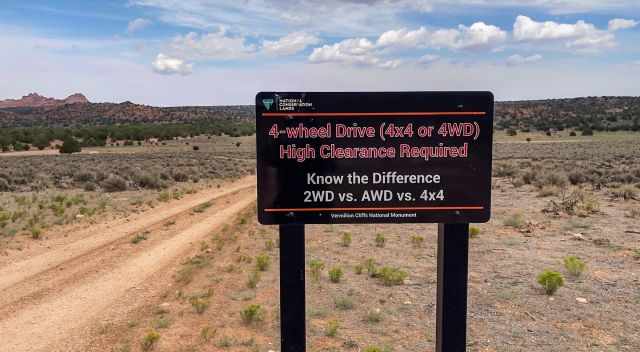 Reduce the tire pressure to navigate through the deep sandy roads.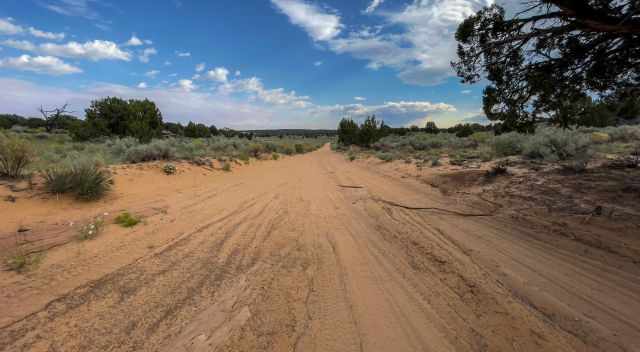 After rain, roads are frequently flooded, and the sand turns into slick clay. Stay for 6.2 mi on Pine Tree Road. Now the roads are unmaintained and getting worse.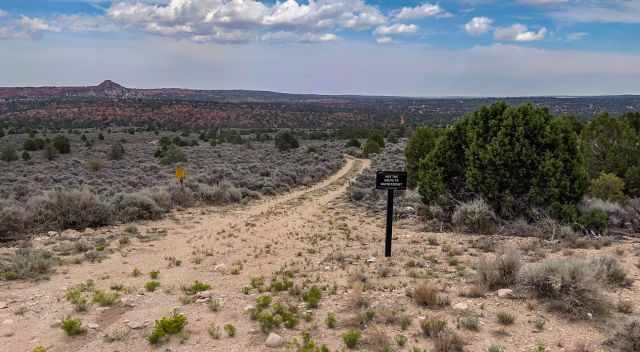 At the junction, turn left onto 87 and follow this road for 3.9 mi before you take the left road to 1086.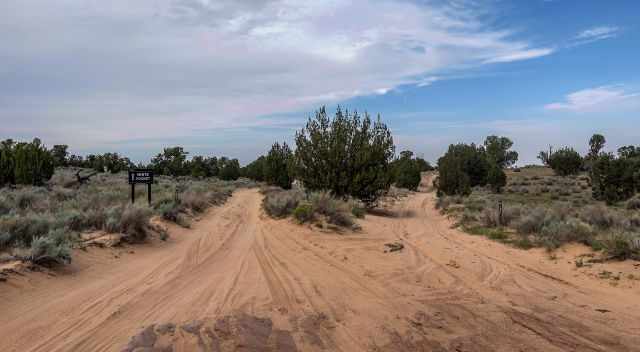 You travel on BLM 1086 for 5.6 mi until you reach the parking and trailhead. The last part of the road is the worst.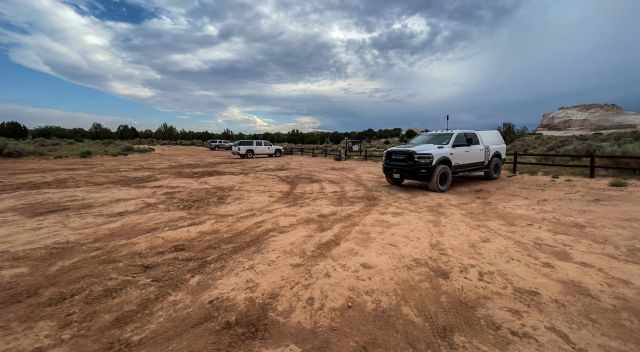 You can already see the first rock formations from the parking lot.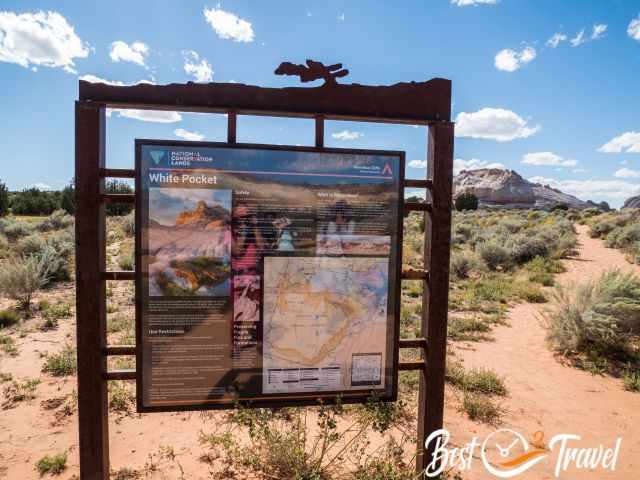 White Pocket From the South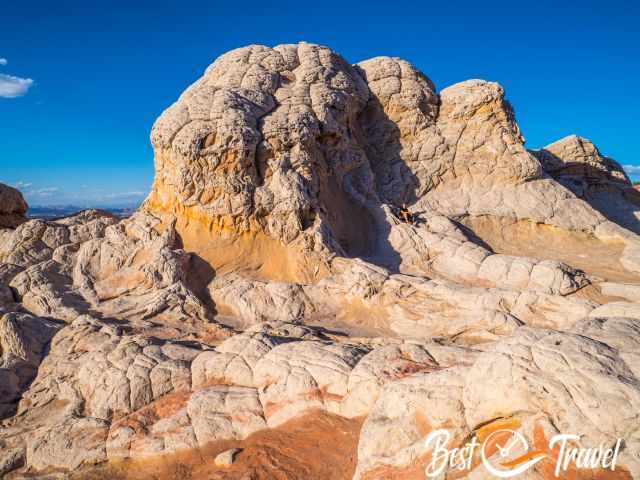 The drive from Kanab to White Pocket via 89A from the south to House Rock Valley Road also takes 2 1/2 hours and is a 75-mile drive. The first 50 miles until the junction took us an hour.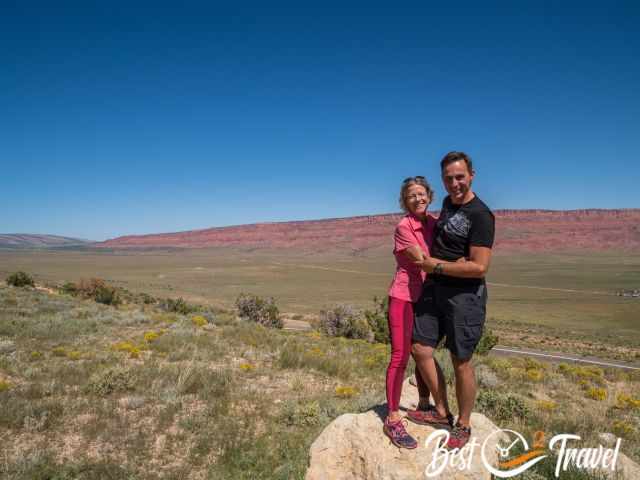 We stopped to view the Vermillion Cliffs and House Rock Valley Road. The nickname for this track is "Honeymoon Road". There are many Mormon churches but few temples. They had to go on a journey to St. George if they wanted to marry. In former times, only the House Rock Valley Road reached the temple, and they returned on this road. That is why the gravel road is nicknamed Honeymoon Road.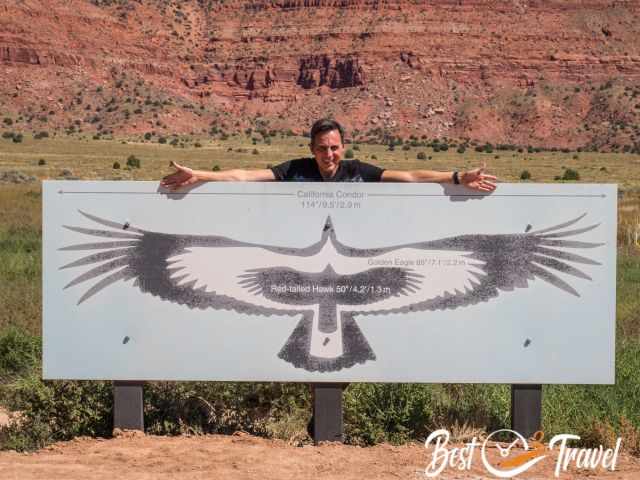 Soon after, you reach the Condor viewing site and a restroom. It is definitely worth stopping here. To view condors, you need binoculars. Several information boards are placed, giving visitors great insight. The California condors are best seen in the winter and early spring. The gravel House Rock Valley Road is in good condition from the south and was a smooth drive.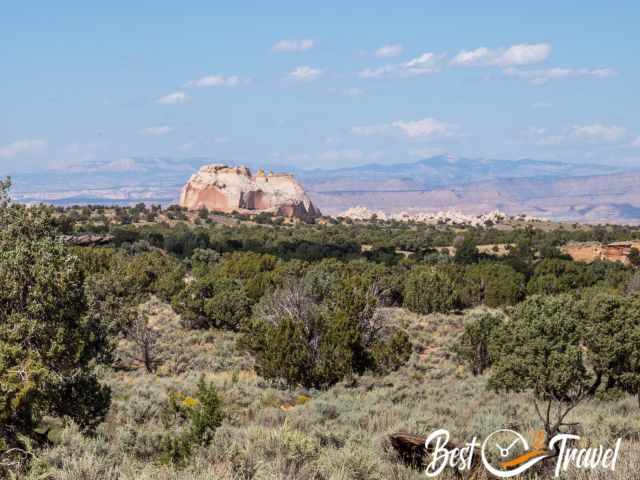 From the south, you turn right into Pine Tree Road from the north to the left. The last 16 miles are challenging, and vehicles must frequently be towed out for up to $1000.
Directions White Pocket from the BLM
What to Bring to White Pocket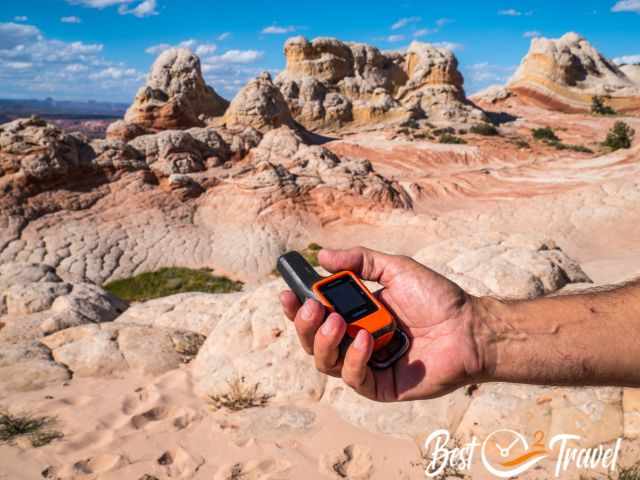 You do not need much for a visit to White Pocket; however, below is listed what we took with us in our backpacks:
Plenty of water, the air is dry, and the sun is intense.
Bring a proper lunch, sandwiches, and an apple; we were already hungry when we arrived.
Sunscreen and a wide-brimmed hat are essential in the high desert. I even bought a new hat in Las Vegas for our adventures in Utah and Arizona. I use my special SPF 50+ sunscreen for exposed areas like my arms and face. I never got sunburnt since I used this cream.
Essential are comfy shoes with a good grip on the sandstone formations. My Inov trail shoes were perfect here and at The Wave.
It was windy during our visit, and we were glad about the jacket.
We went to several remote areas and hikes where cellphone service and internet were not provided. In case of an emergency, we invested in a Garmin Inreach Mini.
Why is it Called White Pocket?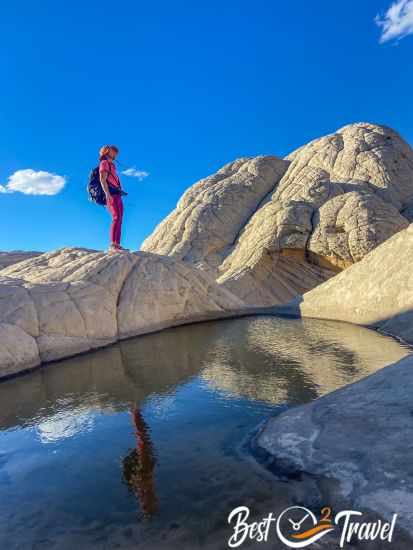 The farmers used to let their cattle drink here, which they herded into the pockets, where large puddles were formed after the rain. As these rocks are white, they were called White Pocket. Today, this area is under protection and cattle are prohibited. This is the advantage of a guided tour; you get plenty of information.
 

9 Must-Know Before You Go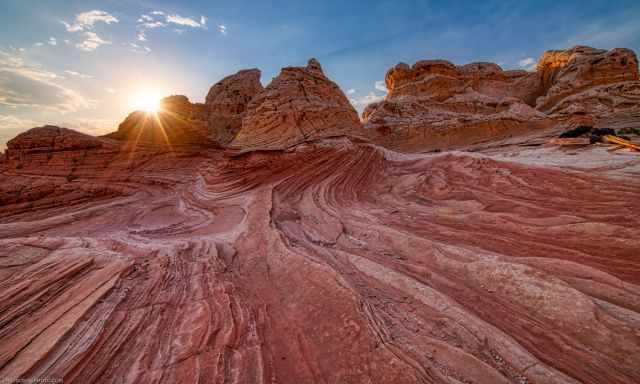 Check the weather forecast first and plan when to go there. You can easily spend an entire day here. Walk and explore the area's gullies, swirls, and wave-like formations. There is still no entrance fee or permit requested. 
Don't go when rain is forecasted for the way out. You definitely don't want to be stuck in deep mud without any cellphone connection. Roads can be flooded.
Fill up the gas before
Carry food and beverages in your car. It is a long drive of 2.5 hours rather 3 because you do not know the track.
Be careful with potholes; don't overspeed; bring a shovel if stuck in the deep sand.
Don't go in any other car than a 4x4 high clearance. Daily people-cars stuck deep in the sand. Parts of the road are rough. Getting towed out is expensive, roughly $1000, what I got told.
An electric pump for your tires, just in case. If you are stuck in the sand, you have to lower the pressure of your tires as long as you are driving off-road. You better do it before.
Don't leave any trash, just your footprints.
Sunscreen and a hat are essential from spring to autumn.
Weather Vermillion Cliffs - White Pocket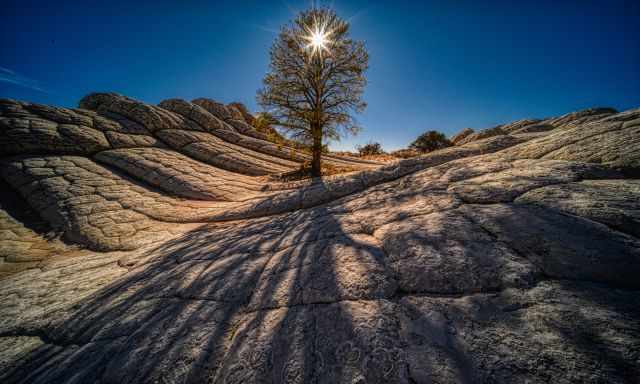 The Paria Plateau experiences a high desert climate and humidity below 40%. It doesn't rain much in the area, 4.7 inches/ 120 mm annually on average on 60 days.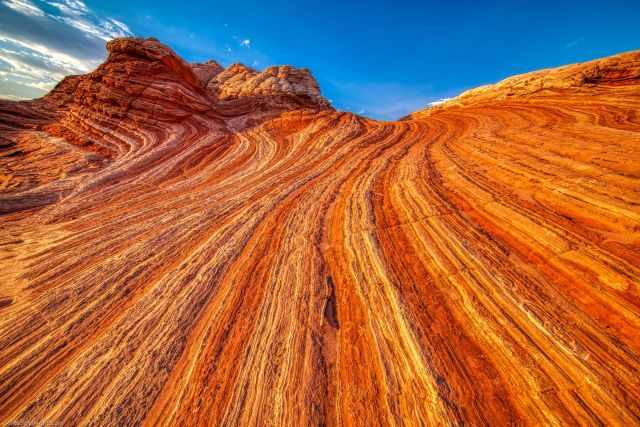 The best and most pleasant temperatures are in April, May, late September and October, with average temps around 75°F/ mid 20°C. Nights are cool, usually around 50°F/ 10°C.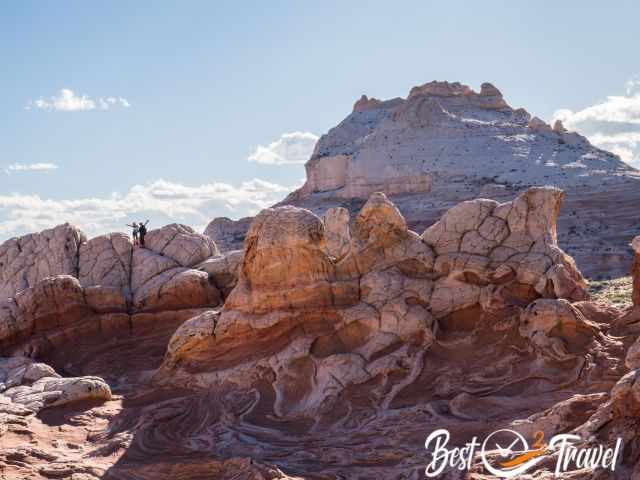 The summer from June to September is the hottest and driest time of the year, frequently topping 95°F/ 35°C. Overnight lows range from 70-59°F/ 21-15°C.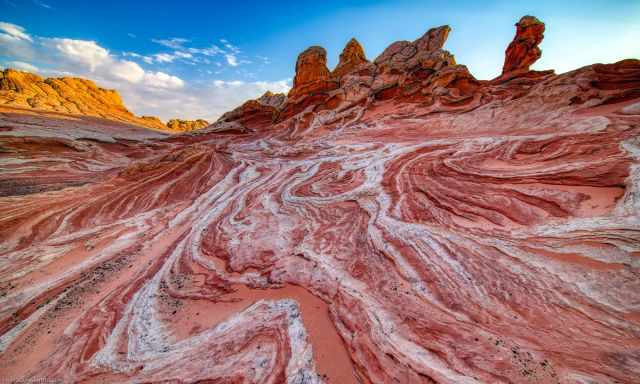 There are almost 12 hours of sunlight in the summertime, which is fantastic. Occasional thunderstorms, especially in late summer, cause flash floods. Please always check the weather forecast beforehand.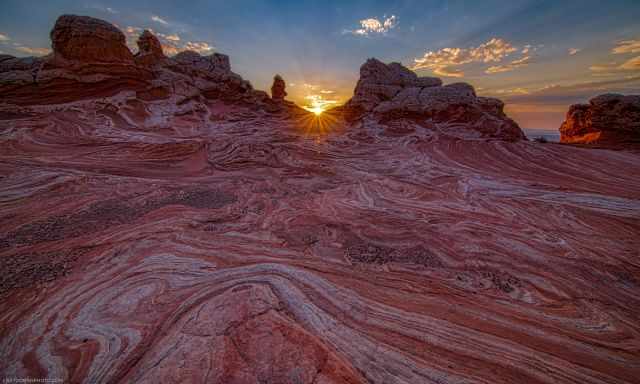 Coldest and quietest times in Page, Arizona, from November to March. In November and March, temps are roughly around 59°F/ 15°C. In the winter, day temperatures are below 10°C and around freezing at night. It occasionally snows due to the high elevation. Expect a max. of 7 hours of sunshine in the wintertime.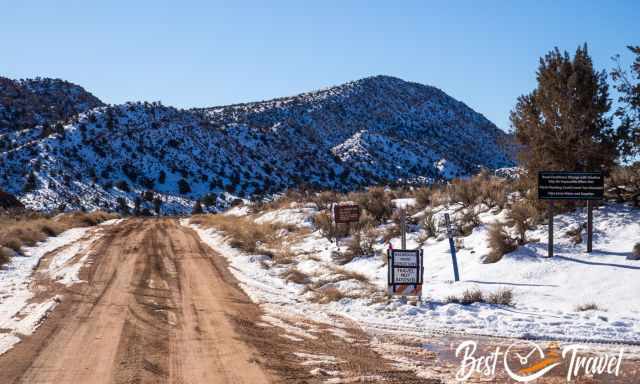 Snow can occur in the winter. What does snow mean? We experienced it, and we left Kanab because White Pocket and the Wave were half covered in snow. We met a couple who won the Wave lottery after 13 attempts, and they were so disappointed. The Wave is situated below 5000 ft, and White Pocket is at 5700 ft elevation. Parts of White Pocket may be covered in snow. Still a great experience but not as spectacular.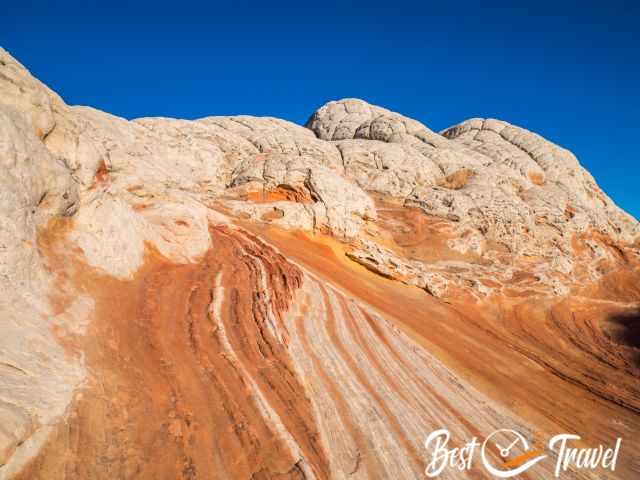 Unfortunately, you can witness climate change at Lake Powell and weather extremes. The water reservoir had had a record low water level since 1969 when the lake and reservoir were filled. This was caused by a record low snowfall in higher elevations earlier in 2021, and 2022 was even worse. Due to the snowpack, Lake Powell filled up a little in 2023.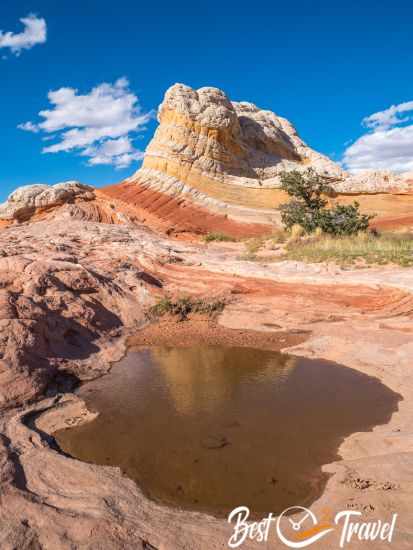 Where to Stay?
Page is the main service hub and a good starting point with a population of 7.500. Page is excellently located at the Colorado and Lake Powell.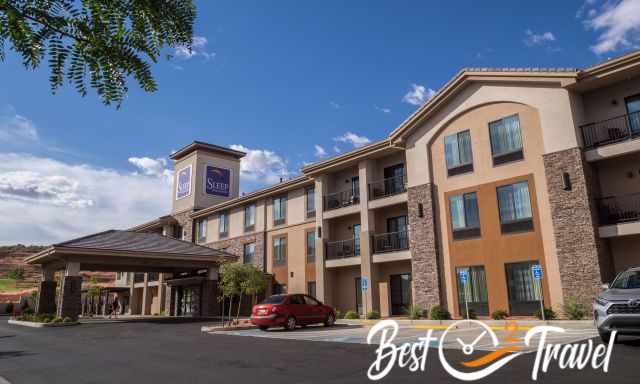 You may think there are plenty of hotels in Page, and that's right, but each evening, we figured out the hotels; also, ours were fully booked. Many visitors stay here for a few nights to visit Horseshoe Bend, Antelope Canyon, the Toadstools, Yellow Rock, and more beautiful places. If you plan to travel to Page in the peak season or at weekends, I highly recommend booking a room in advance.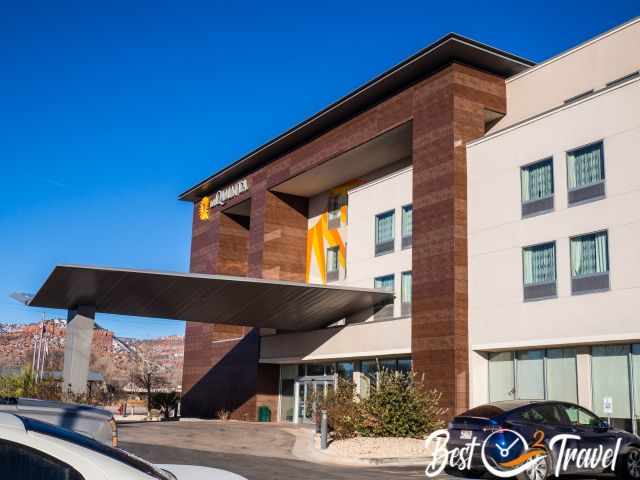 To explore the area, you either stay in Page or in Kanab. Last winter, we spent two nights in Kanab because of a guided tour. Kanab is a fantastic town to explore the Vermillion Cliffs Wilderness's unique landscape and sandstone formations.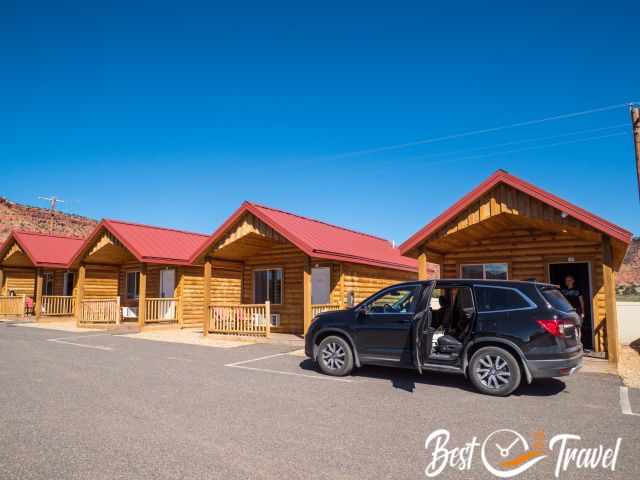 This September, we tried out another accommodation, the Red Canyon Cabins. You can park your vehicle in front of the hut. There is a seating area outside, and you are able to open a window. We spent five nights here, and it was super quiet and ideally located.
Thx for booking via my website 😊 - More pictures and information are below.
Tour Company Kanab - My Recommendation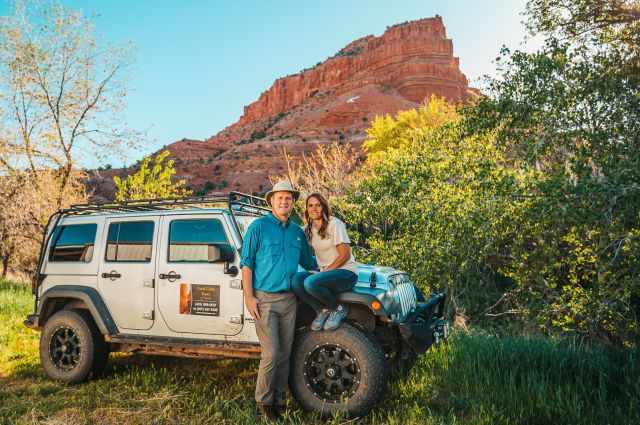 Do you wish to explore White Pocket or other unique rock formations in the Vermillion Cliffs Wilderness with an excellent tour company? I highly recommend the Coral Cliffs Tours and Townhomes of Kanab. This is not an Affiliate Link. This was our own experience with Julie; she walked the extra mile for us and made the impossible possible. This company is totally different; its primary focus is on making guests happy. If you haven't booked anywhere yet, give them a call: (435) 899-0697
We met several of their guides; Kenny had grown up in Kanab and knew each pebble in the Vermillion Cliffs. Sherwin was our guide. Sherwin was a very enjoyable guide who shared his vast knowledge with us.
Location and Tips
Page, Kanab, Vermillion Cliffs
United States

The White Pocket, above and beyond expectations, is a photographer's paradise in a natural, undeveloped wilderness area. All of these regions require a 4 WD and high clearance vehicle. If you are not travelling with a 4x4, you can rent one in Page, Arizona, at Lake Powell.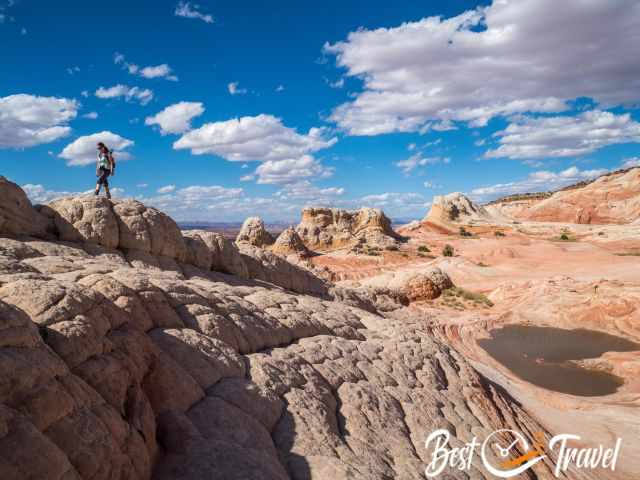 I highly recommend booking a guided tour because experience is needed to drive on such sandy tracks, and a navigation system is required. You need an offline map to find the White Pocket because no reliable cellphone or internet connection is available. There are a few signs along the road, but not sufficient.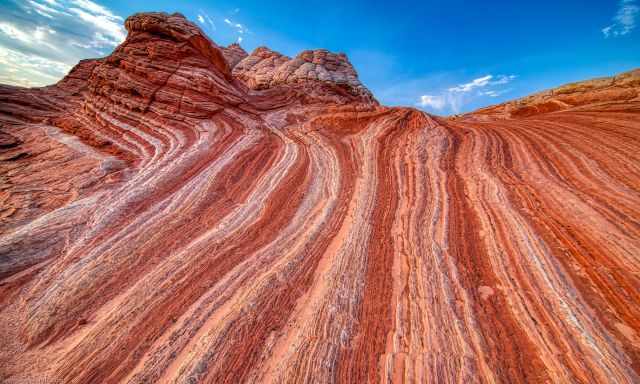 Experiences are needed to drive through long stretches of deep and soft sand, especially towards the end. The last 16 miles are the challenge. Frequently, visitors get stuck here and need to get towed out.
What to Expect?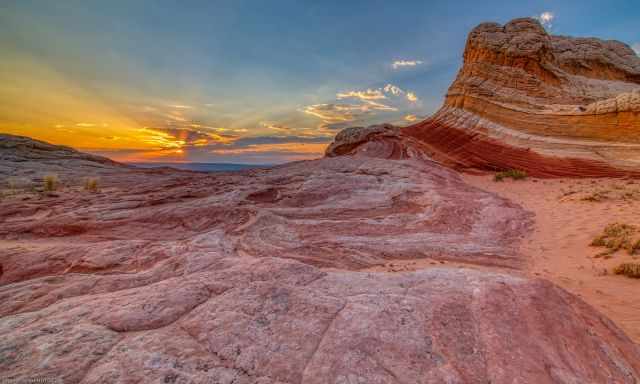 It is nature's masterpiece that is rarely found nowadays. It looks like being on another planet with these strange and unique sandstone formations. It offers the most diverse landscape, perfect for hobby and professional photographers to create exceptional art pieces as Ray did. Mother nature at its best, especially during the sunset. You could spend days and nights here without getting bored. Definitely no crowds and tour buses; it is off the beaten path!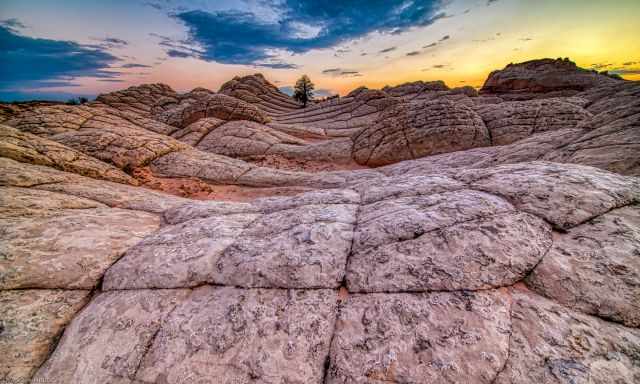 Some of these excellent shots were taken by Ray Downs Photography. Check out his website for more of such masterpieces. I can't thank him enough; he encouraged me to try the Wave lottery again, and recommended White Pocket. He visited the area several times, and we went on a guided tour in September 2023. If you wish to use any of our pictures, contact me, but we take action against picture theft