When Is the Best Time
Antelope, the most photographed Slot Canyon in the world, is a breathtaking piece of nature throughout the year, not only with the light beam. Antelope is magical; it doesn't matter which tour you book.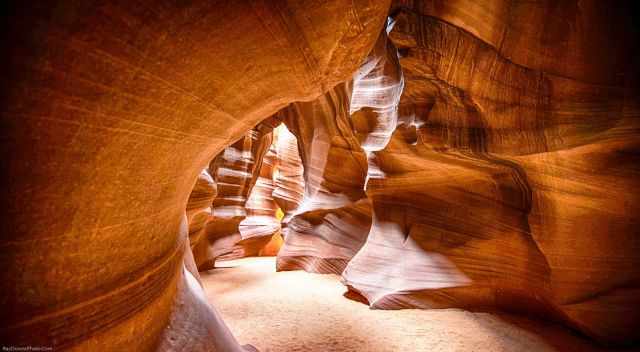 The Antelope Canyon is just a stone's throw away from Page at Lake Powell in Arizona. I visited both entries of Antelope and lots of my friends. We all were flashed by the colourful beauty of this narrow slot canyon. You can enter this canyon guided only located on Navajoland.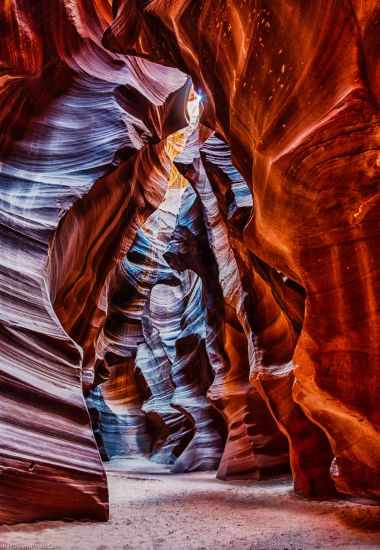 The best time for the light beam is from April to September; regarding the crowds, the wintertime from November to March gives you a better experience. 
There is a golden rule to explain the differences between Lower and Upper Antelope. Upper is best around noon because it is a darker canyon; wider at the bottom but narrow at the top like the letter A. Lower is best in early or late hours because the shape is like a V; narrow at the bottom but wide open and the sun can enter easily.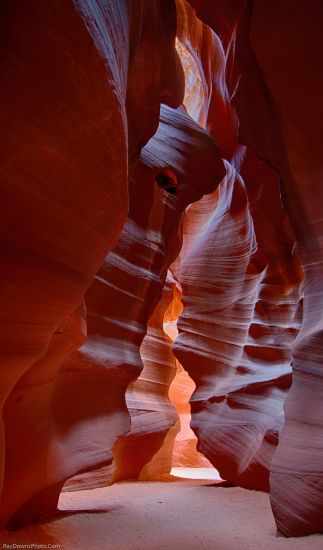 The Upper Antelope Canyon is super busy from April to October and much quieter from November to March. The light beams are spectacular, but only one guided photographer tour allows you to shoot awesome photos with your camera and tripod. It is likely to sell out far in advance. 
Is Antelope Open?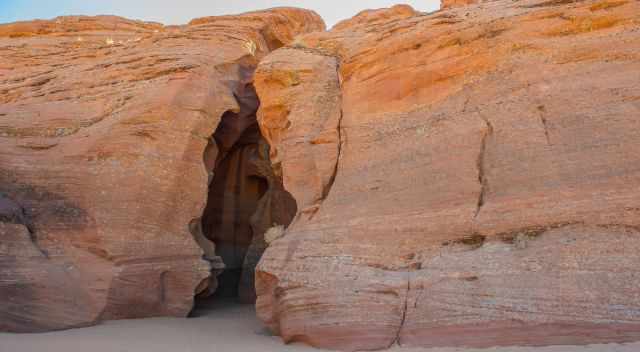 Yes, and all tours for the Upper Antelope Canyon are quickly sold out. Usually, tickets for Lower Antelope are still available. Make your reservation as soon as possible or follow the tour links at no extra cost to be on the safe side.
What is New in Upper Antelope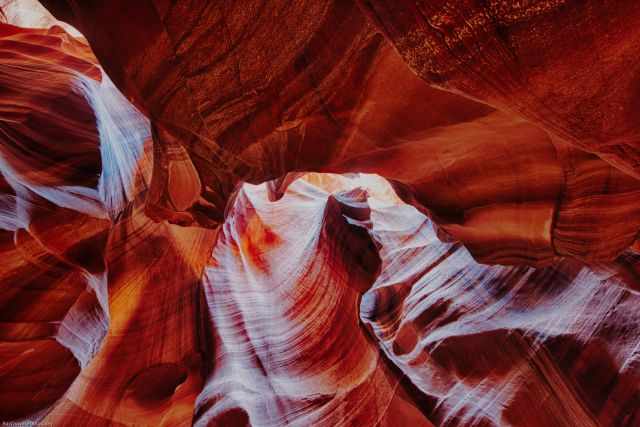 Upper Antelope has changed the traffic flow so you go out at the back and then around so you only go one way in the canyon  You do not bump into others on the way back anymore. It also means you can enjoy this unique place only once.
Daylight Saving Time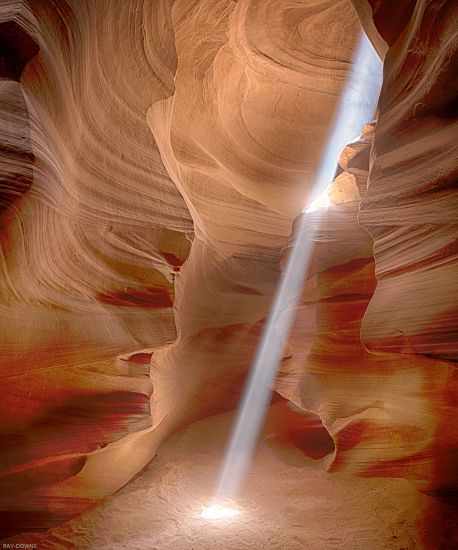 Important for your booking; most of Arizona does not use DST but the Navajo Nation. This results in clocks being turned forward one hour from mid-March to the beginning of November. This can be confusing for your booking at Antelope. 
Weather and Crowds for Each Season in Antelope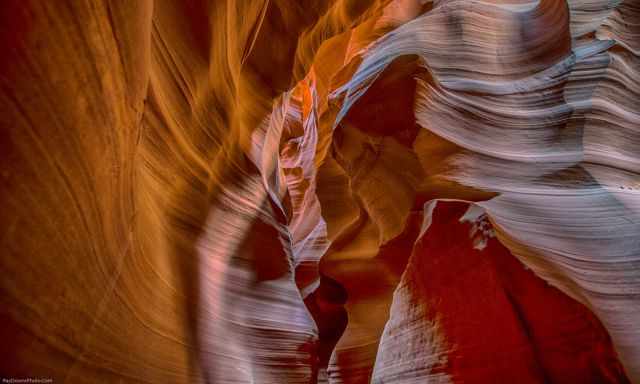 Weekends and bank holiday weeks are usually busier. For an exceptional visit, go in the week. The quietest time of the year is the wintertime and my favourite for all of the South-West in the US. If you don't mind missing the light beam, go early or later in the day when it gets a little quieter. 
Peak Season (June-September)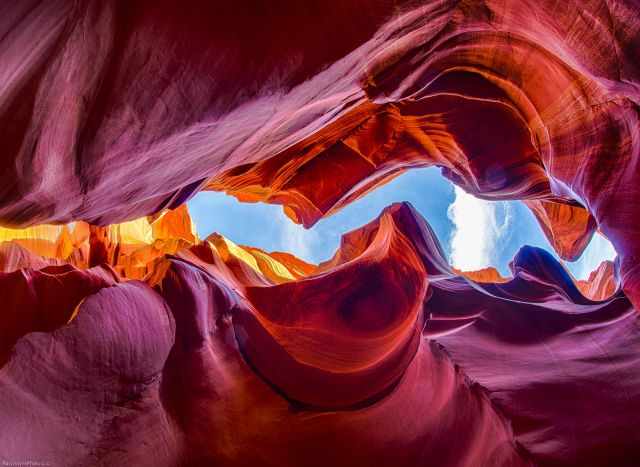 The busiest time of the year is the hottest as well, with temperatures ranging on average from 86-97°F/ 30-36°C topping 104°F/ 40°C easily during midday. Thunderstorms and flash floods can occur during "Arizona's Monsoon Season", and Antelope gets closed for good reason. There was a tragic accident in the canyon. Antelope got flooded from a thunderstorm in the distance when day-trippers went on a guided walk. 
Shoulder Season (March-May, October)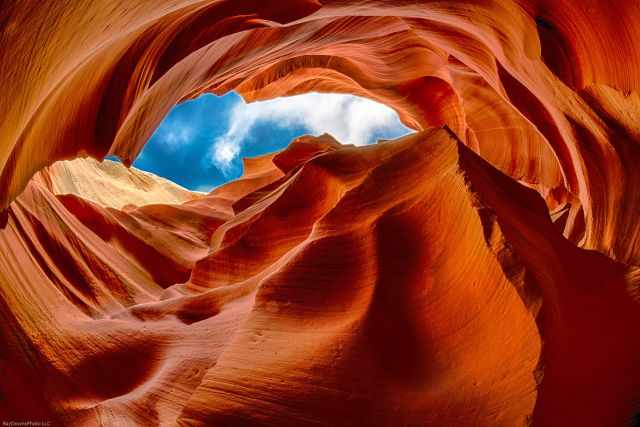 It already started to become busy in spring, but crowds are still bearable. It is the same for October; after the crazy summer season, the crowds thin out a little. March, April, and October temperatures are around 68°F/20°C but drop significantly at the night below 50°F/ 10°C. 
Low Season (November-February)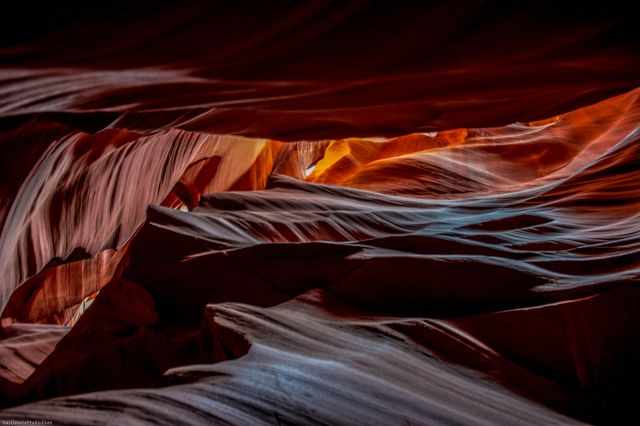 The colder wintertime with day temps ranging from 44-55°F/ 7-13°C and nights around freezing is my favourite time nowadays. Why? It is the only time where you can beat the crowds to enjoy those mesmerizing places like Antelope. A rain shower can appear, but rain is not common. The South-West of America is one of the most popular destinations in the world. To experience the real beauty of this region, visit in the winter!
4 Tips to Dodge the Crowds in Upper Antelope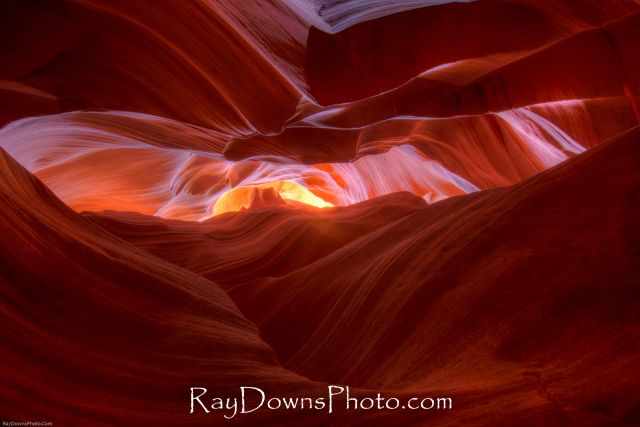 It is much quieter in the low or off-season from November to February. 
If you go end of March at midday, you even may have a chance for light beams. 
Go mid-week and avoid weekends and bank holidays.
Take the first tour in the morning. Midday tours are fully booked far in advance from May to September.
Top Tour Tips for Antelope
Have you already heard of Antelope X? This is a third entry, less known, still not overrun. You are not flexible with your wished date for this unique experience? GetYourGuide is offering an outstanding service providing all three canyon entrances with available tours. Check out your wished date and entry time and choose between Upper - Lower or Antelope X. With this service, you are even able to visit two parts of Antelope in one day or at least one of the three canyons. Limited availability, and also here Upper Antelope is already fully booked at least one month in advance.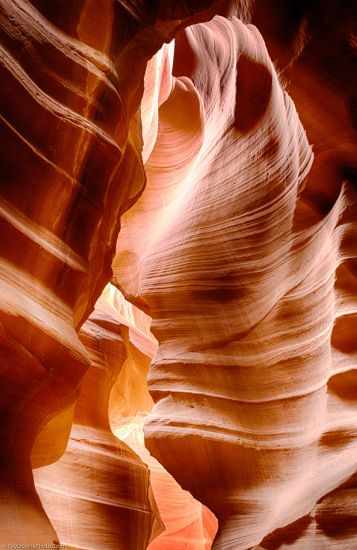 The ultimate tour is the Antelope Canyon X Photo Tour (no affiliate link, but excellent for photographers) - Pricy but worth it for the duration of 3 hours! A tripod and a backpack are allowed. And at the very best there are usually still tickets available. Canyon length 334 feet/102 meters. Antelope X is as picturesque, with magical rays of light until 2 pm. Two entrances; North and South.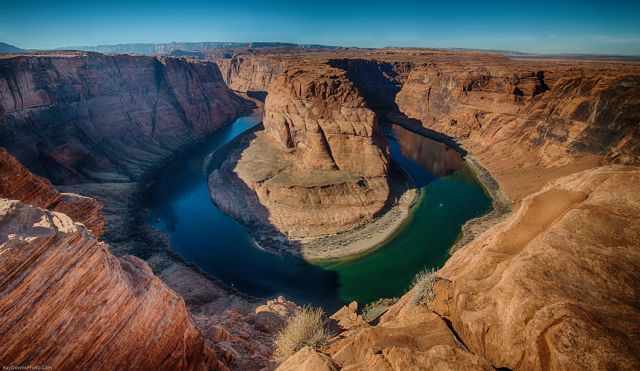 Horseshoe Bend Viewpoint is just a 10-minute drive from Page and utterly overrun nowadays. Even early morning is already packed with day-trippers. My friends passed by in the afternoon in 2019 and again for the sunrise, but they skipped the visit. The trip I recommend is a helicopter flight above the area and nearby Lake Powell. Enjoy the beautiful scenery and Horseshoe Bend from the helicopter with a few other people. 
What to Wear and Bring – Packing List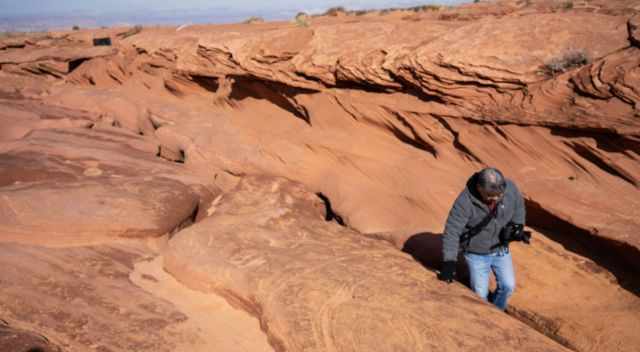 Wear proper shoes to walk through sand in the canyons and better grip the metal staircases and ladders.
A jacket is needed, especially in autumn and winter. It's cooler inside the canyon than outside. 
The sun is powerful even in the winter. Sunscreen is highly recommended.
Bring a bottle of water, especially in the summer, and a snack. No café or store nearby.
5 Tips from Ray, a Professional Photographer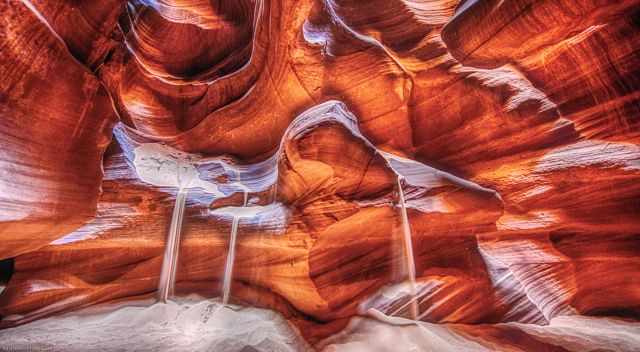 There are sand showers from the top. It is often dusty in Antelope. Ray Downs Photography recommends:
Plastic bag for your camera 
Scarf to cover your mouth
Hand blower to clean the dust off your lens before each shot.
Very wide-angle lens for the tight canyon.
For the photography tour, use a remote trigger, expect long exposures and try HDR. The guides assist you on this kind of tour.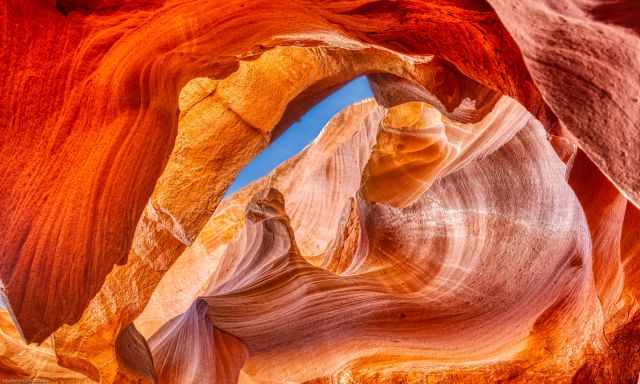 Are you seeking an alternative for Antelope? The Antelope Valley has more such slot canyons, which are still unknown and not overrun. 
Location and Tips
Page, Arizona
United States

Antelope is a perfect collaboration of water, sand, and wind that created these unique forms and shapes of sandstone in this narrow slot canyon. It is mother nature at its best.
The Differences Between Upper and Lower Antelope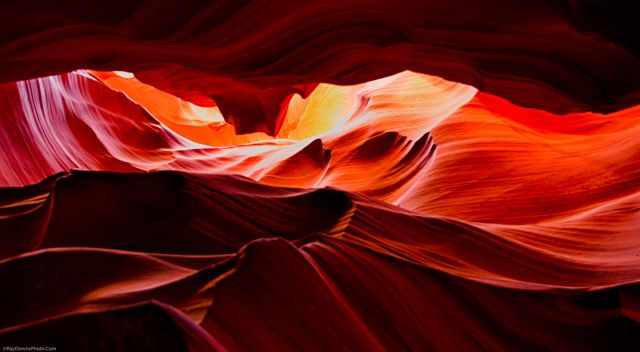 There are two accessible parts in Antelope, both fascinating but different, situated on Navajoland. It is private land of the Navajo tribe therefore, no self-guided tours are allowed. Things you should know before you go to avoid disappointment are listed below. 
Upper Antelope Facts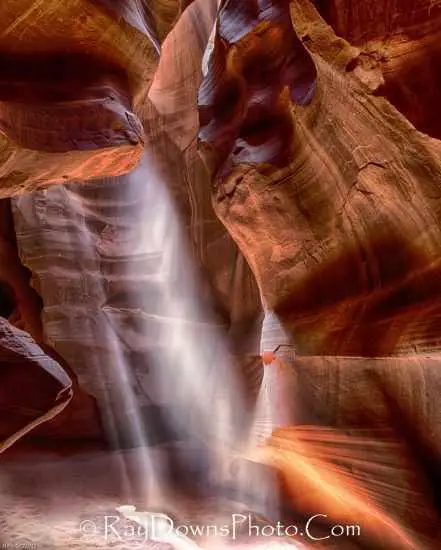 More popular: It is also called the Crack offering magnificent light beams the reason that this part of Antelope is more popular
Tour booking: Essential up to 5 months in advance - usually fully booked for months.
Crowds: It is terribly crowded, always fully booked from April to October. However, you walk through Upper Antelope one way only since October 2021.
Duration Standard Tour: 1.5 hours, 15 minutes driving one way plus one hour inside the canyon.
Duration Photography Tour: 2 hours - currently only in Antelope X available.
How to get there: The starting point from the Navaja Tours is just the opposite of Lower Antelope Canyon at HW 98. You can get here best by car. Google Maps Location. The tour operator Antelope Canyon Adventures is just 2.5 miles away. Google Maps Location Some tour operators offer pick-up service from Page.
Canyon Location: You get a short but bumpy ride in an open pick-up to the entry of Upper Antelope. 
Accessibility: Easier to access, a flat path through the sand and not challenging. 
Canyon Length: 660 feet/ 200 m
Tour Tickets: Tickets are sold out up to five months in advance. Tour tickets are expensive: $80 standard tour.
6 Light Beam Facts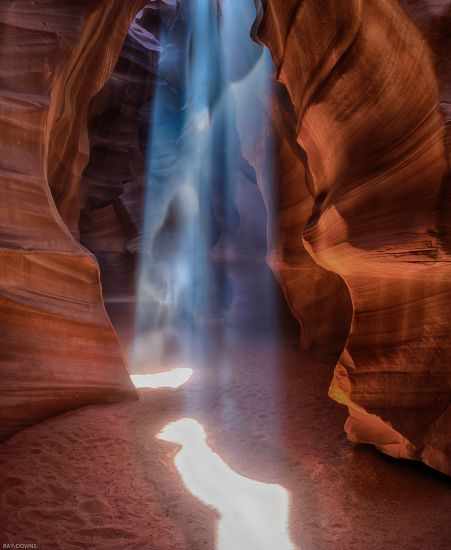 Best months: April-September
Tours are fully booked for months in advance.
Sun Light Beams occur roughly from 11 am – 1.30 pm, when the sun is at its peak.
It must be sunny for the light beam; clouds spoil the illumination. Thunderstorms occur in summer, causing the closure of the Antelope.
Tripods are currently not allowed on the photographer tour.
Do you know how these spectacular light beam photos were taken? Ray told me that the guide throws sand into the air, reflecting the light even better and creating these light beam shots.
Lower Antelope Facts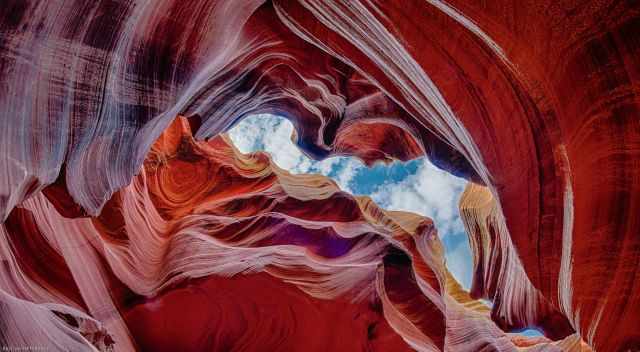 Lower Antelope has its own charm but without the light beam. Also, here you can take stunning pictures with glowing sandstone. Anyhow, this tour is more than getting the best shot; the entire narrow canyon is the experience. Soak in this mystic place and go back home with an unforgettable memory.
Called Corkscrew, and you know why when you entered the canyon.
Tour booking: To secure your tour, I recommend a booking in advance. However, not as fully booked as Upper Antelope. Sometimes even walk-in works and tickets are available.
Crowds:  It is less busy even in the peak season. You walk through the canyon one way and out on a staircase. You don't go the same way back.
Duration 1-1.5 hours - This is a more demanding tour and hike. It is a 1.1 mile /1.8 km return hike.
How to get there: You get here by car to the huge car park of two tour operators: Dixxi Ellis and Kent's Google Maps locations added.
Location Canyon: It takes 10 minutes by foot to the canyon's entry. You climb down 35 meters on five flights of stairs and ladders up in some points. I loved this adventurous tour.
Accessibility: It may be challenging for people with mobility issues. During midday, lights appear on top of the bigger cracks, and the sandstone glows in a ray of orange and red colours. 
Canyon Length: 1335 feet/ 407 m one way
Tour Tickets: Advanced booking is recommended; however, not as crazy as Upper. Tickets are much cheaper, $40. Still, tour tickets are available!
Upper Versus Lower Antelope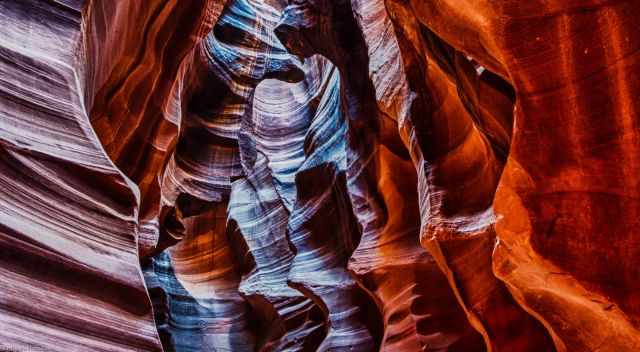 Lower and Upper Antelope Canyon are unique and worth visiting despite the crowds in the peak season. Get an idea of the entire Antelope with its fascinating sandstone formations. Antelope means: "The place where water runs through rocks". These waters shaped the wonderful and unique forms in both canyons. 
Upper Pros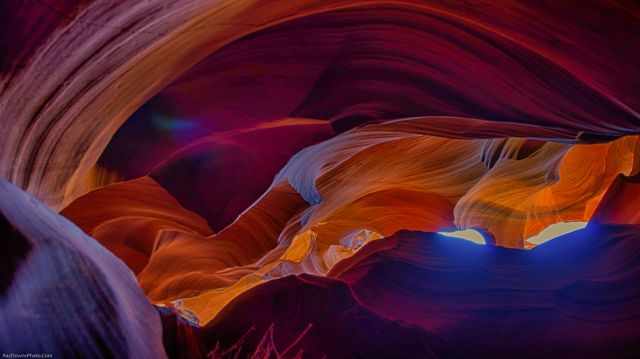 Mesmerizing light beams
Photographer Tours are offered during the light beam season
Easier to walk
Upper Cons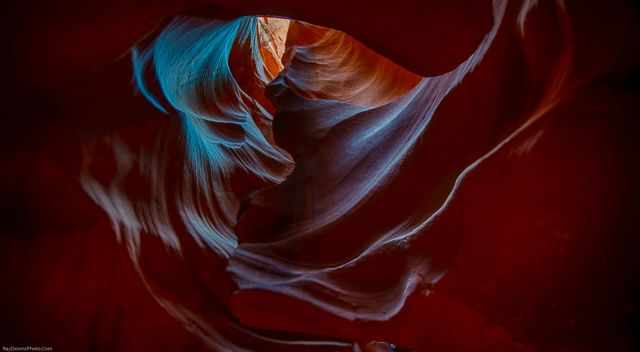 Tours are more expensive, twice the price
Always fully booked far in advance
Lower Pros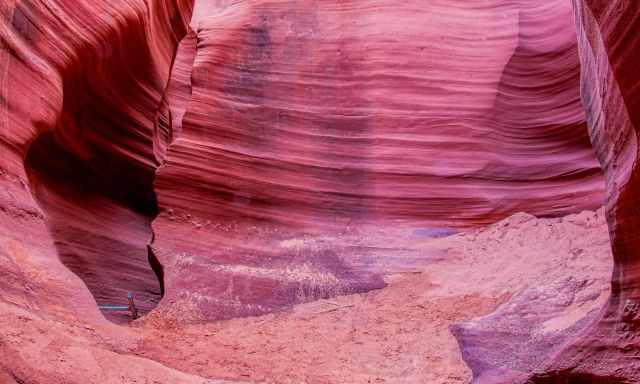 Although no light beams occur, still fascinating rays of light during midday
Fewer visitors; therefore better for taking pictures.
Not fully booked for five months in advance.
Tours are cheaper.
It's more adventurous to access the canyon. Due to the stairs and ladders, you get a much better view from all directions.
Lower Cons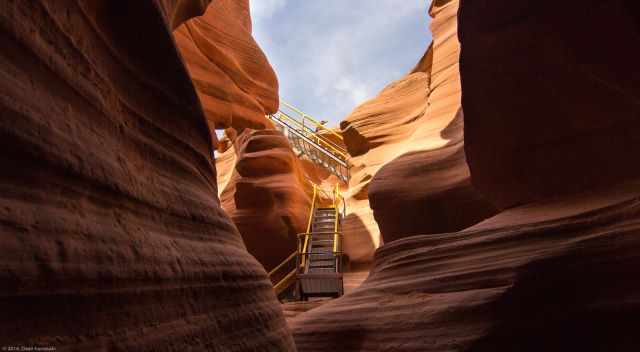 No photographer tour offered
May be too demanding with mobility issues.
 
7 Tips and Facts You Need to Know About the Booking and Tour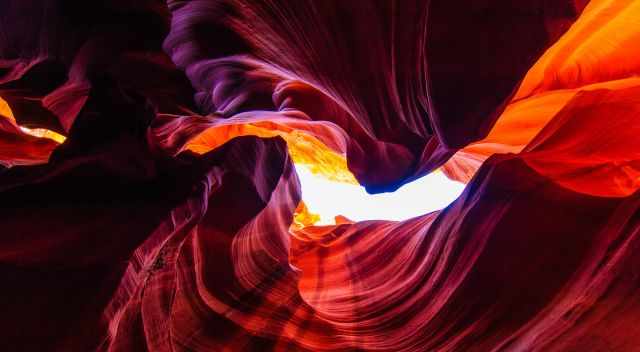 Reservations can be made up for 5 months in advance. Also, walk-in visitors are welcome if space is available. 
Check in at least half an hour before your booking; otherwise, your ticket will be given away. The Navajos are very strict!
Tours are offered from 7.30 am to 3.25 pm.
The duration is 1.5 hours. There isn't a restroom available at the canyon. 
Tripods are only at the photographer tour allowed.
Visiting with children or toddlers is possible for both entries. To do so, you need a front carrier and keep in mind Lower Antelope has stairs and ladders to climb.
No backpack allowed!
 
Can I visit the Upper and Lower Antelope in One Day?
Yes, this works very well in one day due to the proximity of the canyons. To do so, book a morning tour of Upper Antelope and Lower Antelope after midday. Most important is a booking for both Antelope Canyons far in advance. 
Hotel Tip Page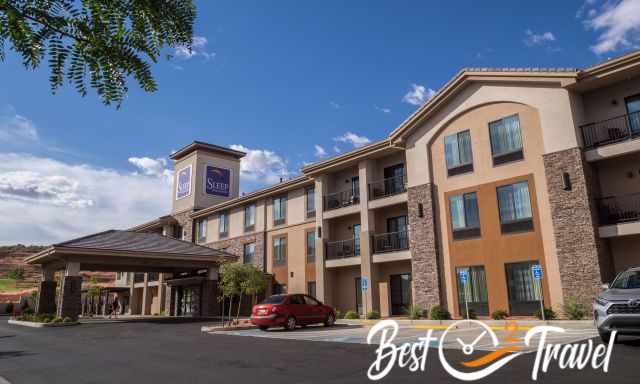 You may think there are plenty of hotels in Page, and that's right, but each evening we figured out the hotels; also, ours were fully booked. Many visitors stay here for a couple of nights to visit Horseshoe Bend, The Toadstool Rocks, and more beautiful places. If you plan to travel to Page in the peak season or at weekends, I highly recommend booking a room in advance.
Did you ever hear of the White Pocket? It is a similar rock formation like the Wave and is also nearby.
Do you like these unique pictures? Check out Ray Downs Photography for more of such masterpieces. Thanks, Ray! He provided most of the photos. And check out the website from Ray. He offers exceptional pictures of Antelope and other breathtaking places in the southwest. You also can follow Ray on Facebook.
The other pictures are by my friend Chris.