When Is the Best Time
The Yellow Rock is another otherworldly place in the Grand Staircase Escalante National Monument or GSENM. IMO, the Yellow Rock is a hundred times more impressive than the Wave, and you have this place for yourselves. 
I will give you all information to find this hidden spot, hiking details and what to consider for a memorable day in the majestic national monument located close to Page and Kanab.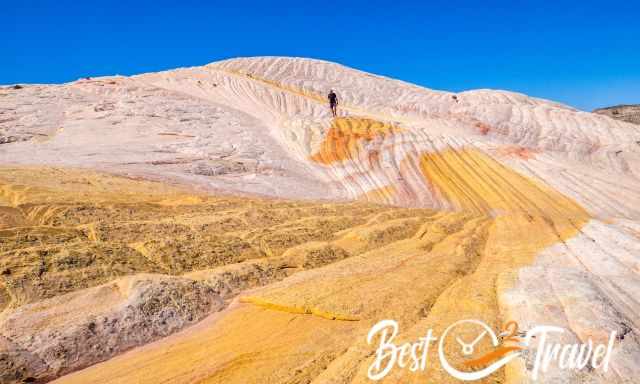 The entire dome is multi-coloured with different Navajo sandstone formations in shades of white to orange, red, pink, and yellow. It deserves a far more exciting name due to the unique mixture of Wave-like shapes and colours.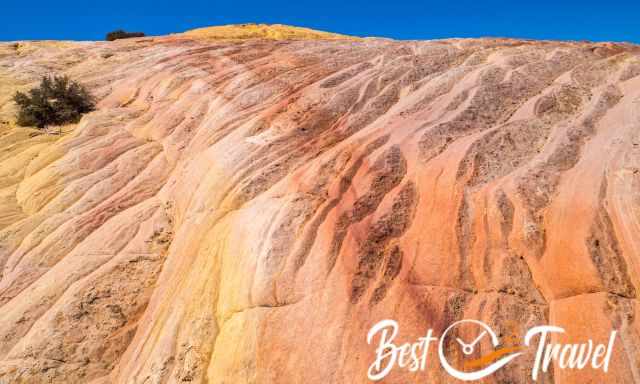 When we started the track, we met one hiker coming from Yellow Rock. He was in awe, telling us he had seen the Wave, the Fire Wave, White Pocket, Monument Valley, and more, and none of these places was that beautiful, and we got excited.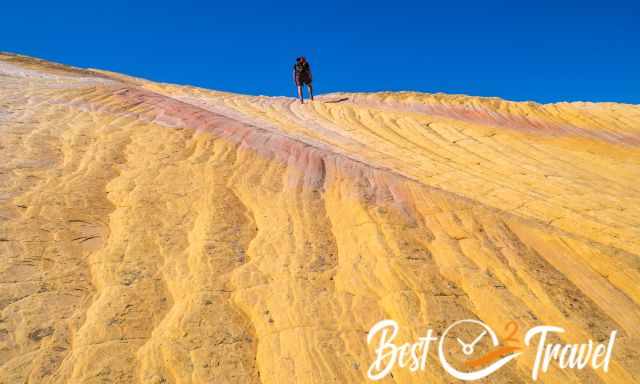 We spent many hours here but couldn't explore the entire rock; it is too vast. The hike is off the beaten path, quite a ride to get here in a 4 WD. We agree with this hiker - we were overwhelmed by the beauty of this magical place and plan to visit Yellow Rock again in the fall.
Update May 2023
The State of Utah plans to shrink the Bears Ears and Grand Staircase Escalante National Monument and attack the monuments in court. Yellow Rock, Cosmic Ashtray, Wahweap Hoodoos and most other places mentioned in my articles could lose their protection. Without protection, these natural wonders are vulnerable and are under threat of exploitation by fossil fuel and uranium companies. These places can't get enough attention for their preservation.
Where is Yellow Rock - How to Get to Yellow Rock?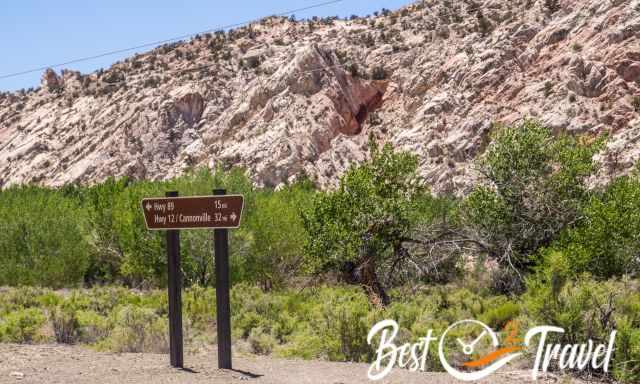 The trailhead of Yellow Rock is situated at the 46 miles long Cottonwood Canyon Road in the Paria River Valley, a loose gravel road which is not accessible during and after heavy rainfall. The sand turns into clay, and cars get stuck. You can access this dirt road by 4 WD from the north of HW 12 or south of HW 89. Parking at Lower Hackberry Canyon Trailhead Google Maps Location
1. North from Kodachrome State Park - 25 mi 1.30 h or HW 12 Cannonville 31 mi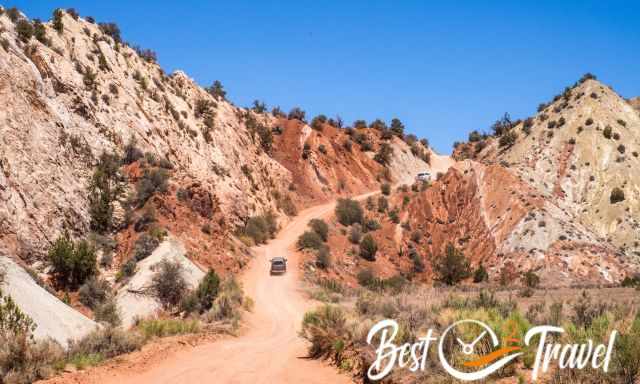 We camped in the Kodachrome State Park and accessed the road from the north. The entire road is uneven in parts, bumpy with deep potholes filled with sand. Coming from the north, you pass by Grosvenor Arch and the Cottonwood Narrows, both worth a stop.
2. South from Page - 42 mi 1.15 h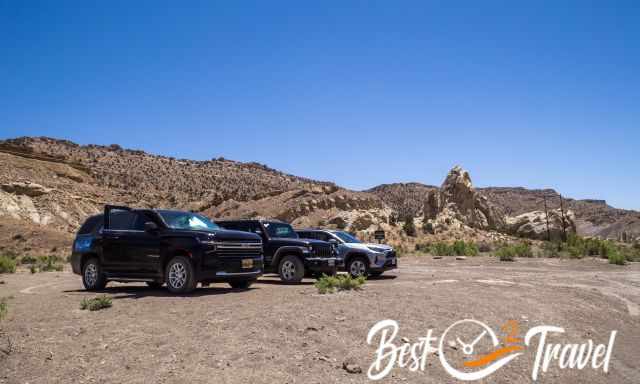 Coming from Page from HW 89, only 14 miles lead along the gravel Cottonwood Road; therefore, easier to drive. However, we loved the journey on the entire Cottonwood Canyon Road, one of the most fascinating dirt roads.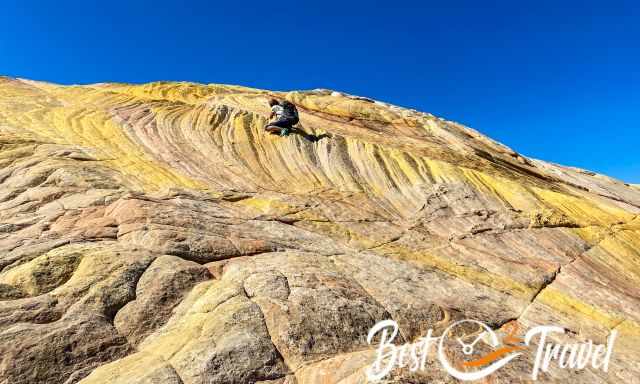 There aren't any signs for Yellow Rock, nor is the trail marked. You need good navigation skills and, most importantly, a mobile hiking app.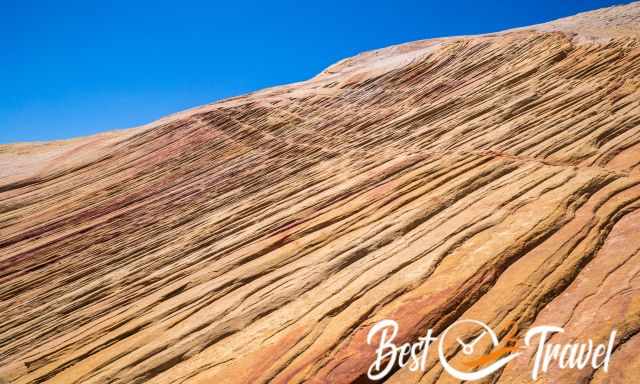 The best time for Yellow Rock is the drier and cooler months, from late September to October and April to mid-June. Summer is scorching, with temps above 86°F/30°C in the shade. It is also the monsoon season, with thunderstorms in the afternoon or evening. It can pour for hours, and your 4 WD, gets stuck on the dirt road. In winter Cottonwood Canyon Road is frequently closed due to the high amount of snow in higher elevations.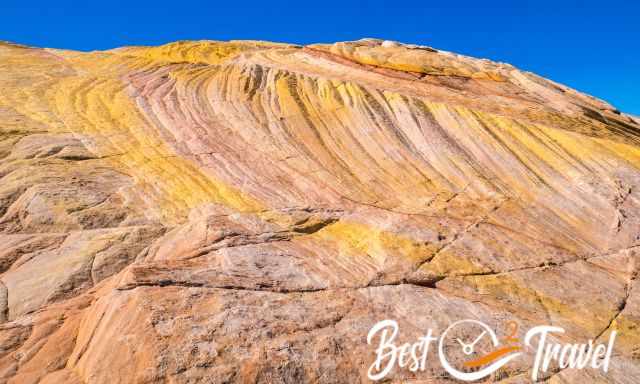 The best daytime for excellent shots is the morning and late afternoon, with perfect sunlight. The exact hiking details and a map are added below.
Is There Snow at Yellow Rock in the Winter?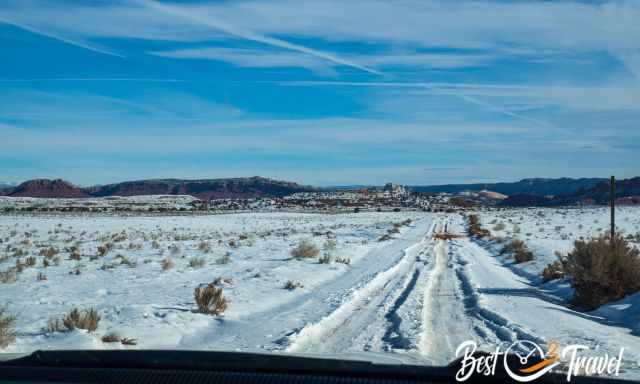 The main part of Yellow Rock is situated to the south, and Yellow Rock is not covered if it is sunny the days before. However, getting there is tricky, and you may need snow chains. Cottonwood Canyon Road is frequently inaccessible and closed in the winter because of snow and wet conditions. Due to the high elevation, the first snow occurs already in November. We experienced lots of snow in January.
 Our Packing List for Yellow Rock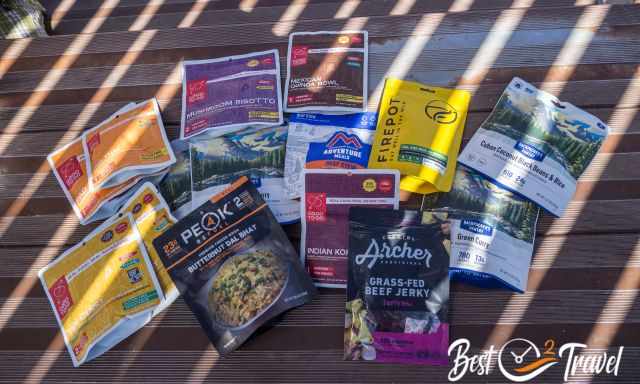 When we travel through the US to remote places, getting a proper meal during the day is usually impossible. We tried out dehydrated meals, which are convenient and time-saving. I have to confess we didn't expect such good quality and taste.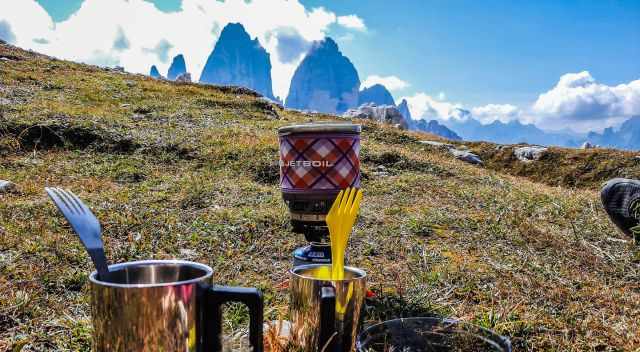 To quickly boil some water either for a hot drink or to prepare some dried food, we count on a MiniMo Cooking System from Jetboil. The Jetboil always joins us, like in the Italian Dolomites or at the Wahweap Hoodoos close to Page.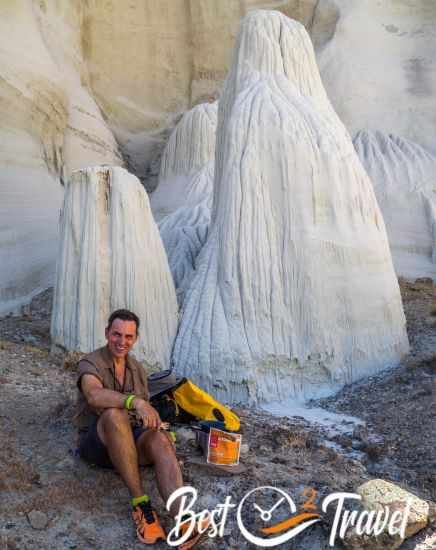 In case of an emergency or a hike that takes longer than expected, we never go without our Petzl Headlamp in our backpacks.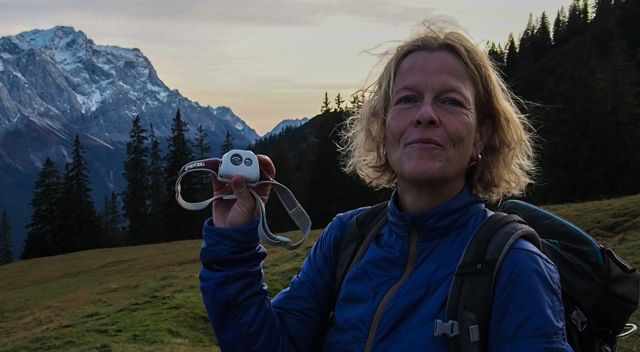 I highly recommend hiking poles for the dry and slippery soil on the narrow path for the short but steep ascent to Yellow Rock and especially for the descent.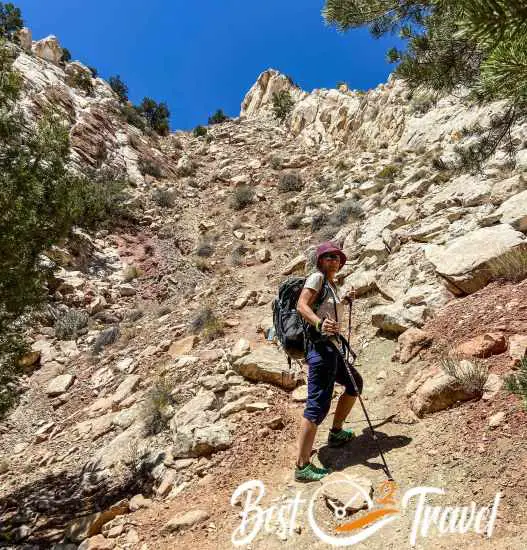 But please do not use hiking poles or take rubber tips on the fragile sandstone rock formation; instead, wear proper shoes with grip. Markus and I love the INOV-8 Trailtalon because of the flexible sole and the excellent grip. We have used this type of shoes for many years already.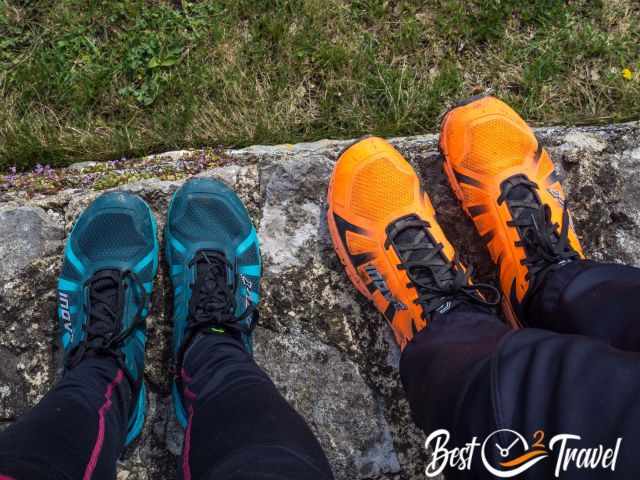 There is no shelter at Yellow Rock - sun protection and a hat are important like elsewhere in this area.
Location and Tips
Cannonville, Grand Staircase Escalante
United States

Yellow Rock, the Wave Alternative, is a photographer's dream with hundreds of outstanding spots and a great alternative for the Wave. If you plan to explore Yellow Rock, it is best to stay close in Kodachrome State Park like we did, in Page or camp along Cottonwood Canyon Road.
Trail and Hiking Details for Yellow Rock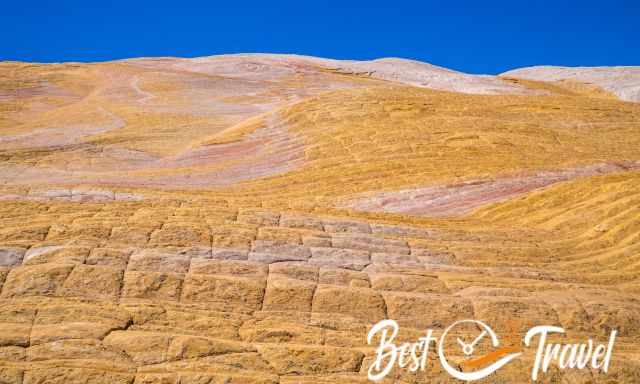 Track Length until Yellow Rock: roughly 1.2 mi/ 2 km plus walking above the rock - in and out roughly 3,1-3,7 miles/ 5-6 km.
Hiking Duration: about one hour to the Yellow Rock because the track is not marked
Difficulty: Moderate, just the 10-15 minutes steep ascent is a little challenging but easy to master with hiking poles.
Rating: One of the best rock formations we have ever seen, and we plan to return to spend more time around Yellow Rock.
Locus Map Hiking App from the parking to Yellow Rock. This unique rock is almost impossible to find without a map! There aren't any signs or a real path. You get the first glimpse after the steep ascent.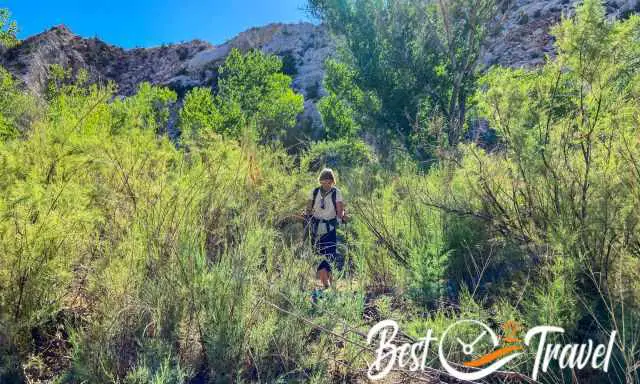 From the parking, head to the south along the road for about 165 ft/ 50 m, then turn right and find a way through the thick bush for roughly 655 ft/ 200 m until you reach the creek bed, which was dry in June; in the summer but the rest of the year a shallow creek is running here.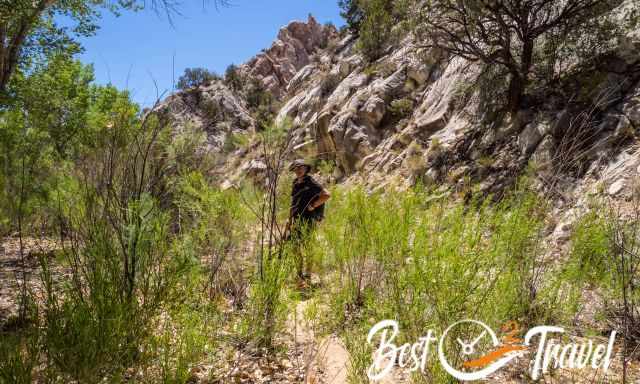 Cross the creekbed and turn left. Now you may see some footprints. Follow the riverbed for about 490 ft/ 150 m, then turn right into the small canyon. We saw a few cairns, but I wouldn't count on it.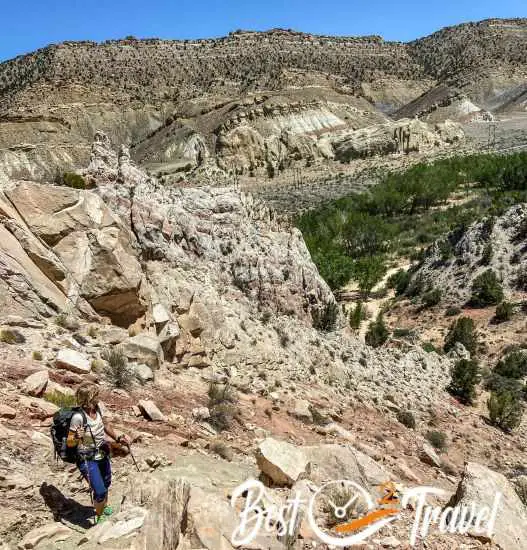 A steep and exposed escarpment is covered with red sand, ascending to the top for roughly 10 minutes. This section is slippery, and we were glad to carry our hiking poles. Please, use rubber tips on your hiking poles in slickrock areas. Formations like the Wave and Yellow Rock are being etched if using metal tips.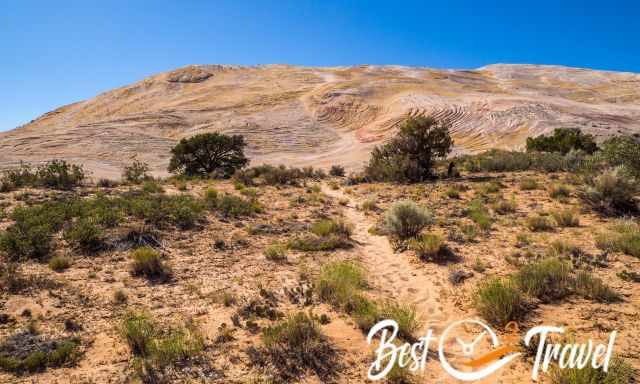 When we reached the top, we followed the ridge to the left, and soon after, we got the first glimpse of this unique dome and colour explosion. Continue left to reach the rock and now explore this spectacular piece of nature. I promise your time is running too fast here. Carry a picnic in your backpack and enjoy the breathtaking scenery.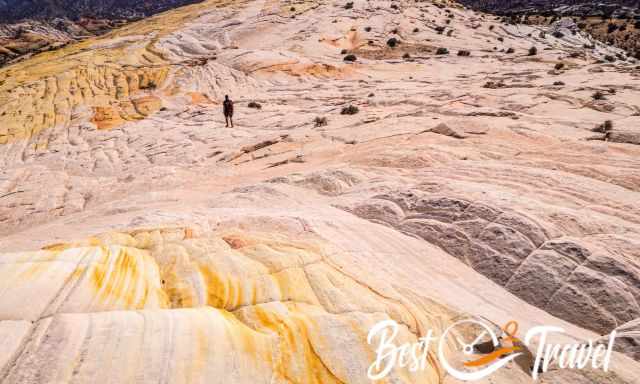 On windy days, climbing on this exposed dome was a little challenging, but it wasn't slippery on the rock itself. We had strong winds during our visit. It was sometimes challenging not to lose the balance.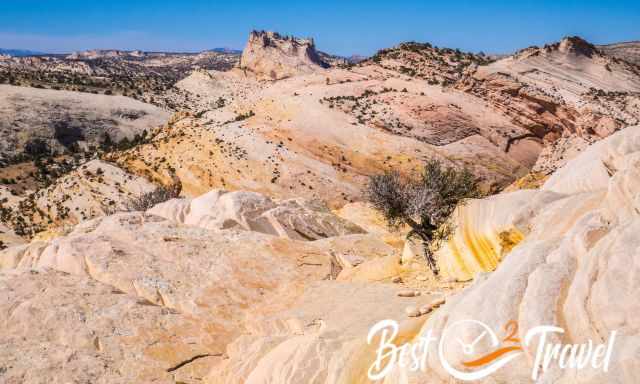 The 360° view from Yellow Rock is spectacular, and you see other colourful rock formations in the distance. Bring plenty of time for the exceptional Cottonwood Canyon Road.
Can I Camp at Yellow Rock?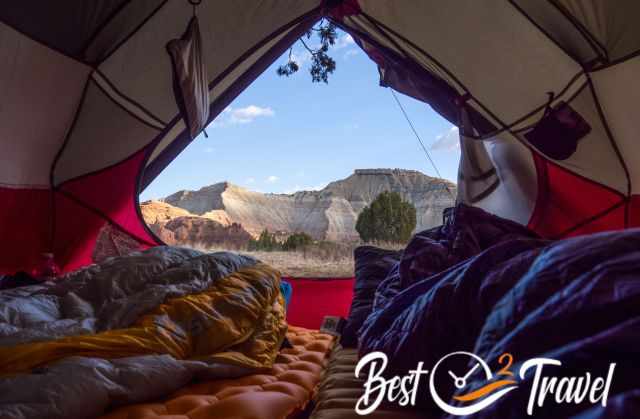 Most of the Grand Staircase Escalante National Monument and so the Cottonwood Canyon Road are situated on BLM land, and it is allowed to camp in this area. A permit is required for overnight hikes, which you get easily at the information centres of GSENM.
Where to Stay?
Page is the main service hub and a good starting point with a population of 7.500. Page is excellently located at the Colorado and Lake Powell.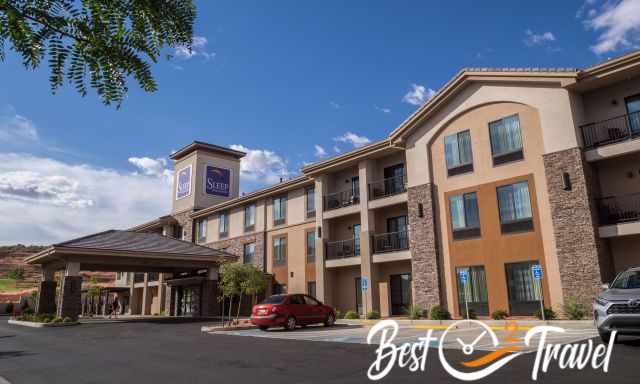 You may think there are plenty of hotels in Page, and that's right, but each evening we figured out the hotels; also, ours were fully booked. Many visitors stay here for a couple of nights to visit Horseshoe Bend, Antelope Canyon, the Toadstools, Yellow Rock, and more beautiful places. If you plan to travel to Page in the peak season or at weekends, I highly recommend booking a room in advance.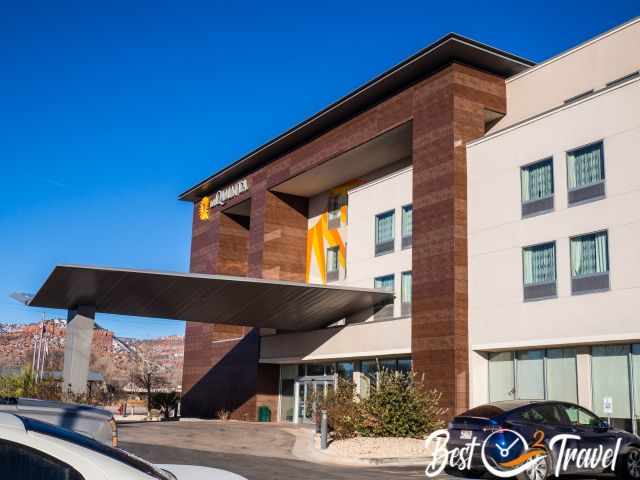 To explore the area, you either stay in Page or in Kanab. Last winter, we spent two nights in Kanab because we had booked a guided tour. Kanab is a fantastic town to explore the Vermillion Cliffs Wilderness's unique landscape and sandstone formations. Thx for booking via my website 😊
More of Grand Staircase Escalante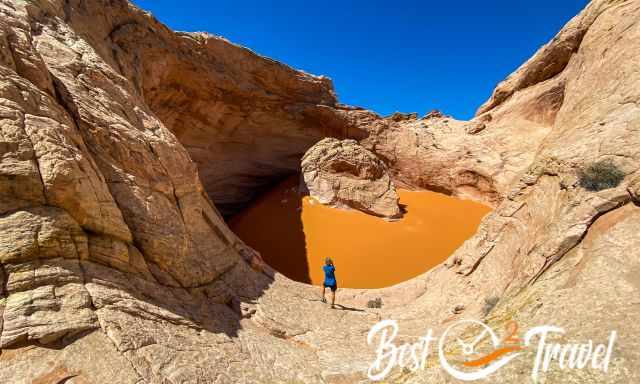 Another hidden gem which also belongs to Escalante is the otherworldly Cosmic Ashtray.  And there are more such places off the beaten path, not overrun, with no soul in sight, just you and this magnificent piece of mother nature, the Wahweap Hoodoos, just half an hour from Page.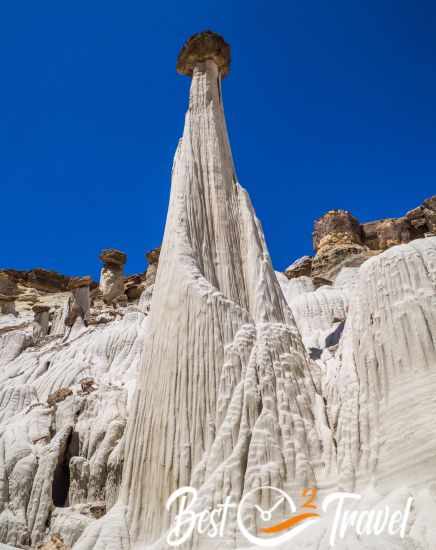 Do you wish to know more about the Grand Staircase Escalante National Monument? Check out my new guide and the 18 Must-Visit Places and where they are located. Not all are difficult to get to; some are family- and dog-friendly.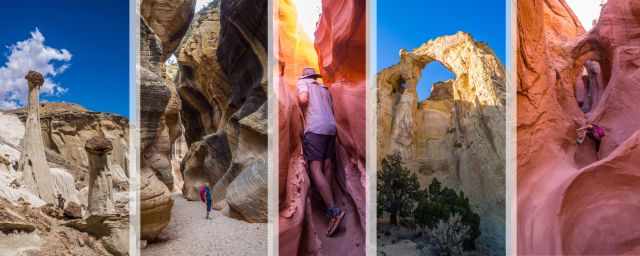 Who We Are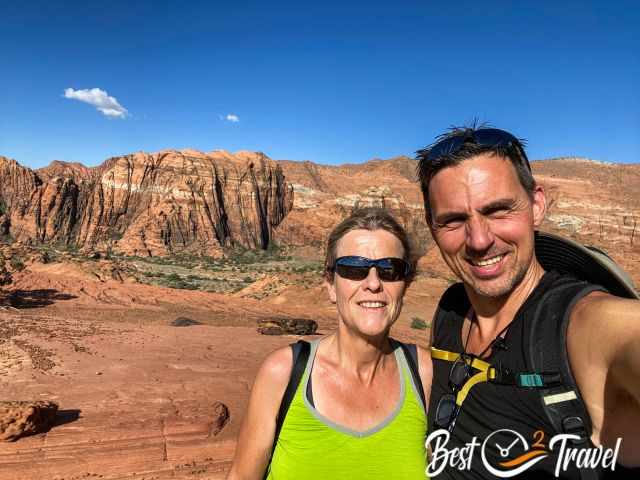 We are passionate travellers, married for almost 25 years, and we love discovering hidden gems around the globe. I am passionate about sharing some of the most beautiful places in the world with you, but I still can't live from my work, and we have regular jobs, too.
It is a tough business nowadays because fake travel websites rewrite content without effort and expense. Do you like to know more about fake travel websites and how to unmask them? Check out "The Truth About Fake Travel Websites"
Do you like my Yellow Rock Guide? Please share it with your friends and on social media, subscribe to our  YouTube Channel. That would already help us a lot!
Do You Like to Support Me - It's easy; use the Paypal Button below 😍
If you wish to use any of my photos, contact me, but I will take action against picture theft. Why do I write this here? Hundreds of my pictures are used worldwide without any credit, nor did they get my permission. I don't mind giving permission, but I want to get asked for it and to be mentioned with my specific article.