When Is the Best Time
The Yellow Rock is another otherworldly place in the Grand Staircase Escalante National Monument or GSENM. IMO the Yellow Rock is a hundred times more impressive than the Wave, and you have this place for yourselves.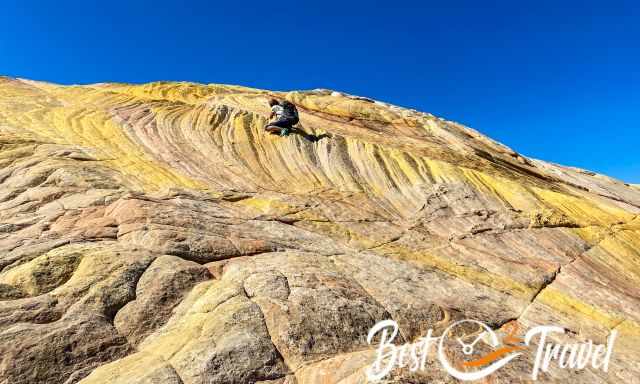 The entire dome is multi-coloured with different Navajo sandstone formations in shades of white to orange, red, pink, and yellow. It deserves a far more exciting name due to the unique mixture of Wave-like shapes and colours.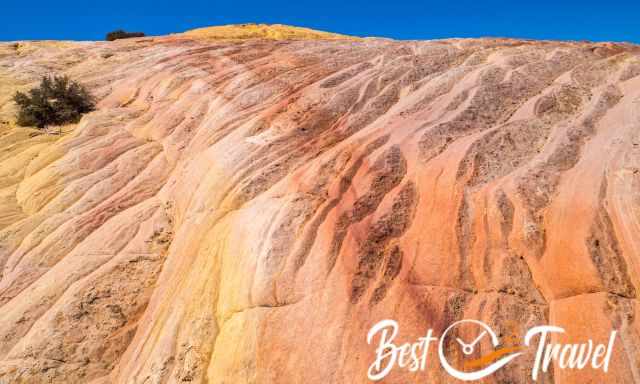 When we started the track, we met one hiker coming from Yellow Rock. He was in awe, telling us he had seen the Wave, the Fire Wave, White Pocket, Monument Valley, and more, and none of these places was that beautiful, and we got excited.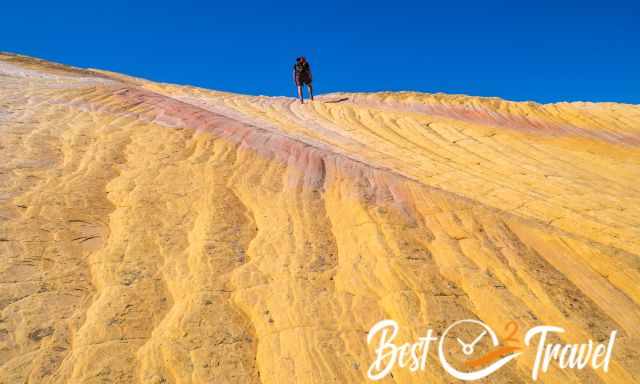 We spent many hours here but couldn't explore the entire rock; it is too vast. The hike is off the beaten path, quite a ride to get here in a 4 WD. We agree with this hiker - we were overwhelmed by the beauty of this magical place.
Where is Yellow Rock - How to Get to Yellow Rock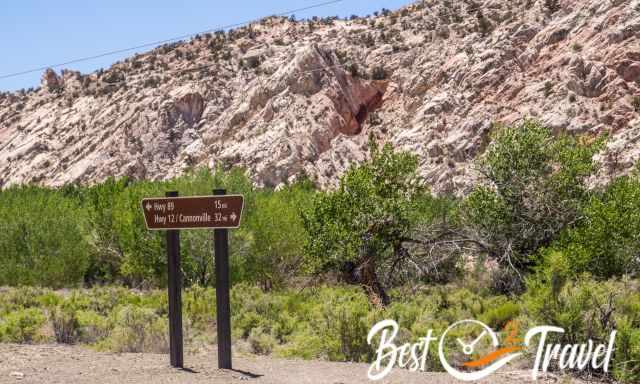 The trailhead of Yellow Rock is situated at the Cottonwood Canyon Road in the Paria River Valley, a loose gravel road which is not accessible during and after heavy rainfall. The sand turns into clay, and cars get stuck. You can access this dirt road by 4 WD from the north of HW 12 or south HW 89. Parking at Lower Hackberry Canyon Trailhead Google Maps Location
1. North from Kodachrome State Park - 25 mi 1.30 h or HW 12 Cannonville 31 mi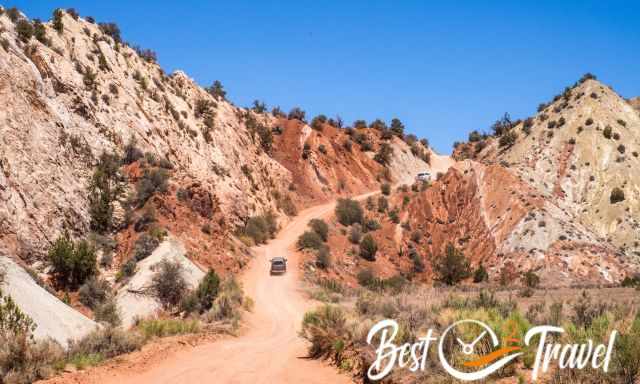 We camped in the Kodachrome State Park and accessed the road from the north. The entire road is uneven in parts, bumpy with deep potholes filled with sand. Coming from the north, you pass by Grosvenor Arch and the Cottonwood Narrows, both worth a stop.
2. South from Page - 42 mi 1.15 h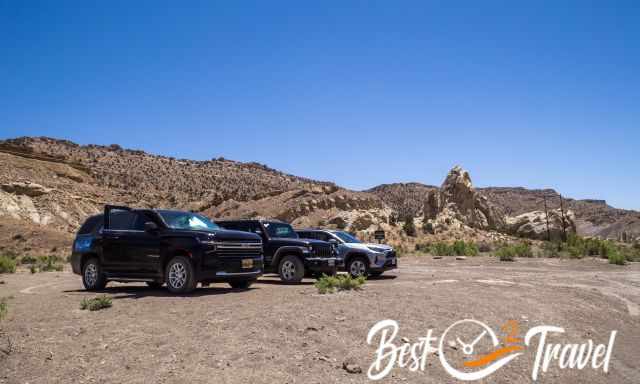 Coming from Page from HW 89, only 14 miles lead along the gravel Cottonwood Road; therefore, easier to drive. However, we loved the journey on the entire Cottonwood Canyon Road, one of the most fascinating dirt roads.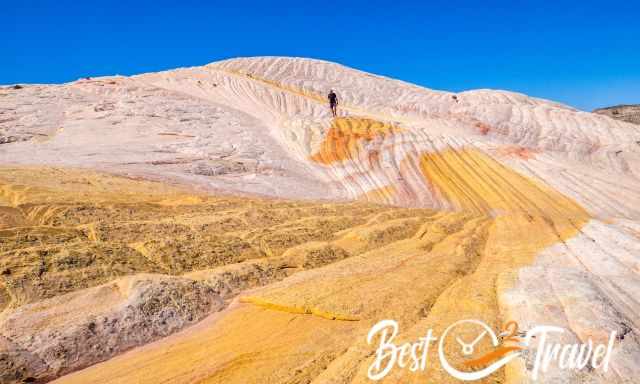 There aren't any signs for Yellow Rock, nor is the trail marked. You need good navigation skills and, most importantly, a mobile hiking app.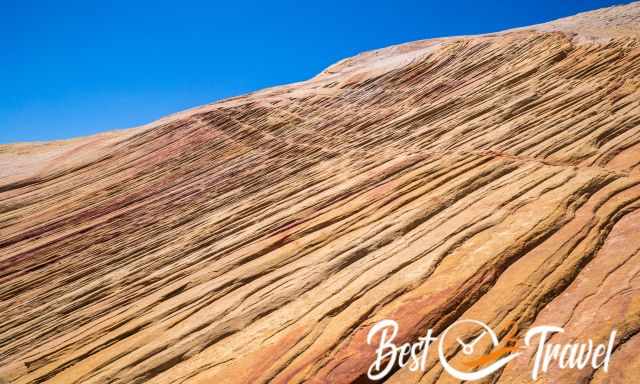 The best time for Yellow Rock is the driest and cooler months, from October to May. Summer is hot with temps above 86°F/30°C in the shade. It is also the monsoon season with thunderstorms in the afternoon or evening. It can pour for hours, and your 4 WD, gets stuck on the dirt road.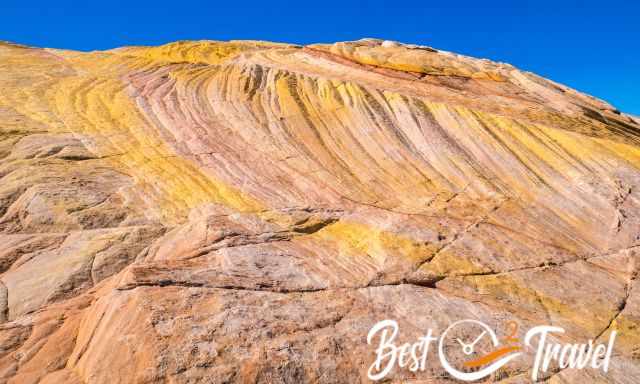 The best daytime for excellent shots is the morning and late afternoon with perfect sunlight. 
Recommended Reading
If you like to learn more about hikes in Grand Staircase Escalante, check out this guidebook.
The hikes featured in this book range from family-friendly day hikes to multi-day backpacking trips that will excite the most adventurous of spirits and will educate readers.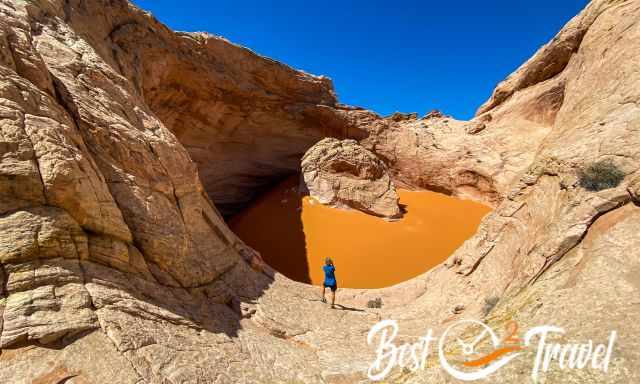 Another hidden gem which also belongs to Escalante is the otherworldly Cosmic Ashtray.  And there are more such places off the beaten path, not overrun, with no soul in sight, just you and this magnificent piece of mother nature, the Wahweap Hoodoos, just half an hour from Page.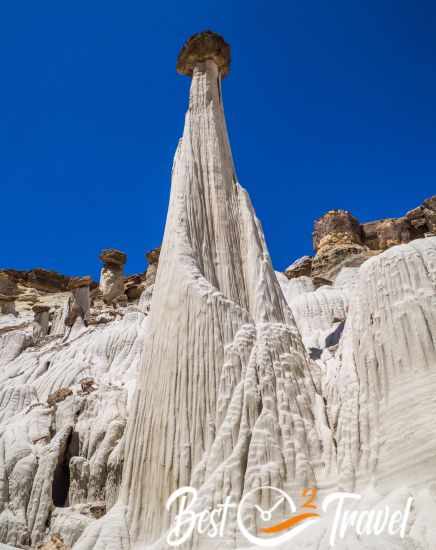 Location and Tips
Cannonville, Grand Staircase Escalante
United States

Yellow Rock; the Wave Alternative, is a photographer's dream with hundreds of outstanding spots and a great alternative for the Wave. If you plan to explore Yellow Rock, it is best to stay close in Kodachrome State Park like we did, in Page or camp along Cottonwood Canyon Road.
Trail Details to Yellow Rock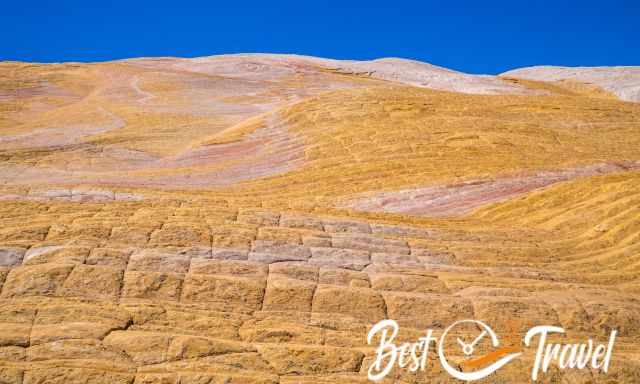 Track Length until Yellow Rock: roughly 1.2 mi/ 2 km
Hiking Duration: max. one hour because the track is not marked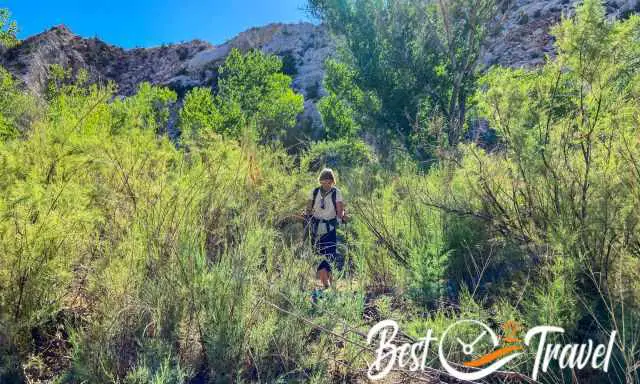 From the parking, head to the south along the road for about 165 ft/ 50 m, then turn right and find a way through the thick bush for roughly 655 ft/ 200 m until you reach the creek bed, which was dry in June; in the summer but the rest of the year a shallow creek is running here.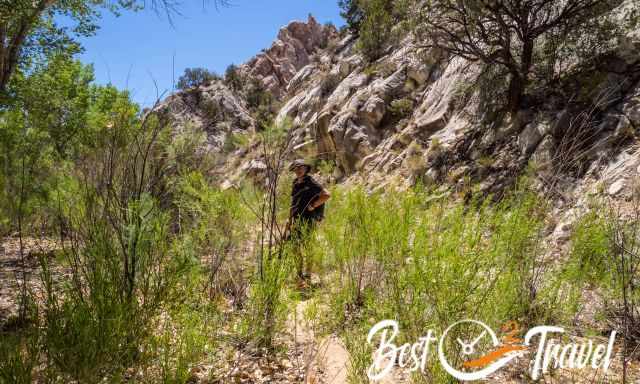 Cross the creekbed and turn left. Now you may see some footprints. Follow the riverbed for about 490 ft/ 150 m, then turn right into the small canyon. We saw a few cairns, but I wouldn't count on it.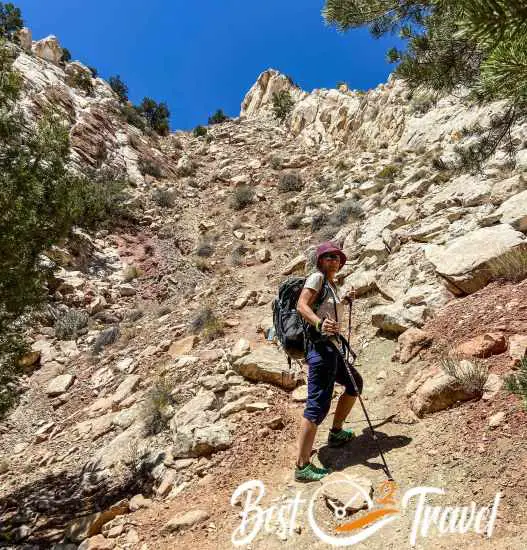 There is a steep and exposed escarpment covered with red sand ascending to the top for roughly 10 minutes. This section is slippery, and we were glad to carry our hiking poles. Please, use rubber tips on your hiking poles in slickrock areas. Formations like the Wave and Yellow Rock are being etched if using metal tips.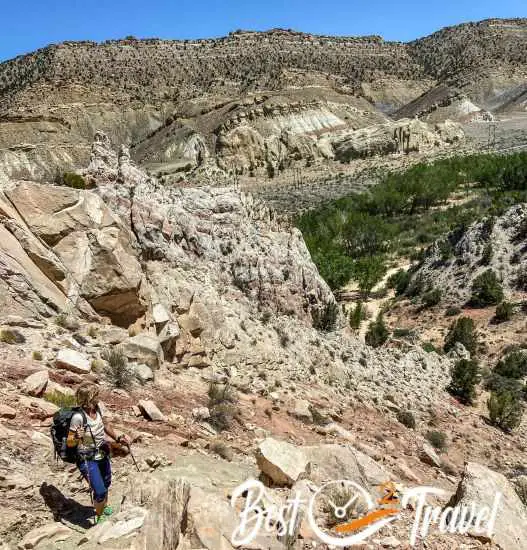 When we reached the top, we followed the ridge to the left and soon after, we got the first glimpse of this unique dome and colour explosion. Continue left to reach the rock and now explore this spectacular piece of nature. I promise your time is running too fast here.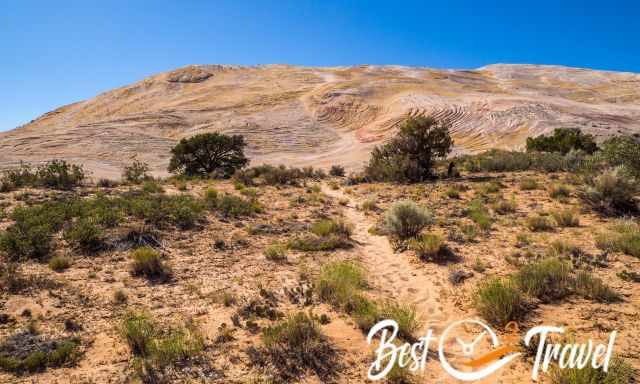 On windy days it is a little challenging to climb on this exposed dome, but overall it wasn't slippery on the rock itself.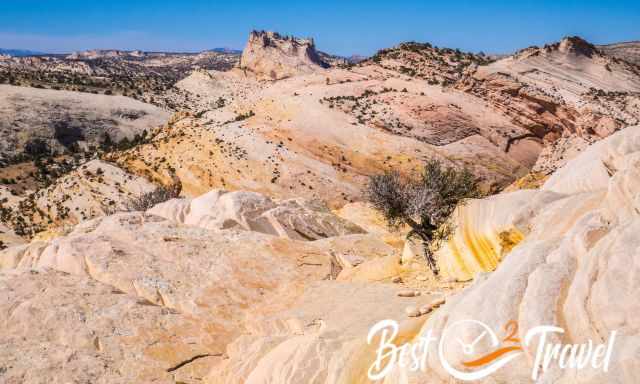 The 360° view from Yellow Rock is spectacular, and you see other colourful rock formations in the distance.
Can I Camp at Yellow Rock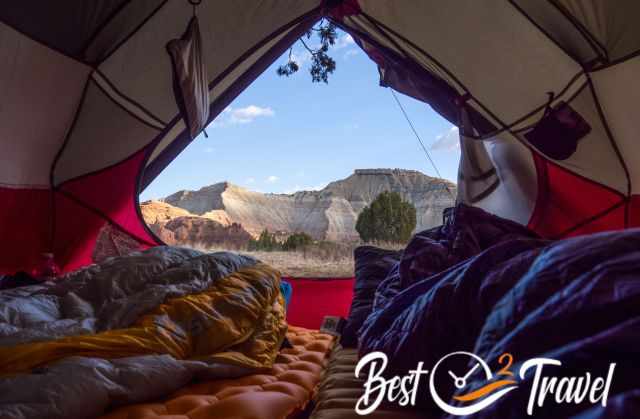 Most of the Grand Staircase Escalante National Monument and so the Cottonwood Canyon Road are situated on BLM land, and it is allowed to camp in this area. For overnight hikes, a permit is required, which you get easily at the information centres of GSENM.
I took all pictures. If you wish to use any please contact me, but I don't accept picture theft.