When Is the Best Time
The Wave in Coyote Buttes North is for sure one of the most fascinating places on our planet. To protect the delicate sandstone formations, a permit was introduced decades ago. My friend and photographer Ray advised me to stay in Kanab as long as possible to apply for the daily two-day advance lottery.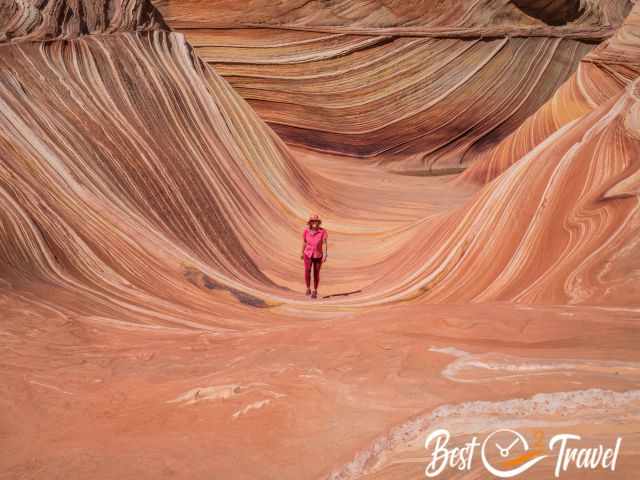 To win a permit, you need persistence and patience. We followed his recommendation, downloaded the app to our mobile and were successful. Kanab is the best place to stay for this purpose, with plenty of unique rock- and sandstone formations around. I will give you an idea of what to do while waiting for a confirmation e-mail for Coyote Buttes North.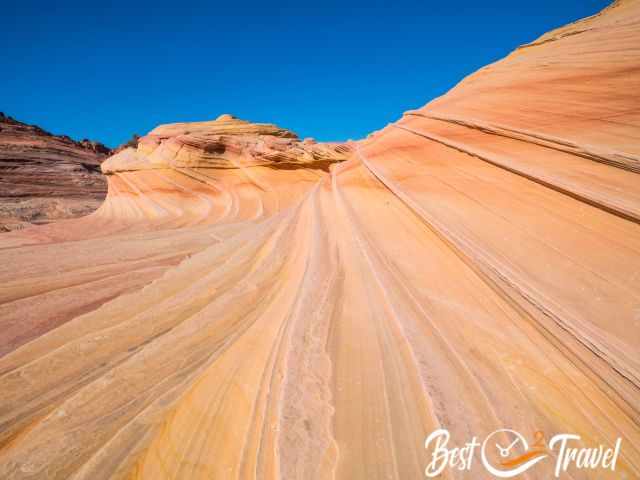 Follow my link for all details on how to apply, where the Wave is located, what we explore in addition in Coyote Buttes North and what to bring for this unique bucket list hike.Ultimate Wave Hiking Guide
Read my guide carefully, and you will find an insider tip to double your chance for a permit.
What to Do in the Meantime from Kanab?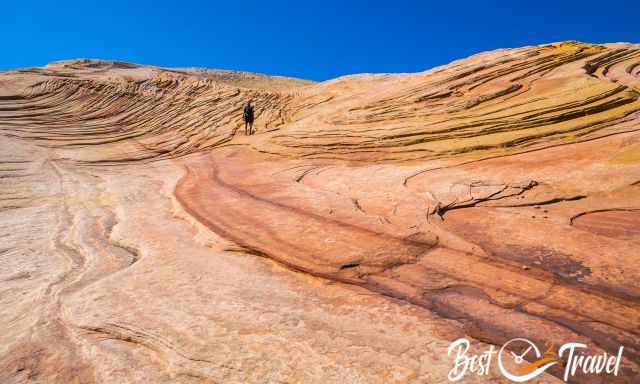 There are many outstanding places in the Grand Staircase National Monument; you can easily spend two weeks here without regretting it if you do not get the desired permit. We have been to this area five or six times already, and I am still figuring out new hidden gems for us. These are my favourite spots, all close to Kanab:
1 White Pocket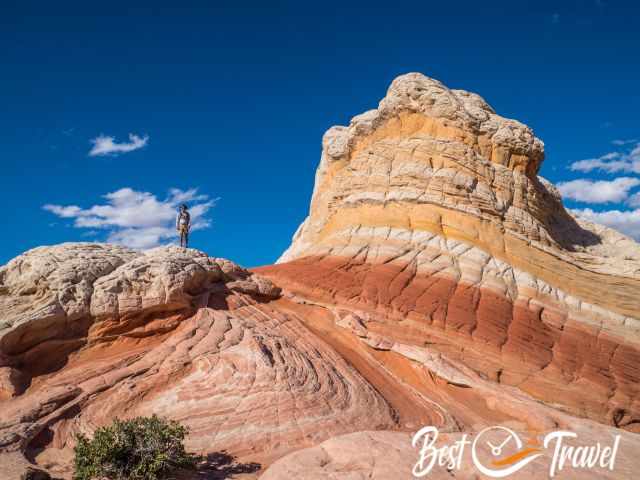 White Pocket is already worth visiting Kanab. It is located in the Vermilion Cliffs National Monument in northern Arizona near the Utah border. It takes 2 1/2 hours to get here by 4WD. White Pocket is just a 3.5-mile direct distance away from the Wave, also on the Paria Plateau. The significant advantage is that almost everybody can get here because it is a short and easy ten-minute walk, and you are already in the breathtaking and otherworldly landscape.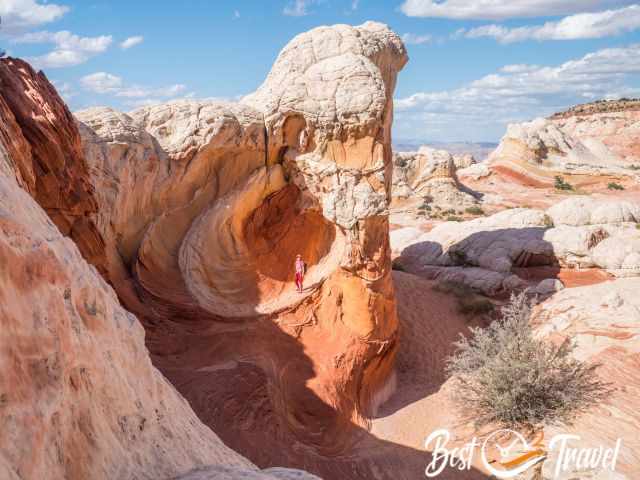 If you do not have the right vehicle, book a guided tour and enjoy one of the most spectacular places in the Southwest. We went here in September, and for me, it is one of the top three Must-Visit places. More about White Pocket – The Wave Alternative in my detailed guide.
Duration: Entire Day
2 Toadstool Rocks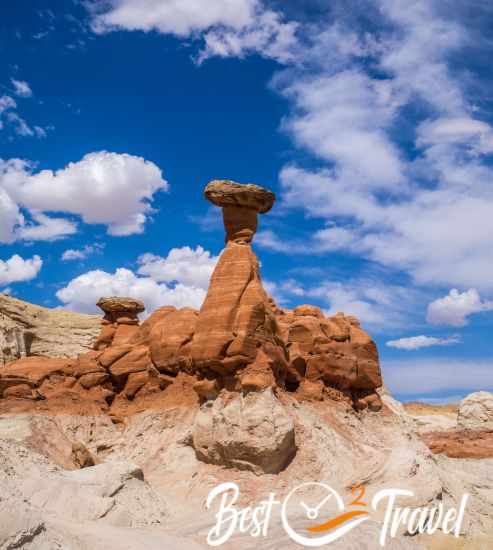 The Toadstool Rocks are part of the unique Grand Staircase Escalante National Monument located at HW89 between Kanab and Page. You can't miss the parking and trailhead. It is a moderate walk from here but exposed to the midday heat. It is a 2-mile roundtrip to stunning rock formations looking like mushrooms—more about the Toadstool Rocks in my additional article.
Duration: 2 hours
3 Wahweap Hoodoos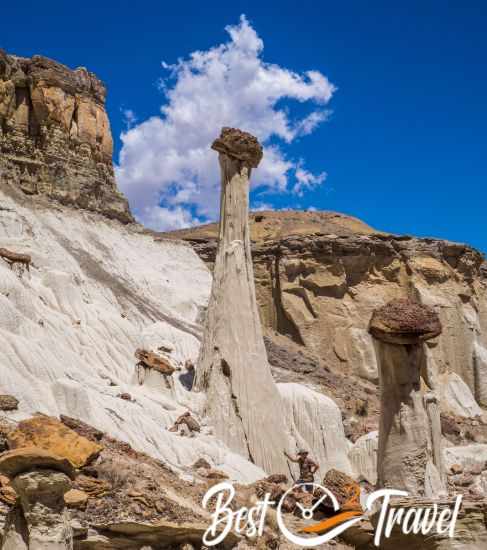 If you like these fascinating mushroom-like rocks and you are well-trained, the Wahweap Hoodoos are a great day hike to some of the most picturesque ones off the beaten path. The hike is strenuous and sun-exposed. You first walk through a sandy wash, which leads to three different areas where most of the hoodoos are located. Most famous is the White Ghost part of the third and last hoodoo area—more about these remote-located Wahweap Hoodoos in my additional hiking guide.
Duration: Day hike
4 Nautilus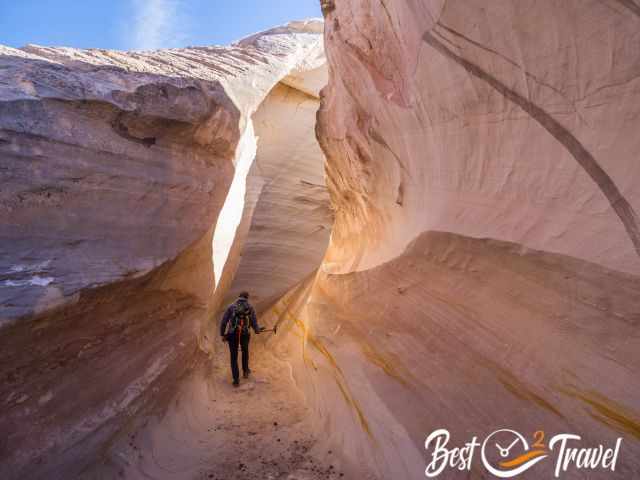 Nautilus is a twisted rock formation like the specific shell. The trailhead is located on the gravel road after the Paria Contact Station. It takes less than 10 minutes from HW89 to the small parking area. It is an easy 20-minute walk to this unique and fragile formation. Nautilus and the Toadstool Rocks can be combined in one day. More about this terrific rock formation of sand and gypsum in my detailed guide about the Grand Staircase National Monument - no.13.
Duration: max. 2 hours
5 Paria Townsite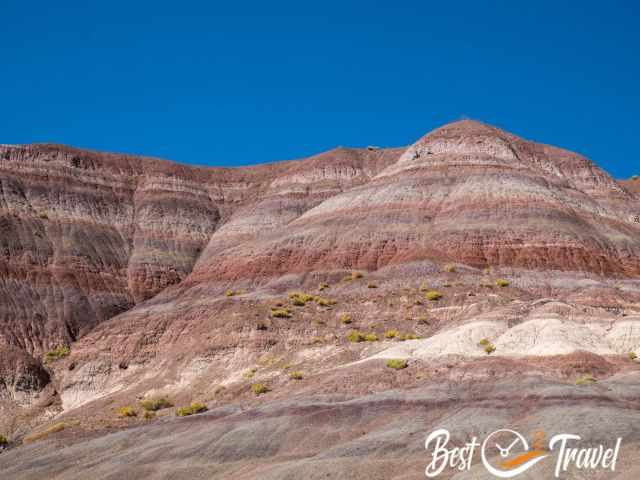 The dirt road to Paria Townsite offers spectacular views of the Paria landscape. So, it is not surprising that this location was used for different movies. More than one hundred years ago, it was an inhabited town, an outpost.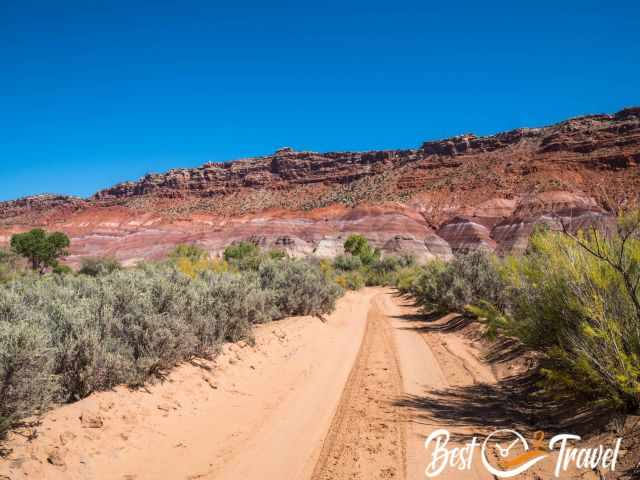 Remember, dirt roads consist either of sand or clay. In August 2023, hurricane Hilary flooded the entire area. Getting to the very end of the road wasn't possible a month later. Nevertheless, we enjoyed the stunning views we got here.
Duration: 2 hours
6 Great Chamber or Cutler Point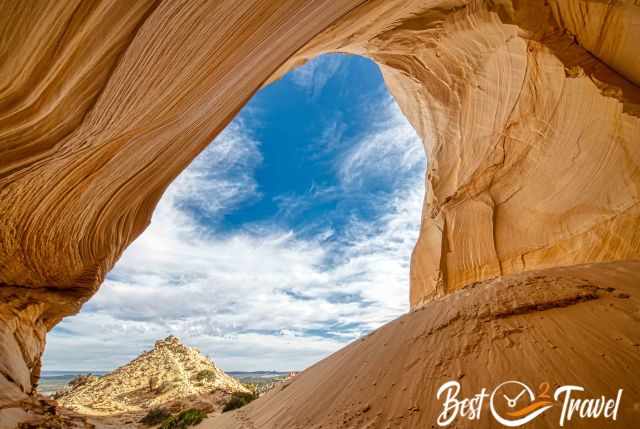 The Great Chamber is a picturesque alcove with a dune in front. From inside, you are able to take amazing photos. An excellent wide-angle lens is necessary to capture the beauty of this landscape. You need an ATV for the last part of the sandy road to get here. It is a short but a little steep climb up to get into the Great Chamber. Guided tours are offered for this spot, often combined with Peek-A-Boo Slot Canyon—more in my GSENM Guide no.18.
Duration: 2-3 hours
7 Peek-A-Boo Slot Canyon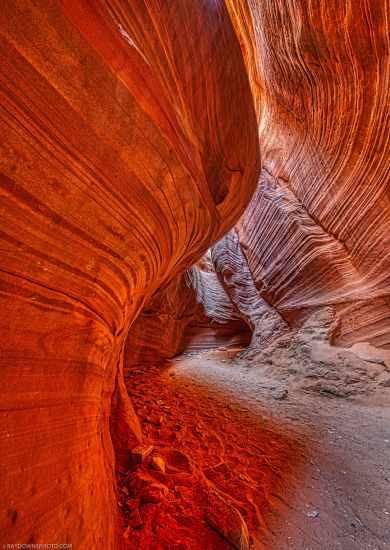 This is another stunning slot canyon made of red Navajo sandstone near Kanab and less visited. The slot canyon is not as long and spectacular as Antelope Canyon, but it is absolutely worth checking out—more in my additional article about  Peek-A-Boo Slot Canyon.
Duration: 2-3 hours
8 Yellow Rock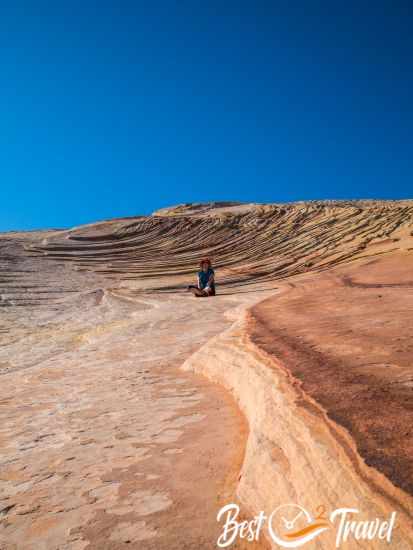 Another unique sandstone formation and Wave Alternative is Yellow Rock, one of my favourite places and a hidden gem in Grand Staircase Escalante. We have explored this massive rock already twice; our last visit was in September 2023.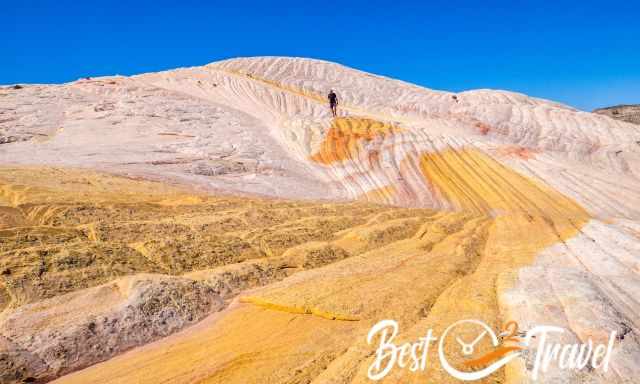 What I love most is that you do not share this place with others. Yellow Rock is a real adventure, not overrun, permit-free, and incredibly picturesque—more in my detailed Yellow Rock hiking guide with the exact location. 
Duration: 6-8 hours
9 Cottonwood Canyon Road - Narrows - Grosvenor Arch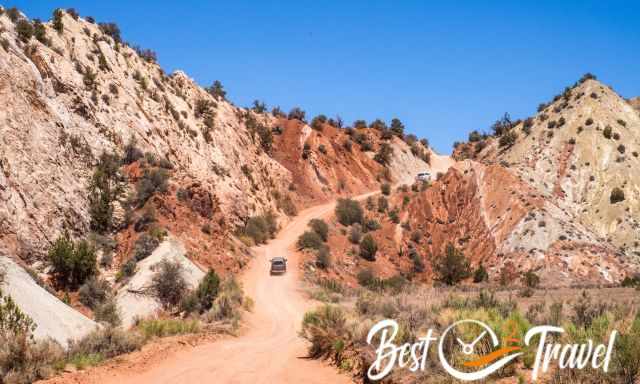 Driving the 46-mile-long CCR is truly an adventure and fun. The breathtaking landscape always astonishes us. Yellow Rock, the Cottonwood Narrows, Grosvenor Arch a double arch and more great places are accessible from this dirt road.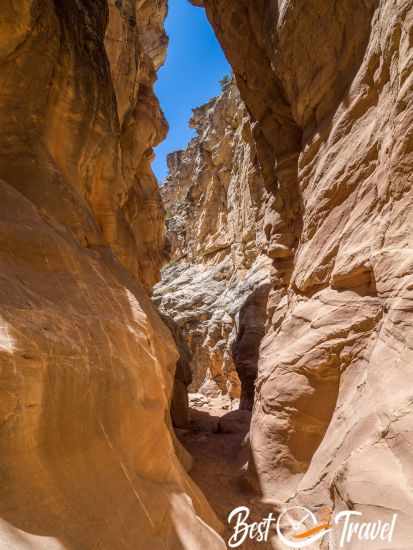 The dirt surface is accessible in dry conditions only; otherwise, you are stuck with your vehicle. It is most convenient to drive in a 4 WD, but in dry conditions, it is doable in a 2 WD with high clearance and driving skills, which we tried out this September. More about this dirt road and Grosvenor Arch (no14) in my detailed GSENM Guide.
Duration: 1-2 Days
10 Antelope Valley - 4 Short Slot Canyons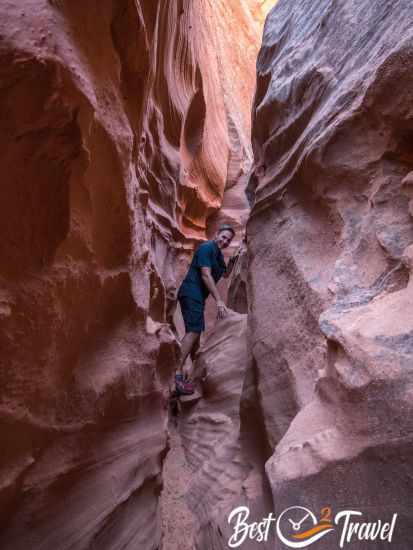 Everybody knows the popular and crowded Antelope Canyon, but very few know about the almost private Antelope Valley tours. The different tours offered are on private Navajo land. We booked a half-day tour in September. and we were delighted being a group of four.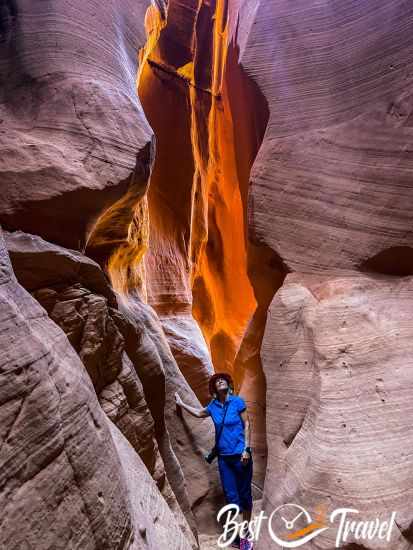 The light inside the Fire Canyon was fantastic, and we took excellent pictures. It was a circular hike which led on ladders down and on a path back to the vehicle of our tour guide—more about the less-known Antelope Valley Slot Canyons - four in a row during one trip.
Duration: 4 hours
11 Antelope Canyon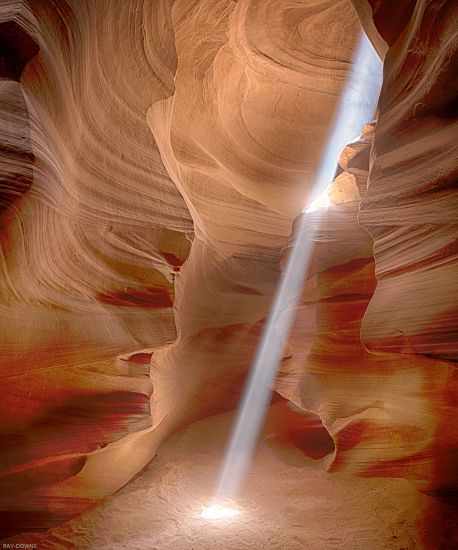 Despite the crowds, the Lower and Upper Antelope Canyons are the most beautiful slot canyons and are easy to get to. These canyons can be combined in one day. Guided Tours are offered from Page—more in my ultimate Antelope Canyon Guide. Tour bookings are essential - limited space!
Duration: One Day for both canyons in a row
12 Buckskin Gulch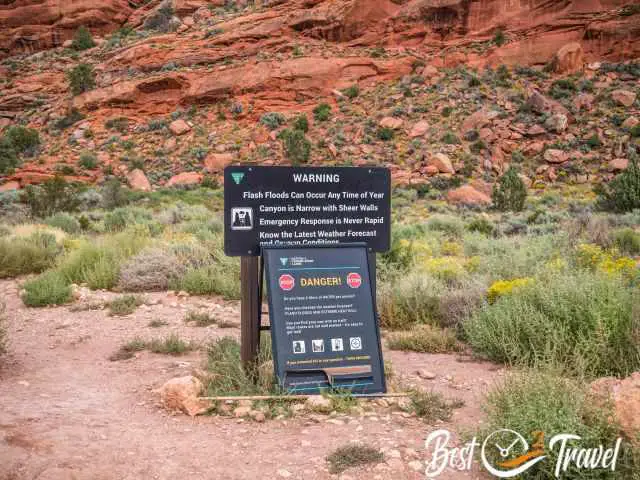 This is the "Mother" of all Slot Canyons. Parking and trailhead at Wire Pass on the House Rock Valley Road, where the Wave trail starts. It is mandatory to apply for a permit but just to monitor how many hikers access the longest slot canyon in the world. Keep in mind accidents happened here; therefore, monitor the weather forecast. There is a high potential for flooding if heavy rainfall is predicted somewhere in the area. 
Duration: Entire Day
13 Grand Canyon - North Rim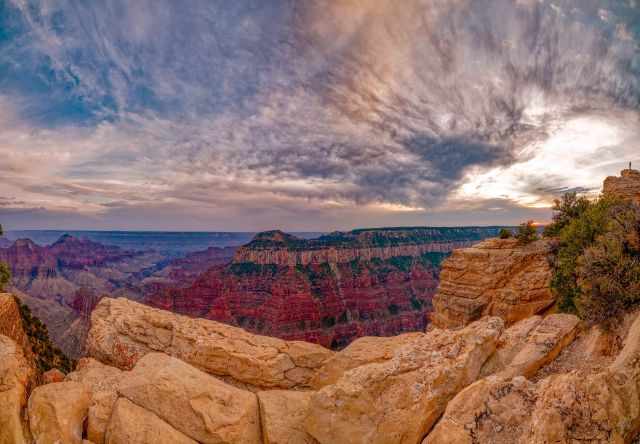 The North Rim is located at a high elevation of 8000 ft, therefore roughly open from the end of May to October. Most visitors are heading to the south rim of the Grand Canyon. According to the NPS, only 10% visit the north rim, which is just half a million visitors. Getting to the north rim takes 1 1/2 hours from Kanab and is an excellent place to spend a day of hiking and admiring the beauty.
Duration: Entire Day
This is a small selection of extraordinary places to visit around Kanab. Of course, there are more. If you want to explore Coyote Buttes North and the Wave, these are terrific spots to check out while waiting for the once-in-a-lifetime permit.
Where to Stay in Kanab?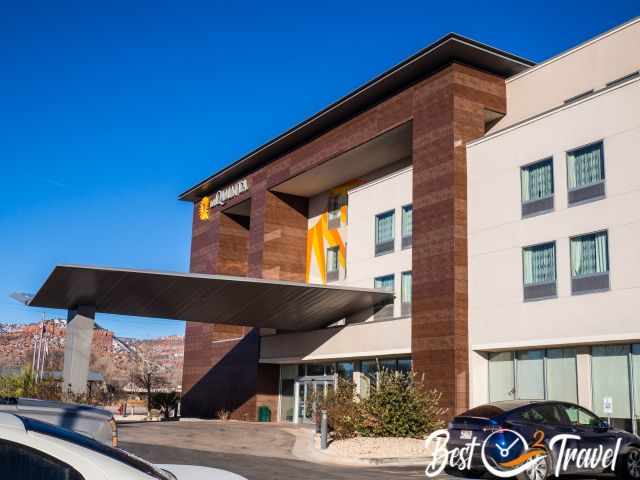 We visited Kanab several times. Last winter we chose the La Quinta perfect for the colder season and included breakfast. This September, we tried out another accommodation, the Red Canyon Cabins. You can park your vehicle in front of the hut. There is a seating area outside, and you are able to open a window. We spent five nights here, and it was super quiet and ideally located.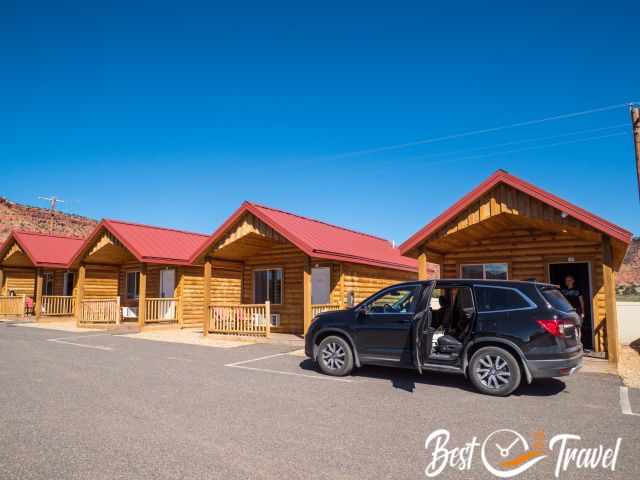 Thx for booking via my website 😊 With your support I am able to provide honest content from my own experiences for free.
Location and Tips
Utah, Kanab
United States

Kanab is a small town with about 5,000 residents in Utah established by Mormon settlers in 1870. It is one of the main tourist hubs and gateway to explore some of the most breathtaking pieces of Mother Nature.
The area is also rich in the history of native American inhabitants. Evidence of their presence can be found in rock art, such as pictographs and petroglyphs at Moqui Cave and Red Canyon.