When Is the Best Time
Zion National Park is one of the most beautiful parks in the US but with more than five million visitors annually also one of the busiest. Visiting Zion Canyon, the main part between spring to fall, means taking a shuttle bus, and sharing the trails with many other hikers, and you won't get the solitude you are seeking for.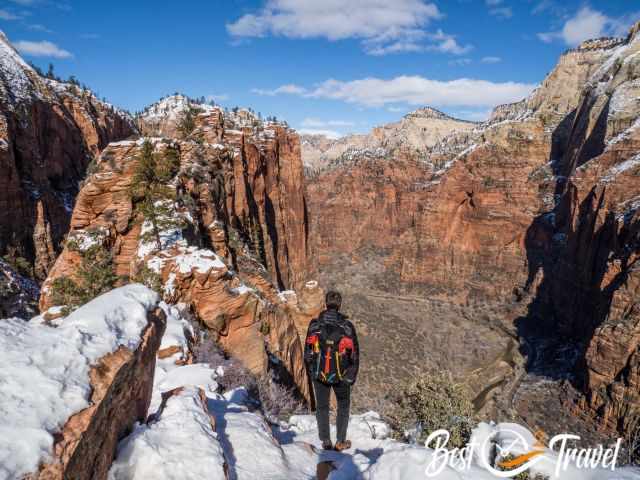 We visited Zion for the first time in the 90' when you were still able to access Zion in your own vehicle. When we returned in 2022, we hiked the Subway, where only 80 permits are handed out daily, but we also wanted to explore the Narrows. It was a fantastic experience, and both hikes are best during warmer months.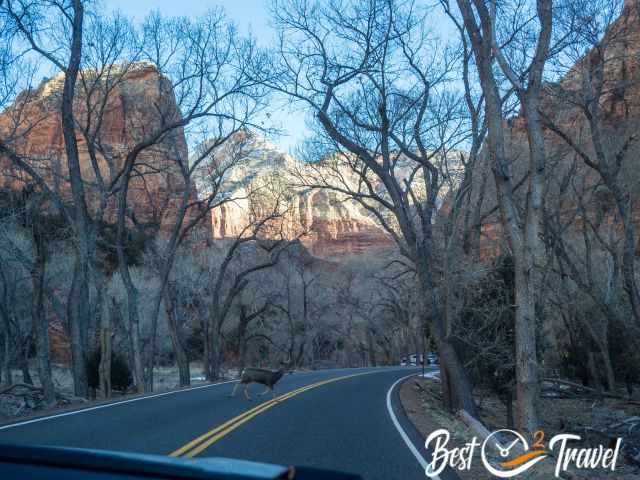 Nevertheless, we still had Angels Landing on our bucket list hikes and wanted to get the real Zion experience again. We planned our next trip for January, and we got rewarded with terrific days in Zion.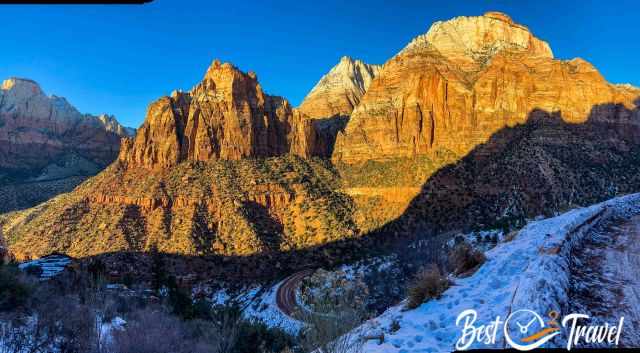 I'll give you all details for a Winter Visit to Zion and how to master Angels Landing in winter. All about the introduced Angels Landing Permit and packing lists for all seasons can be found below.
Is it Worth Going to Zion in Winter?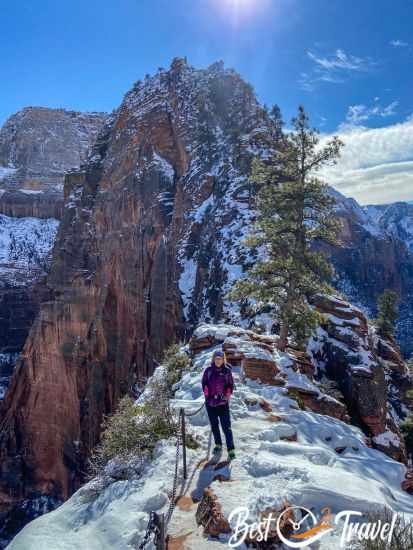 Yes, it is the best way to experience this unique park's real beauty and pristine nature. Except for the Narrows and Subway, you can easily hike most trails with few people. You can drive along the Zion Canyon Scenic Drive and stop at many spots.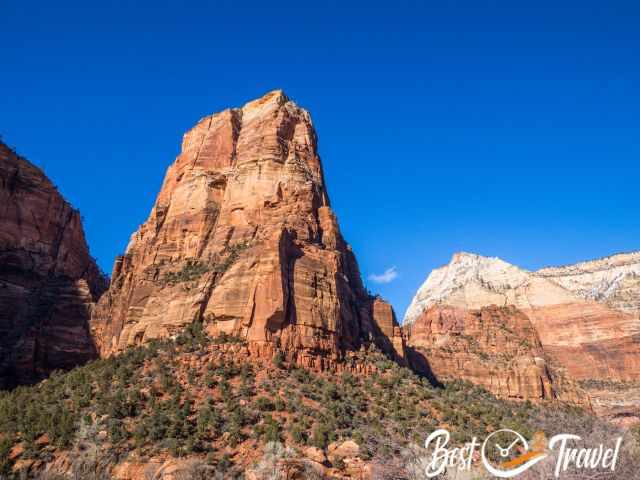 We loved this so much, and we were able to get an Angels Landing permit one day before easily. We shared the hiking path with a few hikers and enjoyed the breathtaking scenery. All hikers we met were in awe of how quiet Zion is in winter, and all got parking at The Grotto, the trailhead of Angels Landing.
Regarding the crowds, winter is the opposite of summer, the worst time of the year, from June to August.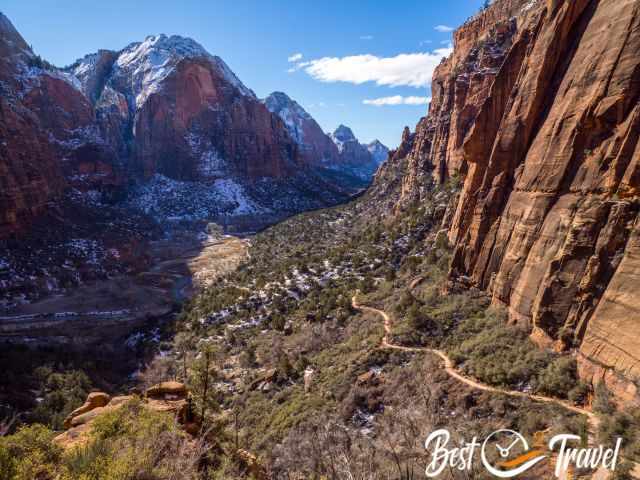 Another pro for the winter is the crisp and clear days with a blue sky, unlike the typical haze in summer. Winter is great for excellent shots of the magnificent Zion Canyon. 
Weather in Zion in Winter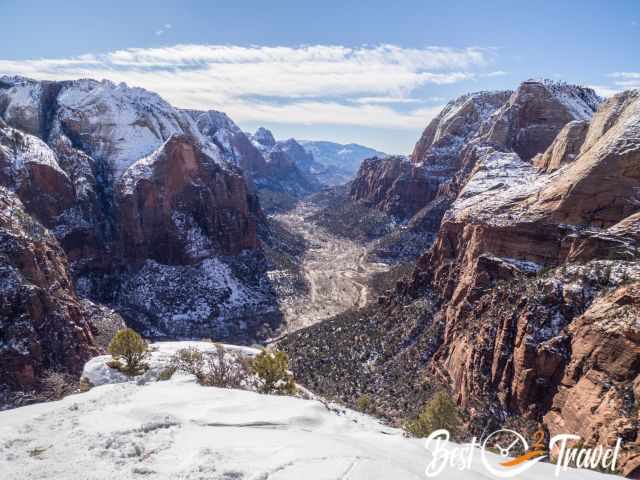 From December to February, Zion receives the highest amount of precipitation, between 1,6-2 inches, and roughly one inch is snow. Nevertheless, on average, it rains or snows only every fourth or fifth day. Night temperatures are below freezing, slightly above 20°F. Days warm up frequently, topping 40°F, and on sunny days, hiking is pleasant but the Virgin River is cold as hell in the winter.
Is There Snow in Zion in January and February?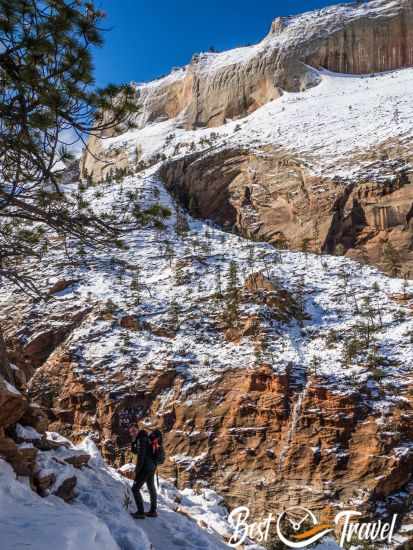 Snow can already occur end of November until March at higher elevations. It is likely that you experience snow in January and February. Down in the canyon, the snow melts away already after a few hours. However, if you wear the right gear and several layers, you are able to experience the best time in Zion. There is no such thing as poor weather, only the wrong clothes.
Is it Safe to Hike in Zion in the Winter?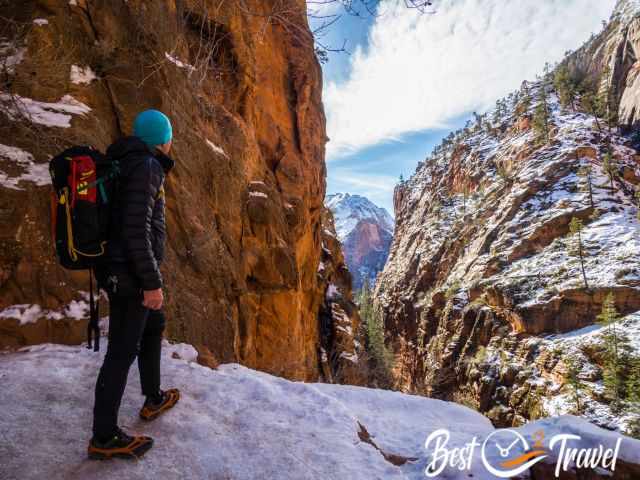 Generally, it is mostly safe to hike in Zion in the winter; nevertheless, I always check out the Visitor Centre first for trail conditions. Most important is your gear for hiking in the winter.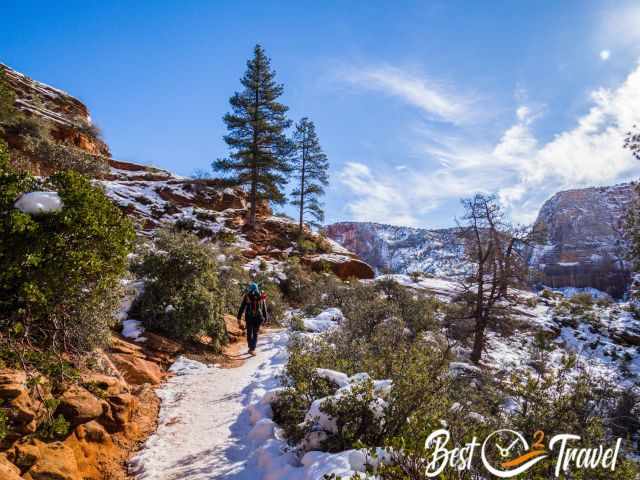 Spikes are a lifesaver, and you can easily walk above snow and ice. IMO it was even better hiking Angels Landing with crampons along the narrow and exposed last 0,5 miles. Another pro for the winter is that it is the best time for avoiding crowds. There is hardly anyone in front of you or behind, full of fear on the Angels Landing track. 
Can You Drive Through Zion in January and February?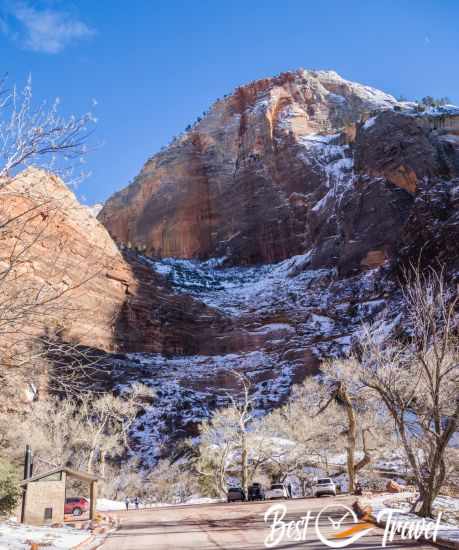 Yes, you can drive through Zion in your vehicle when the shuttle service is not offered from December to February. There are exceptions around weekends, Christmas and New Year's Eve when the shuttle is operating. If you wish to experience Zion like in former times, you are on the safe side from Monday to Friday before Christmas and again in January and February. Nevertheless, roads can be closed by National Park Service (NPS) on short notice due to snow and ice.
Can You Do the Narrows in the Winter?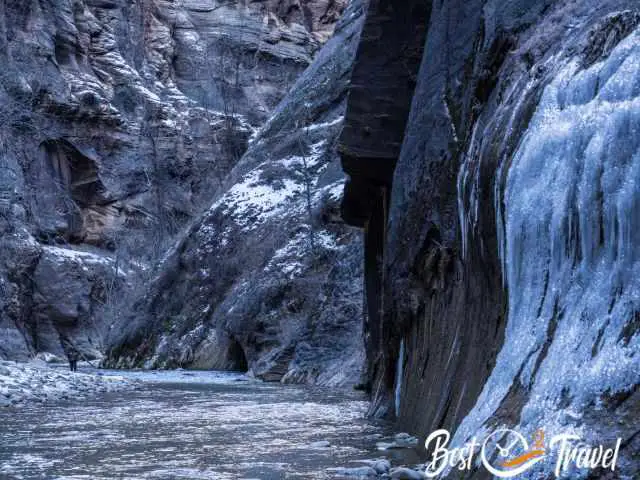 The Narrows are not closed, so theoretically, you can hike through them, but the Virgin River is cold as hell. If you plan to explore the Narrows in the winter, the quietest time, please visit the park's Visitor Centre the day before. Rent the right equipment and be extra prepared.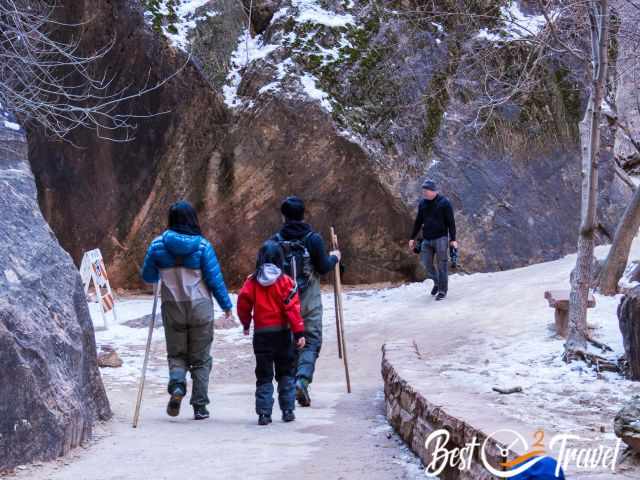 Do not risk hypothermia and injuries. Keep in mind days are much shorter, around 10 hours only. In late November 2022, a woman died of hypothermia; her partner got rescued. Honestly, you may be unable to wade through the river for over an hour. Don't underestimate the cold water and air temperature.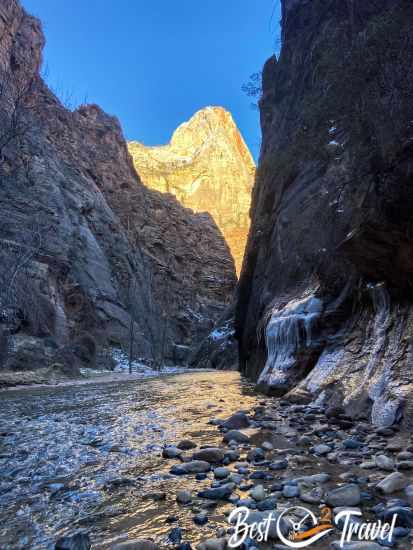 If you wish to explore the entire beauty of the Narrows, I highly recommend doing it from June to September, the warmest months of the year. Yes, these are the busiest months, and we hiked the Narrows in late June, and it was outstanding, and it was the perfect activity for scorching temperatures.
The Best Time to Hike Angels Landing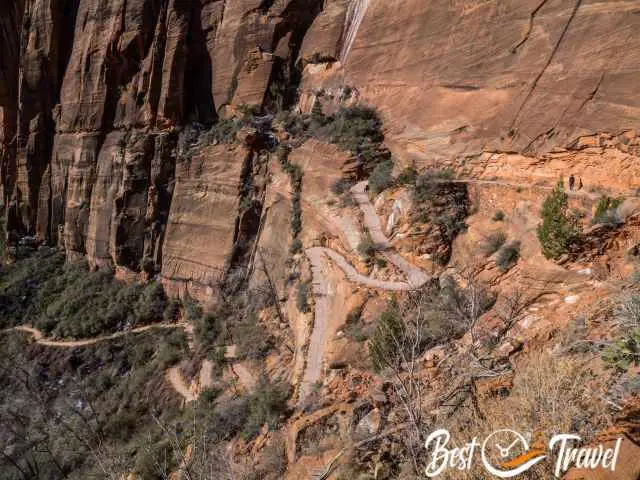 The best time regarding the weather and temperatures is spring and fall. Nevertheless, we loved the hike in winter. It wasn't too cold but sunny, and it was not crowded.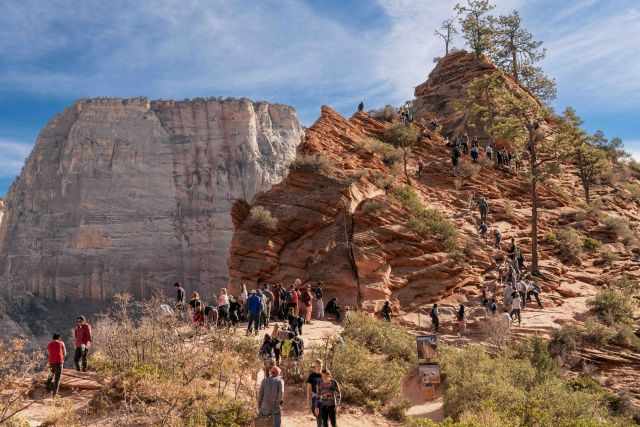 In summer, you are forced to hike early because there is almost no shade along the entire trail. This means you must take the first shuttle in the morning at 6 am. In summer, heavy thunderstorms occur, and the rocks are slippery when wet. You are forced to start late if you do not get an early slot.
The Best Time for Zion Regarding Crowds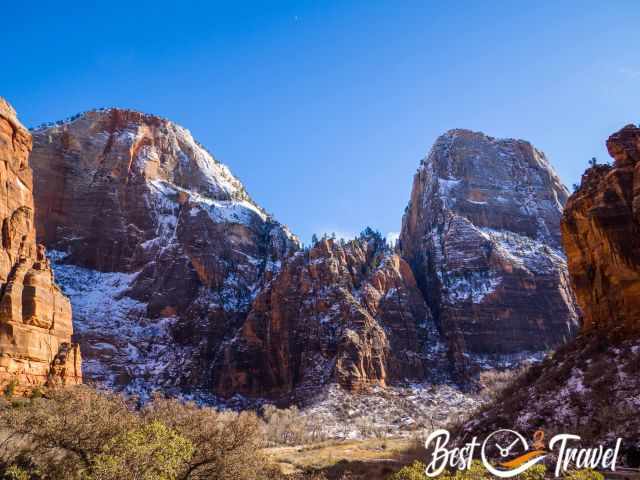 The best time to experience real solitude and avoid the crowds is in the winter. With five million visitors annually, spring and autumn are busy, and summer is the worst time. The winter isn't busy; therefore, no shuttle service is provided so that you can access Zion in your vehicle.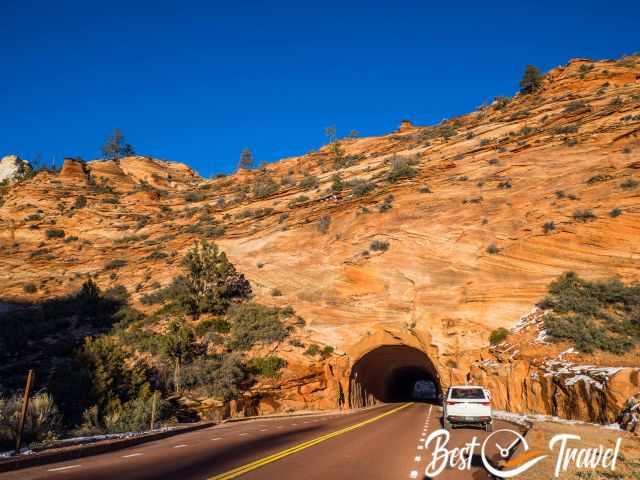 In the winter, you are not forced to start hiking early morning at sunrise. It is cold at sunrise temps are below 20°F/-7°C, and you must carry more clothes. We started the Angels Landing Trail shortly after 9.30 am.
 
All about Angels Landing and the Lottery below.
Packing List for Angels Landing in the Winter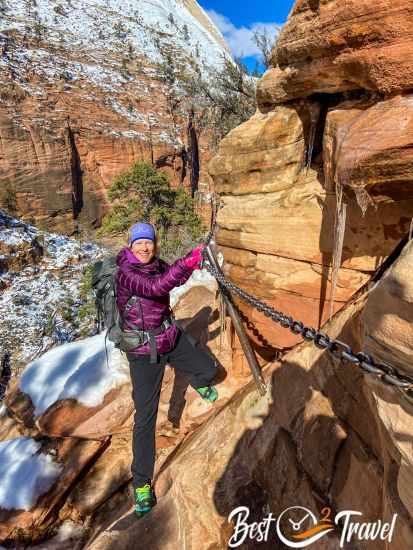 Packing List for Angels Landing from Spring to Fall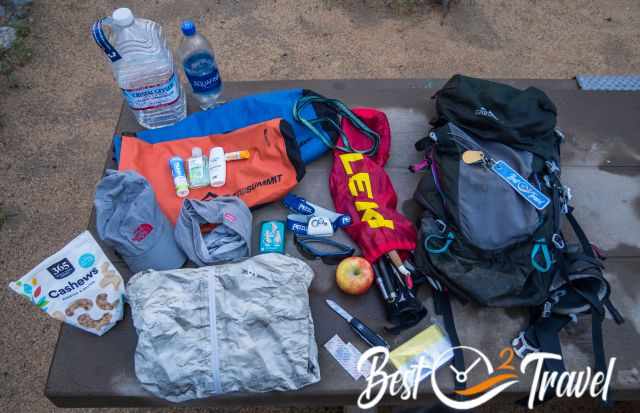 Plenty of water; you can't refill your bottle on this trail.
I always put electrolytes into the water during higher temps to get an energy kick.
A snack, nuts or fruits are another sufficient energy kick.
Shoes with good traction - don't go in sneakers! I only wear the flexible INOV for many years already.
I highly recommend half-finger gloves that you can use for mountain biking for the chain section to protect your hands. I use these ones in the mountains for via ferrata climbing.
If you buy your items at Amazon via my website, I earn a small commission at no extra cost to you. Nevertheless, I only recommend the gear I use and the companies I prefer, but I don't get paid for it. INOV has been my favourite shoe brand for years, most of my clothes are from Odlo, and I love Merino Wool layers and socks for hiking.
My Hotel Recommendation Close to Zion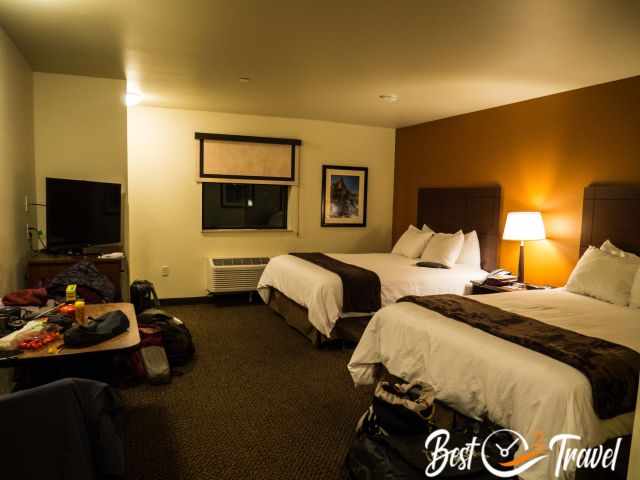 My Place Hotel in Hurricane is our favourite hotel for Zion and Kanarra Falls. I highly recommend this hotel; nice staff, a washing and dryer, a kitchenette and a huge fridge. You are able to open the window, it is quiet, has plenty of parking and nearby is a well-equipped supermarket. 
Location and Tips
Springdale, Zion Canyon
United States

Enjoy Zion National Park in all its glory and visit in the winter. In summer, you may leave Zion disappointed when lining up for hours waiting for the shuttle bus, sticking around hundred other hikers.
For a better overview of all topics regarding Angels Landing and most of the upcoming questions, I added a Table of Contents for you.
Angels Landing the Most Popular Zion Hike
Angels Landing is one of the most breathtaking half-day hikes in Zion National Park. Due to its popularity, a permit system was introduced in April 2022. This system makes hiking the narrow, steep, and exposed section where chains are added so much safer. This magnificent hike became too crowded, and fatalities happened.
Angels Landing Permit Lottery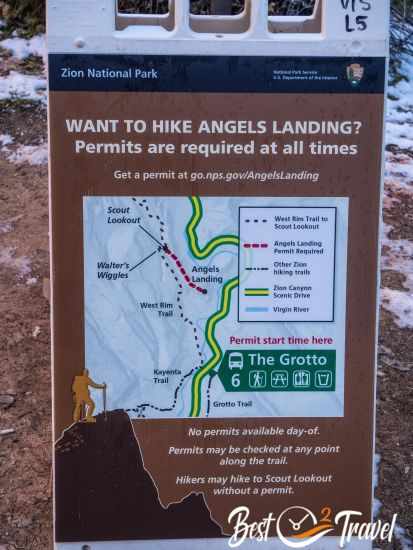 Like other hikes in Zion or the Wave, Half Dome in Yosemite has two different kinds of lotteries. You may ask yourself how to apply for the Angels Landing Permit, and this is tricky but explained here in detail.
Seasonal Lottery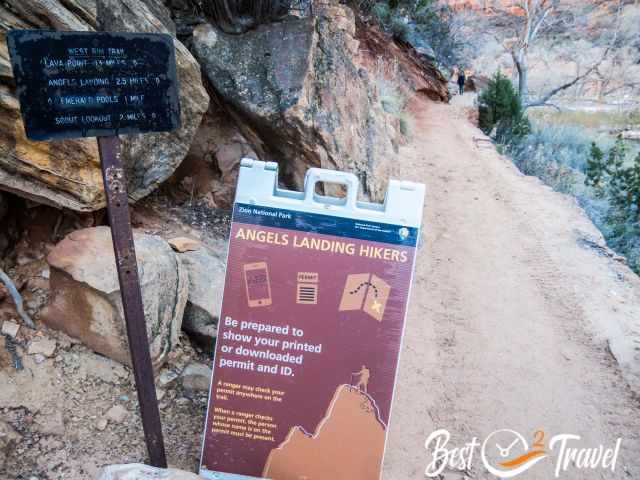 For the seasonal lottery, you can properly plan when you would like to do this climb to the summit of Angels Landing. You must apply several months before your wished months for this hike. You can always apply from the first of a month until the 20th, and five days later, on the 25th, the permits are issued by e-mail. You are able to pick 7 different dates. 
Tip: If you are flexible, always try to go mid-week when fewer hikers apply. 
| | | |
| --- | --- | --- |
| Apply Date | Hiking Months | Notification |
| January 1-20 | Spring from March 1 until May 31 | January 25 |
| April 1-20   | Summer June 1 until August 31 | April 25-July 20 |
| July 1-20   | Fall 1st September until 30th Nov. | July 25-20 Oct. |
| October 1-20   | Winter December 1 until February 29 | October 25th  |
Daily or Last-Minute Lottery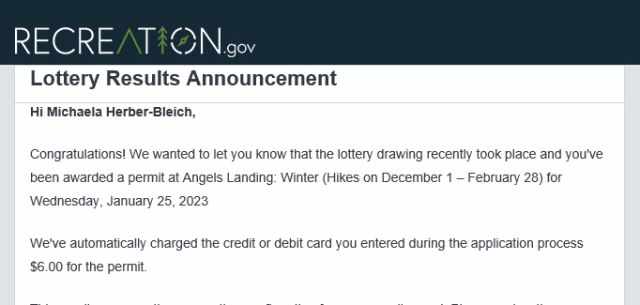 It is a short window of three hours from 12 pm until 3 pm Mountain Time to apply just one day before. Already one hour later, you get the information if your application was successful. Honestly, I am glad we did it this way. We were able to pick out a day with excellent weather.
Permit Fee
Zion fee $3 per hiker and a $6 non-refundable application fee for up to 6 people – so for two, it is $12 and for four, $18.
Angels Landing Starting Times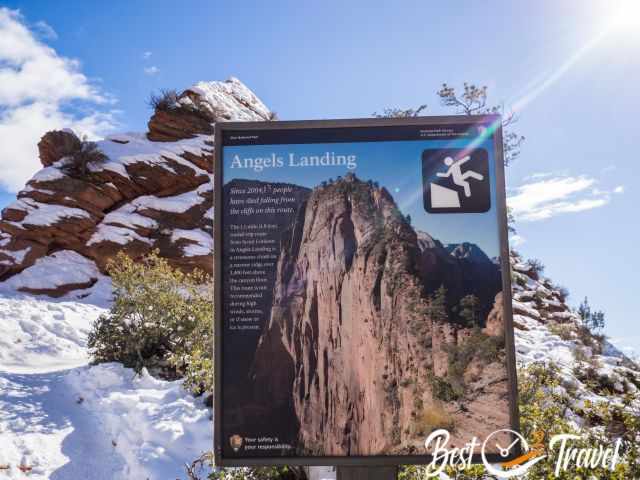 In order to better allocate all daily hikers, three different starting times were introduced to avoid crowds at the chain sections after Scout Lookout; here, the West Rim Trail branches from Angels Landing. The starting times are based on starting at the Grotto parking and trailhead. Keep in mind getting here by shuttle can take one or even two hours, depending on the time and season. All times given are mountain time, so check the time difference between your location and Zion beforehand. 
Before 9 am
Between 9 am and 12 pm
After 12 pm
Important to Know
Some websites state that you can get leftover permits for the same day at the Visitor Centre. Unfortunately, that is not correct for 2023!
Best Time to Win a Permit for Angels Landing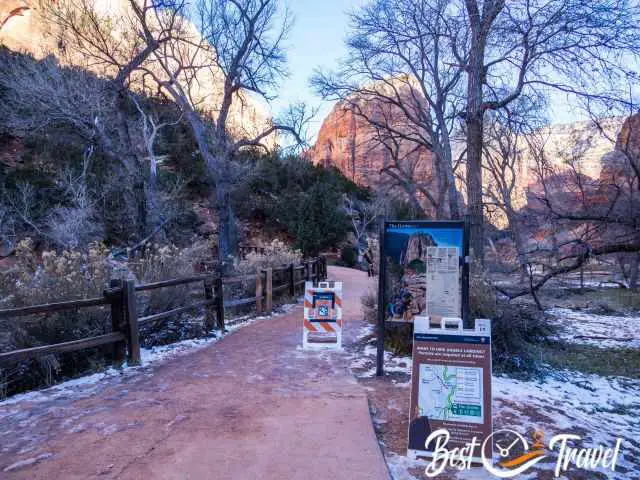 I usually do not win permits; therefore, I am always looking for the least demand, and this is winter. Of course, you do not know how the weather will be, but we had a two weeks vacation window and watched the weather forecast for Zion. We let the weather decide where to go to during our entire trip. The winter is the off-season, and we booked the next hotel one or two days before. Zion Weather Forecast to apply last minute.
4 Reasons Why We Applied for a Permit in the Winter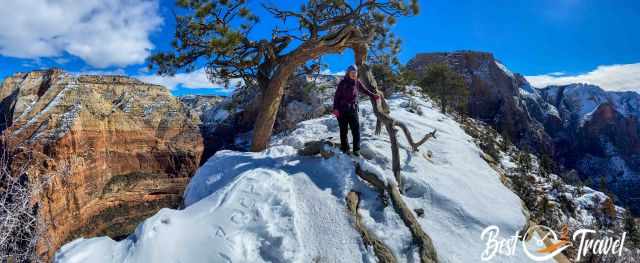 The advantage is during mid-week in the winter; usually, there are more permits available than people who apply. Overall, we met roughly 10 hikers along the chain section and on the peak of Angels Landing, although we had an excellent blue sky. 
You can start at any time of the day, so there is no stress before you start this unique hike. Nevertheless, consider the limited parking at the Grotto. 
The other pro for the winter in December, January and February is you are able to access Zion National Park and the parking for Angels Landing by car. This was our biggest pro to experiencing Zion Canyon Scenic Drive, like in former times in your own vehicle. We loved it so much that we were able to stop wherever we wanted.
Another pro is; accommodation prices are low in the off-season. We paid half for our room in Hurricane than the year before in June. None of the hotels we went to were fully booked.
However, for the winter, I recommend applying last minute – the day before - that you are aware of the weather conditions. In poor weather, the NPS may close the trail.
Which Days Are the Best to Win a Permit?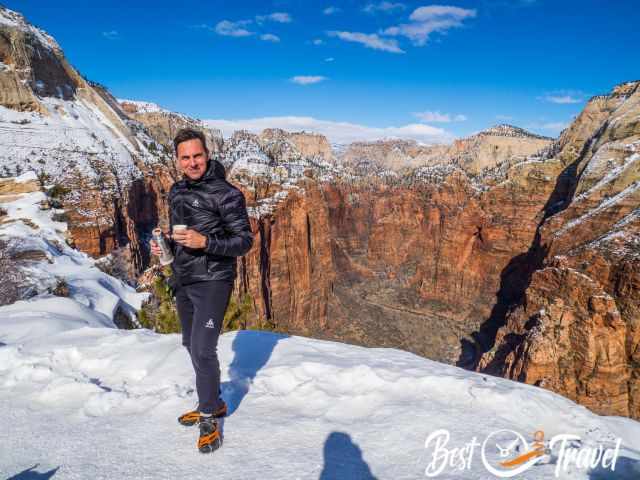 You increase your chance for a permit when you apply for mid-week; Monday and Friday are busier; Wednesday is the best day so far. Winning a permit is hard, and you may get disappointed. Therefore, think about the winter. If it is not pouring or snowing, it is an excellent time you just need the proper gear.
Can I Hike Angels Landing Without a Permit?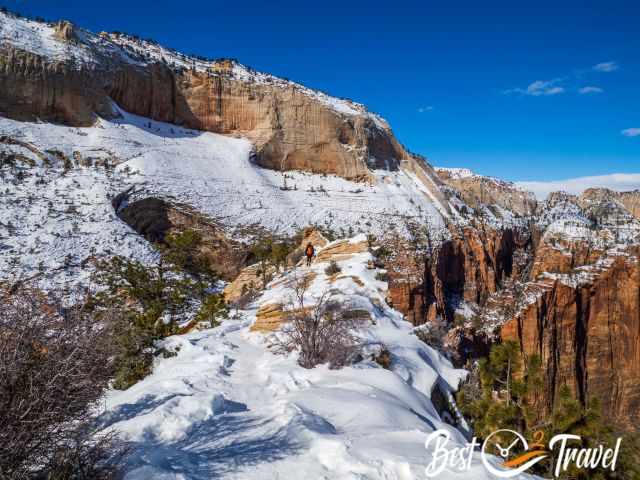 You MUST have a permit for the last 0.5 miles from Scout Lookout throughout the day and night! If you get caught by a ranger, it costs a fortune of up to $ 5,000, or you even end up in jail. So please, if you couldn't get a permit, turn around at Scout Lookout!! Rangers control your permit and ID.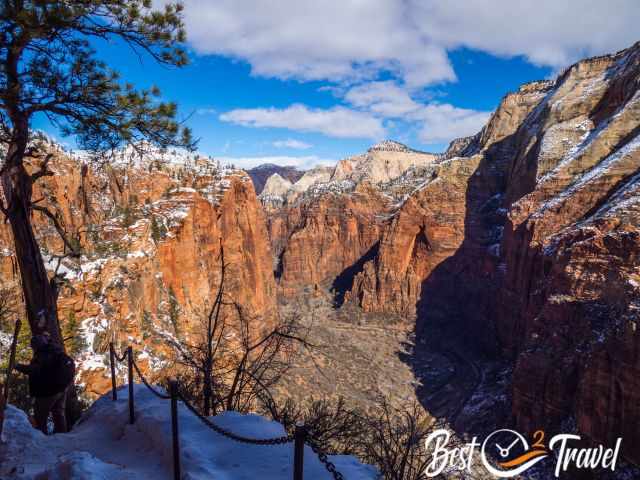 You are permitted to hike until Scout Lookout, which is already worth doing. Some hikers returned here when they figured out how narrow and exposed Angels Landing is. Don't think about continuing without a permit; rangers continuously petrol this section.
Can I Change My Permit or Even Cancel It?
You can't change anything in your permit neither the date nor the number in your group nor is the permit transferrable you can just cancel if one of your group members can't join you. Please, do so that others get a chance for this awesome hike.
Can You Do Angels Landing and the Narrows in One Day?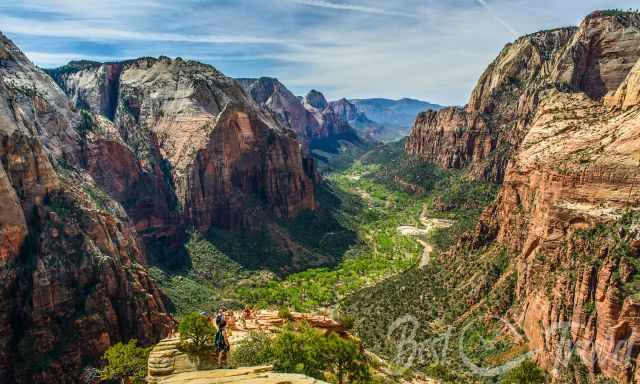 My honest answer after I hiked plenty of trails in Zion is NO; you can't for the following three reasons:
Angels Landing is a little exhausting, and you must drink plenty of water. If you plan to hike the Narrows afterwards, you need a proper meal. Even in the summer, the Virgin River is cold as hell. You dehydrate in the cold water. 
You are able to walk a part, but not until Big Spring and return. The Narrows are a strenuous day hike in summer. We hiked the Narrows in June, which took us plus shuttle and drive to the car park the entire day. Daylight Hours: more than 14 hours in summer.
On top, you need additional gear for the Narrows, like water shoes, neoprene socks, waterproof bag. You do not want to carry all of it to the summit of Angels Landing. More in my Narrows Guide
Instead, don't rush to soak in the beauty of the landscape and maybe hike another short trail like Emerald Pools from Zion Lodge shuttle stop number 5.
Is Angels Landing Safe to Hike?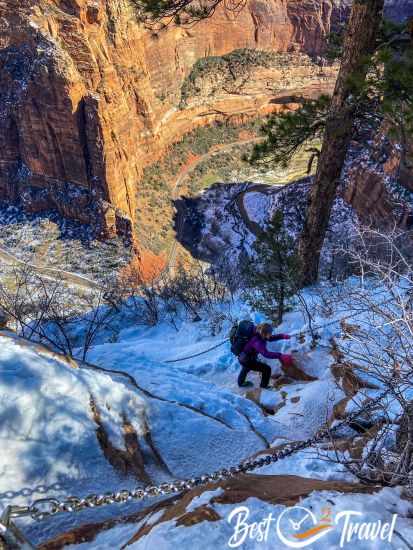 Accidents and fatalities happened here but do elsewhere. Most important is good preparation, the right gear, and how you are feeling on this specific day! Did you sleep well? Are you confident or rather anxious? If you have a fear of heights, you may reconsider doing it because Angels Landing has sheer drops on either side.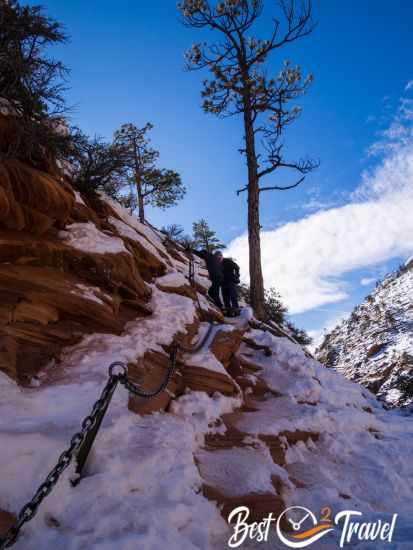 For the winter, spikes are essential to walk easily above the icy parts, as you can see in my video. In summer, you must drink plenty of water. I always add electrolytes during strenuous hikes where I break a sweat. This helps to concentrate better on such tracks.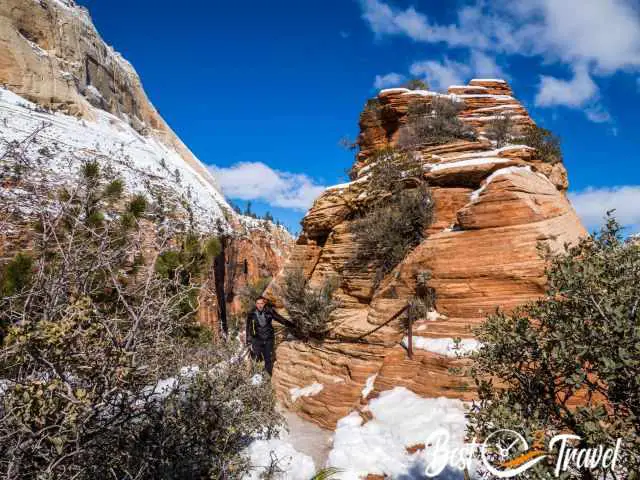 The National Park did a great job here along the trail. I always felt safe with all the metal chains you can hold and walk along at most exposed sections. The newly introduced permit system makes it much safer, and hikers are spread throughout the day. I think it was a nightmare before with so many hikers, especially at the narrowest section of the rock spine.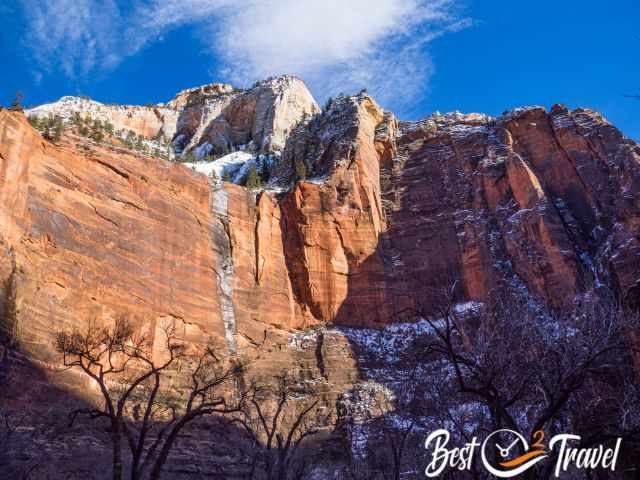 Most important is your life and your safety! We live nearby the Alps, and we witnessed many rescues. If you are not feeling well or your hiking partner is, if the weather changes, it is always an option to turn around. Do not risk your life and others!
Is It Worth Hiking Angels Landing or Just Until Scout Lookout?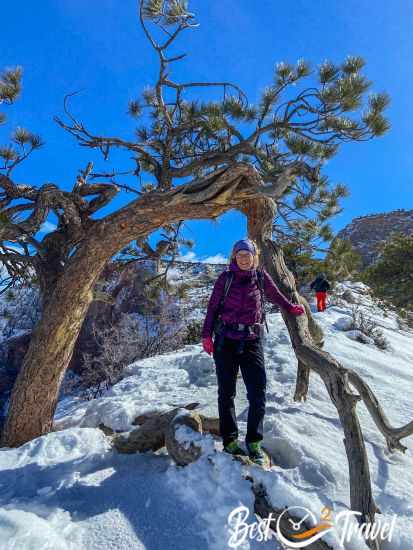 Already until Scout Lookout, it is a breathtaking scenery; nevertheless, there are many other great trails in Zion which are less frequented, like the Subway. I would only go if I had a permit. You do not want to stay at the trail sign, which indicates just another 0,5 miles, but you are forced to turn around. No way. Angels Landing is one of the best half-day hikes in the world, but I personally would skip Scout Lookout if I did not have a permit. This is my opinion because it would be too hard for me not to continue.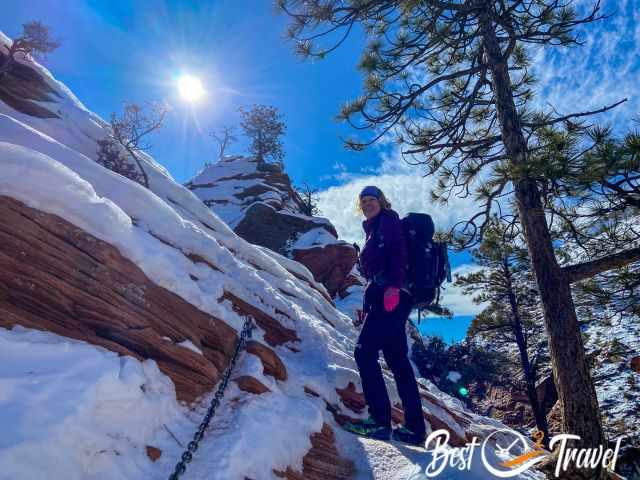 If you are not an experienced hiker and you have a fear of heights, it is a great track until here, very safe, well-maintained and offers fantastic views. If you are looking for an adventure, only go with a permit.
Watching the Sunrise from Angels Landing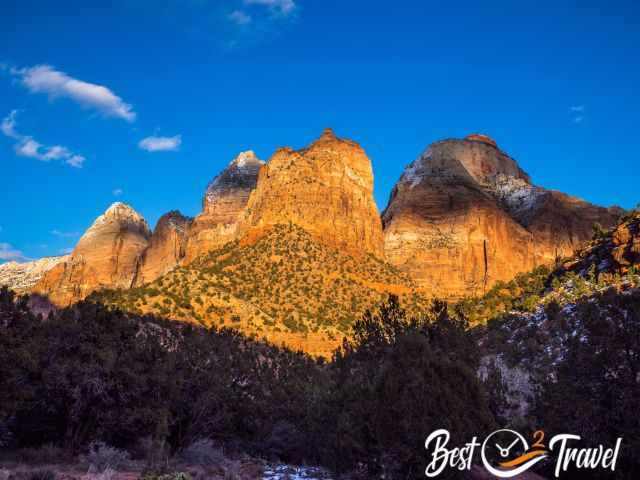 Some recommend watching the sunrise on the top of Angels Landing. This I only recommend for people with knowledge about the trail. If you haven't done it before, don't think about hiking the last half a mile with a headlamp. This can cause your death or severe injuries!
Angels Landing Trail Facts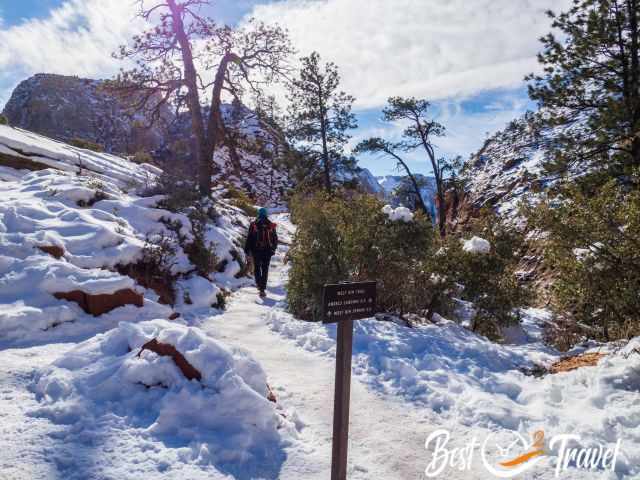 Distance: 5,4 miles/ 8,7 km roundtrip
Elevation Gain: 1488 ft/ 454 m
Duration: 3-4 hours return
Difficulty: Moderate – Strenuous depending on your experience
Permit Number: 800 permits are handed out daily, which is a high number and does not avoid a crowded trail.
Hiking Map by Locus Map App for a better overview.
Parking Angels Landing in Winter
There is limited parking at the Grotto Google Maps Location in the winter. If it is full, you can park your car at Zion Lodge and walk from here.
Shuttle Bus Angels Landing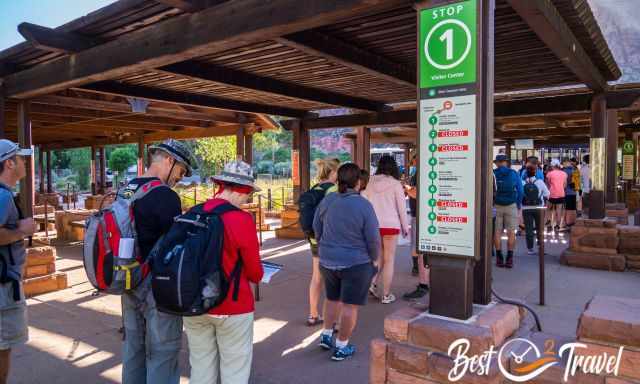 Except for the winter season from December to February, you are forced to take the shuttle from Springdale or the Visitor Centre to the Grotto stop number 6. If you obtain a permit, I highly recommend staying at Zion Lodge, which gives you more flexibility and a hassle-free start. Otherwise, calculate plenty of time into your schedule for your journey to the Visitor Centre and from here to The Grotto, which can easily take 2 hours—more about the shuttle bus in my Narrows Guide.
Angels Landing Trail Description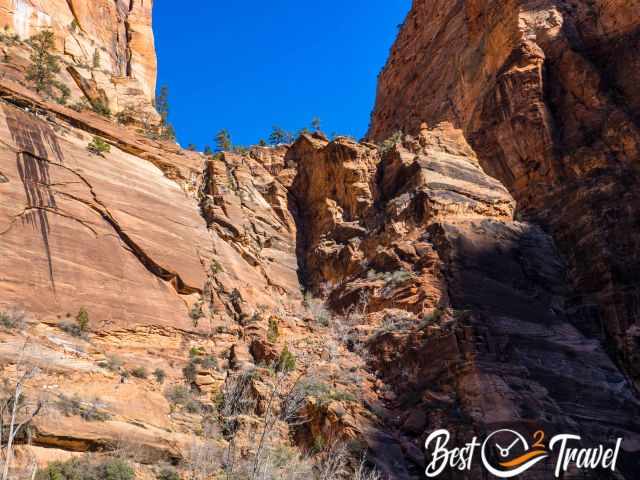 This exceptional adventure starts at The Grotto walk and shuttle stop number 6, one after Zion Lodge. You cross the road and the bridge above the Virgin River, then turn right and follow the signs of the West Rim Trail and Angels Landing. The first part is a wide and paved path, and soon after, the trails wind up offering a beautiful view into Zion Canyon.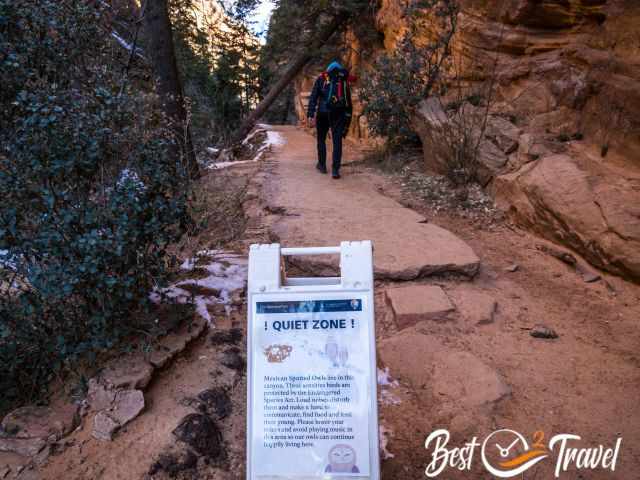 Now it narrows with huge walls on either side through the canyon. This is the quiet zone to avoid disturbance to the occurring endangered Mexican Spotted Owls. This canyon is called "refrigerator" because there is the only available shade, and it is cool in here.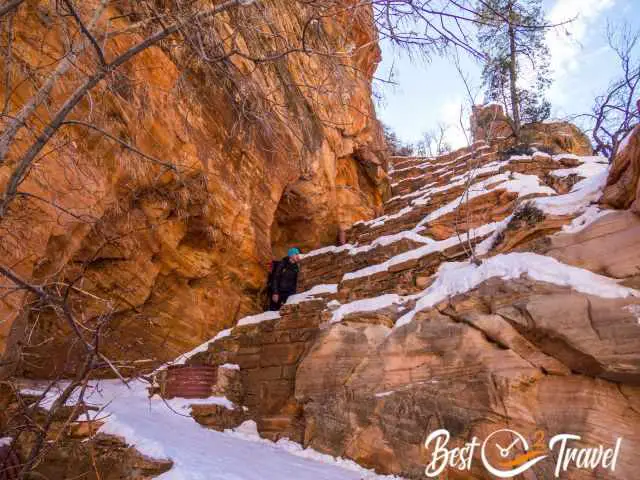 Soon after you reach the famous Walters Wiggles zigzagging part of the trail, this paved part is in the shade, a little steep and icy in the winter.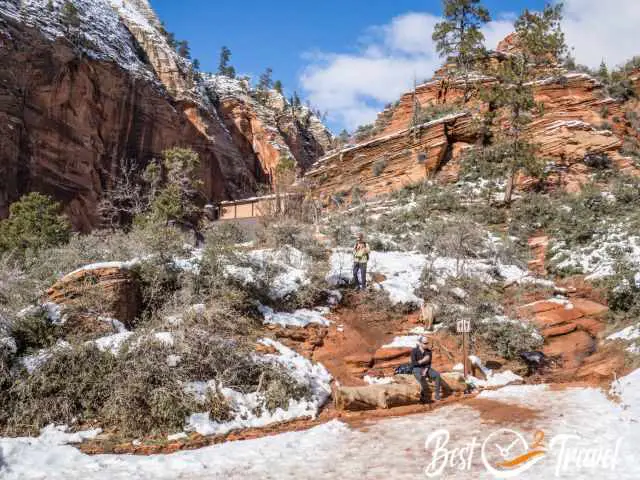 After a short narrow section, you already reach Scout Lookout. Here you can take a break, and restrooms are provided. The West Rim Trail continues left, but you follow the signs that you can't miss to Angels Landing.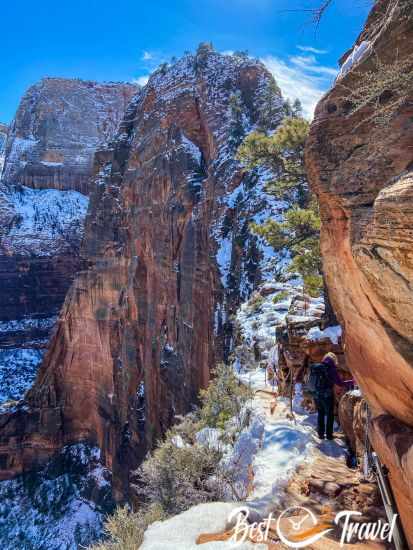 Now comes the trickiest part; if you do not feel comfortable, it is better to turn around. I, too, had great respect for this steep, exposed and narrow ridge walk only 4-5 ft wide. Retrospectively, I found it easier than it looked. Thanks to the snow, it looked less scary than without.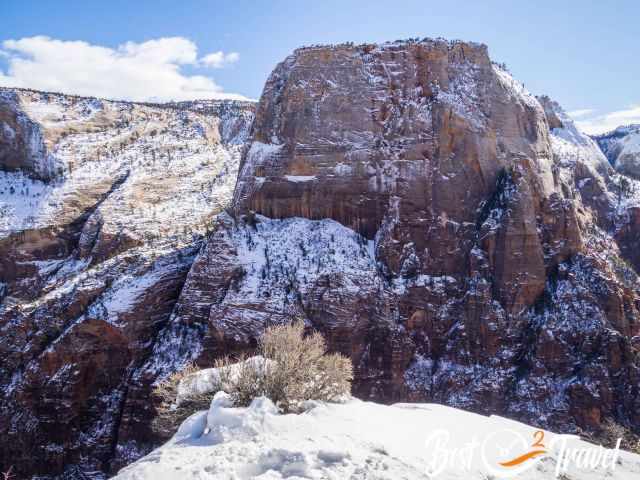 On top of Angels Landing, you get rewarded with phenomenal views of Zion Canyon and the surrounding orange-shimmering mountains. Down there is the scenic drive looking like a miniature.
We took a break and soaked in these magnificent views while enjoying a hot tea. The way back was much easier since we'd known the path and tricky parts. Most important, be 100 % concentrated during this last half mile. 
Immerse yourself in the awe-striking beauty of Zion and create memorable memories.
Zion Tip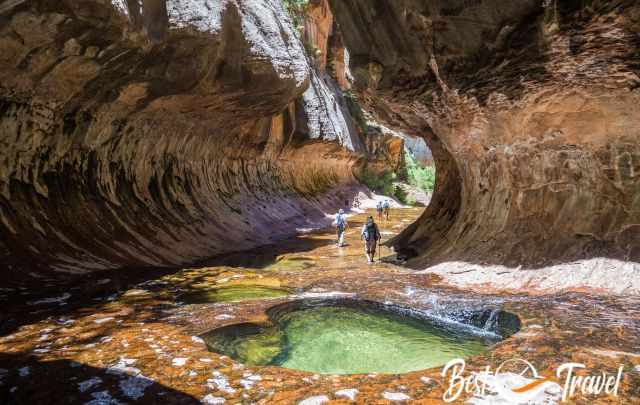 Have you heard about the Subway Hike? Also, a permit is required here; only 80 are handed out, but the chance of getting a last-minute permit is high. We hiked the Subway last year and loved the Wilderness Trail in Zion without crowds.
 Who We Are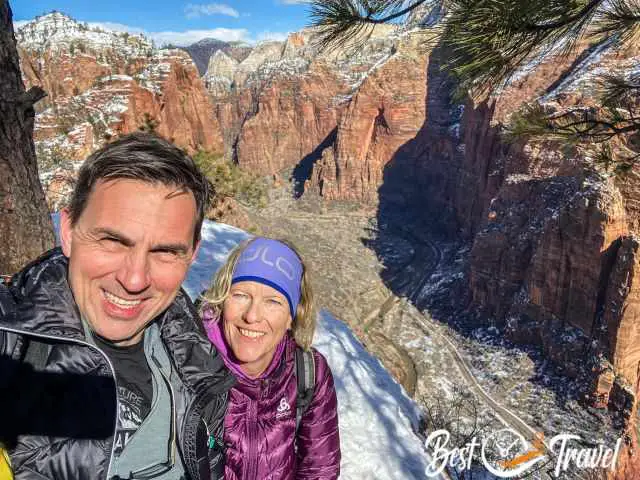 I am passionate about sharing some of the most beautiful places in the world with you, but I still can't live from my work, and we have regular jobs, too.
It is a tough business nowadays because fake travel websites rewrite content without effort and expense. Want to know more about these schemes, picture theft, and how to unmask them? Check out "The Truth  About Fake Travel Websites and Picture Theft"
Do you like my Zion and Angels Landing Guide and Tips? Please share it with your friends and on social media, subscribe to our  YouTube Channel. This would already help me a lot!
Do You Like to Support Me - It's easy; use the Paypal Button below 😍
If you wish to use any of my photos, contact me, but I will take action against picture theft. Why do I write this here? Hundreds of my pictures are used worldwide without any credit, nor did they get my permission. I don't mind giving permission, but I want to get asked for it and to be mentioned.