When Is the Best Time
One of the most fascinating natural wonders in our world. For a good reason, the access is restricted. This sandstone rock formation is extremely delicate and fragile. All details for the new last-minute lottery system, how and where to apply can be found here!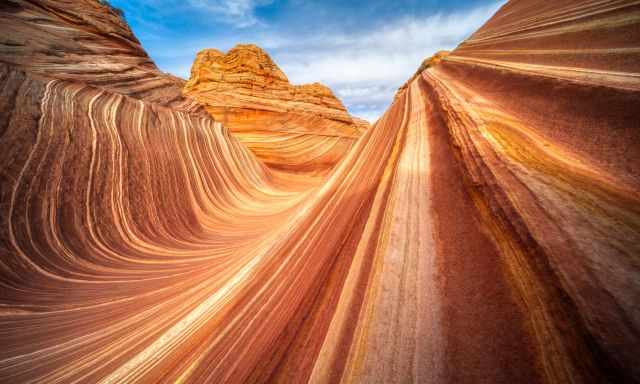 Wandering here in this pristine landscape is a once-in-a-lifetime experience. There is no guarantee that you ever get the chance to hike to this unique place, estimated 190 million years old from Jurassic Time.
To protect what was carved from wind and rain, a permit system was introduced already before 2000. Read my new guide from September 2021 and learn everything you need to know to increase your chance for a permit.
The New Permit System
A new lottery permit system was introduced on March 15, 2022. What does it mean? There are changes in the permitting process and you can apply two days in advance via your mobile instead of the walk-in system. The interested hikers have to be in the area between Kanab and Page. It is a mobile-based geofence system that gives you access when nearby. Scroll down for more information!
Permit
A permit is mandatory for Coyote Buttes North and South. Daily, park rangers patrol the area and control if you have a valid permit. If you don't, you risk a high fine. I visited South Coyote Buttes, and IMO it can't compete with the Wave, but the White Pocket does!
Limited Access
To protect the fragile landscape and preserve this unique rock formation for future generations, only 20 people were allowed daily. At the moment, a maximum of 64 people can obtain a permit. The permit gives you a 24 hours access, but camping is prohibited. Soak in this exceptional landscape. Spend the entire day here. Carry plenty of water and food.
Increasing number of visitors permitted since 2021
48 permits are available online
16 last-minute permits are available 
 
3 Tips to Win a Permit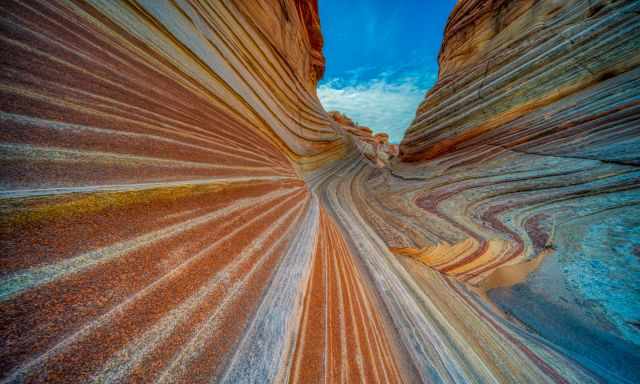 Apply for the winter from mid-January to February online - lowest application rate. However, keep in mind the Wave could be half covered in snow. In January 2023, it was the case after heavy snowfall.
Go in winter for the walk-in lottery from November to March. Also, here keep in mind that the Wave could be half covered in snow.
For the main season, try to apply for weekdays.
How to Get the Permit?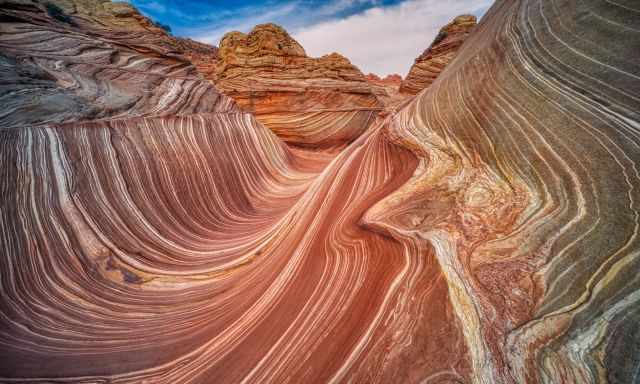 Online Lottery
48 hikers or 12 groups are available online – Not a high chance, but you never know. Link online lottery
You can choose 3 days for your whished month - 4 months ahead. For example, for February, you already apply in October. One application per month only!
You get the notification whether you won or not on the first day of the following month.
Some still mention you should watch the application number for each day to apply on the last day of a month to pick the days with the fewest applications. But this is wrong! It is not shown any longer for a good reason! 
To give you an idea of the application numbers: February had the lowest number, roughly 250 hikers/82 requests and June had 2,300 hikers/680 requests.
 
Walk-in Lottery - Changed - Here Are the Most Important Questions and Answers
How many permits are available? 16 last-minute permits or 4 groups – Slightly higher chance.
How to apply? 2 days before the wished hiking day within the geofence perimeter
Which locations belong to the geofence area? 
North: Orderville and Glendale
West: West of Kanab until Zion and Coral Pink Sand Dunes
South: Jakob Lake
East: Page
Geofence Map
When to apply? Between 6 am and 6 pm, after applying, you can leave the geofence area
When do I get the confirmation? The same day, around 7.15 pm
What happens if I win the permit? You must accept and pay for the permit until the next day 8 am Utah time. Pick up your permit at 8.30 am
Pick up location: 78 S 100 E The Kane County Office of Tourism, Kanab Visitor Center.  
Where can I get the app to apply? Follow this link and download the app then create an account.
How often is the lottery held? It is held daily.
Do I have to pay anything for the application? Yes, $9 application fee for each request. This is pretty expensive if you try it more often. If you are successful, another $7 recreational fee has to be paid. 
Don't Hike Without a Permit

Don't even think about it! People get caught every year. The fine is substantial for getting caught and there are rangers there - incognito. They look just like a regular tourist in jeans, but they are not.
The fine is $1,000 to $10,000 plus up to 1 year in jail. If you don't win accept the fact, but please don't risk such fines! I never won the lottery. for Coyote Buttes North.
I hiked in the south area and Buckskin Gulch, but I never hiked to the Wave. Instead, check out the White Pocket, which is still permit-free. 
What to Do in the Meantime?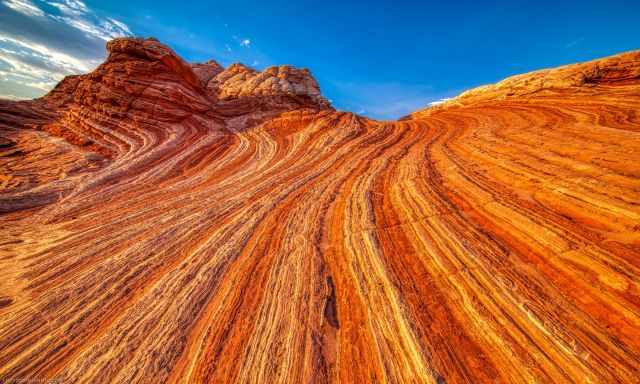 Rent a 4WD and walk to the White Pocket – The Wave Alternative
Visit Antelope Canyon 
My favourite Wave Alternative is Yellow Rock - much bigger, not overrun, permit-free, and no one else is around.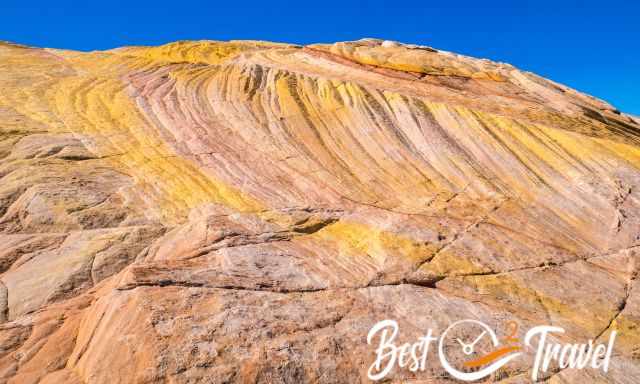 Where to Stay?
Page is the main service hub and a good starting point with a population of 7.500. Page is excellently located at the Colorado and Lake Powell.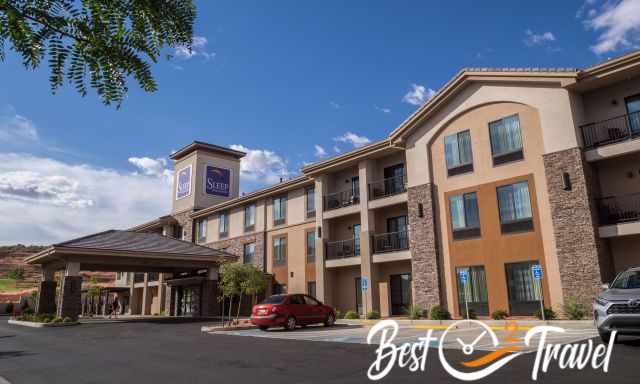 You may think there are plenty of hotels in Page, and that's right, but each evening we figured out the hotels; also, ours were fully booked. Many visitors stay here for a couple of nights to visit Horseshoe Bend, Antelope Canyon, the Toadstools, Yellow Rock, and more beautiful places. If you plan to travel to Page in the peak season or at weekends, I highly recommend booking a room in advance.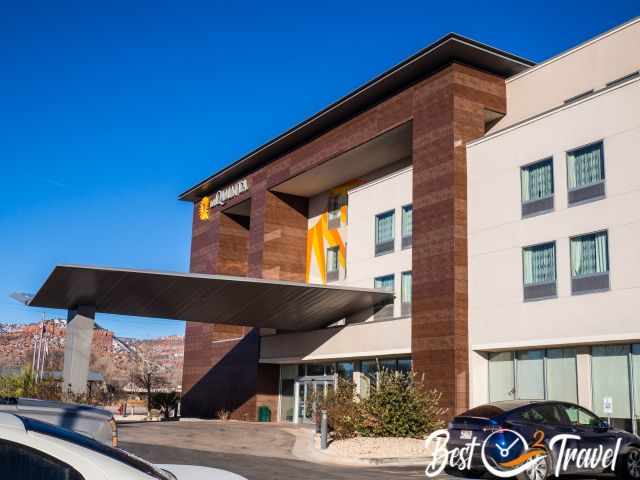 To explore the area, you either stay in Page or in Kanab. Last winter, we spent two nights in Kanab because we of a guided tour. Kanab is a fantastic town to explore the Vermillion Cliffs Wilderness's unique landscape and sandstone formations. Thx for booking via my website 😊
Permit Fee
The online administration fee is $9 per application. Just a $7 fee per person if you win the lottery. Your dog can join you but needs a permit, too.
Weather Coyote Buttes
Honestly, if you win the lottery, you don't care about the weather except in the winter. The Wave, located on the Paria Plateau experiences a high desert climate and little precipitation only. It is frequently sunny in the summer but boiling during midday.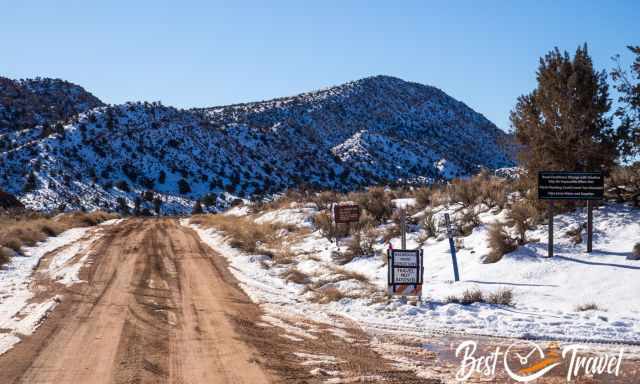 Snow can occur in the winter. What does snow mean? We experienced it and we left Kanab because White Pocket and the Wave were half covered in snow. We met a couple who won the lottery after 13 attempts and they were so disappointed.
Start early or late in the summer. Keep in mind there were already several heat-related fatalities. It is more difficult to get to the trailhead after heavy rainfall. However, the gravel Rock House Valley Road is in good condition. 
Photographer Tips for the Best Time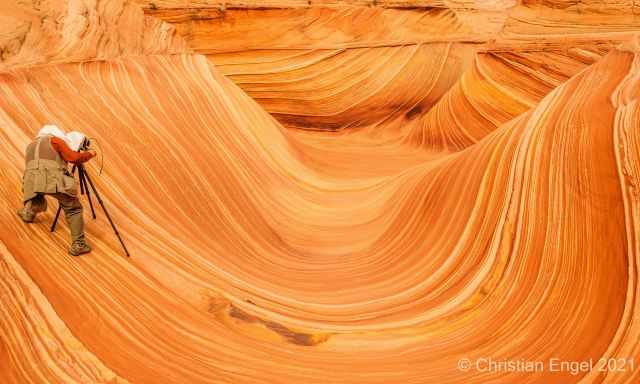 Spring
Frequent blue sky, especially in April and May. Often very windy with its peak in the afternoon. 
June
June is the best month of the entire year. Precipitation and cloud cover is low. Exceptional for night photography.
Summer
Not bad to take good shots, but be aware of the midday heat. 
Autumn
Not as good as April and May more cloud cover. The pro, Kanab and Page are quieter after the crazy summer season.
Winter
Hiking in snow is challenging. Due to the high elevation, snow occurs. It is also tricky to take good pictures of the Wave, especially when snow-covered. It is frequently overcast. From our last trip, we know the Wave can be fully or at least half covered in snow on the north side. It is likely to happen in January and February, and we experienced this in 2023.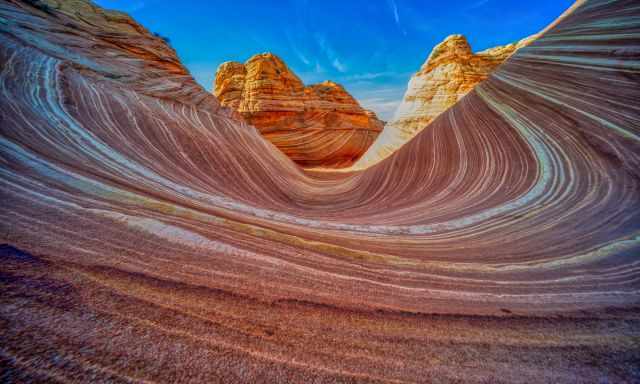 I got most of the pictures provided by Ray Downs Photography and some from my friend Chris.
Check out the website from Ray. He offers exceptional pictures from The Wave - Antelope and other breathtaking places in the southwest. You also can follow Ray on Facebook.
More information about the Wave Trail can be found below!
Tour Company Recommendation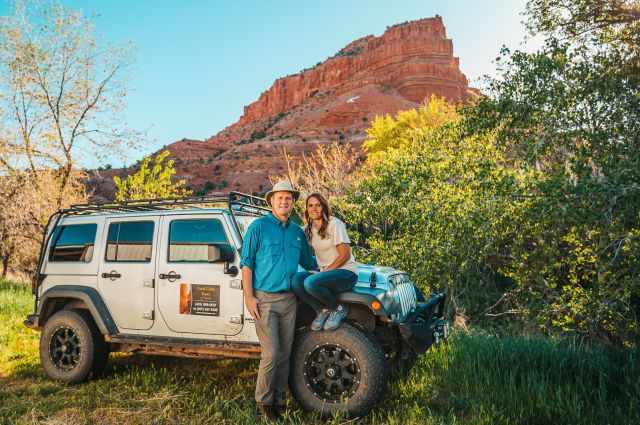 Do you wish to explore the Wave and other unique rock formations in the Vermillion Cliffs Wilderness with an excellent tour company? I highly recommend the Coral Cliffs Tours and Townhomes of Kanab. This is not an Affiliate Link. This was our own experience with Julie; she walked the extra mile for us and made the impossible possible. This company is totally different their primary focus is on making guests happy. If you haven't booked anywhere yet, give them a call: (435) 899-0697
Location and Tips
Page, Arizona / Kanab, Utah
United States

The daily visitor number for the Wave has increased from 20 to 64 or 16 groups per day. Your chance to win the lottery is more than three times higher at the moment. I cross my fingers for you! 
Wave Location – How to Get There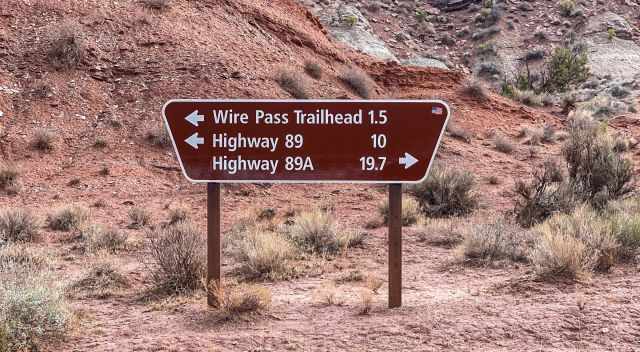 The Wave is situated on the Paria Plateau, Coyote Buttes North in Arizona, close to the Utah border. Getting there is easy on the gravel Rock House Valley Road. You pass by the Buckskin Gulch Trailhead, one of the best hikes on earth, and continue until you reach Wire Pass.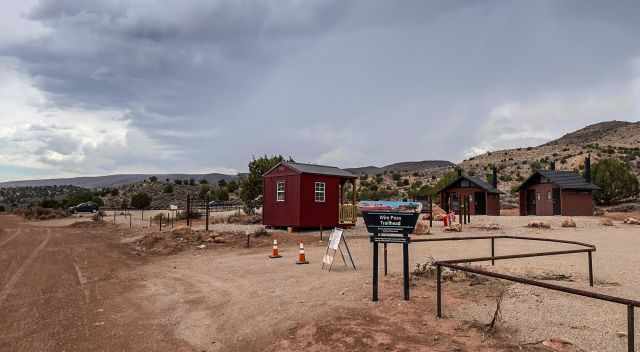 I recommend a 4WD, and it's a stress-free drive to Wire Pass Trailhead. We did it once in a 2WD but at the second time in a Jeep Cherokee, which was more convenient and less bumpy. After heavy rainfall, the Rock House Valley Road may be impassable. Important: Display your parking permit on the windshield! 
Google Maps direction from Kanab to the Wire Pass Trailhead
Google Maps direction from Page to the Wire Pass Trailhead
Trail Description 
This return hike is 5.6 miles/ 9 km long. The track is not marked. I highly recommend a mapping app like GAIA for the outstanding hike. Ascent 211 m and descent 105 m to the Wave and vice versa on the hike back.
Link for the exact track to the Wave from Wire Pass Trailhead. Don't trust all the different descriptions you can read somewhere.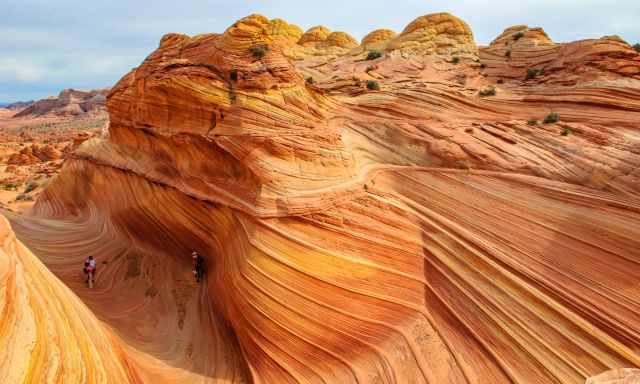 You get a map handed with some landmarks to find the wave, but IMO none of this is safe. Hike with a mapping app, and you never get lost. The last restroom is at Wire Pass Trailhead.
Packing Checklist - 7 Essentials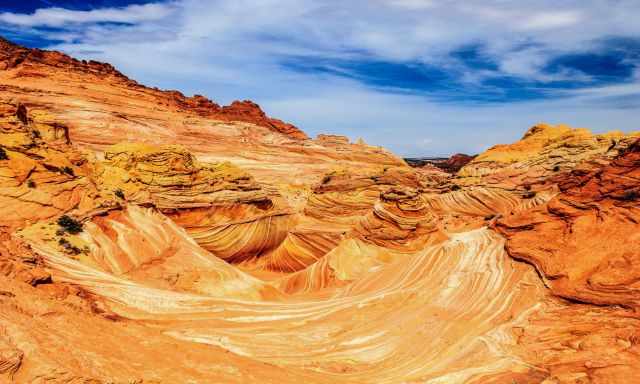 If you win a permit, spend as much time as possible at Coyote Buttes North. There is more to discover than just the Wave. Therefore, good prep is essential. 
Most important, plenty of water, food, and snacks.
Sun precaution, hat, and sunscreen, sunglasses for the walk only.
Clothes; depending on the season, at least a fleece or icebreaker.
Always a headlamp - This place is otherworldly, and you may forget to return in time.
Always carry a multi-tool knife in your backpack.
Never walk without a First-Aid Kit, especially not in remote areas where a cell phone connection is almost none existent.
Survival rescue blanket, very lightweight, less than 3 oz.