When Is the Best Time
I am absolutely fascinated by slot canyons, where you can witness the immense power of mother nature. These narrow gorges carved by erosion and flooding always changing are magical.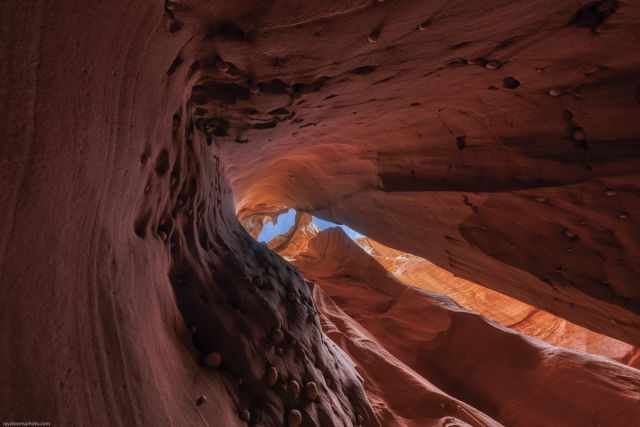 What started with water in a fault or a crack in a rock became a slot canyon due to natural forces millions of years later. When you walk through such a canyon, you never know what comes up next. You can't look far through it.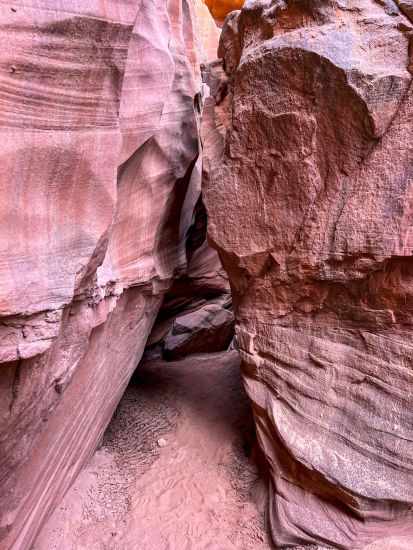 The different shapes, the high walls often made from sandstone, the truly beautiful colours, the views up to the sky are all masterpieces of our wonderful earth. Slot canyons are a mystery calling for exploration.
There are thousands of slot canyons; many are still not discovered. However, these narrow gorges are also treacherous prone to flash floods, the reason why the weather forecast has to be monitored.
Avoiding Crowds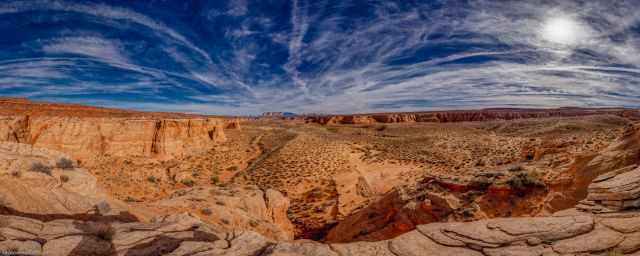 This is the real slot canyon experience on private or very small group tours to get the best shots ever without the crowds around you or in front of your camera. It is rare to find such hidden treasures nowadays.
You are not in a rush during these tours. You get all time needed for this unique adventure.
If you wish to know more about the weather and climate in this area, check out my Ultimate Antelope Guide.
Photographer Tip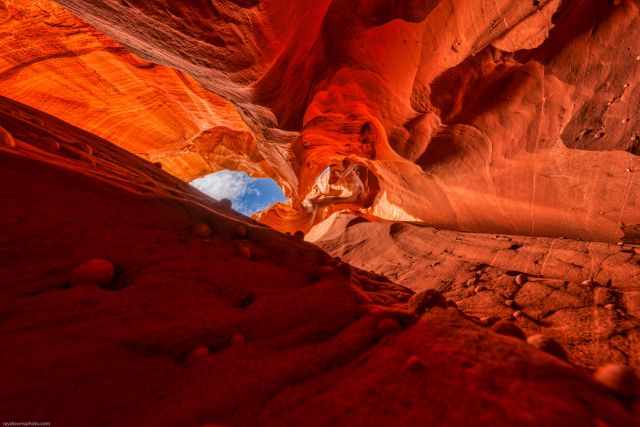 June-August is the monsoon season in the desert, and that's the time for the best clouds and shots. However, if you plan to hike in the summer, go early to avoid the midday heat!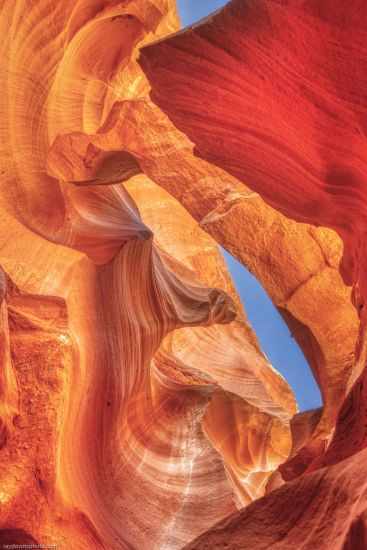 Do you like these outstanding pictures? Check out Ray Downs Photography for more of such masterpieces. Thanks, Ray! He provided all information and photos.
Hotel Tip Page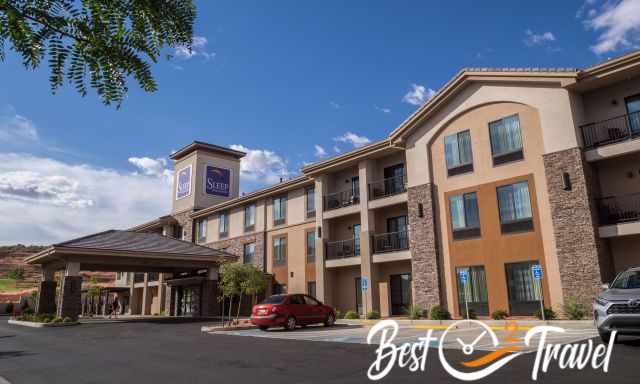 You may think there are plenty of hotels in Page, and that's right, but each evening we figured out the hotels; also, ours were fully booked. Many visitors stay here for a couple of nights to visit Horseshoe Bend, Antelope Canyon, the Toadstools, Yellow Rock, and more beautiful places. If you plan to travel to Page in the peak season or at weekends, I highly recommend booking a room in advance.
Location and Tips
Page, Arizona
United States

The Antelope Slot Canyons are for sure some of the most breathtaking canyons in the US. I already visited both Upper and Lower Antelope in one day before social media existed. There wasn't any advanced booking necessary we just went there and joined a guided tour.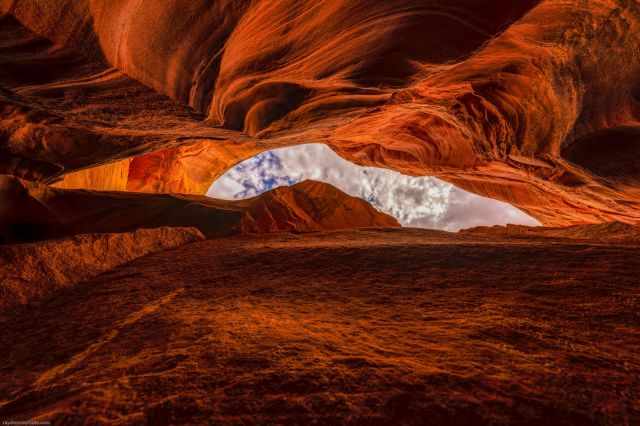 Nowadays, good planning is essential to take part in these popular trips. I was seeking an alternative as it exists for the Wave. Ray Downs, an outstanding landscape photographer, came up with the Antelope Valley Slot Canyons, which I like to introduce here.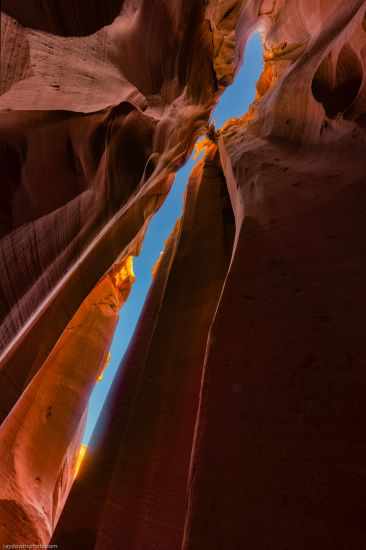 There are numerous slot canyons in the Antelope Valley south of Page in Arizona, the real paradise for people like me. I am pretty sure you will take hundreds of pictures on these splendid tours.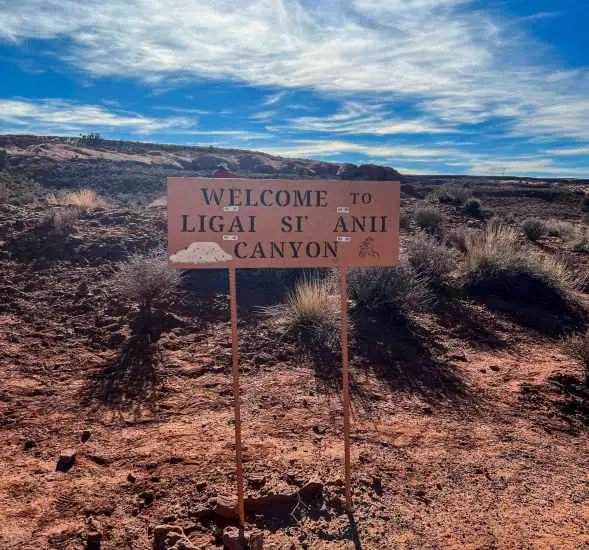 Tour company Ligai Si Anii – 10 miles south of Page Google Maps location
Ligai Si Anii Booking
It is a 15-minutes drive in the tour guides van from Page to these unique slot canyon treasures on Navajo land. These tours are outstanding and not in a rush. You get wonderful stories told about the people who grew up on this remarkable land. The lovely guides tell many insights about the Navajo Nation and their life and culture. You also learn a lot about various plants you encounter during the walk in this area.
Ligai Si Anii Slot Canyon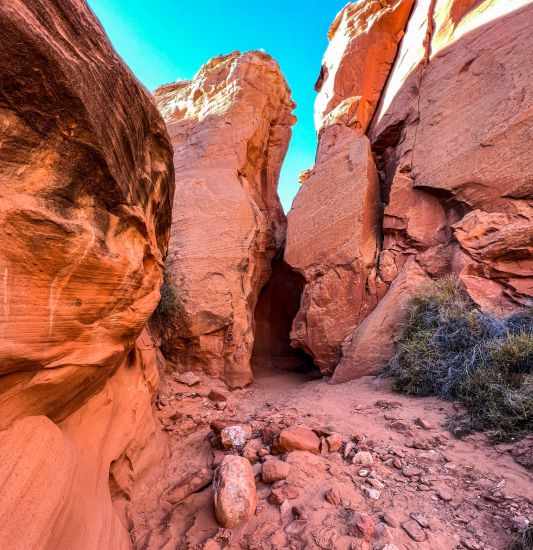 It is an H-framed slot canyon as long as Lower Antelope and the most accessible of all. This is the perfect canyon for the entire family, also with toddlers.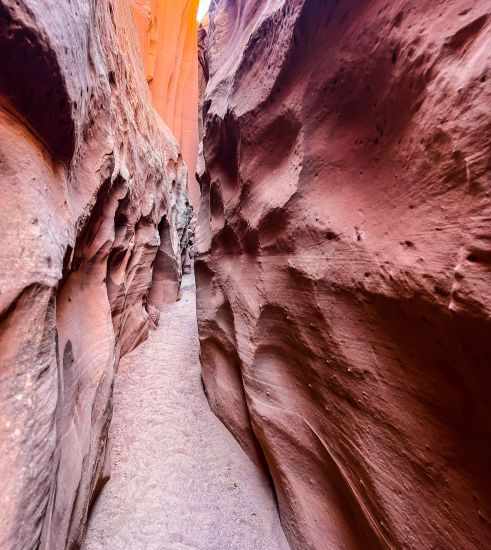 It is a short 750 foot/ 230 m walk but has steep stairs with handrails down and up. The tour duration is 1.5 hours. Ligai offers breathtaking views at every curve.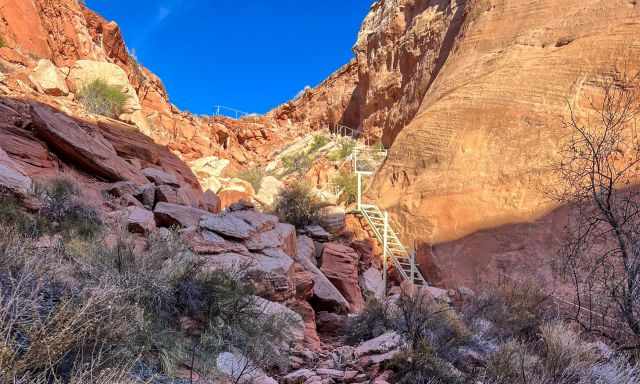 The Ligai Si Anii Slot Canyon has an entrance and exit.
Wind Pebble Canyon and Thumbnail Slot Canyon
This tour is an outstanding adventure into three different slot canyons. It is suitable for children age six and older. The 3 miles/4.8 km roundtrip takes roughly 3 hours.
There are several options for the duration of the tour. First, you climb some stairs down into the canyon.
A feature of the Wind Pebble Canyon is the even more "popular" Thumbnail Slot Canyon which is Ray's favourite because of the intense colours. The light is perfect in this canyon if it is not overcast.
The Thumbnail gorge is half as long as Lower Antelope to get an idea of what to expect.
Rams Head Canyon
This slot canyon and track is for experienced hikers and youth age 12 and older. This true desert hike takes an entire day. It is an unforgettable experience hiking through this very long canyon. With its massive high walls not as narrow as the other slot canyons, Rams Head is not less impressive. More information and pictures for this canyon will be added soon.
Packing List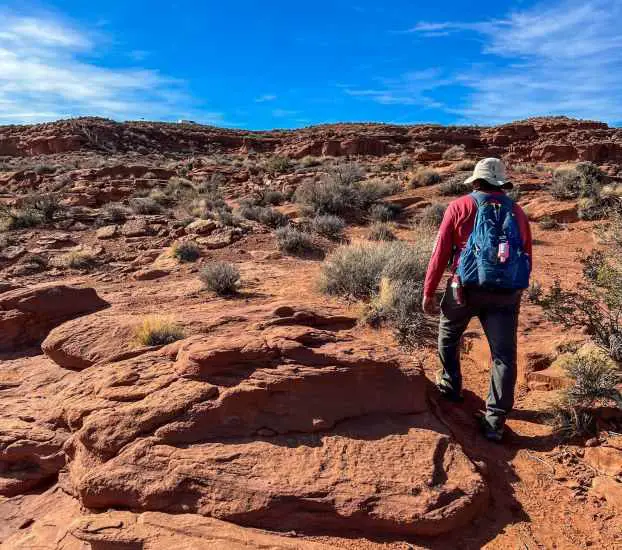 Wear proper shoes on these tracks.
Sun protection for the intense sun in the desert.
Bring a bottle of water you are hiking in the desert.
Depending on the duration of your tour, carry a snack or sandwich in your backpack.