When Is the Best Time
The Jacob Hamblin Arch in Coyote Gulch is one of the many hidden gems in the Grand Staircase Escalante National Monument. Most of Escalante is difficult to access, still underrated, and therefore not crowded. Actually, Coyote Gulch is accessible via GSENM - Hole in the Rock Road but belongs to the Glen Canyon National Recreation Area.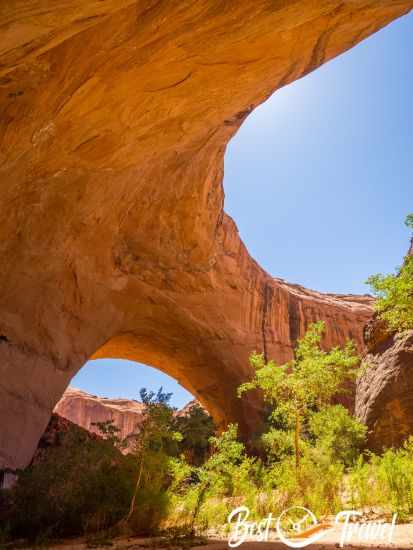 There are two long overnight tracks from Hurricane Wash and Red Well and two which can be done in one day. I describe the two shorter routes, the day hikes, in this article.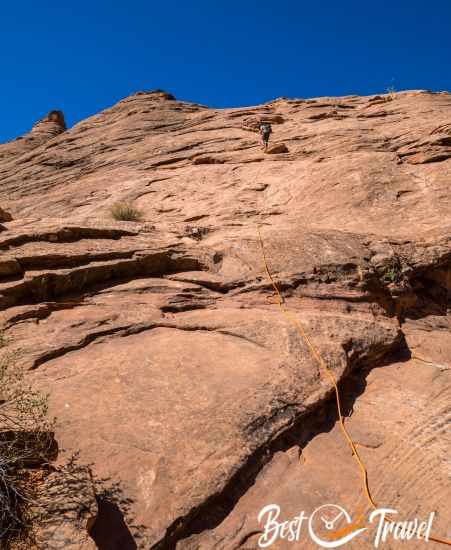 On our climb at the vertical wall down to Jacob Hamblin, a hiker from Salt Lake City told me, "We keep Escalante a secret," I have to agree it was hard to get the information I was looking for. I will give you detailed information about my questions that came up before this adventure.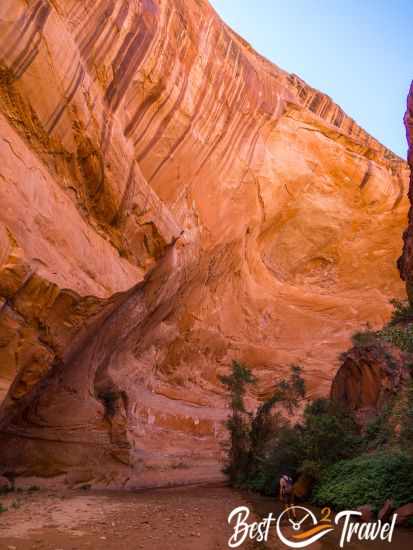 Nevertheless, this unique place is hard to reach; a 4WD is essential, and you must camp either before your trip or at Jacob Hamblin in the Coyote Gulch, especially in winter with shorter daylight hours. 
What is the Best Time for Jacob Hamblin Arch?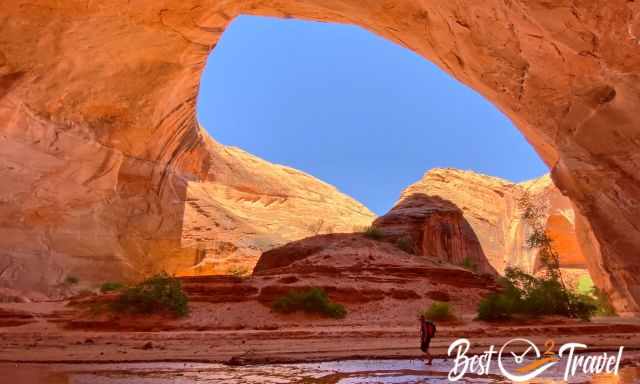 The best time for GSENM and the Jacob Hamblin Arch regarding temperatures and precipitation is from April until mid-June and mid-September until October. 
Weather – Climate Escalante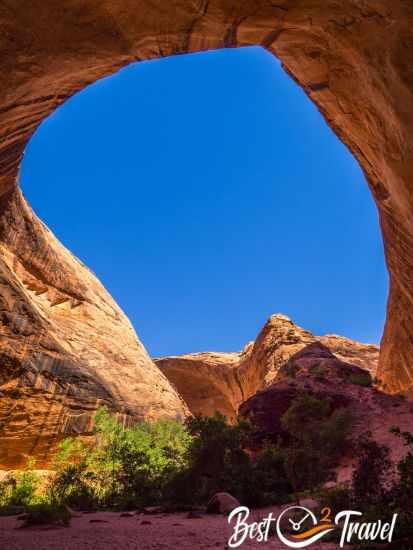 The Hole in the Rock Road is located at 5.800 ft/ 1.770 m elevation, which impacts the temperatures. 
Summer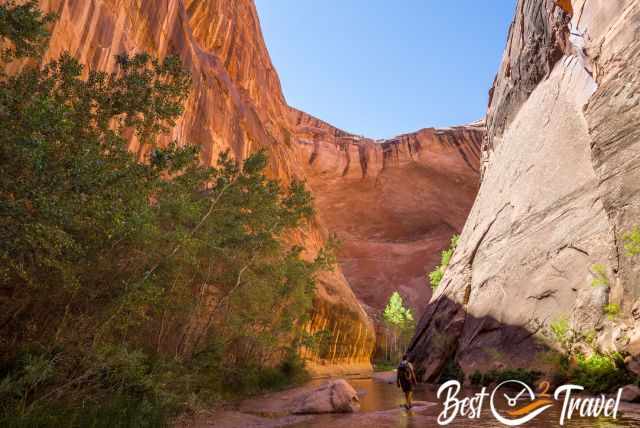 The summer from mid-June to September is hot in the mid to upper 90s/ topping 30°C in the shade, but nights are pleasant, ranging from 55-50°F/ 13-10°C. It is the monsoon season, and it deserves this description when it downpours for hours and makes gravel roads impassable.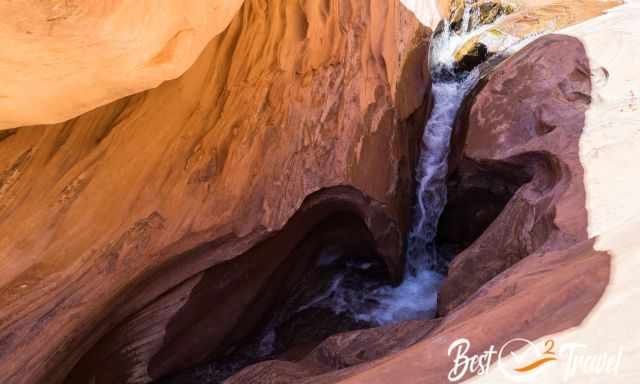 The soil of the gravel roads turns into mud and clay, and you get stuck or drift off with your car. Please check out the weather forecast before if you plan to visit Coyote Gulch and Jacob Hamblin Arch in the summer.
Spring and Fall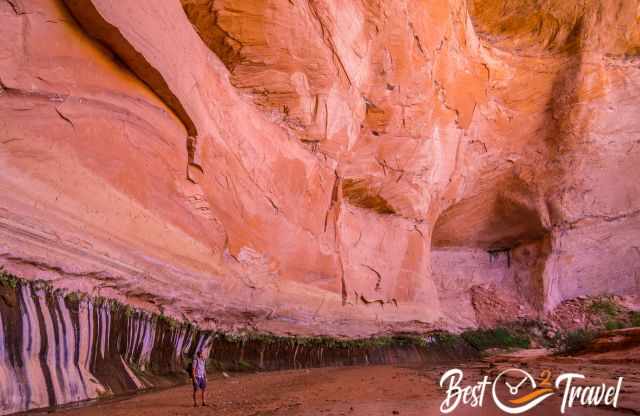 Spring in April, May until mid-June and fall from late September to October is the best time to hike to Jacob Hamblin Arch, with day temps ranging between 54°F/ 12°C and 75°F/ 24°C in May, but nights are chilly around freezing which is cold for sleeping in a tent.
Winter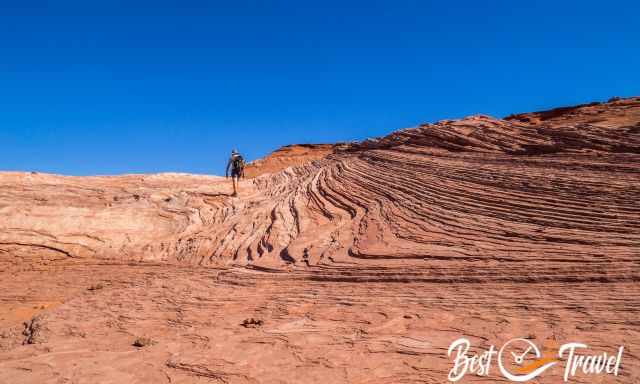 Most precipitation occurs in the winter, from November to March. It is cold below 50°F/10°C during the day and below freezing at night, and snow occurs due to the high elevation. Not particularly in Coyote Gulch itself but at the HITRR.
Where to Stay in Escalante Before the Jacob Hamblin Hike?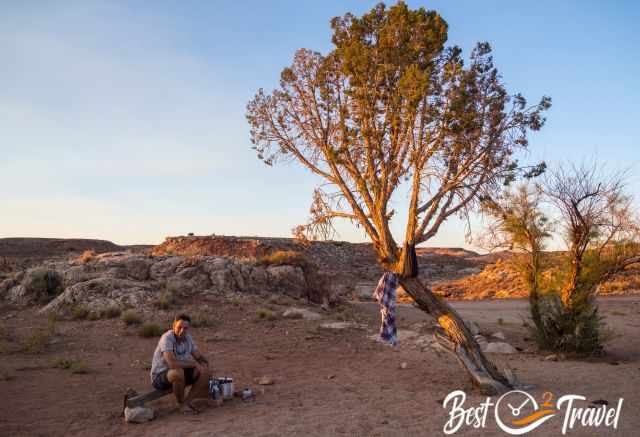 Coyote Gulch and the Jacob Hamblin Arch are remotely located. Getting here on the gravel and bumpy Hole in the Rock Road takes up to two hours. If you plan to do this day or a backpacking hike, I recommend sleeping nearby in your tent or car.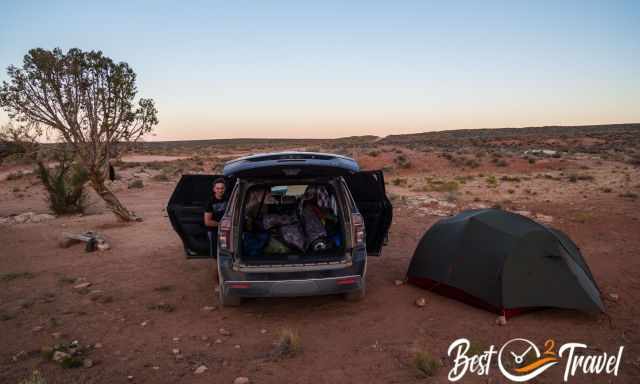 This is what I like most in Escalante; you are able to experience real wilderness and freedom and pitch your tent along the Hole in the Rock Road. Please, stay where others have been before, don't choose an unspoilt area.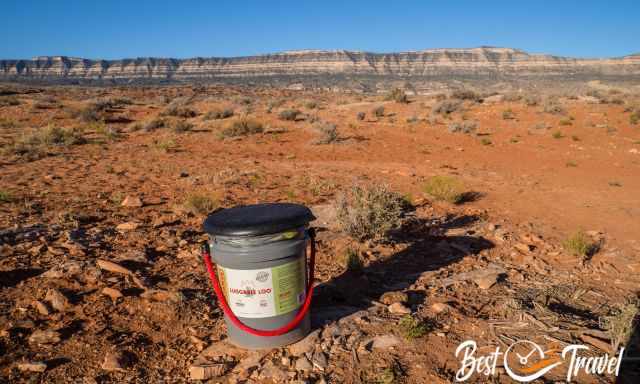 Take out what you took in and leave footprints only. Bring a portable toilet or wag bags. It may sound strange to you, but no organisms in the desert decompose your poop. I know it sounds strange, and most friends were wondering, but we are responsible for leaving this stunning landscape as unique as it is. 
Where is the Hole in the Rock Road, and How Long is the Road?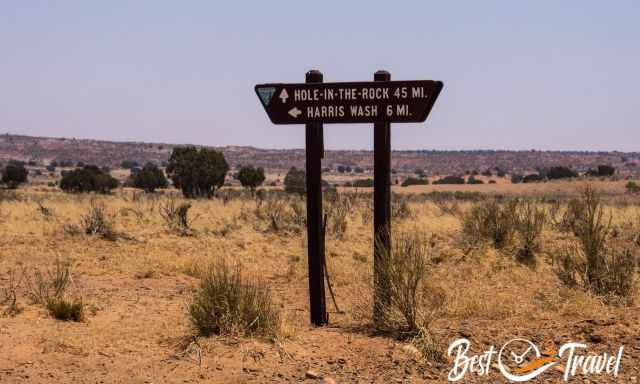 The road starts shortly after Escalante in Utah, 5 miles southeast. The Hole in the Rock Road is 56 miles/ 90 km long. Hole in the Rock is a dirt, bumpy, and sandy road. It starts at 5.800 ft and slowly descends to the Hole in the Rock at the western shore of Lake Powell.
What Car Do I Need For Hole in the Rock Road?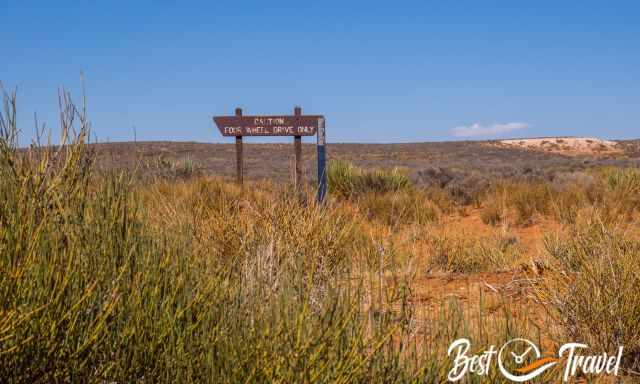 The beginning of the road is doable by a 2 WD up to the picnic area of Devils Garde and Metate Arch; 17 mi/ 27 km south of Escalante. If you wish to continue, a 4 WD and high clearance are a MUST! Please, don't go in a 2WD. Some travel websites mention you can do it, but honestly, breaking the car or being struck in the deep sandy potholes is more likely to happen.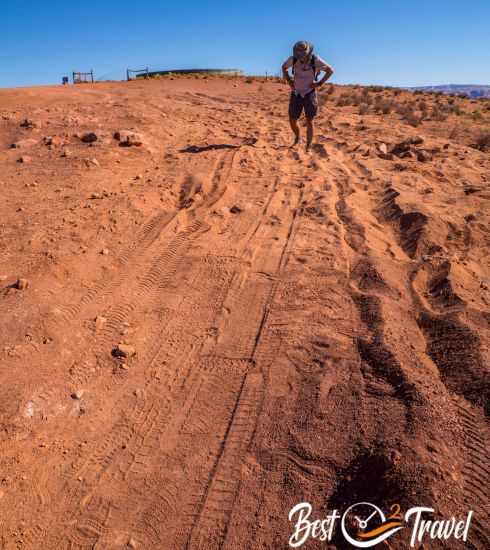 These guys never went here, and they don't care about you. We saw a car struck, and six people tried to get it out. No one will come to pull you out, and if it is a rental car, you get into serious trouble. We rented a Chevy Tahoe twice the price of our return flights, but it was worth doing. Check out our video, and you will see how bumpy it is.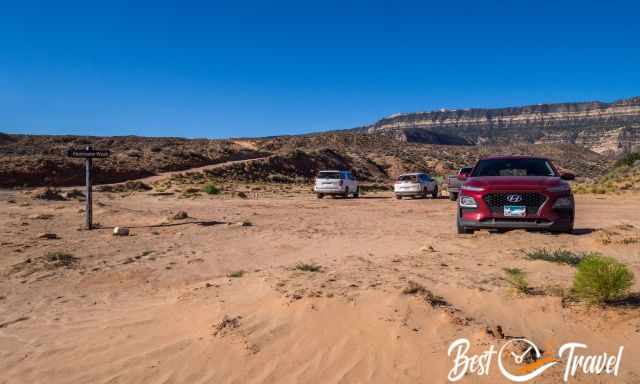 You also have to consider the soil turns into clay if it pours in the summer. You are definitely stuck and don't get out; the other risk is floating away in the car. This happens in the southwest each summer. If you wish to hike to Jacob Hamblin Arch, please, come with the appropriate vehicle.
11 Tips – Need to Know – Packing Checklist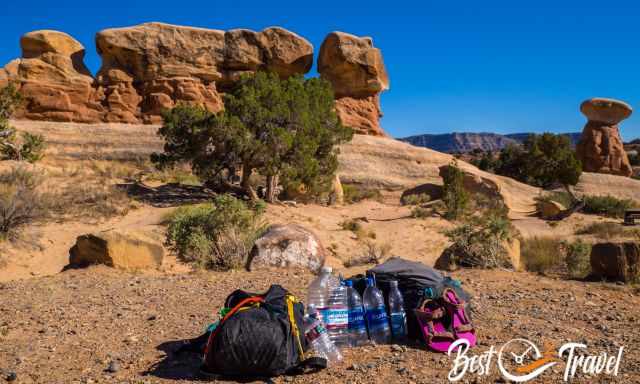 Take out what you took in.
Almost no cell phone reception or internet
Download a hiking app and driving directions before.
Be aware of the summer heat; carry more water than you think you may need, or treat the water from the creek.
Drink electrolytes throughout the year because it is a strenuous hike, and sweating is part of it.
Carry high-energy food.
A headlamp, especially from fall to spring, during shorter daylight hours 
If you plan to do the "Sneaker Route", carry a 60 m rope in case.
Bring Teva or similar shoes for hiking through the creek in Coyote Gulch; awesome in summer.
Sun protection throughout the year because of the elevation and shade in the canyon only in the morning.
Biodegradable insect repellent; horse flies can occur along the creek (Markus got bitten by one)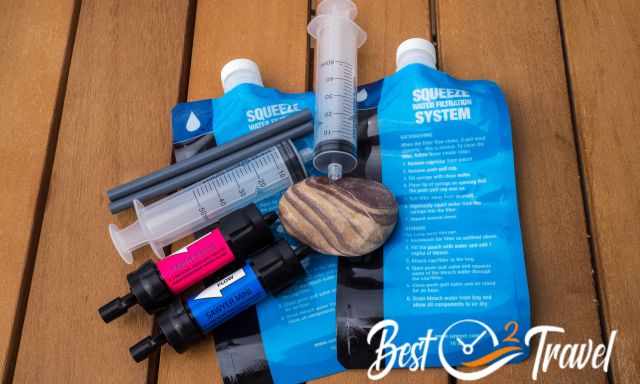 If you like to learn more about hikes in Grand Staircase Escalante, check out this guidebook.
The hikes featured in this book range from family-friendly day hikes to multi-day backpacking trips that will excite the most adventurous of spirits and will educate readers.
Location and Tips
Utah, Escalante. Hole in the Rock Road
United States

Jacob Hamblin Arch is one of the many iconic landmarks in GSENM, the abbreviation for Grand Staircase Escalante National Monument. Getting here and hiking the trail needs good preparation. I'll give you all details for this remote-located bucket list hike. I love this most in Escalante – NO Crowds and a Pristine Landscape!
How To Get to Jacob Hamblin Arch?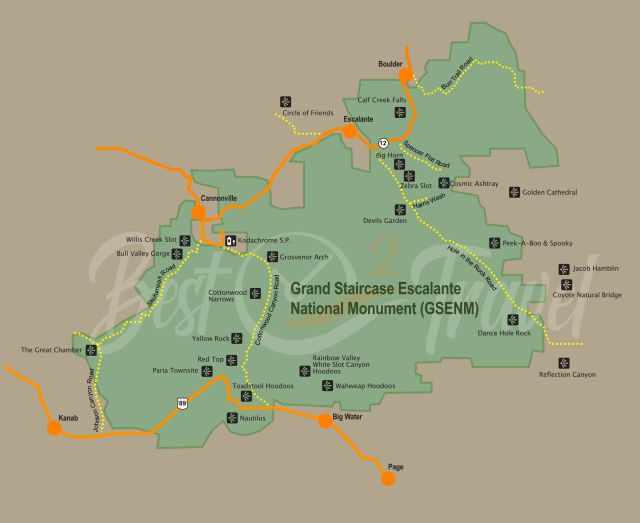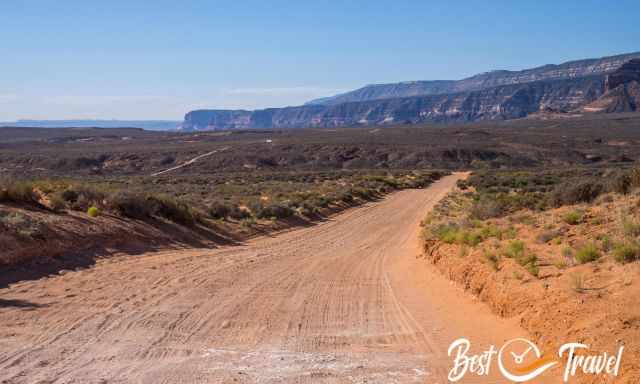 It is a two-hour drive from Escalate on the Hole in the Rock Road to the Water Tank, the trailhead for Jacob Hamblin.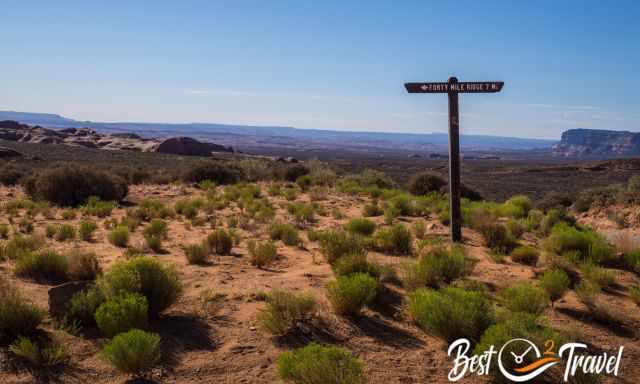 The turnoff to the water tank is not signposted; instead, drive left direction "Forty Mile Ridge". Google Maps from Escalante, but the mentioned driving duration is too low. There are two trails for this day hike and actually two different trailheads.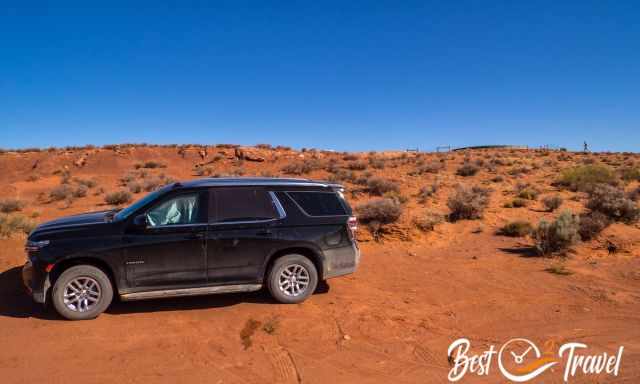 However, I recommend starting both tracks at the Water Tank, but not at the official parking because cars frequently get stuck on the steep and sandy ascent. The longer Crack in the Wall track, the circular tour, passes the water tank at the trail's end. If you do not park your vehicle here, you must walk another hour on the sandy road after the strenuous hike. So, I recommend doing this in the morning when temps are still pleasant.
| | |
| --- | --- |
| | Do NOT go into the expansive Grand Staircase without this detailed map. For large amounts of time, you will not have cell phone service. It's a great alternative to a mapping app or for planning. The map delivers unmatched detail and valuable information to assist you in your exploration of this remote and colourful wilderness. It is printed on durable synthetic paper, making them waterproof, tear-resistant and tough. |
Jacob Hamblin Arch Trail - Day Hike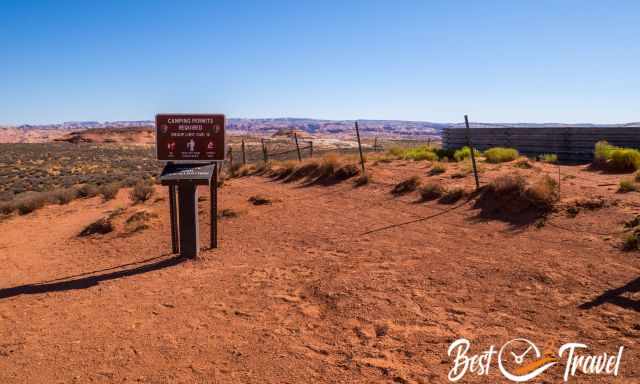 You can apply for an overnight permit at the Escalante visitor centre or fill out a form at the trailhead for a multiple-day hike or hike to Jacob Hamblin and the Coyote Natural Bridge in one day. I describe in detail the two existing day hikes.
The Crack in the Wall to Jacob Hamblin Arch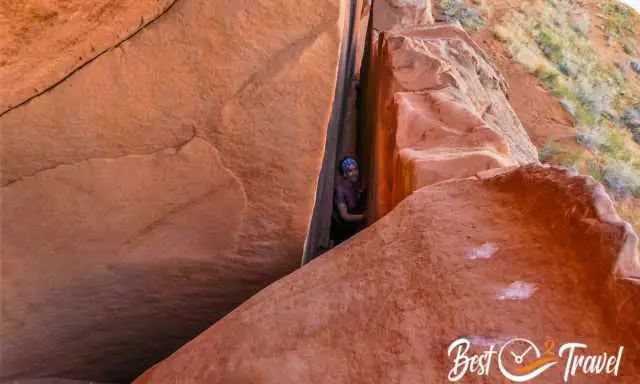 Length: 13 mi/ 21km
Duration: Roughly 9 hours with breaks and photo stops
Elevation Loss and Gain: 1.010 ft/ 308 m
Detailed Hiking Map by Locus Map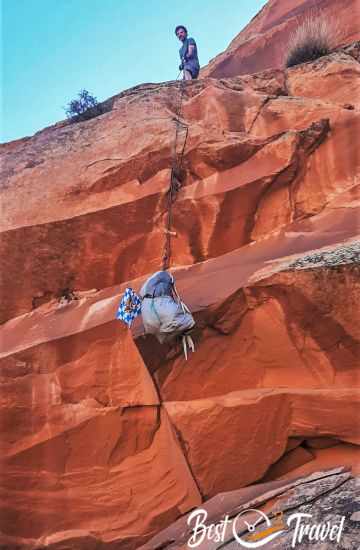 The Crack in the Wall hike to Coyote Gulch and Jacob Hamblin Arch includes all highlights, leading east to west through Coyote Gulch. This trail can be hiked as a circular trail through the Cracks, Coyote Gulch and up on the Sneaker Route. The track through the cracks is the most exciting IMO, and that's what we had planned. The crack is so narrow that you must squeeze through and rappel your backpack beforehand.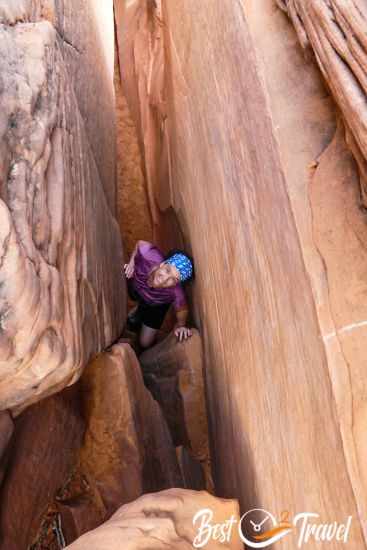 When you reach Coyote Gulch, the trail leads west through the creek and canyon to Jacob Hamblin Arch. Here we wanted to hike up, which is possible without a rope with mountaineering experience, but climbing skills are essential!!!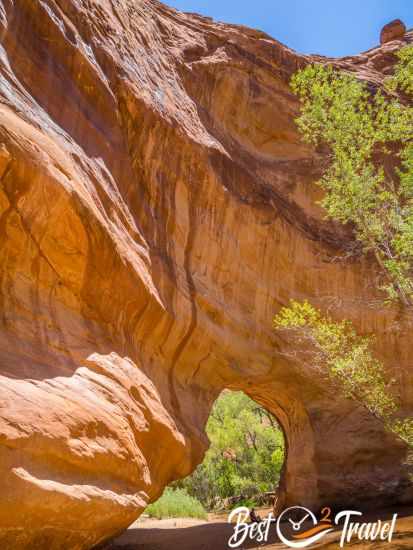 We live close to the alps, and we are experienced, but I was glad about the rope. Because of the heat during the day with temperatures in the high 90s, we chose the shortest hike, the "Sneaker" or "Water Tank" Route.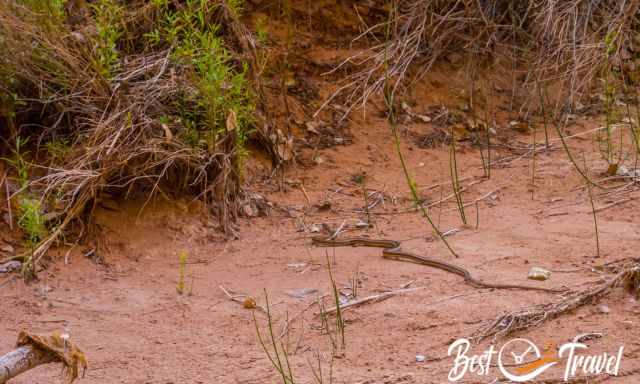 Sneaker or Water Tank Route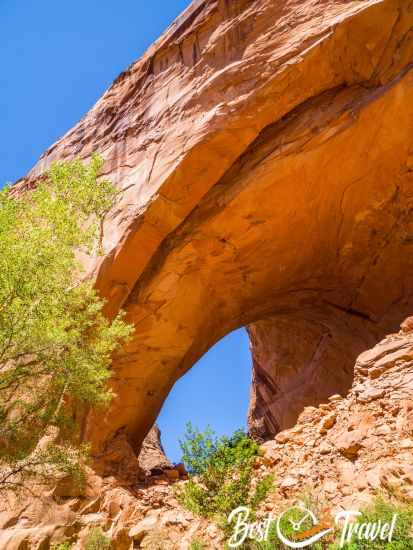 Length: 10.5 mi/ 17 km
Duration: 6 ½ h – walking 4.15 h
Elevation Loss and Gain: 3.160 ft/ 964 m
Our detailed Hiking Route by Locus Map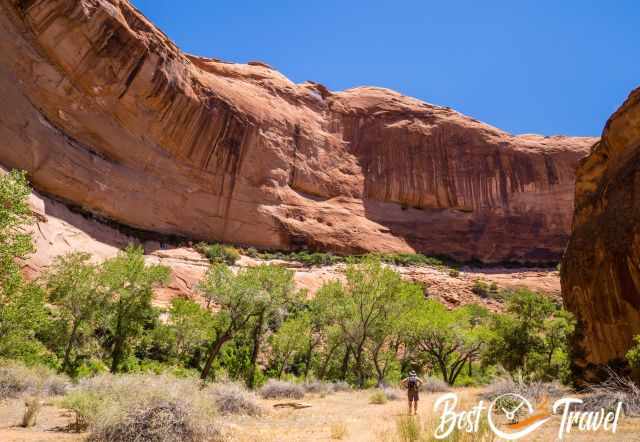 This is the shortest route to Jacob Hamblin Arch, but a rope is essential. I recommend this trail in summer because of the heat, but only if you have climbing skills and a rope! We spent the night before along the Hole in the Rock Road and arrived before 9 am at the trailhead.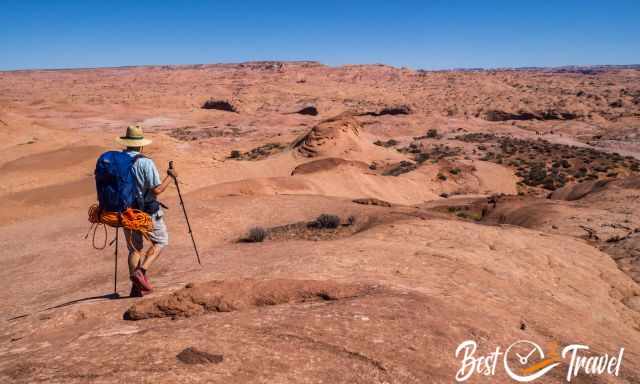 Luckily a group of hikers from Salt Lake City planned to hike to Jacob Hamblin Arch on the Sneaker route, carrying a 60 meters rope.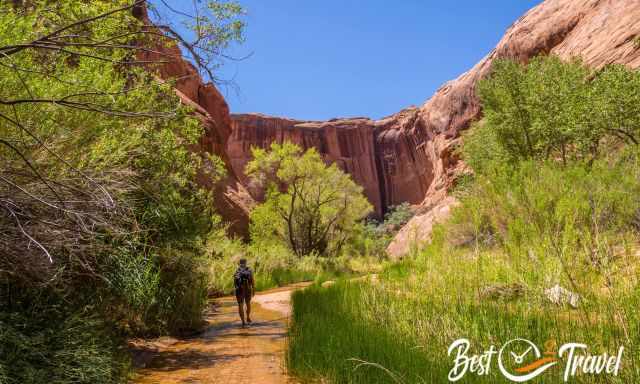 Mid-June is already hot, and we were glad to join them instead of the longer trail through the cracks. It took us just 50 minutes to the cliffs from where you are able to see Jacob Hamblin Arch from above and where the path leads down on a steep climbing route.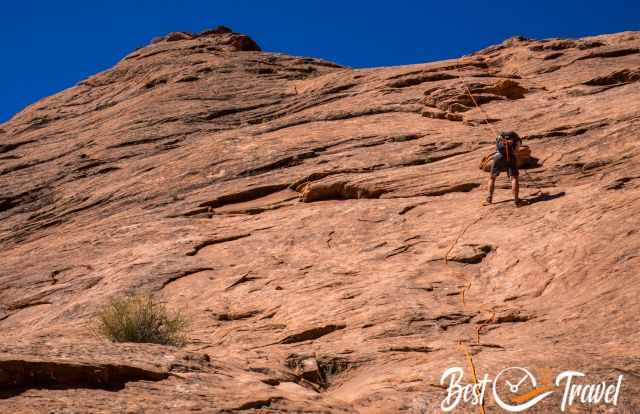 I can't say if there is always a rope hanging, but there was this year and last year as well. However, it does not reach all the way down. Roughly 33 ft/ 10 m are missing, and it is already quite a climb down and later up again on this rope-free section.
The climb is steep and leads over slick rock; hands are needed if there isn't a rope. But I wouldn't go down nor up without a rope. Look at our video to understand the conditions. YouTube Video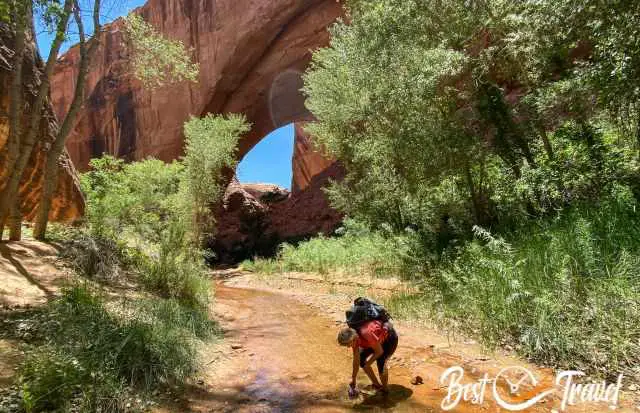 When we reached Coyote Gulch, we first changed our shoes and walked in Teva through the refreshing creek to the left. The arch and the light here reflect a breathtaking orange shimmering canyon wall.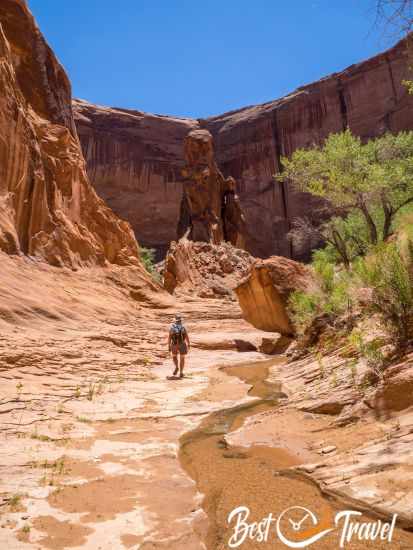 Afterwards, we went back in amazement about the beauty of this place and how tiny we were. We continued in the other direction through the canyon and creek to the Swiss Cheese Falls and Coyote Natural Bridge. This magnificent piece of nature is still secret and excellent for an overnight stay. 
Escalante - Research and Study Area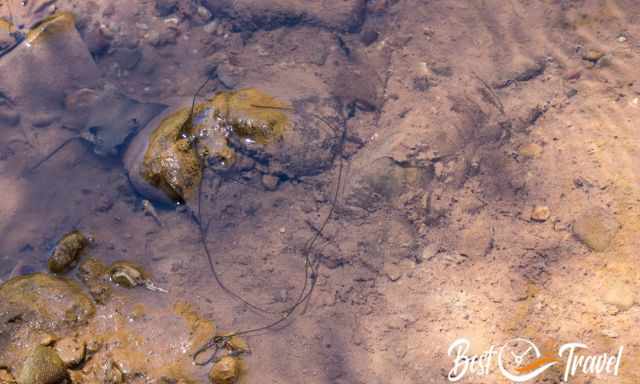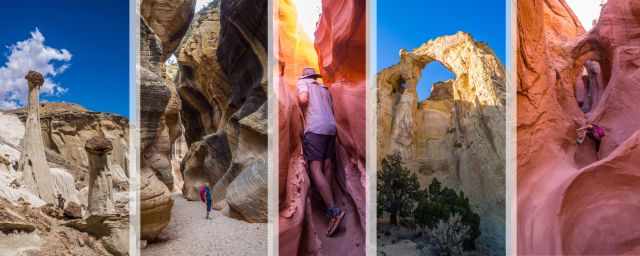 Do you wish to know more about the Grand Staircase Escalante National Monument? Check out my new guide and the 18 Must-Visit Places and where they are located. Not all are difficult to get to, some are even family and dog friendly.
Who We Are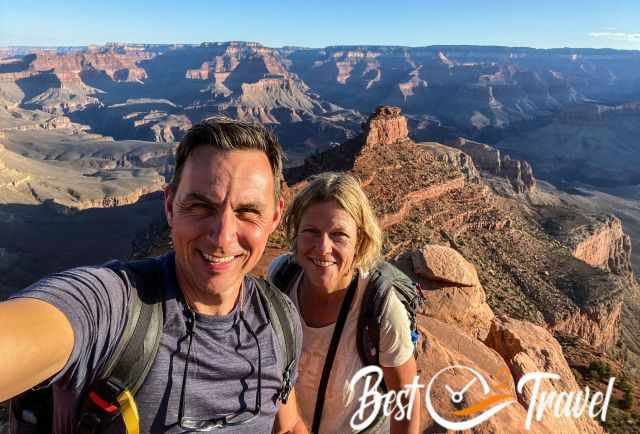 We are passionate travellers, married for almost 25 years, and we love discovering hidden gems around the globe. I am passionate about sharing some of the most beautiful places in the world with you, but I still can't live from my work, and we have regular jobs, too.
It is a tough business nowadays because fake travel websites rewrite content without effort and expense. Do you like to know more about fake travel websites, picture theft, and how to unmask them? Check out "The Truth About Fake Travel Websites"
Do you like my Jacob Hamblin Guide? Please share it with your friends and on social media, subscribe to our  YouTube Channel.
Do You Like to Support Me - It's easy; use the Paypal Button below 😍
Do you want to obtain the usage right for my images? Contact me, but we will take action against picture theft.