When Is the Best Time
When we stood in front of the Grand Canyon, we knew we had to get down to the Colorado River. We trained hard for several months, and we had already hiked the South Kaibab Trail three times; the last hike was on June 26, 2022.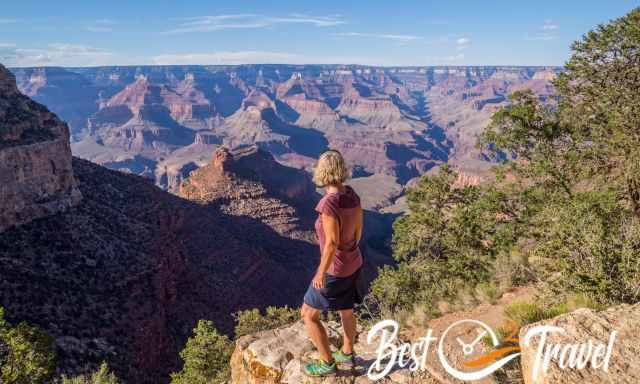 Below is a detailed description of the entire day hike with tons of pictures about the viewpoints, all trail stages, where you get shelter, water, great breaks, and essential gear. The entire distance from South Kaibab Trailhead to Phantom Ranch and back to Bright Angel Trailhead is 17.2 mi/ 27.8 km - This was our personal limit.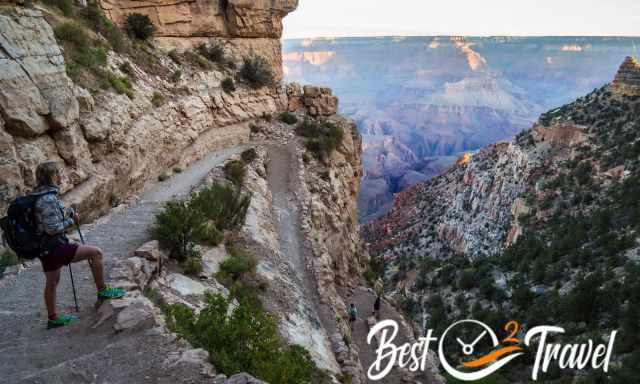 If you hike into the canyon, you get out of it addicted. This I can promise. The South Kaibab Trail changed our life. Despite the summer heat, we were capable of doing it again. How? Continue reading to get all insights on how to master this world-class trail.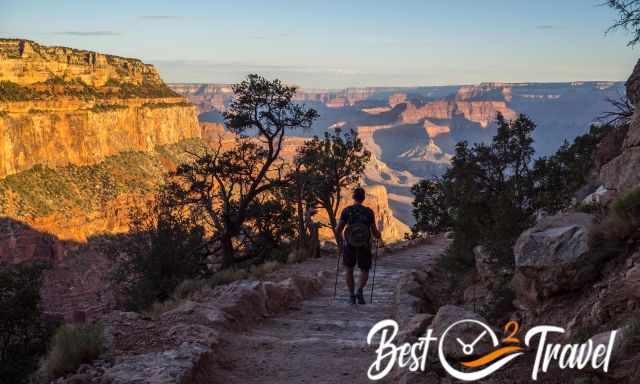 After this unique hike in 2004, we were hooked on hiking the great outdoors and became mountain climbers. This was a key experience in our life; you can make almost everything if you really want. It is such a rewarding trail, and every mile you walk is unforgettable. Even the next morning, you are still excited that you conquered this challenging trail.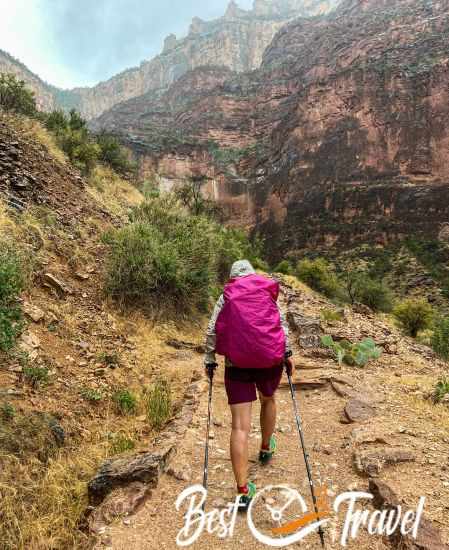 I found it difficult to get all the needed information the reason I wrote this hiking guide for the best time and the best experience in your life. Currently, I live close to the Alps, which is why I learnt more about proper preparation and what is essential to carry in the backpack.
| | |
| --- | --- |
| | Whether you want to hike the Grand Canyon as I did or take a road trip on Route 66, this travel guide is a great help! Fodor's Arizona and the Grand Canyon guidebook is packed with maps, carefully curated recommendations and everything else you need to simplify your trip-planning process and make the most of your time. The honest recommendations from locals on the best sights, restaurants, hotels, nightlife, shopping, activities, and more make this guide outstanding. |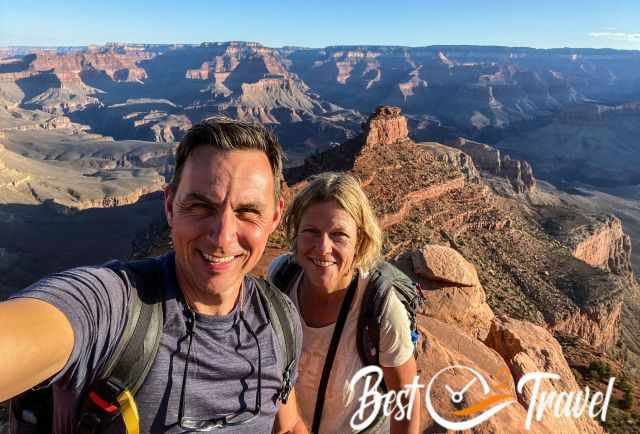 We planned to do this hike again this June 2022 - and we did. Thanks to a great ranger in the Information Centre. Her information was decisive in mastering the trail and knowing the timing and risks. Can you imagine roughly 100.000 people hike on the Bright Angel Trail to Havasupai Gardens (former Indian Garden) annually? Our next goal for next year; Rim2Rim 😄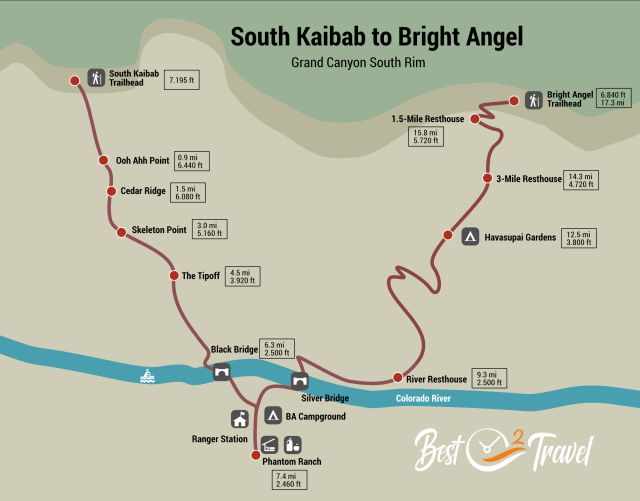 South Rim and Information Centre Opening Hours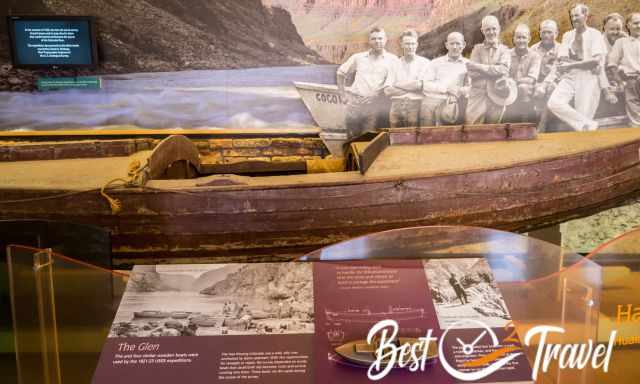 The South Rim is open year-round, except for road closures during extreme winter, which is rare. 
Infomation Centre: 8 am - 4 pm
The first thing we did after our arrival was to check out the information centre and ask a ranger about the conditions at Phantom Ranch the next day. I recommend checking out the Information Centre before any activity. If you arrive after hours, outside is a board with the most important weather details for the next day.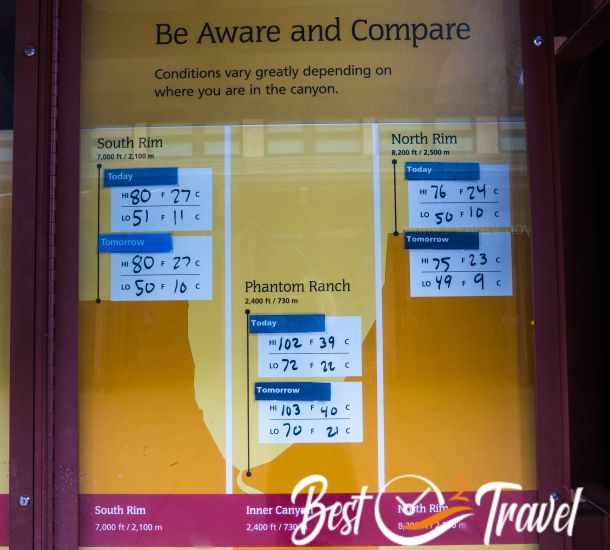 Weather Grand Canyon South Rim – South Kaibab and Bright Angel Trail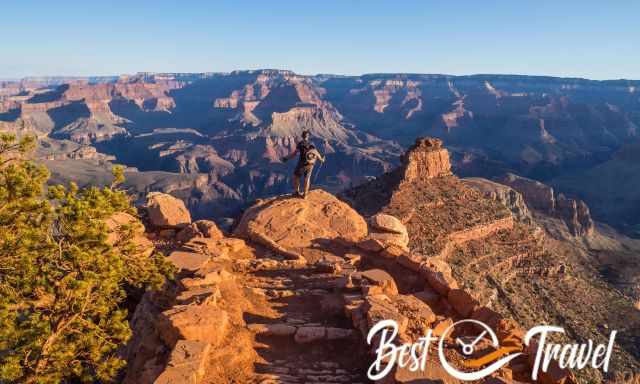 Usually, I prefer sunny days, but not for this track. An overcast sky is excellent for hiking. There can be snow at the south rim already mid-October, and it is still scorching at the bottom of the canyon. Because of the high elevation loss, this hike is totally different. The rims are alpine terrain, the river like the desert. The South Rim is located 7000 feet/ 2.100 m above sea level. Therefore the Grand Canyon experiences this extreme climate and temperature differences at the rim and bottom.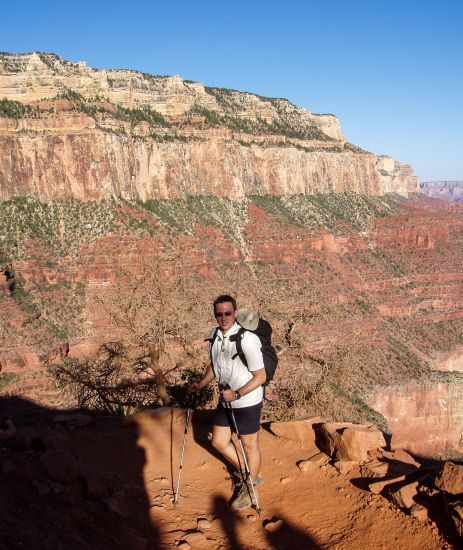 The best time to hike down into the Grand Canyon regarding weather and temps at the rim and inner canyon is April, May and September, and October, therefore busier. Nevertheless, the deeper you get into the canyon, the quieter it gets.
Spring (March-May)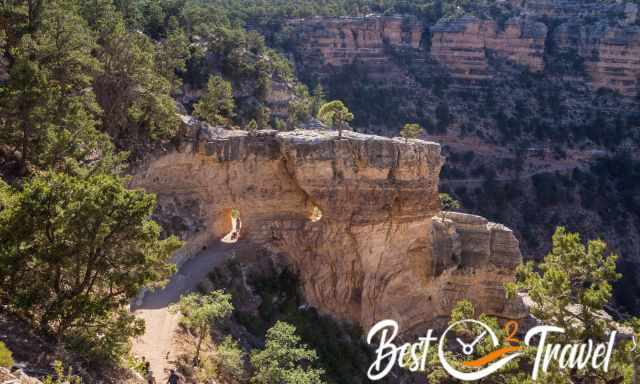 Spring weather can be unpredictable, but temperatures are usually mild without rain. However, March is prone to late-season snowstorms and snow and ice for the first two miles. Spring is great if you want to avoid the hot and unpleasant summer heat, and it's also not heavily crowded at the south rim. Wildflowers bloom during this season, and in some years, it can be gorgeous with lots of blooms. April and May can be everything from blizzards to pleasant temperatures and summer heat inside the canyon. 
Summer (June-mid-September)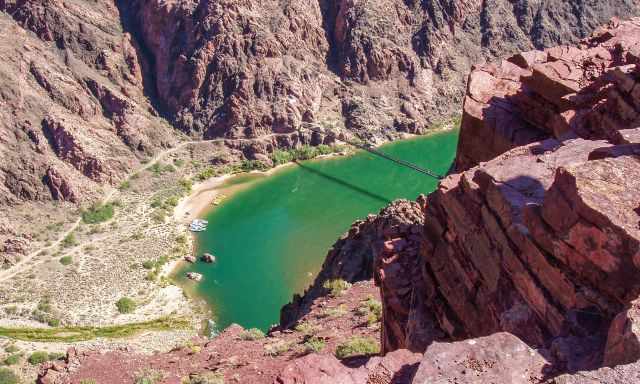 I can't recommend summer as an ideal visiting time: These are the most popular months with heavy crowds along the rim. Although the temperatures are more pleasant at the rim than the extreme inner Canyon heat, it's scorching, and midday temperatures topping 100°F in the shade easily make hiking unbearable. Afternoon rain showers or thunderstorms are common in the summer, especially from July through mid-September. Always bring a rain jacket. We experienced in late June a blue sky, a thunderstorm at the rim, and heavy rainfall on the BA Trail. Pack light, but bring a rain jacket!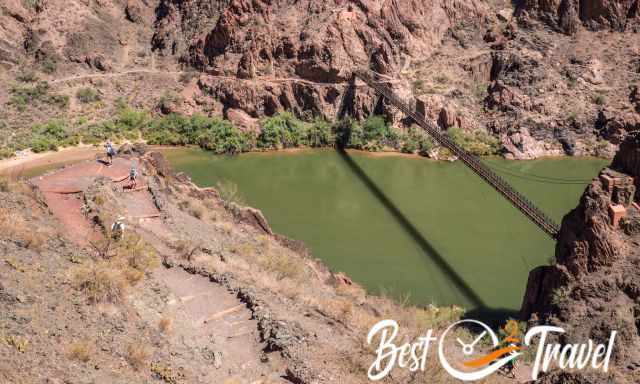 It is recommended don't hike between 10 am-4 pm at the bottom of the Grand Canyon, but I would even suggest 5 pm; it's hot as hell in summer already in June! It sounds crazy and strange, but most people hike at night. The shuttle departs already at 4 am. Take the first shuttle and try to be at Indian Garden renamed to Havasupai Gardens, latest at 11 am. The alternative reach Phantom Ranch around 10 am. Enjoy the cool creek, take a long rest, and leave Phantom Ranch around 4.30 pm. A headlamp will be essential for the last miles on the Bright Angel Trail.
Fall (mid-September-November)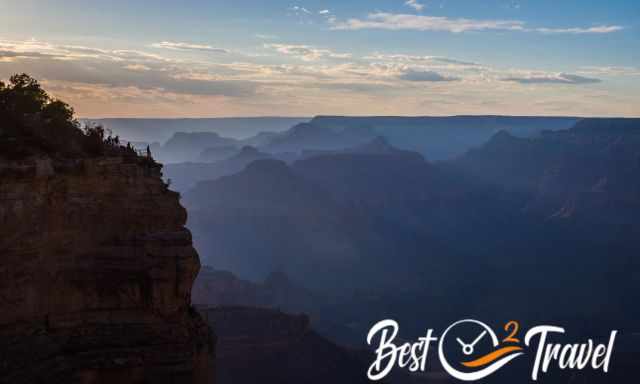 September after Labor Day is the perfect month for hiking the trail: Fewer crowds and enjoyable temperatures. However, keep in mind that those summer thunderstorms can still occur in September. Fall weather is also the most unpredictable: Bring rain gear, but don't let the weather spoil the experience.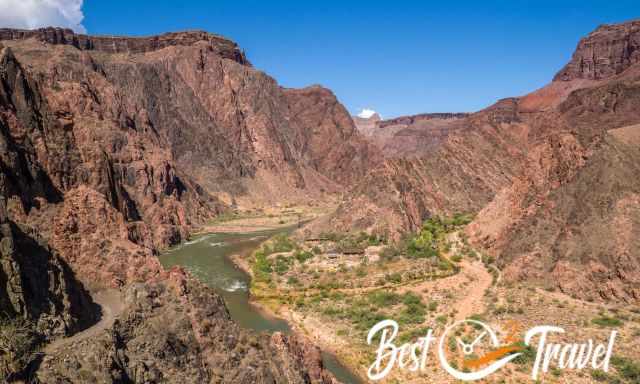 October and November are still awesome, although temperatures drop in November: 52-27°F (11 to -3° C). The Colorado River level is much higher after rainfall and flash flooding events occur, and the colour of the river changes to muddy brown. If it is 30°F at the rim, you still can expect the high 70s at the bottom. More clothes are needed to peel off.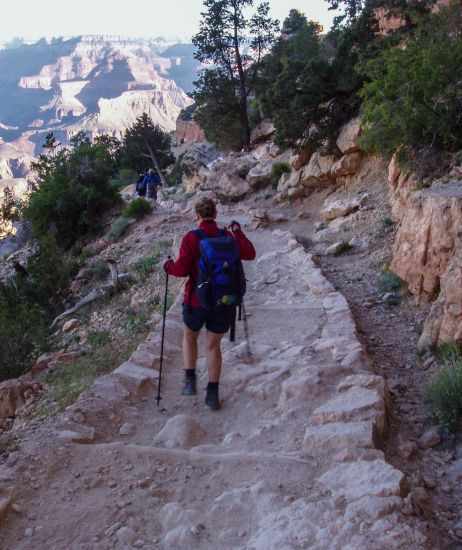 Some people say November is the best month. The weather is very changeable, which means something between flip flops and spikes, just a t-shirt or softshell jacket. November definitely means carrying crampons in your backpack, which is the safest way to hike during snow and ice. I saw many rescues in the Alps just because people did not carry spikes. The first one or two miles will be covered in snow but will disappear soon. Melting water and puddles 8-12 inches big can be an issue on the trail.
Winter (December-February)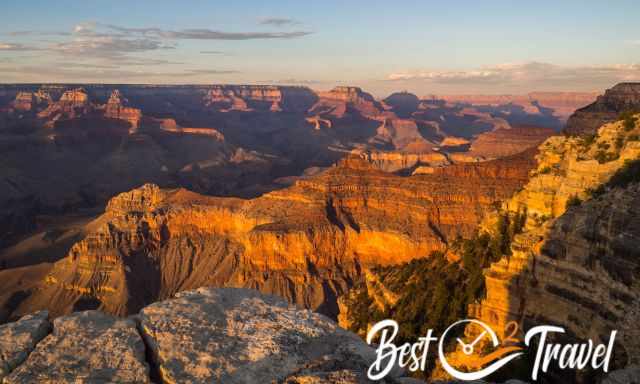 How about hiking in the winter? More gear is needed, especially crampons are a MUST, but you get a much better experience of the beauty of the Grand Canyon. Weather will vary at that time of the year. Expect anything; cold at the top and delightful the lower you get. It's colder, with daily highs ranging from 55-40°F and nights in the low 30s. Extreme weather with snowstorms and icy trails is possible. However, you'll almost find solitude in the winter with minimal crowds and reduced rates. It's a great time if you don't mind the cooler climate.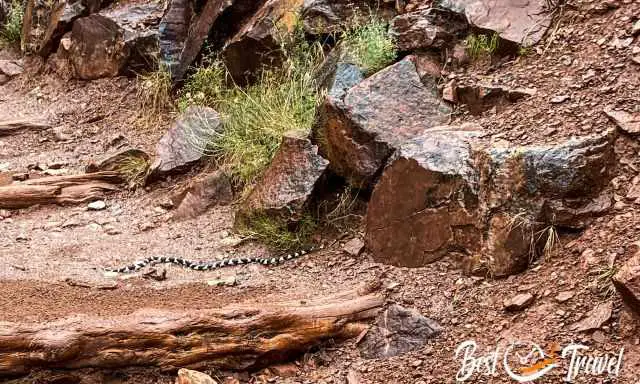 Some people even say this is the best time to hike the loop trail. Water can cross the BA trail in winter. There is no sun on Bright Angel in winter, which causes much snow also in lower elevations. Winter means gear up and layers up; be prepared for any type of weather. Essential are crampons to hike at the rim in snow and ice. You just have more weight to carry. However, keep an eye on the weather forecast; a snowstorm can disrupt your plans. 
Weather Tip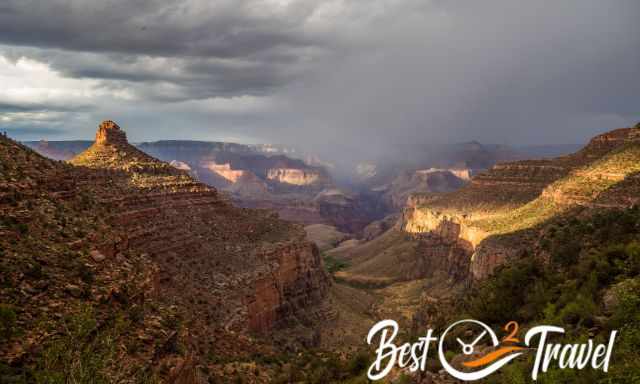 To get an idea of the temps you may experience, the rim is like Flagstaff, and the Grand Canyon bottom is like Phoenix. A good rule of thumb, it is at least 20 degrees warmer at the canyon bottom. Phantom Ranch weather forecast link
Avoiding Crowds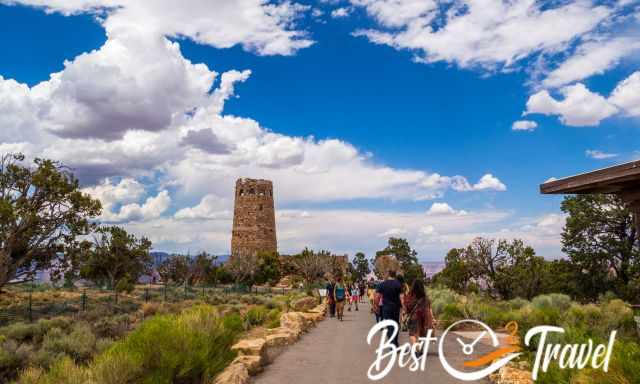 With more than 5 million visitors annually, it can be crazy along the South Rim. Summer months bring the most crowds on the roads and viewpoints into the canyon. If you visit in the summer, start your hike already at night because of the crowds and heat. Come during summer early morning or postpone your visit. Summer is crazy; it takes hours to get to the South Rim. It can also get crowded in spring and fall during holidays and weekends. May and September are the most popular months for hiking. Try to avoid weekends in general. However, if you get deeper into the canyon, it improves a lot. Campgrounds are fully booked up to three months in advance, from June to September.
13 Tips and Packing List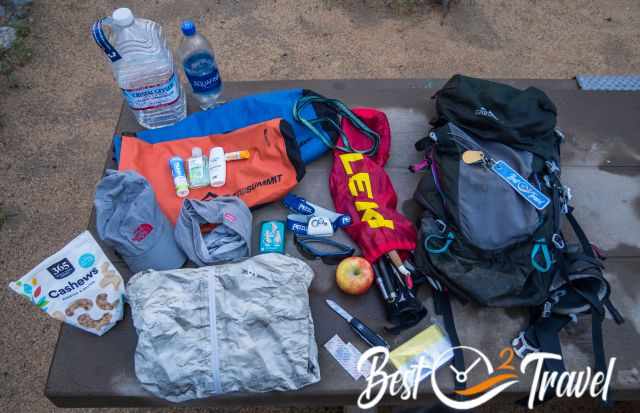 1 Pack Light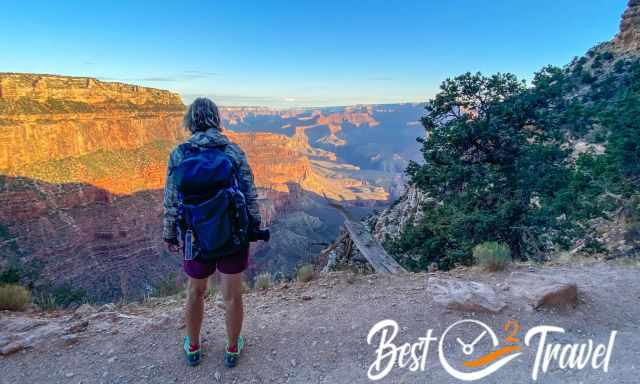 Most importantly, pack light regarding clothes – every lb on your back is an effort.
2 Treat Water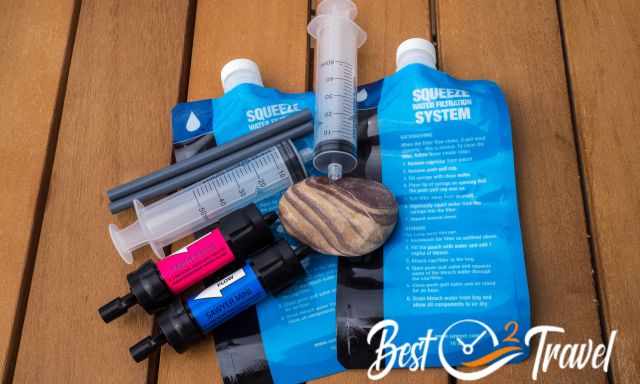 Plenty of water and in case a filter or tablets. Filter any water which is not coming out of the pipeline. You can't carry the needed amount of water. I recommend one litre of water per hour means one gallon every 3-4 hours. Make frequent water and snack breaks, especially in the hotter season.
3 Electrolytes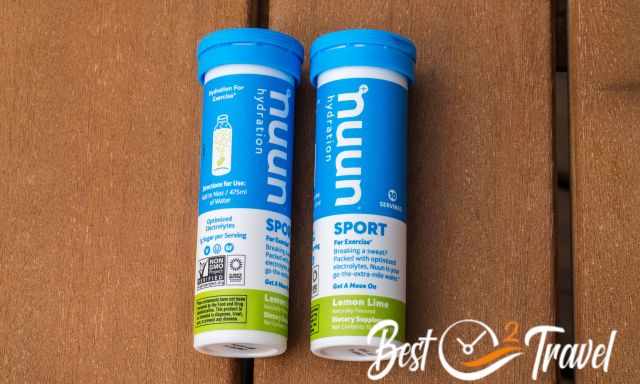 For such strenuous hikes where sweating is part, I always put electrolytes into my water bottle for new energy throughout the hike. Each of us drank water with electrolytes the entire hike; 9 litres/ 2.4 gallons
4 Salt-Rich Snacks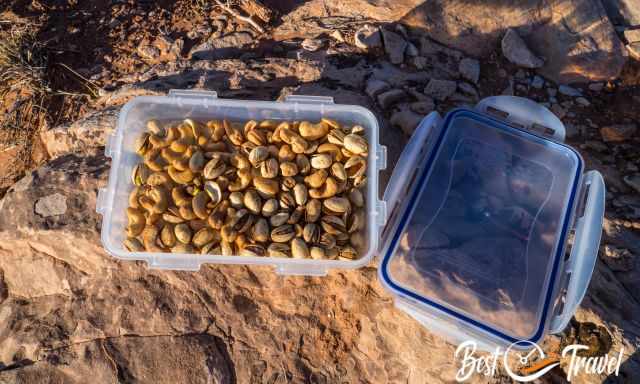 Balancing hydration with salt-rich snacks, protein, and trail mix protein bars is crucial. Eat even if you are not hungry. We only ate our meal during two breaks but lots of salted cashews and two apples. We took a break at Phantom Ranch and the second at Havasupai Gardens.
5 Layer Up
Wear several layers; we started witat°F/ 2°C at 5 am in May and 50°F/ 10°C in late June and ended up at 103°F/ 40°C at the bottom of the Grand Canyon. Rest when you find shade.
6 Hiking Poles and Crampons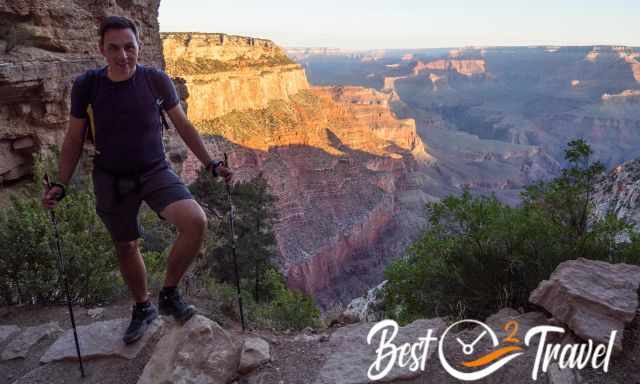 Honestly, I don't like hiking poles, but here they are essential for the steep descent at SK because of the pressure on your knees. The climb up on Bright Angel works much better when your arms support your legs with the poles.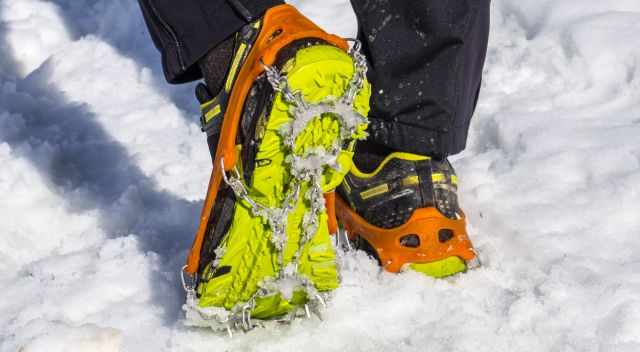 A must for winter are crampons; the upper part and rim are icy. These spikes are a lifesaver otherwise, you easily slip and fall.
7 Additional Merino Socks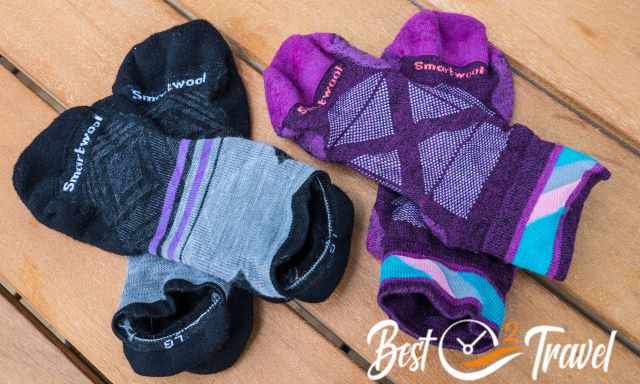 An additional pair of socks you may like to replace the wet ones. We only hike in Merino socks because even if they are wet still comfy, they don't smell 😂.
8 Sun Protection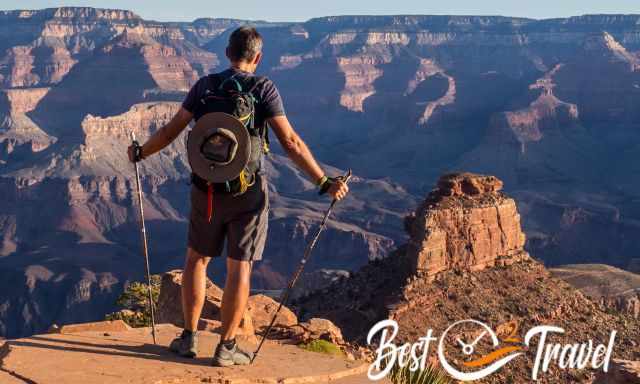 Sunscreen and a cotton wide-brimmed hat  – the sun is relentless. It sounds strange, but a long-sleeved shirt protects your arms from getting sunburnt and also to be able to soak in the creek and retain that awesome cool water on you as long as possible. 
9 Cooling Head and Neck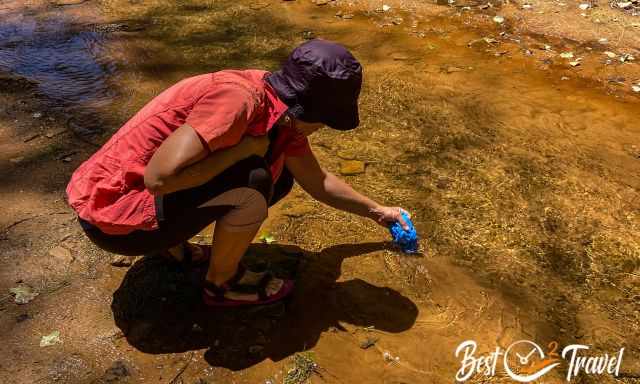 My most important life-saver is a cotton or merino wool buff soaked with water as often as possible. Markus used a lightweight towel which lasted longer than my scarf. We also put our hats into the creek. 
10 Headlamp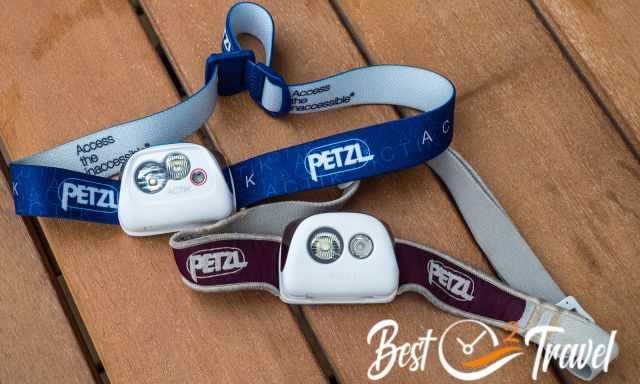 Always carry a headlamp and additional batteries if the ascent takes longer than expected and from late autumn to early spring when there is less daylight.
11 No Alcohol
Are you one of the few lucky ones with a Phantom Ranch or Bright Angel Campsite permit? Don't drink alcohol! After a dehydrating day of hiking, it will support insomnia and dehydration. The same for those who hiked the entire track in one day. If you wish to drink a beer afterwards, also drink water. Honestly, we rewarded ourselves with a cider and, in addition, water.
12 Information Centre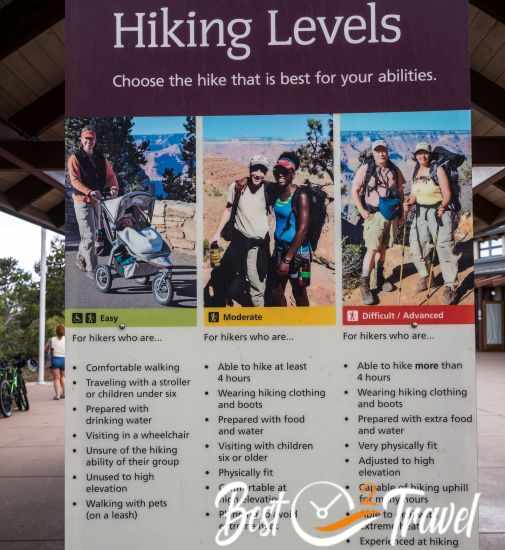 Check out the information centre or backcountry office the day before to figure out any issues for additional info along the trail and the weather forecast. Our biggest concern was the forecasted thunderstorm. We didn't know that thunderstorms occur at the rim and the canyon only gets overcast. There may be rain but no lightning deep in the canyon. This was the game-changer and why we could master this track, especially Devil's Corkscrew, in late June.
13 Know Your Limits and Risks
If you do not feel well any longer, hear to your body,  sorry but please, turn around. We turned around on a winter snow tour shortly before reaching the summit. I no longer felt comfortable because of the deep snow and the risk of an avalanche. Never risk your life! The Grand Canyon has the highest number of Searches and Rescues of all National Parks annually; on average, one hiker per day, and yes, fatalities occur, especially in the summer. 
Nevertheless, go for it! It is better to have tried and not completed it than never to have tried and regretted it.
Accommodation and Hiking Tip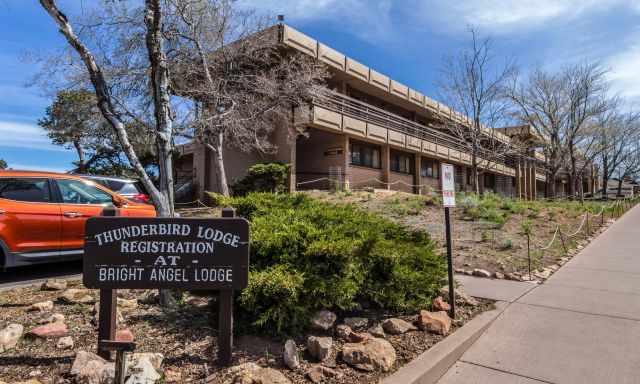 Stay for two or three nights in the Bright Angel Lodge or one of the other hotels nearby. Take a taxi to the SK trailhead for roughly $20 the following early morning. This is the most convenient way to come up from the Bright Angel Trail and just go to your room after this once-in-a-lifetime hike. Book your room in the Bright Angel Lodge far in advance. If you wish to have dinner at Fred Harvey Tavern, book your table in advance because of limited space.
Budget Camping Tip Grand Canyon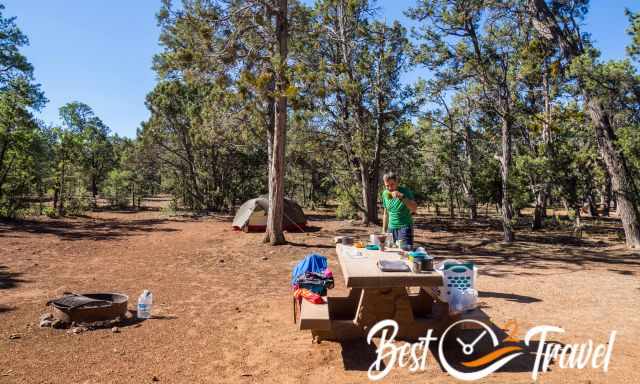 An affordable alternative is Mather Campground in the Grand Canyon, with more than 300 sites. Book your site from spring to fall at least three months in advance, and you may get a site for the wished dates. However, from our recent experience, the showers urgently need an upgrade. There is just one complex with a couple of showers which closes for cleaning at 9 pm. Another point is that you need $ 2.50 in coins for showering for 5 minutes. Nowadays, with water shortage, five minutes isn't adequate any longer. Men and females are separated, so sharing was not an option for us. Nevertheless, the location is great!
Location and Tips
Grand Canyon - South Rim
United States

This is a Hiking Guide for the Grand Canyon to master the South Kaibab (SKT) and Bright Angel (BAT) Loop Trail one of the most popular hiking trails in the Grand Canyon and IMO one of the top ten in the world. Usually, people hike down on the SKT to the Colorado River and up on the less steep BAT. Often rangers recommend not to walk the specific trail instead SKT to Tonto Trail and up on BAT.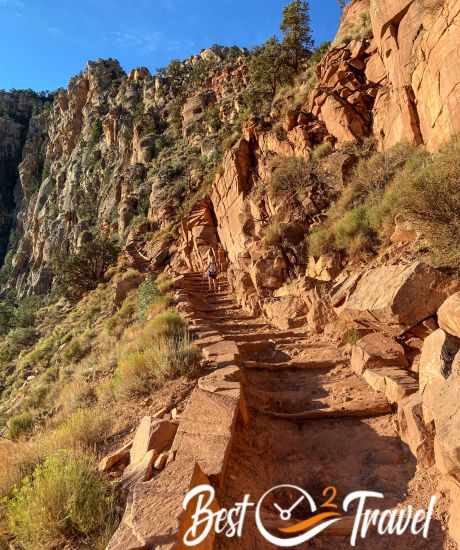 We followed the ranger's suggestion, and our first experience was Tonto in 2003. Finally, in 2004 and again this June 2022, we hiked down to the Colorado River and back to the South Rim in one day. Detailed descriptions for descending South Kaibab, getting to Phantom Ranch, and ascending Bright Angel below.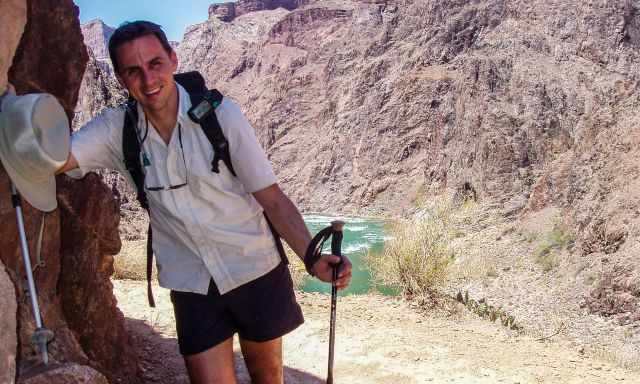 Despite what the rangers recommend, here is my opinion. You can't compare Tonto to the entire BA. Standing at the Colorado River, drinking lemonade at Phantom Ranch, you miss this supporting vibe around you.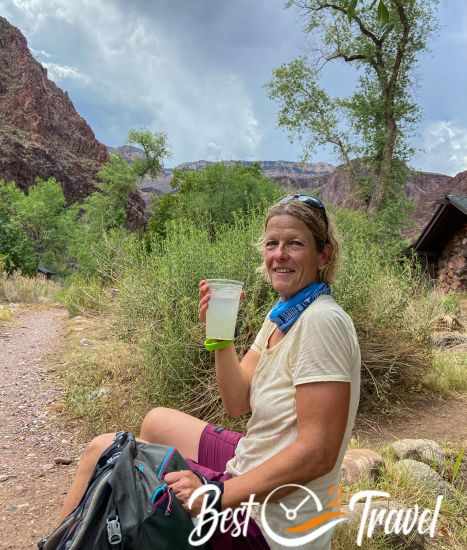 In the end, the shorter trail was more challenging because the group spirit of all other hikers was missing. Strangers join each other and give the needed push words of encouragement. So train hard enough, push yourself, and get to know many like-minded hikers on this unique trail. On the last miles, a R2R hiker joined us. He trained an entire year for his bucket list hike. They started in a group at 5 am at the North Rim but split up.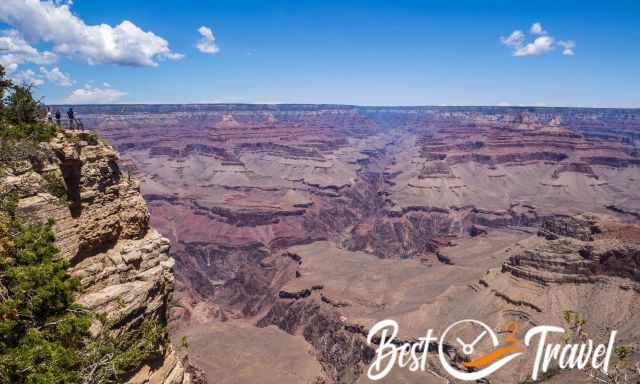 Rim2Rim – is a brutal challenging trail usually done from the North Rim, the North Kaibab Trail (NKT), to the South Rim on the Bright Angel Trail. 
Preparation Before – My Tips for the South Kaibab Trail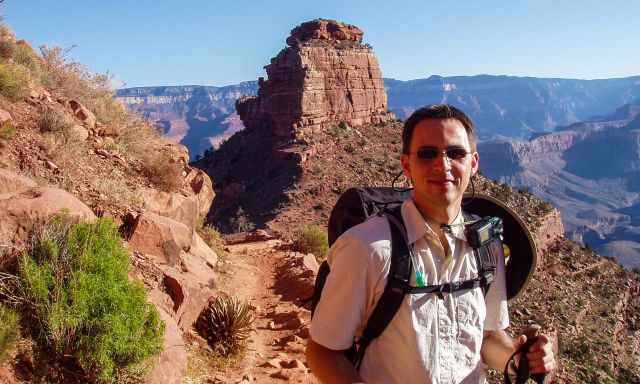 Hiking to the Colorado River and back in one day is not recommended by the National Park. It is an utterly strenuous and demanding hike. Circulatory collapse, sunstroke, dehydration, and more can occur if you are not well prepared. Therefore, please, invest time in a good prep. You can never do too much preparation. Exercise hard for it – make memorable memories – repeat it 😉 as we did 18 years later. Most important, know all risks, and you may make it.
Attention: Don't hike in the "Danger Zone" - during heat warnings from 110°F/ 43°C  and above at the bottom of the canyon. It is unbelievable, but even 120°F/ 49°C occurs in summer.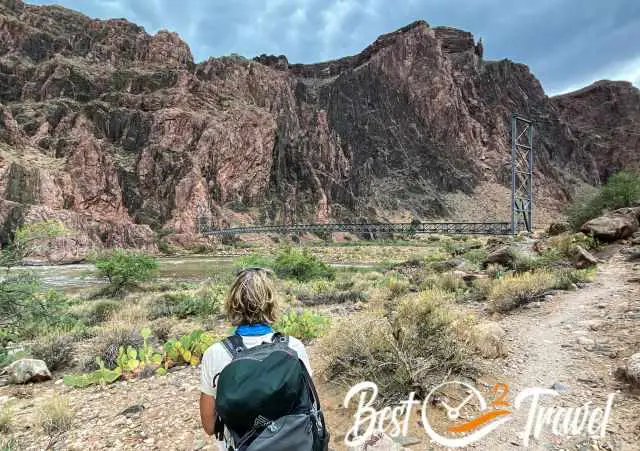 We started to hike each weekend for several months before doing the SKT and BAT. Hike trails on uneven ground and walk staircases up and down with your backpack as often as possible. Even though I climb a mountain each week, I had aching muscles after this day hike. This canyon is a different beast.
This time in 2022, we were much better prepared than in 2004 and made this hike easily. Before the Grand Canyon, we hiked almost 90 miles in one week in the heat of Escalante. We were adjusted to heat around 95°F/ 35°C, and we knew the tricks to cool down.

Wahweap Hoodoos in Escalante

Most importantly, I always start drinking plenty of water daily a week before such challenging hikes and no alcohol. This always works, and I am much fitter than most others afterwards. This time Markus joined me, and he is convinced now. 
It's all about endurance, hydration, electrolyte, and nutrition planning before and during the hike.
Trim your toenails a few days before; otherwise, the steep descent will hurt after a while.
Good food like pasta the day before; carb up. For the hike itself, each of us had a big portion of rice with beef and Parmigiano cheese. That was perfect for getting new energy. 
Consider the high elevation of the South Rim, 7000 feet/ 2.100 m above sea level. The oxygen level is lower when you start the hike and when you get back. There is a reason for two resthouses on the Bright Angel Trail at the last three miles. 
How to Get to the South Kaibab Trailhead?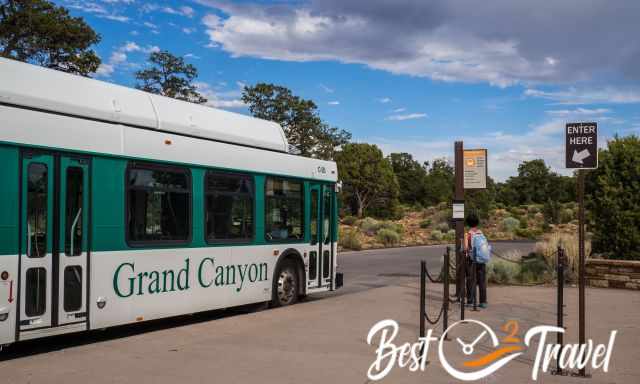 There is plenty of parking around the Visitor Centre. It is not permitted to go with your own car to the South Kaibab trailhead exceptIon; only with a backpacking permit.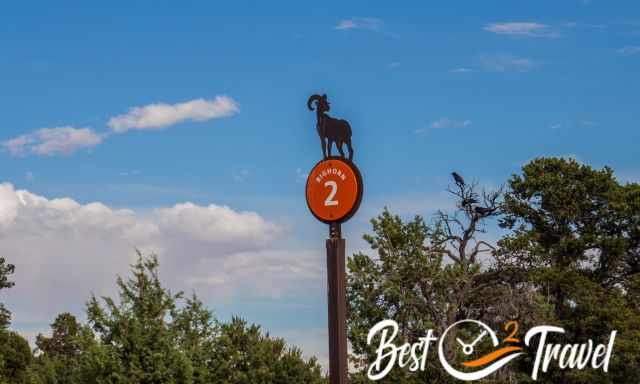 Take the Hikers Express at 6 am - in the summer at 4 am to the SK trailhead. They depart roughly every ten minutes. The second shuttle stop is at the backcountry office, but it can happen that there are already not enough seats available.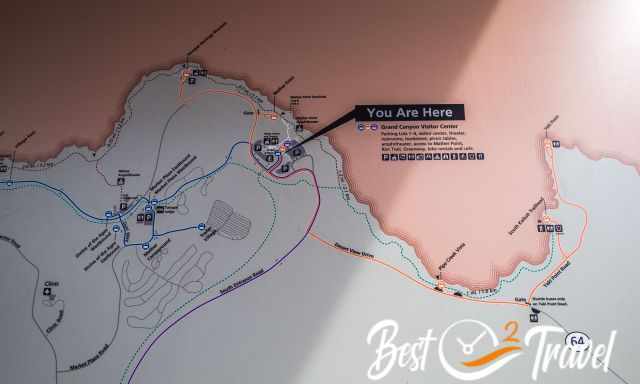 However, we hiked on a busy Sunday, and the bus at 5.15 am was not full in late June. The park wants hikers to leave their car at the visitor centre or backcountry office.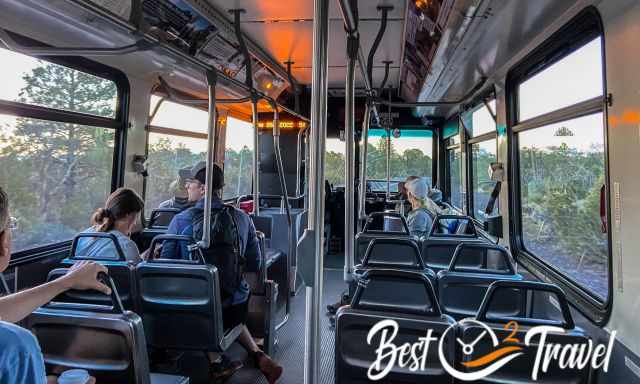 It is just one stop from the Visitor Centre with the express shuttle in the morning. In the evening, the bus stopped everywhere, and it took us 20 minutes to get back to the car.
Piped Water Along the Trail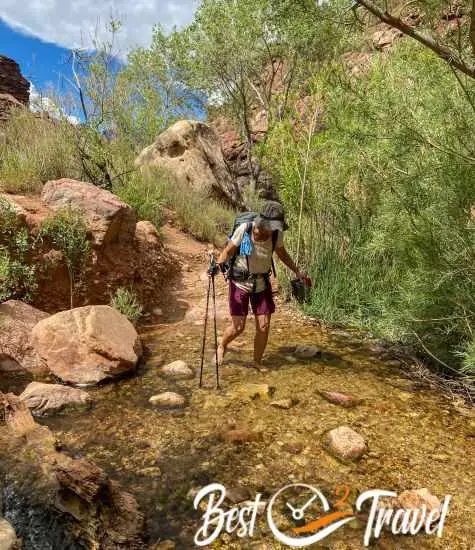 Notice; that water pipes may be shut off if it is freezing.
NO water at South Kaibab
Before Phantom Ranch at the Colorado River (pipe for rafting tours)
Phantom Ranch
Bright Angel Campground
Havasupai Gardens former Indian Garden
1.5-mile and 3-mile Resthouse are seasonal water sources
South Kaibab Trail Map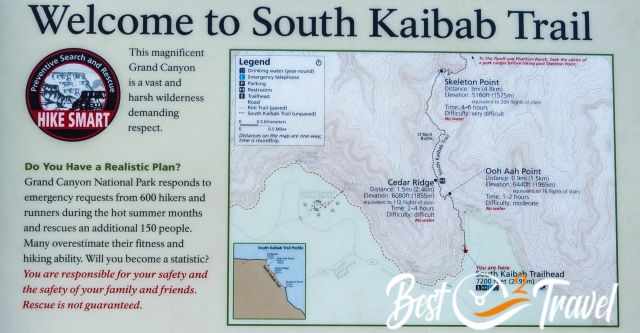 | | |
| --- | --- |
| | Buy the Map Pack and save 15%! Grand Canyon National Park and its neighbouring National Forests and wilderness areas offer a wide range of recreational opportunities, from sightseeing to overnight family camping to rigorous backcountry itineraries and river float trips. The Map Pack includes Grand Canyon, North and South Rims, Grand Canyon East, and Grand Canyon West. |
Trail Stages - Elevation - Trail Details
I will give you a detailed overview of all South Kaibab and Bright Angel trail stages, elevation loss and gain, and the exact distance. For a better idea of what to expect on this bucket list trail, I added lots of pictures.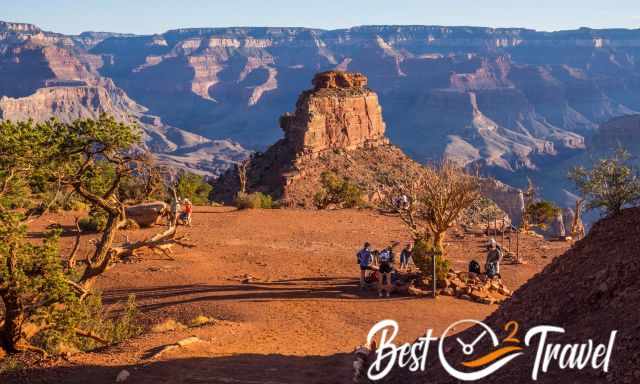 Trail Length including Phantom Ranch: 19.6 mi/ 31.5 km without PA 18.6 mi
If you wish to add Plateau Point from Havasupai Gardens, add 4 miles. (Honestly, too much for us.)
Elevation gain roughly: 5000 feet/ 1.500 m
The loop trail takes 7-14 hours, depending on your fitness level, breaks during the heat, and picture stops.
Because of taking pictures and footage, and a long break due to the heat of 100°F in the afternoon, it took us 14 hours to hike the SK and BA Trail in summer. We took a one-hour break at Phantom Ranch, waiting for an overcast sky and a much longer one at Indian Garden which was renamed in November 2022 in Havasupai Gardens.
South Kaibab Trailhead 7.200 ft/ 2.195 m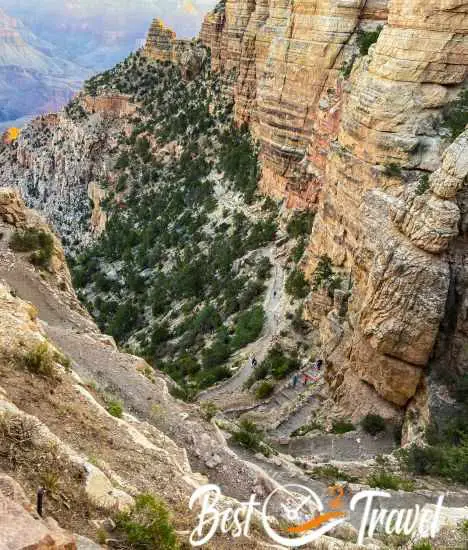 It was 36°F/ 2°C in May and 50°F/ 10°C in June in the morning, but usually, the temperature rises quickly. The South Kaibab Trail offers the most expansive views of all tracks because it leads along a ridge. SK is the most breathtaking part of the entire hike, IMO.
Ooh Aah Point 6.440 ft/1.965 m – distance 0.9 mi/1.4 km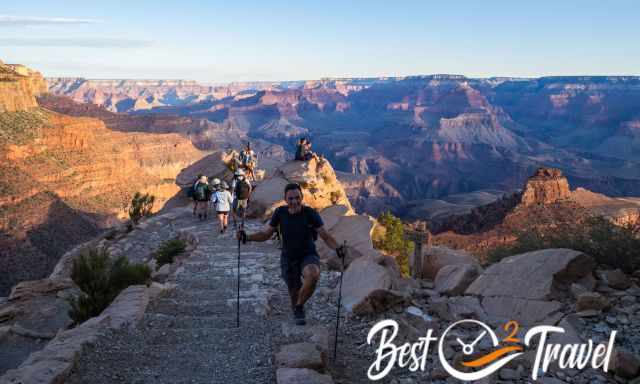 The SKT is two miles shorter and starts at a higher elevation than Bright Angel, therefore a lot steeper descent. Therefore, we were forced to walk slowly, and our knees were thankful at the end of the day.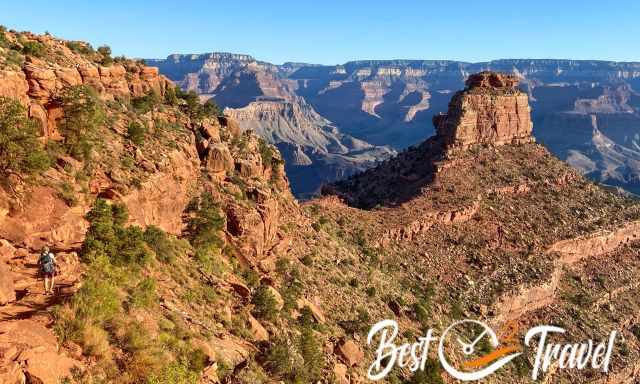 South Kaibab took us again 4.5 hours down; I took lots of pictures and footage. 
Cedar Ridge 6.080 ft/ 1.853 m – distance 1.5 mi/ 2.4 km - Toilet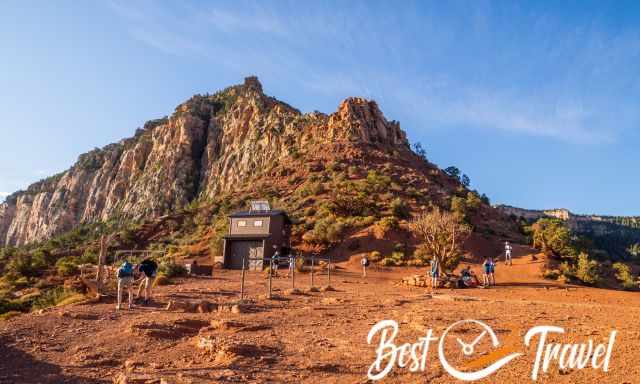 Skeleton Point 5.160 ft/1.573 m – distance 3 mi/ 4.8 km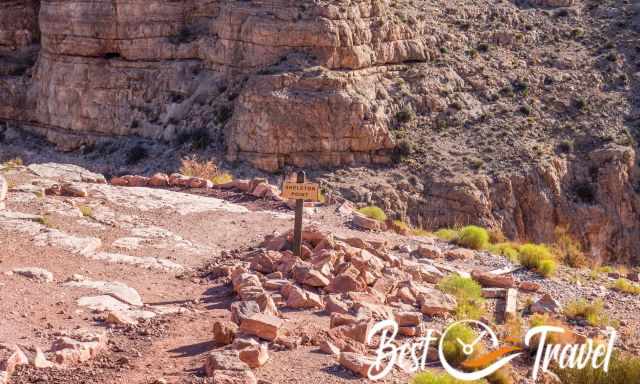 The Tipoff 3.920 ft/1.195 m – distance 4.5 mi/ 7.2 km - Toilet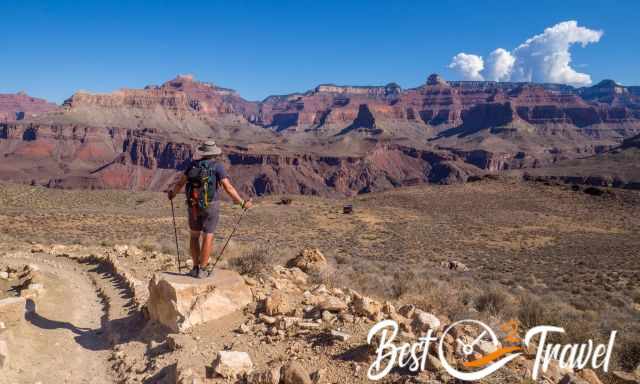 The Tipoff is the last toilet and shelter on the SK Trail. Tonto trail is leading in both directions from here. If you wish to continue from Tonto to BA, you have to turn left.
Black Bridge - Kaibab Suspension Bridge Colorado 2.400 ft/ 732 m - distance 6.3 mi/ 10.1 km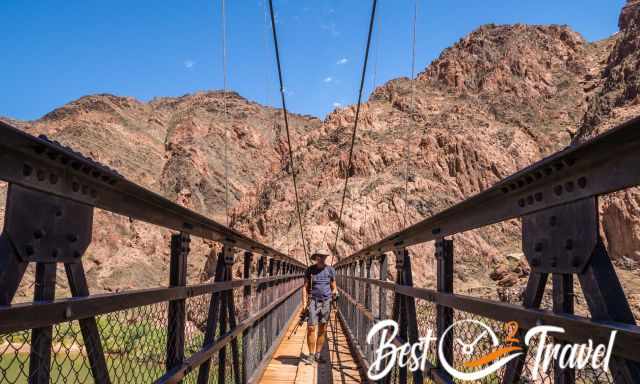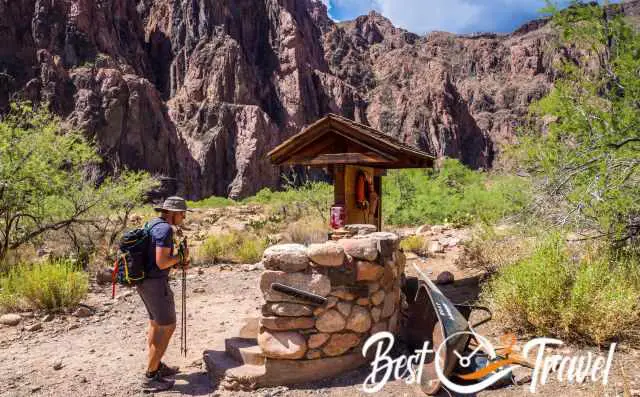 Phantom Ranch from Black Bridge 2.460 ft/ 750 m – distance 7.4 mi/ 12 km – Toilet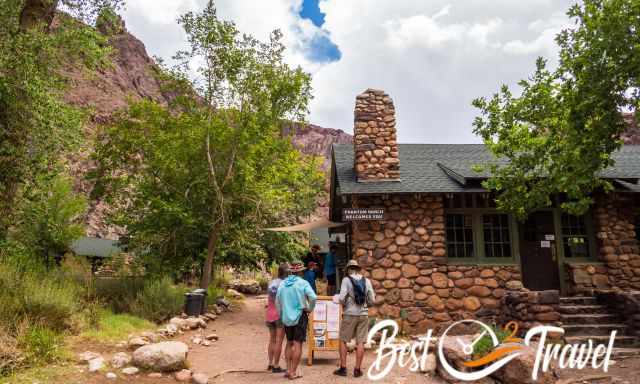 We arrived at PR before midday and had a break to let the midday heat pass, and enjoyed the famous lemonade at Phantom Ranch; one cup $6 - refill $1. We cooled down at Bright Angel Creek. After midday, it was almost 104°F/ 40°C in May and "only" 95°F/35°C in June. Our luck this June 2022, due to a thunderstorm at the South Rim, the canyon was overcast, and we already left Phantom Ranch at 1.15 pm. The monsoon season is dangerous on the one hand but also a great chance to make it down. Depending on the time of year and heat, decide wisely when you start to climb up the BA.
Bright Angel Campground 7.8 mi/ 12.5 km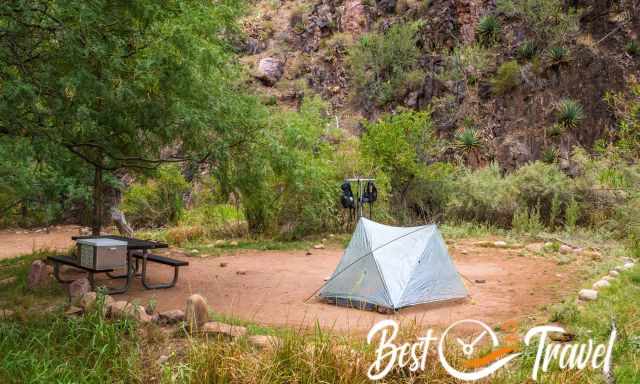 The campground is located at Bright Angel Creek, with shade from the trees. Deers wander around even during the day. The food must be locked in the provided storage box, and backpacks must hang at the provided pole. 
Silver Bridge to River Resthouse 2.500 ft/ 762 m – distance 9.3 mi/ 15 km – Toilet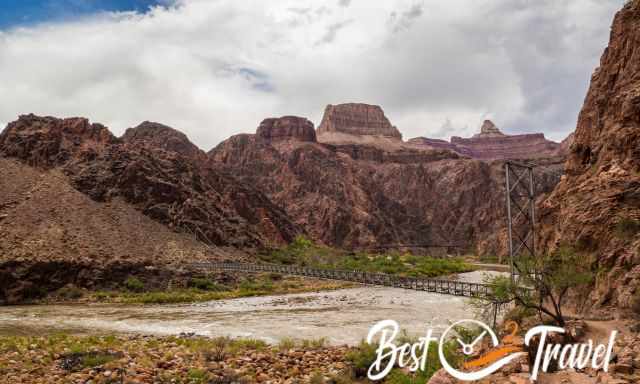 The Box - The Hottest Section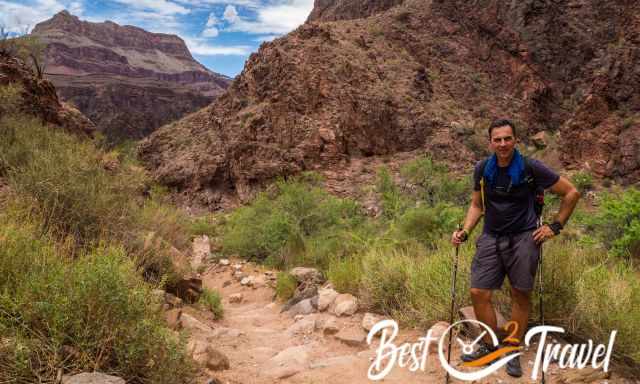 To master this hottest section, dip your shirt and scarf or towel into the cold water.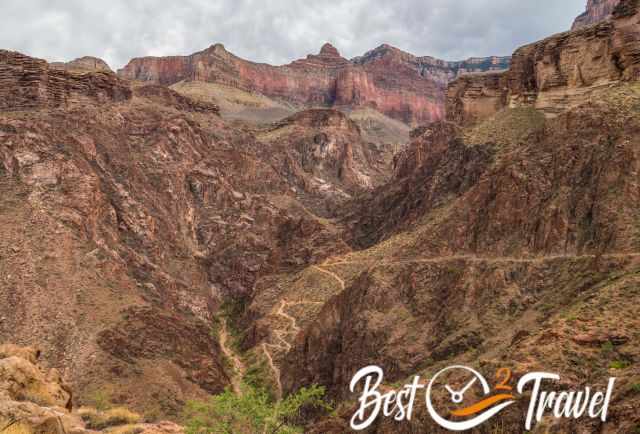 It is often said that hiking the Bright Angel up takes twice the time; no doubt that is true. Hiking Bright Angel up is strenuous, and the length of the trail makes it more challenging.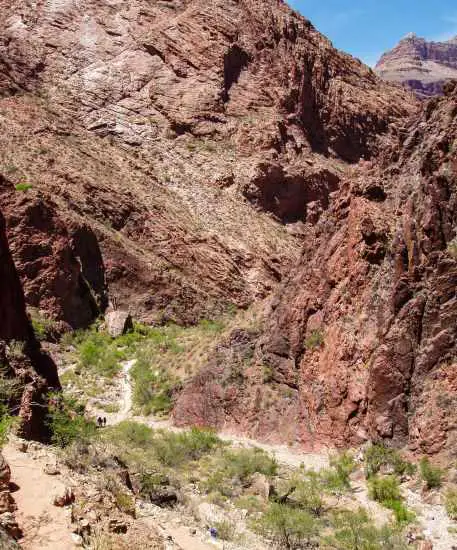 The steep cliffs in the inner canyon are some of the oldest rocks on the continent, 1.8 billion years old when continent plates collided. Several layers formed the impressive canyon. When you reach Havasupai Garden and are still in good condition, make a detour to Plateau Point. It is a fantastic lookout but additional 2 miles one way.
Havasupai Garden 3.800 ft/ 1.158 m – distance 12.5 mi/ 20.1 km – Toilet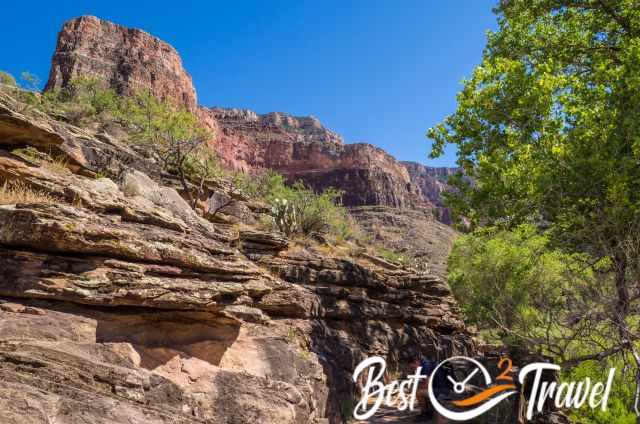 Are you wondering why the name changed from Indian Garden to Havasupai Gardens? The Havasupai people lived here long before the Grand Canyon became a National Park. It is renamed in respect to the Havasupai Tribe.
Thanks to Garden Creek, and the fresh water at Havasupai Gardens, there is lots of shade provided by trees already more than half a mile before Havasupai Gardens Picnic Area.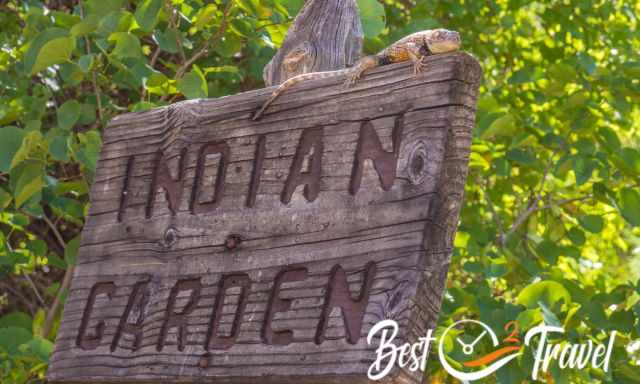 The BA took us 6 hours plus a long break at Havasupai Gardens, the former Indian Garden, because of the heat - 100°F.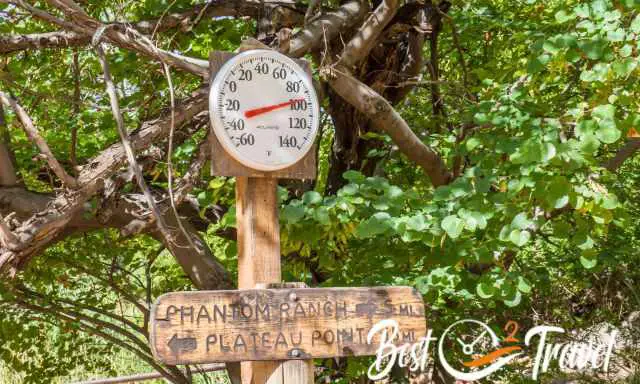 It was scorching when we reached Indian Garden, therefore, we took a two-hour break.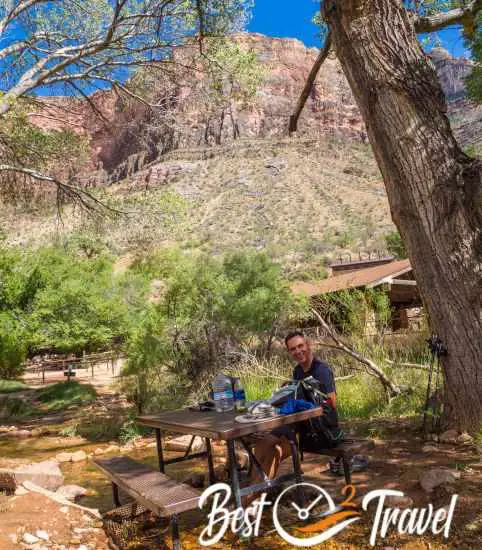 We were not in a rush and enjoyed every minute, every scenery around the next corner; therefore, we spent incredible14 hours on this trail.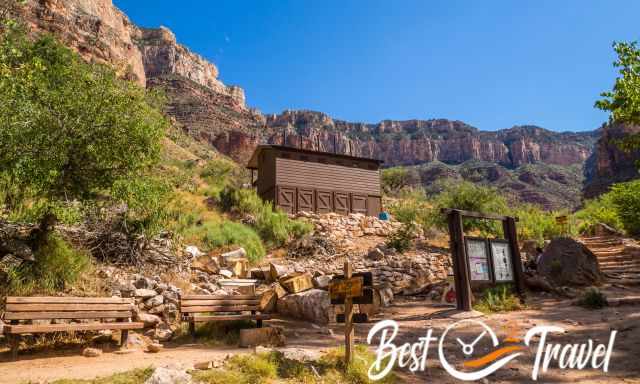 The toilets are for hikers and for the campground, which is located next to the BA path to the right.
3-Mile Resthouse 4.720 ft/ 1.440 m – distance 14.3 mi/ 23 km – Toilet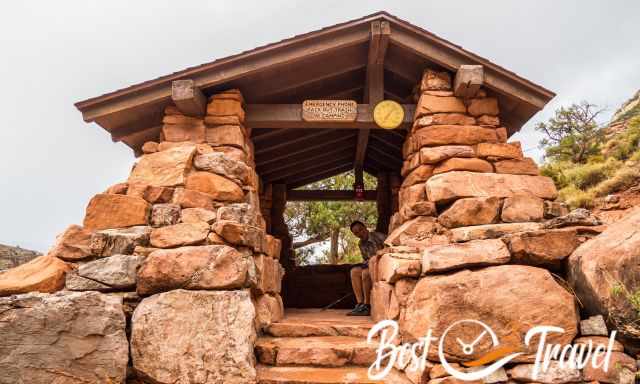 1 ½-mile Resthouse 5.720 ft/ 1.745 m – distance 15.8 mi/ 25.4 km - Toilet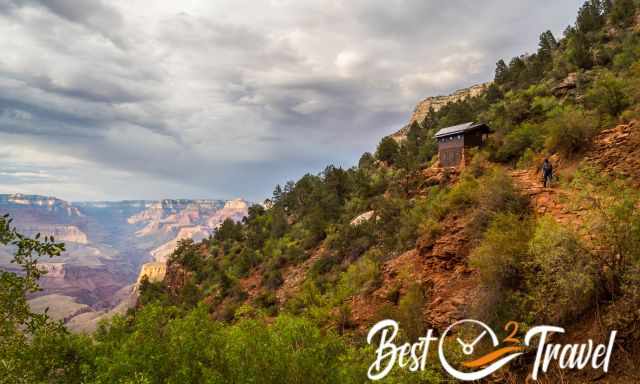 What really makes the difference on this trail is the team spirit. I never experienced it like that anywhere else on a hike. The trail out of the canyon is hard and demanding and the last mile can take two hours in the end. The last 3 to 4 gruelling miles are the worst.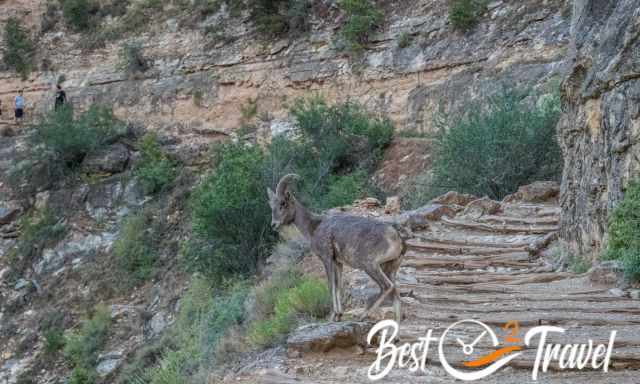 Bright Angel Trailhead 6.840 ft/ 2.085 m – distance total 17.3 mi/ 27.8 km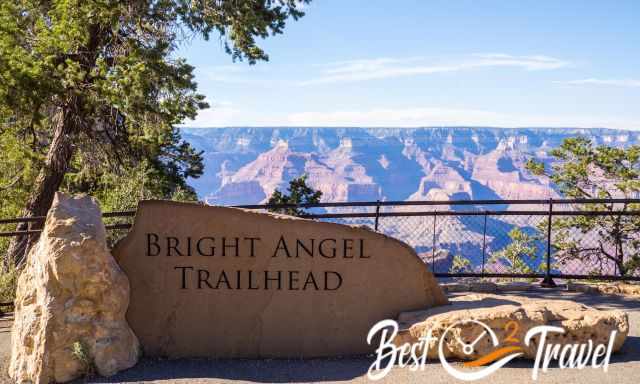 Update: There are plans for major infrastructure modernizations for Phantom Ranch and also for hiker cabins. No permits are available from May 2023 onwards. This may also have an impact on the Bright Angel Trail and closure from time to time. More soon!
Why You Should Not Walk BA Down and SK Up?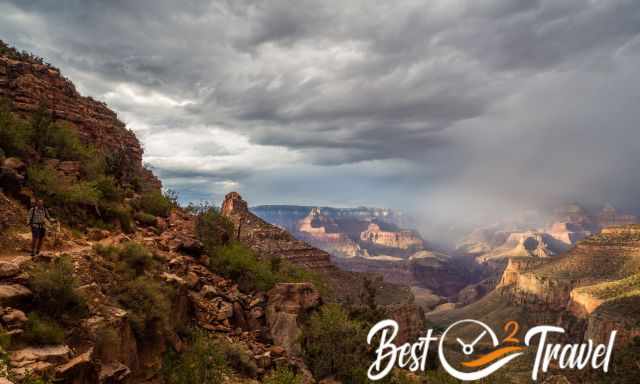 My husband asked this question because South Kaibab is so steep it would be much easier going this trail up. I agree but there are three good reasons why you should do it in this direction.
The view into the canyon from SK, especially at sunrise, is matchless.
The main reason is the water: You can't refill your bottle along SK but several times on BA.
There is no simple way back from SK to the village. Only a few taxis operate at Grand Canyon.
Why Do People This Challenging Hike in One Day?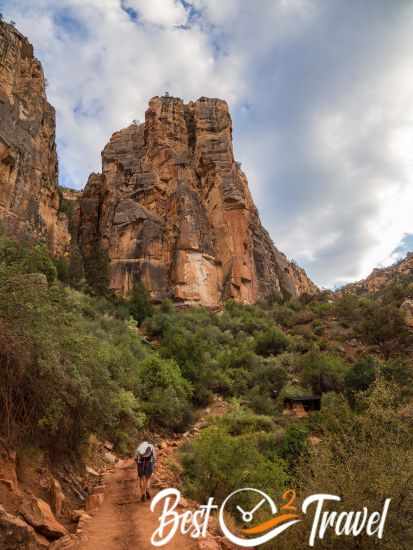 I spoke with many hikers, and there are different reasons for doing it in one day. Some simply want the challenge and this special sense of pleasure afterwards. Some are not real campers or do not like to carry a heavy backpack, but most of them, like us, are forced because of the needed permit for camping or Phantom Ranch.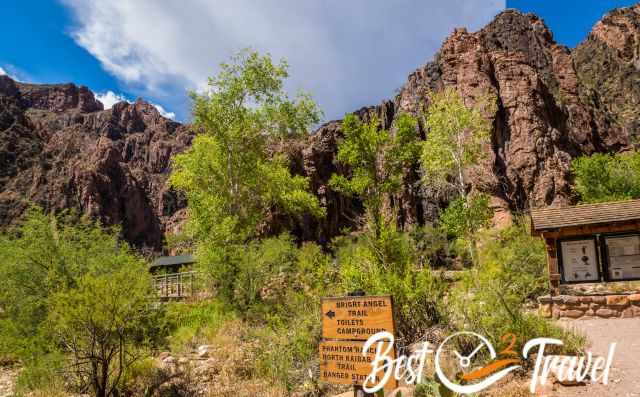 Of course, we also would like to camp or stay a couple of nights at Phantom Ranch, but it is crazy to enter the lottery 15 months prior to the desired stay month for PR. Getting a campsite permit is also a challenging task. It is not possible to request it by Internet, and it has to be done +4 months in advance. The Bright Angel Campground has 32 campsites, so if you do the maths, it sounds like entering The Wave lottery or even worse.
Who Are We?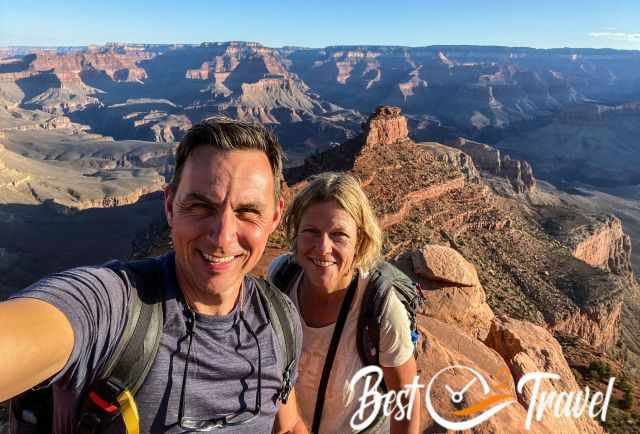 We are passionate travellers, married for almost 25 years, and we love discovering hidden gems around the globe. I am passionate about sharing some of the most beautiful places in the world with you, but I still can't live from my work, and we have regular jobs, too.
It is a tough business nowadays because fake travel websites rewrite content without effort and expense. Do you like to know more about fake travel websites and how to unmask them? Check out "The Truth About Fake Travel Websites"
Do you like my Grand Canyon Hiking Guide? Please share it with your friends and on social media, subscribe to our  YouTube Channel. That would already help a lot!
Do You Like to Support Me - It's easy; use the Paypal Button below 😍
Do you want to obtain the usage right for my images? Contact me, but I will take action against picture theft.