When Is the Best Time
The Toadstool Hoodoos are a magical place for spectacular shots in the early morning, during the golden hour or for stargazing. It's a photographer's dream but still not overrun. However, it has become more popular but not too crowded.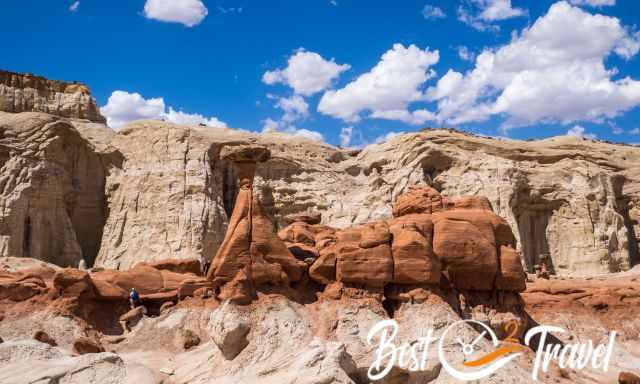 These incredible rock formations are located between Page, Arizona and Kanab, Utah, on HW 89, half an hour drive just 30 miles from Page. Make a stop here on your drive to Zion or Bryce Canyon. 
Weather Page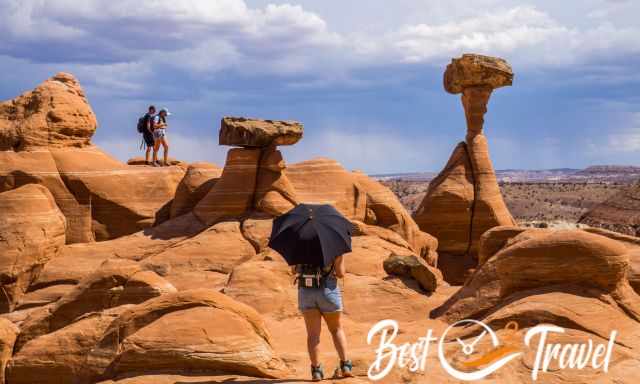 It is a desert climate; therefore, it's dry soil. It can be windy here, and sand gets easily into your eyes. Pleasant to cold temperatures from October to April. Winter daytime temperatures are usually mild, around 50°F/10°C.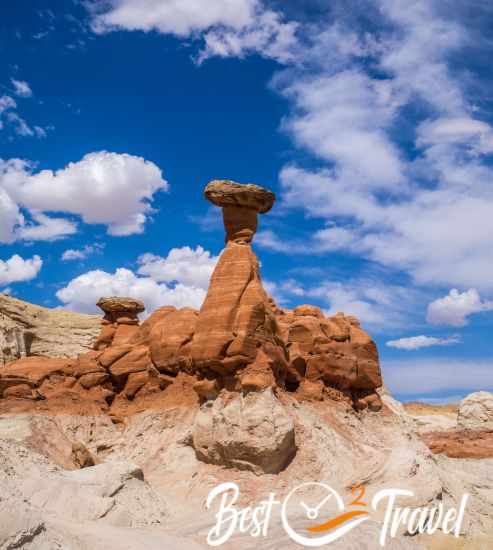 However, snowfall can occur from December to February. Nights occasionally reach freezing, and summer temperatures frequently top 95°F/35°C. The heat is another reason why I recommend an early or late visit during the day in summer. We visited these hoodoos in Utah in the late afternoon. Although it is roughly only a 20 minutes walk, carry a bottle of water.
Crowds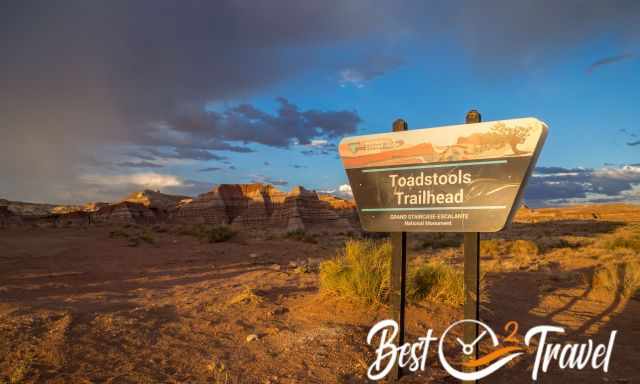 The Toadstool Rock formations are a little busy during the day in summer from late June to August, especially during the weekends, but crowds are still bearable. Please, do not understimate the summer heat; drink plenty of water.
Hotel Tip Page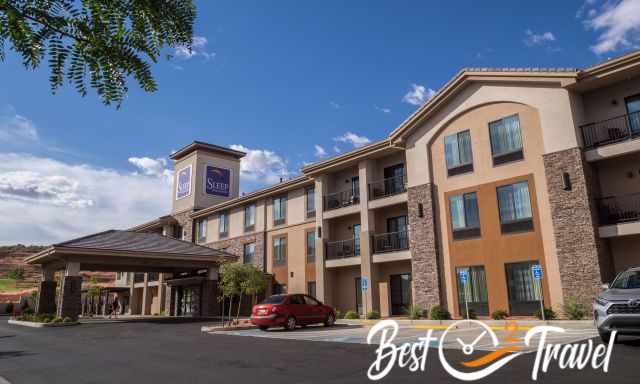 You may think there are plenty of hotels in Page, and that's right, but each evening we figured out the hotels; also, ours were fully booked. Many visitors stay here for a couple of nights to visit Horseshoe Bend, Antelope Canyon, and more beautiful places. If you plan to travel to Page in the peak season or at weekends, I highly recommend booking a room in advance.
Location and Tips
Kanab, Utah
United States

You can find lots of hoodoos and balancing rocks in this area. These hoodoos were developed by weathering and erosions millions of years ago, and they are constantly changing. The cap on top of the hoodoo and the spires are different sandstone formations.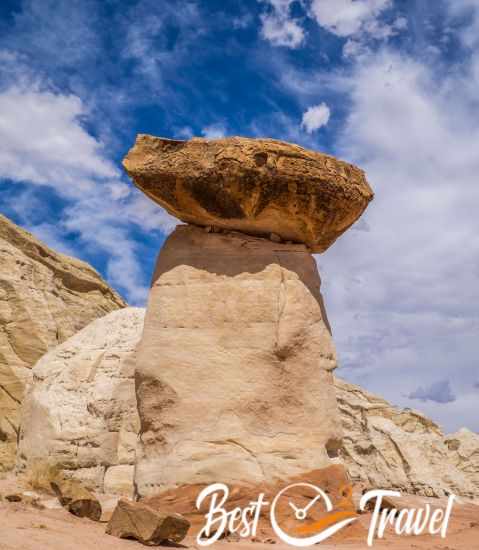 The Toadstools hike is a family and dog-friendly walk of one mile/ 1.6 km one way. It is a sandy path in a wash and in some sections a bit slippery. I recommend trainers or shoes with traction.
Toadstools Parking and Trailhead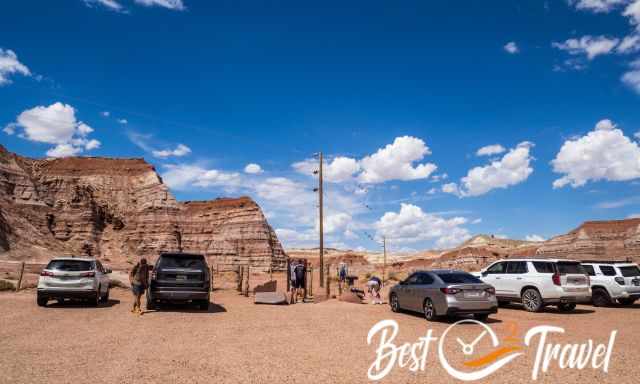 The parking and trailhead are right off HWY 89 to the right coming from Page and left if coming from Kanab. It looks like you are in the middle of nowhere. There are two portable restrooms at the parking nowadays. It indicates the rock formations have started to get a little popular, but they are still a hidden beauty.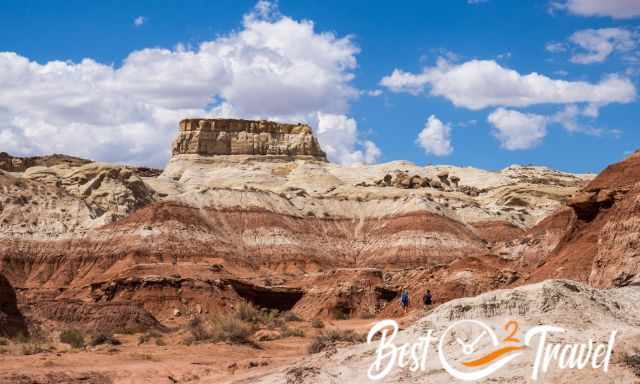 The 2 miles/ 3.2 km round trip plus picture stops takes up to 1 1/2 hours. Although a short hike only, you may end up spending hours exploring the area. There are more mushroom-shaped rock formations to the west. Enjoy the spectacular landscape.
Packing List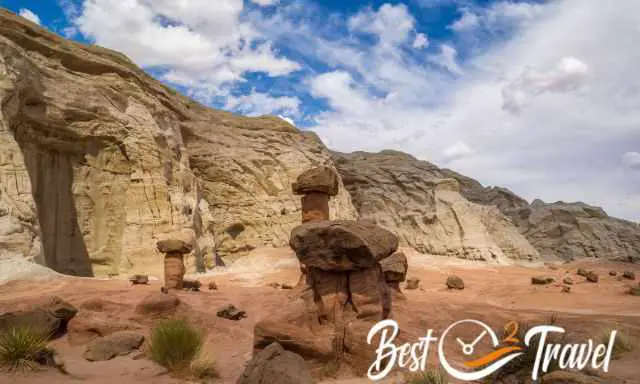 Plenty of water, especially during the summer heat.
Protect your head and skin from the sun; a hat and sunscreen are essential.
Ray Downs, an excellent photographer from Texas, recommends a wide-angle lens, a tripod, and trying HDR for shots like those added here.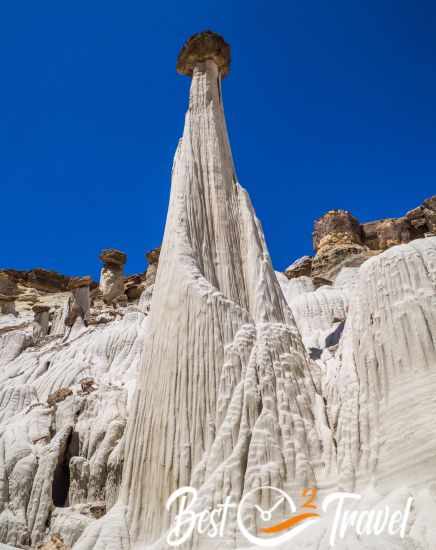 Nearby are other fascinating rock formations also loolookke mushrooms; Stud Horse Point. Or how about giant hoodoos off the beaten path? I highly recommend the hike to the Wahweap Hoodoos if you are looking for the most stunning hoodoos without a soul in sight.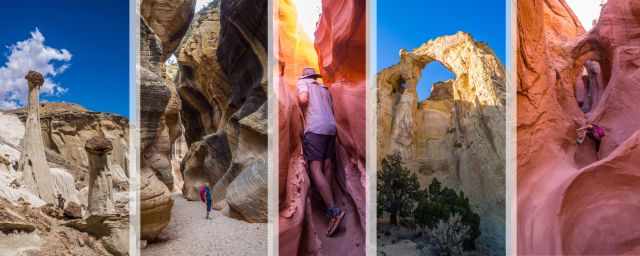 Do you wish to know more about the Grand Staircase Escalante National Monument? Check out my new guide and the 17 Must-Visit Places and where they are located. Not all are difficult to get to, some are even family and dog friendly.
Some of these pictures are provided by the professional photographer Ray Downs and the others are from our visit in late June 2022.