When Is the Best Time
These fascinating Wahweap Hoodoos are a hidden gem; you may enjoy them alone as we did. It is a breathtaking and otherworldly landscape with these mushroom-looking hoodoos.
Where Are the Wahweap Hoodoos – How Do I Get There?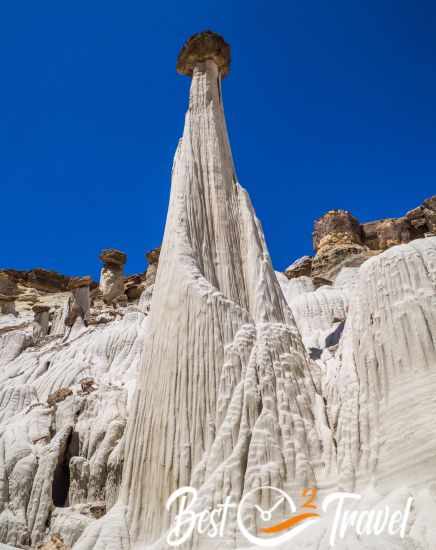 You get here easily with a 4 WD, but also, a 2 WD can get to the trailhead in dry conditions if carefully driven, especially the section of roughly 32 ft/ 10m through the creek wash. I recommend parking the car before the wash during summer if rain is predicted. Don't risk being trapped and getting towed out. Add roughly another 0.7 mi/ 1.1 km to the trail length.
From Page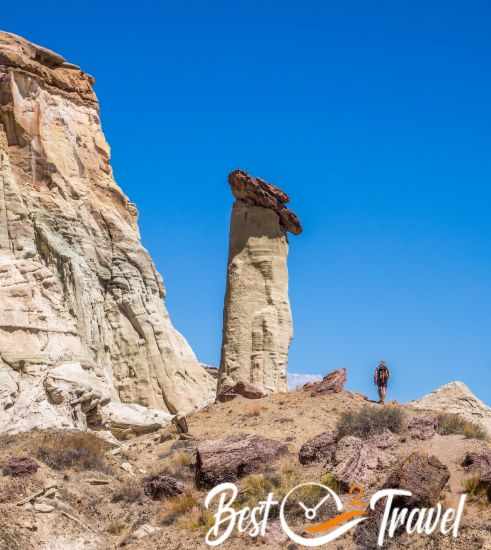 The Wahweap Hoodoos are off the beaten path, although just half an hour drive to the trailhead, 20 mi/ 32 km northwest of Page. Page is located in Arizona, but the trailhead and hoodoos are in Utah and belong to the exceptional Grand Staircase Escalante National Monument. 
Turn right to get to the trailhead from HW 89 Big Water in the direction of a fish hatchery on a gravel road, you pass a dry creek until the road ends.
From Kanab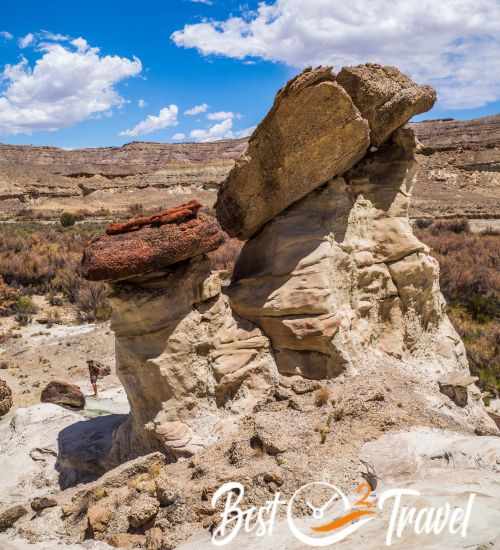 Alternatively, you get also to the hoodoos from Kanab, but it is a long drive of one hour – 60 mi/ 96 km.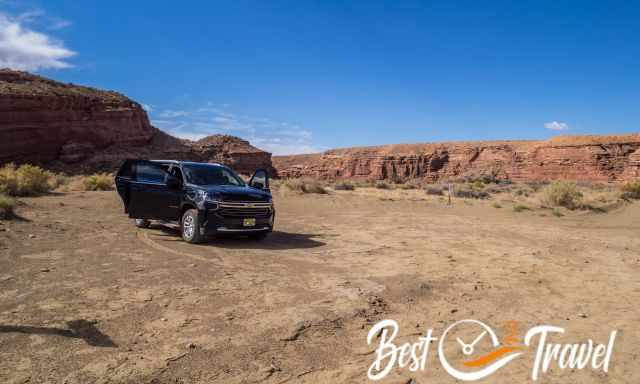 | | |
| --- | --- |
| | As alternative to a mapping app or for planning we recommend the National Geographic's Trails Illustrated map of Canyons of the Escalante. The map delivers unmatched detail and valuable information to assist you in your exploration of this remote and colorful wilderness. Here is our tracked route with Locus Map. |
Best Time and Best Daytime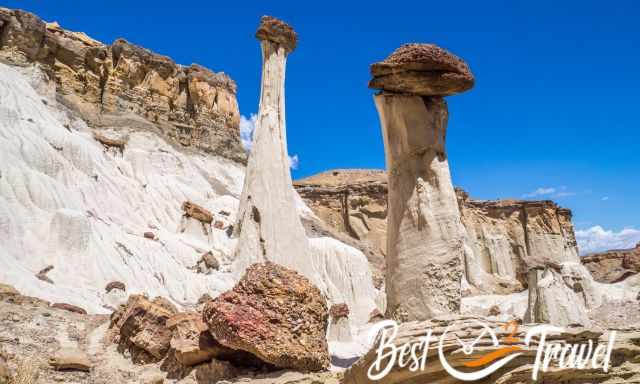 Regarding the temperatures, spring and fall are the best time to hike through the wash without any shade and temps ranging from 70-80°F/ mid-20°C, which feels easily 10°F higher. Summer is scorching, and the monsoon season, from late June to the end of September, can spoil your trip.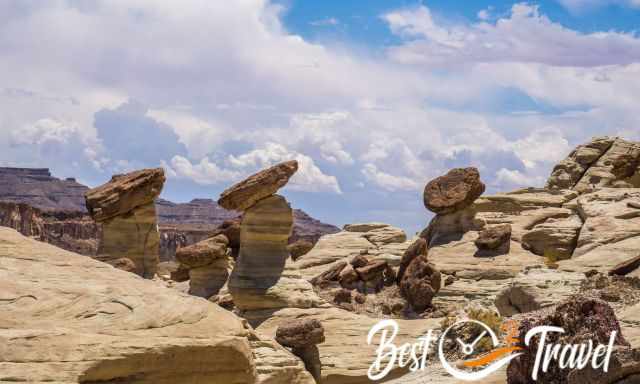 Always check out the weather forecast first; the wash is prone to flash floods like all washes and slot canyons. We hiked to the hoodoos in mid-June and experienced a thunderstorm in proximity in front of us. It was a bit scary because there was no shelter to hide.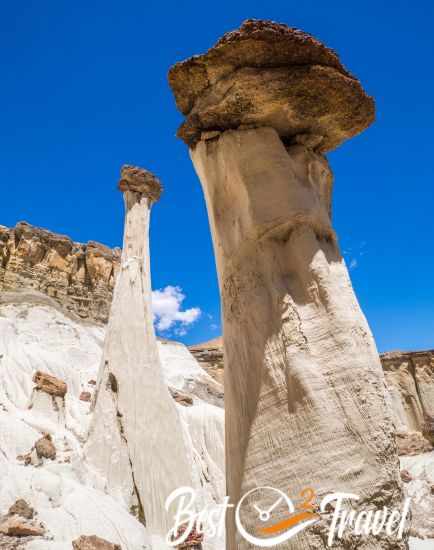 The best daytime is before midday for perfect light conditions at the main hoodoo, the "White Ghost". Especially in summer, the early morning is the only bearable time to do this hike.
Hotel Tips for Page and Kanab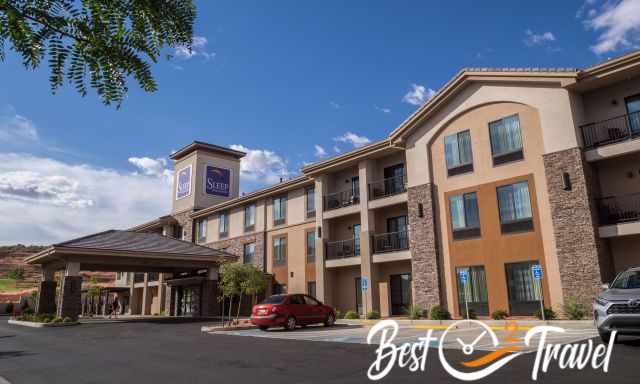 Page is the main service hub and a good starting point with a population of 7.500. Page is excellently located at the Colorado and Lake Powell. You may think there are plenty of hotels in Page, and that's right, but each evening we figured out the hotels; also, ours were fully booked. Many visitors stay here for a couple of nights to visit Horseshoe Bend, Antelope Canyon, the Toadstools, Yellow Rock, and more beautiful places. If you plan to travel to Page in the peak season or at weekends, I highly recommend booking a room in advance.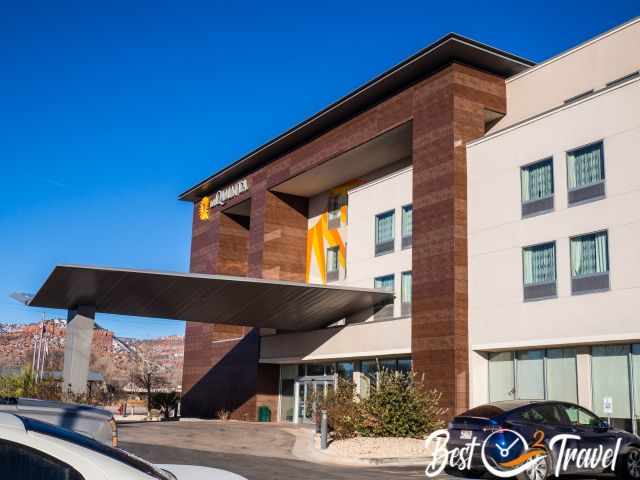 To explore the area, you either stay in Page or in Kanab. Last winter, we spent two nights in Kanab because of a guided tour. Kanab is a fantastic town to explore the Vermillion Cliffs Wilderness's unique landscape and sandstone formations. Thx for booking via my website 😊
Grand Staircase Escalante Map
You can find all the hidden gems of Escalante and the Wahweap Hoodoos in this map.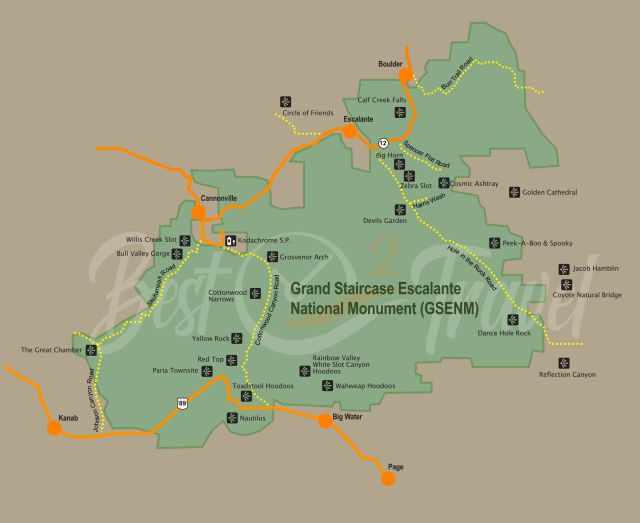 Location and Tips
Utah, Kanab, Big Water
United States

The Wahweap Hoodoos are a collection of three groups spread in proximity, towering white rock needles with brown and red stone hats embedded in a landscape of soft gypsum that coats the hills and slopes like melting lemon ice cream.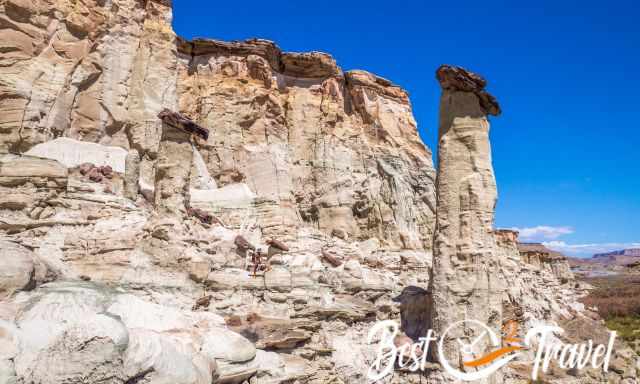 Please, access this beautiful area only with caution because every step here can cause severe irretrievable destruction or collapse of these extremely fragile structures. 
| | |
| --- | --- |
| | Do NOT go into the expansive Grand Staircase without a detailed map. For large amounts of time, you will not have cell phone service. It's a great alternative to a mapping app or for planning. The map delivers unmatched detail and valuable information to assist you in your exploration of this remote and colourful wilderness. It is printed on durable synthetic paper, making them waterproof, tear-resistant and tough. |
Wahwaep Hoodoo Trail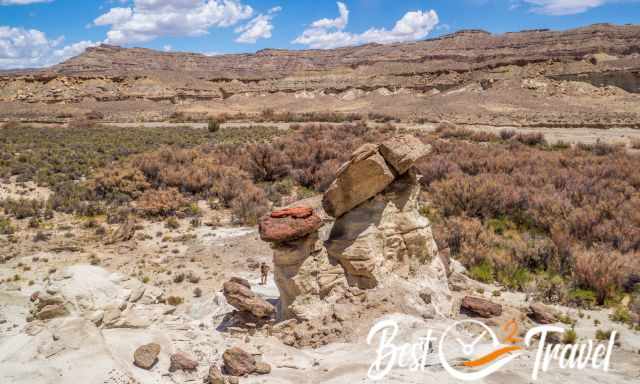 Trail length about 9 mi/ 14.5 km return – same way back
There isn't a real trail, you follow the vast wash, and it is up to you which hoodoos you like to see close. 
Hiking Duration: It took us more than 5 hours, including a lunch break and hiking to many of these fascinating hoodoos. 
Difficulty: It is a moderate hike with not much elevation gain, but good navigation skills and a hiking app are helpful. Most challenging is the relentless sun, and good preparation is key—more about what to pack below.
This is our tracked route with Locus Map but don't wonder - some areas can't be tracked, nor are they visible on OpenStreet Map.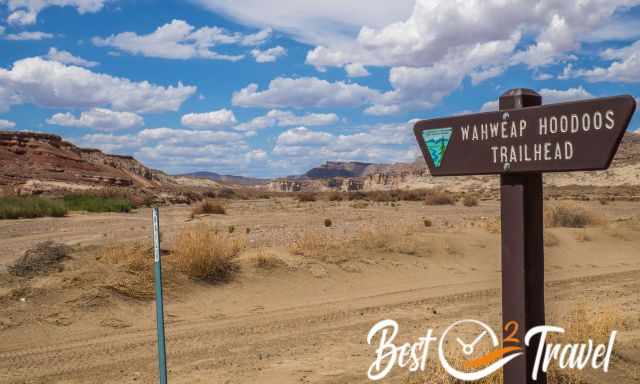 You may be the only hiker here when you reach the parking at the dead-end road. There is a trailhead sign that you enter the Grand Staircase Escalante National Monument, and that's it.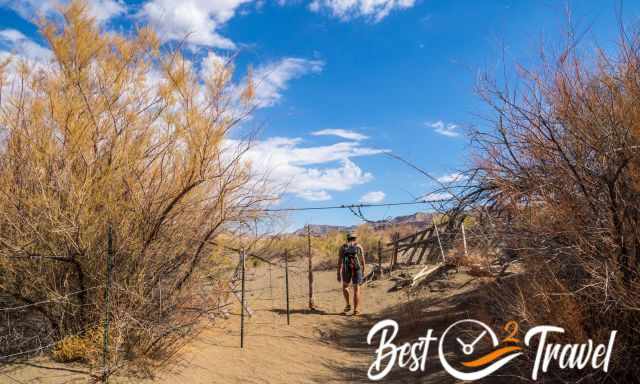 The track is poorly marked, and you need to recognize where to leave the wash to get back to the parking. The track is sandy and covered with pebbles which causes a slower pace.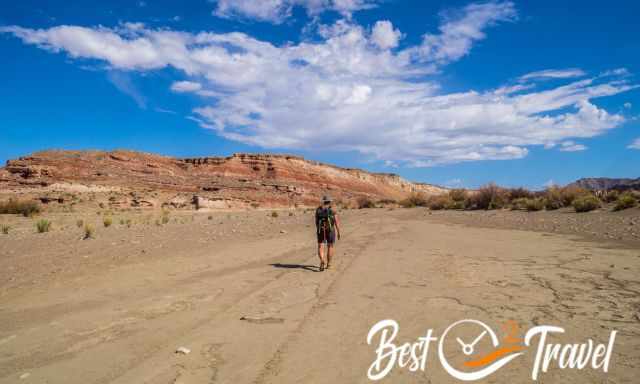 You always follow the wide wash for about x mi/ x km until you see the first hoodoos, the first hoodoo group to the left. Getting close is a bit of a climb, and you must return the same way to the Wahweap Wash.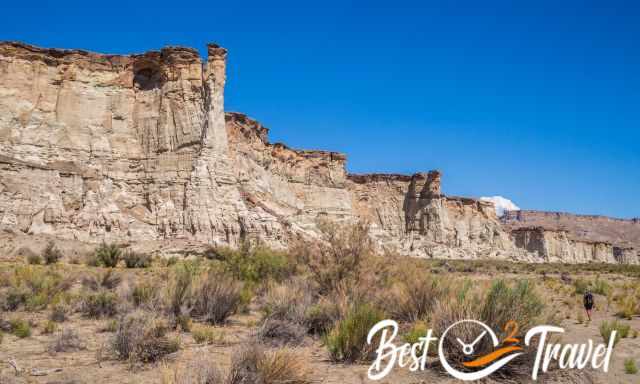 To get to the second and third group, you walk through a thick bush where little black flies awaited us, but it is worth doing so.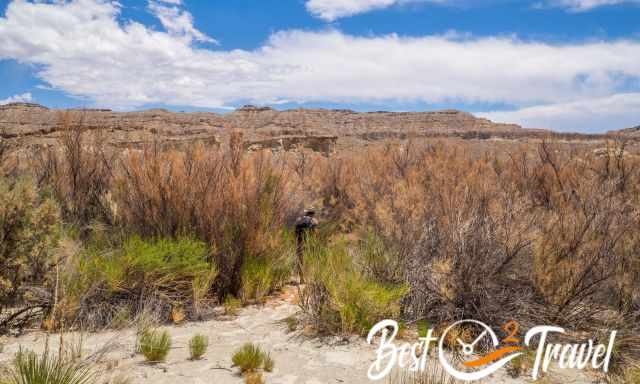 Bring an insect repellent, and you are safe. We then continued to the third group, officially named "The Towers of Silence" and the "White Ghost", first because of the perfect sunlight to take pictures.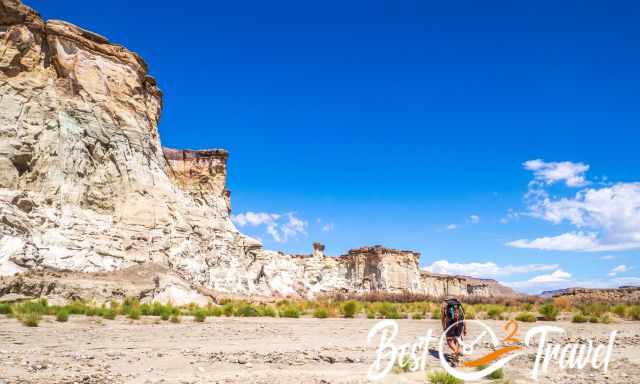 For the second and third groups, you need to walk left again. The so-called "White Ghost" hoodoo is hidden around the corner. 
How Were the Hoodoos Developed, and What are Hoodoos?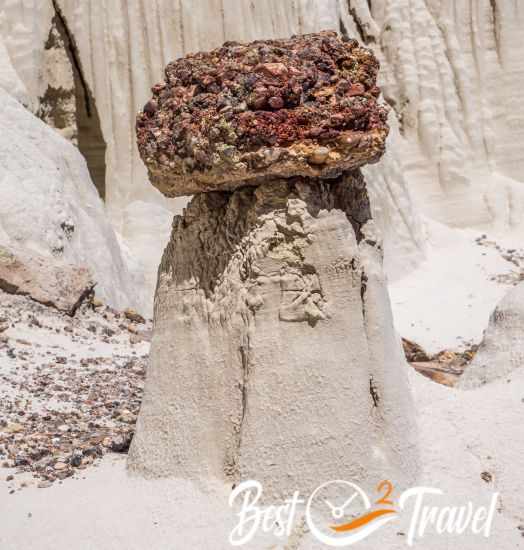 Hoodoos are sculptures of erosion and weathering. Erosion strips away softer rock layers around each rock spire and continues. The top of the hoodoo, often named cap, consists of Dakota Sandstone which is red-brown and relatively hard.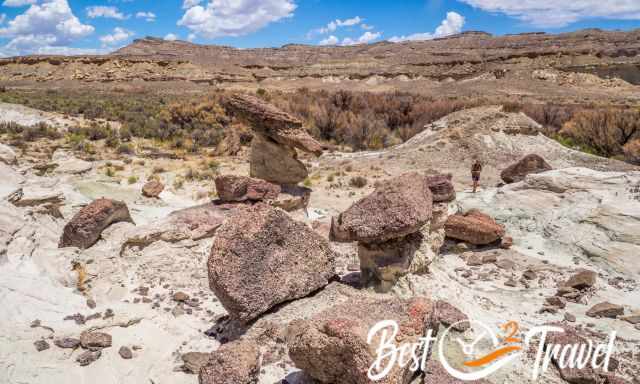 The white spires are Entrada Sandstone which is soft and fragile. Usually, another layer appears between these two sandstones, but it is missing for some reason. These sandstones are more than 100 million years old.
Packing List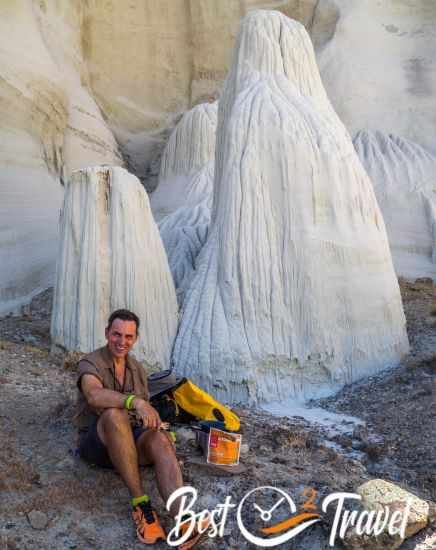 Plenty of water, which means at least one gallon per hiker.
We always put electrolytes into our water; first, it tastes better and second, you sweat a lot in the sun, especially in the summer.
At least a snack or a real meal for this challenging hike through the wash. We brought a dried meal and boiled water with our portable gas stove at White Ghost.
Sun protection; hat and sunscreen – there is no shade along the track.

| | |
| --- | --- |
| | Do NOT go out without proper sun protection. My favourite is the ISDIN product for many years when we go outdoors. Our dermatologist recommended it, and we have loved it ever since. This sunscreen is a lightweight lotion that absorbs quickly and protects the skin in water or while sweating. |

I always carry a lightweight rain and wind jacket if the weather changes.
Insect repellent can be a lifesaver. We always use Herbal Armor because it's Deet free.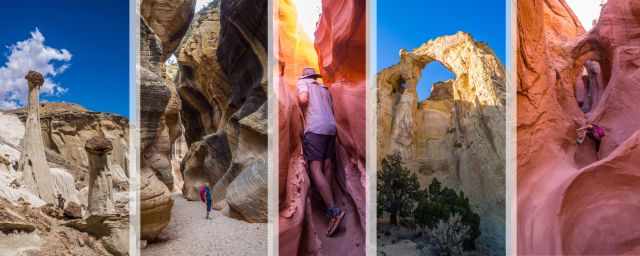 Do you wish to know more about the Grand Staircase Escalante National Monument? Check out my new guide and the 18 Must-Visit Places and where they are located. Not all are difficult to get to, some are even family and dog friendly.
Do you want to obtain the usage right for my images? Contact me, but I will take action against picture theft.