When Is the Best Time
It is a beautiful and less-known red Navajo sandstone canyon that is still one of the hidden treasures that are rare nowadays with social media. The picturesque Peek a Boo Slot Canyon is a miniature version of Antelope just half an hour drive north of Kanab.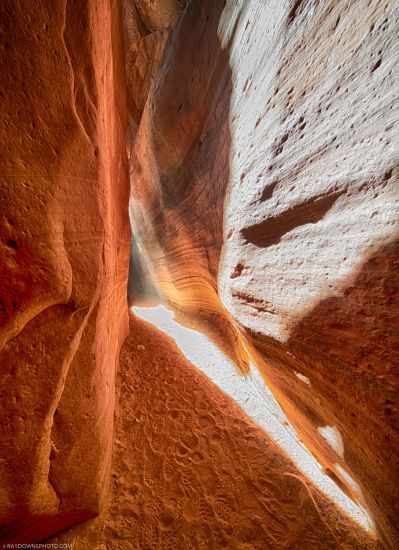 Several slot canyons have the nickname Peek a Boo. This one is close to Kanab. What makes this canyon so special? The missing crowds!
Best Daytime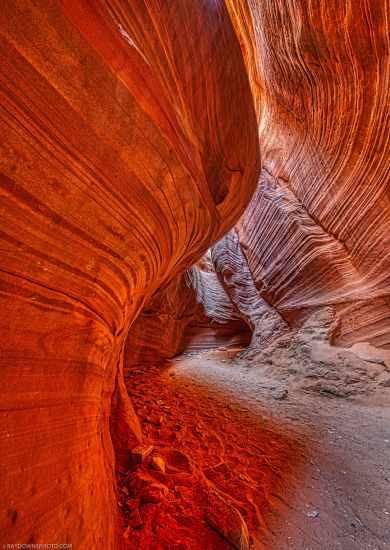 The light is perfect at noon, with awesome reflections inside the canyon. Soak in the spectacular array of colours. It is difficult to get to Peek-a-Boo, but you get rewarded with an easy walk through this Antelope like canyon. It is an amazing spot for the entire family. The advantage of this slot canyon is that no entrance fee or permit is required. This adventure is for free and not overrun. However, from time to time, there are several guided trips at once, all coming by UTV'S.
Weather Kanab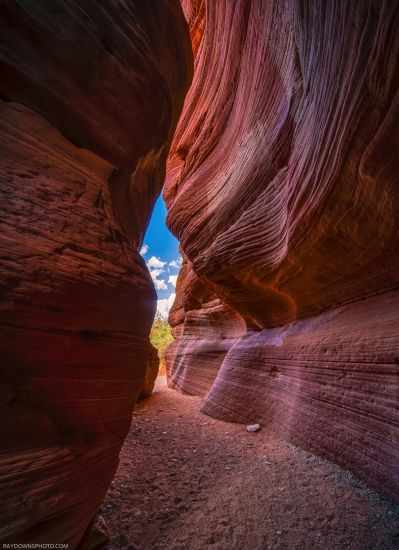 Kanab is located at roughly 5.000 feet/ 1.500 m elevation, and Peek a Boo at 5.500 feet/ 1.700 m. This area experiences a high desert climate and low humidity. It doesn't rain much on average, below 15 inches annually. The dirt road to Peek-a-Boo is impassable when wet.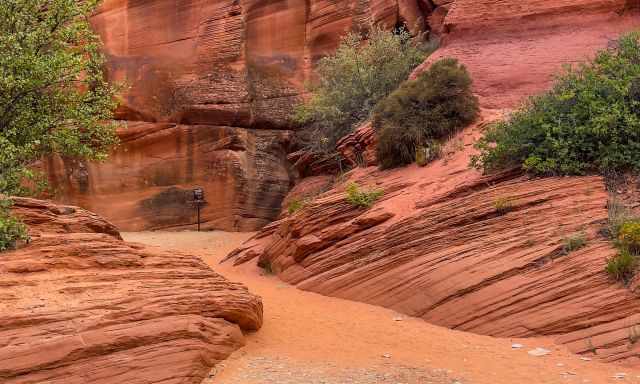 The most pleasant and best times are spring from March to May, and autumn in October and November. Average day temperatures are mild,  around 59°F/15°C in March and November but drop to freezing at night. In April, May, and October, day temps are above 68°F/ 20°C but nights are still cold in the low 40°sF/ 5°C.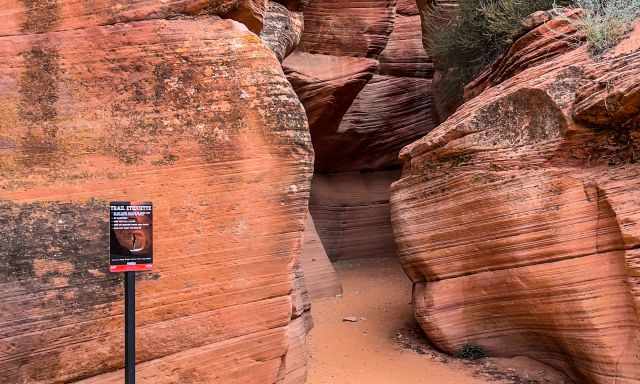 The summer is hot and dry, reaching 93°F/ 34°C. Due to the high elevations, overnight lows range between 60-50°F/ 15-10°C. Occasional thunderstorms occur in late summer, causing flash floods. Roads are inaccessible after heavy rainfall. Never access a slot canyon when rain and thunderstorms are forecasted.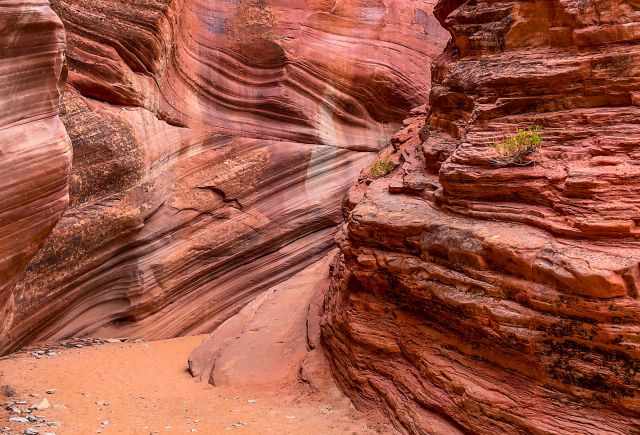 The winter from December to February is cold; day temps are slightly below 50°F/ 10°C. Nights are freezing in the mid 20°sF/ -5°C. Occasional snow occurs in this high elevation. 
I got all these pictures and information provided by Ray Downs Photography.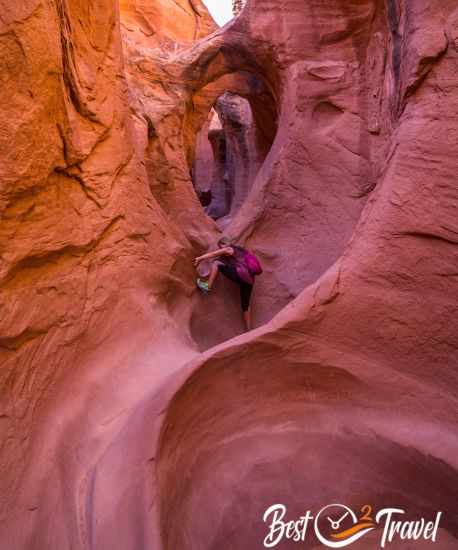 There are two Peek-A-Boo Slot Canyons in proximity. Are you looking for Peek-A-Boo and Spooky Slot in Grand Staircase Escalante?  All you need to know about Peek-A-Boo in Escalante is in my additional article.
Tour Company Recommendation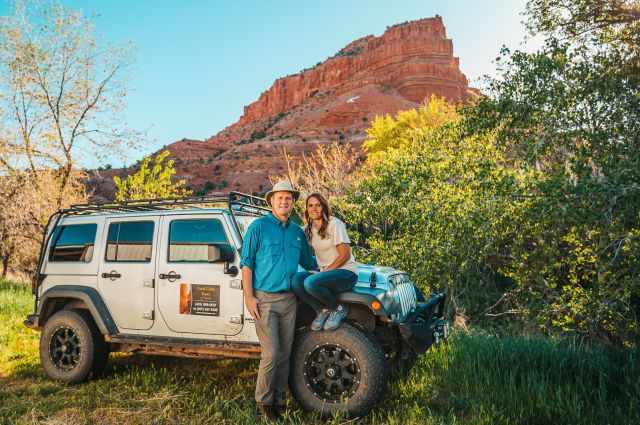 Do you wish to explore the Peek-A-Boo Slot Canyon or other unique rock formations in the Vermillion Cliffs Wilderness with an excellent tour company? I highly recommend the Coral Cliffs Tours and Townhomes of Kanab. This is not an Affiliate Link. This was our own experience with Julie; she walked the extra mile for us and made the impossible possible. This company is totally different their primary focus is on making guests happy. If you haven't booked anywhere yet, give them a call: (435) 899-0697
Where to Stay?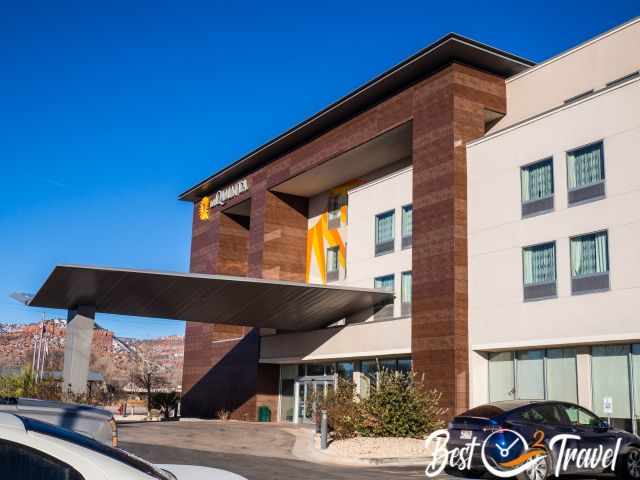 To explore the area, you either stay in Page or in Kanab. Last winter, we spent two nights in Kanab because of a guided tour. Kanab is a fantastic town to explore the Vermillion Cliffs Wilderness's unique landscape and sandstone formations.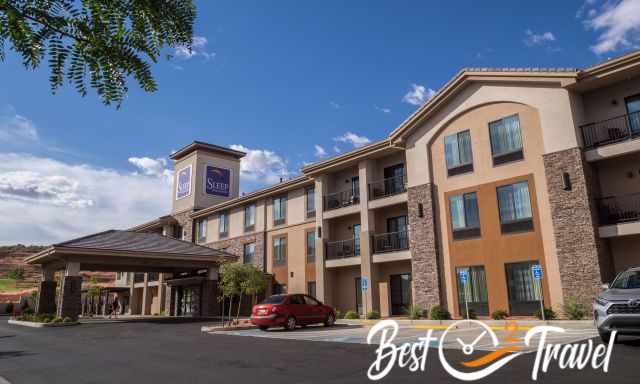 Page is the main service hub and a good starting point with a population of 7.500. Page is excellently located at the Colorado and Lake Powell. 
You may think there are plenty of hotels in Page, and that's right, but each evening we figured out the hotels; also, ours were fully booked. Many visitors stay here for a couple of nights to visit Horseshoe Bend, Antelope Canyon, the Toadstools, Yellow Rock, and more beautiful places. If you plan to travel to Page in the peak season or at weekends, I highly recommend booking a room in advance.
Location and Tips
Utah, Kanab
United States

The Peek, a Boo Slot Canyon, offers excellent picture opts and magical scenery. The deep soft sand and the washboard road at the end are the prices to pay for this kind of fun. The Red Canyon is narrow at some points until it suddenly ends.
How to Get To Peek a Boo?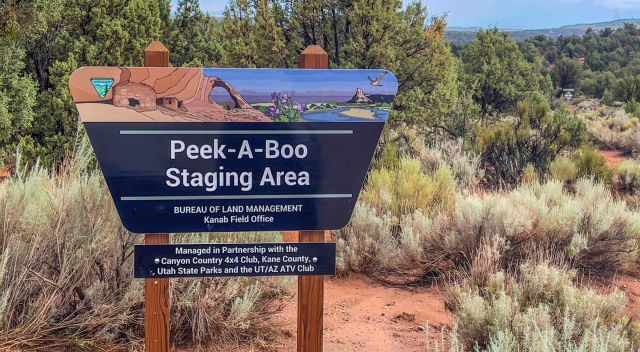 The Red Canyon or Peek-a-Boo staging area and parking is located 8.5 miles north of Kanab next to Hwy 89 between milepost 72 and 73. The parking is well-marked and equipped with restrooms. 
4 WD - ATV or UTV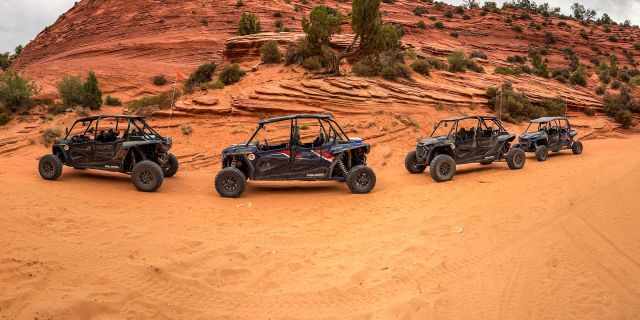 It takes roughly a quarter of an hour for the four miles to the Red Canyon trailhead by 4x4, ATV or a UTV on the road 102 northwards.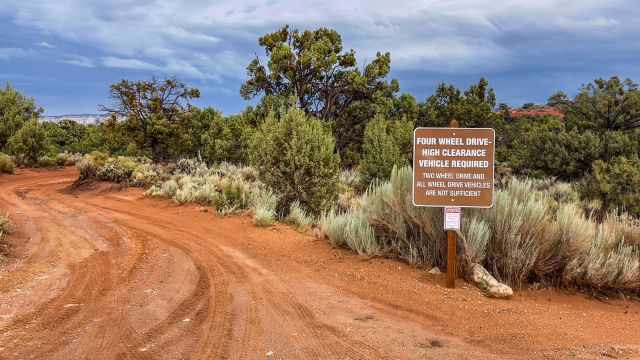 You reach a large dry wash (riverbed) after 3 miles. Turn left direction west in the dry wash on road 106 h and follow it until it dead ends. Park your car here shortly before the entrance of the canyon. It is another 0,6 miles on foot. Getting here with a high clearance 4x4 in soft and deep sand is challenging. Experiences of driving through deep sand are essential if you wish to go on your own.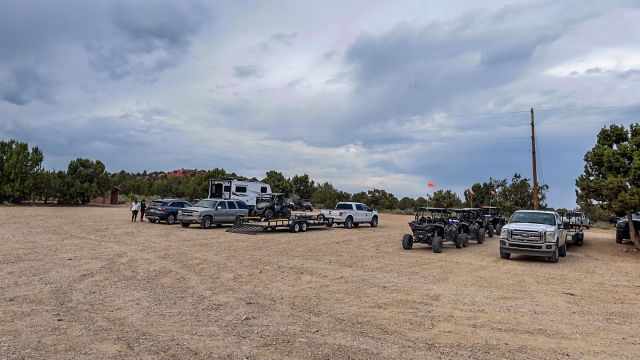 It would be best if you dropped the tire pressure between 20-15 psi for floating in the deep sand. When you get back to "normal" roads, an air compressor in your trunk is necessary. Also, carry a shovel and a tow rope if you are stuck in the sand. An alternative is an ATV, a sand buggy which you can rent or book a guided tour from Kanab.
Hiking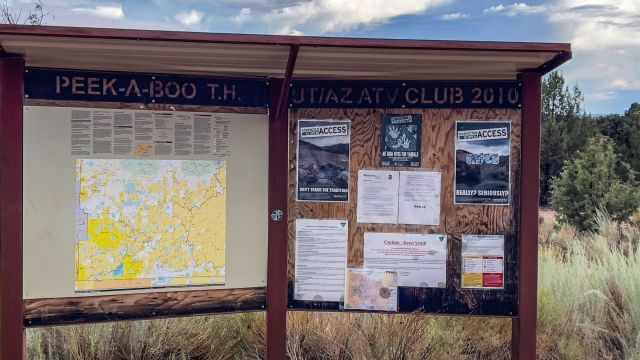 If you plan to hike, you need 1.5-2 hours one way. But it is not a real hiking trail and is poorly marked. It is an eight miles long return hike. Hiking to Peek-a-Boo takes roughly two hours through deep sand without any shelter, which is hot in summer. Wear high boots; otherwise, your shoes fill up quickly with sand. Follow the poorly marked deep sand track until you get to a wash and turn up to the left. From here, you walk roughly another 0.6 miles.
Red Canyon – Peek-A-Boo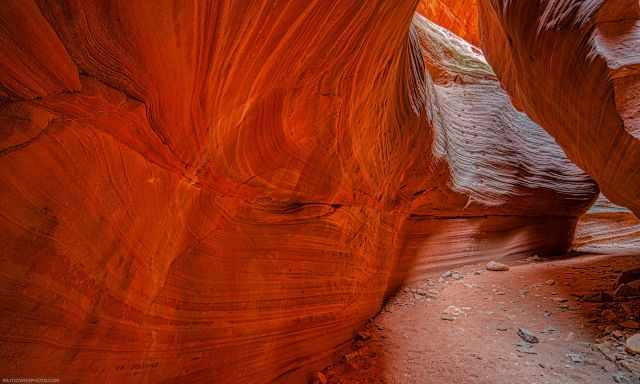 There are two sections in the slot canyon just to ensure you really walk until the very end. Also, this slot canyon was and is constantly formed by rapid water and huge rocks from heavy rainfalls. Have a look up, and you can see how high the water level can be and where some rocks got stuck. Therefore, please be aware of the danger of flooding water from far away thunderstorms whenever you enter a slot canyon, especially in the summer. Please, always check the weather forecast before. 
Tips
Download a mapping app; cell phone service or internet connection is non-existent. Directions from Kanab to the Red Canyon by Gaia GPS
Check out the website from Ray. He offers exceptional pictures of Antelope, White Pocket, and other breathtaking places in the southwest. You also can follow Ray on Facebook.