When Is the Best Time
One of the ten top hikes in the US is the "Subway" in the northwest of Zion. It is a gorge shaped like a subway tunnel by the immense power of water developed by erosion over thousands of years where the Left Fork of the North Creek is flowing through.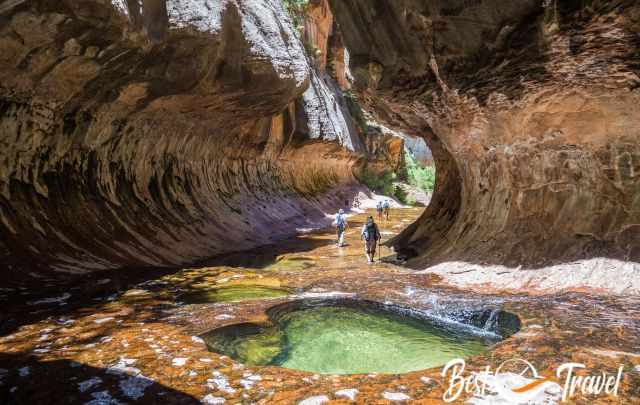 Zion National Park is one of the most overrun parks in the US, topping 5 million visitors annually, surpassing its capacity in the summer. However, there are trails where you are able to explore the pristine beauty of Zion without the crowds. One of these great hikes is the Subway in Zion's backcountry and wilderness area.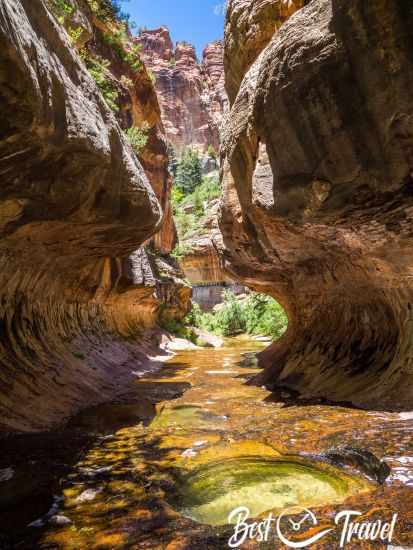 Compared to the breathtaking Narrows, only a few people are on this trail, which makes the difference.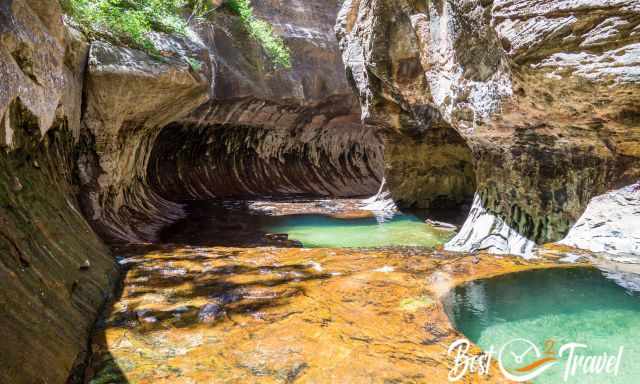 I'll give you all details on how to get there, apply for a permit, a packing list, plus a hiking map to get to the remote Subway Cave – Left Fork in Zion. There are two existing trails; top down and bottom up.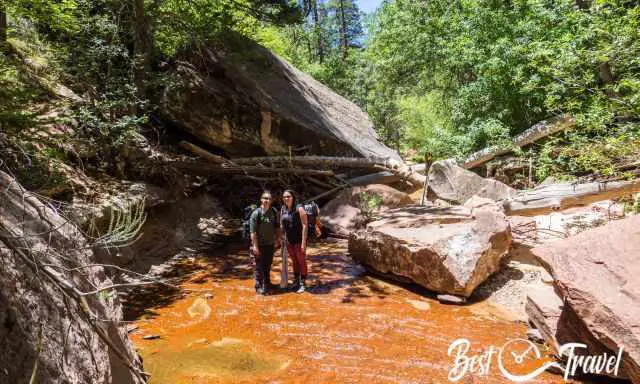 For top-down, you need canyoneering experiences, gear, and a helmet. I describe in detail the easier path from the bottom to the Lower Subway, where the most well-known pictures are taken.
Where is the Subway Located?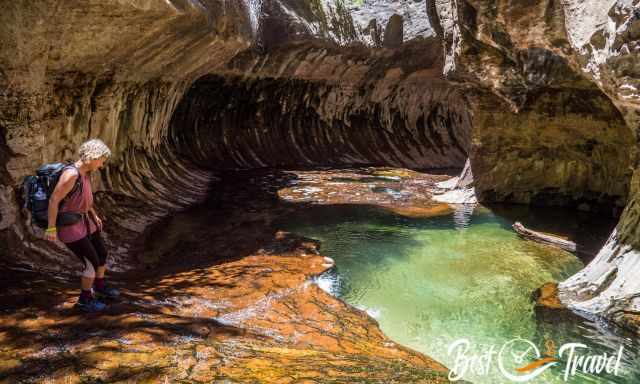 The Subway is located on the less visited western side of Zion National Park, accessible via Kolob Terrace Road. Note this trail is not marked, and you do not get a map from the National Park Backcountry Office. This is a wilderness trail, and you must find the path and Subway on your own.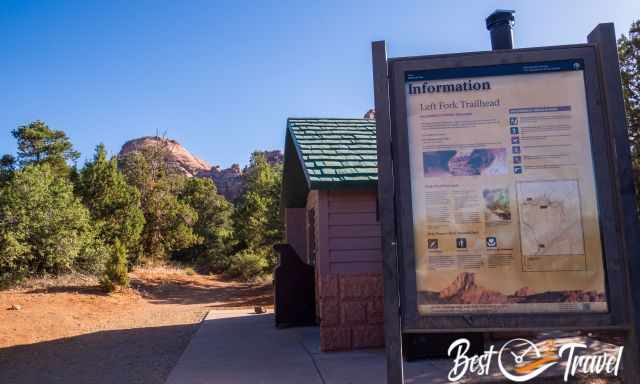 Hiking Map by Locus Map: This is the app we use for hiking, and we always find even the remotest spots. The map will show you the track to the Subway, including elevation gain and loss. I highly recommend downloading the route, especially for the way back.
Subway - Left Fork Trail Details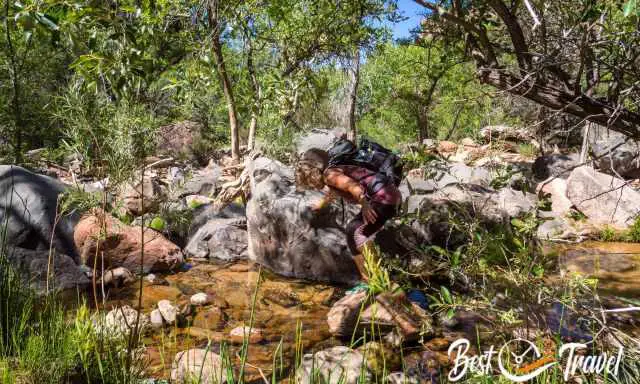 Length: Roughly 13 km/ 8 mi roundtrip if you don't get lost, which can quickly happen.
Duration: 7-9 hours, including photo stops and snack breaks
Difficulty: The Left Fork – Subway is for sure a long and strenuous day hike. 
Parking Subway Left Fork Trailhead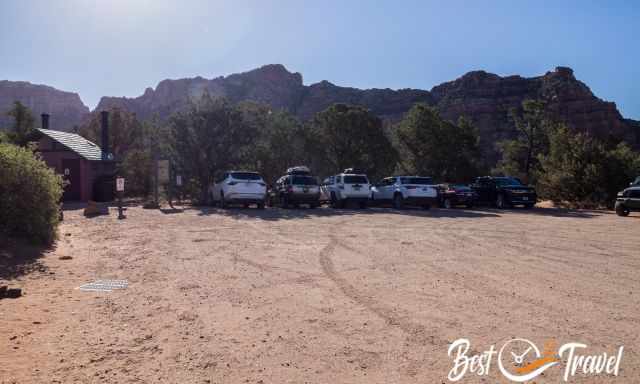 It's a small parking lot at Kolob Terrace Road, but sufficient. You get a parking tag together with your permit. Display the parking permit behind the windscreen. A ranger will check all parking cars daily. Google Maps Location Parking
How Many Permits are Available Daily?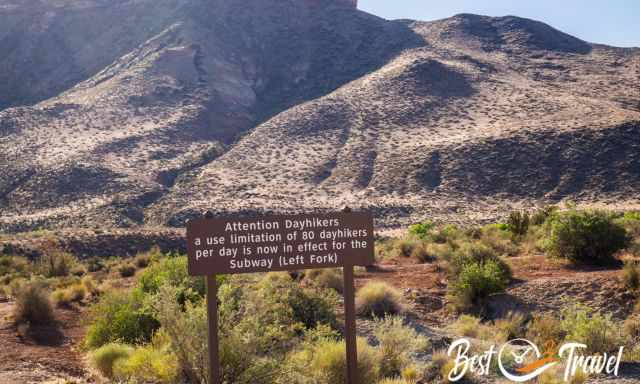 From April to October, 80 permits are given out daily by a lottery system means a maximum of 80 hikers are on the trail to minimize the impact on this unique wilderness area of Zion.
Subway Permit - Lottery System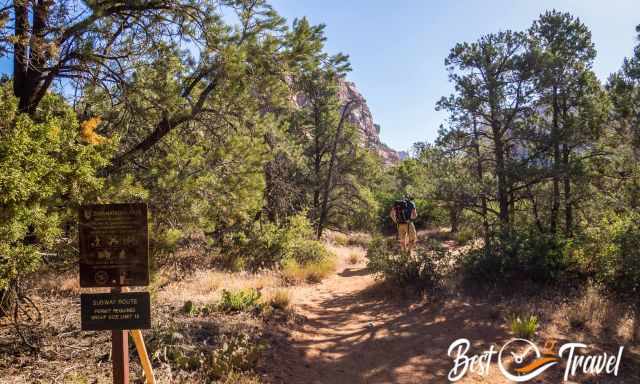 There are three different options available for applying for a permit. The National Park Headquarters hands out the permit no more than 24 hours before the trip to ensure that no flash flood appears in the Subway because there is no way to escape for hikers. This hike is very much on the weather and river level depending. Be prepared and know your risks!
Lottery Fee not refundable: $5
Permit Fee: $15 for two hikers when you pick up the permit at the backcountry office desk.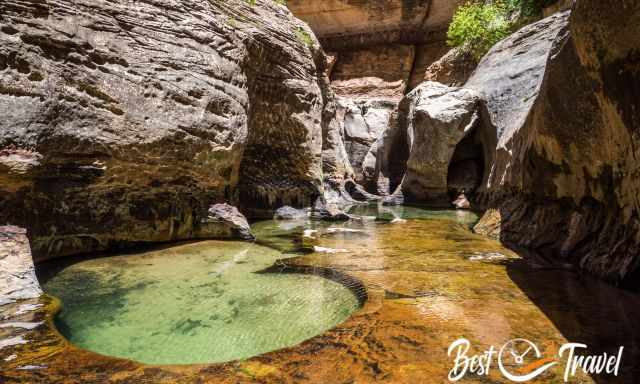 1 Online Permit Two Months in Advance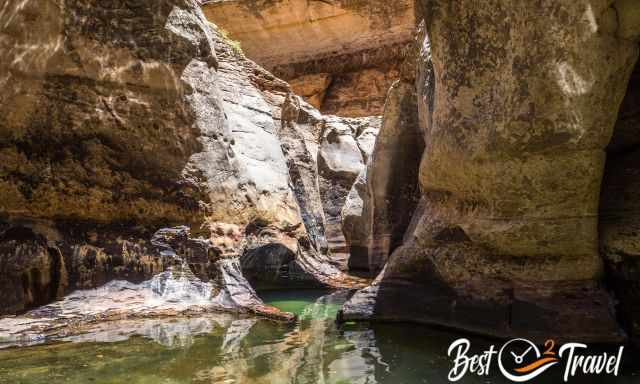 To be on the safe side and make your planning easier, apply at the internet lottery, which we did two months in advance, from April to October. If you plan to go in April, you must apply in February. You are asked to register for three different days, and a bit of luck is needed. Apply online here, but first, create an account, afterwards, you can apply for the Subway permit. The lottery is open from February to August for trips between April and October!!!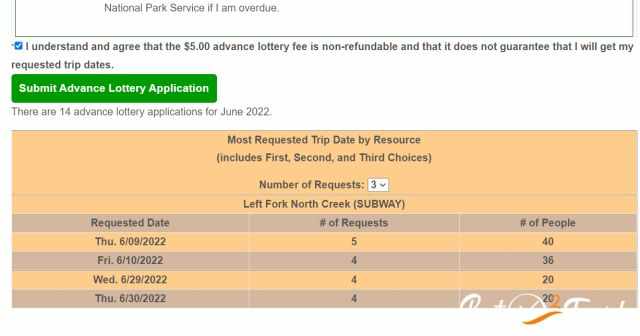 When you enter your favourite three days, you get shown the three most requested days for your month. You would get an e-mail if you won the lottery a month later.
2 Online Permit One Month in Advance
After your login, you can see in the calendar if there are spaces left. Usually, most days are red and no longer available, but sometimes some are left and marked in green. The one-month-in-advance lottery is open from March until September.
3 Walk-in Permit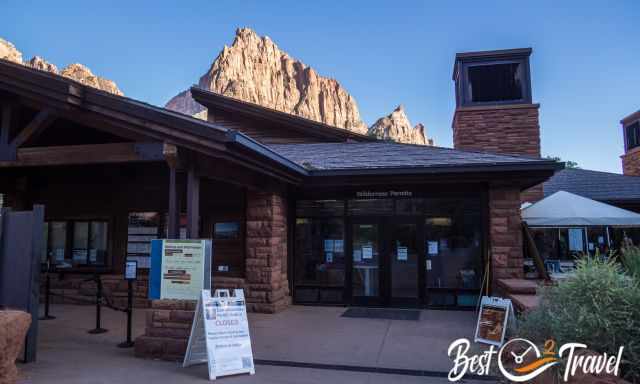 These are left permits that no one applied for in advance or were not picked up the day before. The advantage is you can check the weather before and hike during the best conditions but avoiding the weekends increases your chance of getting one. You can get a walk-in permit a day before or first thing in the morning at Springdale and Kolob Canyons Visitor Centre. However, I wouldn't count on that.
Can I Hike the Subway Without a Permit?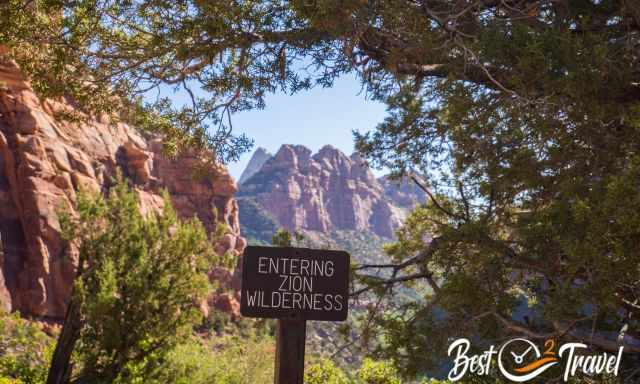 I can only advise against hiking without a permit. First, the parking will be controlled, the parking ticket will be handed out at the information centre together with your Subway permit, and your number plate will be registered. Second, on the left side of the trail is a device which counts how many hikers access the trail. I bet if more visitors are on the trail than permits were given out, a ranger may control all hikers when they return. Third, it is a wilderness area not well maintained. Nature and visitors benefit if not too many hikers access the area in one day to save it for future generations.
Best Time for the Subway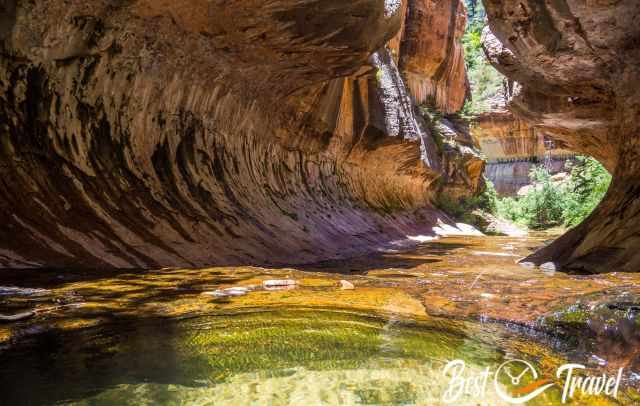 The best time for this breathtaking hike and adventure is the drier season with a lower North Creek water level and pleasant temperatures. Due to the high elevation of more than 1.500 m/ 5.000 ft, the winter and beginning of spring are cold with ankle- or knee-deep water, and a wetsuit is essential. Therefore, I recommend May and June before the monsoon season, when heavy thunderstorms can occur and afterwards, September and October. Summer can be great because the narrow gorge itself is in the shade, and the creek is chilly. However, I wouldn't go if there is any rain forecasted. The best daytime for fantastic shots is very late in the afternoon.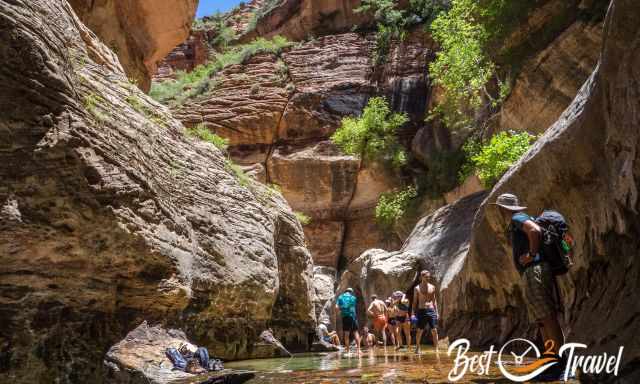 The water temperature of the Virgin River was 53°F/11°C mid-June, and I assume the North Creek temp was only slightly higher, so good preparation is essential.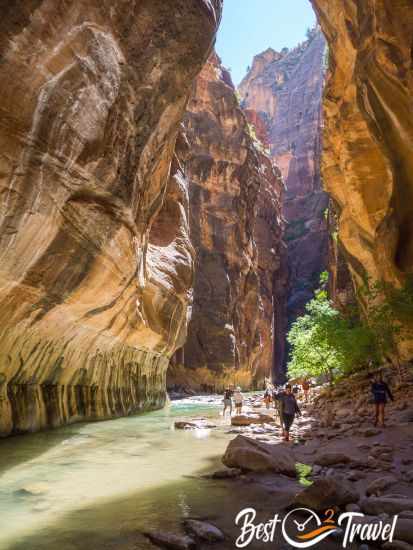 Do you like to know Zion's weather and average temperatures for all seasons? Check out my additional detailed guide for the Narrows.
11 Tips for the Subway Packing List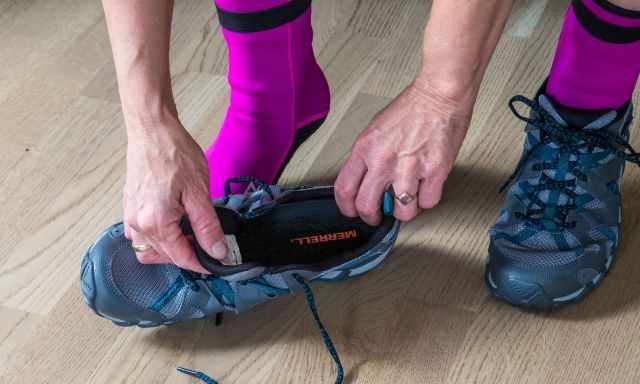 During such strenuous hikes, drink plenty of water with electrolytes for new energy throughout the adventure.
Energy snacks like nuts and fruits like apples for the challenging hike
A proper meal or lunch for the long day hike
We'd choose comfortable trail run shoes with good traction for two third of the track to the Subway. You are hiking, balancing, and jumping from one rock to the next. My favourite brand for many years has been INOV because of its flexibility.
For creek wading, we carried additional Merrell water shoes with traction for the last part. The trail through the river and above the rocks is very slippery, and I felt twice despite my excellent shoes. So please hike with caution above the cascades and through the Subway. On the way back, we walked two third through the creek, which was much easier and faster.
The creek is pretty chilly, but it was doable with neoprene and merino socks.
Hiking Poles were helpful on the steep descent to get down to the canyon and creek, which leads to the Subway.
Carry a wind- and rainproof jacket in your backpack. It is colder in the Subway and frequently windy, and you may spend quite a while here enjoying the unique scenery.
We put our valuables and camera into a waterproof bag. I was fallen along one of the cascades and was glad my camera was stowed in the waterproof pouch.
We always carry a headlamp in our backpacks if we are not back in time at the parking lot.
Although photos of the Subway are popular on Social Media, this trail is only suitable for experienced and physically fit people. Getting rescued here in the remote wilderness means by helicopter, which is pretty expensive. So good preparation is key!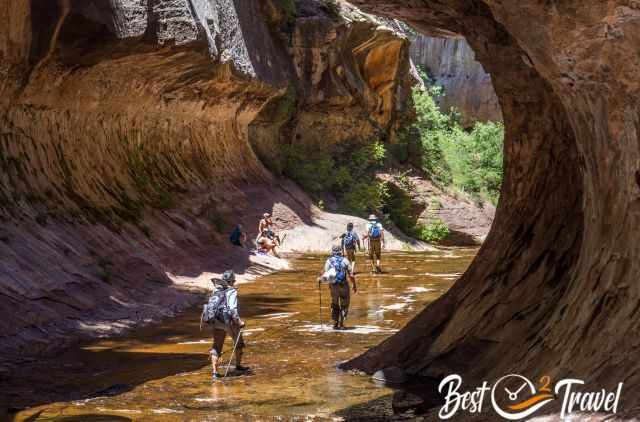 Do you wish to hike Angels Landing but think you won't get a permit? Here is everything about it and how easily we got a last-minute permit.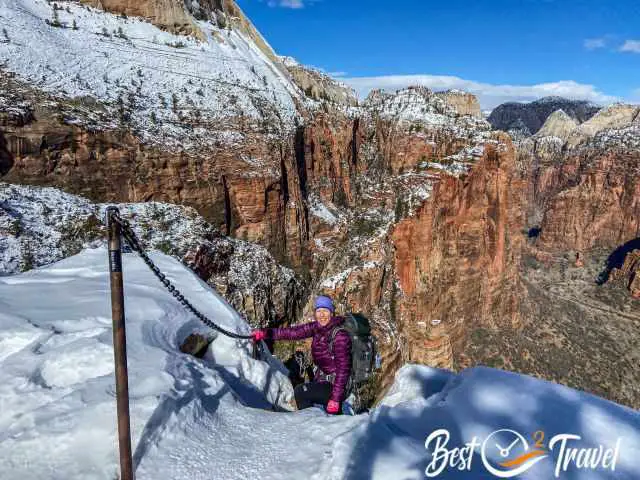 | | |
| --- | --- |
| | The Complete Guide to the Grand Circle National Parks is everything you need! This book has something for everyone, whether travelling in style or camping like we do, hiking in the rugged backcountry or sightseeing. The seven most impressive national parks within the Southwest United States are covered, from what to do, where to stay, and dining options inside and nearby. All surrounding national monuments and state parks are described in detail. With maps of Zion, Bryce, Grand Canyon, Arches, Mesa Verde, Capitol Reef, Canyonlands, and many more national monuments, state parks and recreation areas. |
Location and Tips
Springdale, Zion National Park
United States

This is a wilderness trail in Zion which is not marked except at one point. Although the return hike is only 8-9 miles long, an entire day is needed. Don't start too late, especially not in spring and autumn when there are fewer daylight hours.
Trail Details for the Subway Bottom-Up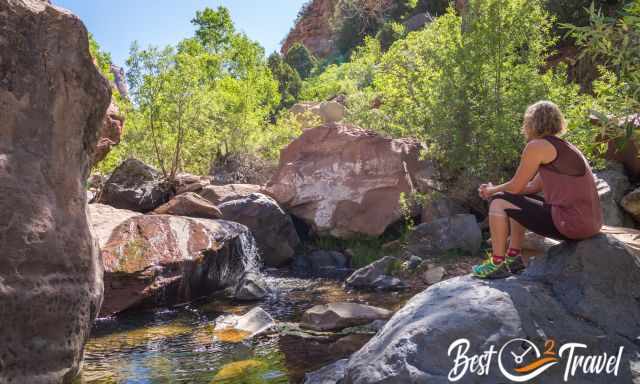 Before you start hiking, please use the facilities at the parking. This is the last one; there aren't any along the wilderness trail. The first kilometre/ 0.6 mi of the trail leads through dense vegetation on a flat path before it descends.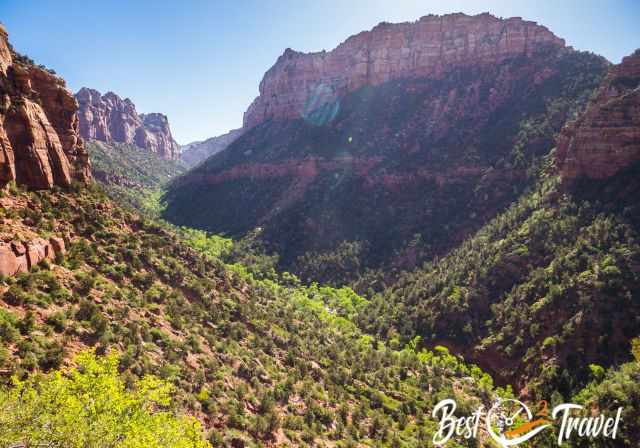 The view from the cliffs is spectacular, that's the unique Zion. I highly recommend hiking poles for this steep and zigzagging part on the narrow and exposed track with loose rocks down into the canyon and the creek bed.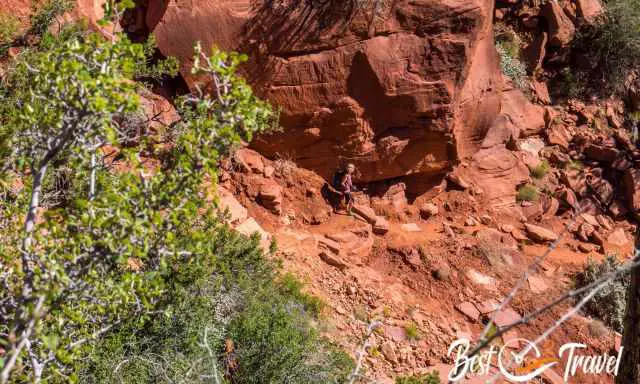 This part is roughly only 500 m/ 0.3 mi long with an elevation loss of 120m/ 394 ft, but it is tricky and unsuitable for trainers. Please walk in proper and comfortable shoes. I prefer trail run shoes with good traction.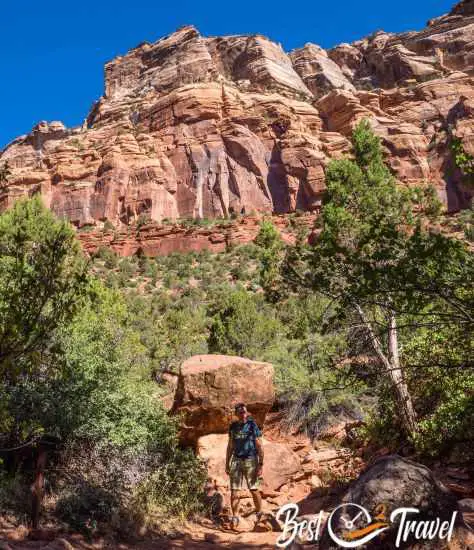 When you reach the canyon floor, turn left. Here is the only sign of the entire track to find the way back to the car park. Frequently people miss this sign and the ascending track and continue along the creek, which is tiring and takes additional hours. You can see the exact location in my video.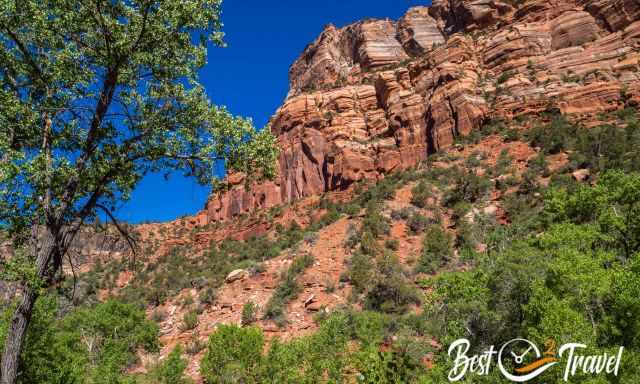 Therefore, I took a picture with my camera and mobile, but it wasn't necessary for us.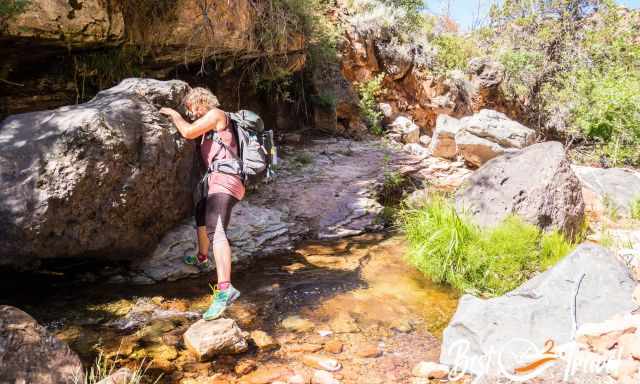 You have to cross the North Creek multiple times to find your own trail. The track is not marked, and some paths end up nowhere. Rock scrambling, jumping, stoop under bushes that's all part of this exceptional adventure.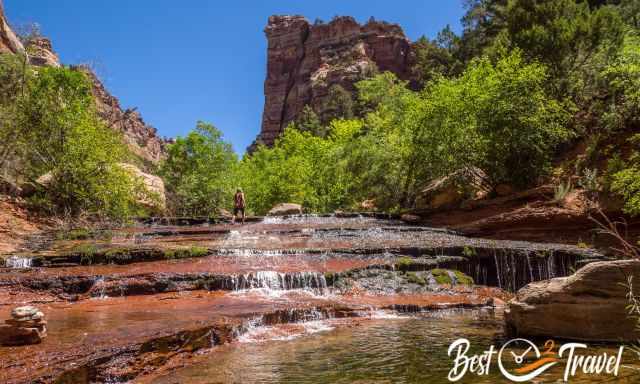 After two third, when the first orange-reddish cascades appeared, we decided to take our water shoes which were more convenient just following the creek. These falls look like a staircase, and I went up here, but be careful they are slippery. The water was cold, and we were glad to have wool and neoprene socks in addition.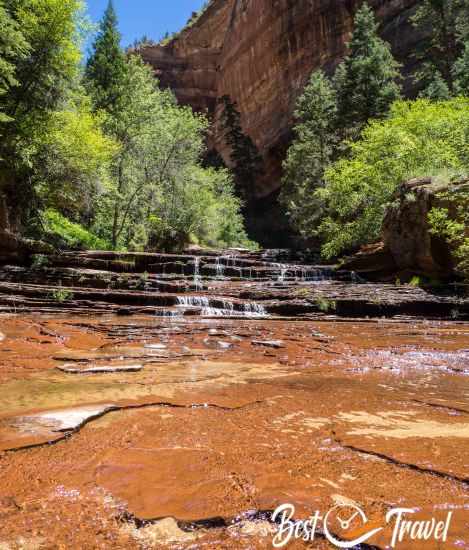 The entire track ascends against the creek flow with an elevation gain of about 984 ft/ 300 m. When you reach the sharp turn to the right and the first brown high walls of the rock tube appear, be careful; the surface is slippery even in shoes with good traction.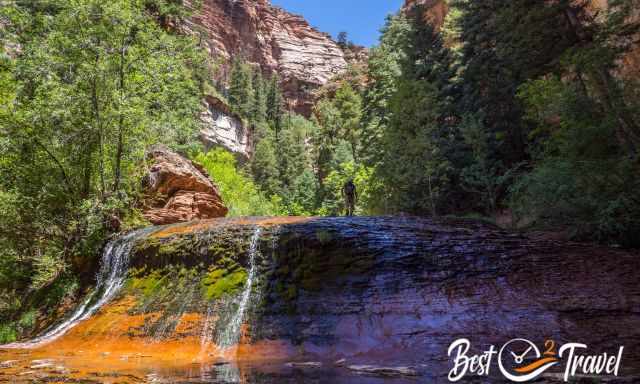 Now the most stunning part starts, and it is worth the effort. I have to confess I was fallen twice. Luckily my camera was in my backpack, well secured. However, I took back home memory for weeks with a hurting tailbone.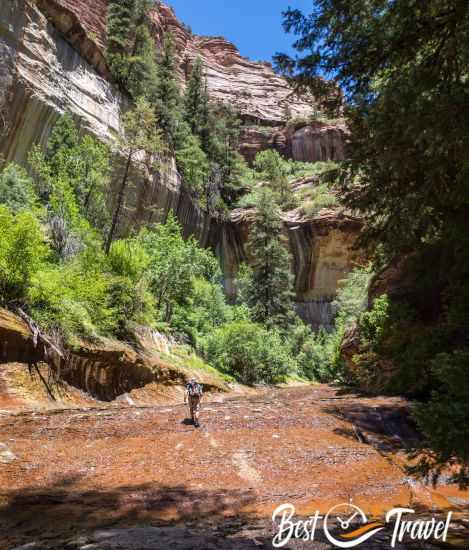 Then you finally reach the first high walls shaped like a tunnel, and you know you are almost there. What mother nature created here is overwhelming and simply beautiful. This is a fantastic place to be to leave your day-to-day world behind and soak in the jaw-dropping scenery.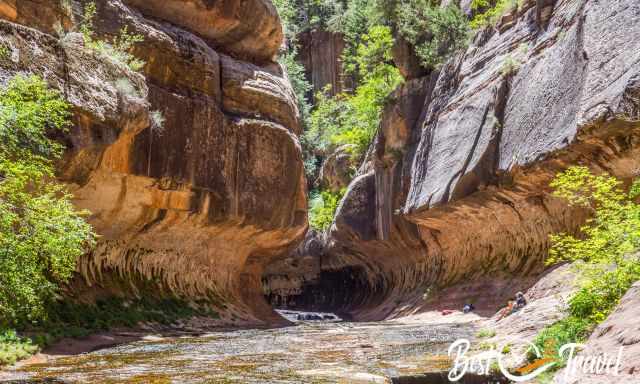 It was a bit busy when we arrived, but we were patient and, soon after, alone at this magical place. I bet you walk a different way back. In our opinion, the way back was easier and faster. Instead of searching for a path, the stream was mainly our route.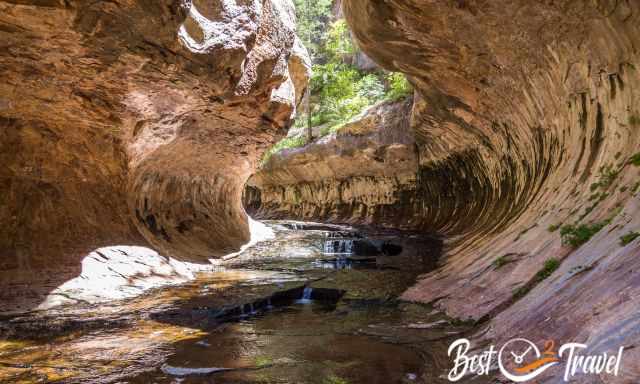 Tip: Don't jump and scramble above the rocks to avoid wet feet because this is part of the track; instead, start early by wading through the creek, which is the best and most energy-saving route. However, it depends on the season; some holes are too deep during a high-water level, and winter is cold.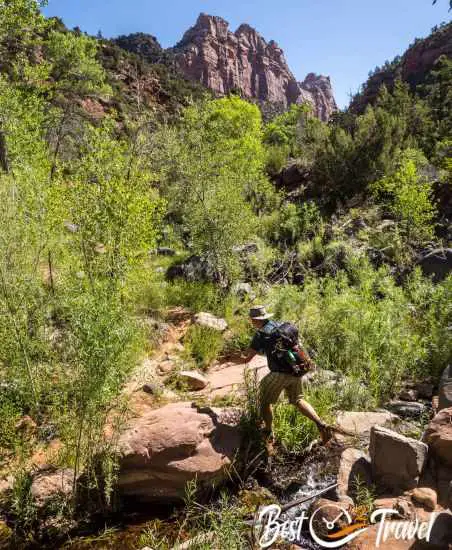 Overall, it is a challenging day hike. Start early to have plenty of daylight. Nevertheless, carry a headlamp in your backpack if it takes longer than expected.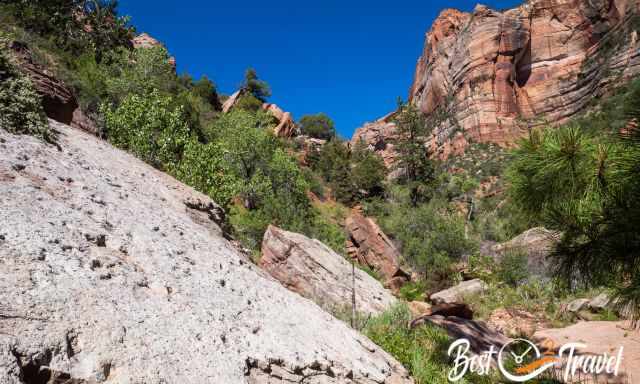 Have fun, and create memories, but please leave nothing than footprints like the dinosaur 😉.
My Hotel Tips for Zion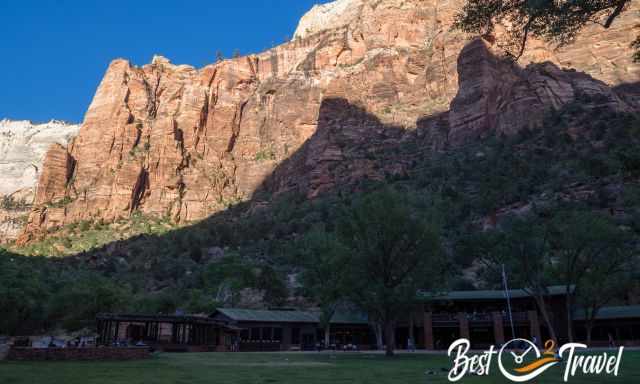 The best location of all hotels is the Zion Lodge in the heart of the National Park. However, we planned to explore the Narrows and Zion National Park from Kolob Terrace Road, which is less busy.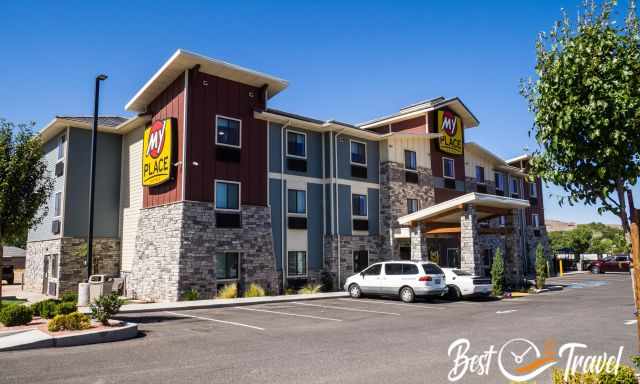 We chose the hotel My Place in Hurricane perfectly located for us. The rooms were newly renovated, some with kitchenettes where we prepared our lunch for the Narrows and Subway hike. We went here again this winter, as you can see in my Angels Landing and Zion Guide. We love this hotel, and we won't stay anywhere else.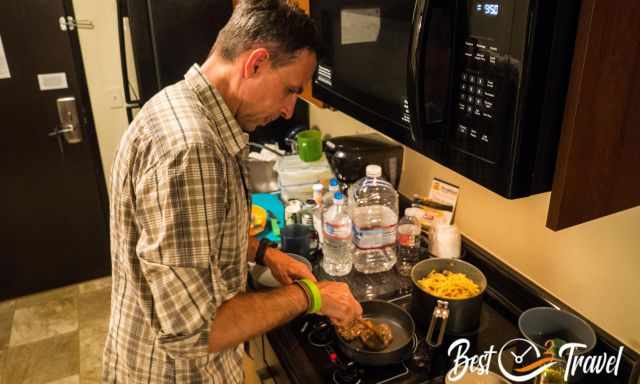 Who We Are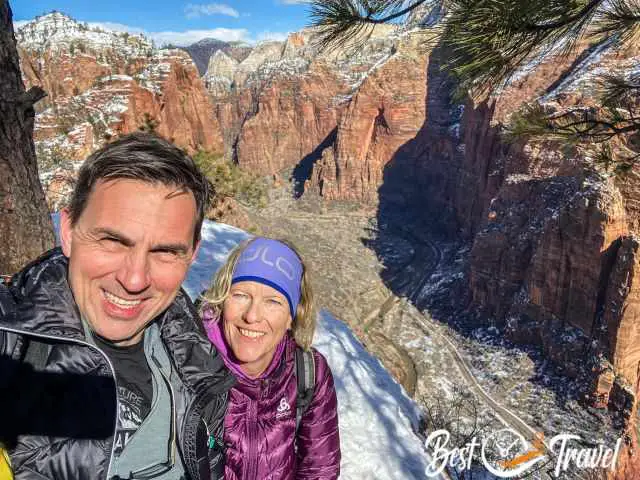 I am passionate about sharing some of the most beautiful places in the world with you, but I still can't live from my work, and we have regular jobs, too.
It is a tough business nowadays because fake travel websites rewrite content without effort and expense. Want to know more about these schemes, picture theft, and how to unmask them? Check out "The Truth  About Fake Travel Websites and Picture Theft"
Do you like my Zion and Angels Landing Guide and Tips? Please share it with your friends and on social media, subscribe to our  YouTube Channel. This would already help me a lot!
Do You Like to Support Me - It's easy; use the Paypal Button below 😍
Do you want to obtain the usage right for my images? Contact me, but I will take action against picture theft.