When Is the Best Time
The Candy Cliffs at Yant Flat are breathtaking, vast, and colourful rock formations and still a hidden gem. They are among the most beautiful sandstone areas and can compete with the Vermillion Cliffs Wilderness or Yellow Rock.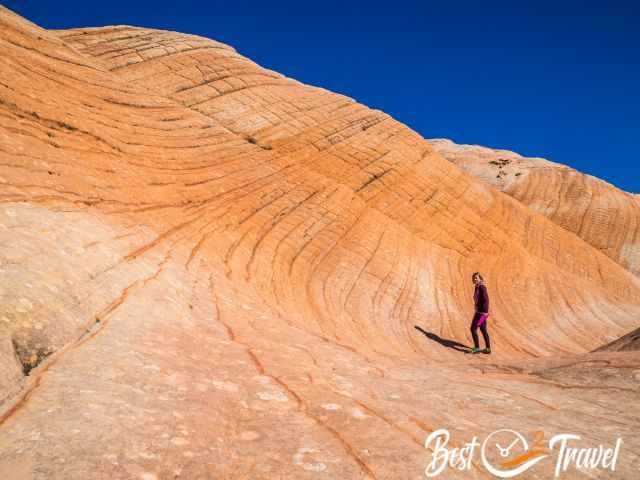 This type of rock, the petrified dunes, is harder and less fragile than the Wave or Yellow Rock. Causing damage is almost impossible. Although the Candy Cliffs are in proximity to the Snow Canyon State Park and St. George, you are able to experience real solitude.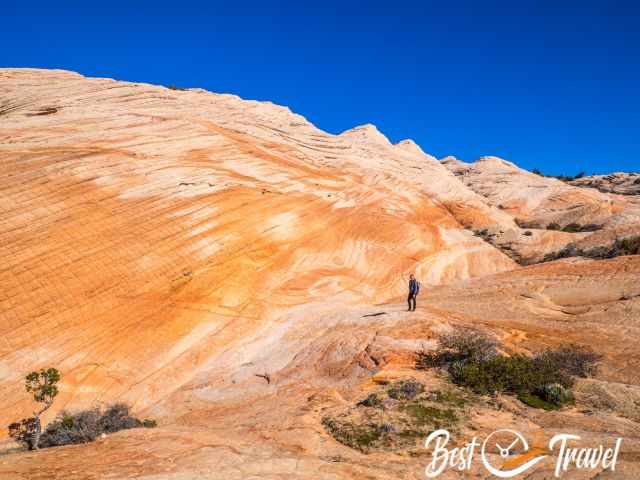 I will provide all details on how to get here, where to park, how much time you need and where you can camp nearby. The Candy Cliffs are off the beaten path and a great place to escape the crowds in Zion National Park or Snow Canyon State Park.
Where Are the Candy Cliffs of Yant Flat in Utah?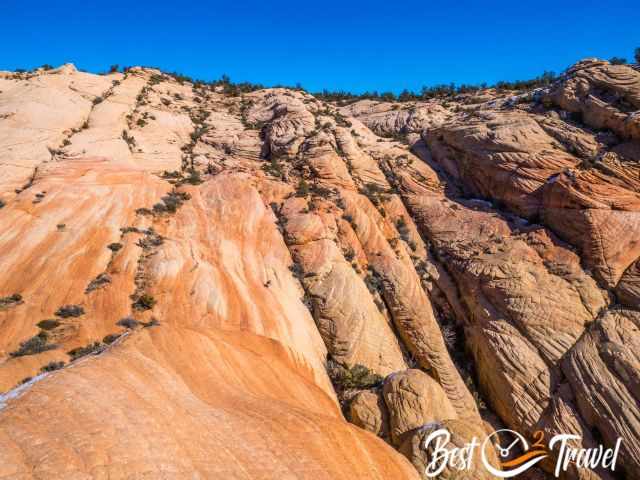 Yant Flat is a sandy plateau overgrown with bushes and trees. The Candy Cliffs, which look like orange and white striped candies, are below the escarpment just a few miles northeast of Saint George. When you follow the dirt road along canyons and meadows with cattle, you may ask yourself if this road leads to such colourful swirled rock formations, and it does. 
Parking and Trailhead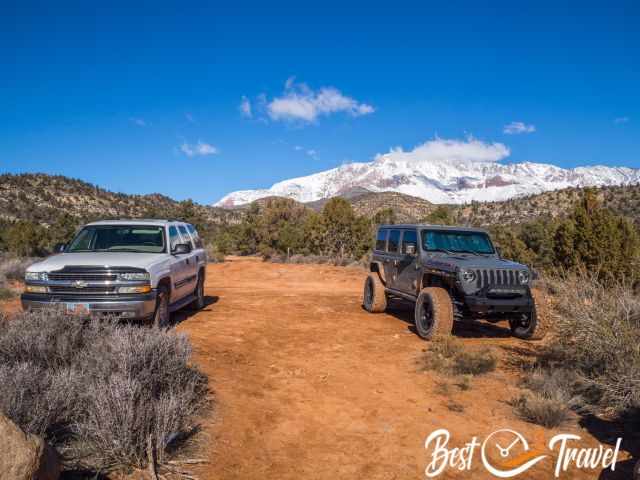 The parking and trailhead are located on a dirt road. I highly recommend getting here by 4 WD with high clearance during dry conditions. You may get stuck in the clay if the road is wet from precipitation. We had a 4 WD, but a rental with road tires instead of all terrain.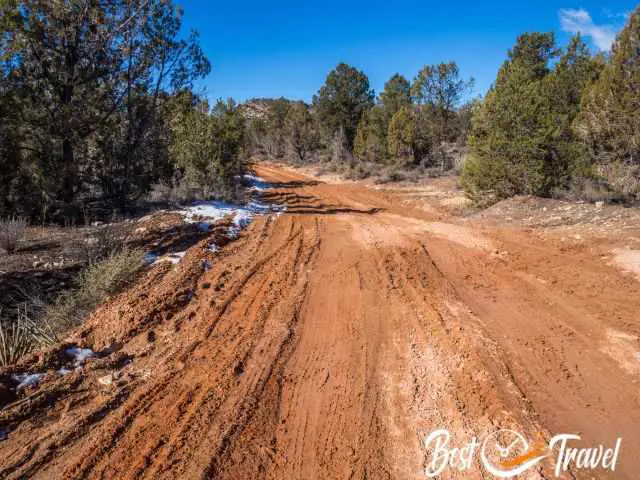 I have often read about vehicles that got stuck, could not go forward or backwards, and had to be pulled out. Our tires became slick, and this sticky mud also stuck to our shoes like glue. We had to park our car before the official parking and trailhead and hiked a little longer. 
Limited parking but still sufficient: Parking and Trailhead Google Maps
How to Get to Yant Flat?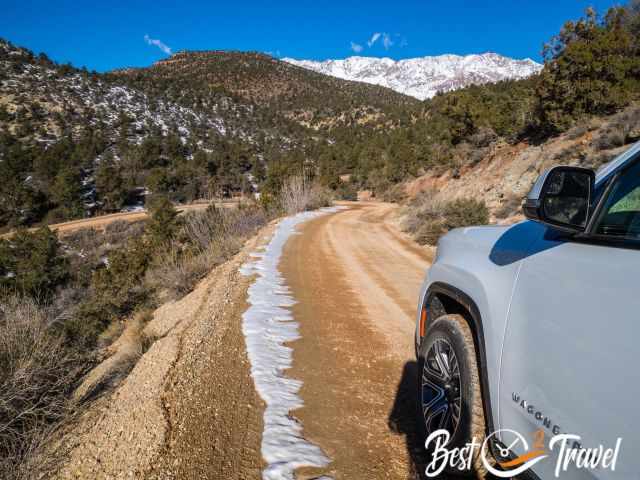 Directions to Yant Flat Parking: You can get on the dirt road, the Danish Ranch Road 031, from the east and west to the trailhead of Yant Flat or the Candy Cliffs. The eastern forest road is easier to drive and less muddy if it rained before. Coming from St. George, Google leads you on the paved Cottonwood Springs Road to Yant Flat from the west, but this access road is rough.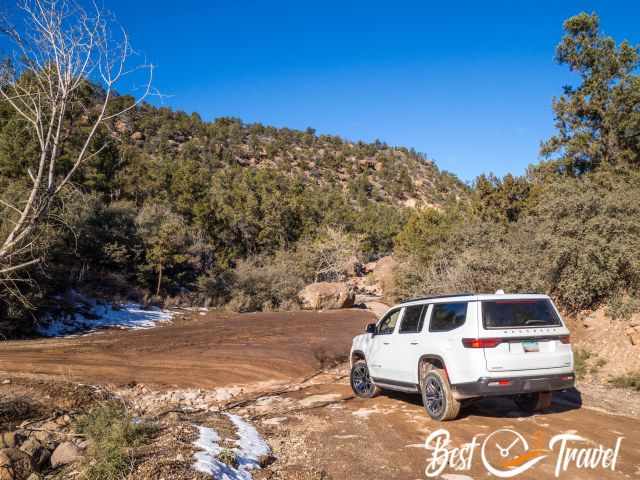 Ignore the directions and continue on Hwy 15 until exit 22 Leeds. If you are coming from the other direction – Kanarraville, Hurricane, Zion – it is exit 23. The last 1.4 miles are the worst in wet conditions. We parked the car half a mile before the trailhead because of the clayish soil wet from the snow. 
Location and Trail Map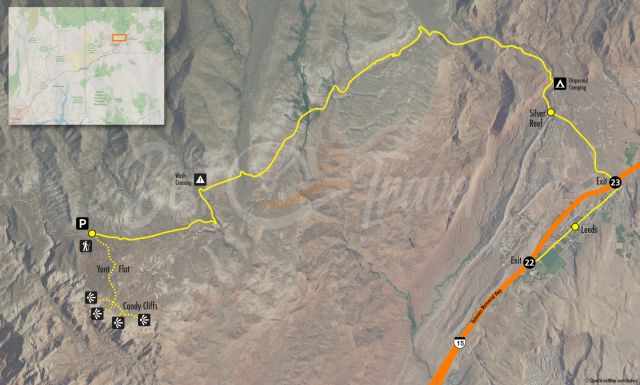 How Long Is the Hike to Yant Flat?
From the trailhead, it takes roughly 45 minutes for the easy to moderate 1.5 mi/2.5 km to the beginning of the Candy Cliffs. The trail leads through the sand and a low pine forest with desert plans.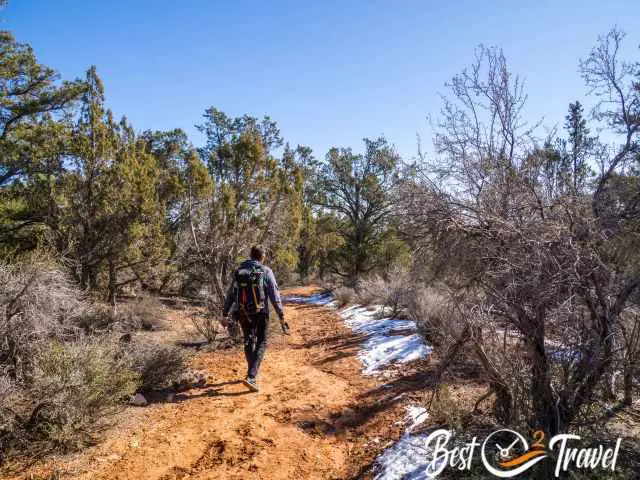 You can't walk fast through the sandy track. When you reach the plateau, you can descend straight forward or walk to the right or the left. There are plenty of photo options depending on the time and sunlight. The cliffs are steep in sections, however, the cube-patterned rock surface is easy to handle if you wear shoes with good traction.
Hiking Map to the Candy Cliffs by Locus Map App, our mobile hiking app. We never go without - more in my Tips and Gear section.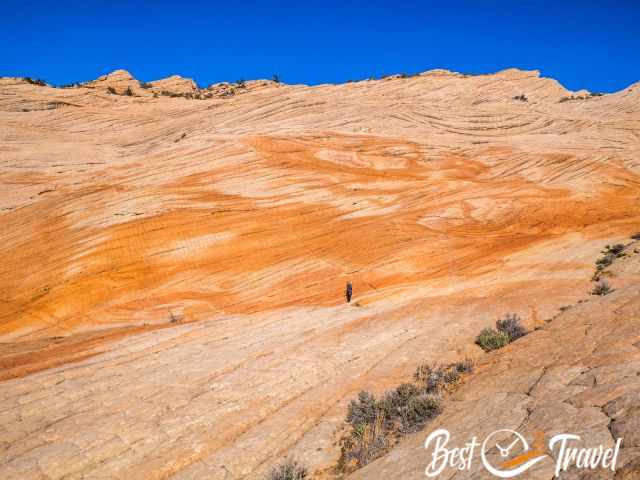 Our return hike to Yant Flat and above the Candy Cliffs was 4.5 mi/7 km long with a 558 ft/170 m elevation difference.
How Much Time Do I Need for the Candy Cliffs?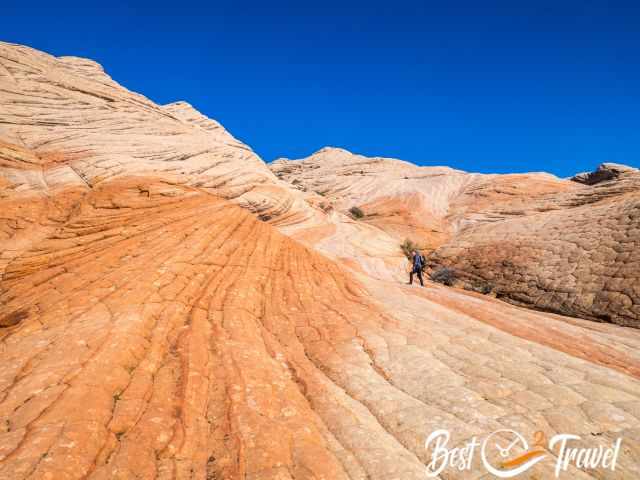 It takes roughly an hour to get here from St. George. From the trailhead to the rock formations, plan roughly 45 minutes. Now it is up to you how much time you like to spend here and how much you like to explore. It is best to have at least two or three hours to explore the fossilized sand dunes and the colourful and swirled formations. 
Best Time and Daytime for the Candy Cliffs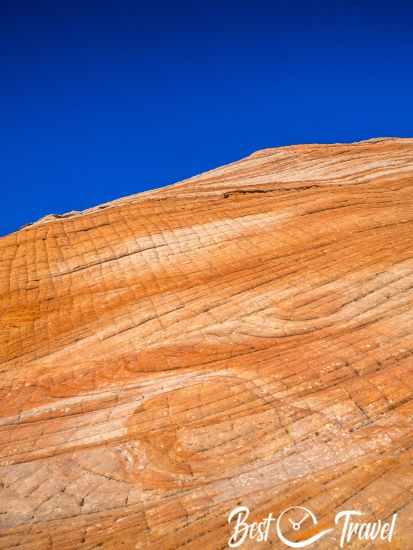 Spring and fall, with pleasant temperatures, are the best months. The summer from June to September is hot on the sun-exposed plateau. After rainfall in summer, the dirt road is impassable, and the same in winter with snowfall.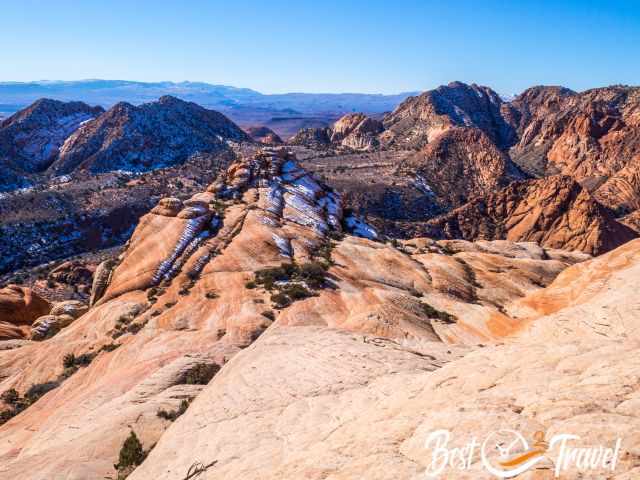 Yant Flat is situated at 4,600 ft/1.400 m above sea level. We experienced some snow in January. Several feet of snow fell in February 2023.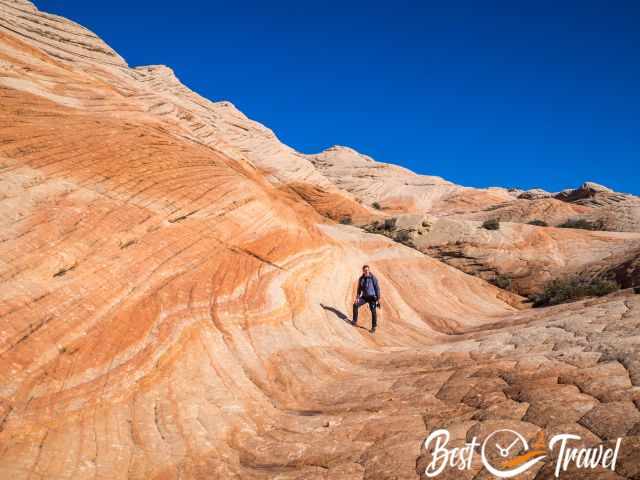 The best daytime for great shots is in the morning and late afternoon. At midday, the sun is too bright.
Camping at Yant Flat – Candy Cliffs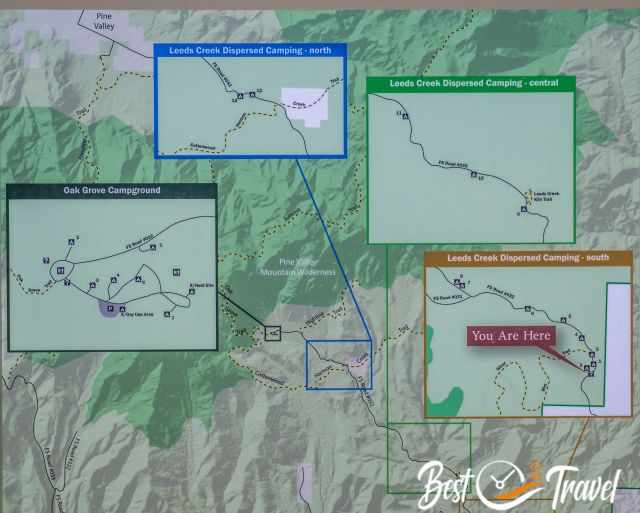 You can't pitch your tent next to these rock formations, however, dispersed camping is allowed at four camp areas nearby with much space at Leeds Canyon, part of the huge Dixie National Forest and free of charge.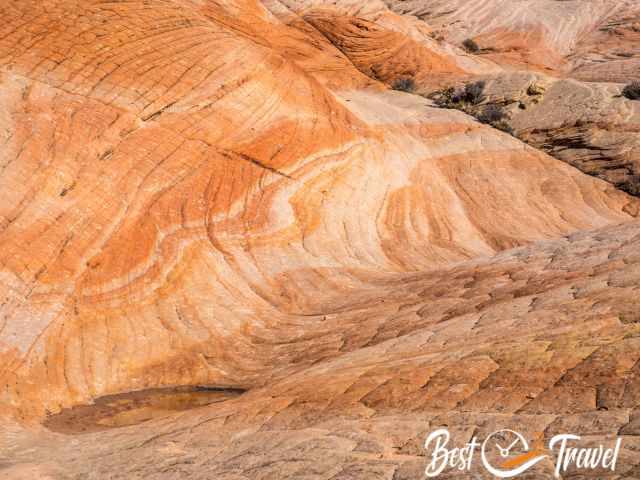 You pass by the Silver Rim Trail, where the dispersed campsites are located. These are the Leeds Creek dispersed camping areas in the south, central, and north and the fourth is Oak Grove Campground. You can't miss them; all are well-signed. From here, it is another 8.5 miles to the Yant Flat Trailhead.
Location Silver Rim Trail Google Maps: here is the first campsite soon after to the left.
Our Packing List for Yant Flat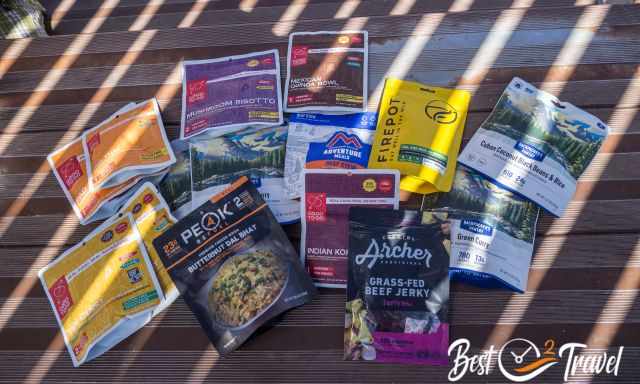 When we travel through the US to remote places, getting a proper meal during the day is usually impossible. We tried out dehydrated meals, which are convenient and time-saving. I have to confess we didn't expect such good quality and taste.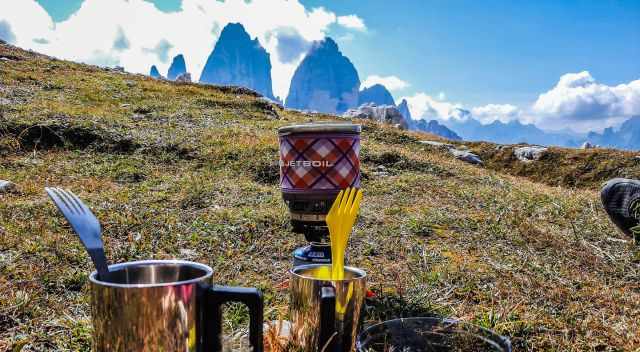 To quickly boil some water either for a hot drink or to prepare some dried food, we count on a MiniMo Cooking System from Jetboil. The Jetboil always joins us, like in the Italian Dolomites or at the Wahweap Hoodoos close to Page.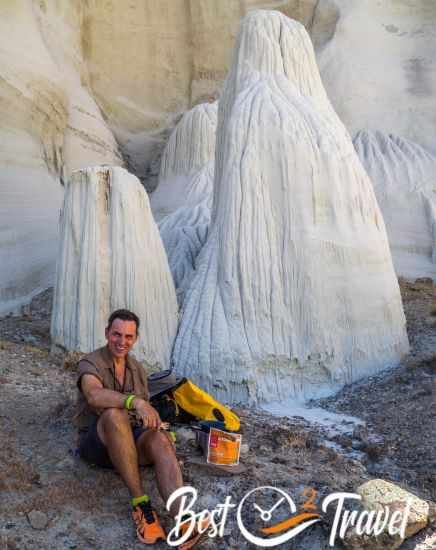 In case of an emergency or a hike that takes longer than expected, we never go without our Petzl Headlamp in our backpack.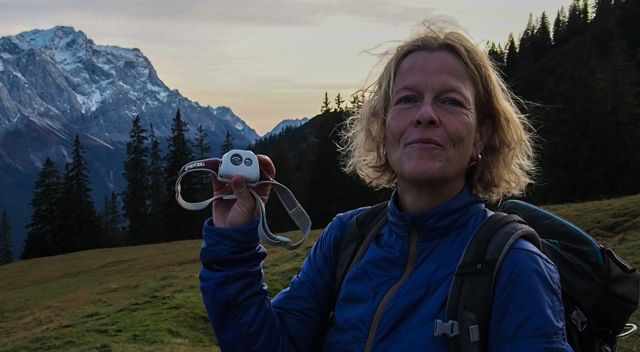 Please do not use hiking poles on the sandstone rock formations; instead, wear proper shoes with grip. Markus and I love the INOV-8 Trailtalon because of the flexible sole and the excellent grip. We have used this type of shoes for many years already.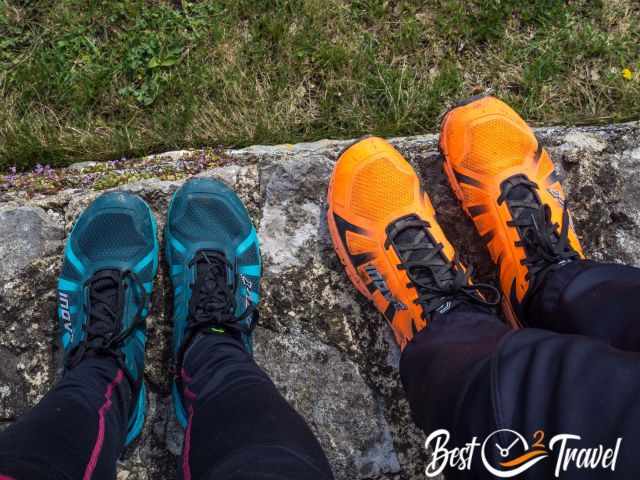 Location and Tips
Utah, St. George
United States

The Candy Cliffs are bizarre, swirled rock formations. As in the Snow Canyon State Park, they are fossilised dunes situated along the upper rim of the Cottonwood Canyon Wilderness.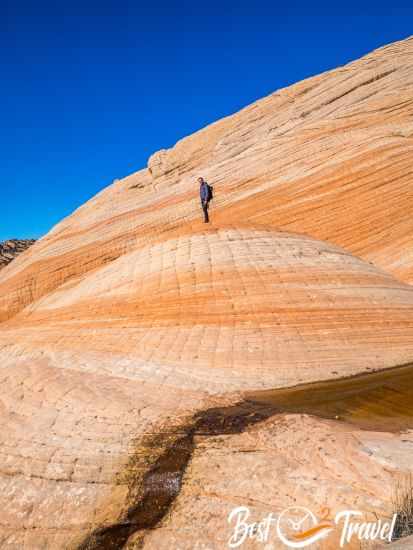 Who We Are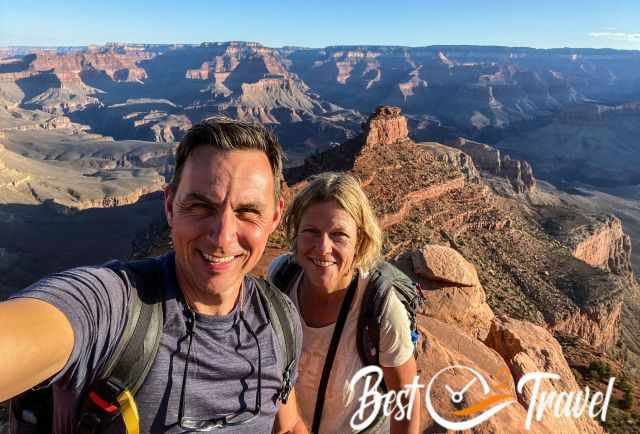 We are passionate travellers, married for almost 25 years, and we love discovering hidden gems around the globe. I am passionate about sharing some of the most beautiful places in the world with you, but I still can't live from my work, and we have regular jobs, too.
It is a tough business nowadays because fake travel websites rewrite content without effort and expense. Do you like to know more about fake travel websites and how to unmask them? Check out "The Truth About Fake Travel Websites"
Do you like my Yant Flat Guide? Please share it with your friends and on social media, subscribe to our  YouTube Channel.
Do You Like to Support Me - It's easy; use the Paypal Button below 😍
Do you want to obtain the usage right for my images? Contact me, but we will take action against picture theft.