When Is the Best Time
The Valley of Fire State Park is an explosion of colours just an hour from Las Vegas. The wintertime is the quietest, and this park is magical, constantly changing with the sunlight. The best pictures can be taken at sunrise, later in the afternoon, and at sunset.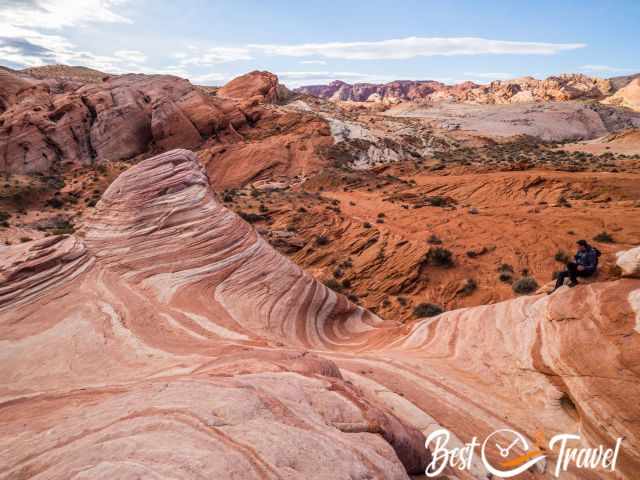 If you wish to visit the park, come here for an entire day and bring your lunch in a cooler. Don't miss these spectacular vistas even if you have just a couple of hours available. And check out my tips, hikes, and updates below from our visits in January and mid-June and what is new in 2023!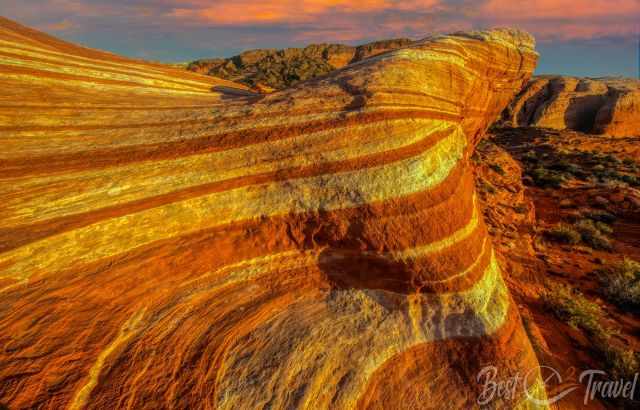 To jump immediately to the different topics, check out my Table of Contents:
Opening Hours for the Valley of Fire State Park and Visitor Center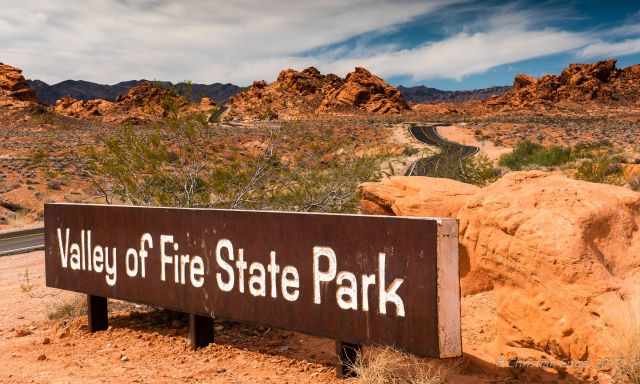 The Valley of Fire State Park is open from sunrise to sunset, and this means the Fire Wave and Seven Wonders trail are open from sunrise to sunset. Closed during extreme temperatures in summer from June to September for four months.
The Visitor Center is open from 8.30 am until 4.30 pm - summer, 9 am - 4 pm.
It's a small and lovely visitor centre with attentive staff. They provide you with information about the history and grab a map to avoid missing any outstanding sandstone rock formations. Also, a short film about the State Park is shown.

 

The visitor Centre offers souvenirs, beverages, ice cream, and ice for cooling. There is an exciting exhibition on how Valley of Fire developed.
Download the Hiking Map if arriving after hours! There isn't any leaflet or map displayed outside.
Entrance Fee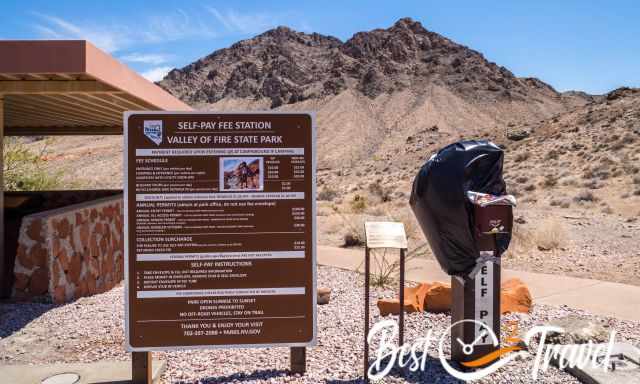 $ 10 per car for Nevada residents (vehicles)
$ 15 non-residents and vehicle
$ 2 p.p. by bus, bike, horse ride, walk-in
Free admission during our visit on June 11, 2022 - Nevada State Parks Day
New Reservation System September 2023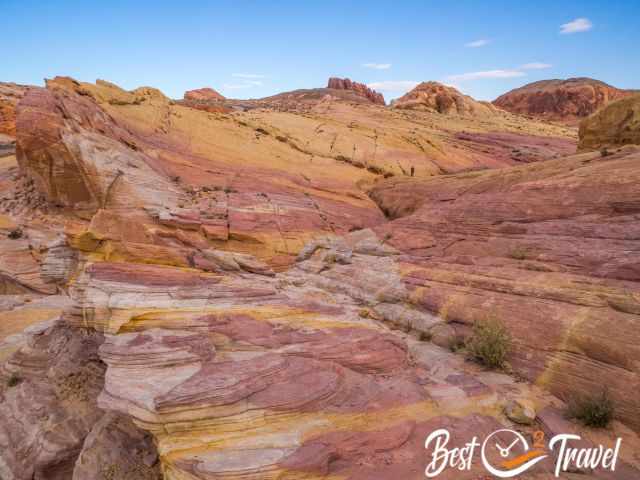 Nevada State Parks implement a new online reservation system: Reserve Nevada.
You can purchase day-use passes, reserve your campsite or cabin and also annual permits. Unfortunately, it was necessary because of the high demand and the increasing visitor numbers, an estimated 4 million visitors in 2023. Plans are to go live on September 1st with the Valley of Fire State Park, one of the 27 State Parks in Nevada.
Camping reservations must be made at least three days in advance. If campsites are left, you can get one on a first-come, first-serve basis. Honestly, I think this is not good news. I often experience that campgrounds are officially fully booked, but in the end, some sites are not occupied, taking the opportunity of other visitors to stay in a National or State Park. It also takes all the flexibility—more news and where to make the reservation soon.
9 Tips and Hikes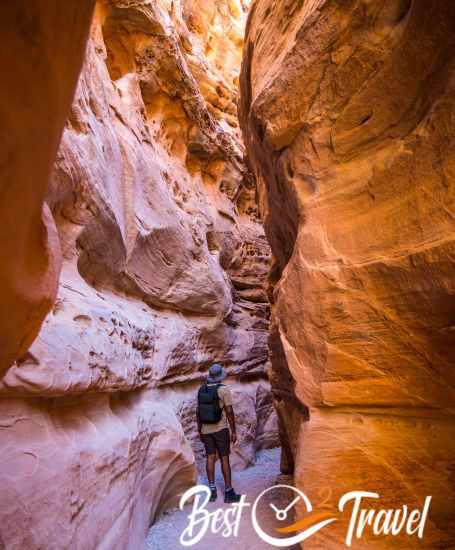 1 Fire Wave and Pink Canyon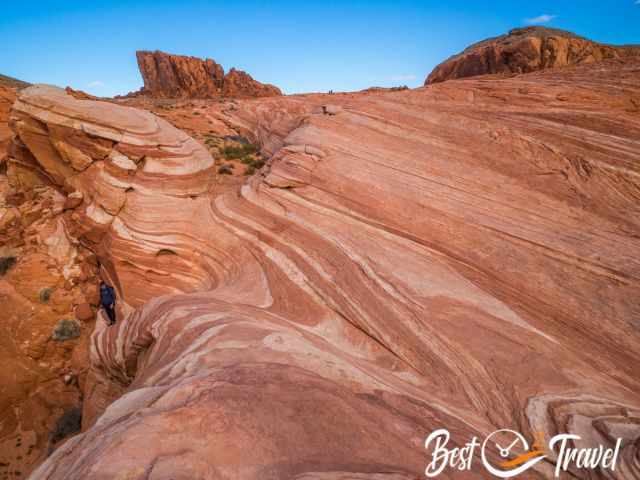 Don't miss the colourful Fire Wave and the Pink or Pastel Canyon close to the road. The trail is less than 2 mi/ 3 km long. From the main parking Fire Wave Google Maps, follow the signposts to the Fire Wave and afterwards turn right to the pink canyon.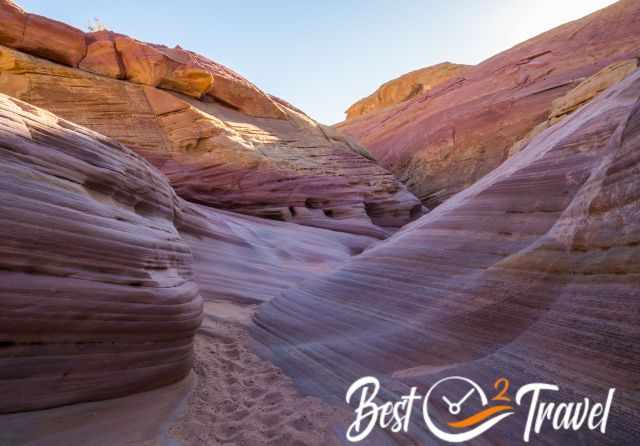 It is the most popular spot during the day and, therefore, a little busy in the transition time in spring and fall. In the winter, in January and February, you are able to enjoy the breathtaking formations almost alone 
There are several huge parking lots before and after but closed in the summer from June to September. Fire Wave location on Google Maps
2 Arches at the Campgrounds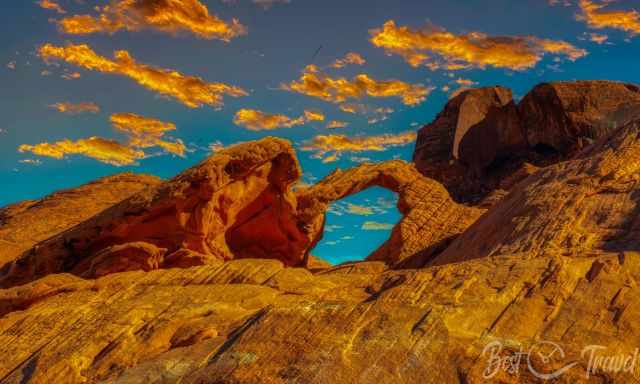 Drive the loop around the campgrounds with some of the most magnificent arches.
3 White Domes Hiking Trail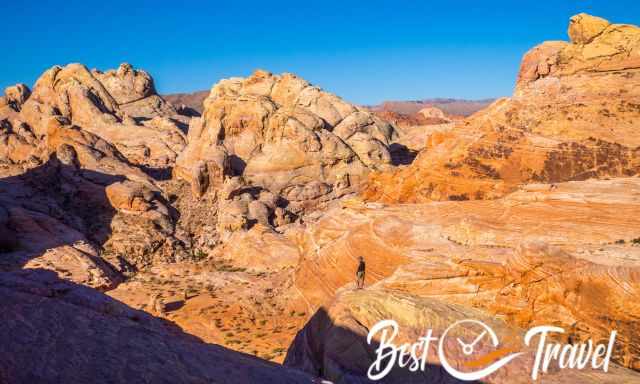 The White Domes Loop Trail leads to a movie location and through a short slot canyon. We climbed up to the rocks on the left for awesome views of this picturesque landscape.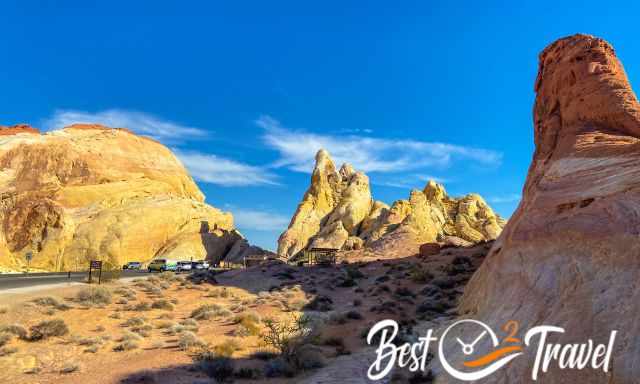 There are restrooms and a picnic area but limited parking. Honestly, the toilets are smelly during the heat in summer, if possible go to the visitor centre before.
4 Check Out the Petroglyphs
Most petroglyphs can be seen at Mouse's Tank, some impressive ones already after a few hundred ft to the left. Another fantastic spot is Atlatl Rock (pic attached); ancient drawings have existed for over 4000 years, created by ancient tribes. These paintings are a reflection of the past.
5 Fire Cave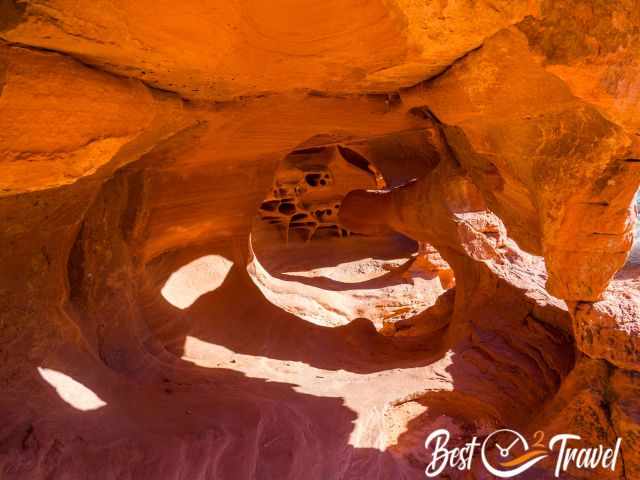 The Fire Cave looks inconspicuous from the gravel road, but you are able to walk and climb in it. It is just a one-minute walk from the gravel road, which leads to the Arch Rock campground. Google Maps Location
6 Hiking and Park Map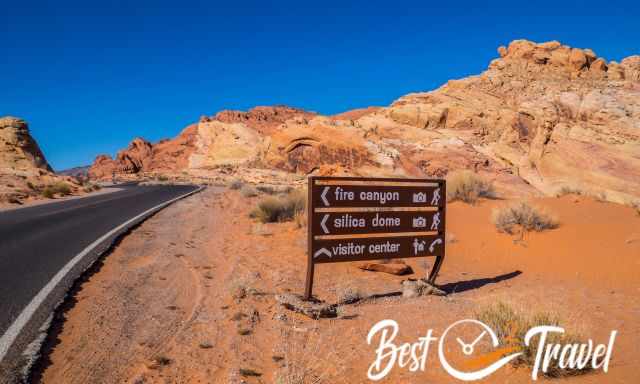 Download the Hiking and State Park Map if you arrive after visitor centre hours. There isn't any map or board with a park map available. Several visitors took pictures of our map for their two hours visit on their way to Las Vegas.
7 Petrified Logs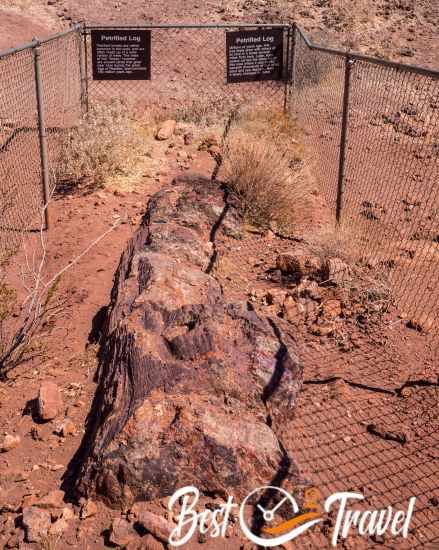 There are two spots where you can see petrified trunks; one close to the campground and the other toward elephant rock; the east entrance.
8 Seven Sisters - Picnic Area and Wedding Location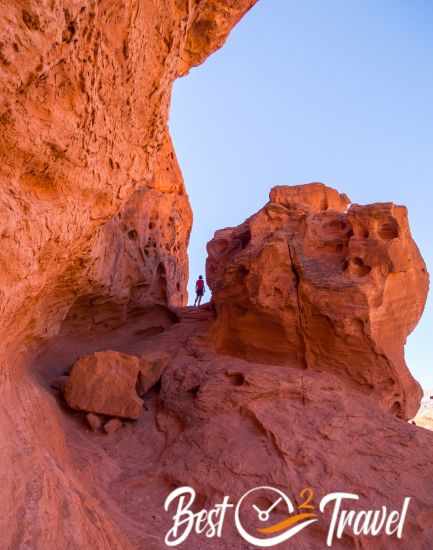 The Seven Sisters are red sandstone formations, a sheltered picnic area and a breathtaking location for wedding pictures.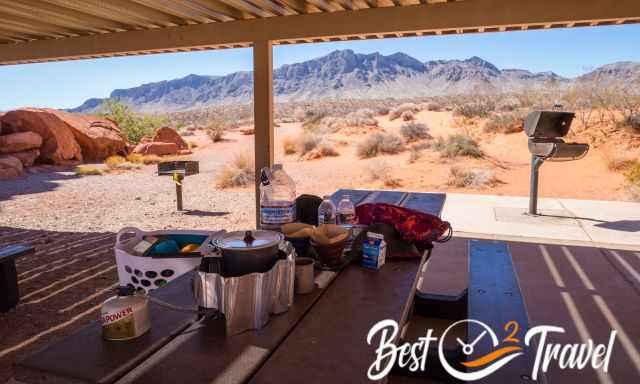 When we took a break at the picnic area, wedding pictures were taken at the impressive rocks. Shortly after I climbed up the rock below, the bride and groom came here.
9 Wildlife in the Valley of Fire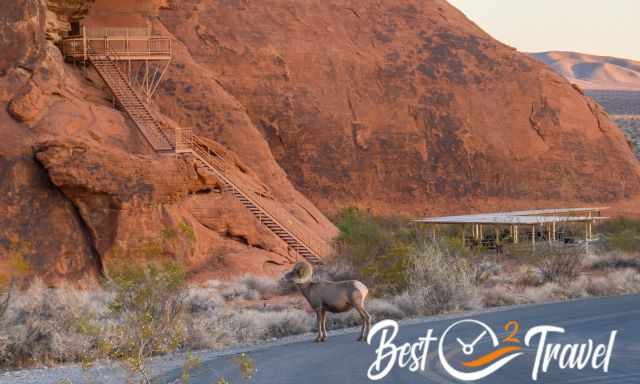 If you like to spot big horn sheep, you have to get up early at sunrise. Because of the heat, we got up at 5 am and spotted big horn sheep at Atlatl and on the road to the White Domes.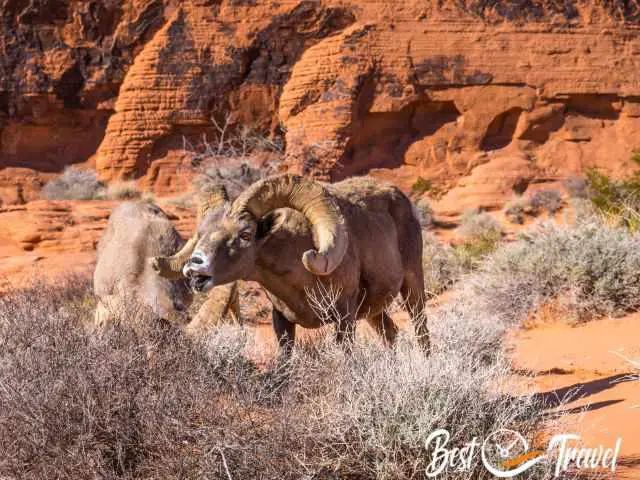 I am not a morning person, but it was worth it for the sheep and to avoid the heat during the day. In the winter, big horn sheep are easier to spot also during the day.
The State Park is a popular filming location well-known for movies like Star Trek Generations, Transformers, Airwolf, Total Recall, Viva Las Vegas, etc.
Camping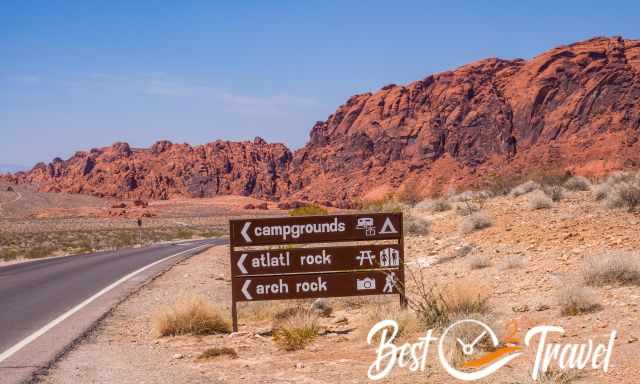 There are two beautiful campgrounds located in the Valley of Fire National Park. Both are on a first-come, first-served basis and are equipped with flush toilets and coin-operated showers. Each site has a sheltered picnic table, BBQ, and fire pit. Bring all supplies; there is nothing available inside the park except water and ice cubes for cooling. Check in with a simple form plus the camping fee of $10 in cash and put the envelope into a dropbox. Soon online reservations are essential. We are in Nevada in September and will check out how it'll be in the future.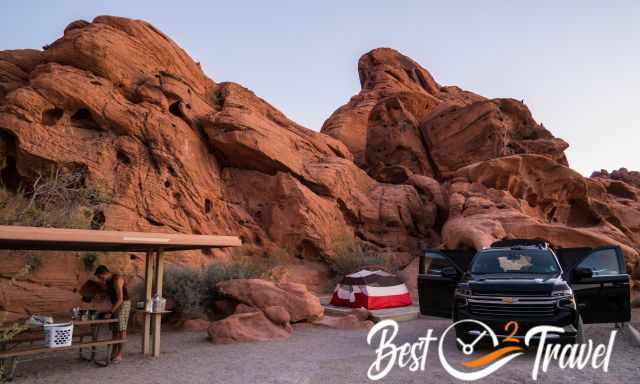 The campgrounds are busy in spring, fall and at weekends. It's recommended to arrive at midday. Weekdays are less crowded, and you can choose one of the different sites. Summer is less busy because of the heat therefore, Atlatl campground gets closed during this time of the year.
Atlatl Rock Campground - Closed in the Hot Summer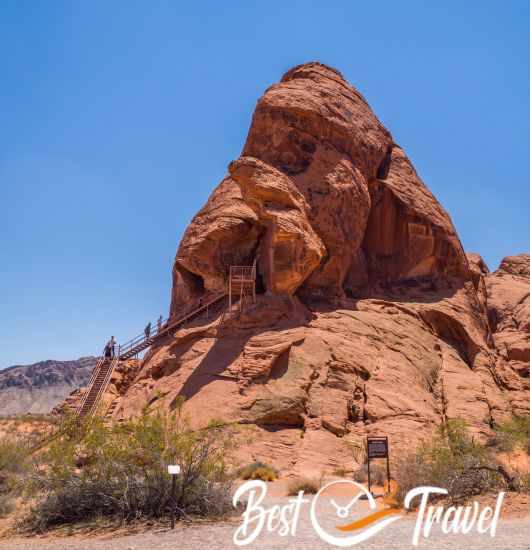 Picturesquely located at red sandstone formations where stairs lead to the top with a spectacular view. This campground has 43 sites, some with water and power hook-ups, and some are basic. Closed in summer because of the low demand due to the heat. The sites at Atlatl campground offer more privacy which I prefer.
Arch Rock Campground - Open Throughout the Year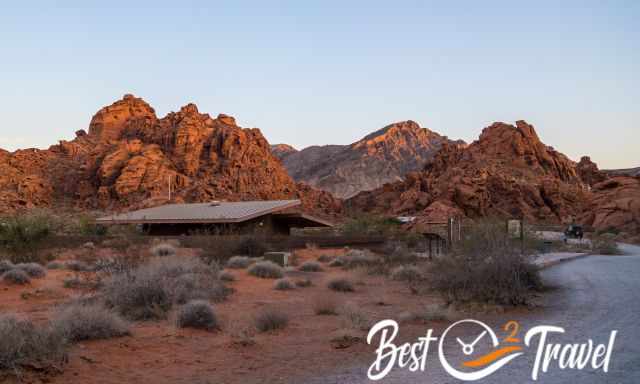 More primitive campground with 29 spacious sites beautifully located. It is an excellent location for star gazing.
Top Tip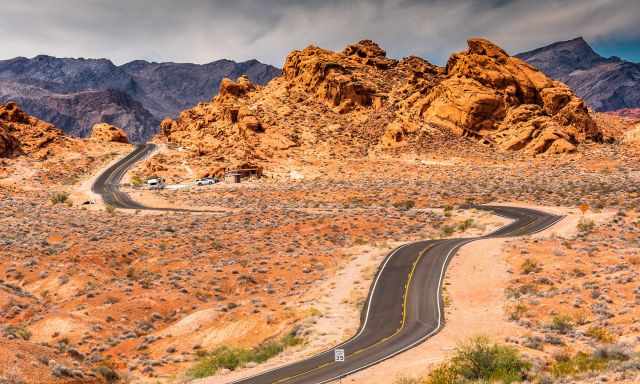 Pay attention to the speed limit, like the 35 mph in the picture above; the Highway is frequently patrolled!!
Where to Stay - Hotels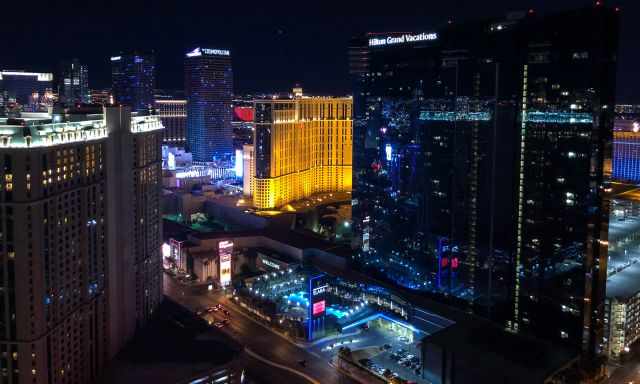 This question is easy to answer; either you camp in this outstanding scenery or you stay in Las Vegas. Check out some of the best hotels in this vibrant city in the desert. 
Valley of Fire Weather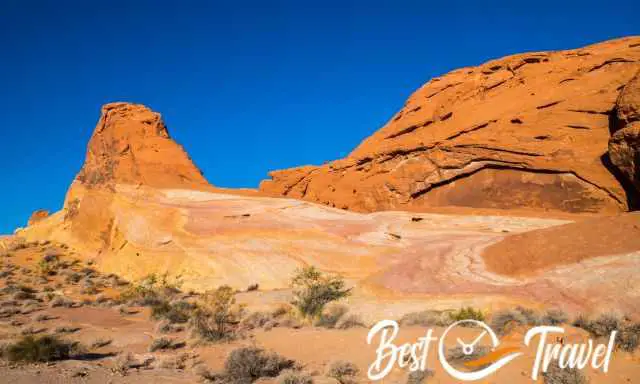 The state park has a warm and arid climate due to its location in the Mojave Desert. I only categorize the weather and temperatures in the Valley of Fire into three seasons. Why? The summer lasts much longer, and the climate is utterly different to the typical four seasons. I will try to give you an idea of the best time with the most pleasant temperatures for an outstanding experience in the Valley of Fire.
Scorching in the Summer (May-September)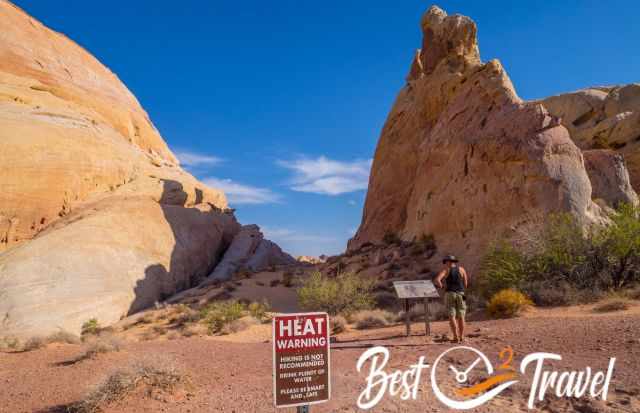 May to September temperatures range on average from 33°C/91°F to an unpleasant heat topping 42°C/108°F in the shade. Although it cools down a little without the sunshine, nights are still warm. In May and September, temperatures are below 20°C/68°F at night. From June to August, night temperatures are above 20°C/68°F. Sometimes thunderstorms and downpours occur.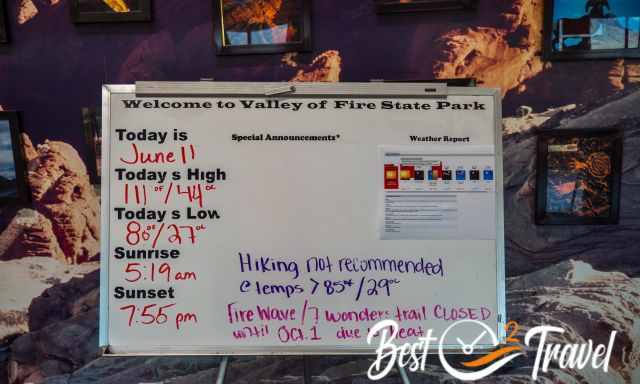 Summer is the hottest and sunniest time of the year. The Fire Wave and Seven Wonders, the Pink Caynon are closed from June first to September 30. All parking lots for this hike are closed. However, May 2023 was already scorching. With climate change, the statistics are not accurate any longer. Always check the forecast first.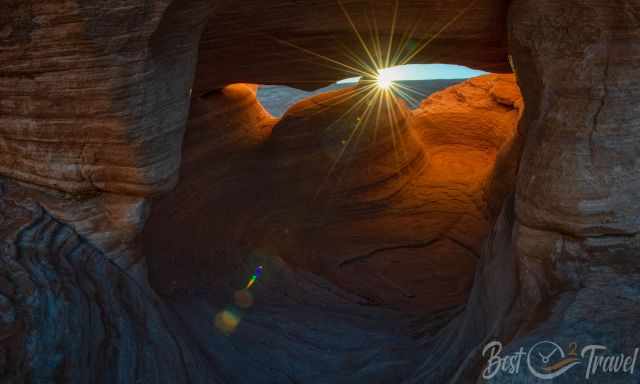 If you wish to visit in the summer, the best daytime for exploring the Valley of Fire is early morning and continues after 5 pm. The midday heat is too hot for hiking and exploring. Usually, the Fire Wave and Seven Wonders trail gets closed during the extreme summer heat. What means early morning? Sunrise is around 5.30 am, so get up at 5 am and enjoy this wonderful landscape before it gets scorching from 9 am onwards. sunrise and sunset times
Bearable in the Transition Time in Spring and Autumn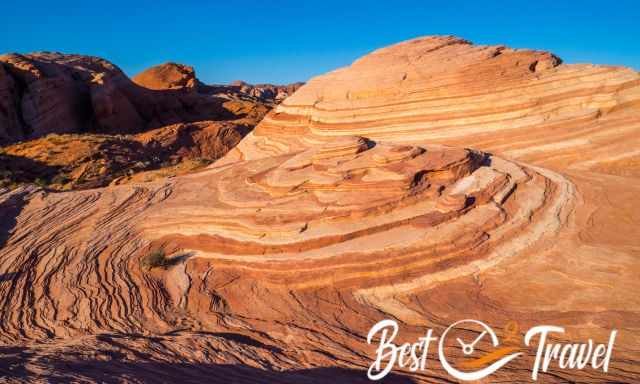 April and October range from 26-29°C/79-84°F during the day. Night temperatures are cooler on average, around 10°C/50°F. Occasional showers occur in April and October, and it is rare to experience overcast days. The spring highlights are the blooming plants like the desert marigold, indigo bush or desert mallow.
Pleasant in the Winter (November-March)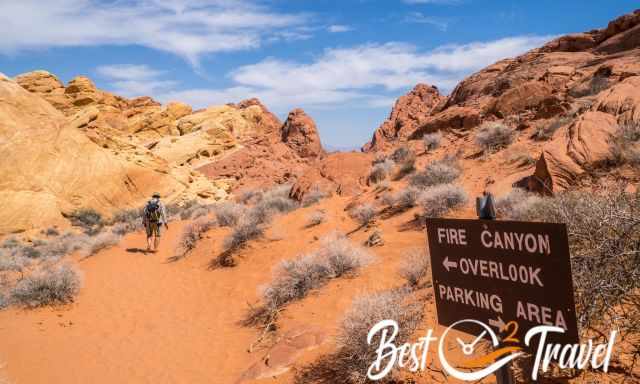 The best time to visit the Valley of Fire is November to March. During winter, the temperatures are mild, ranging from 15-23°C/59°F-73°F during the day. However, in January and February, a chilly wind occurs frequently.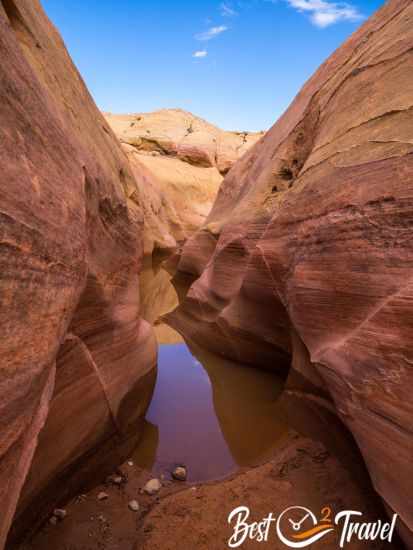 November and March are topping 20°C/68°F. It is the perfect time for hiking and exploring the valley. Nights are chilly temperatures are around freezing. It is the coolest and most pleasant time, with occasional light showers and overcast days.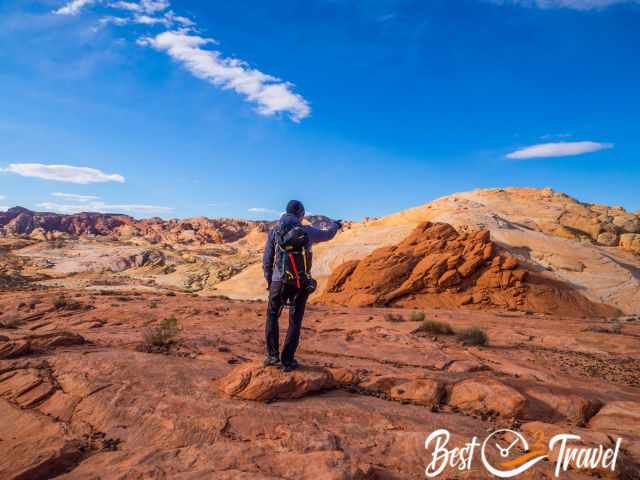 Rain occurs, but you are in the desert it is not an issue here. Is there snow in the winter? It is rare but happens sometimes, and you must drive carefully on the roads. 
Avoiding the Crowds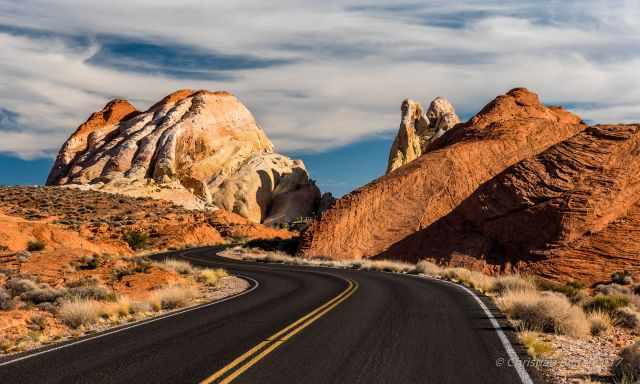 The park is busier during the colder season, especially from March to late May. Both campgrounds are filled up before midday. Weekends are more crowded than weekdays, and it's less busy in the summer as many visitors want to avoid the heat during the day. Winter is the best option to enjoy the desert landscape without the crowds.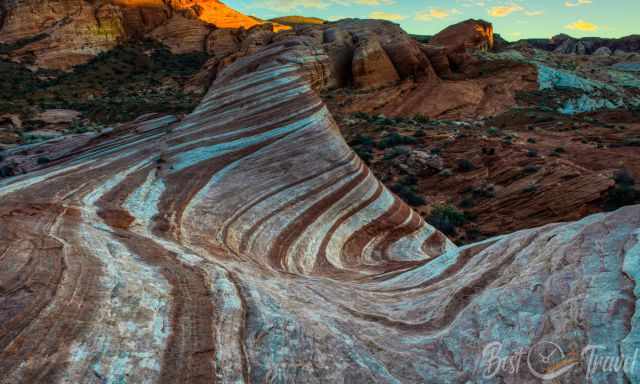 However, it's a lot busier in winter than in the summer months. Always keep in mind, that it's a State Park and not a National Park; therefore often underestimated. Limited parking at all stops: Arrive either early (before 9 am) or late (after 6 pm) during the peak season. Overflow parking is available.​
Three Most Asked Questions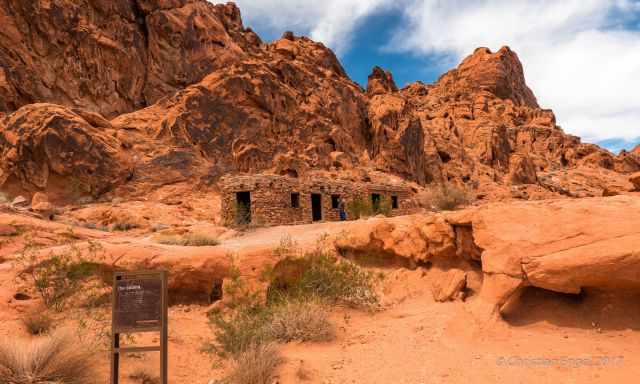 Why is it Called Valley of Fire? 
The red sandstone formations look like the entire valley is on fire during sunset. 
How much time should I spend in the Valley of Fire?
From my own experience spent here at least an entire day - 24 hours watching the sunrise and sunset. There are several awesome hikes available. Bring a cooler and prepare your lunch in this beautiful scenery at one of the BBQ areas. If travelling by camper, stay a night and enjoy the outstanding night sky and sunrise as well. Stargazing is spectacular in the desert. 
What makes camping here so unique?
The breathtaking night sky and the sound of silence! If you come from Las Vegas, you appreciate the silence even more. The spacious campsites give privacy in a beautiful setting of different coloured rock formations.
Valley of Fire Geology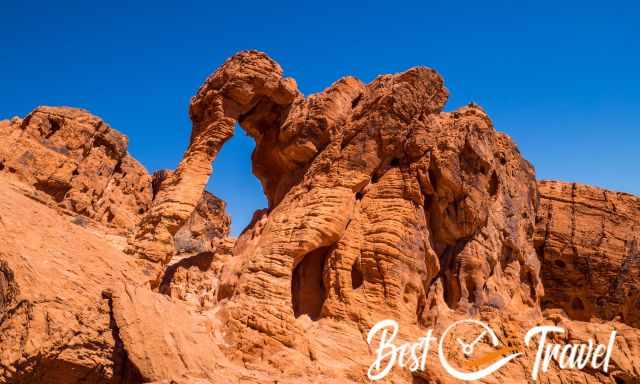 The Valley of Fire was developed by an ancient sea 400 million years ago.
The grey ridge and rocks are older, estimated 250-500 million years old.
The red rocks are younger from the Mesozoic Era, estimated at 250-66 million years old.
The red sandstone formations are different in their shade, which is caused by the amount of iron oxide. 
An estimated 10 thousand ft/ 3 km disappeared by erosion in 70 million years.
Do you wish to know more details? Check out the exhibition in the visitor centre!
Is the Valley of Fire Worth Visiting?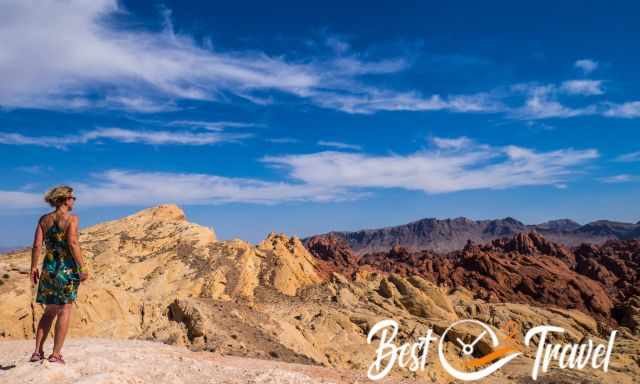 Yes, and I am sure you are convinced after reading my article. Please, don't come in a rush; spend at least an entire day in this fascinating landscape developed from an ancient sea. However, it is worth driving through, even if only a few hours are available. Lots of great spots are easily accessible.
​Nearby Tip from Las Vegas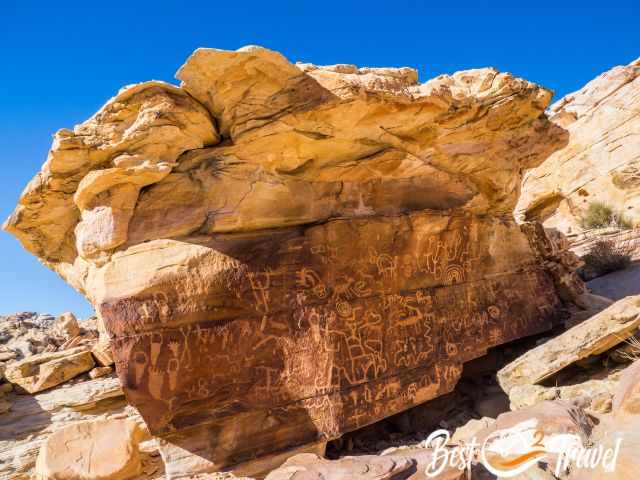 My nearby tip is Gold Butte and the thousands of petroglyphs. You can easily combine Valley of Fire and Gold Butte with one night in Mesquite. This town is perfectly located close to the new National Monument, which was just created in 2016.
Location and Tips
Nevada, Las Vegas
United States

The Valley of Fire is the oldest Nevada State Park, established in 1935. The park has a size of 19 thousand ha. The valley is famous for bright red Aztec sandstone formations and petroglyphs. Rock art from a prehistoric culture can be found at several locations within the park, like Atlatl Rock, dating back 2.500 years ago.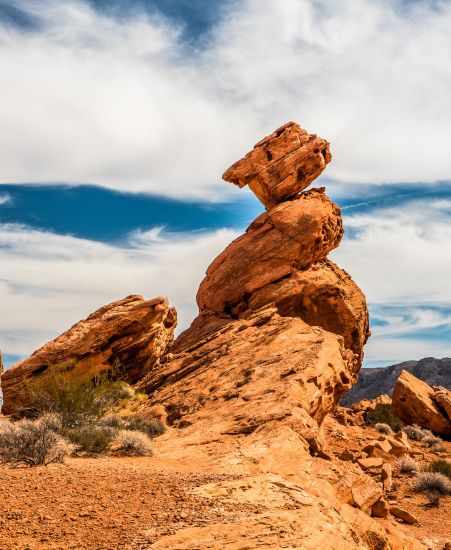 The scenic landscape with incredible rock formations and narrow slot canyons is mind-blowing. The Nevada Scenic Byway leads through the park, offering plenty of hikes for all levels. Very popular are Balancing Rock, Elephant Rock, and Arch Rock. Take plenty of water for hiking. 
Nearby Tip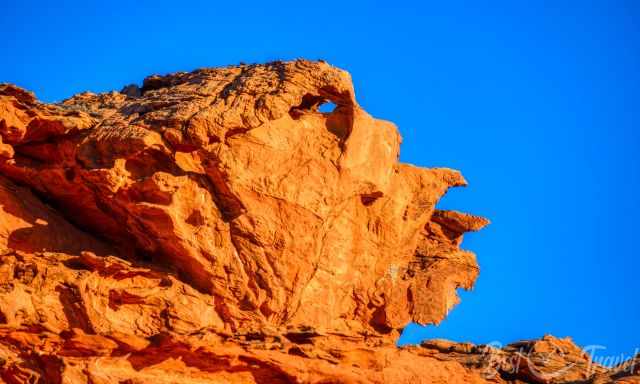 Little Finland is just up the road from the Valley of Fire in Gold Butte, easy to reach with a 4x4. Continue down the mud wash and take a right which takes you to the parking lot. Getting there by 2WD is a much longer route, more than two hours drive. This tip and photo are by the fantastic photographer Ray Downs. Check out his website for more of such excellent pictures.
These pictures are a collection of my friend and photographer Chris, the wonderful Ray Downs, and mine, mainly from the recent visits in January and mid-June. Please get in touch with me if you wish to use any of these photos, but we will take action against picture theft!
Why do I write this here? Hundreds of my pictures are used worldwide without any credit, nor did they get my permission. I don't mind giving permission, but I want to get asked for it and to be mentioned. The world wide web changed a lot, and rewriting honest travel content is the new business for many fake travel websites. Do you wish to know more about this topic and how to unmask such websites quickly? Read my article "The Truth About Fake Travel Websites and Picture Theft." 
Does honest travel content from real experiences has a future? I don't know any longer.