When Is the Best Time
Gold Butte National Monument is a hidden treasure rich in Native American history, with plenty of well-preserved petroglyphs; ancient images and symbols carved on rocks. It is a habitat for various wildlife like the threatened Mojave Desert tortoise or big horn sheep.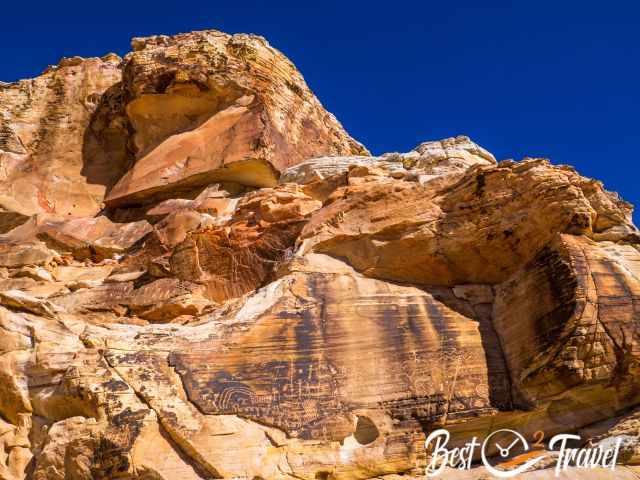 You can easily spend days here in the undeveloped national monument that covers nearly 300,000 acres of desert landscape, the Mojave Desert, but already one day will leave you in awe, and you will take countless pictures.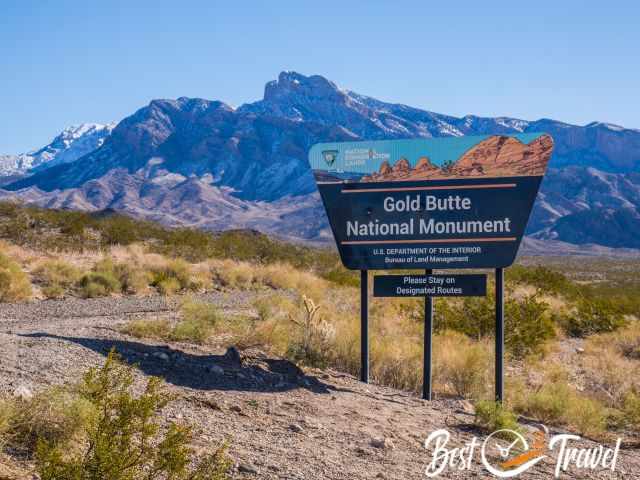 It is 32 miles, almost one hour drive from Mesquite, which was our starting point in the winter and 1.50 hours from Las Vegas. If you are coming from Las Vegas on the touristy road to Zion, Bryce and all the other popular National Parks, don't miss out on the Valley of Fire and Gold Butte.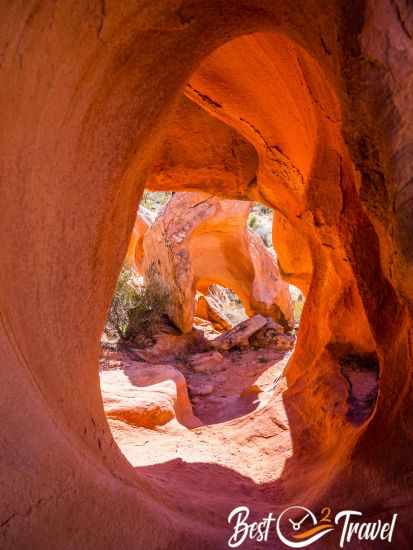 These spots are absolutely underrated and located in proximity. If you wish to experience the real wilderness without any amenities and, therefore, with solitude, Gold Butte National Monument is a Must place to visit.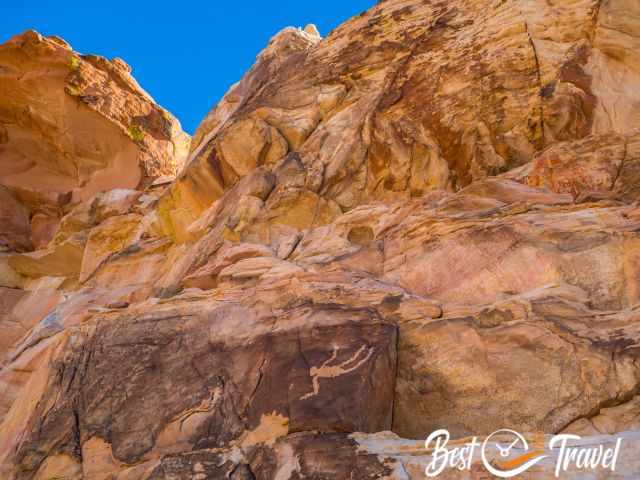 Gold Butte got its status just recently in 2016 under the Obama administration to protect the roughly 3000 years old petroglyphs and the iconic Mojave Desert landscape. Maybe this is the reason that this area is still overlooked. 
For a quick overlook what to find in my Gold Butte Guide, check out my Table of Contents:
Weather – Climate Gold Butte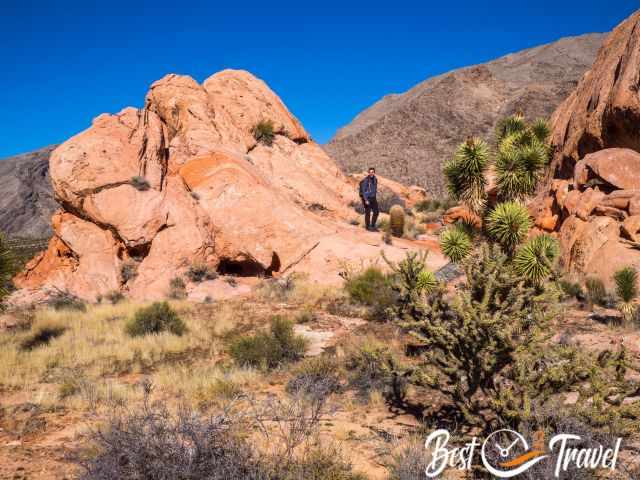 Gold Butte is located in the Mojave Desert at around 3,200 ft/ 1000 m elevation. You are in the desert, and rain is scarce. If precipitation occurs, it is most likely in the scorching summer during a thunderstorm. Therefore, always check the weather forecast before you head into the desert. Flash floods and road washouts occur, and cars are carried away. Avoid dry washouts during heavy rainfall!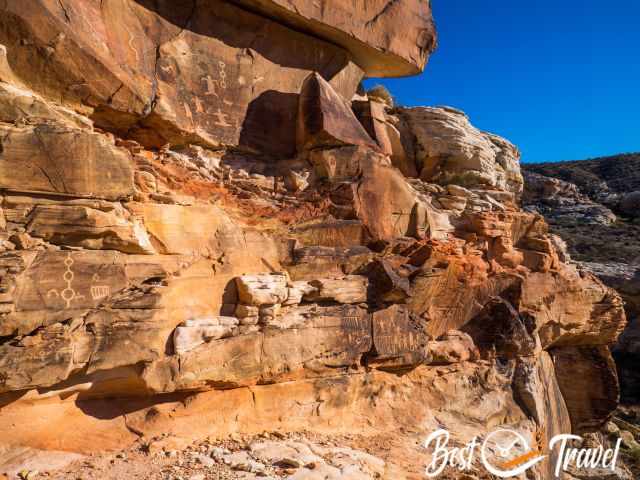 Whitney Pocket, and especially the ancient drawings, are situated in a basin. Temps become unbearable in the south of Nevada, topping 100°F/ 38°C in the summer, therefore, avoiding June to September. The year before, we visited the nearby Valley of Fire in June, and already at 9 am, we couldn't go on a hike any longer. We camped there, got up at 5 am and hiked from 6 to 9 in the morning. It was brutally hot.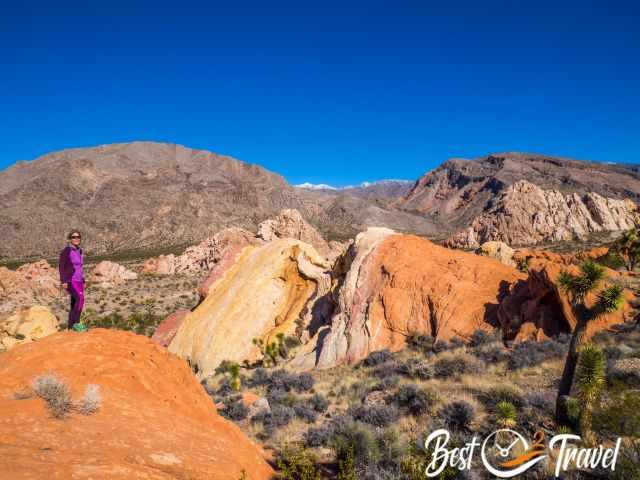 On winter nights, temperatures can drop below freezing, so we booked a hotel in January instead of camping which we usually prefer. If you wish to learn more about the weather patterns here, check out my detailed guide for Valley of Fire. 
Best Time to Visit Gold Butte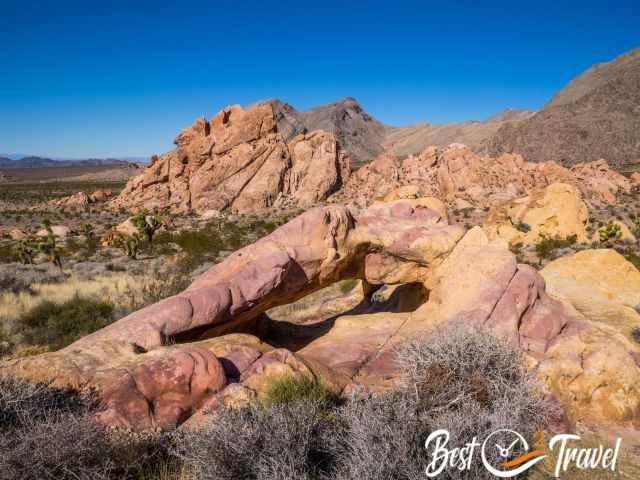 The best time to visit Gold Butte is from October to April. The winter from December to February is pleasant, reaching 68°F/20°C easily during the day in the sun. Nights are chilly, frequently freezing cold.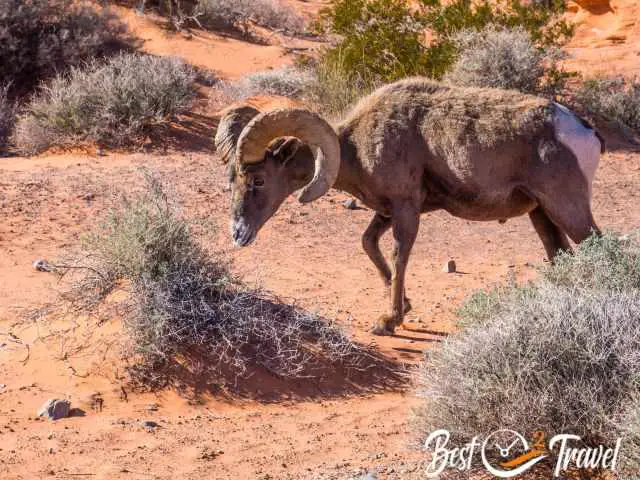 The best months for camping here are October, November, March, April, and May.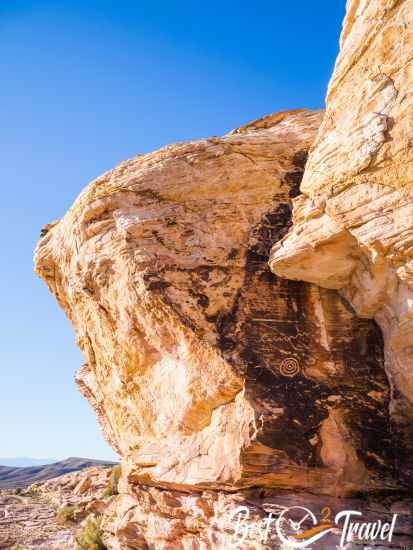 The best daytime for the most stunning petroglyphs is the early afternoon. We visited the Wall, Newspaper Rock and all others after 2 pm in the winter. The light was perfect for my shots of the main drawings and for identifying more details.
Gold Butte Map and Things to See in One Day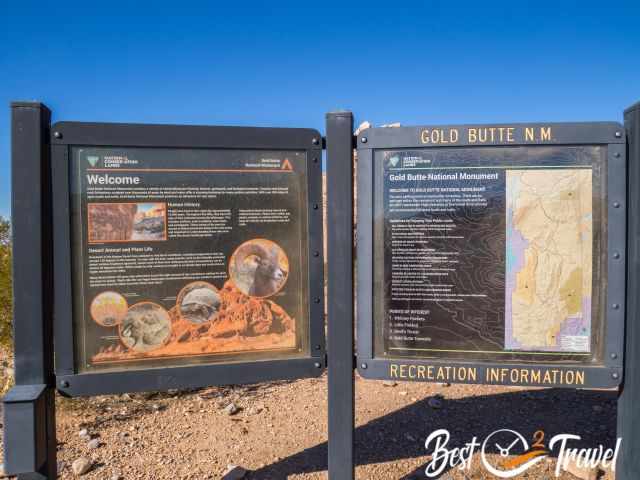 First, drive to Whitney Pocket and explore the rock formations and Neapolitan Arch. If you are travelling in a 4 WD, continue to Little Finland and afterwards to the Petroglyphs.
Whitney Pocket and Neapolitan Arch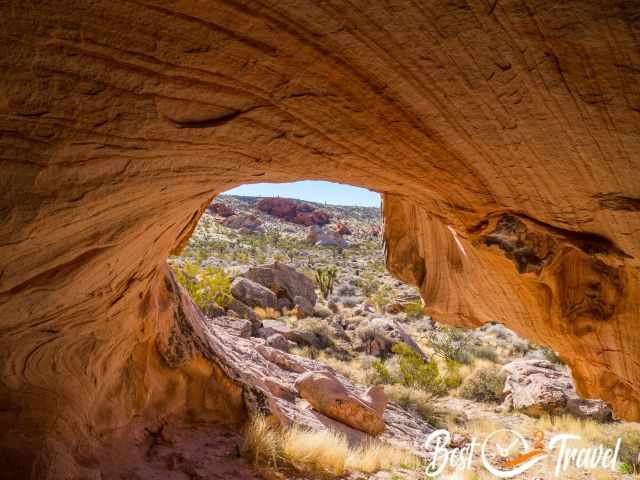 Accessible by 2 WD with huge parking and dispersed camping area. Take your time and explore this outstanding area. I found a little cave or shelter filled with deep white sand, an orange shimmering rock formation like an ear on top of the lush vegetation thanks to the early winter rain.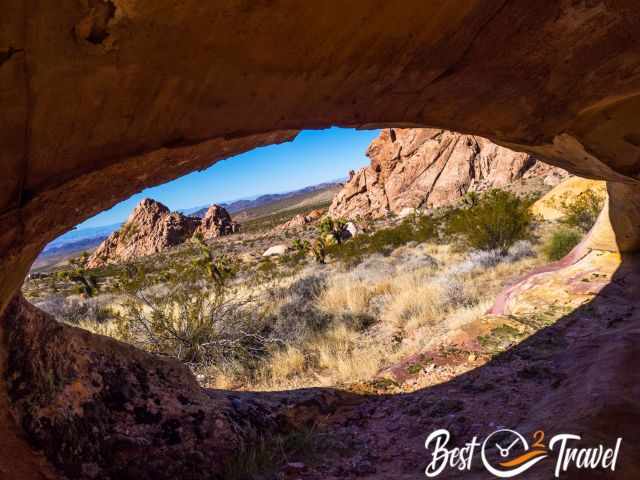 We hiked to the Neapolitan Rock and ascended further for spectacular views down to the Whitney Pocket. Whitney Pocket is also a great place to pitch your tent.
Little Finland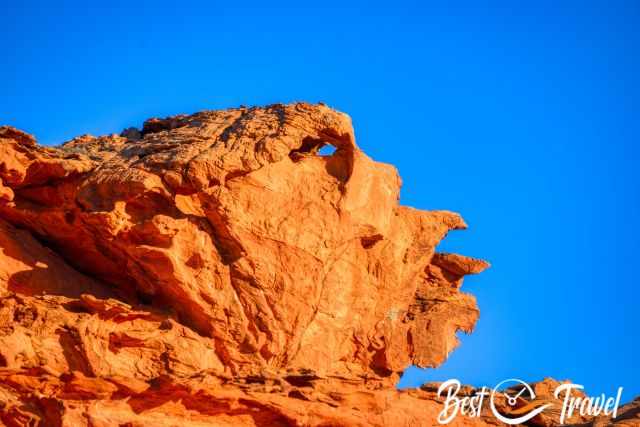 Road signs show you the direction to iconic Little Finland. However, it is a rough gravel road to get here – no chance with a common rental car. This bright orange rock formation was created by weathering. The erosion continues and for sure will change the "face" of this stunning rock.
Petroglyphs Map - Falling Man - Newspaper Rock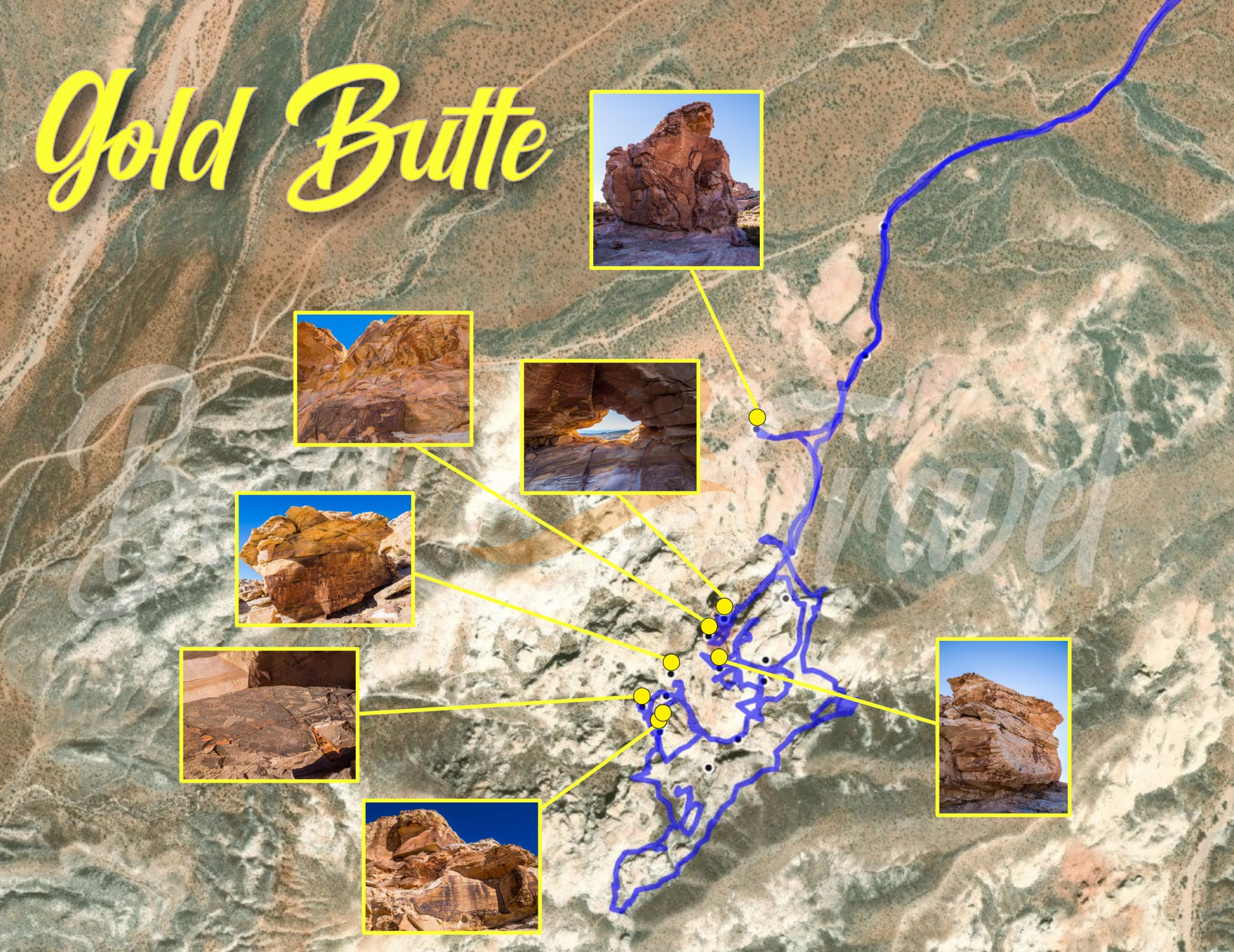 This is a clickable map, select a petroglyph panel, and the photo appears in high resolution, plus the name. The blue lines are our hiking route, and as you can see, it took us time to find these unique ancient drawings.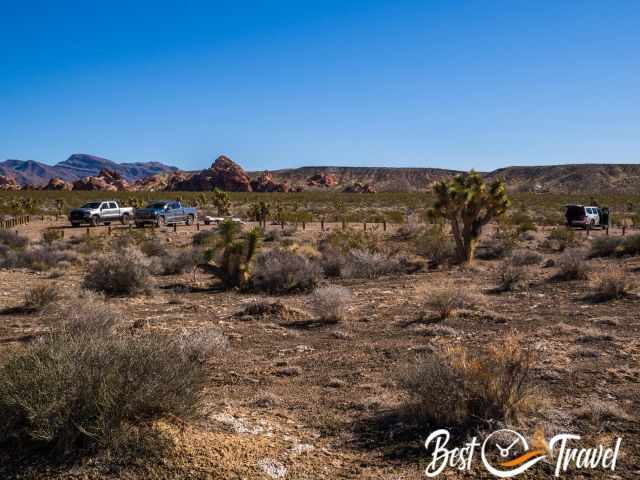 You get here by ATV or on foot. If you travel in a 4 WD or you plan to rent an ATV, it is easy to get to the trailhead on the dirt Black Butte Road, but you can also get to this part of the National Monument on foot. There is a massive rock to the right when coming from Mesquite and a parking lot Google Maps Location - It is a two minutes drive back to the parking from Whitney Pocket.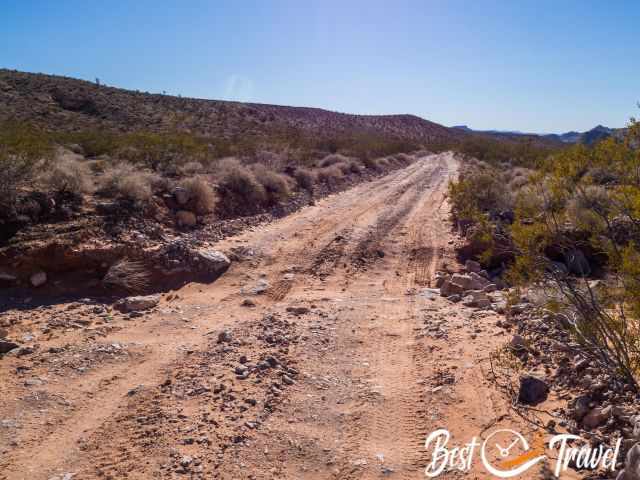 From the parking, follow the path for about 10-15 minutes until you reach the dirt road. Here continue to the left for another half an hour. You will see some off-road vehicles at the trailhead.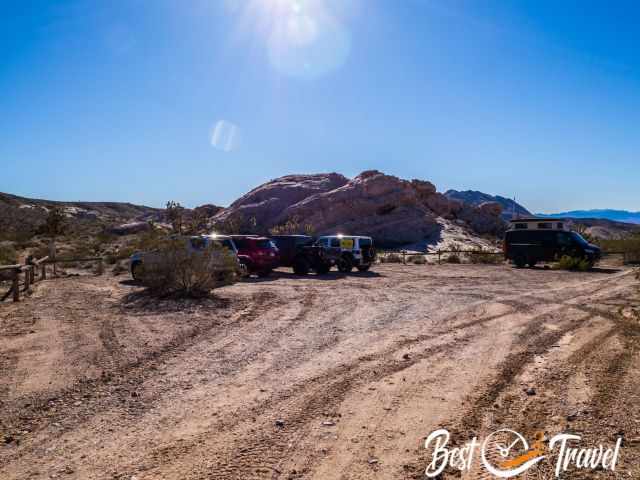 It is roughly 40 minutes walk on a dirt road to the trailhead of ancient rock art - Trailhead Petroglyphs: Google Maps Location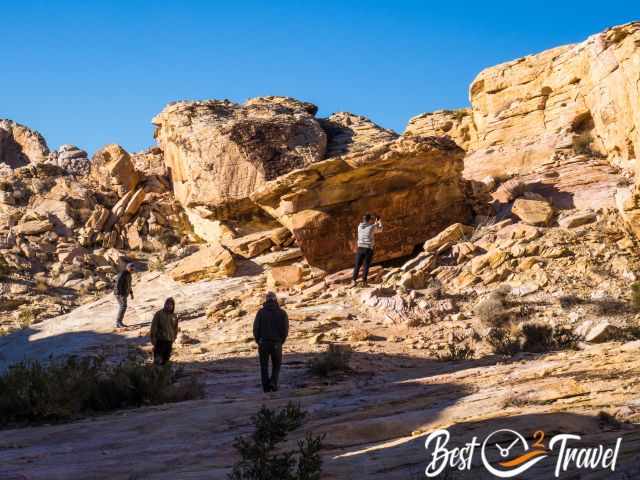 Overall, plan roughly two to three hours to find the most breathtaking petroglyphs; the Newspaper Rock, the Upper and Lower Wall, and Falling Man, but there are many more such outstanding petroglyph panels.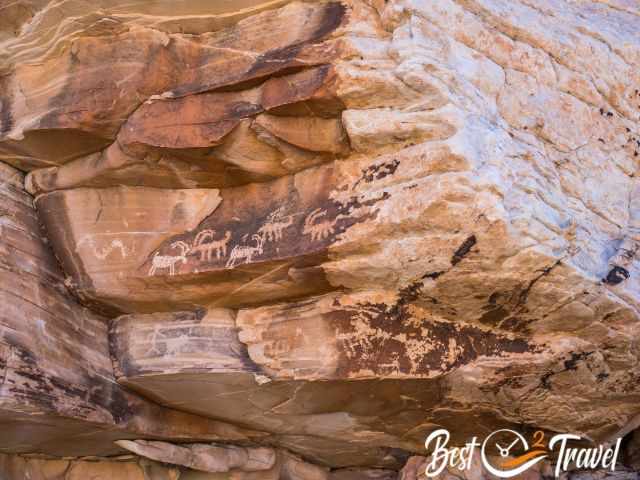 Now you need a good nose to find the rock paintings. One tip is to look at the existing paths and follow the tracks. We asked some locals, but they refused to give us a hint. You have to walk more than you may think. Overall, we hiked and climbed roughly two miles for the paintings, plus the return hike to the parking.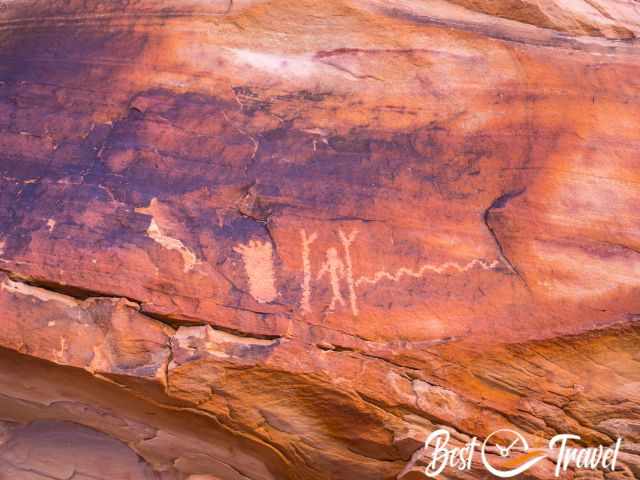 If you find one petroglyph, you will definitely find more. Really tricky is Falling Man but check out my pictures below, and you know the key – where you have to crawl through to get to one of the most fascinating ancient paintings. We found plenty of drawings, and it was such a fun afternoon.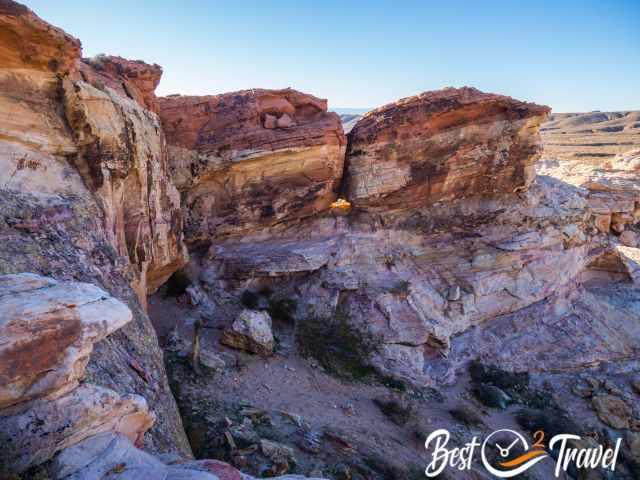 Check out my map and pictures for more details. I still don't know if I add the exact locations to prevent them from vandalism. The Newspaper Rock is too unique and has an excellent petroglyph panel.
Please, help to protect the petroglyphs for others to enjoy for generations to come. Please, don't touch the ancient drawings a reflection of the past.
Is the Gold Butte Road Paved?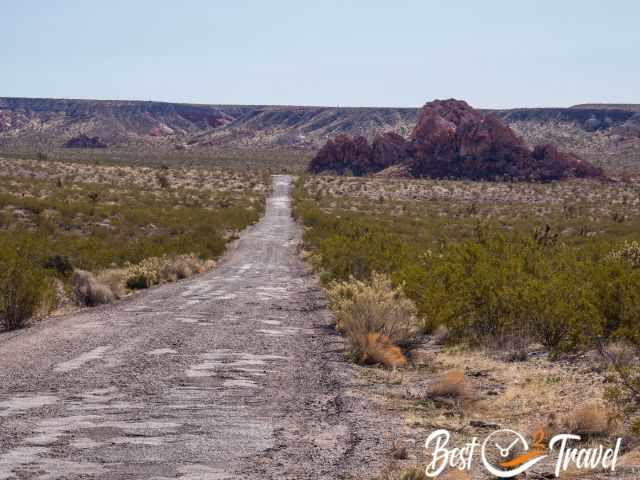 Almost everywhere, it is mentioned that you need a 4 WD, but it is doable in a common vehicle until Whitney Pocket if it is dry. Most of the road from Mesquite to Whitney Pocket is paved and dotted with a few potholes just be prepared that your car gets dusty and drive carefully.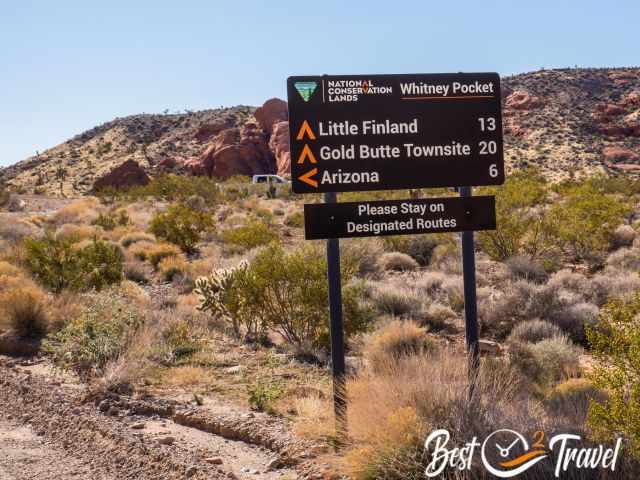 If you like to continue to Little Finland, high clearance 4 WD is a Must for the gravel and rocky road. This was our experience with the road conditions in 2023!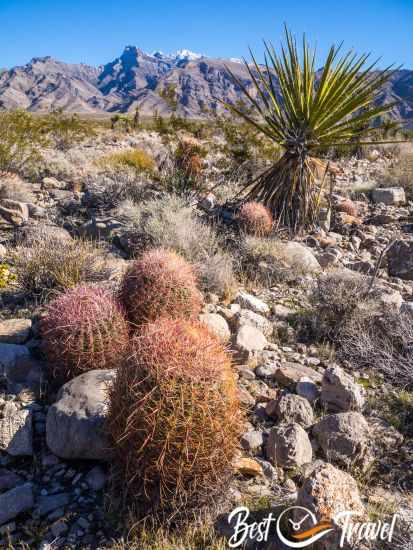 I will give you all details for your first visit, which highlights you shouldn't miss, the best time and daytime and a detailed map of the most stunning rock art paintings. 
Tips Before You Go - Need to Know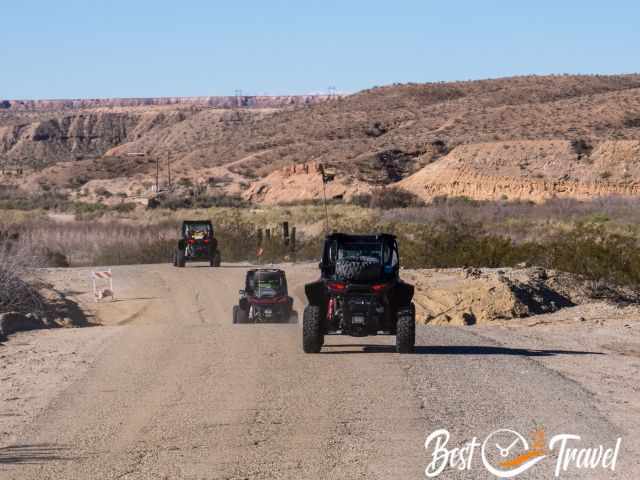 First of all, fill up your gas tank before you enter the desert and wilderness.
If you plan to explore Gold Butte until Little Finland, a spare tire is highly recommended or rent an ATV or UTV, which many visitors do. There is neither a cell phone nor an internet connection. 
Yes, ATVs are allowed, and the most popular way to explore the park is in an ATV or UTV. This is the safest way to get to the rugged terrain after Whitney Pocket for Little Finland and the trailhead of the famous petroglyphs.
Why is the National Monument Named Gold Butte?
The name comes from the former townsite developed in the desert for gold mining more than one hundred years ago. Today is left a remotely located derelict ghost town. 
Camping at Gold Butte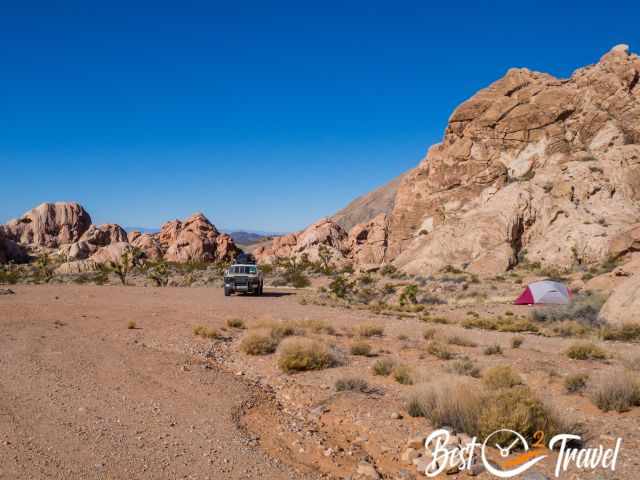 Gold Butte is phenomenal for camping to experience a haven of tranquillity. It is primitive camping and is allowed almost everywhere. However, take places where others have already spent the night to leave fewer traces. One of this spots is Whitney Pocket. If you wish to know more about primitive camping and what you should bring, check out my Tips & Gear section for camping in the wilderness.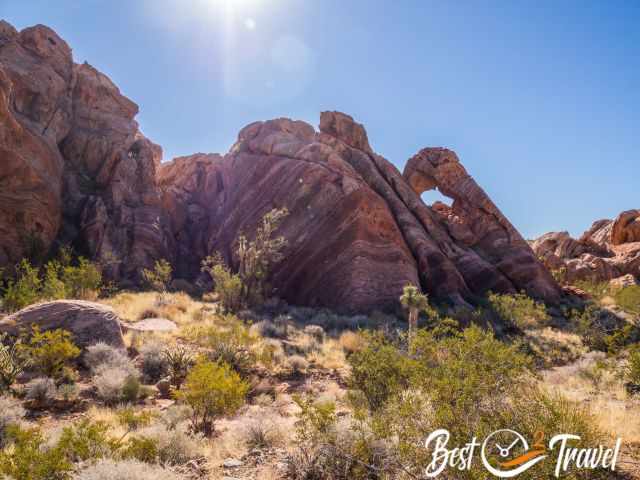 You have to be self-sufficient, which means bringing plenty of water, food, a gas cooker and everything you need for a good night in your tent. Keep in mind that nights are chilly, especially in the winter. Take out what you took in – Leave no trash so that others can also enjoy the beauty of this unique desert landscape.
Valley of Fire and Gold Butte from Las Vegas in Nevada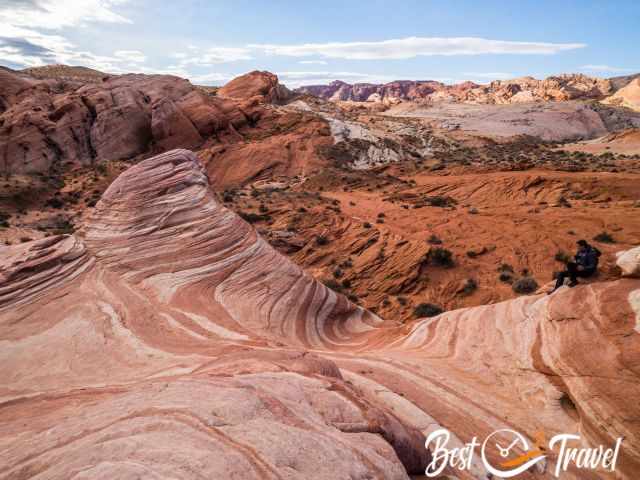 You need at least one day for each park. Start in the morning from Las Vegas and drive for roughly 30 minutes to one hour, depending on your hotel, to the Valley of Fire. Check out my detailed guide and what to see there.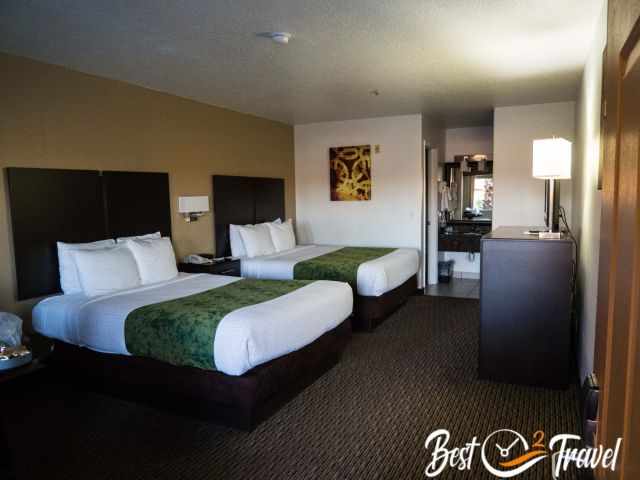 After the amazing sunset, continue to Mesquite, which takes about an hour for the 50 miles. We spent one night in the Best Western Mesquite Inn and left early for Gold Butte. The room was super quiet and clean. Breakfast was included, but around the corner was Starbucks, our favourite in the US. 😉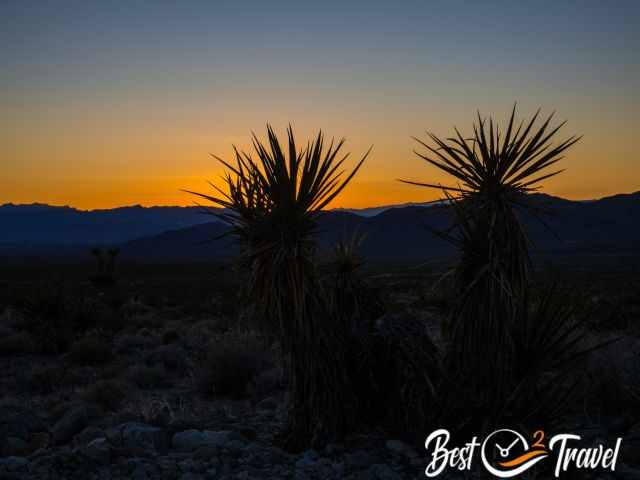 Shortly before sunset, we continued to Hurricane on our journey to Yant Flat. However, if you plan to travel back to Las Vegas, I highly recommend staying in Mesquite for two nights.
Creatures in the Desert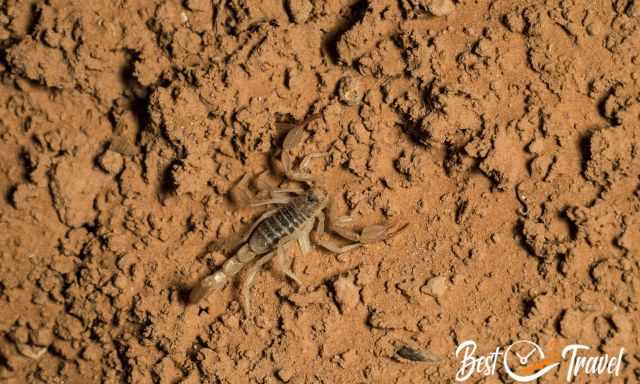 Please be aware that the desert is home to scorpions, spiders, and snakes. It is more likely to spot a rattlesnake from March to November but not in the cold wintertime. Rattlesnakes can't regulate their body temperature; they depend on the sun to warm up. Due to the colder winter temps, they seek shelter from the low temperatures. Always wear proper shoes and look to the path; real hiking trails don't exist in Gold Butte.
Scorpions occur at Gold Butte, too. Most of them are so tiny you do not see them. Therefore, wear proper closed shoes.
Dark Sky - Stargazing
Gold Butte is also an excellent place to watch the night sky without any light pollution though the Milky Way is visible from April to October only in the Northern Hemisphere. In the winter, the Milky Way is not visible because too close to the sun.
Packing Checklist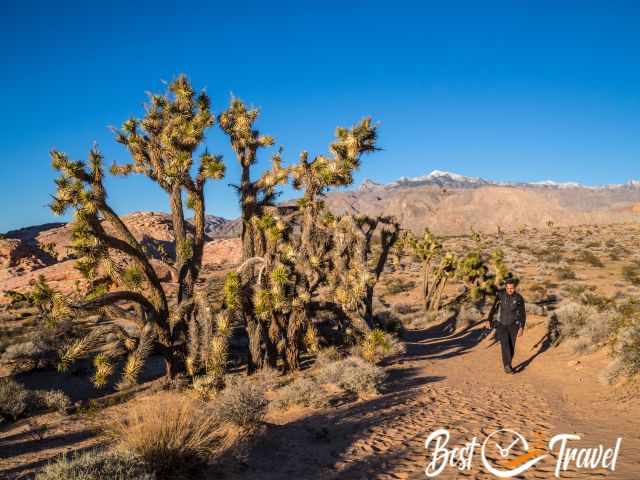 Plenty of water because Gold Butte is remotely located in the desert.
Picnic, lunch, and snacks to spend the entire day there or pack for days if you plan to camp.
Wear proper shoes with good traction for climbing the rocks to find the petroglyphs.
Download a mobile hiking app.
Sun protection; from a hat to sunscreen and sunglasses, and a long sleeve shirt for midday.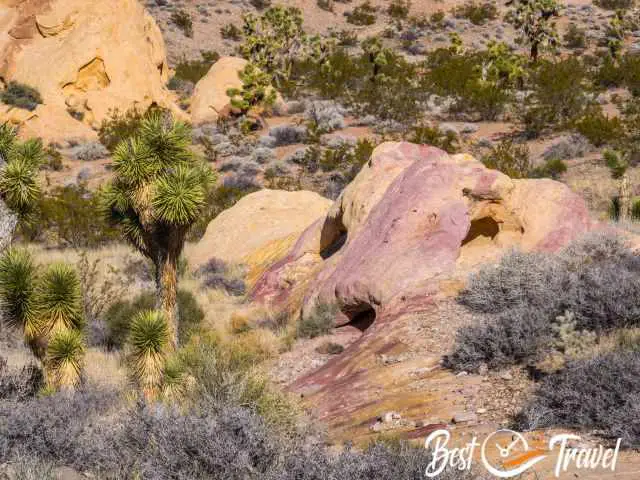 I hope you got inspired by my guide, and pictures and my video is coming soon. Explore this outstanding National Monument in Nevada and soak in the beauty of the desert before more people are going to find it out. Newspaper Rock is frequently seen on social media it is just a question of time before it gets busier here.
Nevertheless, do not underestimate the desert and its creatures and do not leave the paths.
Who We Are?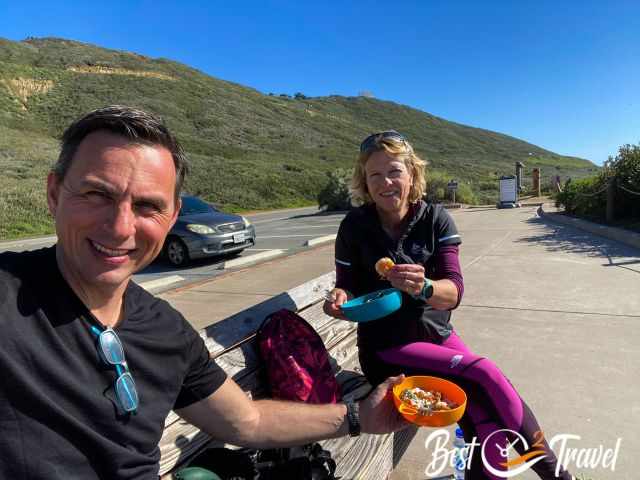 We are passionate travellers, married for almost 25 years, and we love discovering hidden gems around the globe. I am passionate about sharing some of the most beautiful places in the world with you, but I still can't live from my work, and we have regular jobs, too. Do you like my Gold Butte Guide? Please share it with your friends and on social media. THANKS for your support!
 
Location and Tips
Nevada, Mesquite
United States

Gold Butte is a promising haven for nature lovers and adventure seekers off the beaten path. Experience the real wilderness and pitch your tent. Watch the night sky and admire ancient petroglyph panels.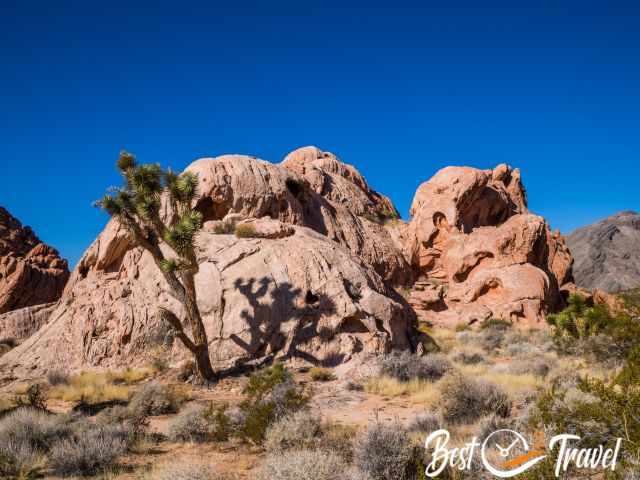 The Little Finland photo was taken by my friend and photographer Ray Downs all others by me. 
Do you want to obtain the usage right for my images? Contact me, but I will take action against picture theft.