When Is the Best Time
You can find some of the most breathtaking beaches in the PNW (Pacific Northwest) in Washington State. This is the perfect peninsula to leave your day-to-day world behind. These four beaches and forest trails, which I describe in detail, belong to the coastal part of the Olympic National Park, roughly a four hours drive west of Seattle.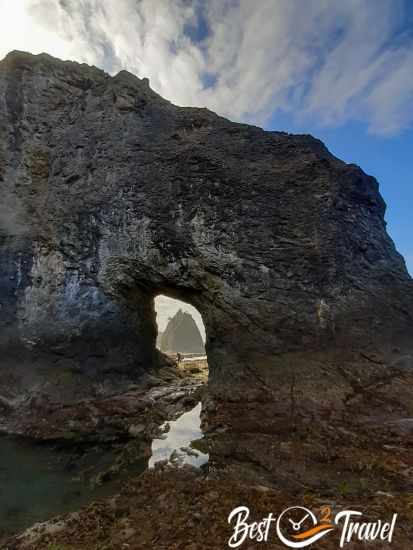 These beaches belong to the Olympic National Park for good reason. Either you walk through old-grown rainforests to "Second Beach" and "Third Beach", or the rainforest leads along the beaches like "Rialto Beach" and "Ruby Beach".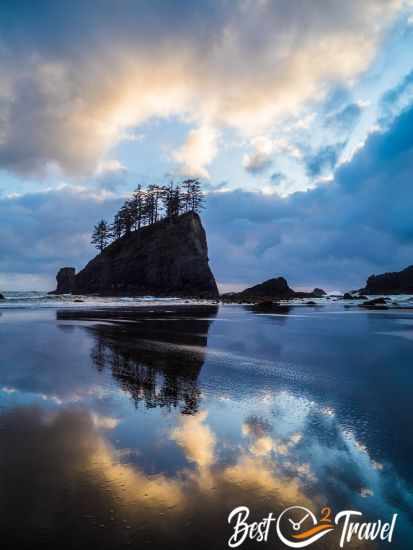 We had plenty of time for all beaches, but if you are passing by only or you are limited in time, I will give you a quick overview of which beach fits best to you, which is worth visiting and which you can skip depending on your preferences and walking abilities.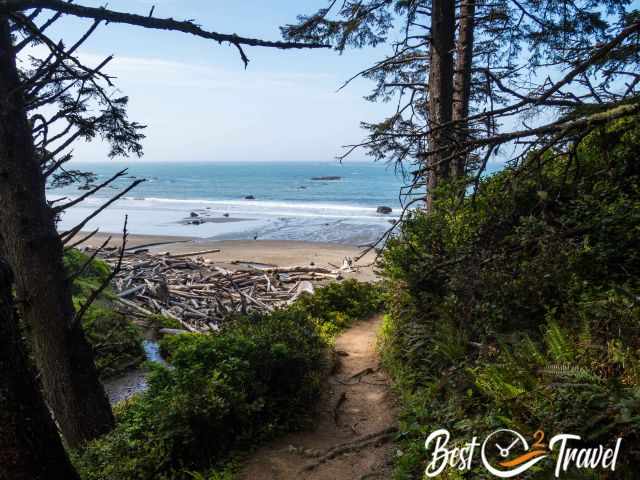 I took tons of pictures of the highlights for each beach which I added so that you are able to decide which ones you want to explore. Due to the short period of low tide, you are able to visit a maximum of two beaches in one day.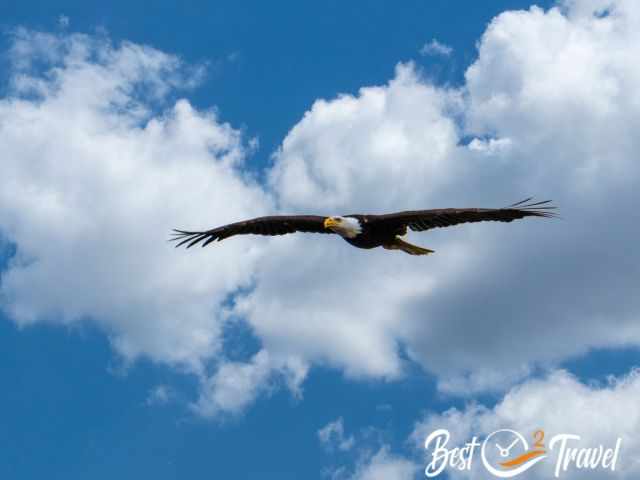 If you have plenty of time, I highly recommend visiting all of them, but if you are limited and visiting the peninsula just for a weekend, I will give you an idea of which beaches fit best to you.
I describe them from the north to the south from Rialto 14 miles west of Forks until Ruby Beach, and I will answer all your questions.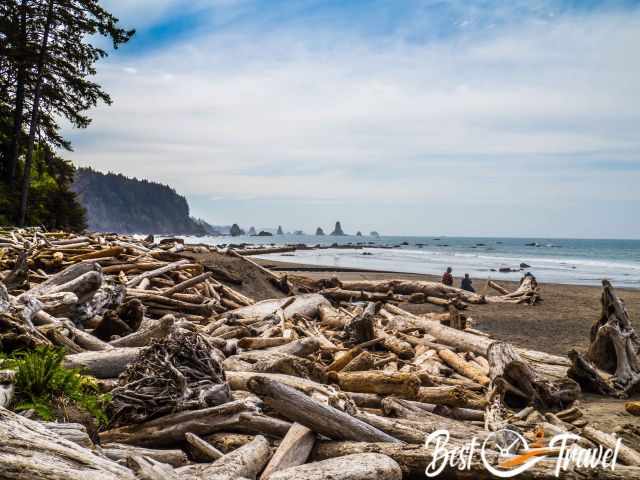 The area around Forks, known from Twilight, is notorious for its foggy and rainy weather. However, rain or shine, these beaches will set you in awe. All of them are beautiful and fantastic for a long walk. Driftwood is spread along the beaches providing neverending photo options. Breathe in the fresh and salty air, and good sleep is guaranteed.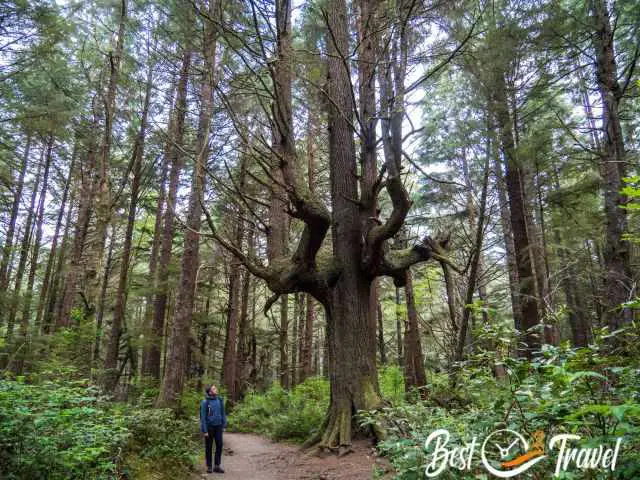 The best time to visit the Olympic Peninsula and the Olympic Beaches regarding the weather is usually from July to September, the driest months of the year. The entire area experiences more than 98 inches/2,5 m of rain annually, but with climate change, you can no longer count on the occurring statistics. We visited the PNW beaches end of May, usually a rainy month. The advantage was that it wasn't too busy, and we booked our double room at the Pacific Inn Motel in Forks just a few days before.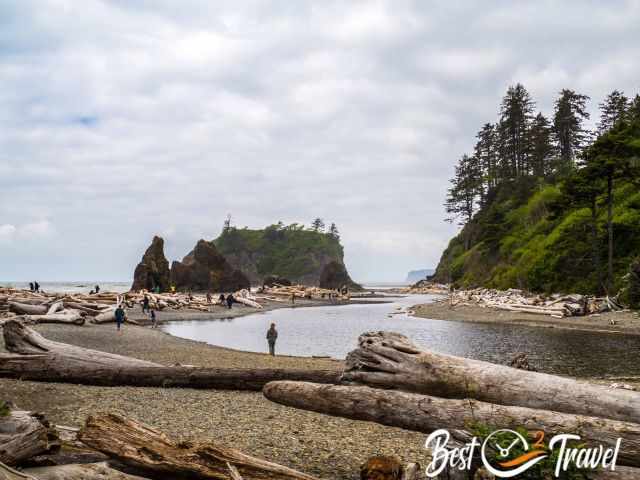 For a quick overview of all beaches and questions, I added a Table of Contents:
Timing is key for most of these beaches because accessibility depends on the tides. Although these beaches are not far apart, the tides vary more than I thought it is possible. Therefore, check out the tides before you venture out to Rialto Beach, Second Beach, and Third Beach. Ruby Beach.is accessible during high and low tide, but you are able to explore the tidepools and far more of the beach at low tide only.
Entrance Fee for Rialto, Second, Third, and Ruby Beach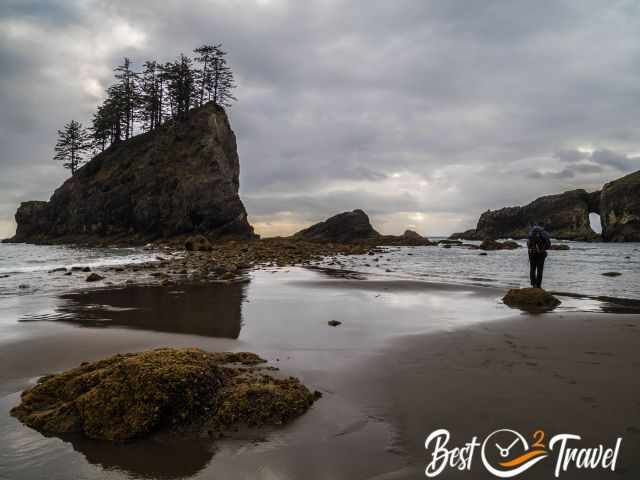 No entrance fee is requested, nor is the Olympic National Park pass—Beach Access for free for all mentioned beaches.
Parking Fee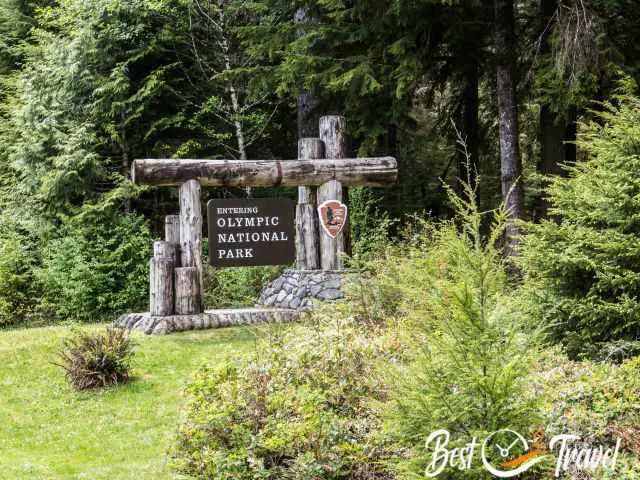 No parking fee for any of these mentioned beaches, which is rare.
How to get to the Olympic Peninsula and National Park?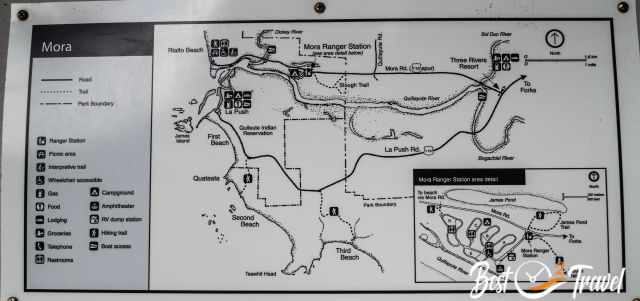 It is a four to five hours drive from Seattle via Olympia either counterclockwise on the famous 101 or clockwise on HW 8 and 12, which turns into 101. From Seattle, it is a drive of roughly nine hours to circumnavigate the entire Olympic Peninsula, plus visit all beaches and the breathtaking Hoh Rainforest.
How many days are needed for Olympic, Rialto Beach, Second Beach, Third, and Ruby?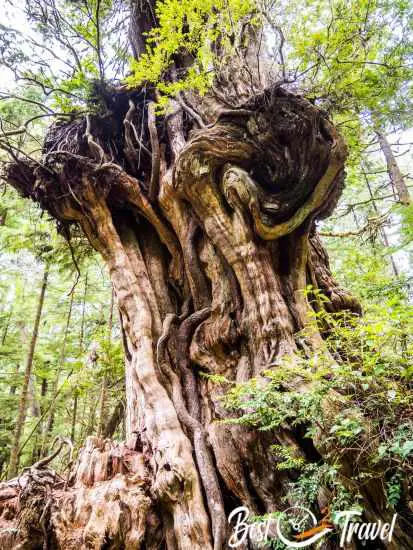 It is quite a drive getting here. You need at least four days to visit the four beaches and the heart of the Olympic National Park, including the Hall of Mosses. National Park Pass required for the Hoh Rainforest!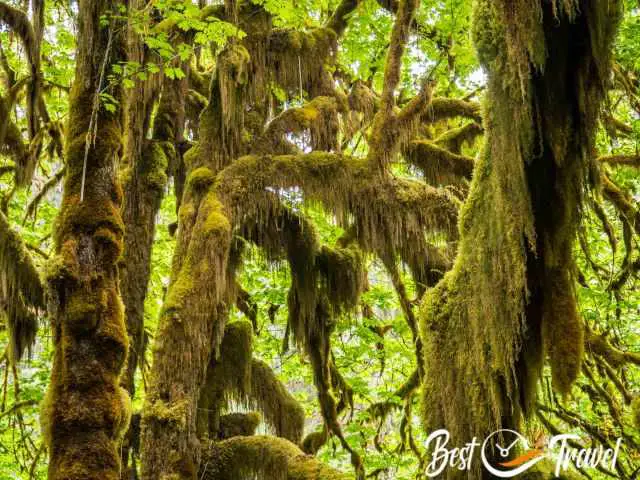 A short loop trail of 0,8 miles/ 1,2 km leads to The Hall of Mosses; old-growth rainforest, a grove of maple trees, lichen, and moss blankets on the shady ground transfer you into a breathtaking and mystic atmosphere. All visitors were in awe of the beauty; everyone was just whispering here. Therefore, I recommend a journey to the peninsula during a long weekend, even better if you have an entire week available.
Can you swim at La Push, Rialto Beach, Second Beach, Third, and Ruby?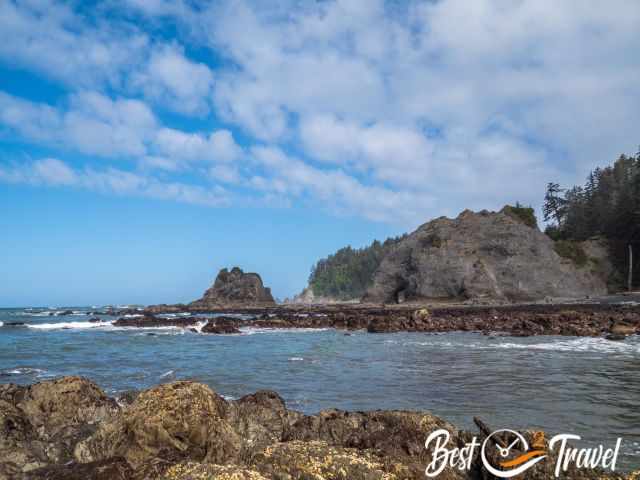 A very clear no. First of all, it is far too dangerous due to pebbles and drift logs in the sea; secondly, riptides can occur and are dangerous because the water temperature is far too cold at 50-55°F and can cause hypothermia. Sorry, but don't think about swimming at any of these beaches. There are no lifeguards for a good reason – it is also too risky for them. I wouldn't swim at any of these beaches, although I have completed lifeguard training.
Brief Summary of the 4 Olympic Beach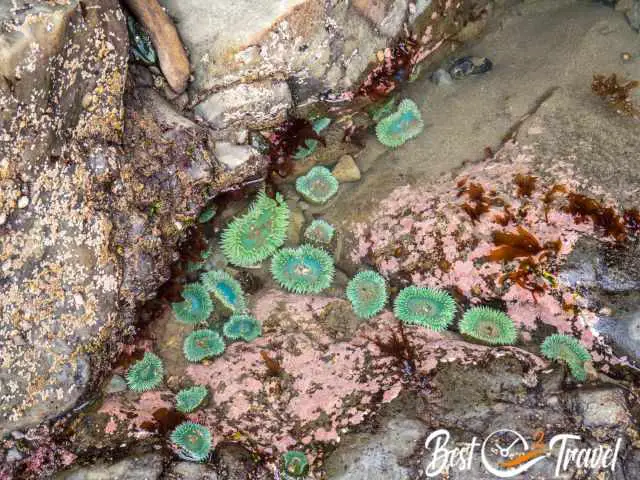 Most spectacular beach – Second Beach
Most picturesque rock – Hole in the Wall at the end of Rialto Beach
Quiet and not a much-known beach – Third Beach plus Strawberry waterfall
Most crowded beach – Ruby Beach
Best accessible beach during high and low tide – Ruby Beach
Most beautiful walk through lush rainforest to reach the beach – Second Beach
The Second and Third Beach are only 1.3 miles apart and can be combined in one day. First visit Third and afterwards Second Beach.
Due to the location, Ruby Beach can be visited first coming from the south on 101, or it'll be the last on the way back.
Which beach is better, Rialto or Ruby Beach?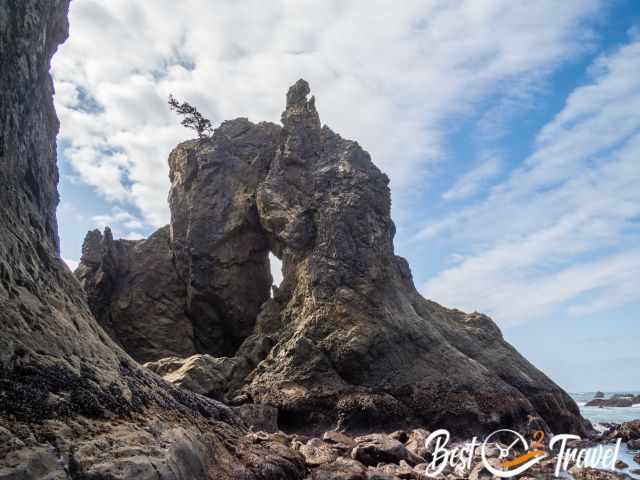 Rialto is better if you do not mind walking far, and you are able to get to Hole in the Rock at low tide. Ruby Beach is beautiful but busier, taking down a little of the charm. If you are able to walk through soft sand, I recommend Rialto Beach, but if you are looking for a short and easy trail, choose Ruby Beach.
5 Top Tips and What to Carry in Your Backpack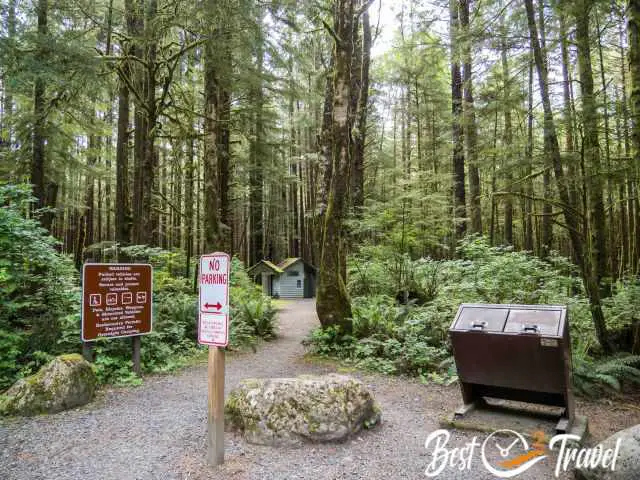 Do you plan to watch the sunset at one of these beaches? We always carry a Petzl headlamp in the backpack to get back to the car safely. 
Also, a jacket or sweater for the evening must be brought to handle the cool temperature and wind.
Carry plenty of water; there is no cafe or store. We prefer an insulated water bottle to carry hot tea, water or both.
Don't miss out on my 10 Essentials in my backpack – I never go without them.
Don't leave any valuables in your vehicle – this warning was shown at all parking lots.
The 4 Olympic Beaches in PNW in Detail
1 Rialto Beach – Hole in the Wall Walk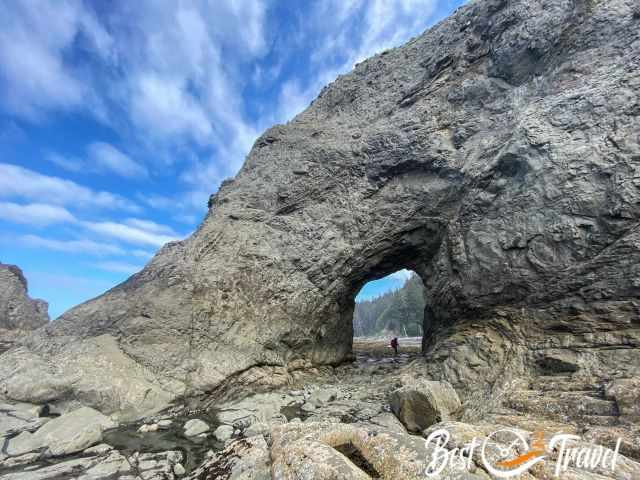 Rialto Beach is the one before the first beach in La Push. The beach itself is accessible during high and low tides, but the highlight, the Hole in the Wall, is only around low tide. For this specific spot, check out the tide times and also the height of the low tide. We experienced a negative tide means below sea level, but it can also be above 3 ft during low tide, and you have a much smaller window to get there and safely back. Information board and tide times are displayed at the trailhead.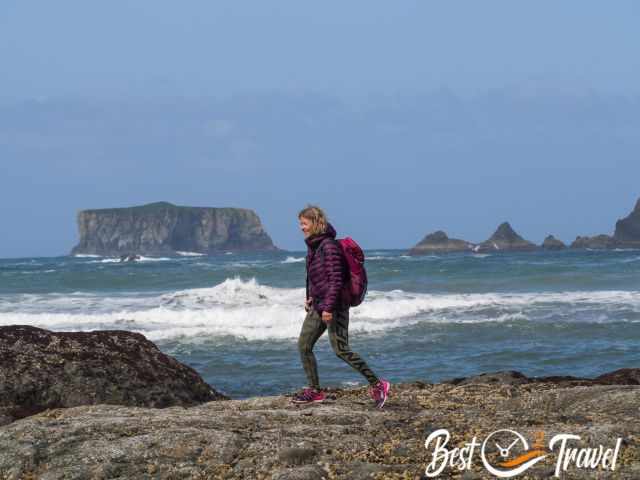 The best time to visit Rialto Beach and Hole in the Wall is roughly two hours before low tide and one hour after low tide. Also important is the height of the low tide, as mentioned above.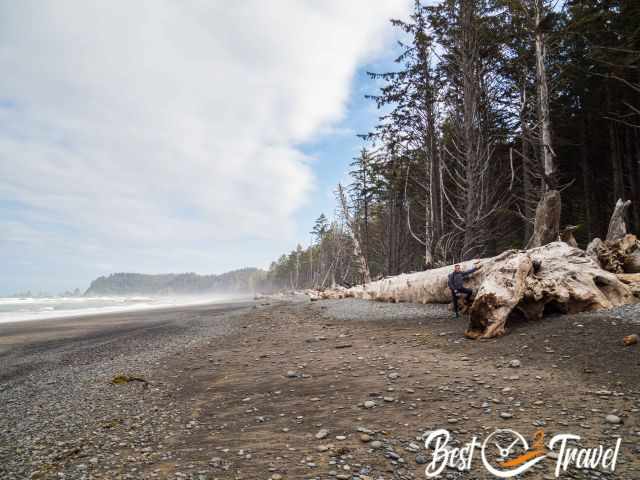 Trail length along Rialto Beach to Hole in the Wall and return: 3,4 miles/ 5,5 km.
Duration in and out plus time around the Hole in the Wall: 2 ½ - 3 hours
Elevation Difference: none – it is a flat walk from the parking along the beach
Difficulty: Moderate walk through the soft sand, rocks at Hole in the Wall are slippery from the sea vegetation and algae - proper shoes with traction (these are my beloved INOV) are the best option.
Depending on the rainfall before, you must cross an ankle-deep creek. During our visit end of May, the creek was almost not existing.
Rating: Rialto Beach is lovely– the "Hole in the Wall" Rock is spectacular around low tide.
How to get to Rialto Beach?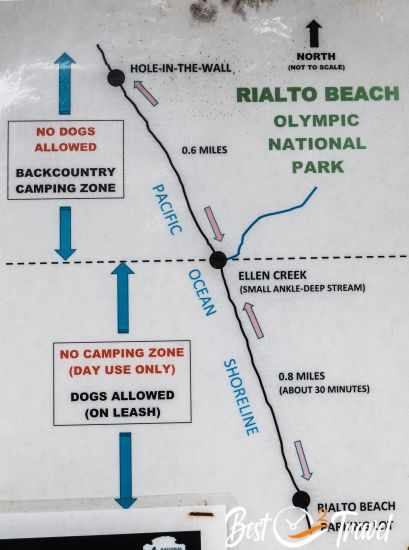 It is a 20 minutes drive from Forks, where we stayed in the Pacific Inn Motel (more below, plus photos). You need a rental car to get to Rialto Beach. Proper planning is key to getting to Hole in the Wall.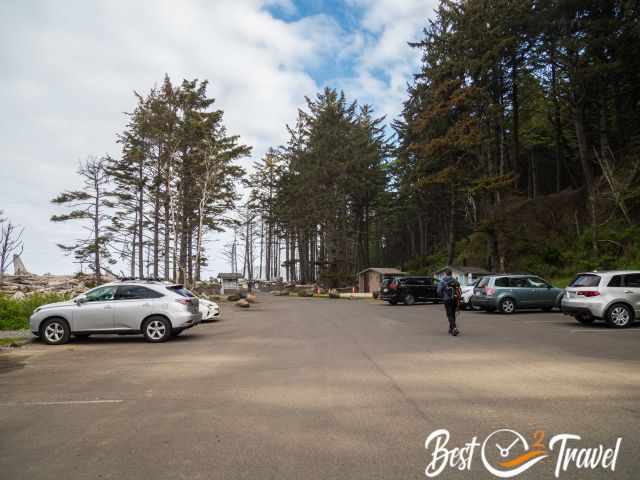 Parking: Plenty of Parking; Google Maps Location and facilities, toilet paper and soap where available.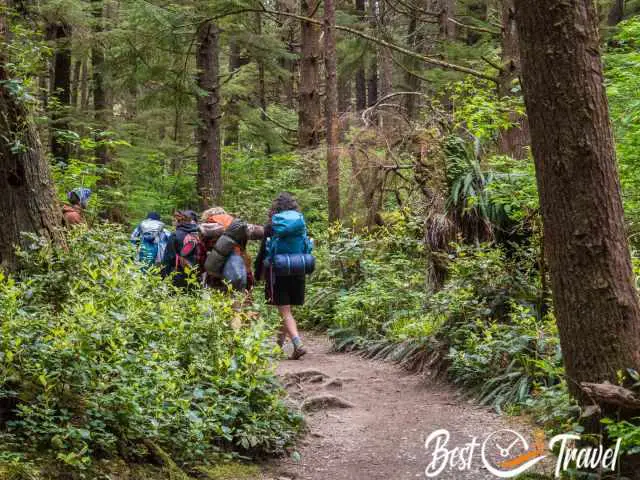 Camping: Backcountry camping is permitted after Ellen Creek until Hole in the Rock but not before.
Summary Rialto Beach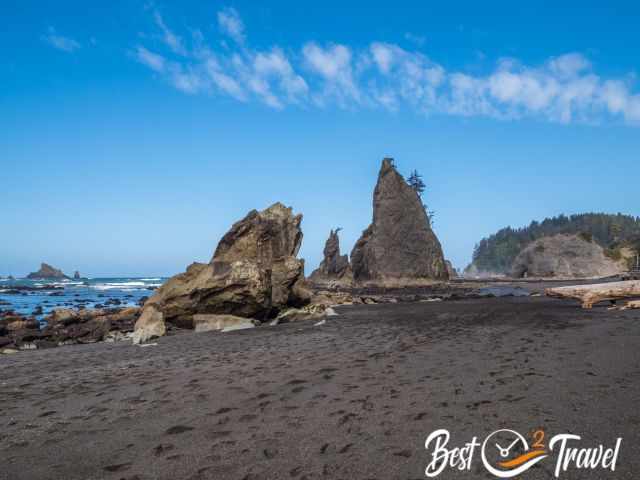 Pro: Not crowded due to the remote location and the 45 minutes walk to the rock. The tidepools are full of giant green anemones, the biggest anemone of all and ochre sea stars.
Con: Rialto Beach is a long, stretched, nice beach, but all others are more beautiful. The Hole in the Wall is exceptional and worth the effort to get here. If you return too late, you are forced to climb over driftwood most of the time, which takes much longer and is more strenuous.
I recommend this beach in combination with the Hole in the Wall or if you spend a lot of time in this area.
First Beach – La Push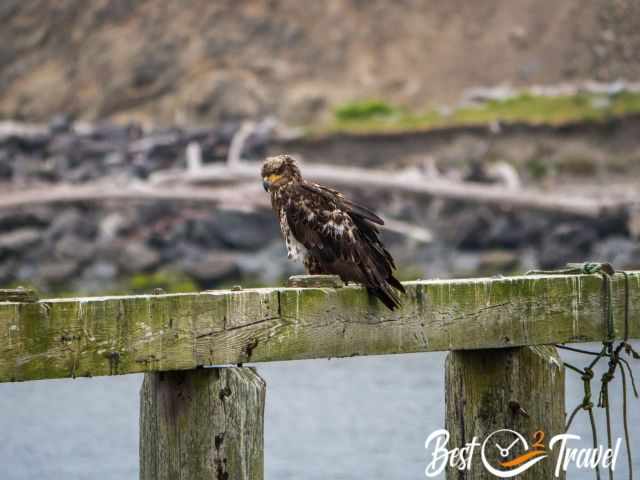 First Beach is easily accessible by vehicle in La Push. The two reasons I mention this place is the opportunity to watch sea eagles close around the harbour, trying to grab left fish and for people with disabilities to get a glimpse of the stunning coastal rock formations.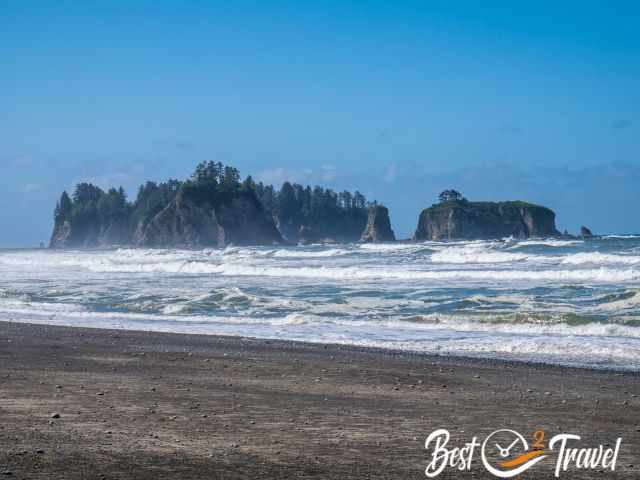 James Island is situated opposite of La Push from where you can watch a beautiful sunset. 
2 Second Beach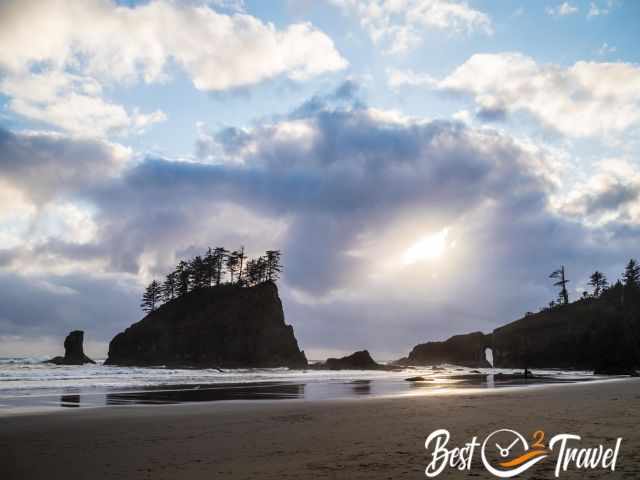 This beach is one of my favourite ones; therefore, we went there twice in the evening, in the evening, because of the low tide. Only a very small part of Second Beach is accessible at high tide.  Knowing when the tide is out and getting in is essential—information boards at the trailhead, including the tides.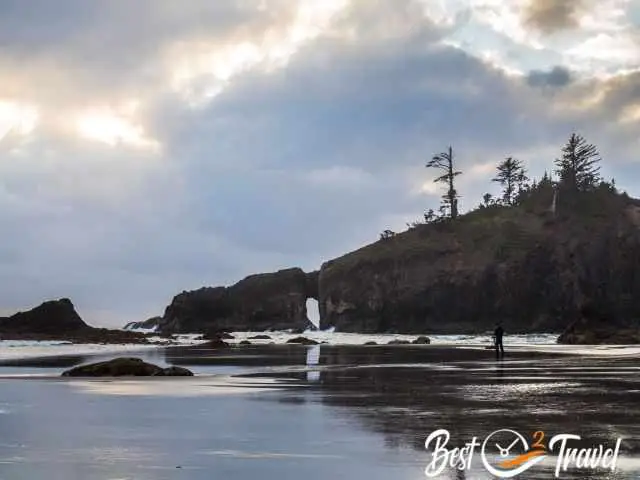 When we hiked through the rainforest, we heard a whistle, but when we approached the beach, it disappeared, or better, we couldn't hear it any longer because of the thundering Pacific. The wind blew through another hole in the rock in the distance.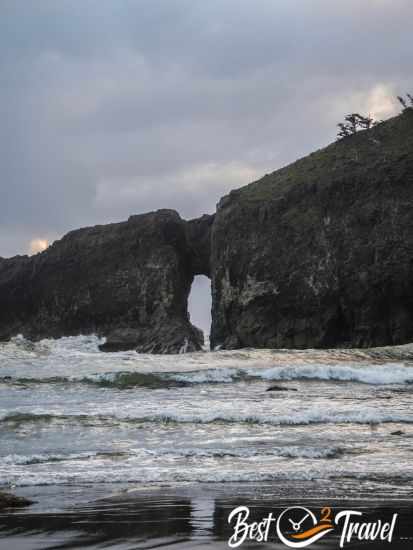 Second Beach, with its dramatic sea stacks and also a hole in the rock where waves crash through, is breathtaking.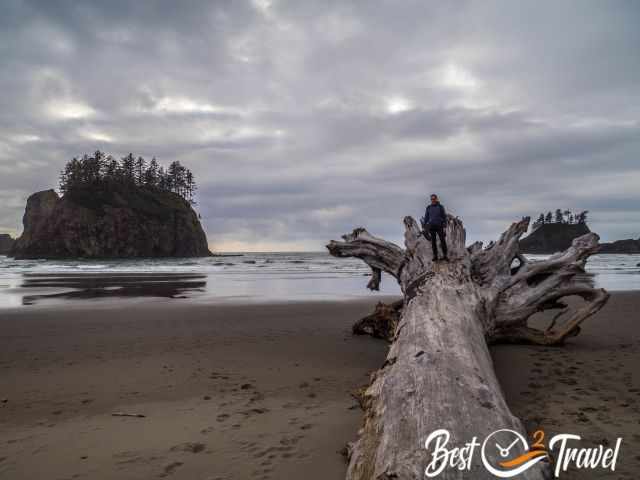 The best time to visit Second Beach is three to two hours before low tide and roughly one hour after. Watching the crashing waves in the hole in the rock before the low tide is fascinating. During low tide, Second Beach is more accessible and offers fantastic photo options when the rocks are mirrored on the wet sand.
How long is the hike to Second Beach?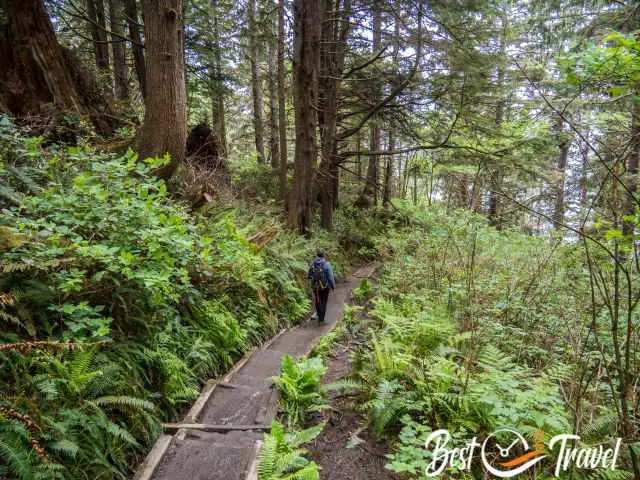 Second Beach Trail Length: The path through the forest to Second Beach is 0,6 miles/ 1 km long – the return walk plus along the beach is roughly 2 miles/ 3,1 km long.
 
Duration Walk to Second Beach: It takes roughly 20 minutes through the lush rainforest before you hear the roaring sea and you get the first glimpse from above. In and out, roughly 45 minutes plus the time you would like to walk along this fascinating beach in both directions. Plan between 2-3 hours for Second Beach.
Elevation Difference: 174 ft/ 53 m
Difficulty: Moderate - The trail through the forest can be muddy in sections the closer you get to the beach. The last part of the trail has a steep decline down and can be slippery.
Rating: Phenomenal and picturesque beach – You can easily spend hours here
Where is the Second Beach in Washington?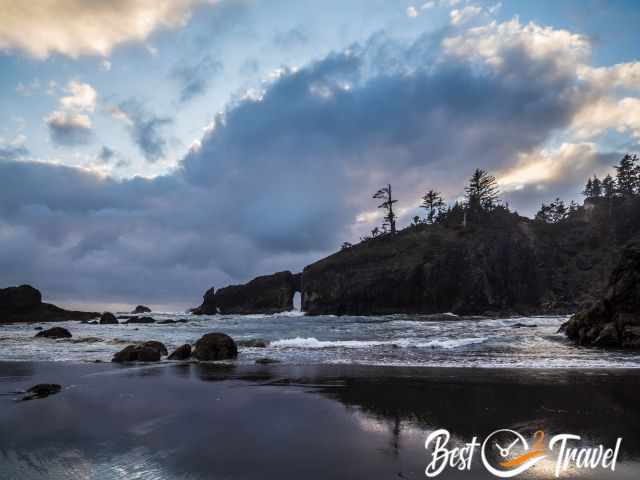 It is a 20 minutes drive, almost 15 miles from Forks, known from Twilight, to Second Beach on the west coast on the Olympic Peninsula. From the parking, another 20 minutes walk, and you access one of the most terrific beaches.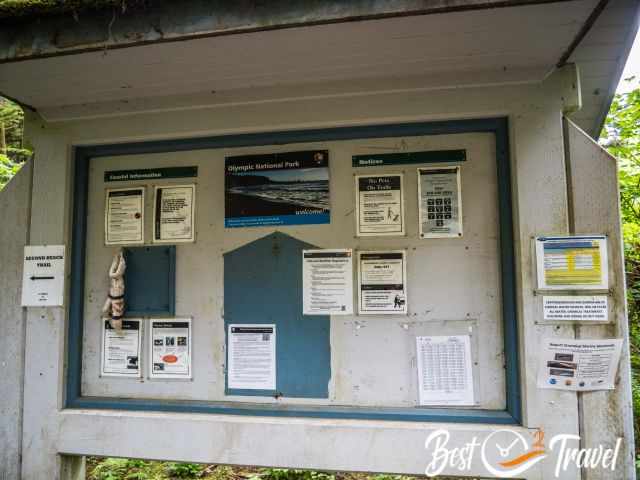 Parking: Plenty of Parking at the trailhead Google Maps Location plus pit toilets (not mine, if possible, go before at Third Beach parking, they are way better.) and an overflow parking lot Google Maps which is necessary for the summer months.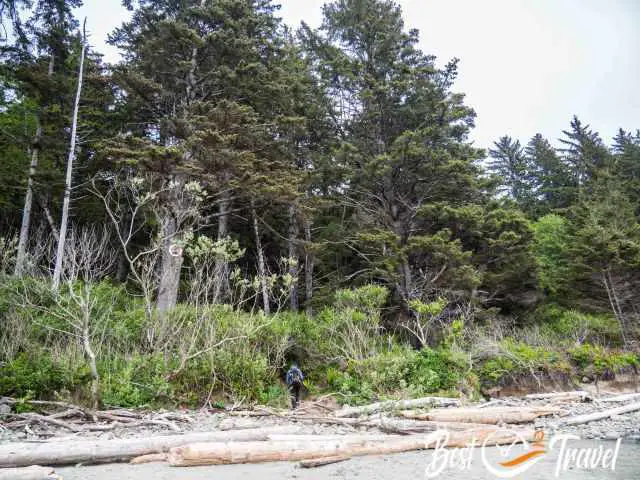 Camping at Second Beach: Possible with a permit. However, it is chilly from the wind, even in the summer. Weekends are a lot busier.
Summary Second Beach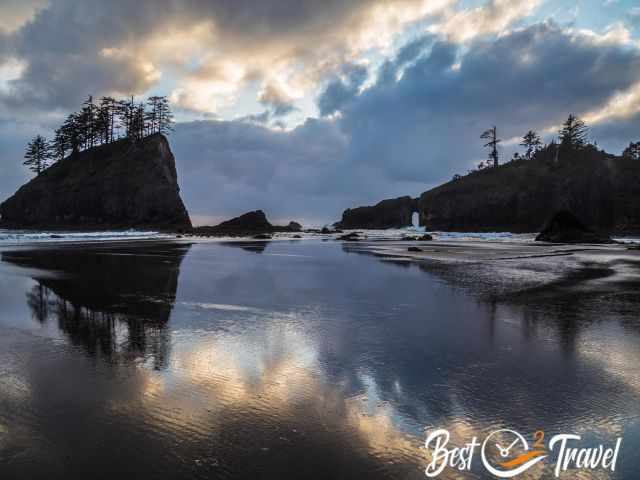 Pro: You can always visit the beach - just around high tide, the accessible part of Second Beach is small. It gets busier here, but only during the day; mornings and evenings mid-week are quiet. Watching the sunset from here is otherworldly. 
Con: It can get a little crowded by backcountry campers in the summer. The overflow parking before the trailhead is essential in summer, the driest time of the year.
3 Third Beach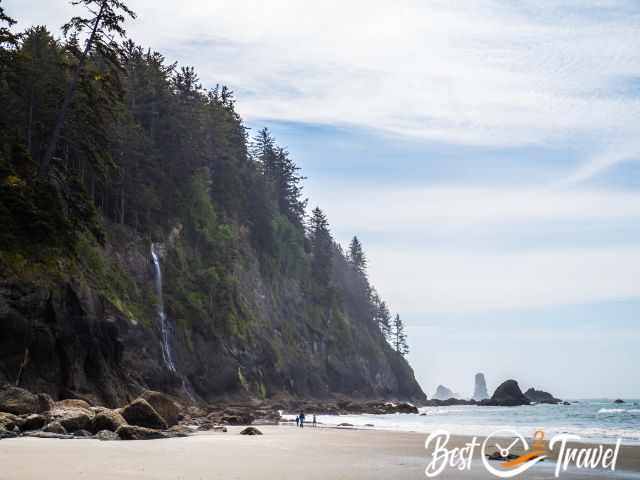 This is my second favourite beach, where Strawberry Falls plunges more than 100 feet down to the rocks and surf below. The waterfall is named after the Strawberry Bay. Reaching the beach and falls takes a little longer, which is the reason for fewer visitors. When walking through the Olympic rainforest, the thundering Pacific Ocean gets louder the closer you get.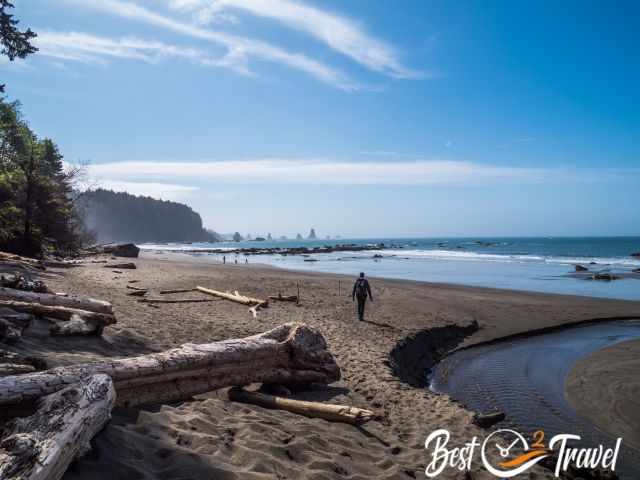 The best time to visit Third Beach and Strawberry Falls is roughly two hours before and one hour after low tide, which gives you plenty of time to explore the end of the beach, the tidepools and the waterfall. Also, here it is important to know the height of the low tide. Safety always comes first!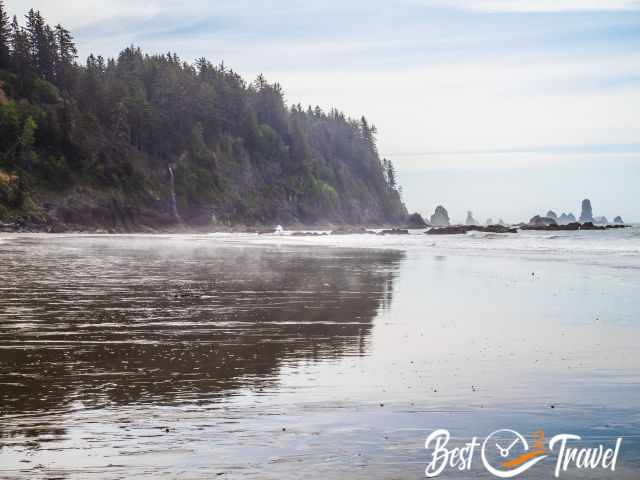 Regarding the sunlight on the waterfall, afternoon and evening, combined with the low tide, are the very best time to visit Third Beach.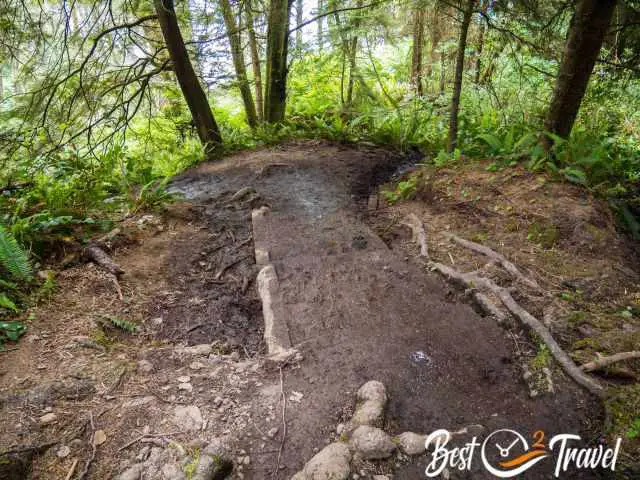 Trail Length to Third Beach: 1,4 miles/ 2,2 km – 2,8 miles/ 4,4 km return
Strawberry Falls: 2 miles/ 3,2 km one way – 4 miles return.
Walking Duration: 30 minutes to Third Beach plus another 15-20 to the Strawberry Waterfall
Elevation difference: 263 ft/ 80 m
Difficulty: This is an easy walk of roughly 30 minutes through the Olympic National Park rainforest. Just the last section down to the beach is steep and muddy in sections. Hiking poles may be helpful at the steeper descent. We had worn our INOV shoes with good traction, which was sufficient.
Rating: Exceptional beach, extraordinarily picturesque and watching a sunset here is second to none.
Camping Third Beach: A Permit is required.
How to get to Third Beach?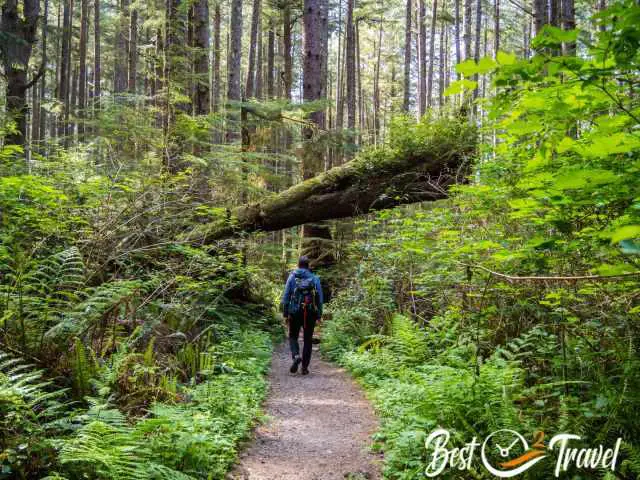 It is a 13-mile drive from Forks to Third Beach. The Second and Third beaches are only 1.3 miles apart and can be combined.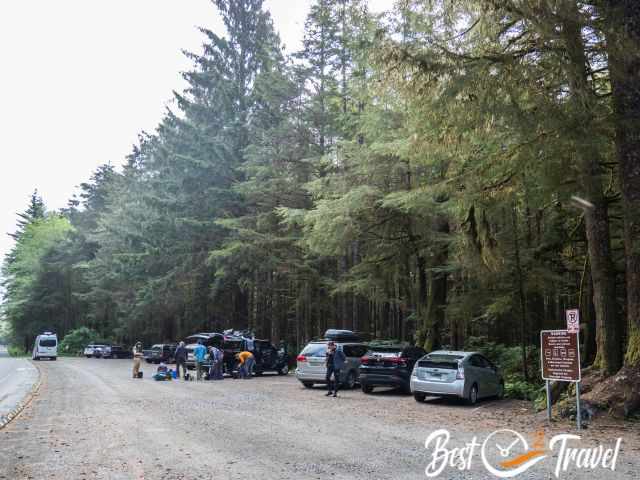 Plenty of parking here because of the multi-day backcountry trail, and ok-ish toilets and information boards are available. Location Google Maps
Summary Third Beach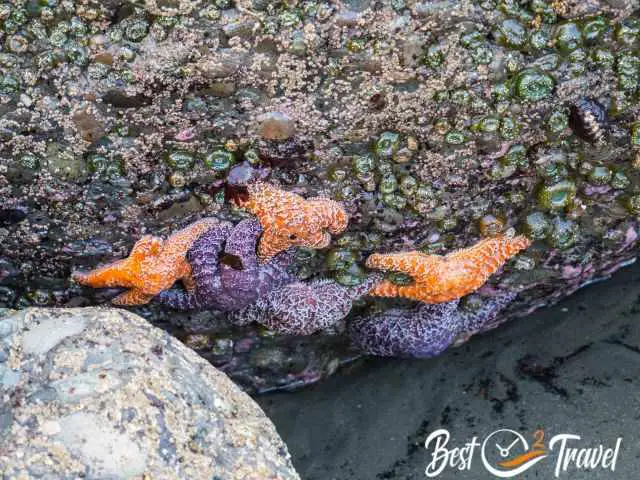 Pro: Spectacular view from the top to Third Beach and all the driftwood. The picturesque Strawberry Fall is situated at the end of the beach, and you have this spot almost to yourselves. The tidepools were full of ochre sea stars.
Con: You are able to reach Strawberry Waterfall at low tide only. A stream separates the beach. You either must walk through the stream or balance above a big driftwood log to get to the other side. The waterfall is less spectacular in summer with a lower amount of rain.
4 Ruby Beach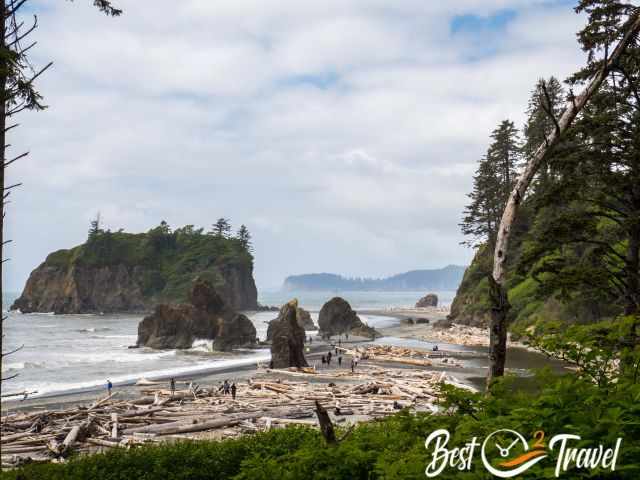 Ruby is for sure spectacular, a world-class beach with enormous driftwood and absolutely easily accessible with ample parking and ok-ish restrooms. Parking Google Maps
Ruby Beach is situated half an hour drive south of Forks. We visited the beach first and continued to Forks staying there for several days to explore all the other beaches. Ruby Beach has crystals in the sand, which you can see the best on a sunny day, which derived the name for this beach.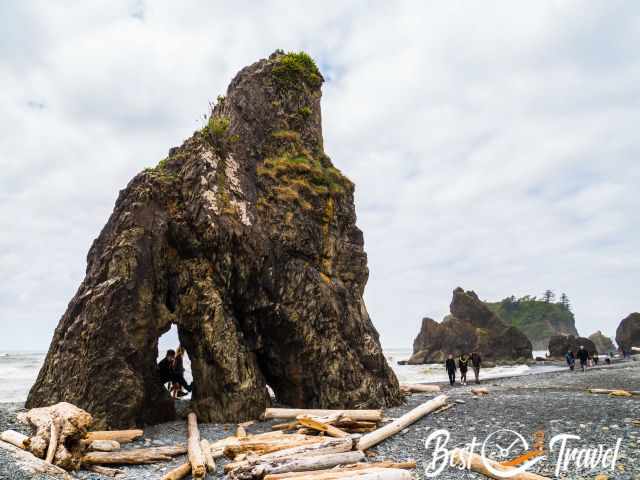 The trail is well-maintained, and you get a great view before reaching the beach.
Trail length to Ruby: 0,2 miles/ 320 m
Duration: 5 minutes
Difficulty: Easy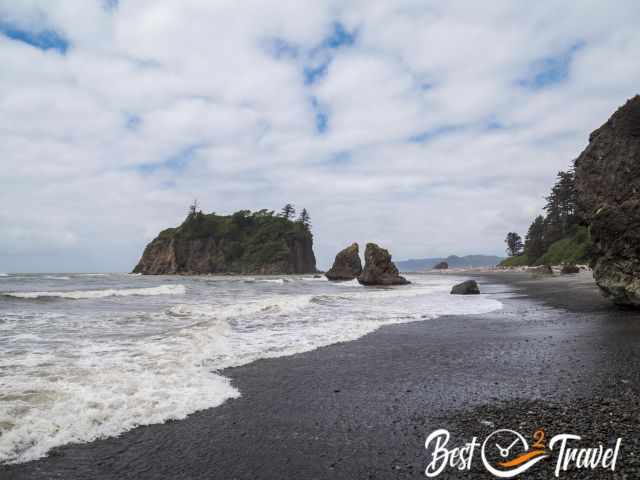 Camping on Ruby Beach is prohibited.
Summary Ruby Beach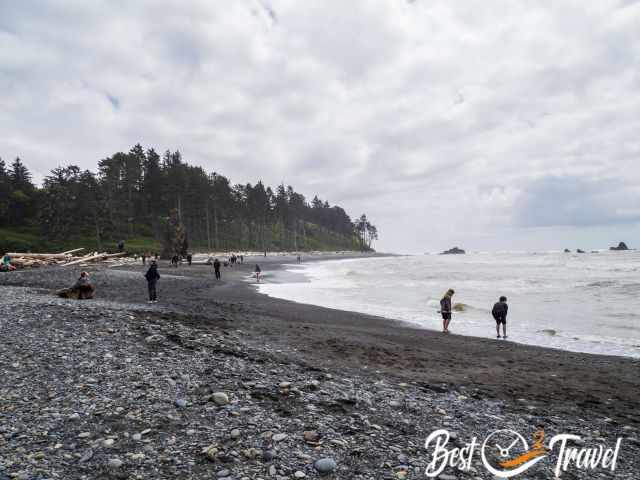 Pro: Maximum views with minimal effort. This beach is the easiest to reach in just 5 minutes. Extremely rugged, beautiful, and accessible throughout the day during high and low tide. You do not have to care about the tides.
Con: Finding a parking spot midday at weekends and in the summer can be an issue. The beach is crowded, and this is one of the points which took down the charm for me.
Where to stay in Forks close to the Olympic Beaches?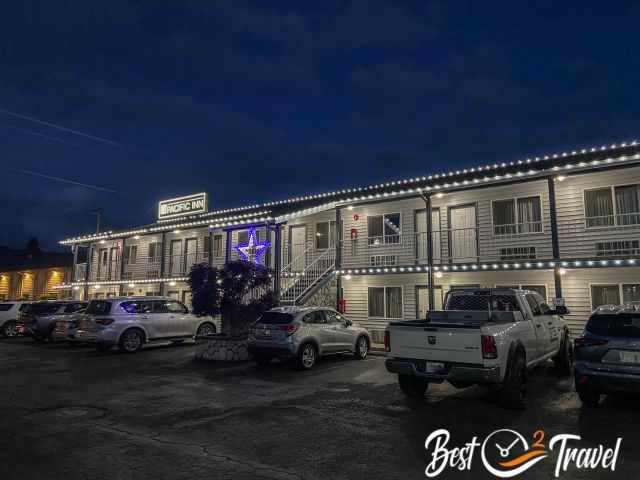 We checked booking.com and the available hotels and ratings for Forks and found the perfectly located Pacific Inn Motel. The staff was super attentive, the rooms were super clean and well equipped with micro and fridge. Because of the location, we were able to visit Second Beach, Third Beach, and Rialto Beach shortly before low tide.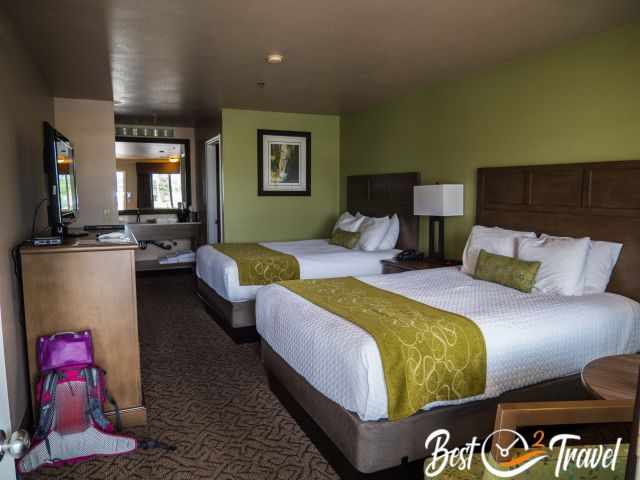 Location and Tips
Washington, Olympic Peninsula
United States

Immerse yourselves in the awe-striking beauty of the Olympic National Park and Peninsula and create unforgettable memories for you and your beloved ones. This spot definitely deserves a spot on your bucket list.
Who We Are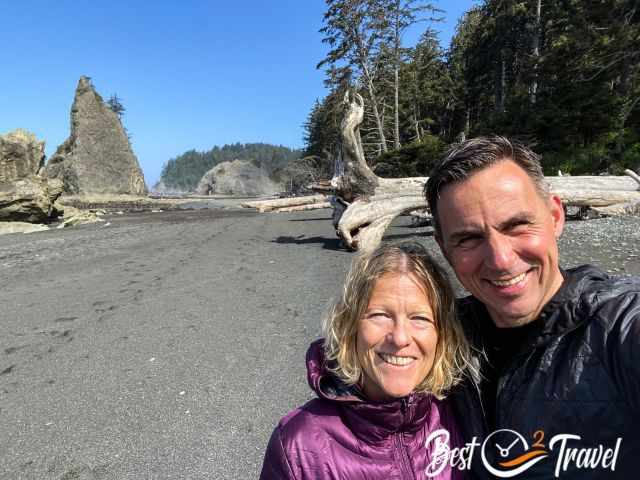 We visited the PNW and all these mentioned Olympic Beaches. I gathered all this information for you. If you like the article, I would be happy if you shared it with friends and on social media. If you want to support me, subscribe to our YouTube Channel, and you may find some ideas for your next vacation.
If you wish to use any of my photos, contact me, but I will take action against picture theft. Why do I write this here? Hundreds of my pictures are used worldwide without any credit, nor did they get my permission. I don't mind giving permission, but I want to get asked for it and to be mentioned. The world wide web changed a lot, and rewriting honest travel content is the new business for many fake travel websites. Do you wish to know more about this topic and how to unmask such websites quickly? Read my article "The Truth About Fake Travel Websites and Picture Theft." 
Does honest travel content from real experiences has a future? I don't know any longer.