When Is the Best Time
The manta rays are here abundant at this specific spot throughout the year. So there isn't a precise season for manta rays. Therefore, the snorkel and dive tour is offered year-round, during the day and in the evening when it is dark outside. However, sometimes ocean conditions can spoil the trip, especially in the winter and spring, from November until March/April. It's a popular tour and likely to be sold out days before, particularly during weekends. We spotted plenty of manta rays; some almost touched us. 
Avoiding Crowds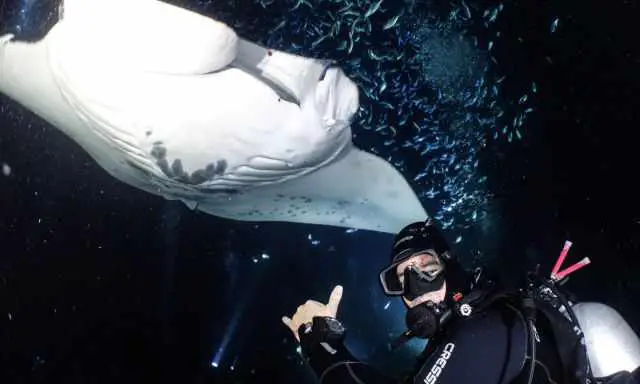 The popular manta tour is often fully booked, even in the shoulder season. Up to 150 people watch this awesome "dinner show" in the sea each evening. Therefore advanced booking is recommended. Nevertheless, everybody gets plenty of space to hold the floating device and also to take pictures.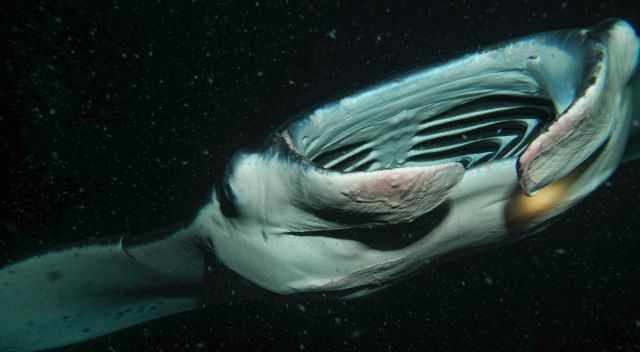 Shoulder Season
It starts in spring from mid-April to mid-June and in fall from September to November. It's busier during the "Golden Week" in Japan end of April until the beginning of May.
Peak Season 
It is utterly crowded when the Ironman takes place in October, and also very busy with increasing summer rates from July to August. Hawaii is overrun during Christmas, New Year's Eve and Independence Day week.
These are my recommended tours via GetYourGuide. Thx for booking via my website! With your support, I am able to provide all information first-hand. Tour prices are at no extra cost!
Weather and Ocean Conditions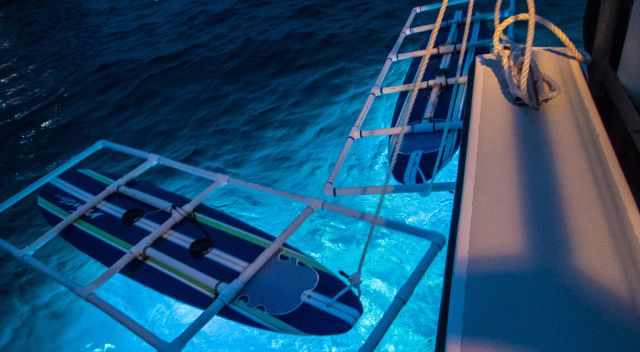 The south and the west of Big Island experience less rain. Kona is located in the west, therefore excellent to stay here for a couple of days. Showers frequently occur in Hawaii, especially late afternoon and during the night, but not frequently in Kona. It is a tropical climate in Hawaii but usually not too hot. There are only two seasons; the summer - dry season and the winter - rainy season. Spring and autumn do not exist. The warm ocean temperatures of at least 77°F/25°C have an impact on the air temperature, which is mild the entire year. The best time for Manta snorkel and dive tours is from April/Mai until October because of the pleasant weather the sea is calmer.
Summer - Drier Season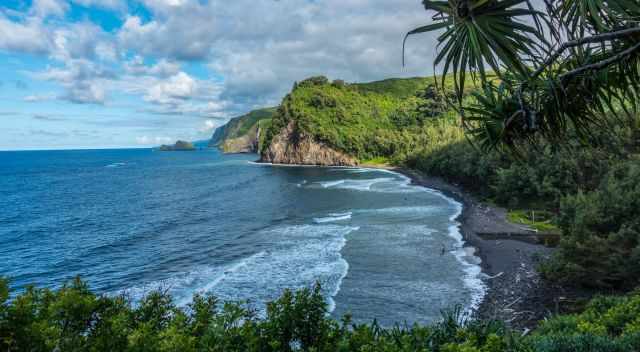 During summer, the drier season, the ocean is calmer, making snorkelling much easier, especially for beginners. The island is drier from May to October. Kona is often cloudy during the summer, reaching 87°F/31°C and night temps are around 73°F/23°C.
Winter - Rainy Season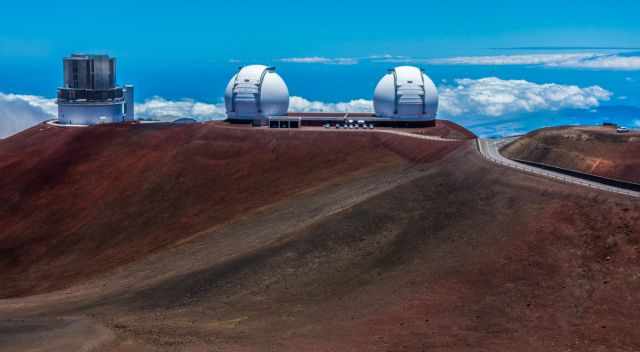 In the winter, the rainy season, the sea can be turbulent; high waves can spoil your trip. Day temperatures are pleasant above 80°F/27°C and nights drop to 66°F/19°C.
Diving in Winter
Hammerhead Sharks can be spotted year-round most probable encounters are in January and February.
Whale sharks are more likely to spot between mid-December to mid-January. 
 
Accommodation Tips for Kona
If you are looking for a home away from home with a well-equipped kitchen and great sunsets, the Aston Kona by the Sea might be your choice. 
If you travel with kids check out the Holua Resort. Enjoy the tropical gardens and six swimming pools. 
If you prefer a homestay with a delicious breakfast in the morning have a look at The Beautiful Edge of the World B&B
Location and Tips
Hawaii - Big Island
United States

Spotting manta rays up close was always on my bucket list. My friend Leif went to Kona diving and told us about this thrilling experience. It is almost guaranteed to spot the mantas just next to you. Why?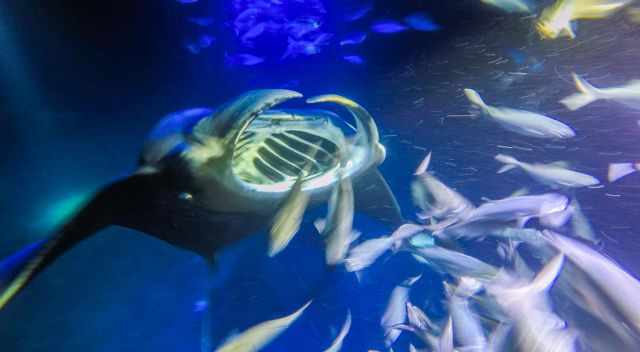 Close to the airport of Kona is a manta ray "cleaning station". The tour operators position lights on the surface and the bottom of the sea. They call it a "campfire". The plankton gets attracted by the lights and the manta rays by plankton. Snorkelers hold themselves at floating devices which are also equipped with lights shining to the bottom. Divers are on the ocean floor and watch the spectacle.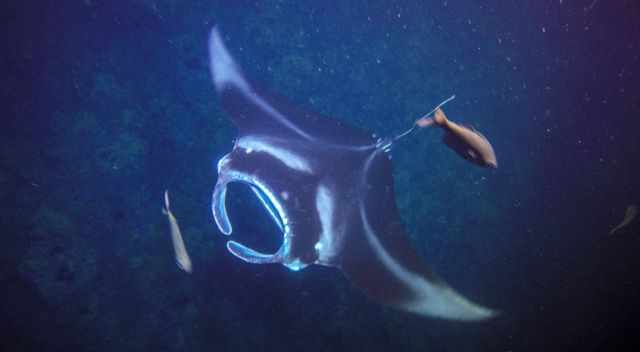 While the manta rays feed, they swim elegant, turn around and often come close to the surface and you. Sometimes I really thought they would bump into me, but they never even touched me. Manta Rays are not dangerous for human beings; it is the opposite. Never touch a manta ray! It can cause bacteria infiltration and infection by your hand.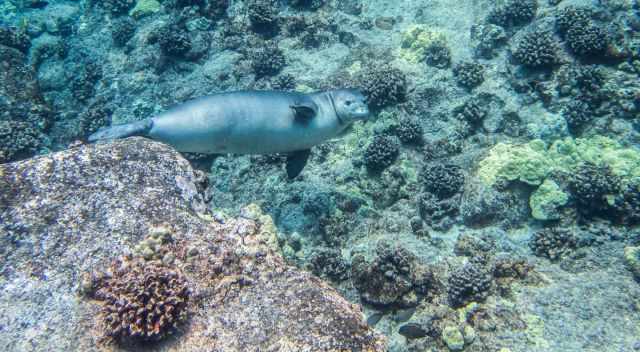 It was unbelievable we spotted six manta rays at the same time. It was so exciting I couldn't take many pictures or footage. It's a memorable experience where Kona is one of the best places in the world. However, the tour takes part in the mantas' natural environment; it is not a zoo tour. It is rare, but it can happen that you don't spot any on your trip. Plan ahead so that you may have another evening available for this outstanding experience. The location is north of Kona, close to the airport. The spot is called "Manta Heaven", and it was an incredible experience. It is also a popular place for diving known as "Golden Eel Cove". We came here for free-diving the next day and spotted a rare monk seal. Overall, Kona is an excellent spot underwater! 
Hawaiian Manta Rays Facts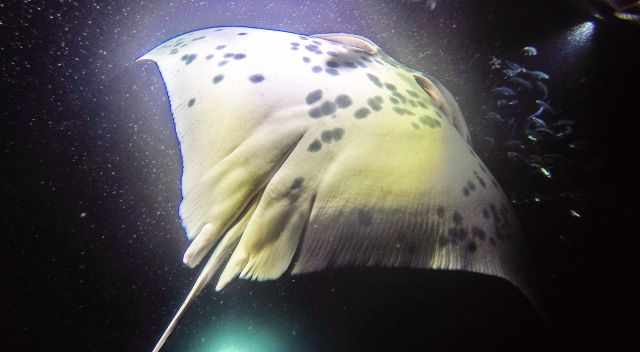 The Hawaiian manta ray species belongs to the Manta Alfredi. 
Big Island - Kona has the highest population density of all Hawaiian Islands, with more than 270 manta rays found in the vicinity of around 40 miles.
These manta rays don't migrate.
Usually, they reach 10 to 12 feet in width, but there is one here over 14 feet.
Names were given to all of them, identified by the pattern on their bellies.
They have the largest brains amongst all species of fish.
Manta Rays are capable of heating up and cooling down due to their "heat exchange system".
A female gives birth after 13 months. The young one feeds independently immediately after it is born.
They are cooperative feeders; which means feeding in groups called "chain feeding" one by one on a fair share basis.
Since 2008 they have been protected around Hawaii.