When Is the Best Time
Lunga Island is the puffin paradise. It is unbelievable that these cute guys let you come close. They are not at least afraid of you just continuing their business. The puffin breeding season on the Isle of Lunga (one of the Treshnish Isles) starts in the middle of April. To make sure to have thousands of them on Lunga Island to spot, I recommend a visit not before May.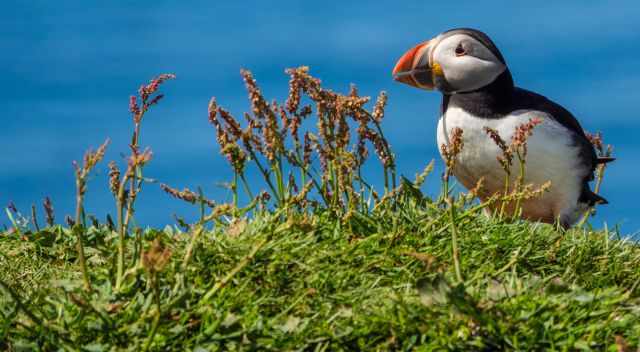 There is an estimated 4.500 puffins on Lunga during the peak season, and they stay on this island until the beginning of August. Please check my monthly puffin and weather overview for your trip planning with details for spring and summer for the Isle of Lunga below.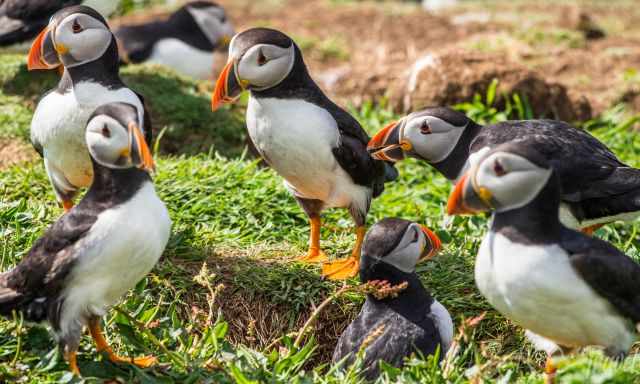 The best time to watch thousands of puffins during the breeding season on Lunga Island in Scotland is from May to July, and they leave the nature protected island latest in August.
Puffin Sightings | Lunga Island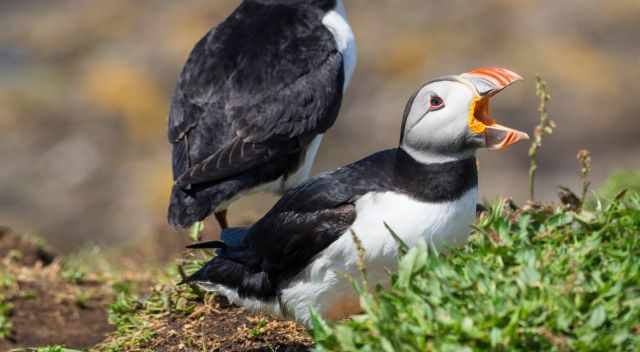 April - First Sightings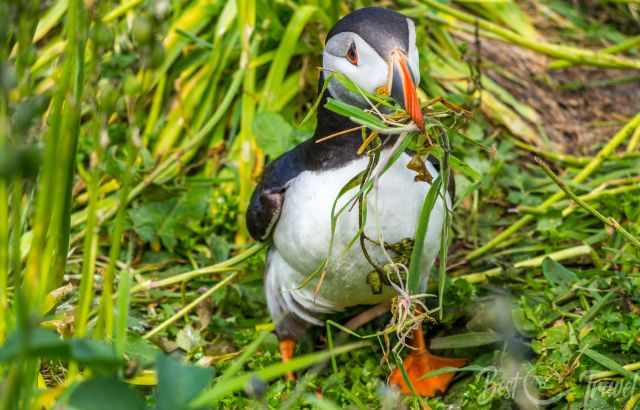 It's possible but rare to see puffins in spring before mid-April. Although not the greatest time, you usually spot them from mid-April onwards. However, sometimes they even arrive later in April. Experts say: Early to mid-April, sometimes later.
May - June - July - Best Time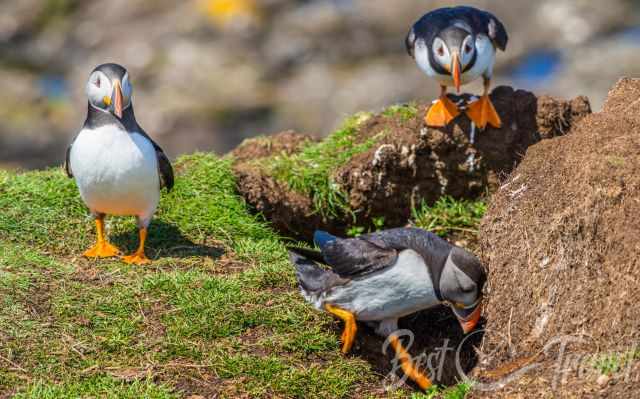 Late spring and early summer is the best time to visit Lunga. You spot a vast number of these cute puffins close. Regarding the weather I recommend May and June which frequently experience pleasant weather.
August - End of Season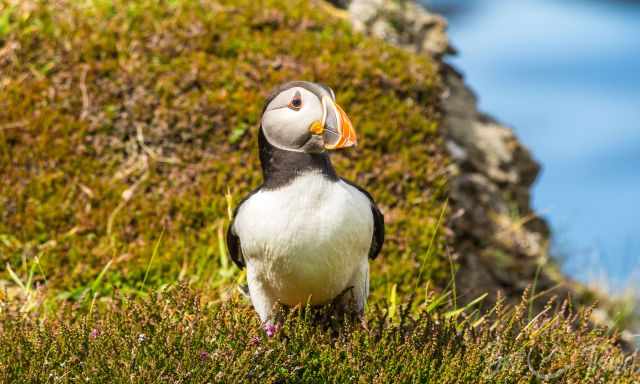 Hurry up if you like to watch these cute birds as they stay on the island only until early August only. Sometimes slightly longer, but. I wouldn't risk visiting later than in the early days of August.
September - March - No Sightings
No puffins are on the island during these months, from autumn until early spring.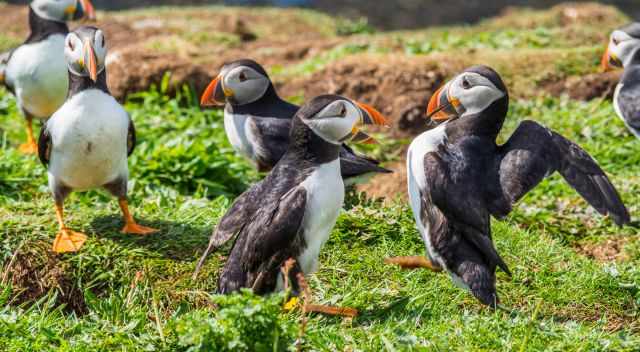 I went to Lunga at the end of June, and besides puffins, I saw chicks from the guillemot, razorbill, and shag. The puffin chicks hide in the burrows, and you may only encounter them when they leave the nest.
Weather from May - July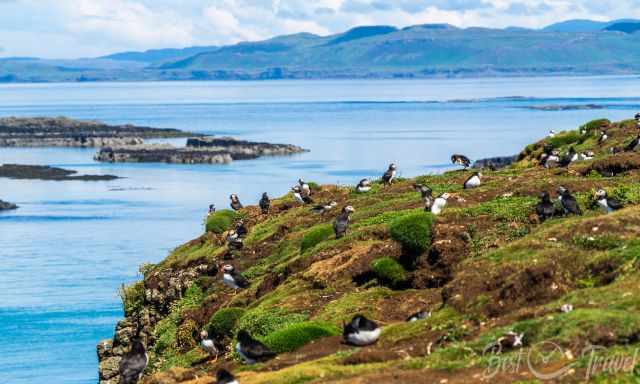 May and June are the driest months of the year, with increasing rainfall in July though still less precipitation than the rest of the year. The average day temperature is 14°C and tops 20°C on sunny days. A windproof jacket and a fleece pullover are recommended for the boat tour. On windy days, the sea is rough and choppy. The island is open to the elements, so be prepared.
Are There Any Facilities on Lunga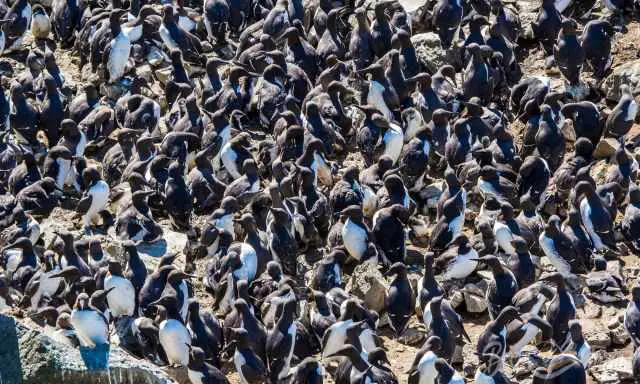 Lunga is a nature protected area for the estimated 6000 birds on this island. Therefore, no restrooms, no cafe nothing is available. Most boats offer a toilet and beverages. 
Where to Stay (Lodging Tip)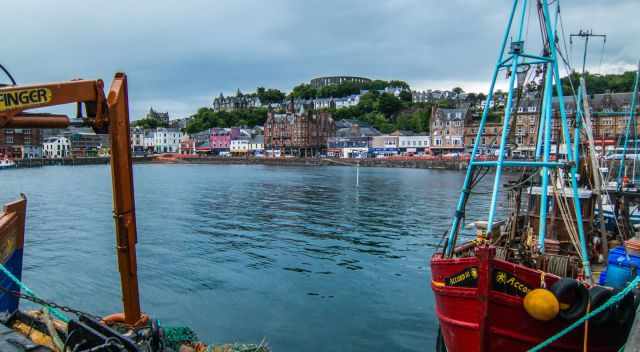 You can't stay on Lunga. There isn't any accommodation, shop or cafe. Lunga island and its birds are protected by law. You can either stay in Oban or on one of the surrounding islands. The best bet is to stay in Oban. Book a tour to Lunga in advance because of limited space. Actually, to get to the Hebrides (Islands), you need to go through Oban, the main ferry port!  There are lovely B&B's.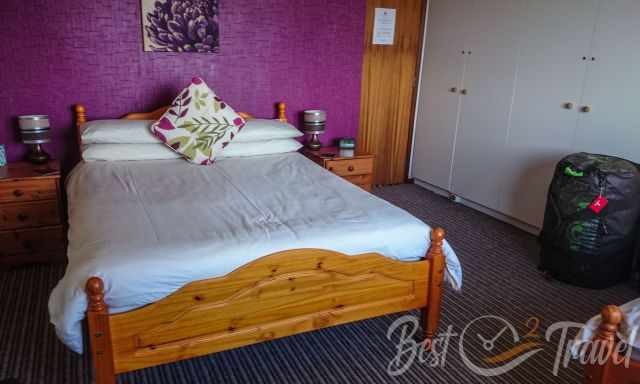 My favourite one with the very best location is The Manor House within walking distance of the ferry port. Ideally located if your ferry or tour departs early in the morning. However, make sure to stay here for at least two nights. It is a quiet oasis in bustling Oban with breathtaking views from the garden to the sea. Get surprised about their outstanding afternoon tea, offered meals, and breakfast. You can't wish for better.

Which Camera Do I Use?
Most of my shots were taken with my Olympus OM-D EM 10 Mirrorless Micro-Four-Thirds camera. I love it so much because it's not too big for my hands and I can carry it easily everywhere. The wonderful EVF is extremely bright and works perfect outdoors. I never go without my camera.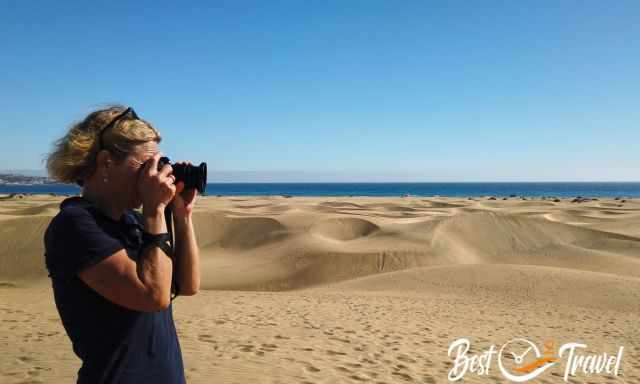 I use a Mark II and Mark III but my next one will be the OM-D E-M5 because the body is splashproof, dustproof, and freezeproof and provides a better image stabilization. Especially during rain, in the rain forest or close to a waterfall it is sometimes impossible to use the camera. During our road Trip through Utah and Arizona I had issues with the strong wind and the sand. I had to cleaning my camera daily.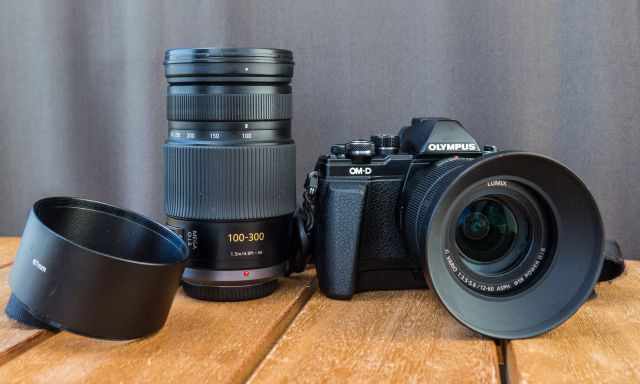 My day-to-day lens is a Panasonic Lumix G Vario 12-60 mm. The Micro-Four-Thirds Sensor makes it easy to use Panasonic Lumix G Vario 100-300 mm which is equal to a 200-600mm lens for an APS-C Camera for shooting long range.
Location and Tips
Scotland, Argyll and Bute, Treshnish Isles - Isle of Lunga
United Kingdom

Lunga Island is the largest of the Treshnish Isles and a photographer's and birdwatcher's dream. There are thousands of puffins and guillemots. The guillemots are nesting on a vast rock opposite Lunga. You can't miss them, follow the noise. Also, razorbill and shags are common here, but the population is smaller.
Getting to Lunga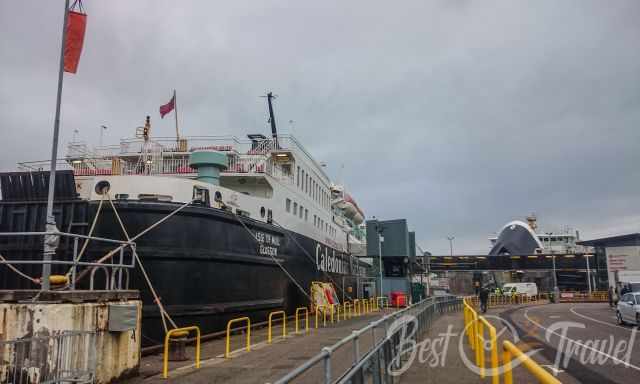 You can either book a tour in Oban or from one of the islands. Usually, Lunga is combined with Staffa and Fingal's Cave.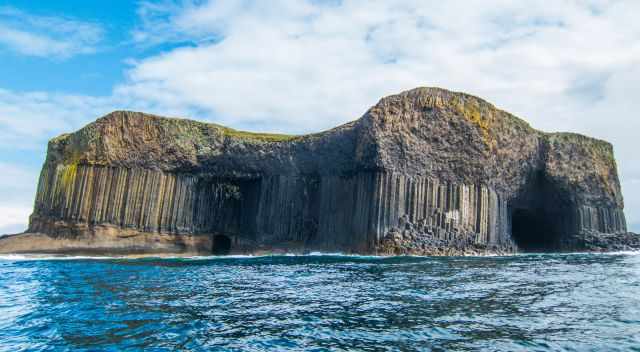 Our group spent two hours on Lunga, and IMO, this was too short. The time was running too fast on Lunga, watching puffins coming back to their burrows, some building their nests. Depending on what you want to experience, combined tours and just birding tours are offered. Tour operator Turus Mara.
3 Must-Know Tips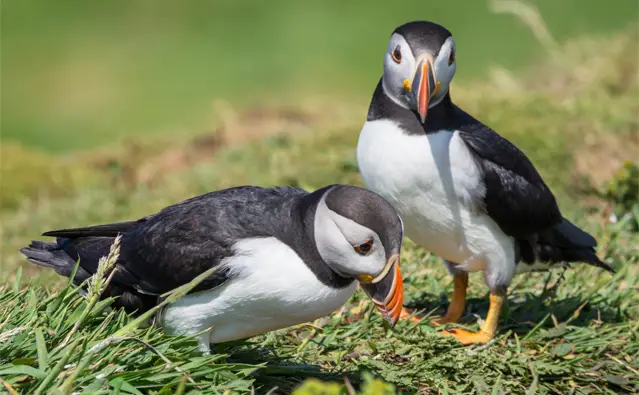 Book the trip in advance, but only a couple of days because of the unpredictable weather.
Check the weather forecast before booking. Rain and strong wind can spoil your trip. May and June are the safest months regarding the weather.
Bring a wind- and rainproof jacket, a hat, sunglasses and sunscreen for all weather patterns.
Fascinating Birds on Lunga Island
Puffins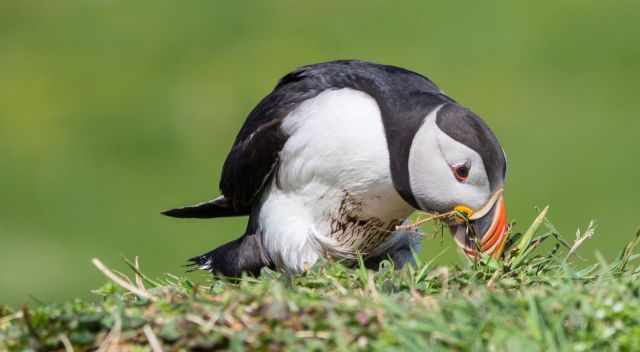 Puffin couples stay together for life.
The lifespan is roughly 20 years.
They start to breed when they are about 5-6 years old.
Puffins lay only one single egg in burrows. Parents incubate it for 36-45 days and another 34-60 days for fledging. The fledging period is depending on the area and year.
They have short wings that are good for flying, reaching 50 mph, and swimming/diving up to 60 meters deep to catch fish, especially sandeel. The sandeel is rich in nutrition and significantly impacts breeding success and survival.
The main predators are gulls and peregrine falcons.
In winter, puffins lose their bright beak and eye ornamentation, but it grows again in early spring for courtship.
Guillemots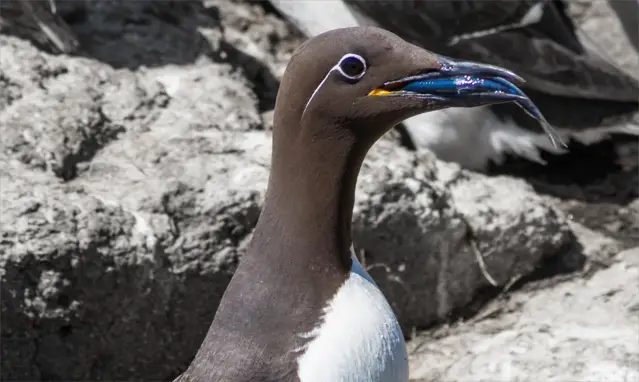 There is a massive colony of guillemots which are closely related to the Puffins.
They also lay one single egg. Here it is, the father is taking care of the chicks for about two months; the mother remains for two weeks only.
They can dive more than 30 meters deep to catch fish.
When you reach a massive rock at the trail's end, you can already hear the Guillemots' loud noise.
Razorbills
The razorbill is also a species of the Auk family-like puffins and guillemot.
Also, they lay one single egg.
They can dive very deep, more than 100 meters but usually around 25 meters.
Their beaks are wider white stripes that run from their eye to the beak.
Shags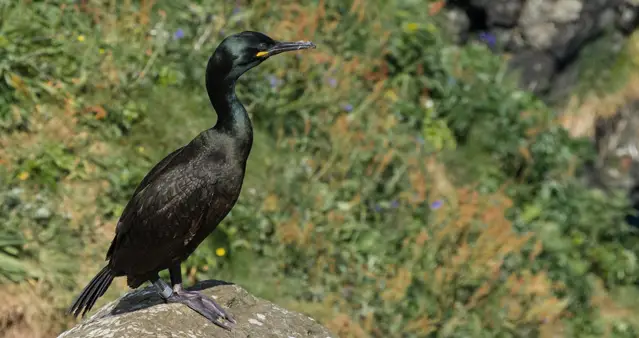 The shag is similar to cormorants but smaller with a thinner beak.
Their breeding season is from June to August.
The shag dives at least 45 meters deep and has the same preferred food as the puffin.
Foodie Tip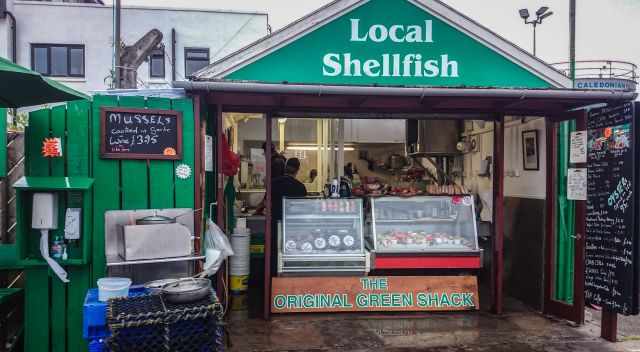 At Oban port is the best seafood stall of all located. Don't miss this exceptional seafood meal after your trip to Lunga.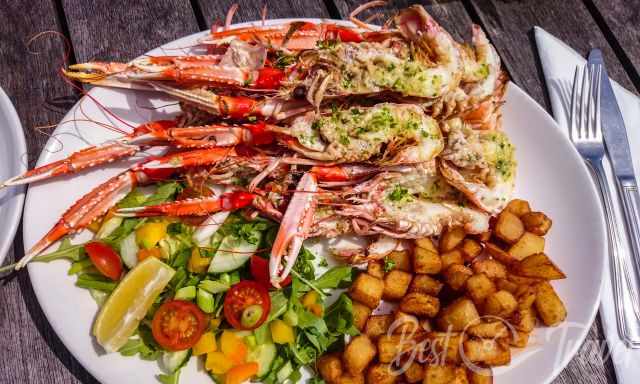 I took these pictures with my Olympus OM-D10 and Panasonic Zoom lens 100-300. I was quite close to the birds but not too close to disturb them. If you wish to use any of my pictures, please contact me.