When Is the Best Time
Watching "The Gathering" is an outstanding spectacle and takes place in the dry season from July to October with its peak in August and September. The elephants gather in high numbers up to 300 around the water reservoir due to the lack of water. To enjoy this vast amount of elephants try to book a tour for the late afternoon with fewer off-road cars. Usually, the males are only around during the mating season in June - July. The elephants wander around between three different parks, so it's not guaranteed to spot them in high numbers.
Update 
The last tripadvisor reviews are deterring. The jeep drivers don't show any respect for these majestic animals; almost chasing. Better go to Udawalawe. We'd been here as well. The drivers stay on the path and don't drive like crazy to the bush. Also, many other animals can be spotted.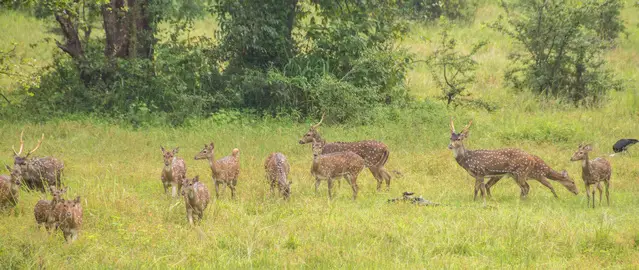 Samba Deer in Udawalawe
Weather
Showers can occur throughout the year. During May decreasing rainfall while June to September are the driest months. It's often overcast from June to August. The tropical climate has a humidity of around 80 % most of the time. Most precipitation occurs from October until December. January to April it's frequently sunny. You may experience the most pleasant weather conditions between January and September.
Location and Tips
Minneriya
Sri Lanka

Declared as a National Park in 1997 to protect the water reservoir and the wildlife of the area. Minneriya is famous for the largest gathering of Indian elephants. They gather in numbers of about 200 up to 300 at peak times during the dry season. They come to the region to feed and mate at an ancient water reservoir built by a king in the third century.
If you visit Sri Lanka at another time of the year, you can spot elephants the entire year in Udawalawe, Kaudulla, and Yala.