When Is the Best Time
Yala is a must if travelling to Sri Lanka. The National Park is popular for the biggest leopards, lots of wildlife and it's a birders paradise. Of course, everybody wants to see a leopard at Yala, but to increase the chance of a sighting stay at least two nights! What is the best time to spot them? Read on for our detailed tips:
Leopards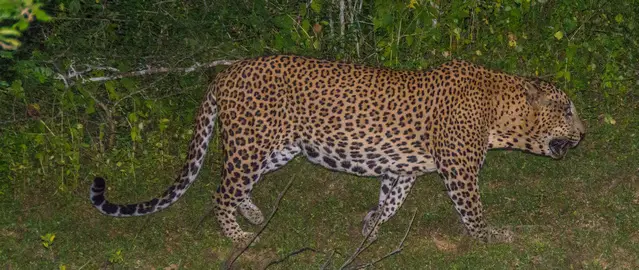 Yala has the highest density of leopards. The best chance to spot them is around new moon combined with a safari/tour in the afternoon when it's also less busy. They are more active around dusk during new moon days. 
Crowds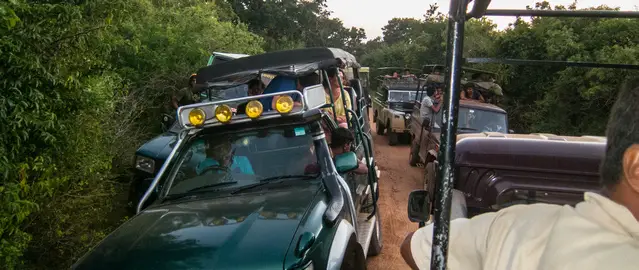 It's often very busy with many jeeps. It's super crazy if a leopard got spotted. Avoid weekends and public holidays. The morning safaris are the busiest. You can't enter the park immediately; first, your driver has to queue to get the ticket. Many tourists stay just for one night and leave at midday. The afternoon is much quieter. 
Wildlife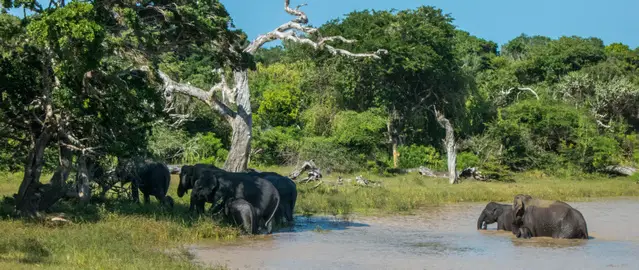 The very best time for Yala to spot leopards and other wildlife such as elephants and wild boar is from May to August. More animals gather around the waterholes during the drier months. From October to December it's more likely to spot deer, crocodiles, and birds. The park is often closed in September until October (too aggressive animals after a heavy drought). The best time of the day to spot wildlife is either early morning or from afternoon till evening. From late morning until afternoon they usually hide under thick foliage.
Opening Hours and 3 Gates at Yala
The park is open from 6 to 6. Yala is divided into five blocks. Block 4 is not open for safaris. Most visited are Block 1 and 2 with two entrances. Hundreds of jeeps seek for a leopard in Block 1.
Palatupana: Main entrance for Block 1 and 2 is the busiest - waiting time up to one hour in the morning.
Katagamuwa: This entrance to Block 1 and 2 is far less crowded.
Galge: Entrance for Block 3 and 5 and less known. Therefore, you do not need to queue at the Galge entrances.


Our driver Amare was checking the depth of a waterhole. 
Weather
In general, you can visit Yala year-round. It's never really bad. The drier season runs from January to August. Increasing precipitation in September. The 'mild' rainy season runs from October to December/January and some more rainfall again in April.
Top Tips Where to Stay
First of all stay at least two or three nights to increase the chance of spotting a leopard. Choose an accommodation which is nearby. Pro; you can go on safari in the morning and afternoon and spend the lunch break at your hotel. 
Location and Tips
Yala
Sri Lanka

Yala designated as National Park in 1938 is the oldest one of Sri Lanka. It is divided into 5 blocks, four of them are open to the public. Yala is home to more than 40 mammals and about 215 bird species. It's leopard country! The leopard density is higher than anywhere else on this planet. This species is endemic to Sri Lanka. Those predators and the sloth bear make Yala an amazing wildlife destination, together with many other fascinating mammals, birds and reptiles. Unfortunately, we didn't spot any sloth bear in four days but different leopards always in the late afternoon none in the morning.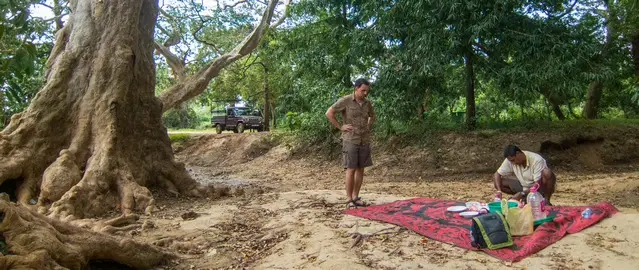 Picnic Lunch in Yala; our guide walked an extra mile for us.
The morning safari starts at 6 am, but you already need to queue in your jeep up to an hour before; otherwise, you are wasting time waiting for your ticket. If possible, don't use the facilities! The roads inside the park are not paved like in the Kruger in South Africa. These are dusty and bumpy roads. Bring a scarf or buff and breath through it. Some of the drivers do this as well. There aren't any regulations for the National Park and also no jeep limit. Most drivers get too close to the wild animals and if a leopard is spotted; expect 30 and more jeeps around this impressive hunter. The afternoon is a little less busy, and you don't need to queue; come just a little earlier. 
Packing List for the Safari
Plenty of water to drink - it's hot and dusty!
Scarf or buff to breath through. The air is full of dust!
Sunscreen and hat, otherwise you get sunburst despite the shelter.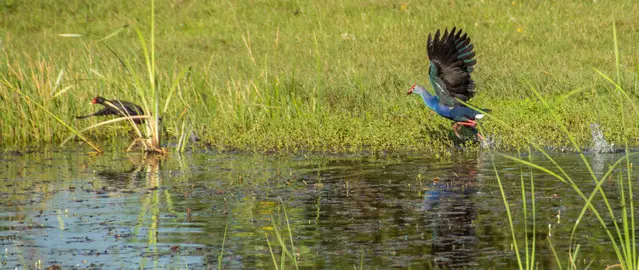 If you are into birding schedule an additional morning for Bundala National Park.