When Is the Best Time
It is one of the most famous sights in Sri Lanka, not only for tourists for locals as well. Polonnaruwa is crowded throughout the day. It's quieter early morning and late afternoon only. Most buses and tourists leave the area in the afternoon, and you may enjoy the exceptional Buddha Statues Gal Vihara even more.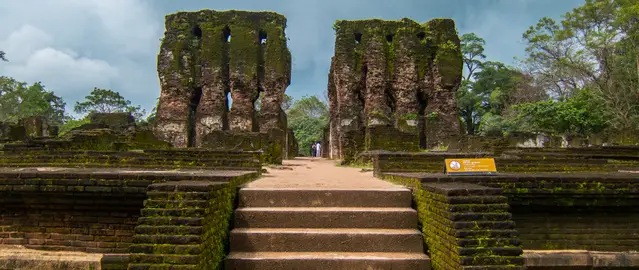 Regarding the weather, try to avoid October to December, where heavy downpours are more likely to happen. The sights are far from each other. Polonnaruwa covers three km² either take a tuk-tuk or rent a bike. Continue reading for more detailed information to get the most out of your visit.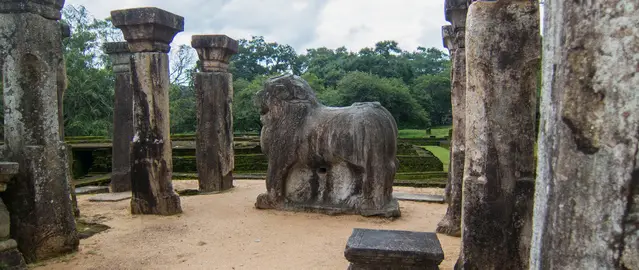 Weather
The drier season in this area is from May to August/September but often overcast from June to August. It's a tropical climate with humidity of around 80 % for most of the year. Most precipitation occurs between October and December. From January to May, it's frequently sunny. The day temp lays around 30°C throughout the year. The cultural triangle is a year-round destination, although travelling during the wettest time of the year can be challenging. Lots of roads aren't paved and get muddy. Polonnaruwa usually offers the most pleasant weather conditions between January and June. However, showers can occur throughout the year.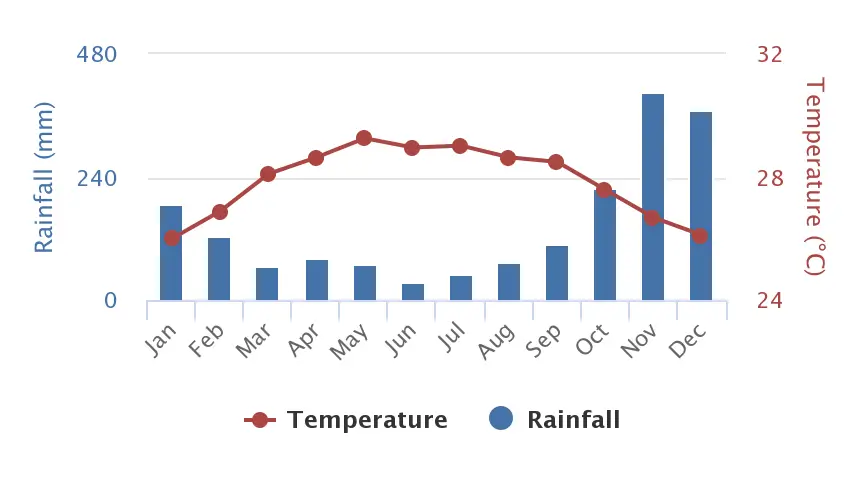 Average Monthly Temperature and Rainfall for Polonnaruwa from 1991-2015
Location and Tips
Polonnaruwa
Sri Lanka

Polonnaruwa is part of the cultural triangle. The triangle includes five of the eight world heritage sites in Sri Lanka. The ancient city of Polonnaruwa is a World Heritage Site since 1982. It is the second most ancient kingdom of Sri Lanka. Visitor information boards in English can be found at some ruins. But have a quick look at the museum to get an overview. Here you can buy your tickets for USD 25 per adult.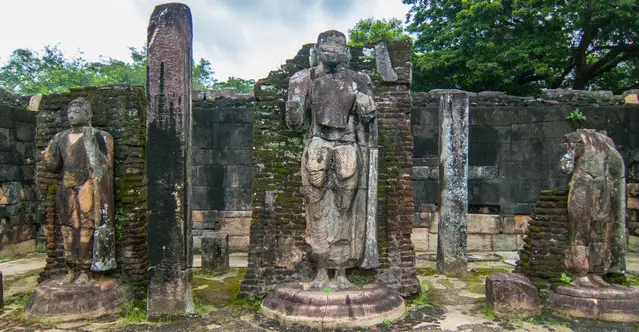 Statues inside the Tooth Relic Temple; Hatadage
Plan half a day for the ancient city and take your time at the most impressive Buddha Statues of Sri Lanka, the rock monastery of Gal Vihara. They are the central part that has been carved into a long granite rock roughly 50 meters long. To protect the statues from the rain, they are sheltered under a roof. Two of them are sitting, but with different meanings, one is standing, and the most impressive one, which is 14 m long, is reclining. There are still discussions if it is sleeping or passing away depiction. This unique place has a very overwhelming atmosphere. 

Top Tips
Bring your lunch or a sandwich. There isn't any restaurant or cafe nearby. Water bottles are sold at some stalls.
Rent a bike for 500 LKR - roughly USD 3 but check the tires first. 
Protect your shoulders and knees, wear light clothes. It can be pretty hot while walking.
You have to remove your shoes frequently. Flip flops are a good choice.