We never go without our portable barbecue grill. We are foodies not only at home but also during our trips and outdoor adventures.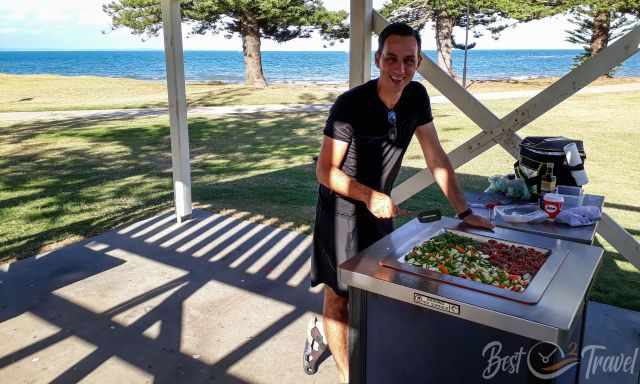 We like the variety of food and delicious meals, not only simple cooking. Especially in the summertime, we love the smell of grilled meat and veggies.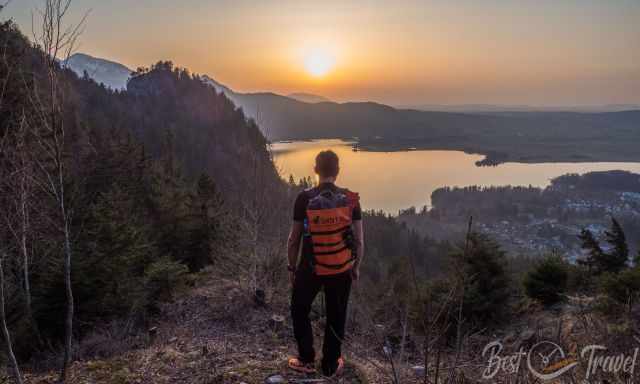 You may ask, is this possible having a BBQ while travelling? Of course, not always the best option during a hiking trip, but carrying a portable barbecue is a must for us nowadays if we travel by car or van.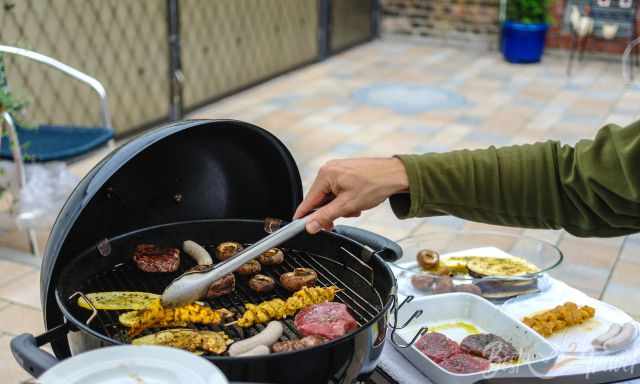 We started with these simple single-use barbecue charcoal grills, but this didn't work very well. The next try was a Piccolino portable charcoal barbecue like a Weber Smokey Joe Premium. Honestly, none of them was portable or easy to pack. In addition, you had to carry some charcoal, a lighter and food.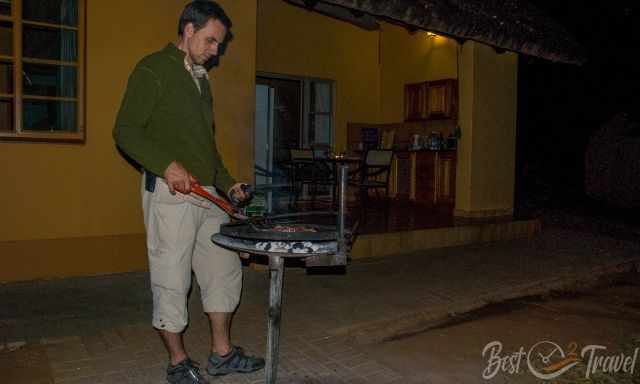 A BBQ is a philosophy of life. It is loved worldwide, so it does not come as a surprise that different countries use different names. The Africans call it "braai", the Australian "barbie", and the Americans BBQ, but all have the same understanding of it; the freedom to be outdoors.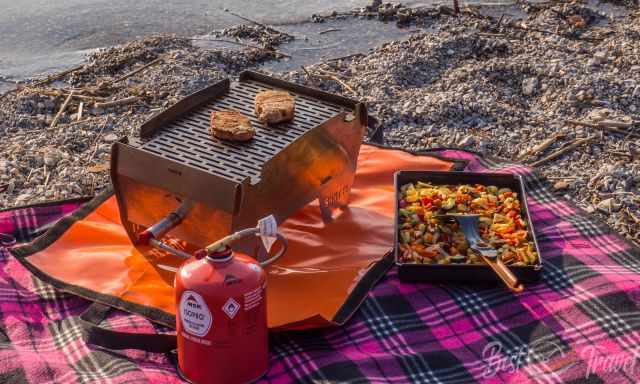 By chance, we found SKOTTI, which is sold with the slogan "Just Grill Anywhere". This excellent grill provides a new quality of cooking where ever you are. The barbecue grill is easy to carry in a thin bag and weighs just 3.3 kg/7.27lb. It will fit in your backpack and can be used as a pad for your grill.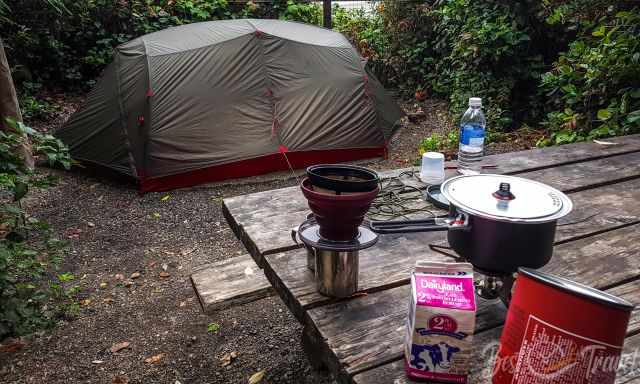 SKOTTI can be used with charcoal, wood, or camping gas. Our favourite way is to use camping gas because we carry this anyway for our MSR Whisperlite multifuel burner. The grill is long-lasting and built with premium high-grade steel in excellent quality, it is ultrafast to assemble. SKOTTI Company link (This is not an affiliate link - we just love this gadget)
If you assembled SKOTTI a view times, you are able to start your barbecue in about 2 minutes. We are confident that no part of our barbecue will ever break, but the company behind sells all parts as spares which is rare nowadays!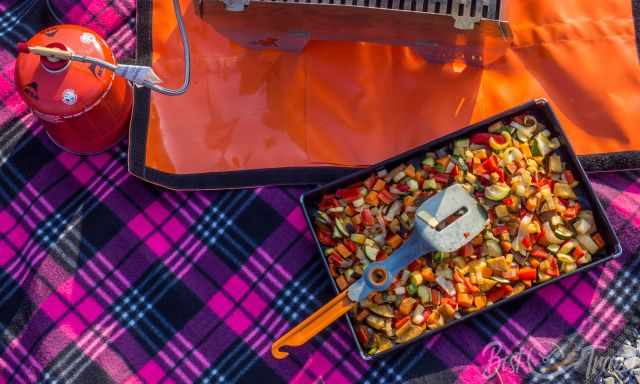 You have endless possibilities from grilling to frying, cooking, baking and stewing. We take for the barbecue whatever is available from meat, seafood, and for Micha, on top veggies and especially eggplants. To simplify the preparation, we are using a special barbecue bowl. It is non-sticky with a professional non-stick coating. The 1.5l size is ideal for SKOTTI and fits perfect on the grid.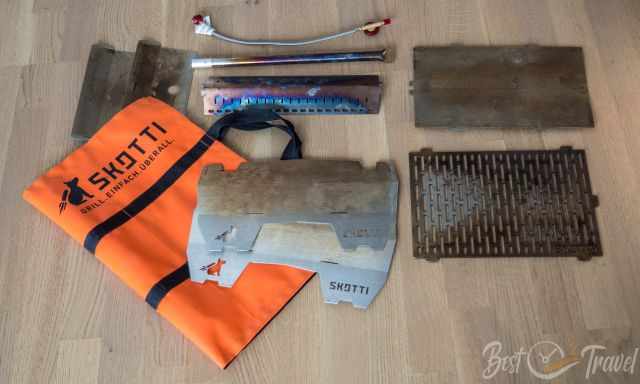 The big advantage of SKOTTI, although so tiny and flexible it has the same power of 2.5 KW as the big ones have. To power SKOTTI, we usually use a 450gr Isopro fuel canister. If you can't get one of these fuel canisters, SKOTTI can also run with a Butane fuel canister or a Coleman propane gas cylinder. Both need an adapter to get connected with the wonderful SKOTTI.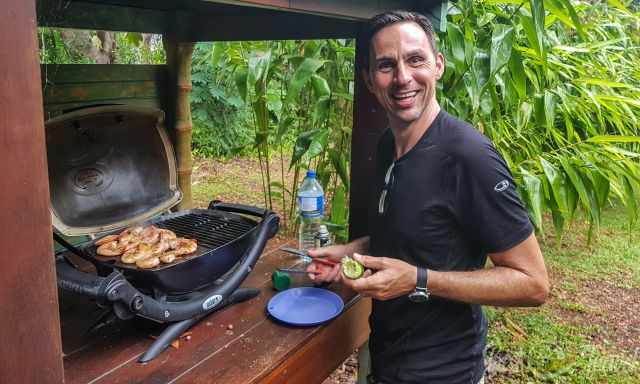 Many accessories for this unique grill are available, like the SKOTTI CAP, BOKS, FLIP in the store. Recently SKOTTI MAX was released, having twice the size to provide an even better barbecue experience for families and bigger groups. The new version's grill size is 39,5 x 30 cm and weighs 6kg/13.23lb.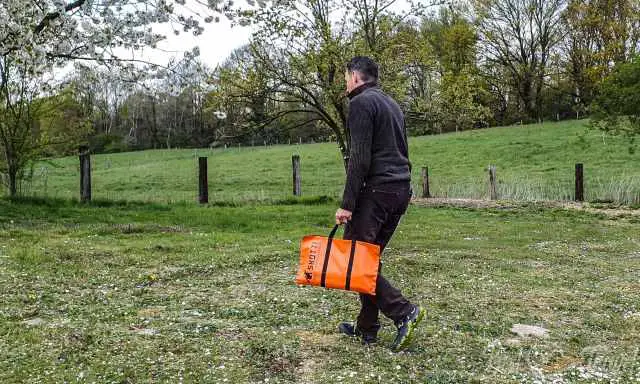 SKOTTI is the first snap-together barbecue grill worldwide. In 2019 the company won the Red Dot Award in the category of product design. We have already been travelling with SKOTTI for two years, and we never leave it at home. However, we are not sure if it is sold everywhere. Please, let us know if you cannot find it locally; we will try to support you.