When Is the Best Time
I will introduce you to one of the most fascinating islands on our planet. Visiting Tasmania is like stepping back in time to ancient fairy-tale rainforests, impressive waterfalls, a rugged coastline, more than 450 mountains, and abundant wildlife you haven't spotted before.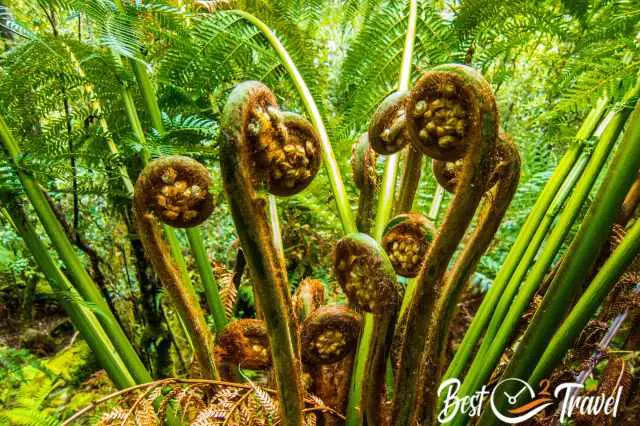 Tasmania, isolated and located in the southeast of Australia, is promising for an exceptional vacation you never experienced before.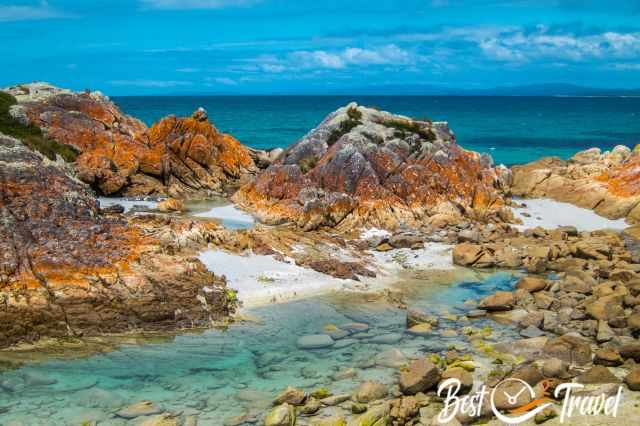 Most people look for a seven-day itinerary for Tasmania but trust me, you miss too much and wish to return soon. Travelling to Tasmania is a long-distance flight with stopovers for the majority of visitors. We made the same mistake on a six-week vacation in Australia; we only travelled to this exceptional island for one week. We have returned to the island several times. Tasmania enchanted us.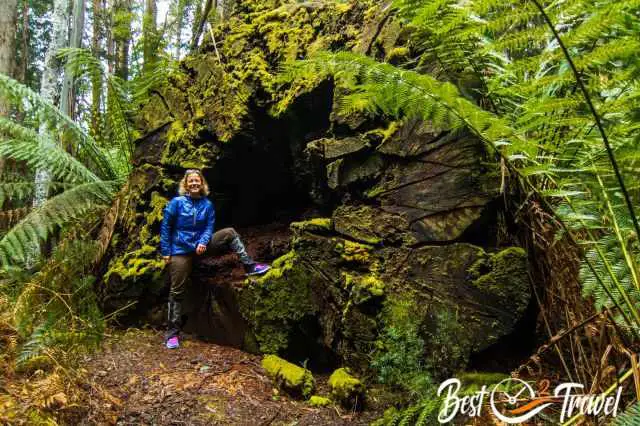 After our many trips to Australia and Tasmania, I have compiled a 14-day itinerary, two weeks in Tasmania as a self-drive round trip. No paper guide for Tasmania is needed; read this guide and bookmark the link for your journey to this unique island.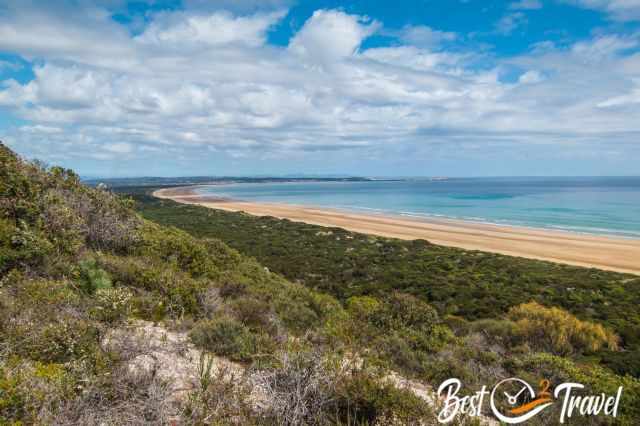 My clockwise tour starts in Hobart, where you may arrive at the international airport. It follows from south to the west, north, the beautiful east coast and Tasman National Park and Peninsula. Added is a Table of Contents for a better overview of all my recommended sights below. 
Best Time to Visit Tasmania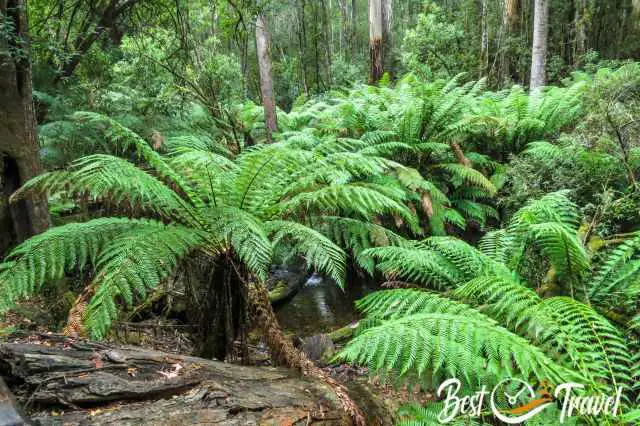 Tasmania's weather is heavily impacted by its location in the Southern Ocean and the well-known roaring forties. These winds carry a massive amount of moisture transported in the form of rain clouds to the west. This is the reason that Tasmania can be divided into two climate zones.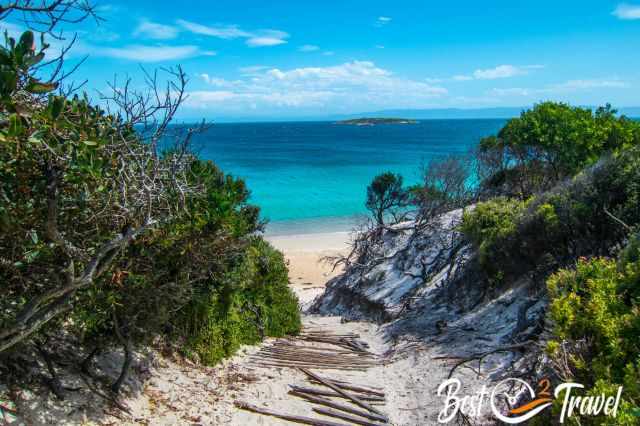 The wild western side and coast experience heavy rainfalls up to three meters annually and strong winds; therefore, occurs this jungle-like vegetation. The east is the opposite; it is a mild climate, drier, and calmer sea. Here you can find these white sandy beaches with their turquoise blue sea. The temperature and weather are more like in Europe than in the rest of Australia.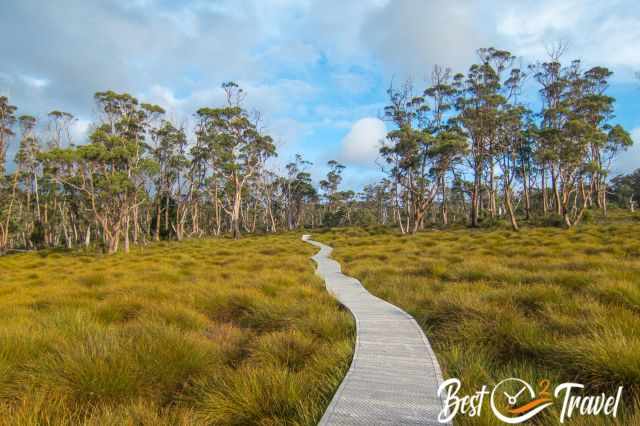 The best time to visit the island of Tasmania and the centre with Cradle Mountain is the summer season, from December until March. For this reason, the summer is also the busiest time of the year. However, you easily escape the crowds if you like to explore Tasmania on hiking trails or you visit remoter locations.
Weather for Each Season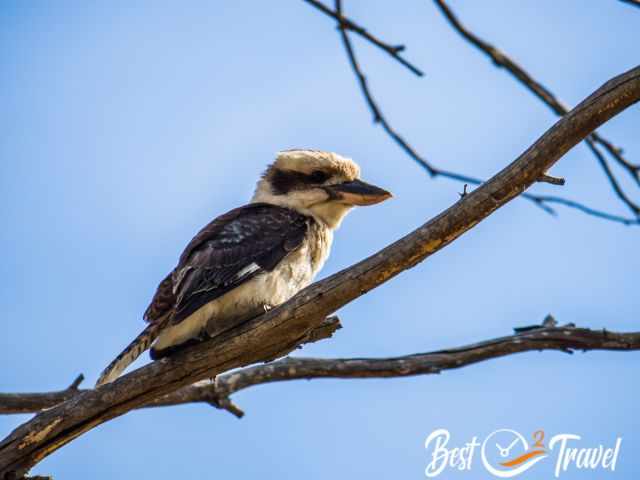 Spring (September-November)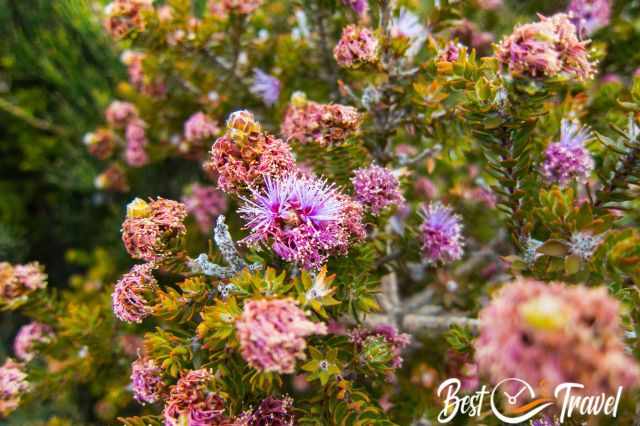 Low season in September and October and shoulder season in November. Already pleasant temps on a sunny day in the east, but on average below 20°C. Nights are cold, below 10°C, and chilly for camping.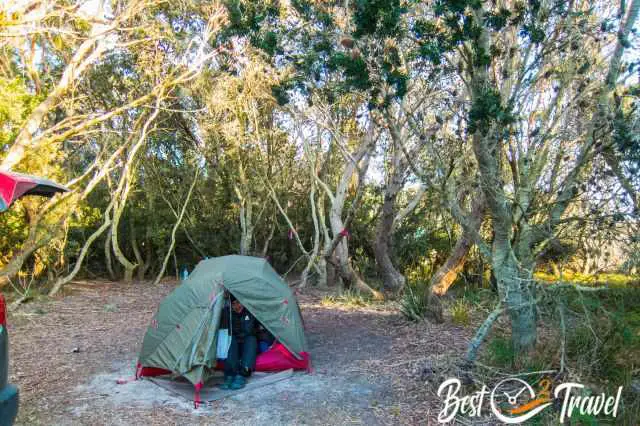 It rains less on the eastern side of Tasmania, but October and November are a little wetter; on the contrary, the west and Cradle Mountain experience almost three times more precipitation at higher elevations.
Summer (December-March)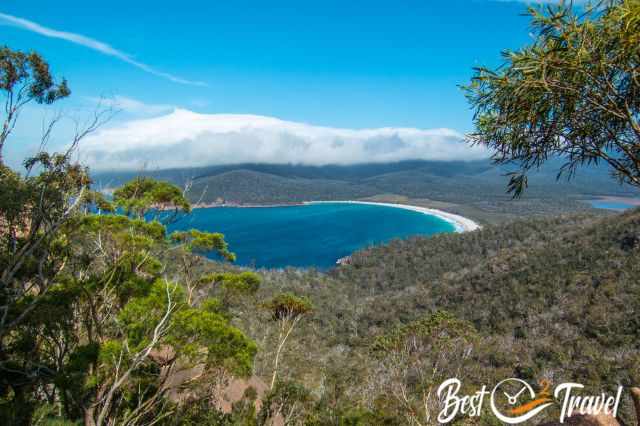 Summer is the Peak Season! Temps are above 20°C and can top even 30°C during the day in the east and sometimes in the west. February is the driest month of all in the east and west. Overall the west and Cradle experience, on average, twice the amount of rain compared to the east. Another pro for the summer is the daylight hours of up to 15 hours in December.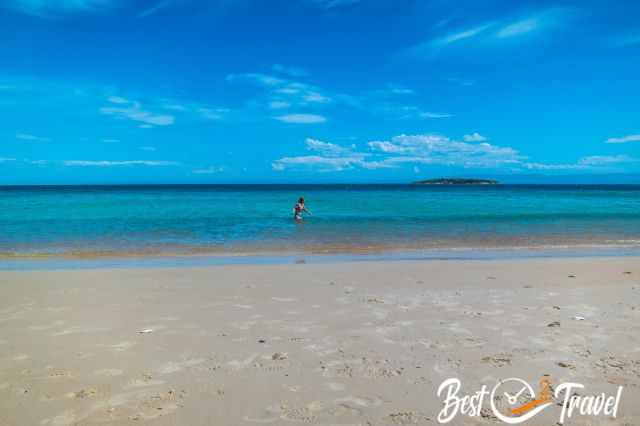 An extreme fire risk occurs during summer, and trails may be closed. From mid-December to mid-February advanced booking is recommended for all accommodations and campgrounds. In March, the crowds thin out a little, and the weather is still warm, perfect for exploring Tasmania.
Autumn (April-May)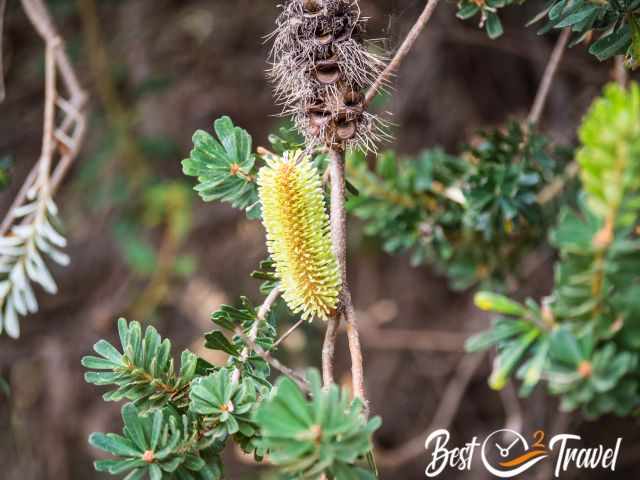 After Easter in April, it gets quieter, and May is the shoulder season due to the weather. Pleasant temps during the day in the entire fall season in the east, although May is a little cooler on average, around 16°C. The west experiences increasing rainfall and colder temperatures around 10°C during the day. In May, it can already snow at Cradle Mountain and higher elevations.
Winter (June-August)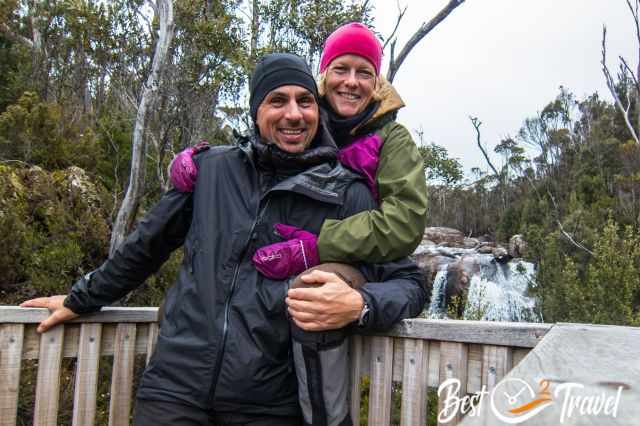 The winter is definitely the low season, although the east experiences mild temperatures up to 15°C. The west is wet and cold, and the mountains and Cradle experience snow and ice. While the east experiences the same precipitation as in the summer, the west is hit with a three times higher amount.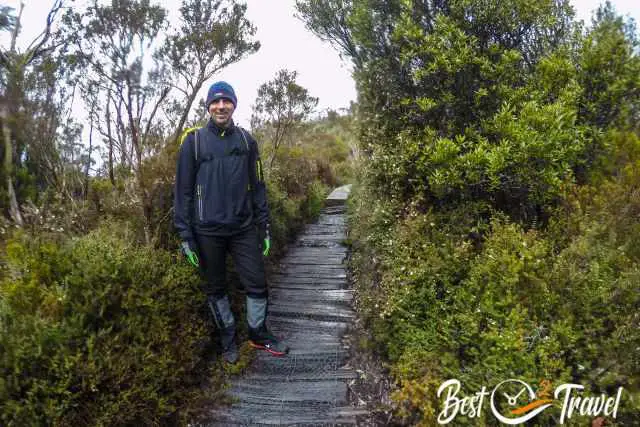 If you can manage colder temperatures and don't mind the rain in the west, this is your season to avoid crowds. Plenty of affordable accommodations are available, and waterfalls are at their peak.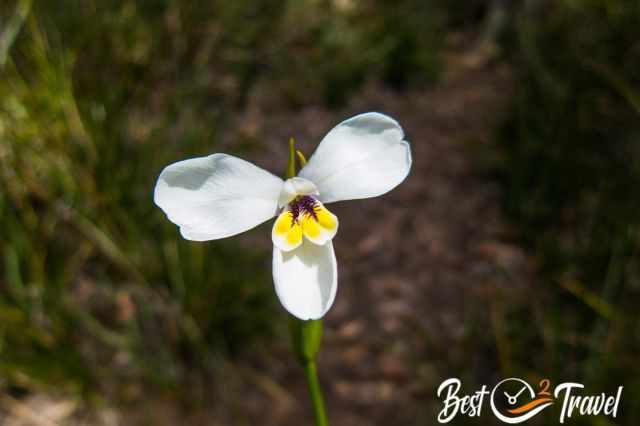 We have visited far more places in Tasmania, but these are some of the most beautiful and breathtaking ones which can be excellently combined.
21 Attractions - Two Weeks Itinerary
1 Hobart Salamanca Market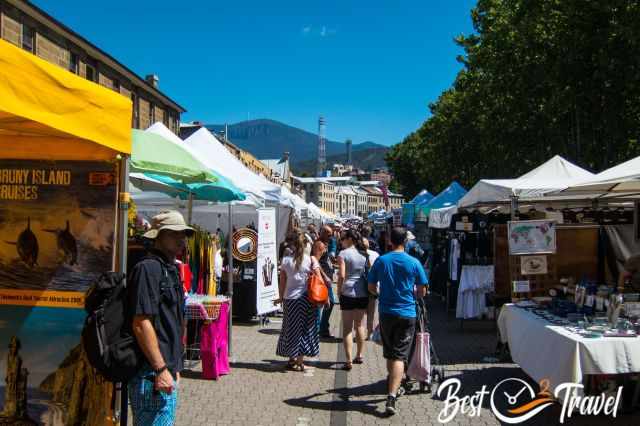 This great local market has more than 300 stalls each Saturday from 8.30 am-3 pm, with live music in the summer. Enjoy the local food, handmade products and this unique atmosphere. 
2 Mount Field National Park – Russel Falls and Echidnas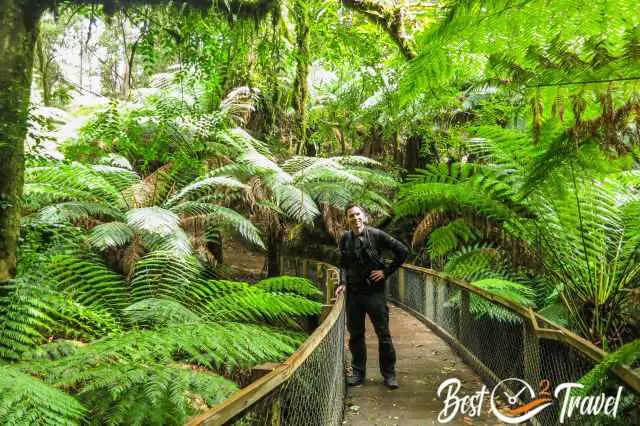 Get a glimpse of this stunning National Park and UNESCO Heritage Area. Walk the "Three Falls Circuit", an easy,  well-maintained track through lush rainforest along fern trees, three cascading waterfalls and some of the tallest trees in the world, swamp gum trees up to 400 years old and 90 m tall.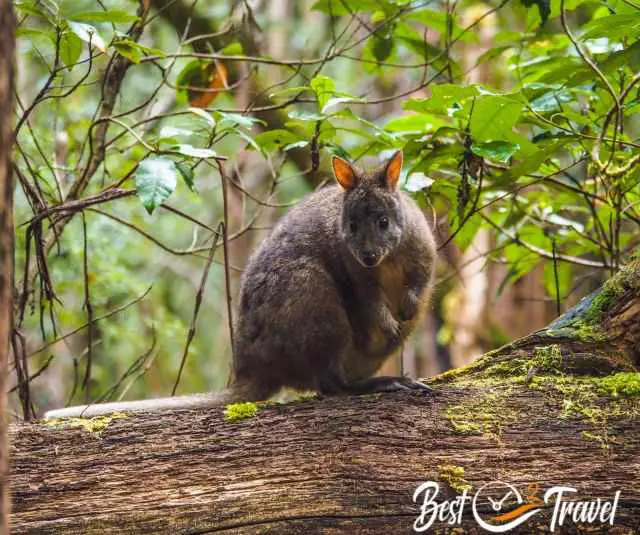 Have a look at the visitor centre and hike this 6 km long trail which takes roughly 2 hours. After a break in the café, continue to Marriotts Falls. Detailed Mount Field – Russel Falls and Wildlife Guide
It is just a 20-minute drive – 13 km from the visitor centre to Marriotts Falls; both sights can be combined in one day.
3 Marriotts Falls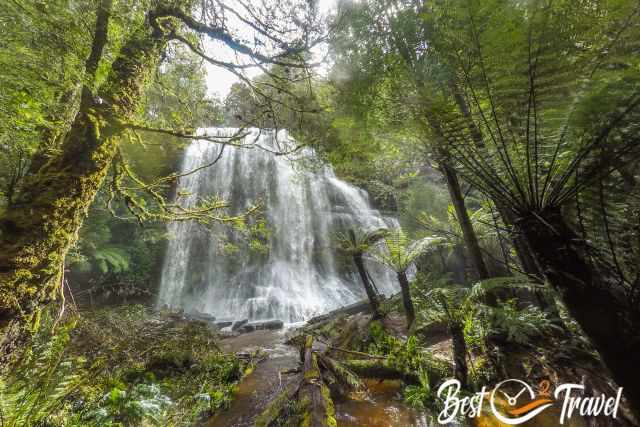 This tremendous waterfall is close to the popular Mount Field National Park located but is still unknown. It is a 4.5 km return hike through a breathtaking rainforest which takes roughly 1 ½ hours. My additional Marriotts Falls article has more details and where to park your rental.
4 Lake St Clair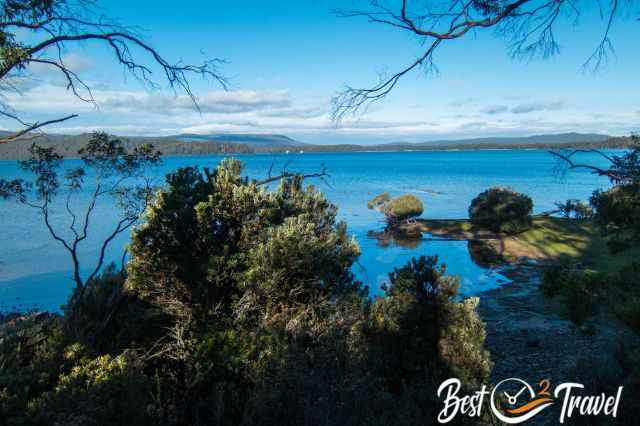 Lake St. Clair is the last part of the famous Overland Track and belongs to the Cradle Mountain National Park. The Aboriginal People call Lake St. Clair "Lake Leeawuleena," which means "sleeping water". There are plenty of excellent walks and hikes, including a ferry ride in this National Park.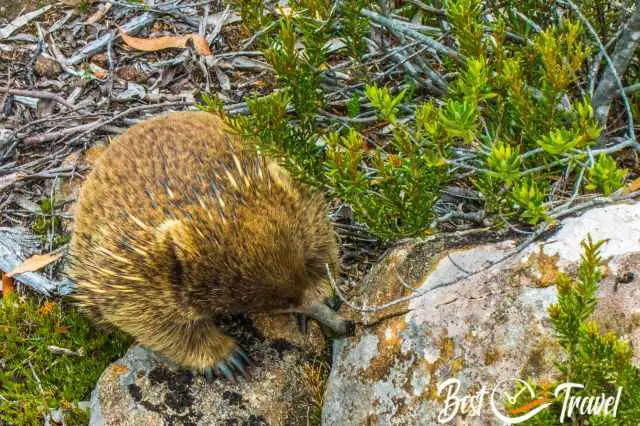 Experience lush Gondwana, myrtle forest, echidnas, and pademelons during your visit. More about this beautiful park and four hikes in my additional Lake St. Clair Guide

It is half an hour's drive for the 30 km from Lake St. Clair to Franklin River Nature Trail.
5 Franklin River Nature Trail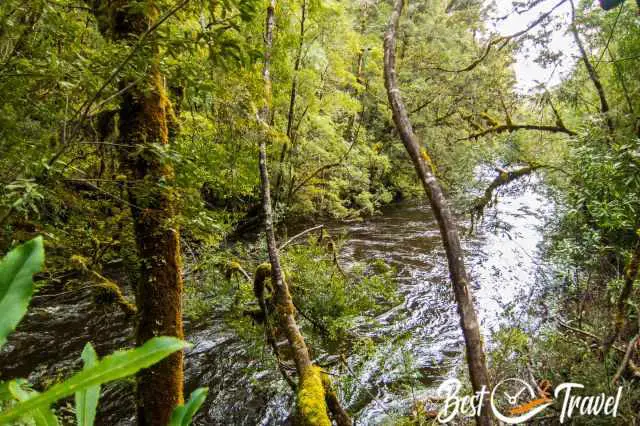 The Franklin River runs through the real wilderness of Tasmania. This trail leads through a cool, temperate, dense rainforest along the Franklin riverbank and to the Surprise River. The parking and trailhead are located next to the Lyell Highway between Lake St. Clair and Nelson Falls.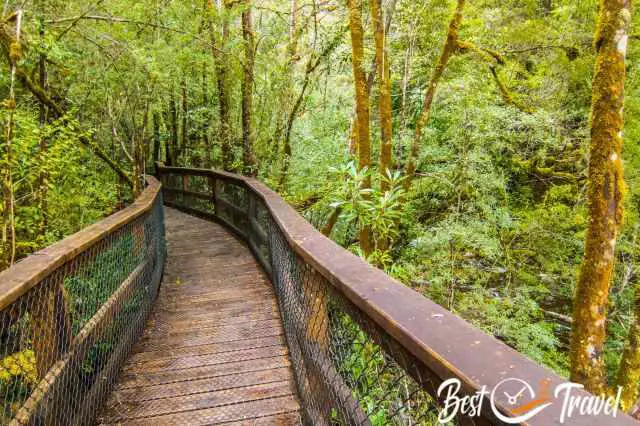 This easy walk on a well-maintained path and boardwalk takes a max. of 20 minutes for the 1.3 km stroll. After this trail, you may have an idea of the dramatic landscape and almost inaccessible Franklin-Gordon Wild Rivers National Park in the west of Tasmania, part of the UNESCO World Heritage Area. Parking and Trailhead Google Maps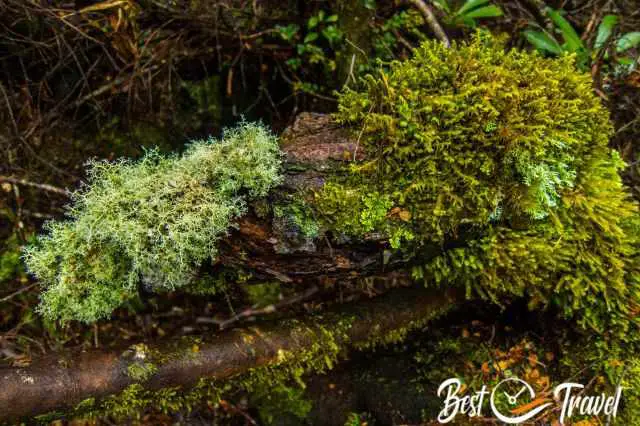 The Franklin River is 123 km long and can rise as high as 16 meters quickly during heavy rainfall. Here, nature conservation won when a dam was to be built for power generation in the early 1980s. The wild river would have been straightened, and the UNESCO designation would have been lost. Campaigns and the Franklin Blockade came in full swing and got worldwide attention in 1982. This time our climate and nature won.
The next stop and another half-hour drive – 33 km is Nelson Falls.
6 Nelson Falls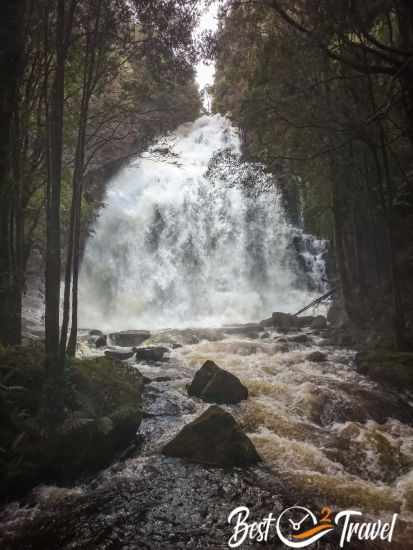 Nelson Falls is situated in the Franklin Gordon Wild Rivers National Park, the heart of the Tasmanian Wilderness World Heritage Area and the wettest area of Tasmania. It is a short and leisurely stroll through the lush rainforest to the viewpoint of this stunning waterfall—more about Nelson Falls in my additional article with images from spring and summer.
Continue north to Devonport – a three hours drive from Nelson Falls.
7 Mersey Bluff Lighthouse - Devenport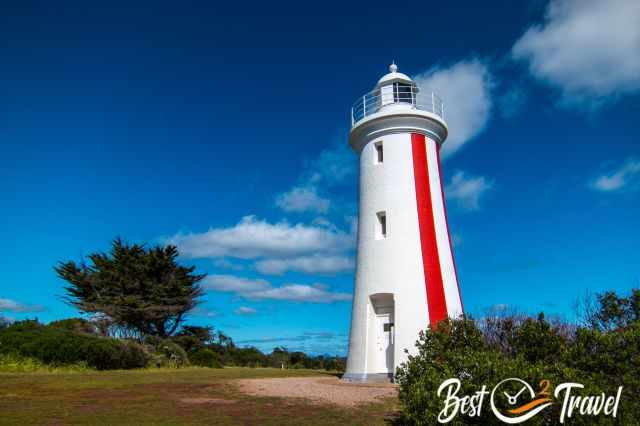 There is a lovely walk, a beach, a picnic area at this picturesque lighthouse and ample parking. You are able to see the Spirit of Tasmania ferry going from Devonport harbour to Geelong in Australia. Devonport is the perfect location to spend the night and continue to Cradle Mountain the following day. Less than a 1 ½ hour drive gives you plenty of time for the exceptional National Park.
8 Cradle Mountain National Park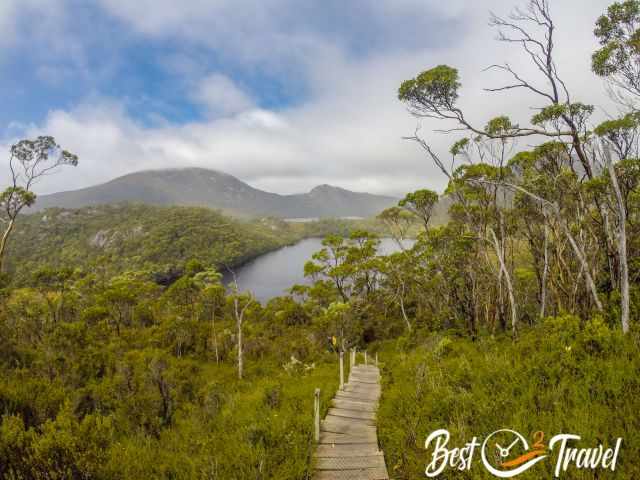 If you haven't been to Cradle, you haven't been to Tassie. Enjoy the diverse and beautiful vegetation from rainforest to Grassland and Gondwana plants like pencil or King Billy pines. The Tasman pencil pine, a remnant from the Gondwana time, can live more than 1000 years. In alpine regions, you experience totally different plants, mostly conifers and shrubs.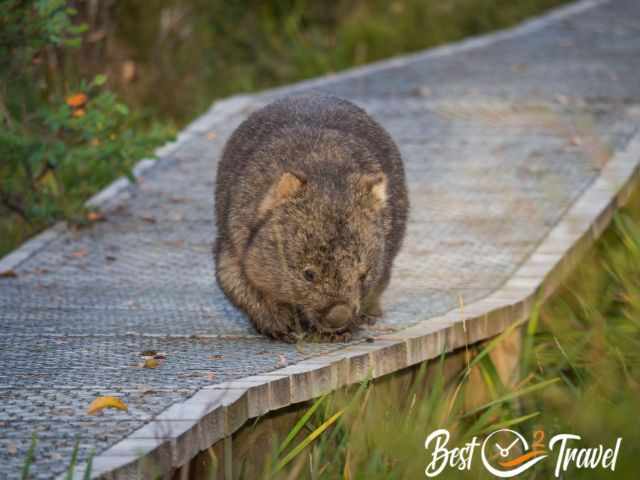 You may spot wildlife, wallabies, pademelons, and wombats in abundance. They come out late in the afternoon and evening. The marsupials have thicker fur in Cradle due to the harsher climate.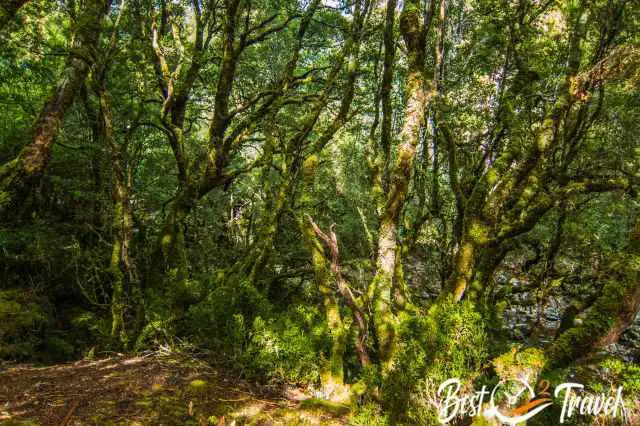 I highly recommend staying at Cradle for at least two nights. There are plenty of easy and moderate to difficult hikes in a breathtaking landscape, a UNESCO World Heritage National Park.
More in my walking and hiking guide of Cradle Mountain.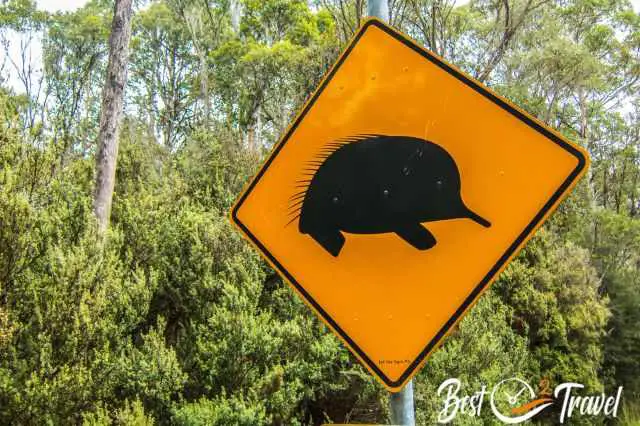 It is a 1.15-hour drive from Cradle Mountain to the Trowunna Wildlife Park, a successful conservation of the endemic Tasmanian Devil and an excellent stop on your journey to Narawntapu.
9 Trowunna Wildlife Sanctuary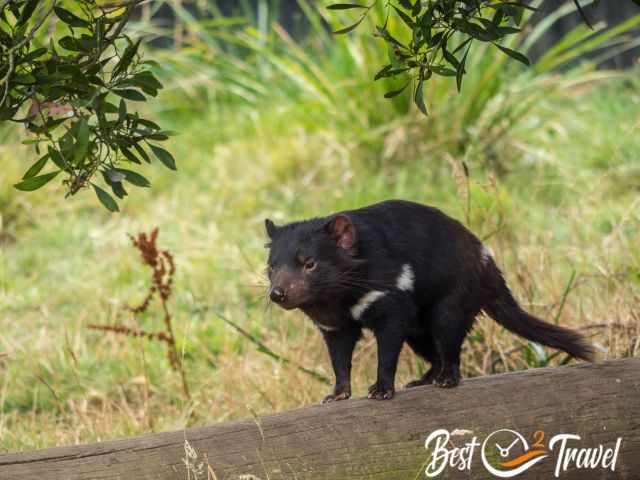 I bet you would like to see the shy Tasmanian Devil up close, and there is a wonderful park developed to conserve this unique carnivore—the Trowunna Wildlife Park in Mole Creek.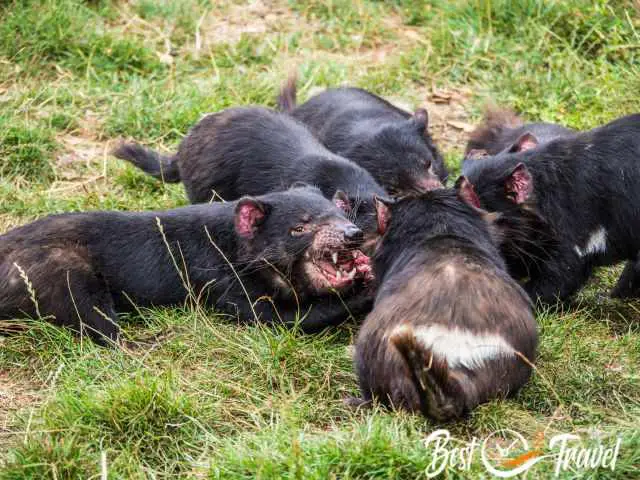 I recommend visiting Trowunna in the morning, watching the 11 am feeding time, then continuing to the Alumn Cliffs, just a 6 km drive to the north. More photos and details are in my additional Trowunna article.
10 Alumn Cliffs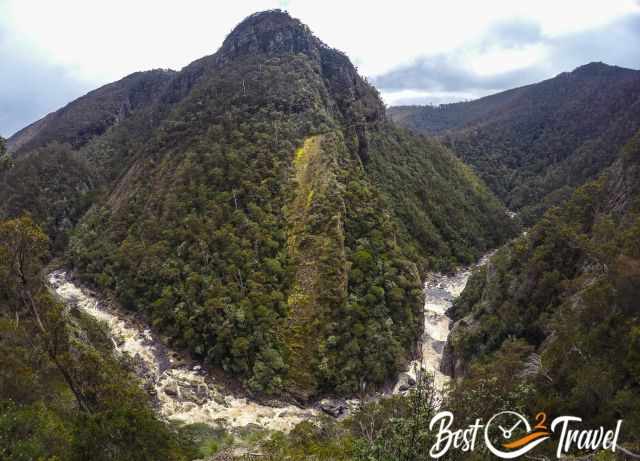 We went to these cliffs because of the proximity to Trowunna, and it was so worth it. It is still hard to explain what we experienced from this vantage point. You could not capture this endless view of the gorge, the Mersey River, and the surroundings. It felt like there was a fourth dimension. The photos I took cannot express that. You must visit this specific place, "Tulampanga", which is essential to the Tasmanian Aboriginals because of the nearby ochre.
It is a short and easy 1.6 km return hike, taking 45 minutes.
It is just one hour drive from Alumn Cliffs to the north and the next fascinating National Park, Narawntapu, near Launceston. 
11 Narawntapu National Park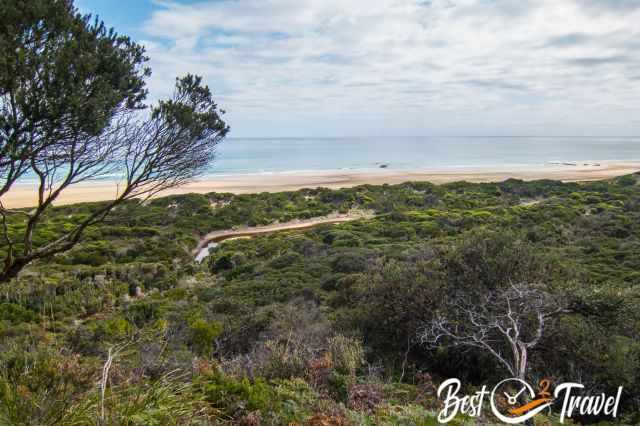 Narawntapu National Park is optional depending on your available time but for sure, another Tasman pearl. The park is rich in Aboriginal and European heritage and an excellent place to spot abundant wildlife. At dusk and dawn, you may spot wombats, pademelons, Forester Kangaroos, and Bennetts wallabies, but venomous snakes occur here too.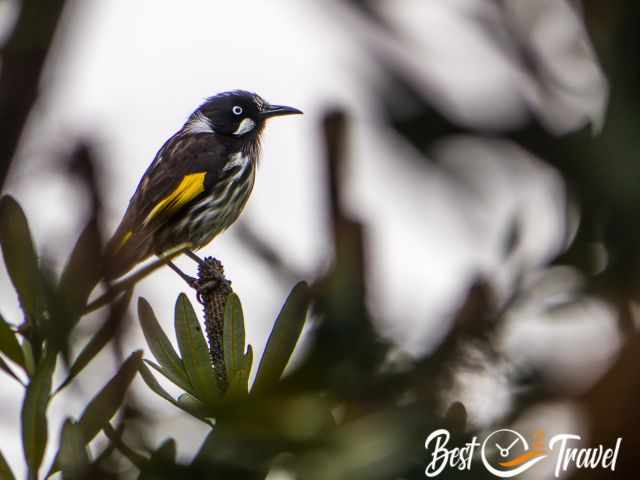 It is heaven for bird watchers on the central north coast of Tasmania. We spotted green rosellas, black cockatoos, honeyeaters, robins, and wrens. Walk along the endless Bakers Beach or Springlawn Beach and enjoy the magnificent landscape and tranquillity.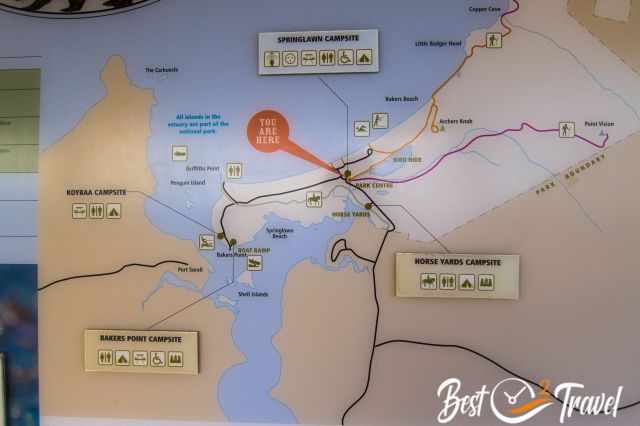 The park has four campgrounds, all greatly located close to the sea. One of the 60 Great Short Walks of Tasmania is the 2-hour circular trail Springlawn Nature Walk which passes by a bird hide.
Narawntapu Entrance Google Maps Location
Don't miss out on the fairy penguins at Low Head Lighthouse, one-hour drive northeast of Narawntapu.
12 Low Head Penguins and Lighthouse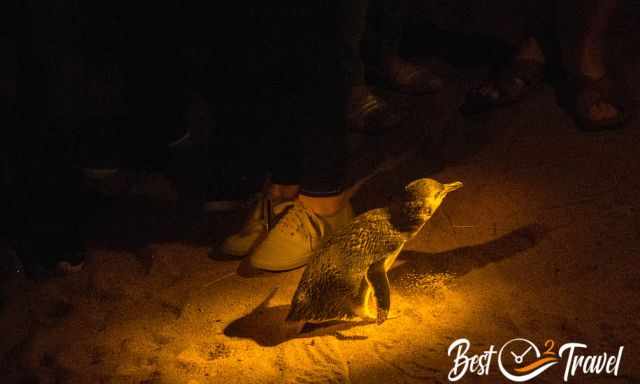 Watching the little blue penguin coming ashore in the evening is an excellent guided tour. We did this tour, and recently our friend Rik from Melbourne provided the footage. In my additional article, there is more about Low Head Penguins, a video, and the best time to spot these cute little blues penguins.
13 Cobler Rocks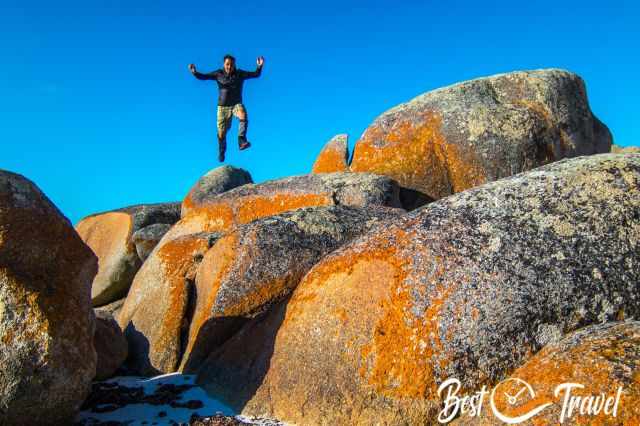 Cobler Rocks are located in the Mount William National Park northeast of Tasmania. If you like to hike off the beaten path and camp away from the crowds by the sea in beautiful nature surrounded by wildlife, this is my top recommendation.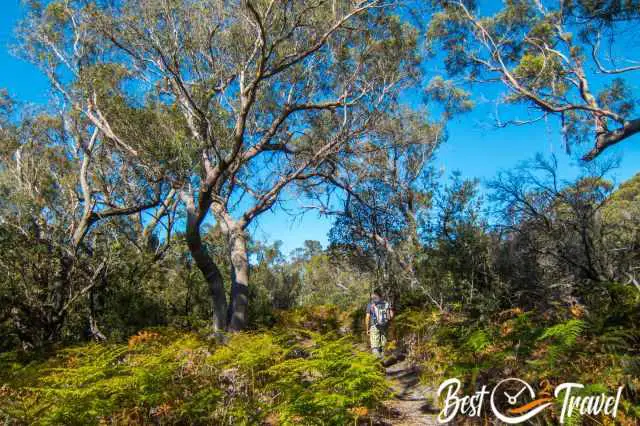 We hiked the stunning 6 km circular Cobler Rocks trail, 3 km inland and 3 km along the beautiful coastline, back to the campground Stumpy 4 in the afternoon. As elsewhere in Australia, the campgrounds are equipped with gas BBQs.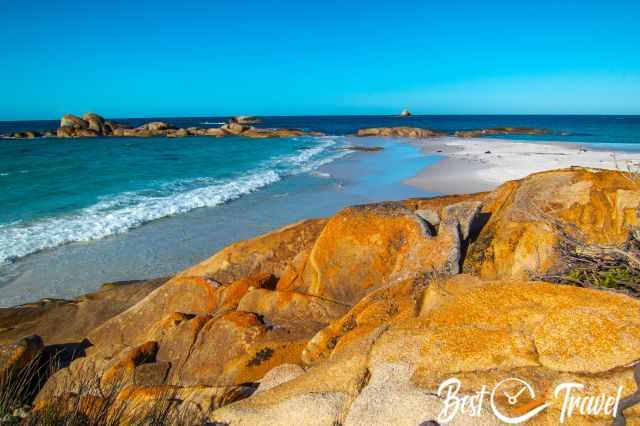 The beaches are some of the finest, with the whitest sand caused by quartzite developed by weathering from the granite rocks.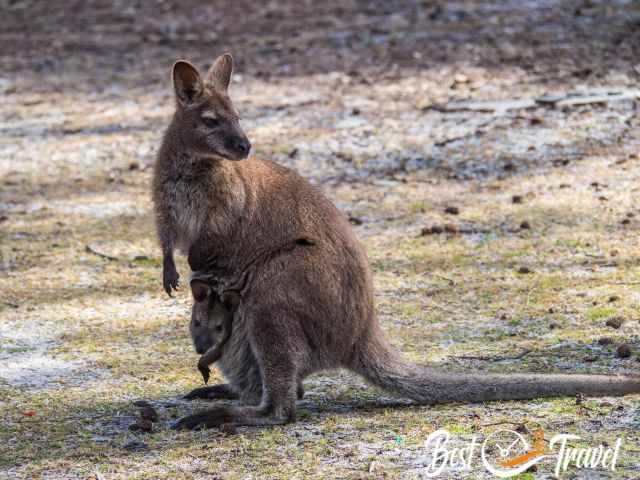 Mount William National Park is located northeast of Launceston. The last 17 km to the park entrance and the roads inside are gravel. 
14 Bay of Fires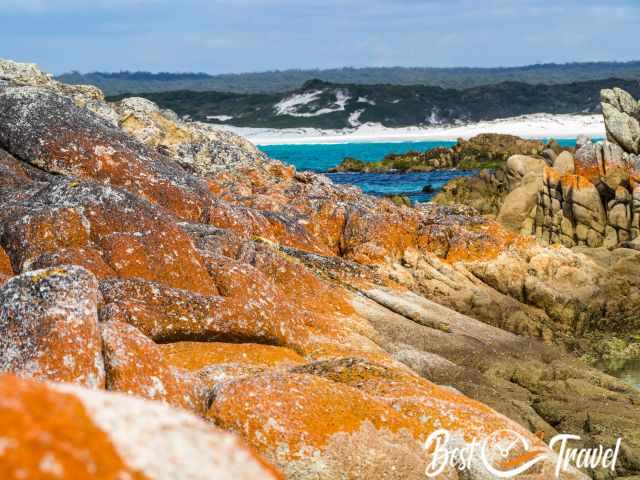 The Bay of Fire stretches in the east with picturesque orange shimmering rocks. The orange colour is caused by lichen, a type of fungus living in symbiosis with algae and the namesake for this beautiful area. You have to see these rocks, beaches, and turquoise sea in person to appreciate the coastal beauty of this area. Several roads, gravel and paved, lead to the Bay of Fires.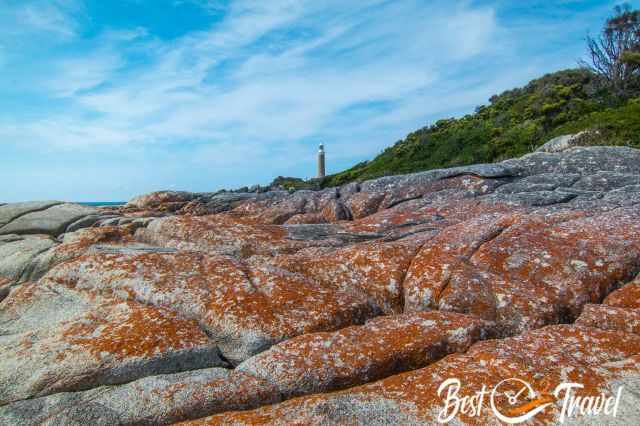 We visited Eddystone Point, The Gardens, Sloop Rocks, and Binalong Bay. The closer you get to St. Helens, the busier it is. Binalong Bay is just a 10 km drive and therefore crowded; in contrast, Eddystone Point and Lighthouse, an hour's drive from St. Helens, was quiet.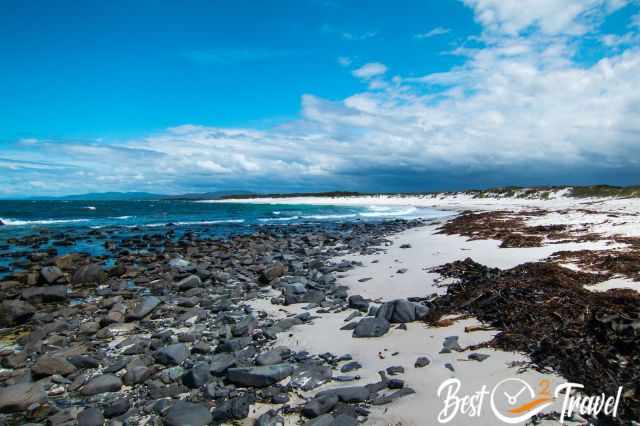 St. Helens is a good base to explore dense remnant rainforests. It is a 45-minute ride from St. Helens to Australia's broadest living tree: the Blue Tier Giant.
15 Blue Tier Giant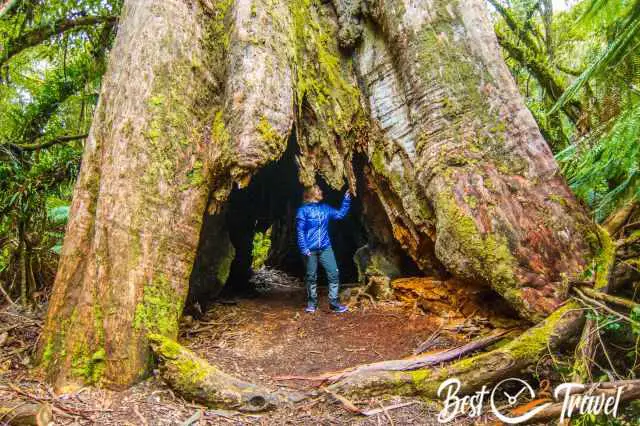 The Blue Tier Giant is the widest living tree in Australia, nearly 20 m wide and 60 m tall, but the Blue Tier and other regions are still threatened by logging for paper pulp. When you visit this breathtaking temperate rainforest, you will be as bewildered as we were.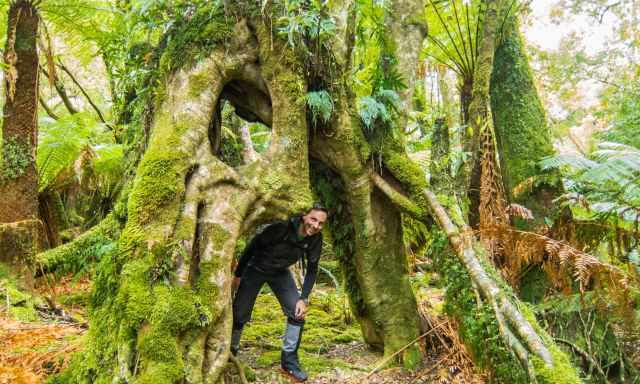 It is a short half-hour walk of 3.2 km through the lush rainforest, but you are immediately transferred into a fairy tale. Interpretation panels along the path provide details about flora, fauna, and the different types of trees. More about this unique patch of rainforest in my Blue Tier Giant article.

It is 1.45 hour's drive from the Blue Tier and one hour from St. Helens to the penguins in Bicheno.
16 Bicheno Penguins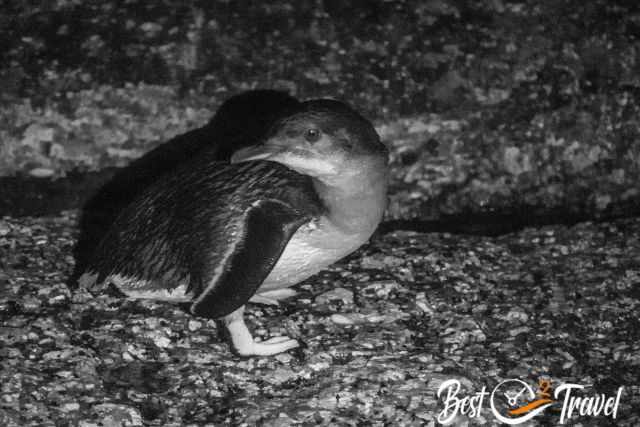 If you want to see the blue, little or Fairy penguins, Bicheno is one of the best spots to watch them when they return from foraging in the evening—three different names for the smallest penguin in the world. For more details, where to book a guided tour, and the best time, check out my additional Bicheno Penguins article.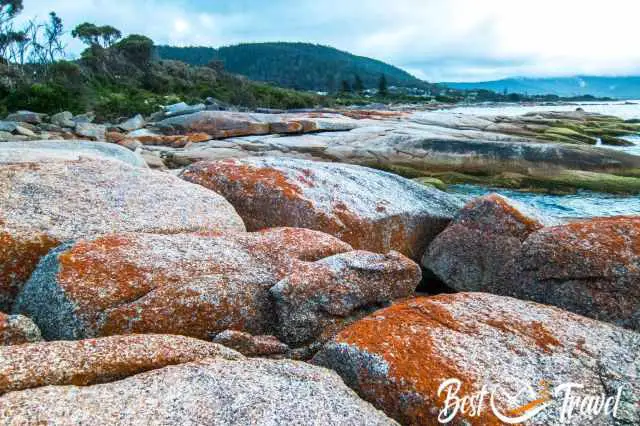 I recommend staying in Bicheno for two nights to increase the chance of spotting penguins and for the tremendous half-day hike in the Douglas Apsley National Park.
17 Apsley River Gorge Trail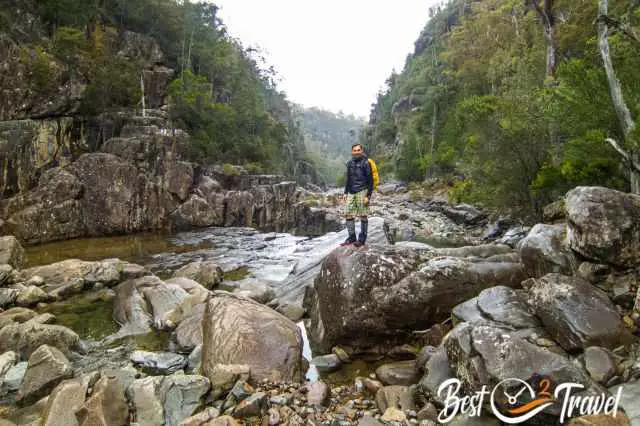 This circular trail is 7 km long but may take up to 4 hours. This track doesn't have many signs and is more of an adventure. You must find the route through the deep river gorge with multiple river crossings, which depends on the Apsley River's water level.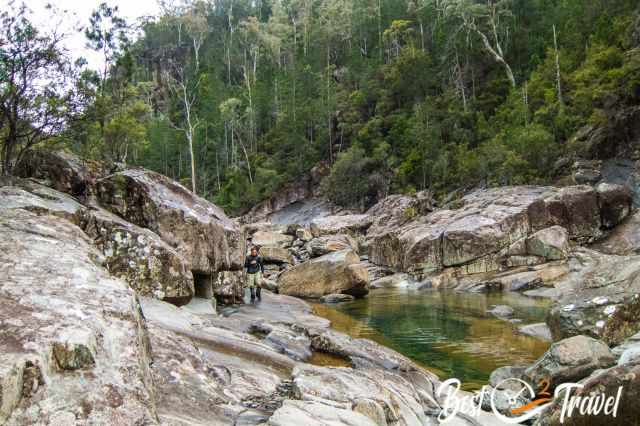 The Douglas Apsley National Park is overlooked, and most visitors miss this outstanding park, one of the very few uncleared and intact eucalypt forests in Tasmania.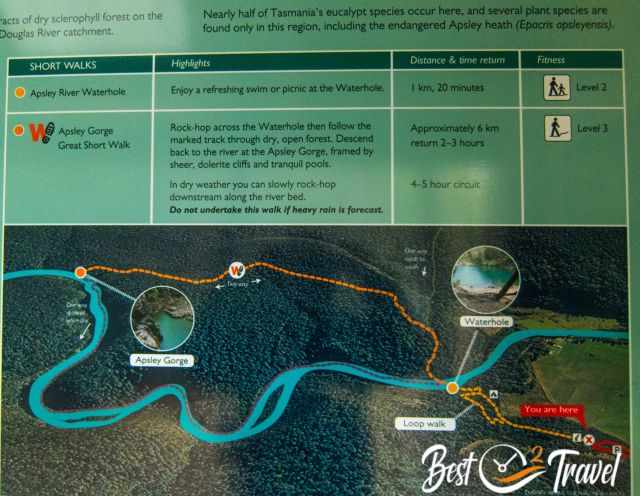 My tip for the summer, bring your swimsuit and a towel for taking a refreshing bath in the swimming holes of the crystal-clear Apsley River. Curious about the hike, and do you like to see more photos? Check out my Apsley River Gorge Trail Details.

It is half an hour's drive from Bicheno to the south to Freycinet National Park, the next Must-Visit sight.
18 Freycinet National Park and Wineglass Bay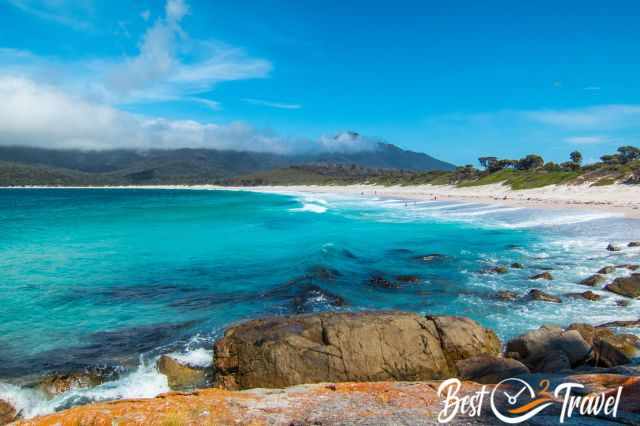 The highlights of this famous National Park are Wineglass Bay, the pristine white beaches, and the granite peaks. Due to the mild weather in the east, this park is excellent for coastal and mountain hikes. Wineglass Bay is rated to be one of the ten most beautiful beaches.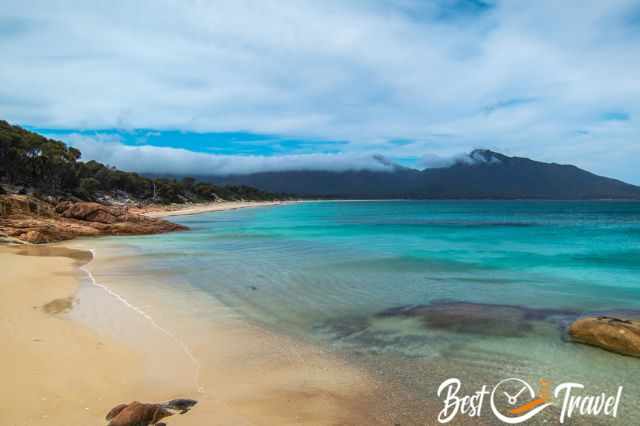 One of the 60 short walks in Tasmania is the Wineglass Bay and Hazards Beach hike. The circular return hike is 11 km long and takes roughly 4 hours. This is our favourite hike with spectacular views and fantastic beaches.
More about Freycinet in my additional article.
It is a 1 ½ hour drive - 110 km from Freycinet and one hour from Hobart to Triabunna, where the ferry departs to the tremendous Maria Island. 
19 Maria Island – Painted Cliffs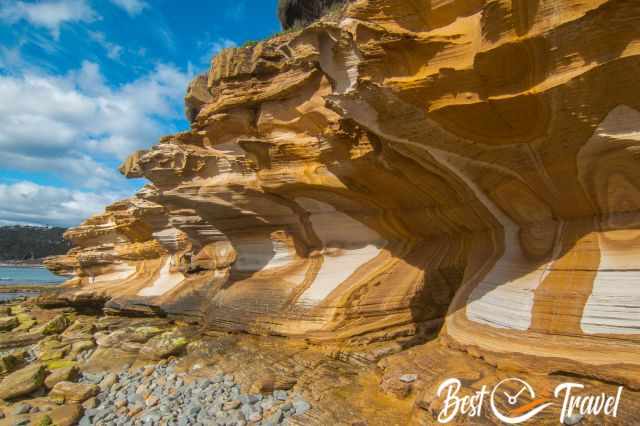 This entire island is a National Park and deservedly so. Digital detox is guaranteed, and the island's beauty will enchant you. You can visit Maria Island on a day cruise or stay a few days here. We fell in love with this unique island; the Painted Cliffs, the great Bishop and Clerk Track, and the exceptional vegetation.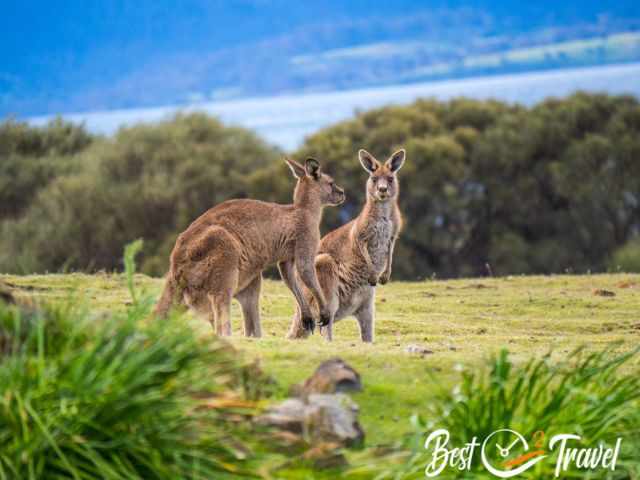 There is abundant wildlife, like at Cradle Mountain. My additional guides include details on how to get here, the famous Painted Cliffs, and where to stay or camp. We camped here for two nights in this exceptional vegetation and rented bikes. Wombats, kangaroos and even Tasmanian devils visited us in the evening.
Getting to the peninsula to the Tasman National Park and the Remarkable Cave is a drive of 1 ½ hours. This only makes sense when you stay here for at least one or two nights.
20 Remarkable Cave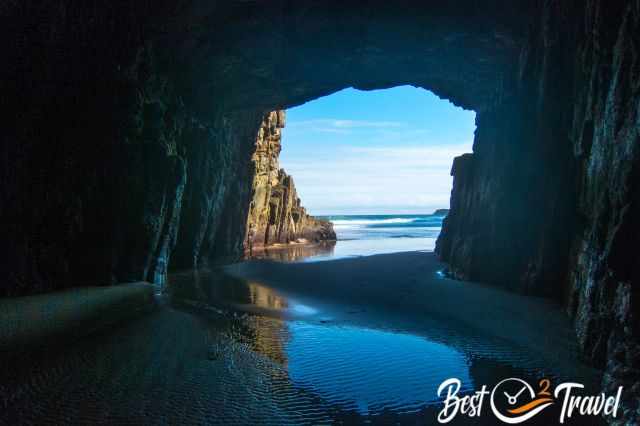 The cave has two entrances created by ancient earthquakes and erosion by the mighty sea. There is one exit where you are able to access the cave and the secluded beach. However, it needs good timing to visit the Remarkable Cave. There is a secluded beach which you reach through the cave, but sharp at low tide only! Don't access the cave if you haven't checked the tide times before.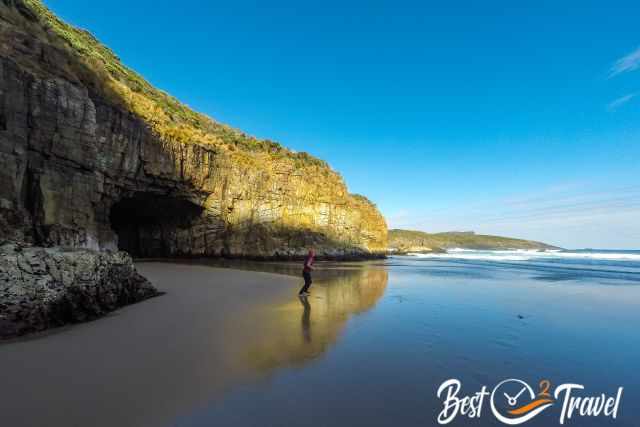 Safety always comes first. It is neither permitted nor prohibited to access the Remarkable Cave. A high platform with a railing around it was installed for safety reasons. Here you must climb down first. Therefore, please first check out the tide times—more in my additional  Remarkable Cave article about this cave and hidden beach.
21 Cape Raoul Tack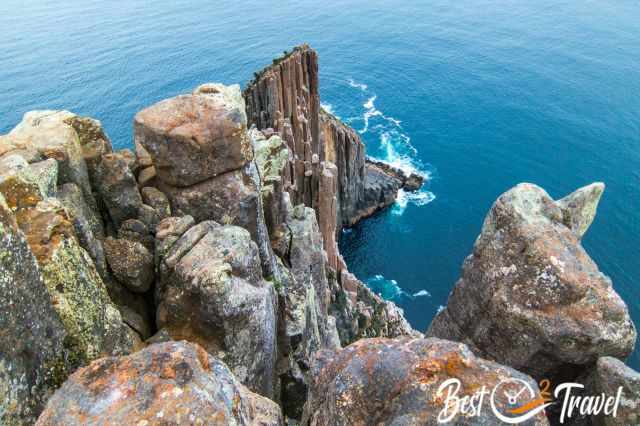 The Cape Raoul hike leads along the dramatic coastline in the Tasman National Park. It is an amazing 15 km return day hike offering spectacular views of the tall pillars of dolerite rock, the "Organ Pipes" of Cape Raoul. A picnic shelter and restrooms are at the trailhead. Overall, three exceptional trails start from here.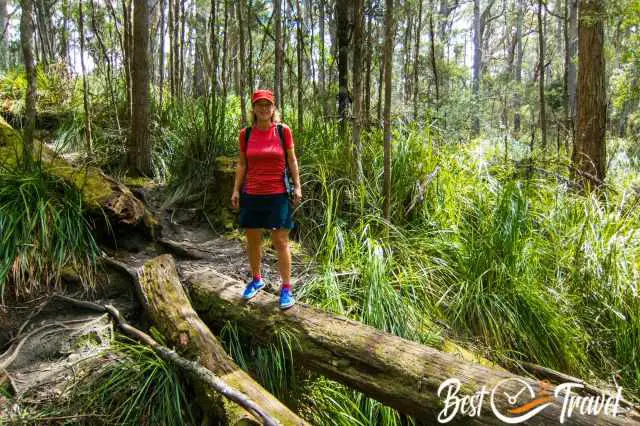 The cape juts far out into the sea, and we spotted a pod of young orcas. With a bit of luck, you can see orcas or whales from the viewpoints and below is a huge seal colony. The cape is exposed to strong winds, and I was glad to have a wind jacket in my backpack in November.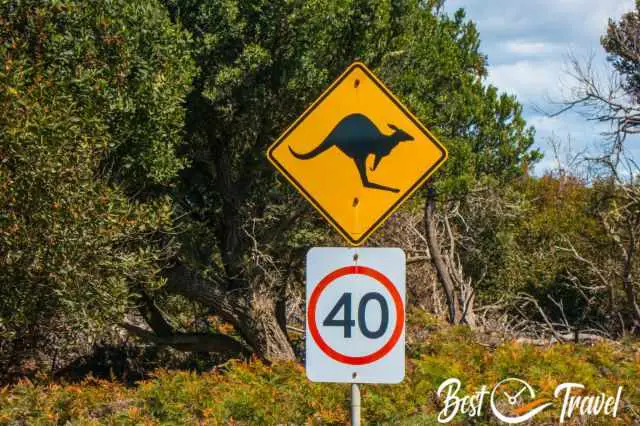 Road Trip Lenght
This route is roughly 1.800 km long without any detour through a park, to restaurants, or accommodations. Now you can imagine why seven days – one week only- is not enough for this stunning island. Even if you visit the island for a month, you can only scratch the surface, but I can promise that Tasmania will forever be etched in your memory.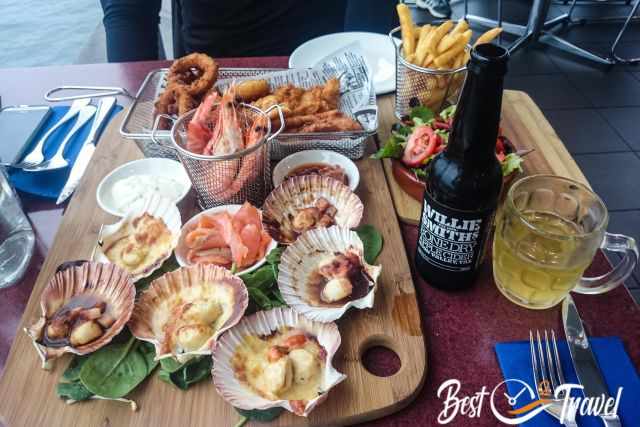 You may wonder why I added photos from places not mentioned in these two weeks' itinerary. I want to give you an idea of how diverse Tasmania is and how much more there is to explore. Don't come in a rush; instead, bring plenty of time - slow travel is the new way of travelling.
Why not Bruny Island?
Most rental car companies do not permit your rental to Bruny Island because you must take a ferry. Visiting Bruny works by car or on a guided tour only. If you plan to visit Tasmania for four weeks, I highly recommend Bruny, but not in two weeks. There is so much to see and do on the main island of Tasmania, and it is an effort to get to Bruny Island.
Tasmanian Gin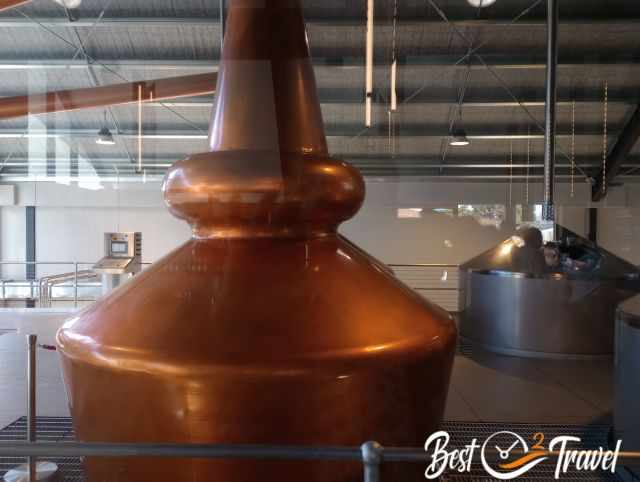 My friend Rik from Melbourne advised that I must mention gin if I write about Tasmania. I am a cider lover, but I know nothing about gin. So all details about gin were written for you by Rik. He recommends visiting the following distilleries.
Poltergeist, Oatlands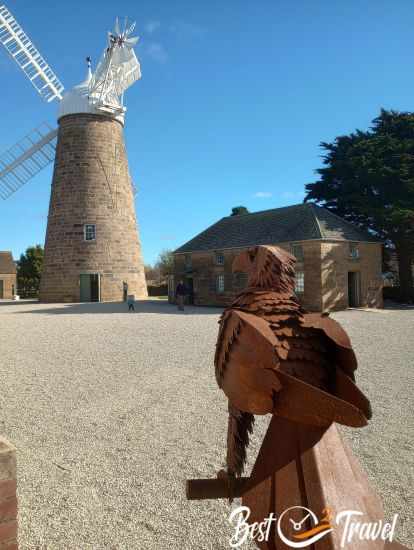 At 46%, this is a gin with both sophistication and balls. When you pour ice and tonic water over it for a classic G & T, it goes a little cloudy, like a "ghost". They have won plenty of awards for their special gin. Made at the Callington Mill Whisky Distillery in Oatlands
Old Kempton Distillery, Kempton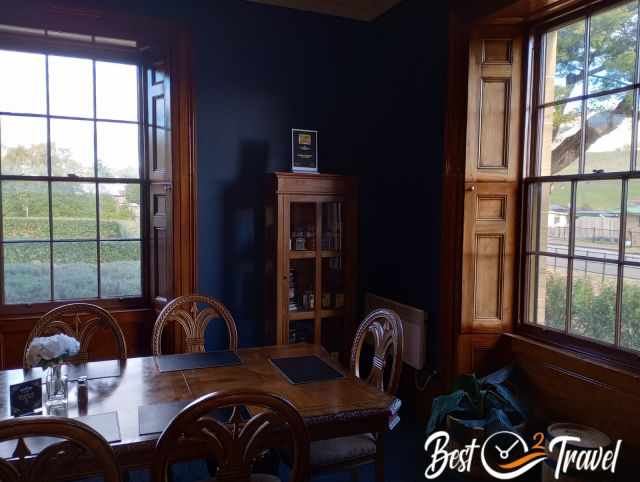 The cellar door and cafe offer lunch, too and are open from 10 am until 4 pm daily. Old Kempton Distillery

The distilleries are beautiful historic properties, Poltergeist with a restored windmill. Sofia and I visited the distilleries and tasting rooms last year in May. It's a great stop-over when driving the North-South route between Launceston and Hobart (or vice versa). 
What is Gin, Exactly?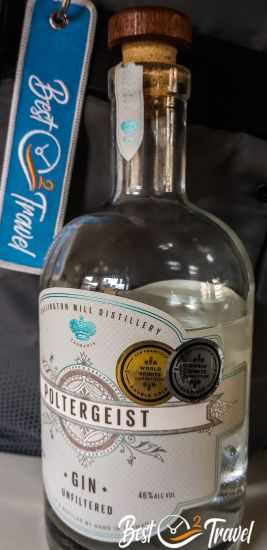 While the process of making gin is very much like that of vodka, juniper berries must be added during the second distillation in order to be officially classified as gin. Juniper is the one mandatory ingredient. The rest is up to the creativity of its maker. It's not uncommon for a gin to contain, on top of 50-60% juniper berries, a dozen different types of botanicals, fruits and spices. Typical examples are coriander seeds, the root of orris, liquorice or angelica and citrus peel.
The word gin comes from the Dutch word genever (jenever in today's spelling). Dutch soldiers used to take a sip of gin before going into battle. This is where the term "Dutch courage" stems from. 
Gin is the basis for the classic martini cocktail, which adds a small amount of vermouth. Or add nothing at all — the so-called Churchill martini. James Bond popularised the vodka martini — but don't listen to him. 
Gin is sensational over ice with tonic water and a slice of lemon. Just don't overdo it with the tonic, it can easily drown out the flavour of the gin.
Just like a few decades ago, micro-breweries exploded worldwide, small-scale distilleries have now popped up all over Australia. Every suburb and village seems to have one, and more keep appearing. 
Local ingredients unique to Australia are often added, like Tasmanian pepper berry, macadamia nuts or lemon myrtle.
The Great Ocean Road distillery adds kelp and other sea botanicals. I visited them in Aireys Inlet, and it wasn't half bad.
Who We Are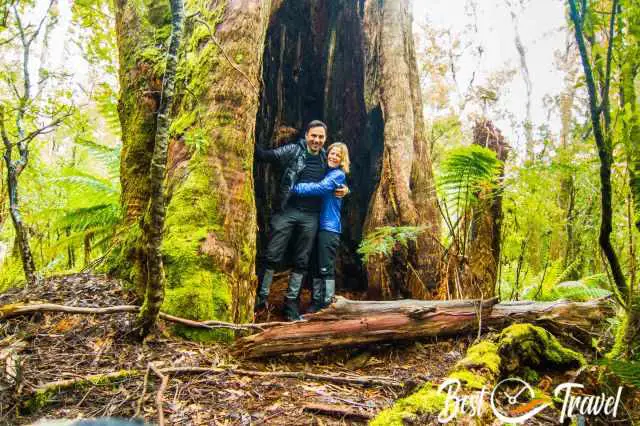 I am passionate about sharing some of the most beautiful places in the world with you, but I still can't live from my work, and we have regular jobs, too.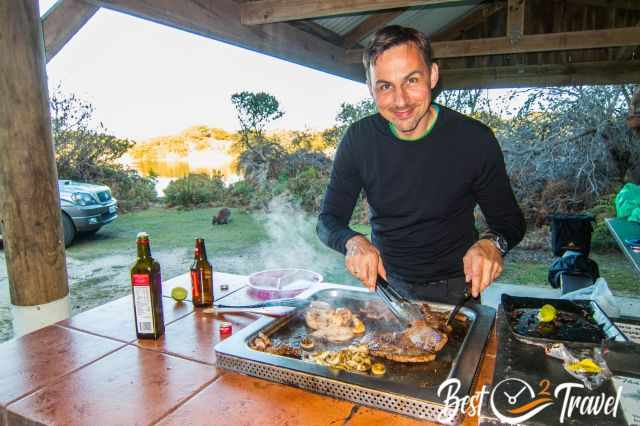 It is a tough business nowadays because fake travel websites rewrite content without effort and expense. Want to know more about these schemes, picture theft, and how to unmask them? Check out "The Truth  About Fake Travel Websites and Picture Theft"
Do you like my Tasmania Guide? Please share it with your friends and on social media, subscribe to our  YouTube Channel. 
Do You Like to Support Me - It's easy; use the Paypal Button below 😍
Nevertheless, scroll down to learn more about the threat the Tasmanian rainforests still have to face.
Location and Tips
Tasmania
Australia

You are able to breathe the cleanest air on earth here. Tasmania can't be compared to Australia; it is unlike any other part of the mainland and continent.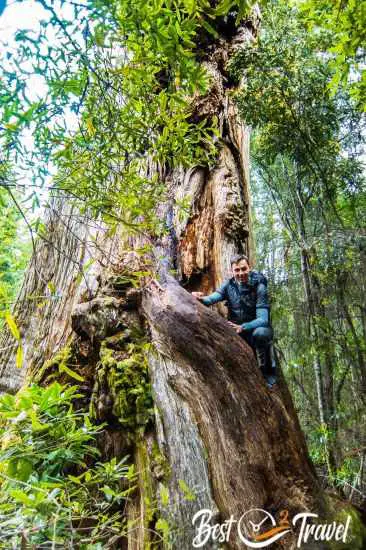 However, I frequently ask myself if the Tasmanian government doesn't get what a treasure they own. Some of the old-grown Gondwana forests are still under the threat of logging; Sustainable Timber Tasmania is logging some of the remnant native forests with taxpayers' subsidies while the Tasmanian government tourism agencies try to sell the brand Tasmania as a natural wonderland. This is the purest cynism from my point of view.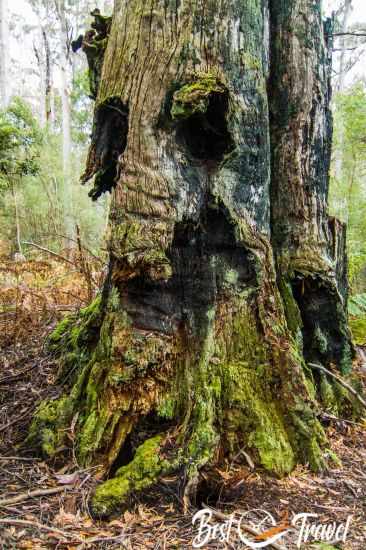 It still is a treasure island, but only because of the many wonderful residents fighting for their forests. I want to thank them for their constant work and effort to protect these treasure troves of old-grown rainforests. Where there is rainforest, there is rain, colder temperatures and not climate change!
Thanks
@bluederbywild taking the government logging agency to the Full Court!
@thetreeprojects
@bobbrownfoundation  Bob has devoted his entire life to the preservation of these forests. Recently a movie "The Giants" came into the cinemas.
To get more fantastic impressions of Tasmania, check out the Tasmanian documentary from Into the Wild on YouTube.
Do you want to obtain the usage right for my images? Contact me, but I will take action against picture theft.