When Is the Best Time
Mount Field National Park is a year-round destination. However, be prepared for changeable weather and rain. Summer is the most pleasant time of the year for hiking. The Tarn Shelf Hike is a must in fall. During winter you can find at Lake Dobson Tasmania's only ski field situated at around 1000 meters elevation. It's only 1.5  hours drive from Hobart to Mount Field N.P. the reason it gets more crowded during weekends and holidays. The Russel Falls walk is wheelchair accessible. To escape the crowds drive up to Lake Dobson. 
Weather and Seasons in the Mount Field National Park
The Mount Field area has a high amount of rainfall each year. Most precipitation from May until October. Even in summer, high rainfall can occur. The western side of Tasmania gets more rain than the east. Every season offers a unique experience of Mount Field and the Russel Falls. We visited the park a couple of times, and I have to confess I prefer the spring when the waterfall is at its peak tumbling down with enormous power, much spray, and noise. Awesome! Don't let the weather spoil your trip, wear appropriate clothes and shoes.
Spring (September-November)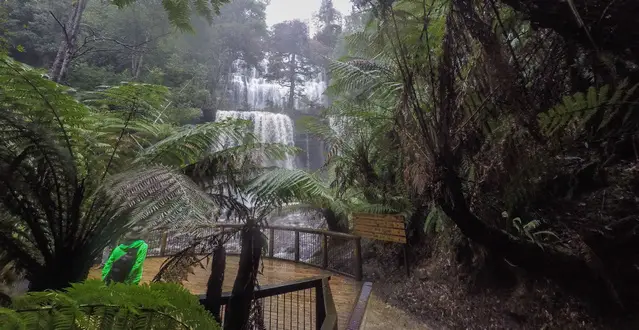 The waterfalls; Russel Falls, Lady Barron Falls, Horseshoe Falls are at their peak, especially beginning of spring in September. The falls are spectacular during and after heavy rainfall which is more likely to happen until October. The echidna's hibernation ends between October and November depending on the temperature. September and October are pretty wet, and November gets a little drier. The daily average temperatures in September are around 12°C, in October around 14°C and in November it finally gets warmer. One digit night temperatures around 5°C only. 
Summer (December-February)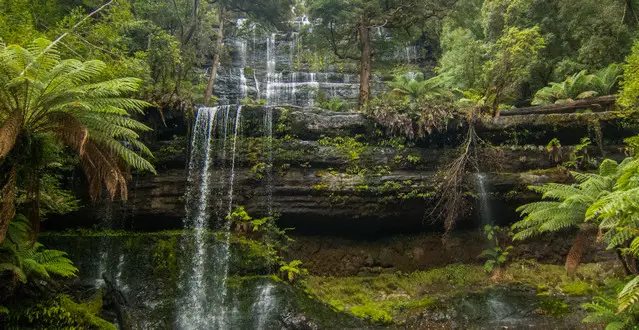 High chance to spot echidnas until the beginning of fall. Summer is the most pleasant time for hiking and January and February are usually the "driest" months of the year. However, even during summer high precipitation occurs. The warmest months are January and February with an average temperature of almost 20°C. The alpine areas, e.g. Lake Dobson, are much colder.
Autumn (March-May)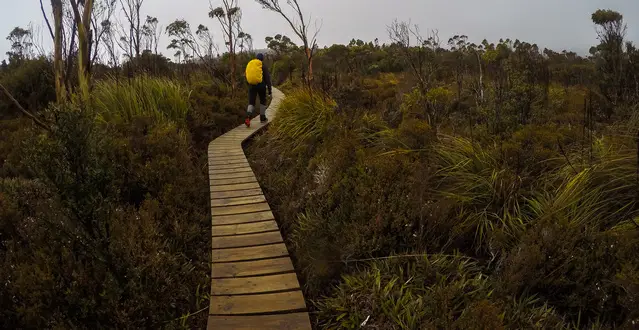 During autumn, mostly in April, the Tarn Shelf hike is a great highlight with a riot of colours from orange to red and gold. Usually, temperatures in March and April are still pleasant for hiking below 20°C. It gets colder in May with an average daily temp of 13°C. However, nights are chilly dropping below 10°C and increasing precipitation.
Winter (June–August)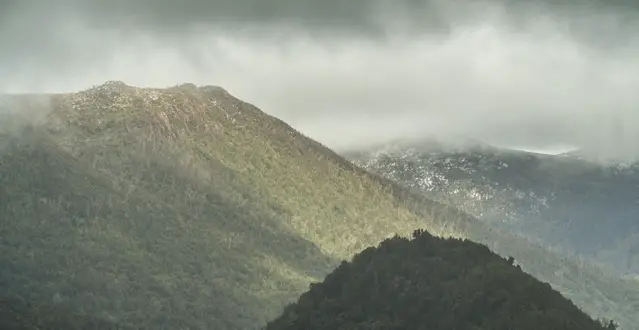 Skiing at Mount Mawson from mid-July to mid-September. It's a little warmer in lower elevation on average around 6°C though nights drop below 0°C. There is usually a high amount of rainfall or snow in August. A 4WD is necessary to get to Lake Dobson on the narrow gravel road during winter.
Where to Stay Nearby
There aren't many accommodations available close to Mount Field National Park. The Russell Falls Holiday Cottages are comfy, cosy, and very clean with attentive staff. You can't stay better and more comfortable within walking distance to the Mount Field National Park. Camping is possible inside the park along the river with clean facilities and hot showers. However, consider nights can be pretty chilly with one digit temperatures. We stayed here twice, and we always were glad to get one of the view rooms.
Wonderful guided Tours in Mount Field
Location and Tips
Tasmania, Mount Field National Park
Australia

Mount Field became a National Park in 1916. This park has a huge diversity in vegetation, rainforest, fern trees, wildlife, and even alpine vegetation at a higher elevation in the Lake Dobson area. Some trees are over 400 years old and 90 meters tall. The park offers various scenic walks and four of the 60 short walks of Tasmania number 14-17. There is an excellent visitor centre plus a gift store and cafe with snacks and drinks. Ample parking is available and a lovely picnic spot. 
Hiking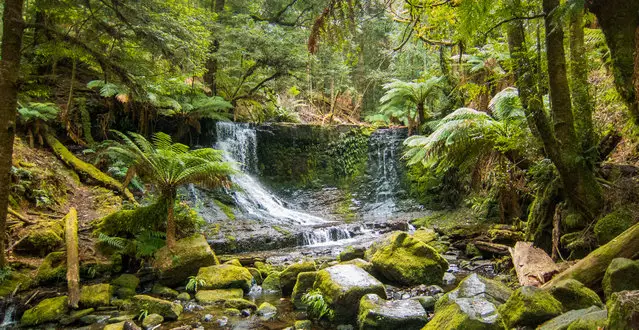 We combined three of the four stunning walks, "Russel Falls" - "The Tall Trees" and "Lady Barron Falls". The walk leads through the breathtaking rainforest with huge fern trees. Information boards are placed for children but are interesting for adults as well. Besides us, we discovered echidna and pademelons in the brush. The Tarn Shelf circular trail takes 5-6 hours and is one of the most stunning hikes in Tassie. If you come here for hiking, take your time and soak up the remarkable landscape.
Mount Field Hikes Flyer plus Map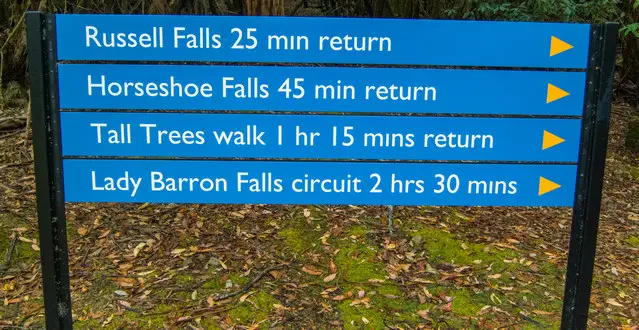 We came here in different seasons and always experienced some rainfall. Mount Field is similar to Cradle; it doesn't matter what kind of weather you have; it's always truly beautiful here. Russel Falls were awesome, with a high amount of water tumbling down the natural rock steps. 
In March 2019, the Lake Dobson area got an upgrade; the Mount Mawson Public Shelter was opened. It is convenient for bush hikers and visitors of the ski field in winter as well. From now on, you can stay warm and dry, which is much needed with the quickly changeable weather. Several trailheads to the Mount Field Mountains and the famous Tarn Shelf start here. Restrooms are also provided. 
It's a narrow and gravel road up to Lake Dobson. A 4WD is necessary during wintertime!