When Is the Best Time
Hiking in the Cradle Mountain National Park is very popular throughout the year. However, in the winter you have to deal with snow, and despite more pleasant temperatures in the summer, the weather is even more unpredictable. However, snow can also occur in December as it happened in 2019. Mid-November 2021 also experienced snow. During the summer, Cradle is pretty busy with the highest accommodation rates.
Weather by Seasons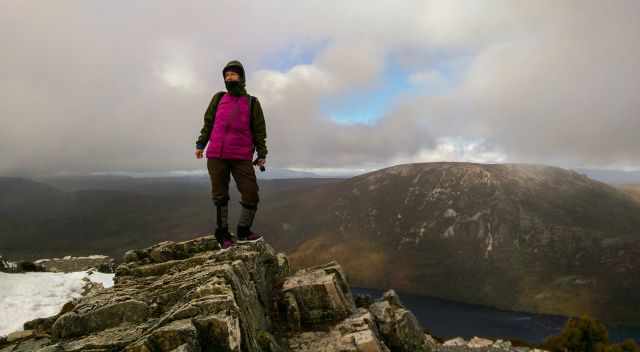 The best time to visit Cradle Mountain is from December to March. January and February experience the least amount of rainfall. The winter is the quietest time.
These months with the most stable weather are also the busiest. There was a new visitor record in 2021. Visitor numbers are increasing annually; November and April are less crowded. Keep in mind; the weather at Cradle is changeable and unpredictable throughout the year.
Spring (October-November)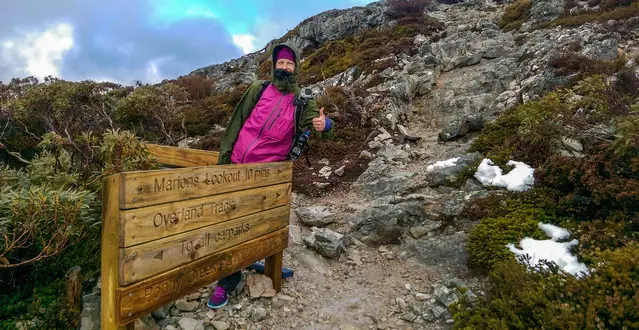 Wildflowers are abundant during spring and early summer. Tasmanian Waratah and Banksia are flowering, which is beautiful to see. Echidnas can be seen; getting active after hibernation in winter. Day temps range between 10°C-15°C / 50°F-59°F on average. October is one of the windiest months of the year. We experienced snow and hail in November on a higher elevation with 0°C / 32°F while hiking.
Summer (December-March)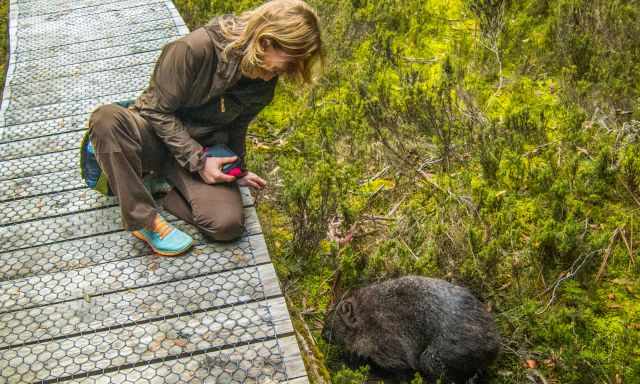 More stable weather from December to April with warmer daily temps on average around 15°C-18°C/59°F-64°F. The "warmest" months are January and February. Less precipitation from January to March. However, the weather is unpredictable. Be prepared for 4 seasons in one day, even during summer. If you like camping, be prepared for one-digit night temps throughout the year. Even during summer, expect snow as well. If hiking the Overland Track carry warm clothes as well. In December 2019, three hikers suffered hypothermia. Luckily, all of them got rescued.
Autumn (April - May)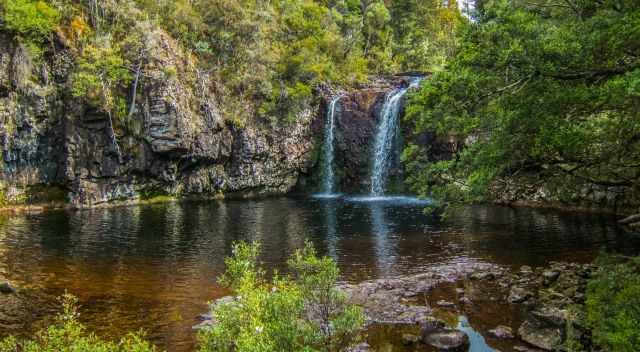 In April and May, you see the spectacular range of autumn colours from gold to deep red. The deciduous beech tree also called Fagus, is the icing on the cake until losing the leaves. The tree is endemic to Australia. Daily temps are around 10°C-15°C / 50°F-59°F on average. Nights are cold ranging from 5°C-3°C / 41°F-37°F. Already increasing rainfall in April. The autumn in 2020 was very wet and freezing already with snowfall at the end of May.
Winter (June-September)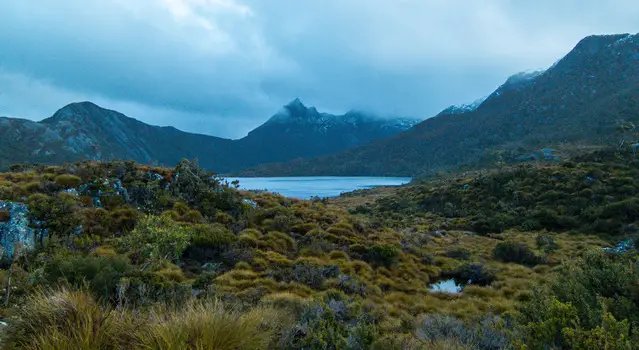 The winter is the wettest time of the year; means that's the snow season in Cradle. Snow is common usually from July to September, with an average daily temp of 6°C / 43°F. It can get even colder and freezing during the night (below 0°C / 32°F). Be prepared for minus degrees at night while camping. The coldest months are July and August. Hiking can be difficult and strenuous, depending on the amount of snow. If there is heavy snowfall, the road to Dove Lake is closed for 2WD. May and September are a little warmer. However, it is not uncommon to experience snow in these months at Dove Lake and higher elevations.
Top Tip for Cradle Mountain Hiking: Check the weather forecast and conditions before you venture into the National Park. Check out the Weather Link or stop by the visitor centre.
Avoiding Crowds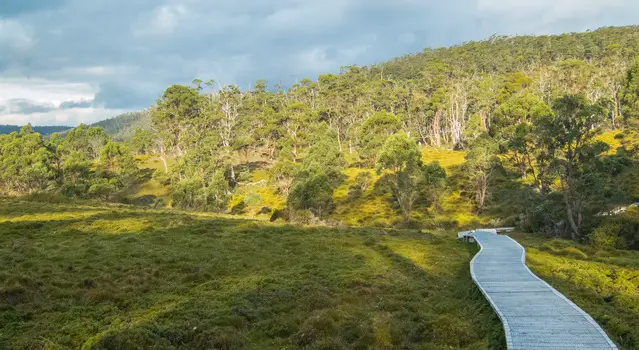 Cradle is the second most visited National Parks in Tassie, attracting more than 300.000 people each year and visitor numbers are increasing annually. You almost don't experience any crowds in the low season during winter. During summer, it's busy with visitors from around the world, especially at Dove Lake. Longer and more strenuous hikes are less trafficked. To get a memorable experience visit the park early morning. It gets less busy again in the late afternoon. The busiest months are from December to March nowadays. November and April are still busy but bearable.
Top Tip for the Peak Season: Start your hike before dawn with headlights and enjoy a breathtaking sunrise from Marians Lookout. 
Shuttle Bus Service and Parking
There is one car park at Dove Lake and one at Ronny Creek. Arriving early is recommended. Otherwise, shuttle buses have to be taken from the Visitor Center or the Interpretation Center. For National Park Pass holders; the shuttle bus is for free. The last bus leaves Dove Lake in the afternoon. Due to the increasing number of visitors, a new bus service also for people with disabilities was introduced in 2018. When these medium-sized buses operate from 8 am to 6 pm cars can't get to the parking. If you want to hike independently, you have to be at Dove Lake parking before 8 am.
New Viewing Shelter at Dove Lake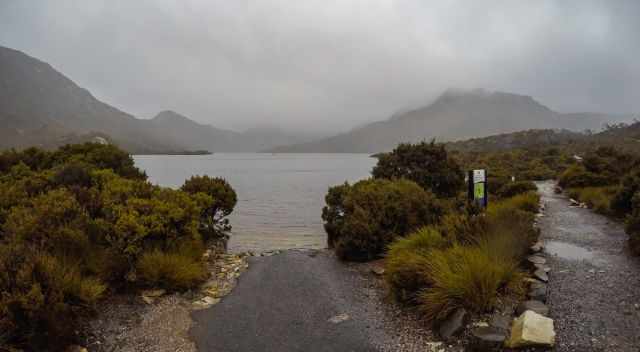 A new viewing shelter was built at Dove Lake and Cumulus Studio won two prestigious awards. This new modern building includes a hiker registration, information area, toilets, and a bus shelter. However, who needs a viewing shelter in the rain? If it rains, Cradle is covered in clouds. If you want to experience the real beauty of this incredible National Park, you have to hike despite the weather. I talked to several residents and most of them don't understand the need for an "ugly box" or "a shelter without a character which does not suit the climate".  Let me know what you think about it
Top Tours for Cradle Mountain and Tassie
Where to Stay (Hotels | Lodging Tips)
The iconic Cradle Mountain National Park with the glaciated landscape, 25 peaks, tarns, exceptional flora and fauna, waterfalls, and hikes attract more and more visitors from all over the world. The park is spectacular at any time of the year. Usually, visitors stay here for one or two nights which is too short in our opinion. If you have a day to spare stay at least three nights.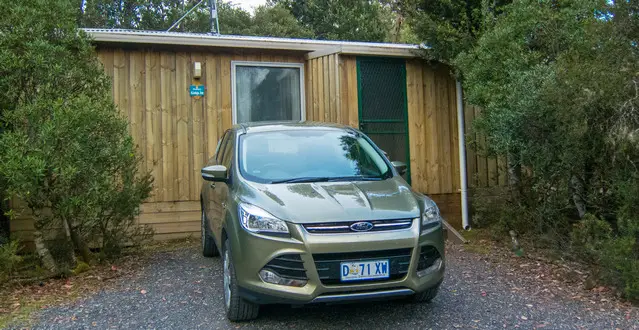 There are different accommodation types and price categories around Cradle Mountain. Book your accommodation, self-catering cottage well in advance, otherwise expect a much higher rate on the day of arrival. 
Cabins and Cottages close to Cradle Mountain
Low Budget Cabins from Discovery Park; nice and functional – We stayed here twice and loved it! Wifi for free around the reception. The cabins are clean, the kitchen is well equipped.
Camping is possible around Cradle Mountain. Powered and unpowered campsites are available at Discovery Parks. Nevertheless, bear in mind that rain and snow are common, nights are often pretty chilly and uncomfortable; one digit night temps throughout the year and even minus in the winter.
Location and Tips
Tasmania, Cradle Mountain National Park
Australia

Cradle Mountain and Lake St Clair declared as National Park in 1971. Part of the Tasmanian Wilderness World Heritage Area since 1982. In 1922 it was a Scenic Reserve only. It is estimated that millions of native King Billy pines were felled until the 70s. Logging was and still is a threat to the old grown forests in Tasmania.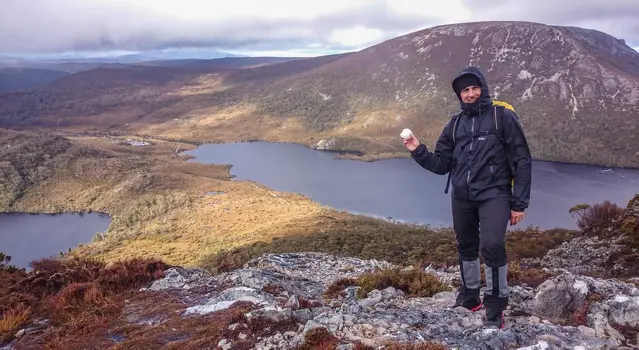 We spent several days at Cradle Mountain National Park in February and a year later in November, and none was very sunny. We experienced different seasons in one day except for snow in February. Due to the untamed weather, Cradle Mountain was always covered in clouds four seasons in five days. However, this National Park is an exceptional place to get away from it all, and even just misty and rainy; it has a majestic beauty. It's worth getting here and one of the National Parks that shouldn't be missed. If you haven't been to Cradle, you haven't been to Tassie.
5 Amazing Walks & Hikes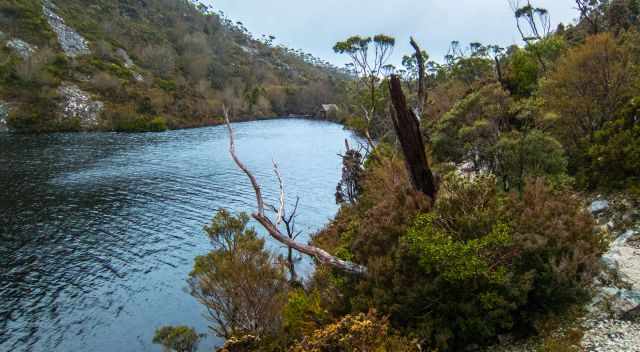 Looking for stunning Cradle Mountain hiking trails from easy to strenuous? You've come to the right place. Below you can find 5 amazing trails: three at Dove Lake, which you can do from Ronny Creek and, one at the Interpretation Centre plus the famous Overland Track.
Dove Lake Car Park and Trail Head (Google Maps)
Situated at an altitude of 940 m and nestled amongst the mountain peaks. A variety of hiking trails in all kinds of difficulties and fitness levels start from here. Trails are well marked. Alternatively, you can begin the hikes from Ronny Creek at 870 m elevation, too. A shuttle bus leads to the Dove Lake car park as well.
Dove Lake Circuit - 6 km | 2 hours





It's a beautiful and fairly easy hike with awesome scenery around the pristine Dove Lake. You can walk this trail throughout the year in all types of weather. The trail is more frequented. However, most visitors walk to Glacier Rock (10min) or the popular boatshed only. The well-maintained and mostly flat path leads over many boardwalks and some steps. Even if you do the Dove Lake Track only, it's worth the drive to come here.
 

Crater Lake Circuit Hike - 7.0 km | 2 hours | 136 m elevation difference



You can hike this trail to the alpine lakes also in poor weather conditions to get an idea of the breathtaking nature at Cradle. The first 1.2 km of the circular hike until Lake Lilla is also the way back to the car park. At Lake Lilla, turn right on the Cradle Valley walk. A part of the trail leads on a boardwalk until it crosses the Overland Track. It's very picturesque here; make a short photo stop. Now turn left and ascend this track until you reach Crater Lake. From the lake, another 500 meters until the trail leads down to Wombat Pool and back to Lake Lilla. Take a short break on the bench at Wombat Pool and enjoy. It's a short detour of 400 m return to get to the picturesque boatshed of Dove Lake. It's a must in all kinds of weather. The hike can be done in either direction throughout the year.
 

Cradle Mountain Summit Hike - 13 km | 7-8 hours | 605 m elevation difference



This hike is the best alternative if you don't hike the entire Overland Track to get a glimpse into the most beautiful National Park of it all. It's a pretty strenuous trail due to the length and the climb to the summit. It's only for experienced hikers without any fear of heights. Know your limits. You can walk the trail in either direction. The description of the hike is counter-clockwise via Marions Lookout:
First, sign in to the logbook. Then hike the narrow path to Wombat Pool, Lake Lilla, and continue to Marions Lookout on 1223 m elevation.



This part takes roughly 1.5 hours. Enjoy the spectacular view of Crater Lake and Dove Lake. Now continue on the Overland Track to Kitchen Hut (1230 m), an emergency hut to overnight. To get here, add max. one hour. Most hikers leave their heavy backpacks in the shed before climbing the steep trail over boulders to the summit. It's often very windy on top. The return hike from the hut to the Cradle Mountain summit takes two to three hours. You can either choose the Face Track via Hansons Peak or via Lake Wilks to the Dove Lake Circuit to get back to the car park. The way back takes roughly 2.5 hours. Take a slow pace and enjoy the spectacular scenery and nature. Don't forget to sign out.
Ronny Creek Car Park and Trailhead (Google Maps)
The Overland Track starts from here and also Lake Lilla. Ronny Creek is an alternative for the Dove Lake car park. If you start from Ronny, the hikes will take 40 minutes plus depending on your pace. Wombats can be spotted here pretty often.
Overland Track - 65 km | 6 days | Permit





Around 8.000 people walk the Overland Track each year. Due to the weather, the most famous season is from 1. October to 31. May. Hikers are required to walk from north to south. Booking in advance is essential for peak season. The fee for adults is 200 $ plus the National Park Pass fee. From 1. June to 30. September advanced booking isn't required. You can hike in either direction, and you have to pay the National Park fee only. Nevertheless, hiking in winter is recommended for experienced alpine hikers only. Expect heavy snow. Snowshoes and crampons are needed.

More information and booking Overland Track
Interpretation Centre Car Park and Trailhead (
Google Maps
)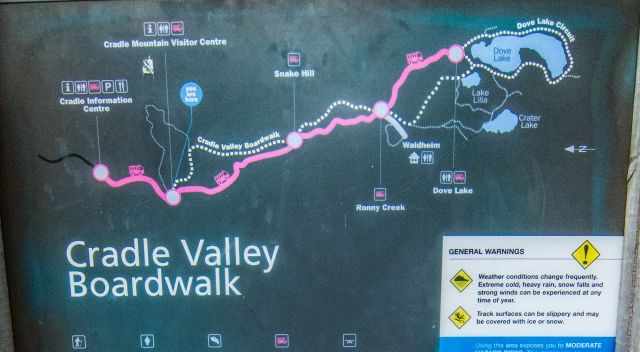 This is not the information centre. This is located two km before with huge parking. The Interpretation Centre has fauna and flora displays, and it's the ranger station as well. Some Cradle walks start here; the short Enchanted trail to an old-growth rainforest, King Billy Walk, Pencil Pine Falls Rainforest Walk, and the more challenging Dove Canyon Track.
Enchanted Walk - King Billy Track - Dove Canyon Track - 8.5 km | 3.5 hours | roughly 250 m elevation difference





This is a combination of all tracks and a wonderful half-day hike. It's an exceptional hike that leads through a mystic myrtle beech forest, old King Billy Pines, along the Pencil Pine Falls, and Knyvet Falls with steep and rough rock scrambling back to the Cradle Valley Boardwalk. At this trail, hiking pools are not recommended. The path is too narrow, the boardwalk easy to hike, and hiking pools are obstructive for climbing up the boulders. If you have a day to spare and you want to escape the crowds, this is your hike. Often you can find wombats and pademelons around the Interpretation Center and close to the boardwalk. Watch the path carefully in the forests; there are lots of roots along the track.
Packing List - 8 Tips for Cradle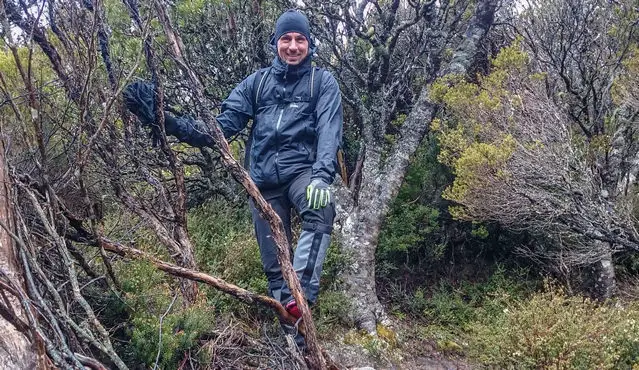 Clothes that you can layer on.
A rainproof jacket - softshell throughout the year.
Gloves and a woollen hat even in summer for hikes in higher elevations.
Hiking Boots and gaiters; gaiters protect you from the scrub. We bought them in the Cradle Mountain visitor centre.
Hiking Poles (depending on the trails you like to do).
Plenty of food and water; plan at least three litres for a day hike in the summer.
Crampons during winter for hiking in higher elevations.
Camera; waterproof best option - showers and rain occurs throughout the year.
Wildlife in Cradle Mountain National Park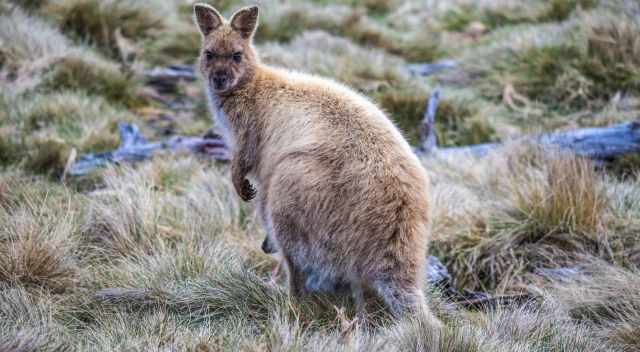 Cradle Mountain National Park is heaven for wildlife watching. These are the different species you may spot. Most of them are used to humans and let you watch them as long as you don't get too close. 
Wombats



They are crepuscular and nocturnal. The best chance for a sighting is at dusk and dawn. They also venture out for feeding on cool and overcast days. The famous Cradle Mountain is crowded with day visitors, but in the late afternoon, it becomes quiet and peaceful, and you may spot several wombats near the Interpretation Center, Waldheim Lodge, and Cabins. Some lazy wombats use the boardwalks to move forward.



Wombats, pademelons, and wallabies are abundant in this park. Three different species of wombats exist. They are about one meter in length and digging huge burrow systems with claws and front teeth. Attacks on people with teeth and claws can happen.
 
Wallabies and Pademelons 



They can be spotted late afternoon and evening, especially near Waldheim Lodge and Cabins. Different species of wallabies can be found everywhere in Tassie and so at Cradle Mountain. They are a member of the kangaroo family and are often named after their habitat, like the brush wallaby, the shrub wallaby, and the rock wallaby. 



Pademelons are also often seen around the self-catering cabins. Pademelons are shy rarely leaving the forest or bush. Their round ears giving them a mouse like looking. They have a short lifespan of 4-8 years in the wild. 
 
Echidnas



Active until the end of summer (March/April) before they hibernate again until late October to mid-November.
 
Tasmanian Devils



Possible to spot but rare. Unfortunately, cases of devil facial tumour disease are reported recently. Trowunna, close to Cradle Mountain, is an excellent Wildlife Park to see them relatively close.
 
Possums



Possums are night-active; they are frequently seen close to garbage bins and around the cottages.
 
Platypus is extremely difficult to spot, coming out when it's almost dark. We haven't seen any yet.