When Is the Best Time
This hike through the gorge can be done at a low water level only. After heavy rainfall, the Apsley River is flooded. Check the weather forecast first. Don't hike through the gorge if there is much rain forecasted. Even roads can get flooded. One day after our hike in November, we experienced flooded roads, closed trails, and landslides. A number of trails got destroyed.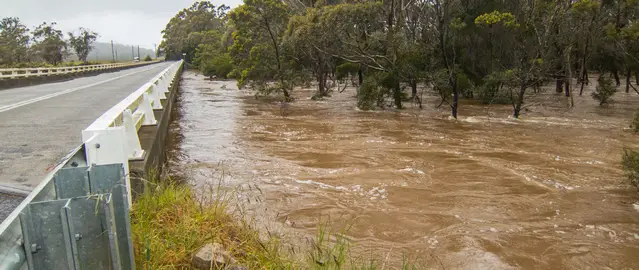 Crowds
The Apsley River waterhole is popular for swimming in the summer. We saw several people having a look to the waterhole, but none of them hiked the trail through the gorge. It's still a hidden gem compared to Freycinet.
Weather Bicheno
Pleasant temperatures around 20°C in the summer from December to March. Nights can be cool—more precipitation in summer. Warmest month on average is January. The winter is mild with temperatures ranging from13-5°C. Freezing temperatures are not common. In general, the eastern part of Tasmania is much drier than the western. Bear in mind it's Tassie rain can always occur.
Location and Tips
Tasmania, Bicheno
Australia

Douglas Apsley National Park is a hikers paradise and not overrun. Declared a National Park in 1989 after public protest against clearing local forests for the paper manufacture. It is one of the very few uncleared and intact eucalypt dry forests. In my opinion, a must when visiting Tassie,
Trail Description
The Apsley River Gorge trail is located 20 minutes north of Bicheno. The circular hike is approximately 7 km long and leads through an old grown forest and the stunning river gorge. The hike takes 3 ½ up to 4 hours. It is one of the 60 great short walks of Tasmania. From the car park, the trail is well marked, and information is displayed at the beginning. It's 10 minute walk to the waterhole. Here you cross the Apsley River and walk gently uphill through the fantastic forest. Afterwards, the trail is gently downhill until it gets steep and narrow above several rocks to reach the river bed. From now one you have to find your own way from one river bank to the other through this spectacular gorge.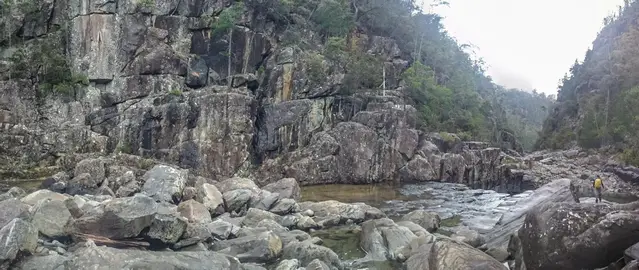 Rock hopping and climbing with slippery rock surfaces is often required in the gorge. You pass beautiful waterfalls and waterholes along the trail. Imposing are the dolerite cliffs to the right and left. Depending on the water level the hike can be quite challenging. Close to the end of the trail, the river bed gets divided by an island. Walk to the left side and through the bush.
It's a moderate to difficult hike; sturdy shoes are necessary. If you have any difficulties in the first part of the trail; it's recommended to walk the main trail back.
A basic campground is located close to the car park.
National Park fees apply. For a longer stay, the best option is the eight weeks pass for only 80 AUD (2020) Purchase a National Park Pass.