When Is the Best Time
You can hike here throughout the year. However, winter can be pretty chilly. Try to visit Mount William National Park on a sunny day to enjoy the picturesque fiery granite rocks on white sandy beaches and next to the blue sea. The best time for a perfect shot with these mesmerizing rocks is after midday. Besides, more rocks are visible and accessible at low tide. Due to the remote location and the gravel road at the southern end of the park, we didn't meet any other visitors here.  Tide times Bay of Fires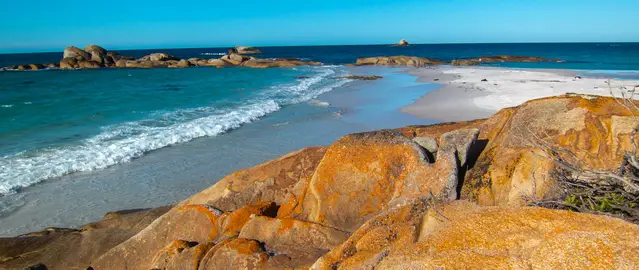 Weather
From November to March, pleasant temperatures mostly above 20°C. In the winter, day temperatures are below 10°C. Most precipitation roughly every second day occurs during the winter, although the highest amount of precipitation is in November. The summer is the driest time of the year.; however, the wind along the coast is chilly. Yet, that's Tassie; be prepared for quickly changeable weather. Don't let the weather stop you from exploring just dress appropriately. We visited Tassie in November and February, and despite the rain, it was a fantastic trip in November.
Crowds
Due to the remote location and basic facilities at the campgrounds, it's only crowded during the Australian school holidays. We camped here in November, and there was just one other couple.
Location and Tips
Tasmania, Gladstone
Australia

The circular Cobler Rocks trail is 6 km long and usually takes 2 hours. The trail starts just outside at campground Stumpy No 4, and the trailhead is well marked. The first part leads over lush and green heathland with banksias on the right and left until you reach the beach at Cobler Rocks.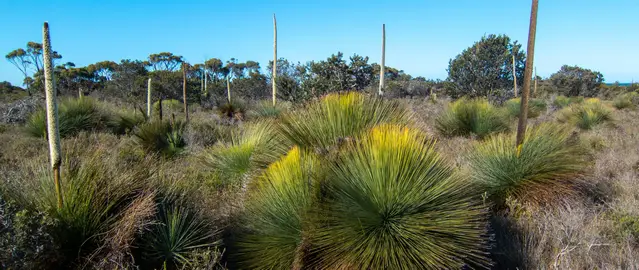 The walk back to the campground is the most beautiful part, which passes lagoons and white sand beaches full of granite rocks covered with reddish-orange lichen. Although this part does not belong to the Bay of Fire, it is one of the most beautiful sceneries of vibrant orange colour granite rocks, the reason that we spent more than three hours on the trail.
Another highlight of the park is the "Forester Kangaroo Drive". At dusk and dawn, Tasmania's only species of kangaroos, wombats with darker fur, wallabies, pademelons, and echidnas, can be spotted. At the campground, the wallabies and kangaroos are used by campers. They are curious and come relatively close even with their "Joey" in their pouch.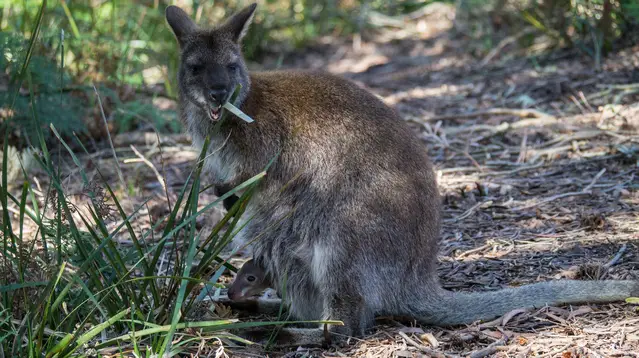 One hike goes to the summit of Mount William. This hike also starts close to Stumpy No 4 and takes around 5 hours.
Camping Stumpys Bay
There are five different campgrounds at the southern end of the National Park. The first one is called Top Camp and located at the top, but there is nothing special. The others are Stumpy No 1 to 4. The first one was a bit busier; the fourth has the best location for hiking, plus a gas BBQ and picnic tables. The facilities are two basic pit toilets no shower. There is no drinking water or power nor a shop nearby. Be self-sufficient and bring all food and plenty of water. Stumpy No 4 is located close to a lagoon, the reason for a few mossies in the evening. However, we loved this campsite. It was utterly quiet and peaceful.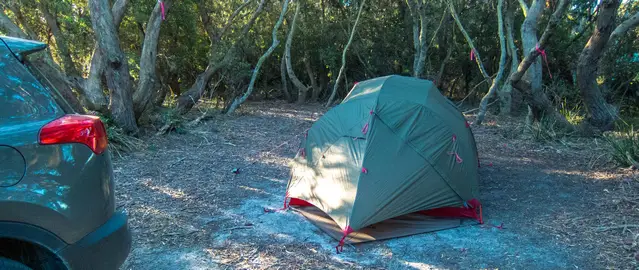 It's a three hours' drive from Launceston to the entrance of the park. Don't visit the park in a rush; there is too much to explore. We highly recommend staying a minimum of two nights.