When Is the Best Time
Regarding the weather, Freycinet and Coles Bay are year-round destinations with mild climates. The sunlight for Wineglass Bay Lookout is best at midday. The bay looks even better from Mount Amos, with fewer people. The pink granite peaks "The Hazards" look best at sunrise and sunset when it glows bright and brilliant. However, the park is top-rated and crowded during the summer from December to February. Read on for more information for each season to experience the park with fewer crowds and which hikes exist.
Cape Tourville and Lighthouse:
Southern Right Whales can be spotted from June to late October.
Humpback Whales from May to July and September to November.
Weather and Crowds by Seasons
Spring (September-November)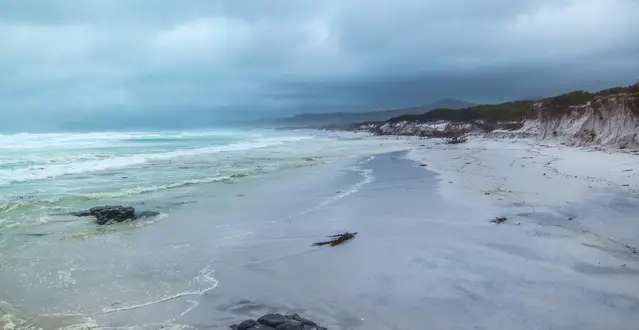 Low and Shoulder Season! Already pleasant temps, although on average below 20°C. Nights are cold, ranging between 8°C and 6°C, which is chilly for camping. It rains less on the eastern side of Tasmania, but October and November are a little wetter. September and October are great months to avoid crowds. November is a little busier but still bearable.
Summer (December-February)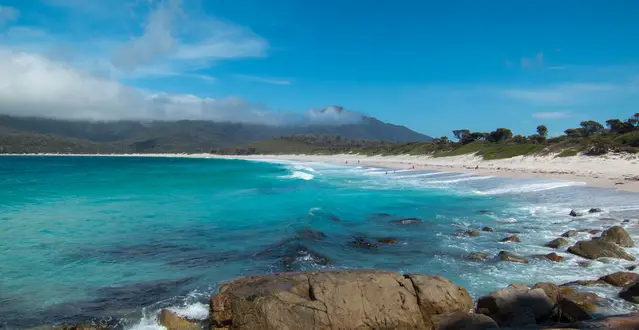 Peak Season! Temps are above 20°C and can top even 30°C during the daytime. Rain can occur more likely in December, while January and February are drier. You'll have many hours of daylight. Keep in mind that the sun is powerful. During summer, with extreme fire, danger trails may be closed. From mid-December to mid-February, Freycinet is utterly overrun. Campsites and accommodations are fully booked, especially in the park. Advanced booking is recommended. For hiking, arrive early to get a parking place, especially if you plan a longer trail. For the Wineglass Bay Lookout Walk, come early morning or late afternoon when most visitors have already left the park.
Autumn (March-May)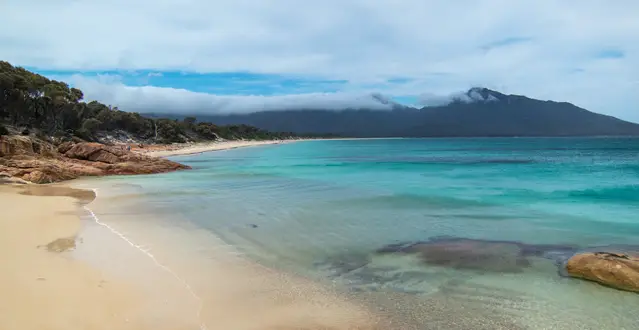 Peak and Shoulder Season! Crowds thin out until Easter. If possible, avoid this crazy time of the year. Pleasant temps at daytime, although May is a little cooler on average, around 15°C. Expect already temperatures below 10°C at night. A warm sleeping bag for camping is essential. It's a perfect time for hiking at the Freycinet Peninsula.
Winter (June-August)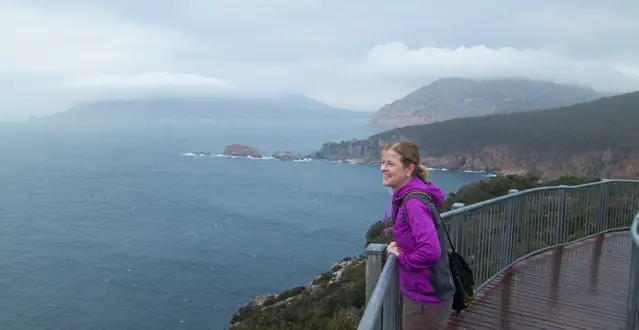 Low Season! Winter daytime temps are often mild and pleasant for hiking, on average around 12°C but freezing during the night with temperatures around 3°C. There is less precipitation during the winter, but weather can change quickly, be prepared when hiking. If you can manage colder temperatures and you like to avoid crowds, this is your season. Plenty of affordable accommodations are available.
Where to Stay or Camp
There are plenty of accommodations around Freycinet at Coles Bay. However, these are not enough during the peak season. If you like to spoil yourselves within walking distance of the beach, we highly recommend the apartments of Eagle Peaks at Freycinet. A low-budget alternative, especially for families, is the BIG 4 Iluka. Cabins are well equipped, and you can pitch your tent as well. Reservations are advisable. They are usually fully booked during the peak season. 
Seafood Tip for the Freycinet National Park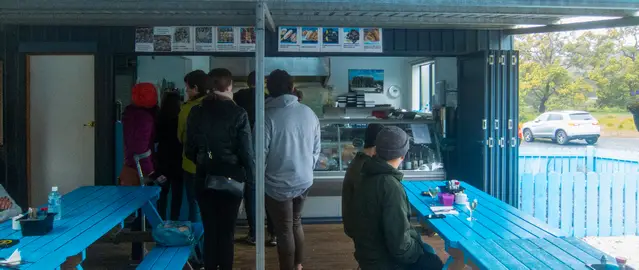 Don't miss the family-run Freycinet Marine Farm with the freshest seafood. You can choose from steamed mussels, scallops, and oysters deliciously prepared. Open during the peak season from 9-5 pm and June-August from 10-4 pm.
Location and Tips
Tasmania, Freycinet National Park, Coles Bay
Australia

The Wineglass Bay is located in the Freycinet National Park, which was declared in 1916. Freycinet has a rugged coastline, pink granite peaks, secluded beaches, and the famous Wineglass Bay Walk. The Bay is one of the most beautiful places on the entire planet. The area has cultural importance with protected Aboriginal and European sites as well.
Hiking in Freycinet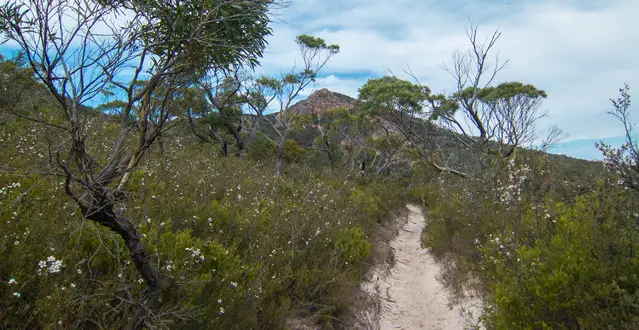 Freycinet offers several well-marked hiking trails, 4 of the 60 great short walks of Tasmania. If you are into hiking, doing one of these hikes is a must to get an idea of the beautiful landscape.
The short one-hour trail to the Wineglass Bay Lookout is mostly crowded except early morning and evening.
Viewer people hike to the top of Mount Amos, which offers a much better view of the Bay (2-3 hours return for roughly 4 km). Mount Amos is not an easy hike but rather rock scrambling to the top. Wear appropriate shoes. Watch the sunrise or sunset here, and bring a torch and additional batteries.  
The 11 km long circuit trail lasts around 4 hours with a break and a dip in the sea at Hazards Beach in summer.




Hazards Beach


 
The Freycinet multi-day trail is 31 km long and leads through the whole peninsula. A permit is required. It is an easy and popular hike in summer and autumn. If you plan to hike this trail at this time of the year, you need to get the permit many months in advance.
Another gorgeous beach is Friendly Beaches; you can walk here for hours.
Safety Advice
For the multi-day hike, a pair of gaiters are recommended to protect the lower legs from scrubs and snake bites. Snakes are common within Freycinet.
Camping in the Freycinet National Park
These sites are always fully booked from December 18th until February 10th and Easter. There is a high demand, and a ballot system is used. You need to apply for a campsite or RV site by July 31st. For the rest of the year, you can get in contact with the visitor centre for booking: (+64) 03 62567004 More information about camping and the ballet system in the Freycinet National Park
There are three basic campgrounds within the National Park along the hiking trails: 
At the southern end of Wineglass Bay
At the south end of Hazards Beach
Cooks Beach
 

Another three well-equipped campgrounds with facilities and electric BBQ are close to the visitor centre located: 
Ranger Creek
Richardsons Beach (only here powered sites available)
Honeymoon Bay (open during peak season only in summer and Easter)

Free basic camping is available at the Friendly Beaches; Isaacs Point with pit toilets.