When Is the Best Time
The Painted Cliffs on Maria Island are still underrated and a hidden gem. Maria Island was declared a National Park more than 50 years ago (1971) and is not accessible by car. Proper planning and ferry booking are essential for this truly magical adventure. I will give you all the needed information, what to consider, ferry booking details, camping, what kind of wildlife you may spot, plus the exact location and a map to find the Painted Cliffs.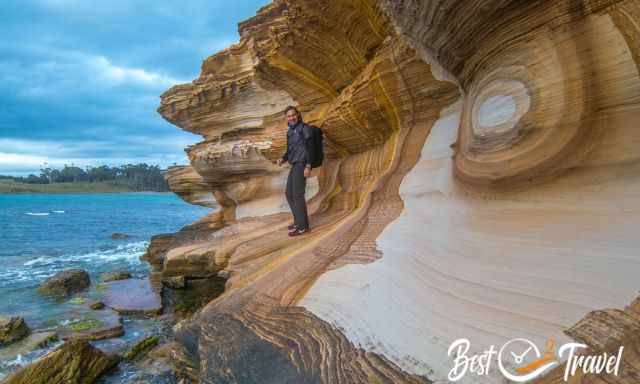 Most visitors come for a few hours, but I highly recommend staying here for one or two nights. When the daytrippers have left the island, even more wildlife appears. Maria Island is a paradise for birding and spotting wildlife. We spent an entire month in Tasmania, and our whole trip was planned around this unique island and the Painted Cliffs. 
Best Time and Daytime for the Painted Cliffs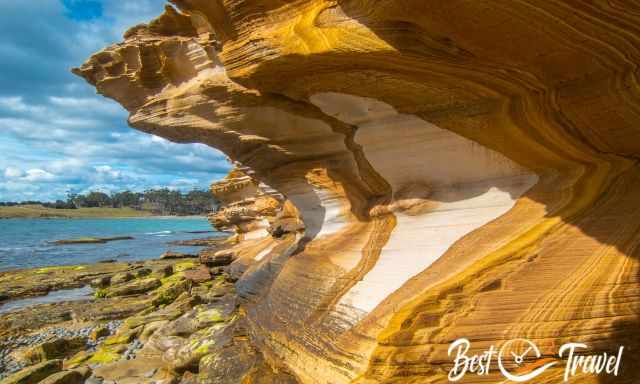 The Painted Cliffs are accessible within two hours on either side of low tide and are most vivid in the afternoon sunlight. Therefore, less than ten days each month are perfect for a good shot. Typically, summer is the busiest time of the year but it has more daylight hours.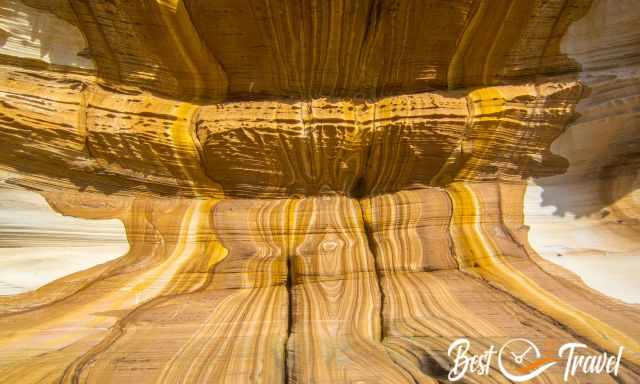 To dodge the crowds visit the island between September and November or in April and May or stay overnight. We spent two nights on Maria Island on the campground in November, and we loved every second despite the cold day and night temperatures. Before you venture out, check the tides: Tides Maria Island.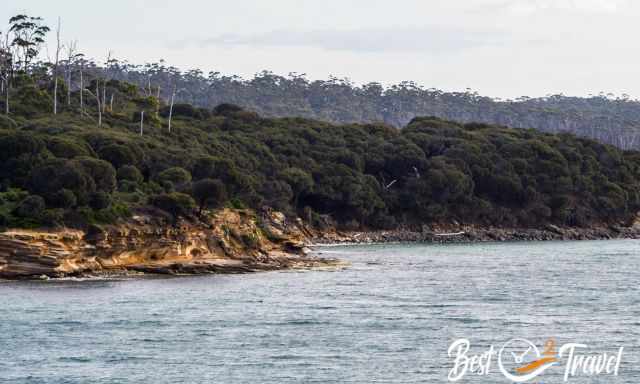 How to Get to Maria Island - Ferry Details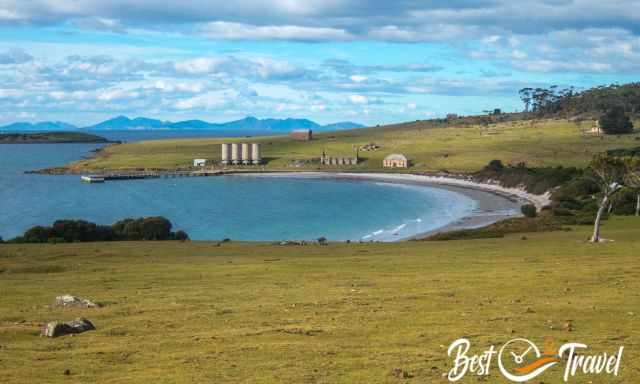 Maria Island is situated in the east off the coast of Tasmania, Triabunna. The ferry is going from Triabunna to Darlington, Maria Island. It's a 30 minutes ferry ride from Triabunna to Darlington. Darlington was a convicted settlement established in 1832 and is a World Heritage Site today.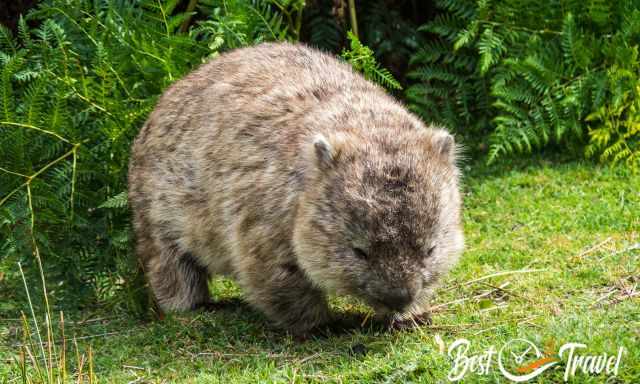 Maria Island is popular, and the ferry is frequently fully booked in summer. Therefore the ferry boat rides increased. Maria Island is big, about 20 km long and 13 km wide, and difficult to explore on foot only- It's a big advantage to visit the island by bike as we did.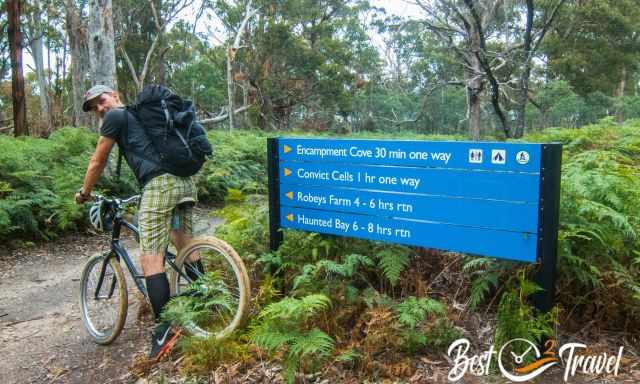 For renting, it has to be booked together with the ferry ticket. It's a bit pricey, $ 33 for adults and $ 20 for children for each bike for one day, $ 25 for two and more days and utterly worth it, IMO. Check the ferry timetable and return fares. The ferry ticket and bike cost a little fortune, but it is worth especially if you stay overnight.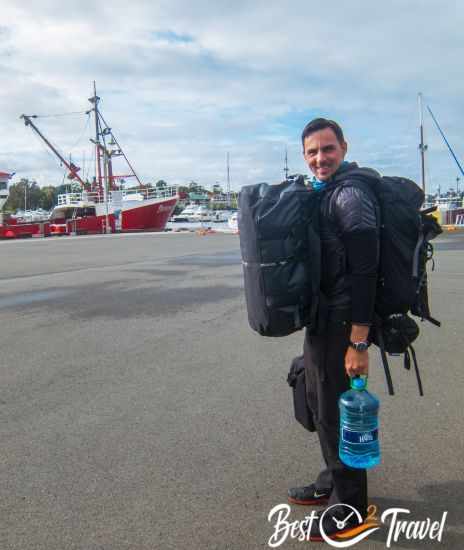 The ferry return fares increased, and an additional National Park fee is requested. The ferry ticket includes only one bag of up to 7 kg. If you want to stay on the island, you have to pay an additional fee for the rest of your luggage. The fee per person is $ 10.50 for the first item and $ 5.25 for each additional one. The transport fee is $ 10 each if you bring your own bike. National Park Pass holders get a discount of $ 5 p.p. National Park holiday pass September-April: The ferry is going up to five times daily, depending on demands and bookings.
May-August (Winter): The ferry is going up to three times daily on five days but depending on the demand. 
Where to Stay in Triabunna the Day Before?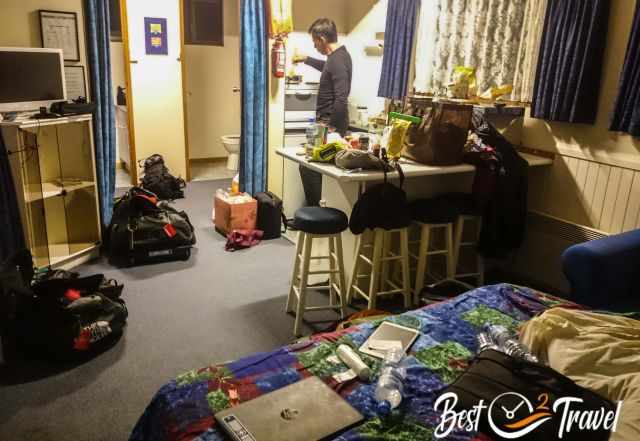 There are few opportunities to spend the night before to get the early morning ferry, and I recommend the first ferry in the morning to get the most out of your stay. We chose the Triabunna Cabin and Caravan Park. The lovely owners were attentive; the cabin was well equipped, perfect for a couple of nights. It is perfectly located if you like to visit Maria Island for a day. It is less than a 10 minutes walk to get to the ferry.
Avoiding Crowds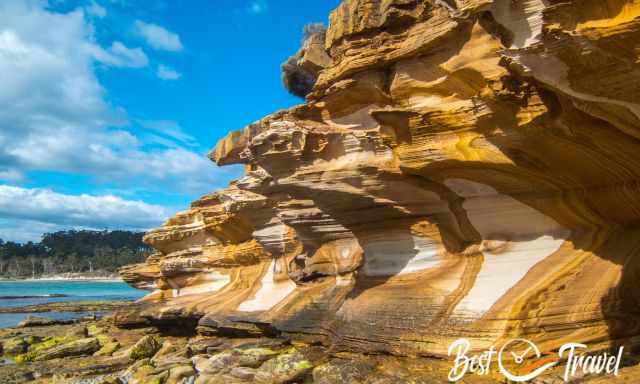 The ferry service has been offered more often since April 2017. Due to t popularity and more ferry rides, the jetty on Maria Island was restored in 2019. Even more day trippers are coming to Maria Island now. During summer, several hundred visitors come to the island each week, which will increase this summer 2022/23 after the long and challenging time for all of us with Covid19.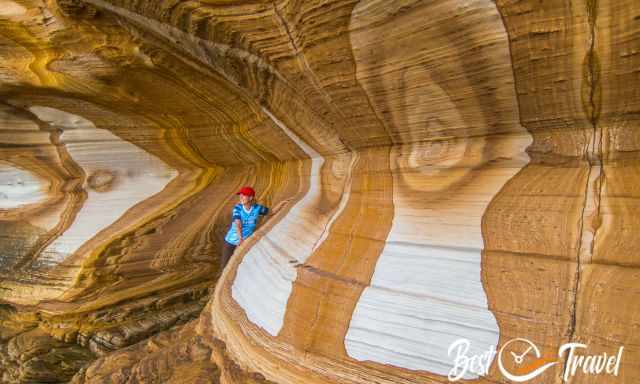 Winter, early spring and late fall are the best time to avoid the crowds. When the ferry leaves the island in the afternoon, it becomes more tranquil and peaceful if you stay here. If the ferry doesn't serve Maria Island in winter, that's the quietest time. During these days, only a few people are on Maria Island. This is what we did to enjoy the exceptional beauty of Maria Island. Maria Island Map
Weather Maria Island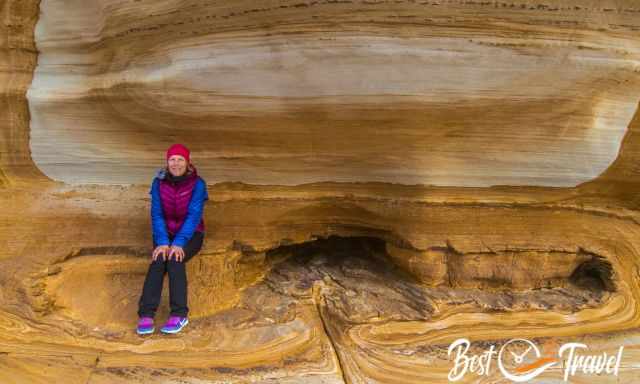 Maria Island has a mild climate without freezing temperatures in winter. The average summer day temperature is around 21°C/ 70°F and can top 30°C / 86°F. The driest month is January, although rain showers frequently occur throughout the year. November is one of the wettest months, and we experienced rain but also wonderful sunshine.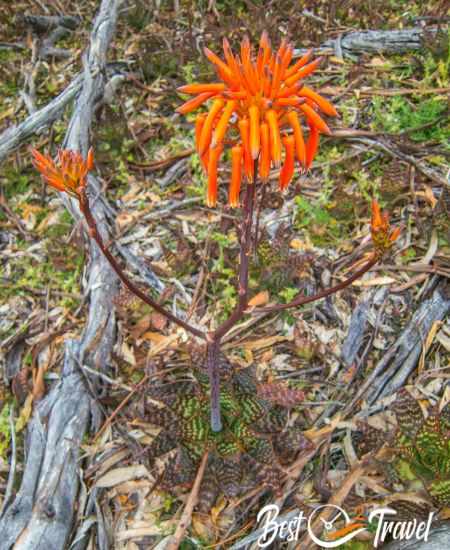 May and October are colder but also worth a try. Night temperatures in winter and spring are below 10°C/50°F, and several layers are essential. The nights were chilly during our first stay in November, with 6°C/43°F. However, it is not a big deal with the right sleeping gear.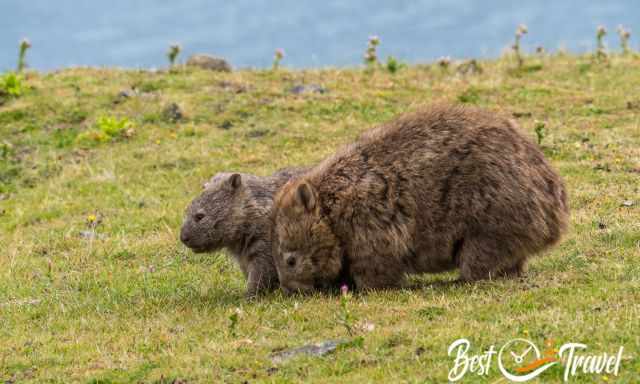 My 2 Top Tour Recommendations
1 Maria Island and Wineglass Bay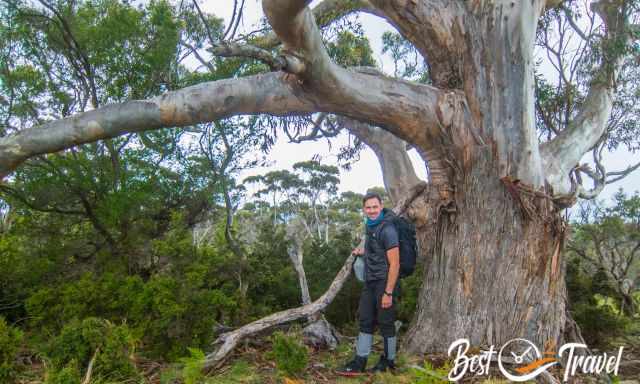 Are you limited in time, but you don't want to miss Maria Island and the Wineglass Bay of Freycinet National Park? This three-hour tour with excellent views from the plane plus time on Maria Island may be the solution for you. Three hours tour by plane and on foot
2 Maria Island Cruise, Guided Walk, and Lunch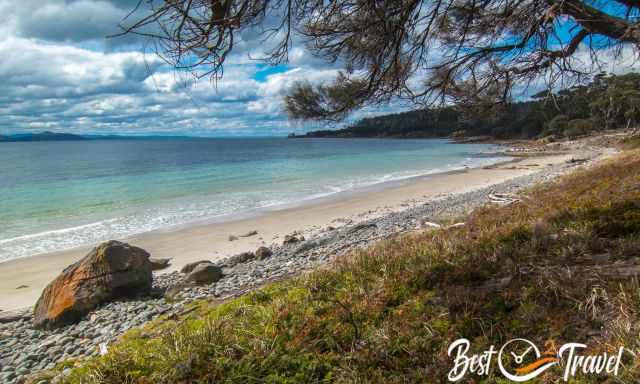 The second option is a cruise to experience more of Maria Island in a short time, like the white beaches and the crystal clear sea. The advantage is you do not depend on the busy ferry ride. Scenic cruise with time on Maria Island - duration one day
These are my recommended tours via GetYourGuide with 24 hours in the advance cancellation policy. Thx for booking via my website! With your support, I am able to provide all information first-hand. Tour prices are at no extra cost!
Location and Tips
Tasmania, Maria Island
Australia

The Painted Cliffs are famous for their beautiful patterned sandstone rocks and colours resulting from groundwater percolating which occurred millions of years ago. The Painted Cliffs are fragile and change continually by waves and weathering.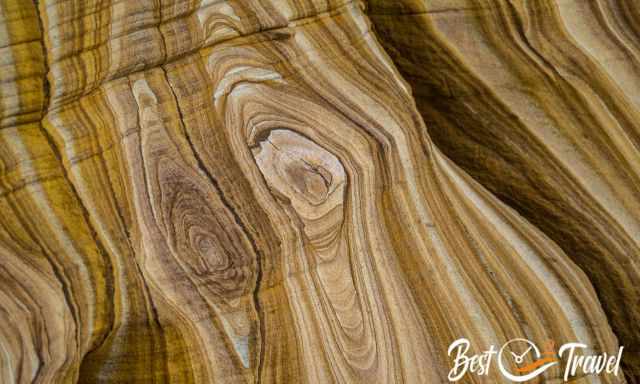 One of the cliff tops recently collapsed at the end of the Painted Cliffs. Seaspray also has a negative impact on forming crystals of salt, which affects the honeycomb patterns.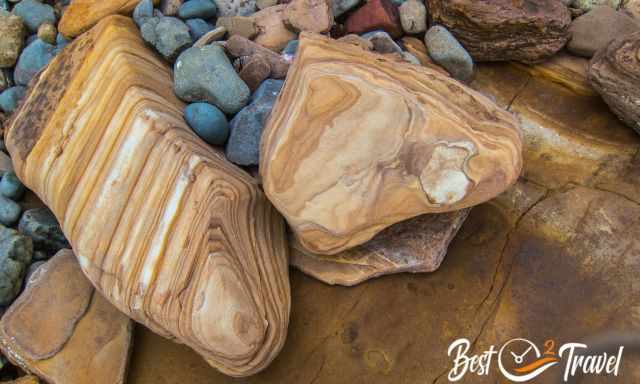 Where Are the Painted Cliffs?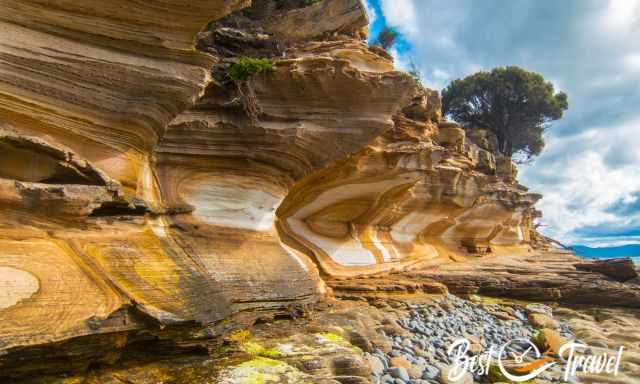 It is a 5.4 km return walk from Darlington harbour to the Painted Cliffs along the Coast Road. It's more a gravel road than a trail and is used by 4 WDs from the National Park rangers therefore easy to get here by bike. Hiking Map Locus Map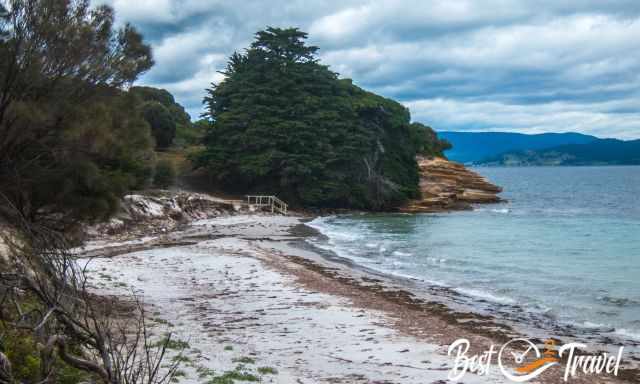 The Painted Cliffs can be visited on a day trip. However, before you venture out, check the tide times if the Painted Cliffs are accessible during your visit to avoid disappointment. We decided to be on the safe side and spent two nights on the Darlington campground of Maria Island.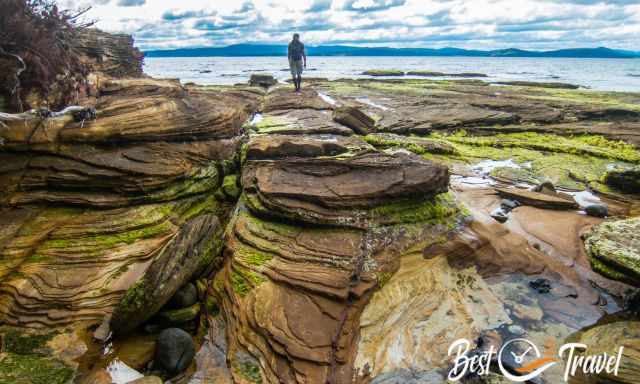 The length of Maria Island is about 20 km and wide 13 km. You can get from the north to the south and back by bike in one day. The reason is that we rented them for our stay and we loved it.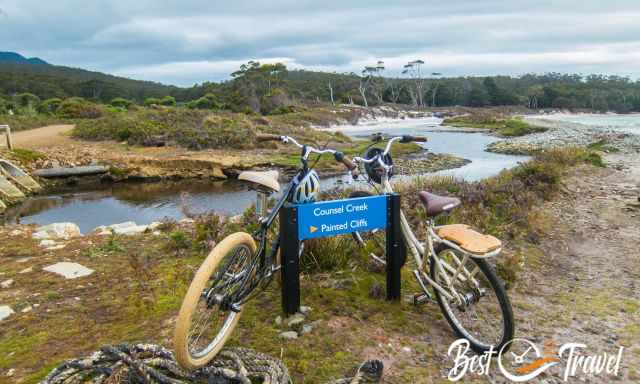 The name of the island was given in 1642 by Abel Tasman, a Dutch explorer after Maria van Diemen, the wife of Anthony van Diemen, governor of the Dutch East Indies in the capital Batavia. These days, it is known as Indonesian.
Hiking on Maria Island
 Three of the 60 great short walks of Tasmania are located on Maria Island. Some of these trails include points of historical interest. Link 60 short walks
We spotted many different birds, kangaroos, wombats, and pademelons during our hikes.
Accommodation Maria Island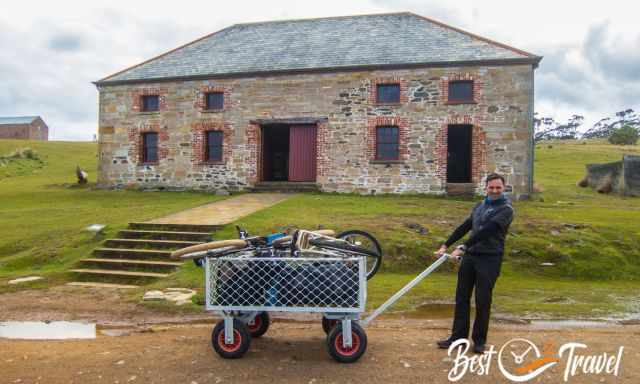 Basic bunk accommodation at the old Penitentiary with nine rooms for six visitors in each room and one for 14, a shared bathroom, and a kitchen is available. Usually, it is fully booked. Room booking up to six months in advance. Booking Penitentiary National Park website and check out what you have to bring, like bedding.
Camping Maria Island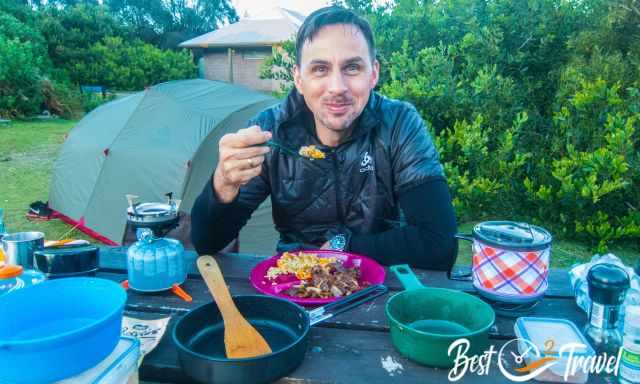 The ferry ticket includes a permit for camping, but an additional fee has to be paid. There aren't any showers on Maria Island, just the sea.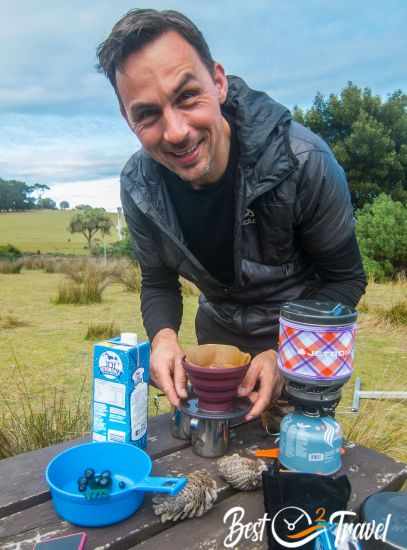 The campground is 15 min. by foot from the jetty located. First, you need to go to the ranger station to get your camping permit and check in for a small fee. The campground provides a cooking area and restrooms.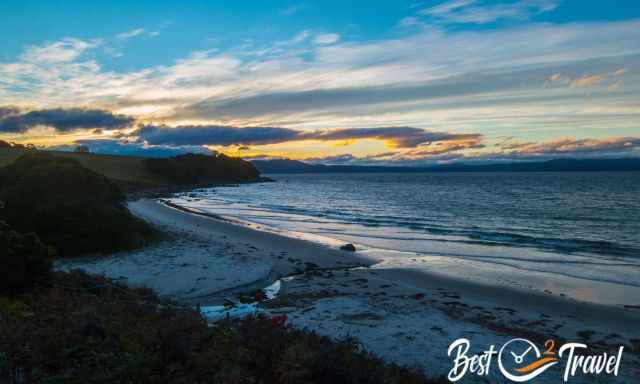 The campground and Penitentiary are without electricity. You must bring all the food, water, and cooking utensils. You have to be self-sufficient! No bookings are required. More information here
Wildlife on Maria Island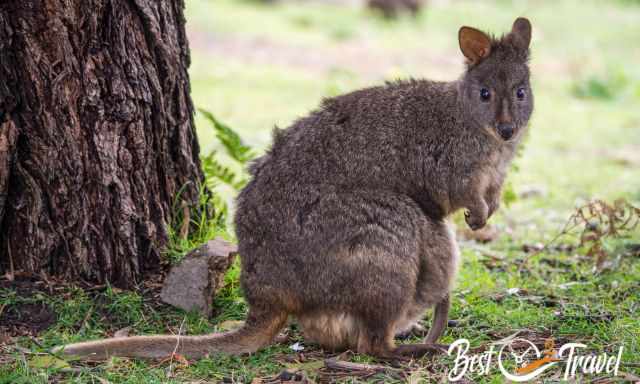 The entire island is a natural wildlife sanctuary and National Park, and wildlife appears in abundance, especially in the late afternoon and at night.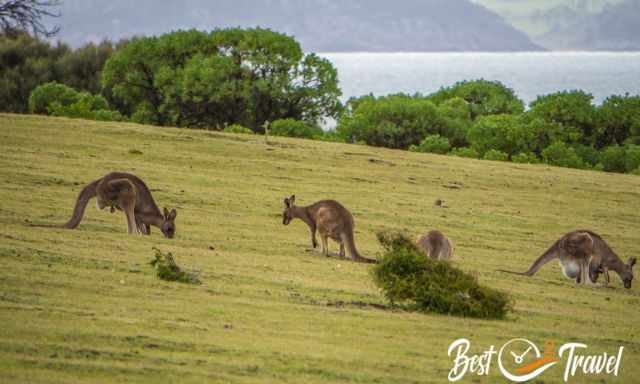 We spotted wombats, kangaroos, wallabies, and even the Tasmanian devil. A healthy Tasmanian devil population was introduced to Maria Island for their protection.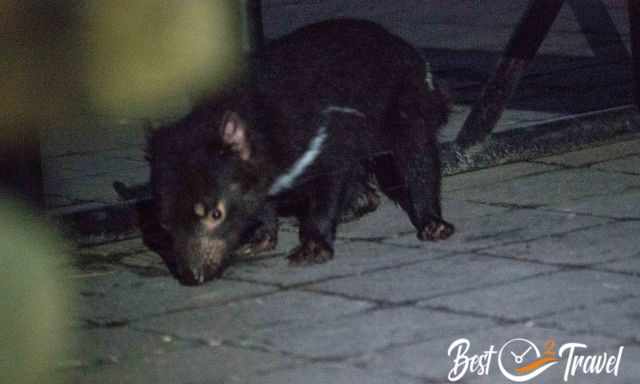 Due to facial tumour disease, the devils are critically endangered. These devils were raised at the Trowunna Wildlife Sanctuary close to Cradle Mountain.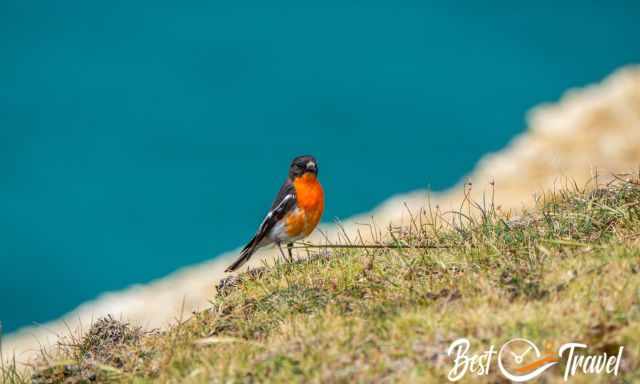 Also, birding is excellent on Maria Island, and the Cape Barren Goose was introduced to the island.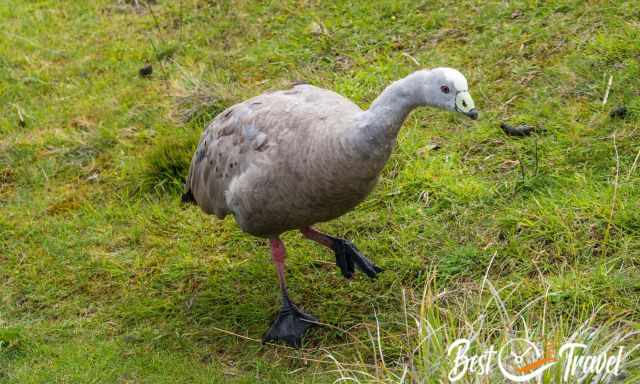 Plenty of hiking trails in a beautiful settings are available.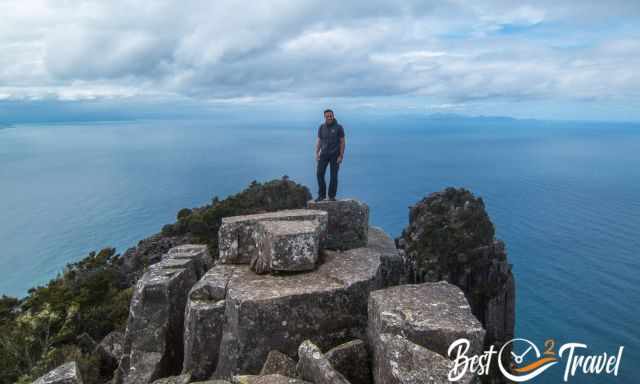 I highly recommend staying on Maria Island for a couple of nights. Don't miss the Fossil Cliffs and the breathtaking views from Bishop and Clerk. 
Climate Change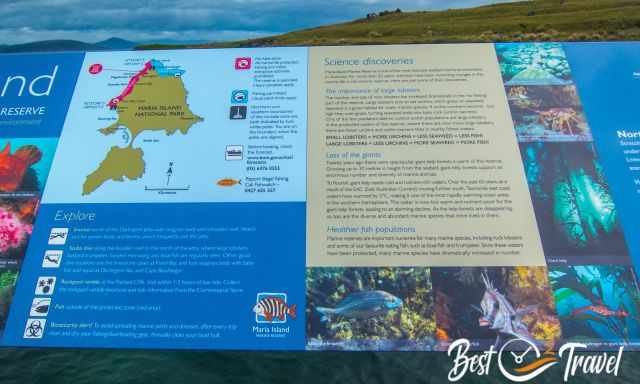 Maria Island is also a Marine Reserve with the highest marine life diversity and an awesome diving spot. However, the waters in the east have warmed by 2°C, and the immense kelp forest of up to 30 m in height is on an alarming decline.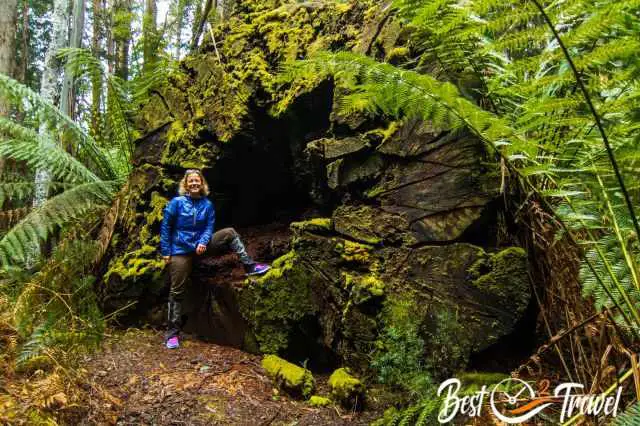 Do you want to obtain the usage right for my images? Contact me, but I will take action against picture theft.