When Is the Best Time
To get the most out of your visit and for stunning pictures, try to come here on a sunny day, to enjoy the picturesque fiery granite rocks next to the clear blue sea. If it is overcast, the rocks don't shimmer intensely. More rocks are accessible at low tide: Tide times Bay of Fires
Weather
From November to March pleasant temperatures mostly above 20°C. In the winter, day temperatures are below 10°C. Most precipitation roughly every second day occurs during the winter, although the highest amount of precipitation is in November. The driest months are January to March. The wind along the coast is chilly also in summer. Nevertheless, that's Tassie be prepared for the elements. Don't let the weather stop you from exploring just dress appropriately. We visited Tassie in November and February, and despite the rain, in November it was a fantastic trip.
Crowds
Due to the remote location and the gravel road, it's not very busy. It only gets a bit busy during the Australian school holidays around the boat ramp.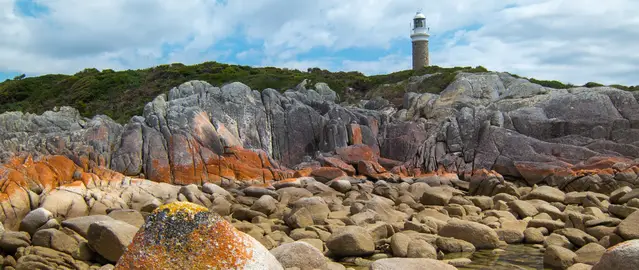 The Eddystone Lighthouse was established in 1889 and is in total 42 meters high. The Aboriginal people are the owners of this land. Their indigenous name is Larapuna.
Tips
Most visitors come here in a rush. We spend half a day at Eddystone Point, and we also had a look at the Policemen Point. You can find an hour drive to the south in Saint Helens a variety of affordable and lovely accommodations. Stay here for a couple of days. Make a day trip to the Blue Tier Forest Reserve and the biggest tree of Australia; the Blue Tier Giant.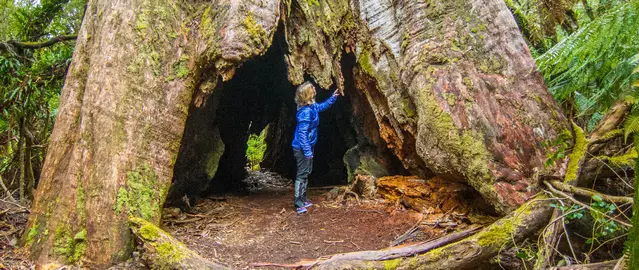 A short trail leads through the Evercreech Rainforest to the world's tallest white gums. Another beautiful walk leads the Halls Falls close to Pyengana. Excellent for a coffee or even a lunch break is the Pyengana Cheese Factory. We combined the Bay of Fires with the Blue Tier Forest Reserve and the Evercreech Rainforest. We loved our three nights stay at the Pelican Point Sanctuary in a self-contained cottage.
Location and Tips
Tasmania, Eddystone
Australia

It's a marvellous spot for a day trip just a 2.5 hours drive from Launceston and 1 hour from St. Helens. The Eddystone Point and Lighthouse is situated in the Mount William National Park. It's the last part of the Bay of Fires and accessible on a gravel road. There isn't any shop or restaurant nearby. Several short walks start from the car park. A few picnic tables and a pit toilet are available. It's a day-use area only, but north of Eddystone is the Deep Creek campground situated.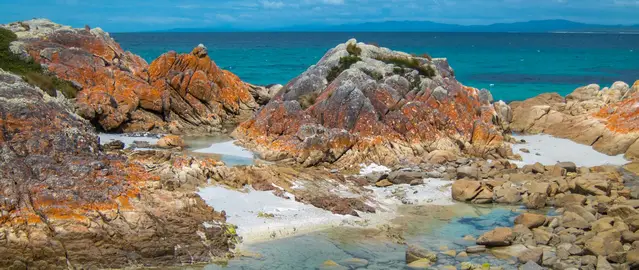 Eddystone Point at Low Tide
The scenery is mind-blowing. We enjoyed this stunning place alone, there wasn't anybody around. At low tide, you get much closer or even to the granite rocks which are covered with reddish-orange lichen. We also had a look at the Bay of Fires at the Policemen Point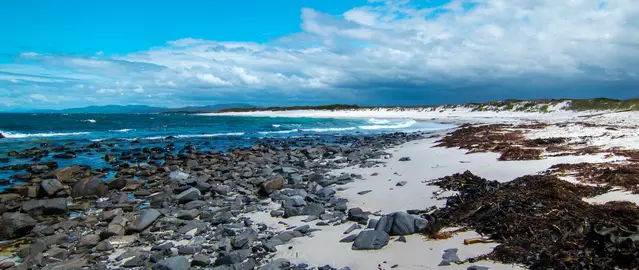 and Binalong Bay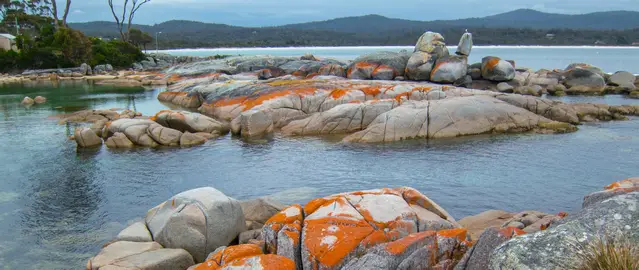 None of these places was as spectacular as Eddystone and Cobler Rocks. Binalong Bay is easily accessible and therefore crowded.