When Is the Best Time
Free climbing was invented in Saxon Switzerland, and a special technique is used because of the soft rock formations. These paths were developed in the past to overcome the steep mountains for trading. Nowadays, these are fun via ferratas suitable also for beginners especially Häntschelstiege and Zwillingsstiege.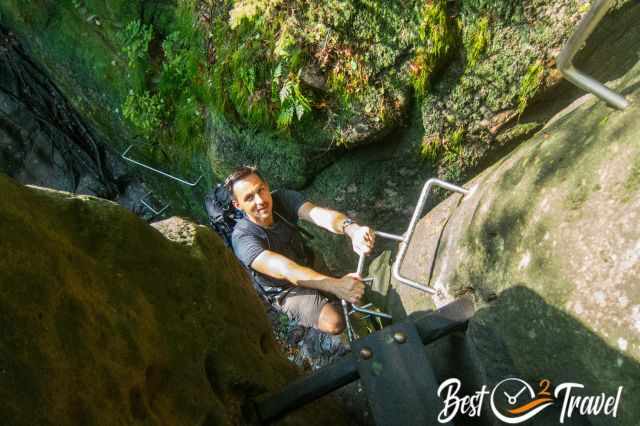 This combination of hiking and climbing two via ferratas will guarantee you a fantastic day in the Elbe Sandstone Range - the Saxon Switzerland National Park. Essential: check the weather forecast the day before because the right weather conditions without snow, ice, and rain are crucial. If the iron fixings are wet, they are slippery when climbing; so safety comes first!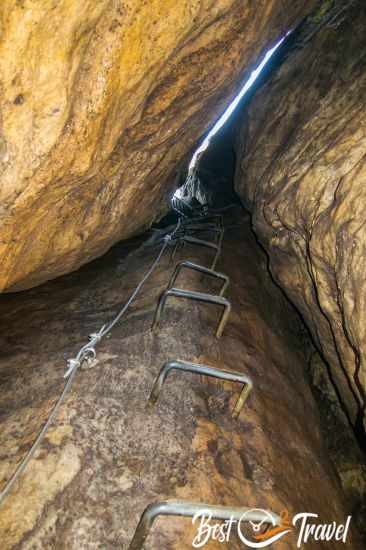 We experienced a thunderstorm and hail in June and had to turn back. Two days later, we experienced fine weather and gave it a try again. It was so much fun here, and although we are experienced climbers, we loved this trail.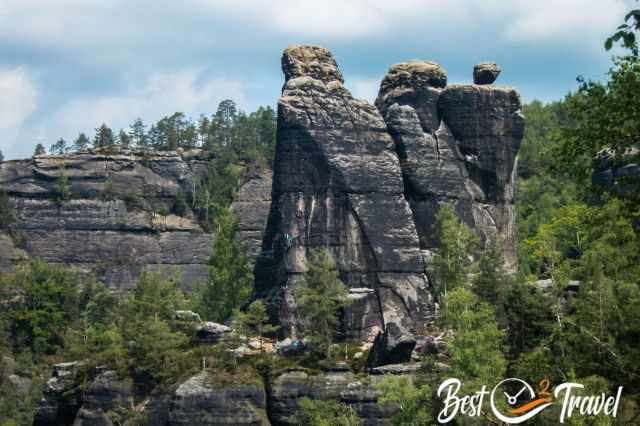 The best months for hiking in combination with climbing are March until October. It's busier on hiking trails and climbing routes during summer. Spring and fall are less crowded with pleasant temperatures.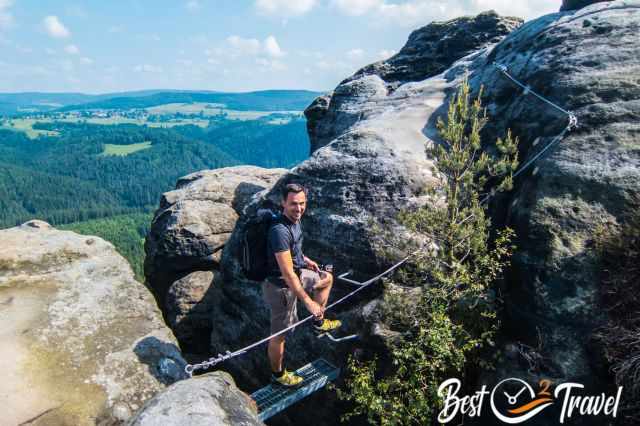 The Kirnitzschtal / Kirnitzsch Valley is pretty popular; busier on weekends and during bank holidays. Limited parking, therefore, come early. A parking fee of roughly 4 € (ticket machine) is requested.
I highly recommend buying a Saxon Switzerland hiking map. It is a labyrinth of hikes and climbing routes, all well-marked, but as an exception, our hiking app was insufficient.
Location and Tips
Kirnitzschtal
Germany

This via ferrata is a combination of two different "Stiegen" similar to a via ferrata, with iron ladders and fixings in the walls. Some parts are secured, and climbing gear should be used. These "Stiegen" offer spectacular views in the heart of the Saxon Switzerland National Park. The Saxon Switzerland is a hikers and climbers paradise and there are plenty of such routes. Another "Stiege" for more experienced climbers is "Rübezahlstiege". This route is more challenging but shorter. Disclaimer: I am not responsible for any injuries. We are experienced climbers living close to the Alps for three years already.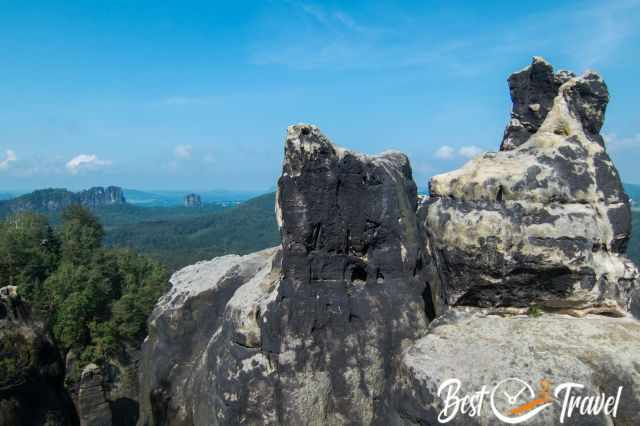 Park your car at "Lichtenhainer Waterfall" and walk back to Beuthenfall to the trailhead. Another option is the famous Kirnitzsch Valley tram which starts in Bad Schandau. Both waterfalls are human-made. The Stiegen are not well marked but easy to find. There are only view signs who are leading to the beginning of the climbing route through the walls. We combined the first part of the "Zwillingsstiege" with the upper part and the chimney of the "Häntschelstiege". There are different routes to choose from, but definitely, it's an outstanding experience.
On the top, we hiked to "Langes Horn" and "Carolafelsen" a huge rock. direction "Schrammsteine" which is one of the most impressive rock formations here. Our trail back to the car park lea along "Kleiner Dom" and "Kleines Prebischtor". There are so many trails and routes which you can combine for all fitness levels and experiences. The route we'd chosen was roughly 10 km long and took us 4 hours, including a picnic and several photos stops. If you like to do this combination of a via ferrata and hiking, you need to be experienced, and you shouldn't fear heights.