When Is the Best Time
The cave is open daily from late April to late October at 9.20 a.m. and closes at 3.30 p.m.
The cave is located 1.455-meter above sea level. Therefore, you are dependent on the cable car operating hours from Obertraun on 609-meter above sea level to Schönbergalm section I. The season for the cable car starts end of April and last until late October. The last mountain ascent is at 3 p.m. and in summer at 3.30 p.m. The last valley descent is shortly after 5 p.m. In poor weather conditions, the cable car might not operate. 
Check the opening hours first
Crowds
A cave visit is a great option if the weather turns bad but expect more visitors having the same idea. It's less crowded during nice weather when people think of outdoor activities.
Special events:
Every year in August unique concerts are held in the Parsifal Dome.
Schedule about the offered concerts and booking.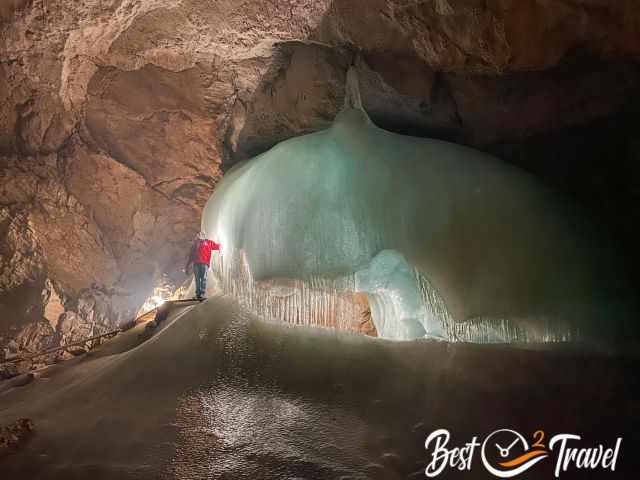 Location and Tips
Obertraun Hallstatt
Austria

The Dachstein is located in the Salzkammergut in Austria. It's a great destination for hiking, climbing, and caving. The area is UNESCO World Natural Heritage and World Cultural Heritage site since 1997. Combine this cave with the Mammut Cave.

The cave is a few minutes walk from Schönbergalm. The ice cave is formed by water which seeps from the Dachstein plateau through small cracks. The ice in the cave is growing sufficiently in winter and spring to withstand the warm water in summer and autumn. Although there is ice loss, the spectacular natural wonder can persist.

The guides tour to the cave last around 50 minutes and leads to stalactite hall down to St. Arthur's Dome. Bones of cave bears were found in the hall. From here, you walk over stairs to get to a higher level with breathtaking ice formations. Continuing the path, you get to the Parsifal Dome and the Big Ice Mountain, which is 9 m tall. From here you get to the castle of the Holy Grail which sparkles in different blue colours and in white depending on the lightening A passageway leads onto the 25-m thick ice on the ground and to the neighbouring Tristan Dome. Now you leave the higher level down to the last mesmerizing ice sculpture the Big Ice Chapel. Challenging before reaching the exit is the walk along the ice abyss.

Individuals and small groups can visit the cave without pre-registration.
What to bring:
It's chilly inside the cave less than 0° C / 32° F, wear a down jacket.
The ground can be wet and slippery, wear proper shoes.

Map of the Dachstein area and cave
Top Tips for the adventurous ones:
Adventurous caving trips. Booking in advance is essential!
Nearby Dachstein Krippenstein via ferrata with a variety of difficulties 

These pictures are provided by my wonderful brother Rene