When Is the Best Time
Lake Bled in Slovenia is a popular travel destination with more than 1.2 million overnight guests annually. Communication is easy because the Slovenes speak English and often German as well. The weather is influenced by the mountain ranges and especially the Julianne Alps.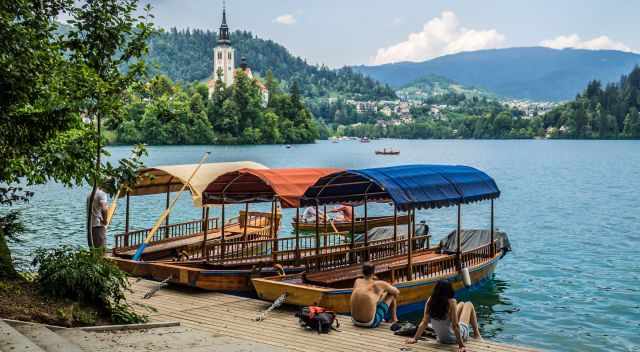 The best time to visit Bled regarding the weather and crowds in April, May, September, and October. Temperatures are pleasant, and a bath in the lake is also possible from May onwards. The summer is the busiest, hottest, and wettest time of the year with half of the annual visitors. Day temps are often above 30°C/86°F. The winter months are the quietest and driest.
Season Guide - Avoiding Crowds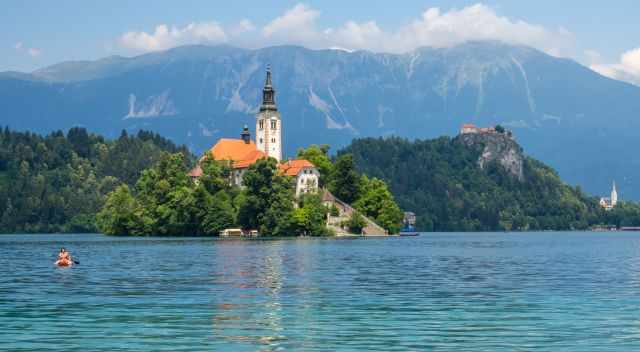 Spring (March-May)
March can be pleasant and nice but also cold. The average daily temperature is 13°C/55°F but can drop significantly as well, especially at night to 3°C/37°F. April has much warmer day temps are on average around 18°C/64°F but nights are still cold around 7°C/45°F. Increasing rainfall in May and warmer day temps around 23°C/73°F during the day. The water temperature of Lake Bled is refreshing cold. Expect one-digit night temps if you plan to camp in spring.
Summer (June-mid-September)
June is a lovely month for Lake Bled. Temperatures are on average already around 25°C/ 77°F but can climb up to 30°C/ 86°F as well. Swimming in the lake is fantastic with water temps around 22°C/72°F. It is super busy around Statehood Day in late June. Most residents are taking some days off to enjoy a long weekend. We came here at this specific weekend, but there is plenty of space to go swimming. Luckily, we had our bikes with us because the traffic was an issue. July and August are the hottest and wettest months. It is more likely to experience thunderstorms in the afternoon. Temps above 30°C/ 86°F are common in summer. Nevertheless, nights are cool around 16°C/61°F perfect for restful sleep. If you want to dodge the crowds, don't go in these summer months and try to avoid weekends in general. The crowds thin out in September. There is a lower risk for thunderstorms and day temps are pleasant not any longer too hot.

Time of Day in Summer: You can avoid the crowds by starting your activities early in the day. For example, visit the iconic Bled Castle first thing in the morning: It opens at 8 am. It starts to get really crowded at around 11 am. Enjoy your day at the lake and walk through Vintgar Gorge in the evening after 6 pm. The next morning you could rent a boat and row to Bled Island. Again, if you do this early, you'll dodge the crowds and enjoy a peaceful lake and island. Special tip: When it gets insanely crowded later in the day, wander around Lake Bled, go swimming, and you'll find at least some spots of solitude. Another option is to hike a strenuous or longer trail. Most visitors do the short walks only.
Autumn (mid-September-November)
Decreasing rainfall in autumn but lower temperatures. In October the day temps are on average around 18°C/64°F in November around 12°C/54°F. Crowds are not any longer an issue. Expect one-digit temps during the night in October and November. November is often cold, rainy, and overcast.
Winter (December-February)
The winter is the driest time of the year. However, usually, it starts snowing in December and even more in January. The mountain peaks are covered with snow. You frequently experience a sunny blue sky but freezing temperatures ranging from minus degrees up to 7°C/45°F on average in the winter. The glacial Lake Bled freezes over every few years, which is perfect for ice skating. The Vintgar Gorge is closed for safety reasons. Except Christmas and New Years celebrations Bled is quiet and accommodations offer discounts for your stay. However, winter is a great time to enjoy this place since it's super quiet. Compared to the summer months Lake Bled has 80% fewer visitors.
Where to Stay 
Location and Tips
Bled
Slovenia

Bled is just a 45 minutes drive from the capital city Ljubljana. The only international airport is located 27 km north of Ljublijana just half an hour south of Lake Bled. The lake is famous for its picturesque "Church of the Assumption of Mary" on the tiny island. To get to the island, you can either rent a boat and row or book a trip on a traditional "Pletna" boat. These boats remembered me to Venice; they are gondola like rowboats made from wood. You can swim to the island as well, but you have to be a good swimmer. Don't underestimate the difficulty of swimming 290 m/951 feet without a break.
"Lake Bled is truly a magical place with so much to see and do. We arrived in Spring to our amazement to see a beautiful clear freshwater lake with an island in the centre. It is well preserved with no motorised boats on the lake, but you can row or swim to the island and explore. For those picturesque views of the lake, you can walk up to Blejski Castle, enjoy a meal and the view. Visit the museum of Bled, a Blacksmith and many other things to explore (which includes wine).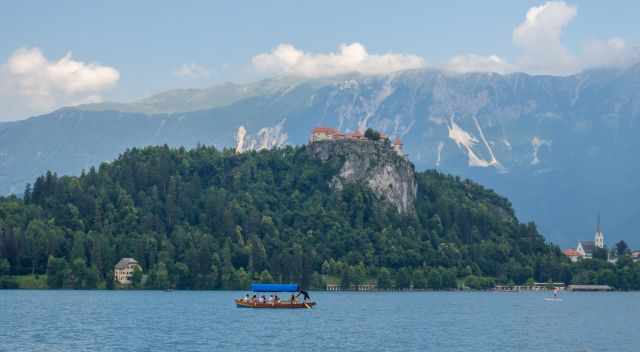 If you are still up for a hike after visiting the castle, I suggest walking to Blejski Vintgar Gorge (about a 2-hour hike to get there and a 2-4 hour hike through the gorge). This was a secondary highlight just board walking over the fast-flowing and still water parts of the gorge. It was a beautiful display of nature which showed very little interference from tourists. Not up to the slow pace of rowing and hiking? There is an extreme bobsled on the side of the mountain for the adrenaline junkie plus so much more on and off the ground. Whatever your way of travelling and expectations are, you won't be disappointed with Lake Bled.
7 Lake Bled Facts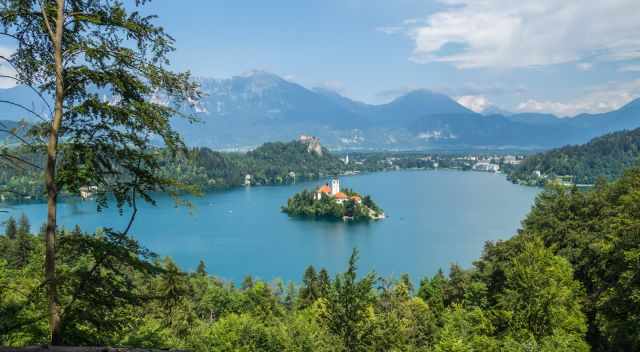 Located on 475 meters elevation

Max length of the lake is 2.120 m/6.955 feet

Max width 1.380 m/4.528 feet

Depth 30,6/100,39 feet

Hike around the lake 5,8 km/3,6 miles

It freezes over every few years

Swimming from May to September with pleasant temps (for free)
 
Lake Bled Map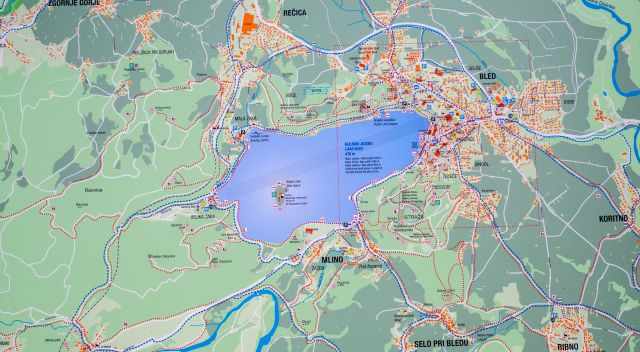 Things To Do - Activities Around Bled
Walk to Bled Castle



You have to walk up to Bled Castle at least once. Enjoy the stunning view and check out the museum as well. Depending on the location of your hotel or B&B, it's a 10 minute to 60 minutes walk.
 
Visit Vintgar Gorge



This gorge is a must-see; it extends up over a waterfall and has a built-in bridge. However, there is plenty of parking next to the entrance of the gorge. It is a ten minutes drive of Bled only. During weekends, the gorge is pretty busy, especially from June to September. The walk through the gorge and back through the forest takes maximum 2 hours depending on your pace. There are two trails to get back to the parking, a shorter and less strenuous one in total 4.5 km long and a longer 5.5 km climbing upslope for an amazing view. Both trails are well marked. Due to COVID 19, you are not allowed to walk the same way back. Entrance fee 10 € and parking 5 €. Gorge opening hours; April, May, June, September 8 am - 6 pm, during summer in July and August from 7 am - 7 pm, and in autumn October, November 9 am - 4 pm. It is closed in the winter for safety reasons. During summer, early morning and evening are tranquil the rest of the day a little crowded. Due to COVID19 limited entrance from 10 am to 2 pm the busiest time.
 
Hiking




View from the hiking trail Mala Osojnica


There are many marked/signposted trails around Lake Bled. The trail around Lake Bled itself is 5,8 km/3,6 miles long and takes less than 2 hours. A short but outstanding hike to a fantastic viewpoint is the Mala Osojnica Trail (Link Google Maps). The walk takes 20 minutes uphill. The hike to Pokjuka Gorge (Link Google Maps) shouldn't be missed! A longer and slightly more strenuous hike is Mount Stoll. Another nearby base for hiking is the Pokjuka Plateau with daily buses going there from Bled during summer.
 
Row a Boat



Hire a rowboat to row around the lake. You can get to the island and wander about at your leisure. Between 12-18 EUR/hour. Or you could get a spot on a historic Pletna Boat.
 
Eat a Bled Cream Cake



No kidding, try it at least once. It can be bought at most cafes and restaurants in Bled. This unique cake was first created in the Park Hotel Restaurant in 1953. Estimated 500.000 pieces are sold annually in total more than 30 million pieces of the Bled Cake since then.
 
Ice Skating on Lake Bled

Lake Bled freezes over every few years only. It is rare to experience, but if you are lucky, it is a unique way to get the island with the church on it. However, a few outdoor ice rinks are created for ice skating each winter.
 
Snowshoeing and Skiing in the Triglav National Park

You can go skiing and snowshoeing in the Triglav National Park just 25 minutes south of Bled. There is a ski center on mount Vogel. A cable car leads up from Lake Bohinj to this area. Vogel Cable Car on Google Maps
Parking in Bled
There are plenty of parking zones in Bled. The parking fee is a little expensive 2€/hours from 8 am-8 pm.