When Is the Best Time
Slovenia is full of beautiful nature treasures; one of them is Vintgar Gorge or "Blejski Vintgar", a ten-minute drive north of Bled. The gorge belongs to the Triglav National Park, the only national park in Slovenia.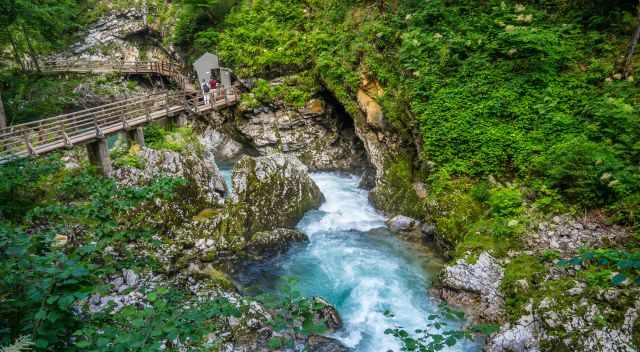 Due to its popularity, Vintgar Gorge is busy during the day. The ticket seller told me the worst time is from roughly 11 am to 2 pm.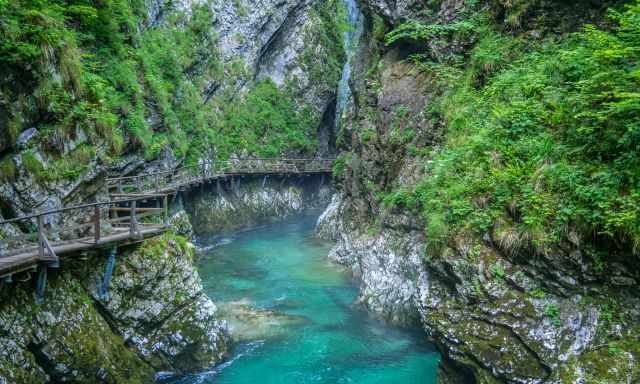 The best time for Vintgar Gorge is either early morning when the gorge opens or 1.5 hours before closure from April to November. The gorge is closed in winter.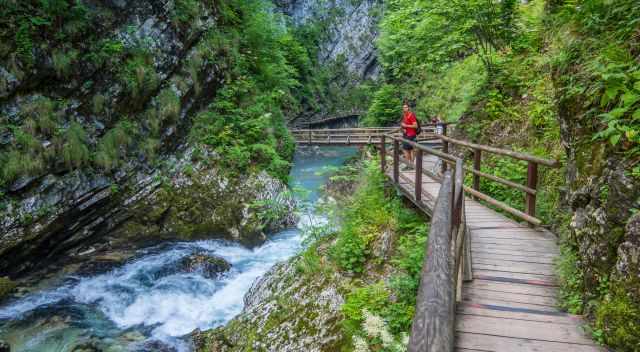 We visited the gorge in August shortly before 6 pm. We shared the breathtaking scenery just with one couple. To soak in the natural beauty of this stunning gorge and take pictures, I highly recommend early morning or late afternoon, evening depending on the closure time. 
Opening Hours and Closure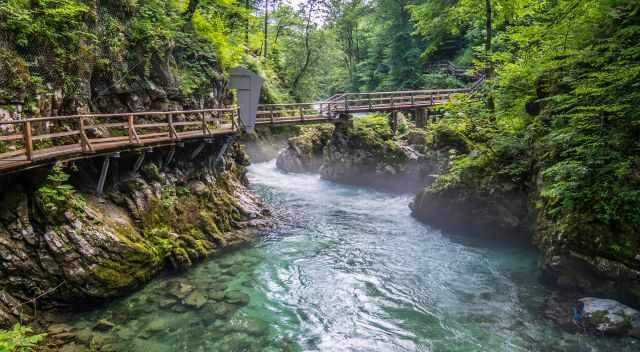 April-May 10 am - 4 pm

June 8 am – 6 pm

Summer in July and August from 7.30 am - 7 pm

Until mid-September 8 am – 6 pm

Mid-September-mid-October 8 am-5 pm

Mid-October-November 9 am - 4 pm.
W

inter: December until March closed like many gorges for safety reasons.
If you can't avoid visiting Vintgar during the busiest time of the day my tip purchase your ticket and time slot online instead of queuing for the ticket. Online ticket  
Ticket Fee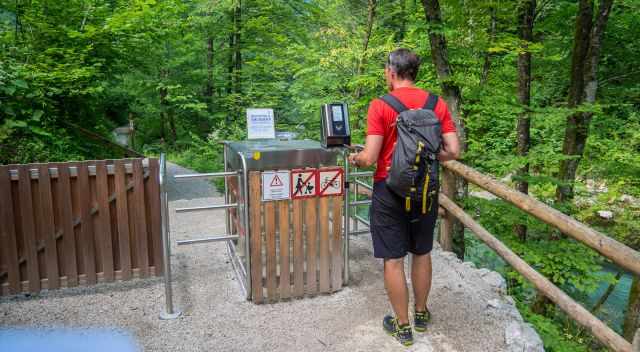 Adults 10€ 

Students, retirees 7€ 

Children age 6-15 2€ 

Children younger age 6 1€

Dogs 3€
Parking and Fee Vintgar Gorge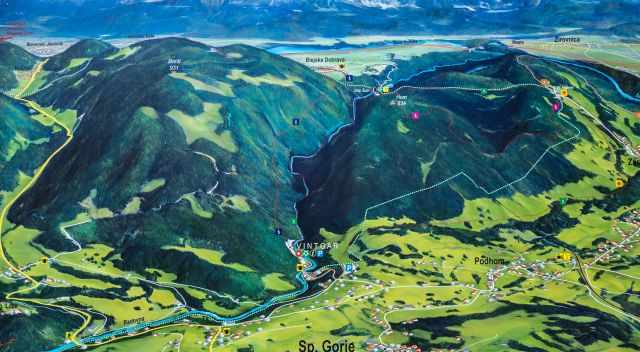 There are two big parking lots. One is next to the gorge entrance P1 Google Maps Location the other is a ten-minute walk P2 Google Maps Location to the entrance. The nearest P1 fills up quickly and gets closed. If both parking lots are full at midday you are forced to park you car further away.
Cars 5€

Camper 10€

Bus 25€

Motorbike 2€
Location and Tips
Bled
Slovenia

Vintgar Gorge leaves you in awe. It is definitely worth visiting. We spent an entire day in Bled and went to Vintgar in the evening in summer. You can visit both sights in one day easily. We were amazed by the beauty of this fascinating gorge. The icing on the cake we were almost alone no one was pushed us to continue walking. I took tons of pictures from this colourful river and gorge.
Trail Description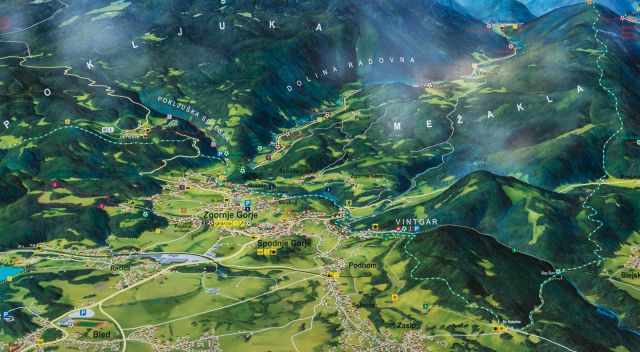 It is a magical place to visit with the entire family, and even dogs on leash are allowed. There is no technical part on this walk. It is one-way traffic only because of some narrow sections. The one-way traffic was introduced due to Covid19.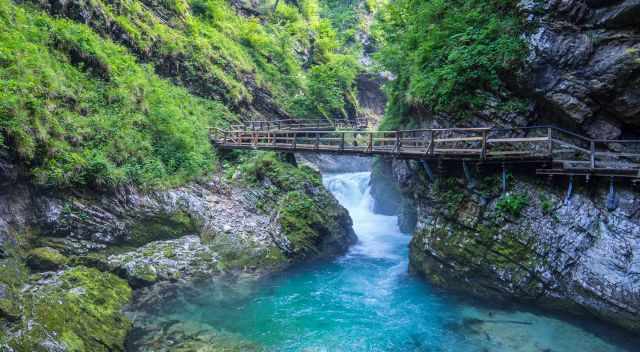 However, this is the best solution for the crowded daytime to enjoy this stunning place. The path and boardwalk trail through Vintgar Gorge is 1.6 km long. The hike is crisscrossing the crystal green and clear Radovna River.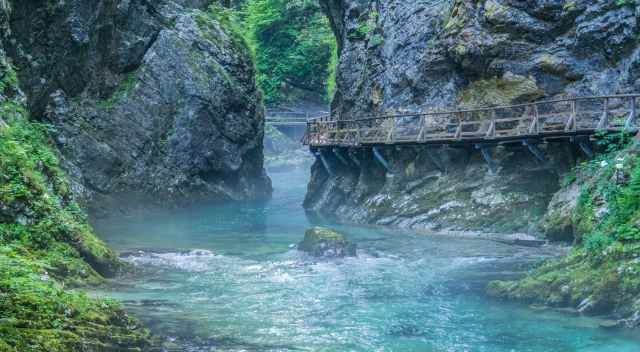 The gorge is impressive, up to 250 meters high. The entrance and exit of the gorge can be closed by a massive metal door.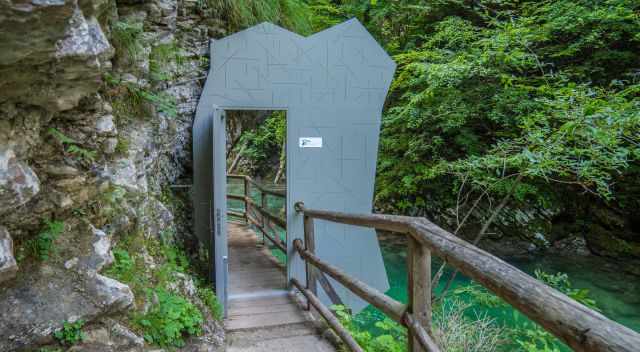 In winter, the doors are closed for safety reasons. When you leave the gorge, you reach the café and shop.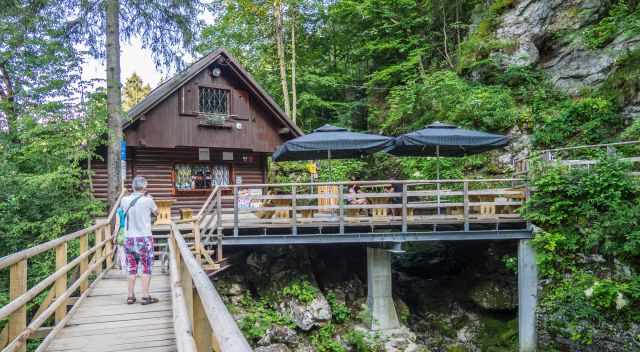 After the café, it is another two-minute walk to get to "Slap Sum". Slap means waterfall.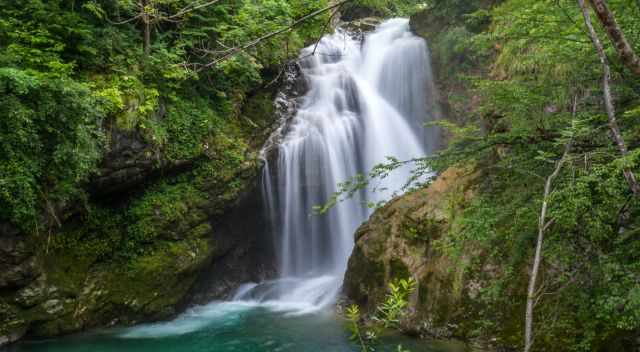 2 trails lead back to the parking, making it a circular track.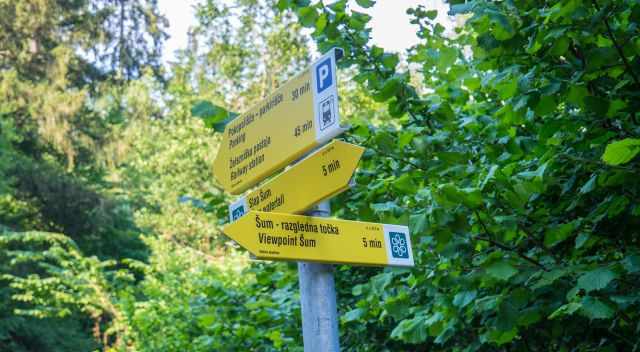 Turning left, you get to the shorter and a little steeper trail 4.5 km long, which takes 45 minutes up to an hour. This path leads through a village and forest and can be muddy in some sections.

The walk to the right is more leisurely but has a little longer duration, roughly 1.15 hours. This trail passes parking P2 first.
There is also a shuttle available either back to the parking or Bled. The fee back to the car park is high 7 € per adult, and kids are for free. During the summertime, there is a shuttle from Bled to Vintgar for a small amount offered.
The History of Vintgar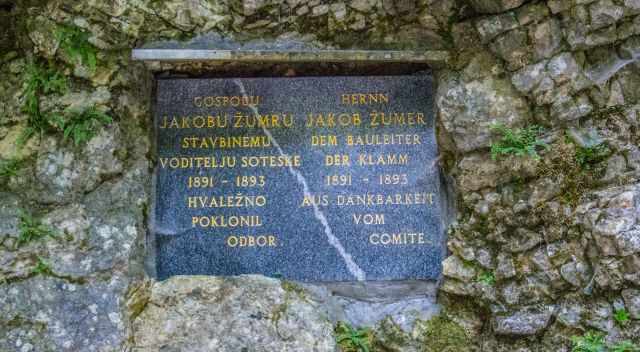 The Vintgar Gorge was discovered in 1890 and was already accessible in August 1893 because of Jakob Zumer. He lived in proximity to the gorge, and Engelbert Lergetporer was a cartographer and photographer from Bled. Lergetporer was promoting the gorge and raised funds to make the gorge accessible for visitors. Due to floodings, bridges and boardwalks got destroyed, and the canyon was closed several times.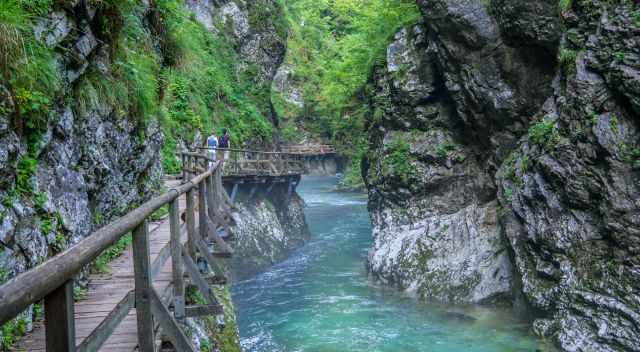 There were plans to build the Radovna River dam in 1912, but luckily the gorge was preserved for future generations due to massive protests by the residents.
The Radovna River, an alpine river, plays an essential role for the region's residents, although only 17 km long. The river's source is situated in the Triglav National Park and provides water for the entire area.
Packing List
Wear proper shoes, trainers for the way back.

It is colder inside the gorge. You may need a jacket.

Carry a bottle of water for your walk. A café, restroom, and shop are at the beginning and end of the gorge only.
I took all these pictures. If you wish to use one please, get in contact with me.