When Is the Best Time
Big Basin Redwoods is a popular State Park close to San Francisco, but less busy than Muir Woods. Somehow crowded at weekends and popular for camping under the astonishing trees. It's a park you should not miss. During winter it gets wet and trails are slippery and muddy. Nevertheless, hikes can be done all year but ask for trail conditions first.
Weather
The wet season starts in November and lasts until February with most precipitation in January. It receives three times the rainfall of the Bay Area. This rain is much needed by the redwoods after the dry summer. The average night temp is around 41°F / 5°C and day temp under 60°F / 15°C.
​
Summer from June to September is mostly dry with dense summer fog in the morning. The mist provides the trees with moisture. Nights temps are much cooler than in the Bay Area with around 49°F / 9°C and day temps about 74°F / 23°C. Anyhow, in the hot summer months, it can reach up to 86°F /30°C and more.
Accommodations
You can either camp for $ 35-50 which includes the State Park fee of $ 10 under the ancient redwood trees or choose the charming The Inn at Saratoga ideally situated. Included is a cold buffet breakfast. 
Location and Tips
California, Santa Cruz
United States

Big Basin is California's oldest State Park established in 1902. Created to preserve these extraordinary ancient coast redwoods. They are the tallest trees in the world growing over 370 feet / 112 meters. The tallest inside the park is 328 feet / 100 meters high and 50 feet / over 15 meters in circumference. It is estimated that they can live for more than 2000 years. Many trees inside the State Park are between 1000 and 2000 years old.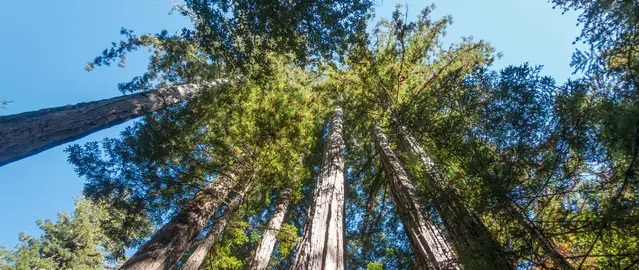 These awe-inspiring trees can withstand the storm, flood, fires, drought and even termites due to their red pigment, a chemical component called tannin. Although their roots grow only 6-10 feet / 1,80 – 3 meters deep, they are resistant to a storm. The reason for the roots are almost as wide as the tree is tall. Due to their thick protective bark of up to 12 inches / 30 cm, they usually survive in a big forest fire.

Only 4 % of the old-growth coast redwoods remain today. The coast redwood; Sequoia sempervirens are endemic to the US; they grow only along the coast from Central California to Southern Oregon. Sempervirens means "evergreen" "ever-living".
Hiking Trails
The park offers a wide variety of hiking trails at different levels. The most popular day hikes are:
Redwood Loop Trail ½ mile long to see some of the tallest and oldest redwoods like the "Mother" and the "Father" of the forest.
Sempervirens Falls trail; a circular 4 miles / 6.4 km trail which took us 2 hours


 
Ocean View Summit; the loop trail is 6 miles / 9.6 km long and takes about 3 hours.
Berry Creek Falls trail is a 9.5  up to 11 miles / 15.2 up to 17.6 km long depending on the chosen track.
Another option is to go for backpacking and stay in a remote and primitive campground. "The Skyline to the Sea" trail is one of the famous backpacking trails.
Tips
It's important to know the approx. time of sunset. End of August it gets dark at 7.30 p.m. and in winter before 5 p.m. If you start late set yourself a "turn back" time.
There are a couple of campgrounds inside the State Park. For more information, scroll down to the last picture.
If you don't have a day-use annual pass, the fee is 10 $ (April 2019).
Use mosquito repellent during spring and summer.
Big Basin is home to the endangered bird marbled murrelet.