When Is the Best Time
Point Reyes is a beautiful and exceptional popular park in northern California. The Alamere Falls Hike is located 35 miles north of San Francisco. Even if you can't hike for so long to the falls, there is so much more to explore. Lots at Point Reyes are easily accessible by car and foot.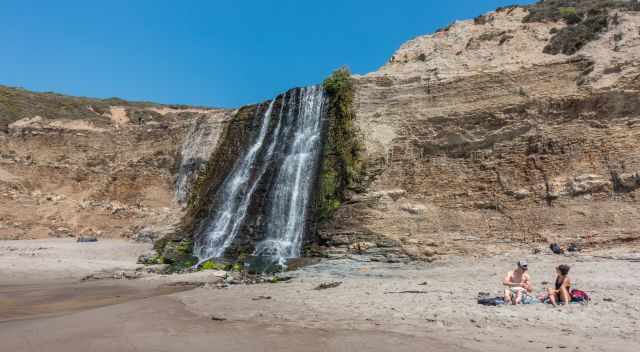 Several trails lead to Alamere Falls. We chose the shortest one. Continue reading to get all the necessary information, detailed maps for each track are added below, and I wish you an awesome hike and waterfall experience.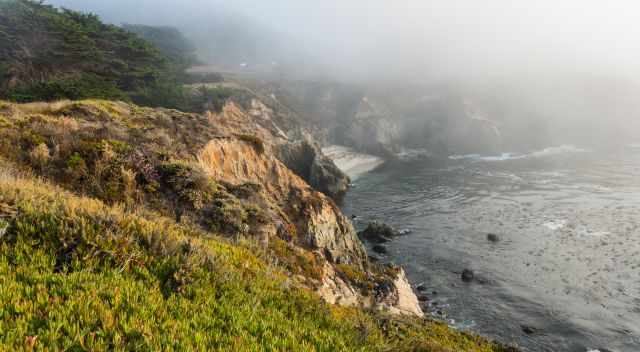 During summer, from July to September, the Park is frequently covered in fog, while the inland has sunshine and warm temperatures. However, it is a magical place, despite the weather, and always worth visiting.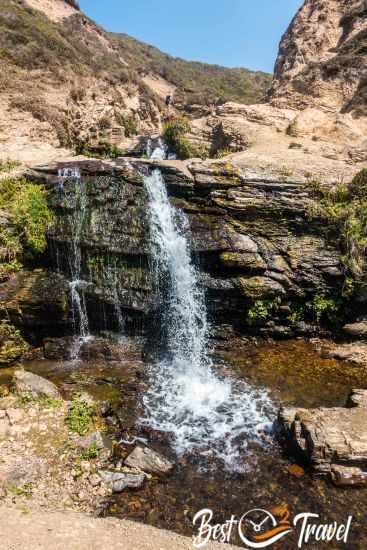 The fog usually disappears in the afternoon. However, Point Reyes and Alamere Falls are spectacular throughout the year. 
Avoiding Crowds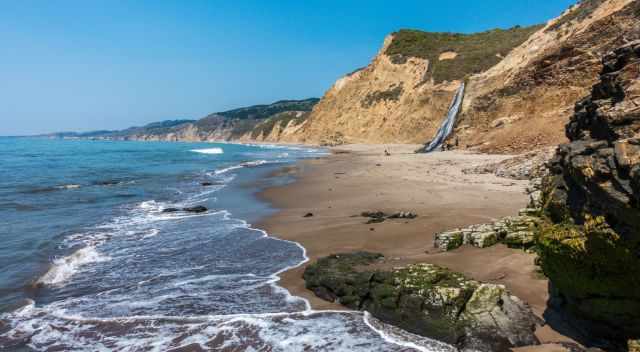 It is a popular park due to the close location of just one hour drive north of San Francisco. The Alamare Falls are much loved, and the Palomarin car park already fills up early morning at weekends. If possible, hike to the falls mid-week. You have to line up or leave if you can't get a parking space—occasional parking lot closure during the summer. No parking fee is requested.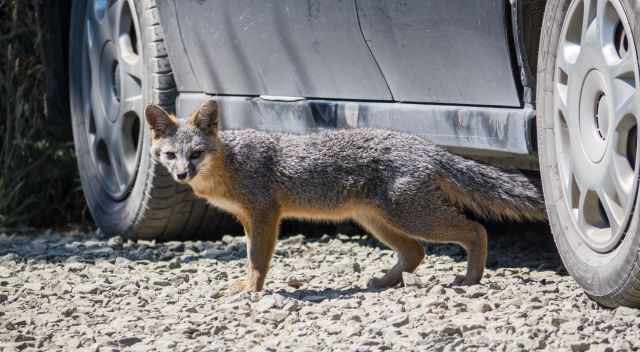 Shoulder parking is not permitted! The trail, lakes, and Wildcat Beach are rarely too crowded. Some are swimming in one of the many lakes, while others explore the entire stretch of the beach. However, you can walk on Wildcat Beach at low tide only!
Best Time to Go to Alamere Falls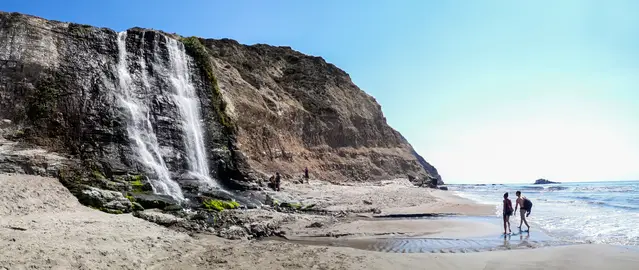 The best daytime during the week to start this hike is roughly 3 hours before low tide. During weekends and especially the entire summer, you don't have any option other than arriving early latest 8 am, to get a parking lot. Tide Times for the hike to the Alamere Falls or check at the Bear Valley Information Center. However, the entire trail is awesome. Go for a swim first, enjoy the upper waterfalls and wait for low tide.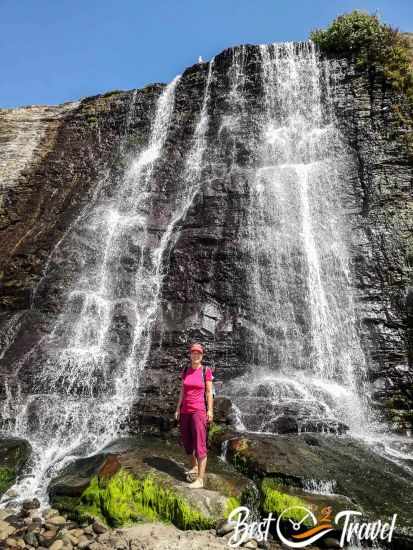 Overall the best times to hike to Alamere Falls regarding weather and crowds are spring in April and May, the end of the summer in September and the beginning of fall in October. However, also winter can be an excellent time on a sunny day. It is rare that the Bay Area experiences minus degrees. 
Tip for Photographers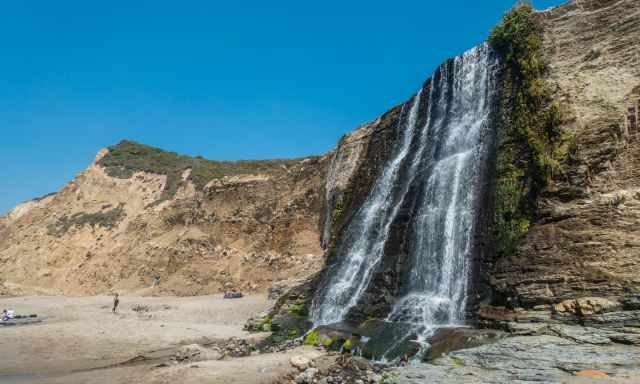 The best light for a good shot of the falls is after midday. Of course, the falls are always fascinating, but the morning light is terrible.
Swimming at Alamere Falls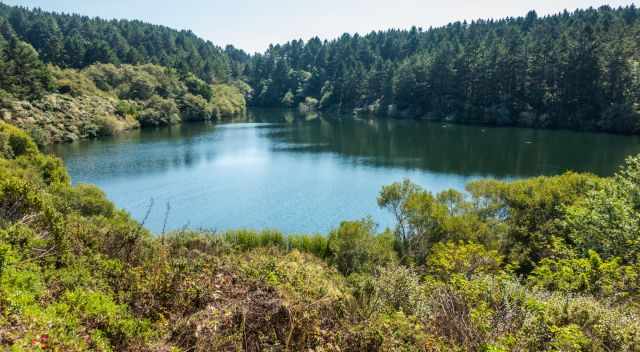 Swimming is not safe here. The beach is not patrolled, and strong currents can occur. Nevertheless, there are several awesome spots like Bass Lake, Crystal Lake and Pelican Lake.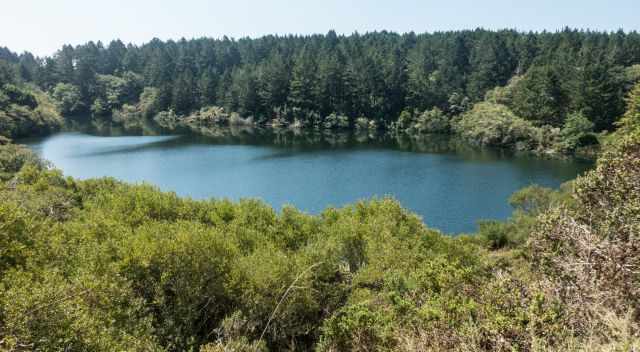 Bass Lake is the first one to the left, Crystal the second to the right, and Pelican Lake the last one to the left, where we went swimming on the way back. If you go swimming in one of the lakes, it is at your own risk. 
Weather Point Reyes for All Seasons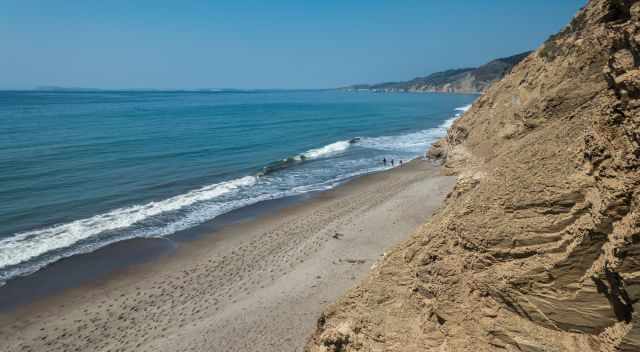 Point Reyes has a coastal and mild climate with dry summers and cool winters. Only very view rain occurs from mid-April to October. Most of the precipitation happens from December to March. It's often windy at Point Reyes, and strong winds are common in November and December. Fog occurs in summer, mostly from June to September. If it's hot in the backcountry, the fog might stay until the afternoon.
Spring (March-May)
Temperatures are pleasant in the spring ranging from 64-70°F/18-21°C. March still experiences a high amount of precipitation above 5 inches. Decreasing rainfall in April and May. In late spring and early summer, the "June Gloom" occurs. It describes a specific weather pattern for California when the wind and fog create a colder temp. However, it usually disappears during the day. Nights temps are cold, roughly 46°F/8°C.
Summer (June-September)
Summer is the hottest and driest season of the year. Nevertheless, Point Reyes, located at the cooling ocean experiencing a light breeze, rarely experiences temperatures above 86°F/30°C. The sun is intense; sunscreen and a hat are essential for hiking on this exposed trail with few shelters. If you plan to camp, consider the cold night temps around 54°F/12°C. This special kind of fog, the "June Gloom", can appear until September.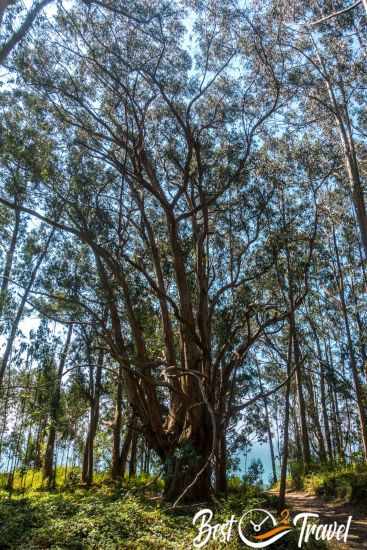 Autumn (October-November)
October is still warm, in the mid 70°F/24°C during the day. Temps drop below 68°F/20°C in November but are still pleasant. Increasing rainfall in October is around two inches but already above five inches in November. Night temps are bearable for camping on average, around 50°F/10°C. Stronger winds are common in November and December.
Winter (December-March)
The winter months are the wettest and coldest months of the year. It is frequently very windy in December. Day temps are, on average, around 59°F/15°C. It is a pleasant time for hiking on a sunny day. It is the quietest time to enjoy the breathtaking nature with a few other hikers. The ocean influences the climate; therefore, freezing temperatures usually don't occur. Night temps range between 44-46°F/7-9°C. 
Tip: Always check the current conditions in Point Reyes before heading to Alamere Falls, especially for this trail, if there is a high surf warning or anything else. Point Reyes Alerts
| | |
| --- | --- |
| | Are you are looking to explore more? With the California Bucket List Adventure Guide & Journal, you will be able to enjoy and discover every landscape and magical place in the different regions of California without getting lost! Featuring more than 50 must-see destinations in the state alongside the Pacific, you will be well-equipped to start your adventure! |
Why You Should Stay Nearby Point Reyes in the Summer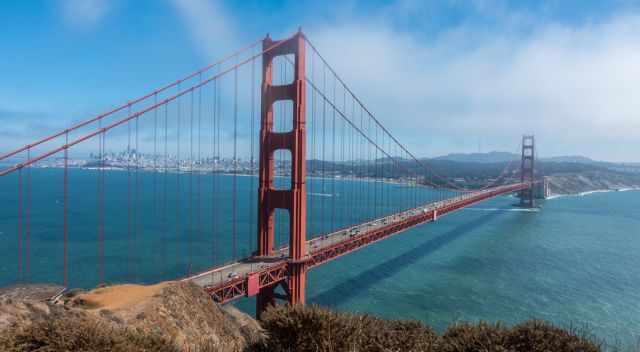 To get a parking space in the morning, you must get up in the middle of the night; you already must have crossed the Golden Gate Bridge before the rush hour. The best way for a relaxed start into the day and hike; book one of the nearby hotels or the hostel inside the Point Reyes National Park for one night. 
Location and Tips
California, San Francisco
United States

The Point Reyes National Seashore and Peninsula were protected in 1962 and separated from the mainland by the San Andreas Fault. In 1906, it caused an earthquake which can always happen again. Close to the Bear Valley Visitor Center is the Earthquake Trail which gives you an impression of the immense force of the earthquake more than 100 years ago. 
3 Trails to Alamere Falls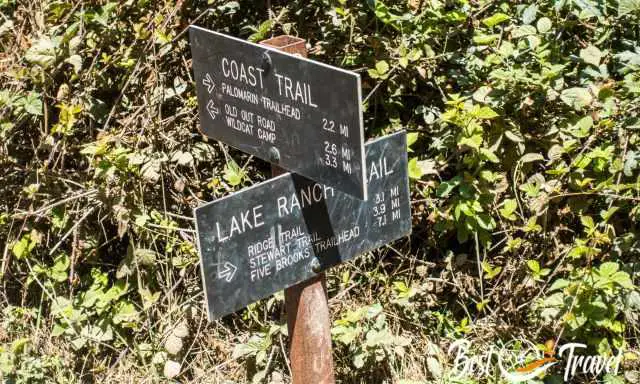 Several trails lead to Alamere Falls; these three hikes are the most common ones to get to the falls. If you want to hike to Alamere Falls via Wildcat Campground, this trail runs along the ocean for about a mile. Please be aware of the Tide Times. At high tide, you may be trapped along the track.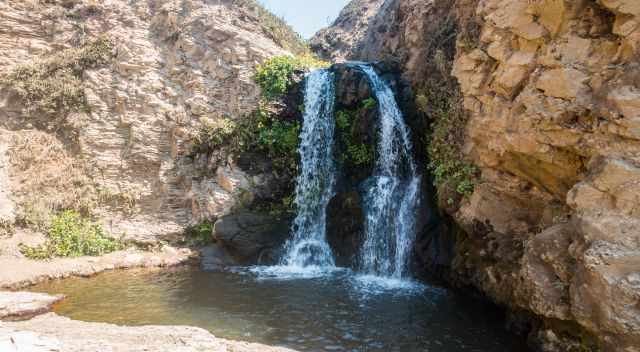 Long Day Hike - 13 miles/21 km return to Wildcat plus 2 miles return along the Wildcat Beach Locus Pro Map
Starting point Bear Valley Information Center; the hike is 15 miles/ 24 km long, and low tide is essential to walk along Wildcat Beach to get to the falls and back.
Trail to Wildcat Campground and return 11 miles/18 km plus 2 miles return beach walk - Locus Pro Map
From Palomarin Trailhead to Wildcat Campground to the Alamare Falls is a 13 miles/ 21 km long hike recommended by the National Park Headquarters. Low tide is essential for the walk along Wildcat Beach to the falls and back. Otherwise, your walk may be cut by the tide. In winter and spring, Wildcat Beach is inaccessible during high tide.
Shortest Trail - 8 miles/13 km - Locus Pro Trail Map
We hiked to Alamere Falls from Palomarin Trailhead with a shortcut through a thick bush and a steep climb downhill. This trail took us 2 hours one way. The falls might not be accessible at high tide, but it's just a two-minute walk along the beach after the steep and slippery climb. You don't get trapped by the tide. However, always watch the surf; huge waves can occur. Wear proper shoes for this option; hiking poles may help. This hike is not marked and not recommended by the park headquarters. The last part is unmaintained, and visitors get injured each week. So, please, be careful!  It is not a maintained track by the National Park administration. Disclaimer: I am not responsible for any injury, death, or consequences of any actions taken based on the information provided here. This is just my experience!

Update August 2022: There is poison oak along the trail. If the track is overgrown, please don't try to walk through it. Poison oak causes an itchy rash!!

NPS Trail Map without the shortcut to Alamere Falls. I recommend to print this map if you do not plan to make a stop at the visitor centre.
Trail Description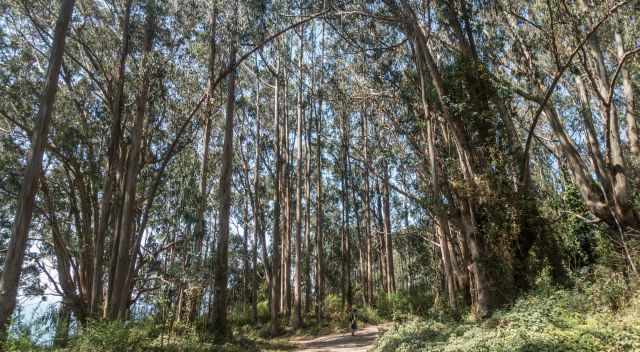 We hiked the shortest trail to the falls from Palomarin Trailhead. It's an easy up-and-down hike gaining an elevation of 300 feet. In the beginning, the hike leads through the eucalyptus forest and afterwards along the coast.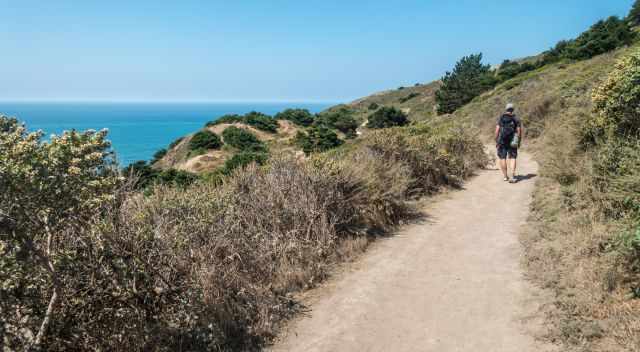 It can be a little hot during the summer. The night before was cold at less than 50°F, and we had a beautiful blue sky in late August. Later on, the trail leads through dense forest and passes several lakes.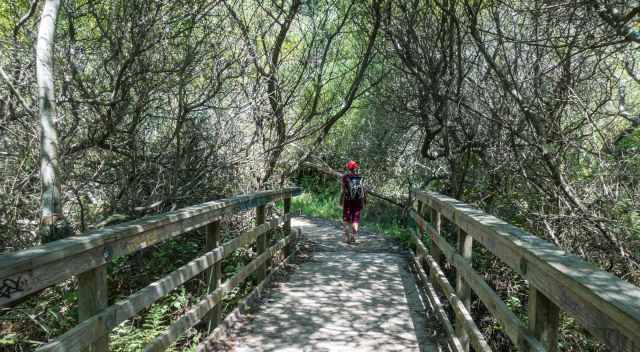 Afterwards, you walk along with open meadows and bushes until you have to turn left through thick bushes after around 3.7 miles/ 6.0 km.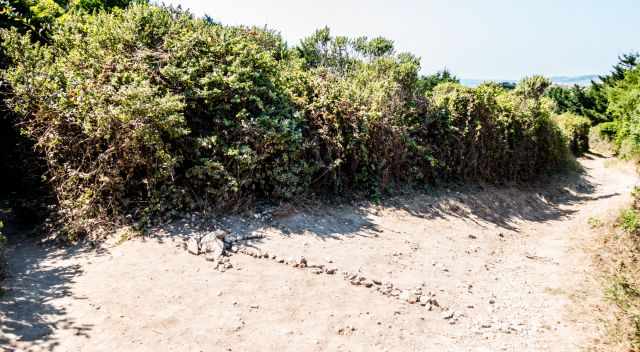 It's not well-marked watch carefully so that you don't miss the turning. We used a hiking map on our mobile so we couldn't miss it. Do you like to know which mapping app we use? Check out my tips and gear section. After turning left, you hike stooped through the thick bush for roughly 328 feet/ one hundred meters, and it's narrow in points. Now it is less than half a mile to reach Alamere Falls.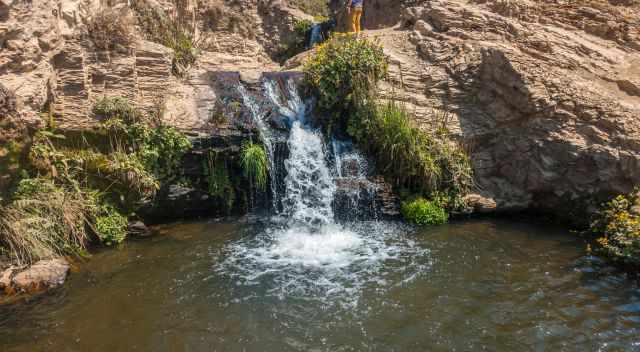 When reaching the upper part of the falls, turn left again. Now comes the tricky part, which is steep and slippery. This part is unmaintained, and visitors frequently get injured. I don't want to encourage you to hike this trail. If you do, so it is at your own risk. Therefore, please wear proper shoes! Down is more difficult than scrambling up on loose rocks.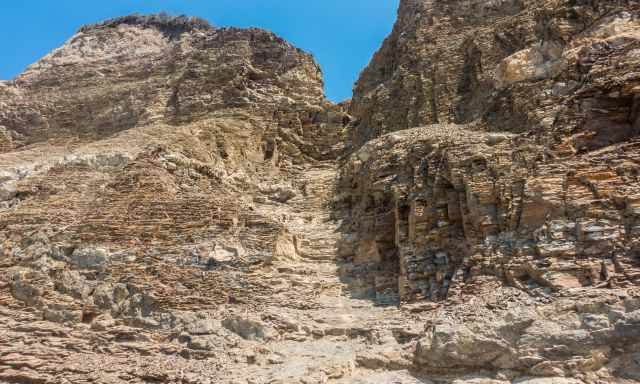 The falls flow over different levels before the lower fall cascades over a 30-foot-tall cliff onto the beach. At high tide and a strong swell, it might be dangerous to walk to the bottom of the falls. Enjoy your picnic at the beach. Due to the remote location, it is not overrun, although the parking is full. Locus Pro Map of the Alamere Falls hiking trail a fantastic app for hiking.
Packing Checklist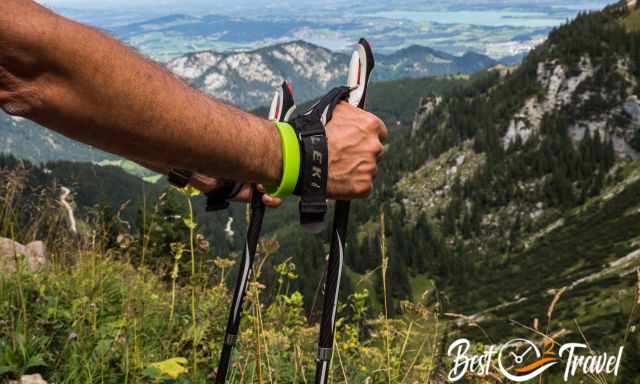 Wear proper hiking boots, at least trainers. We saw people on the trail in flip-flops. I can't recommend this on the uneven track, especially when climbing.
Plenty of water is needed, especially in summer or carry a water filter and drink electrolytes.
High-energy food or a picnic for the day hike.
Sun protection; a hat and sunscreen for the intense sun; expect UV 10 in summer.
Bring a wind jacket in your backpack for the strong breeze along the coast.
A mapping app is always helpful. Although most of the trails are marked, you can easily take the wrong way when looking for a swim in one of the lakes. 
Swim clothes and a towel in the summer. Have a bath but don't swim here; strong currents occur, and the sea is too rough and cold, with a maximum of 64°F/ 18°C. However, you can swim either in one of the lakes or take a bath at the upper Alamere Falls.
Depending on the trail you choose, think about hiking poles for the steep descent and ascent to the beach and back. If we plan a long day hike or steep trail, we never go without our hiking poles from Leki. 
Disclaimer: I am not responsible for any injury, death, or consequences of any actions taken based on the information provided here. This is just my experience! Hike well prepared only, use hiking poles, and don't walk the described path if inexperienced.
Attention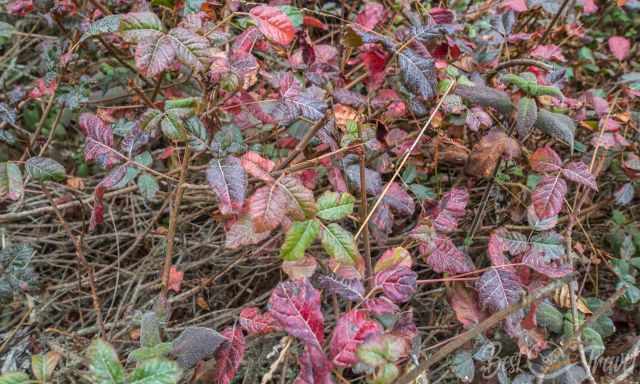 Poison oak is found throughout the park, often a ground cover and thick bush. The oily substance on the leaves, stems, and roots is irritating to the skin, which gets itchy for days.
Camping
Point Reyes has four backcountry campgrounds; the Wildcat Campground is ideal for getting to Alamere Falls, Coast Camp, Glen Camp and Sky Camp. If you wish to hike to Alamere Falls from Wildcat, you have to watch the tide even more. It is a one-mile walk along the beach. Annually hikers have to get rescued because trapped by the incoming tide. 
Points of Interest Inside the Park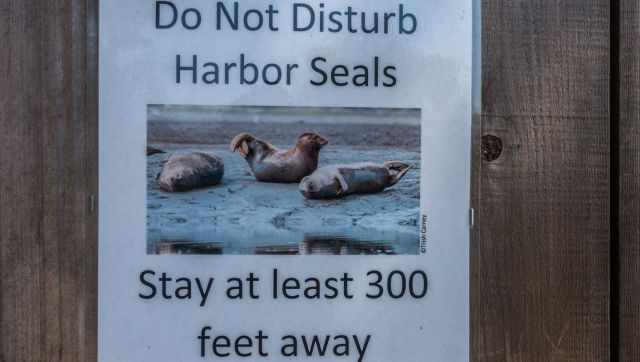 If hiking to the falls, try to combine your visit with one of the other attractions depending on the day and month of your visit;
Point Reyes Lighthouse was built in 1870
Three hundred steps lead down to the picturesque lighthouse with a spectacular view if it is not foggy. Unfortunately, only open from Friday to Monday.
 
Chimney Rock
The overlook is close to the lighthouse to spot elephant seals while breeding from December to March. Many visitors want to observe the spectacle, which causes much traffic and shuttle buses are offered.
 
Tule Elk Reserve on Tomales Point 
These specific elks were reintroduced in 1978. It's a more than 9 miles / 15 km hike on the peninsula to Tomales Bluff and back. A shorter option is the 2 miles / 3.2 km hike to Windy Gap and back, where you may spot elks at the spring. The Tule Elk Rut Season from around August to late October/beginning of November is spectacular.
​
Migrating grey whales can be spotted around the lighthouse and Chimney Rock between January to April. Humpback whales migrate past Point Reyes from November to March. 
Please take out what you took in. Leave no trace!
If you wish to use any of my photos, contact me, but I will take action against picture theft. Why do I write this here? Hundreds of my pictures are used worldwide without any credit, nor did they get my permission. I don't mind giving permission, but I want to get asked for it and to be mentioned. The world wide web changed a lot, and rewriting honest travel content is the new business for many fake travel websites. Do you wish to know more about this topic and how to unmask such websites quickly? Read my article "The Truth About Fake Travel Websites and Picture Theft."