When Is the Best Time
The popular small beach at Natural Bridges State Beach Reserve is awesome for swimming. Lifeguards patrol the beach during the day in summer. Less busy and even more beautiful in the evening at sunset and low tide. Tide pooling during the day is much fun for the kids at low tide. The Natural Bridges State Beach is open from 8 a.m. until sunset. The visitor center is open from 10 am until 4 pm. The State Beach vehicle fee is 10 $ a day.
Parking
There is limited parking in front of the State Beach allowed for 20 minutes only. Plenty of parking lots close to the visitor center, shoulder parking direction the entrance kiosk, and outside the State Beach. Anyhow, on weekends in summer it gets quite busy.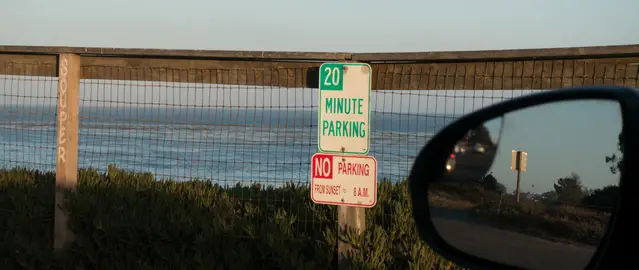 Highlights
Walking through the bridge is possible at spring tide only a couple of times a year. It occurs in spring and fall when the full or new moon is closest to the earth. Tide times Natural Bridges
Events
On the second Sunday in October, the monarch butterfly is welcomed from 11 am until 4 pm. It's an amazing festival for the whole family. 
The second Saturday in February is dedicated to the whale migration. 
Winter
The park is a temporary home for thousands of Monarch Butterflies during the winter. They migrate from the cold Rockie Mountain Valleys. The mild climate and the eucalyptus trees provide a safe place for them. They feed on the nectar of the milkweed. The butterflies arrive around mid-October and stay until late January to mid-February. Guided Monarch Butterfly Tours are offered in fall and winter at 11 am and 2 pm.
Spring 
During spring wildflowers are in bloom.
Weather and Water Temperature
During the summer from June to August, it's dry, and drought occurs. The average daily temp is 17°C / 62°F, but 30°C / 86°F can happen as well. Water temp in summer around 16°C / 61°F only. Most precipitation in winter from December to February with its peak in February. Average day temps are around 10°C / 50°F.
Natural Bridges Park Map and Brochure including wheelchair accessibility
Location and Tips
California, Santa Cruz
United States

The name originates from three bridges in the early 1900s. The inner and outer arch is collapsed, and only the middle one remained, which is an Arch Rock now.
Many shorebirds like pelicans but also otters and seals can be spotted. You may see whales from the short-term parking lot during their migration.
Dogs are not allowed on the beach and trails.
Where to Stay Nearby
Camping in this State Park is not allowed. Santa Cruz is a lovely city with a wide variety of accommodations.