When Is the Best Time
Cathedral Cove and the Coromandel Peninsula are some of the most popular places in the north island of New Zealand, with more than 200 thousand visitors annually. During the summer, the Cathedral Cove Beach is pretty busy. Come here at sunrise to enjoy the rock arch with very few people. Spend the entire day at this beach and experience mother nature at its best during high and low tide. Why?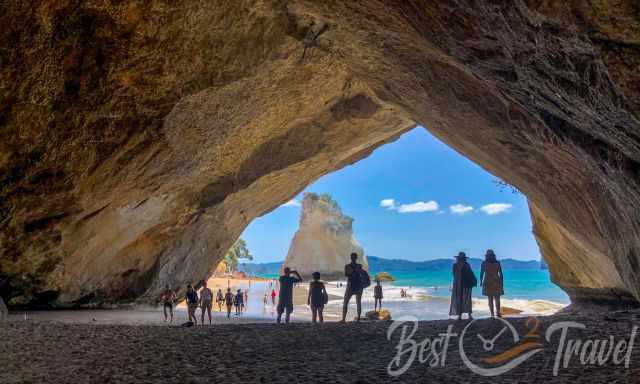 You will love to be almost alone at the beach but don't miss out on the low tide. Watch the tides and the weather forecast first for the perfect experience for the rest of the year.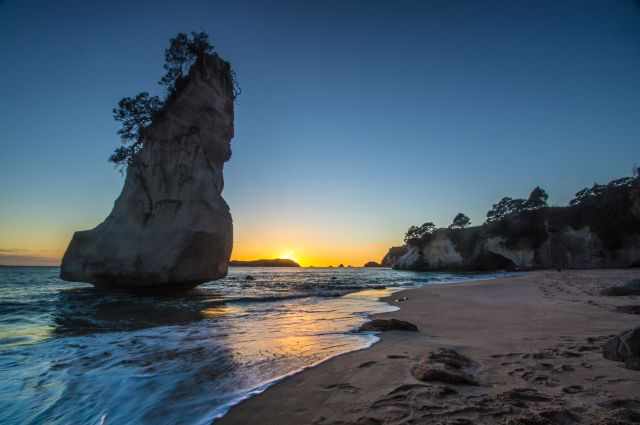 The best time to visit Cathedral Cove is low tide for perfect shots and an exceptional beach day. The beach behind the cave is accessible roughly two hours before and after low tide, and that's the best time to come here.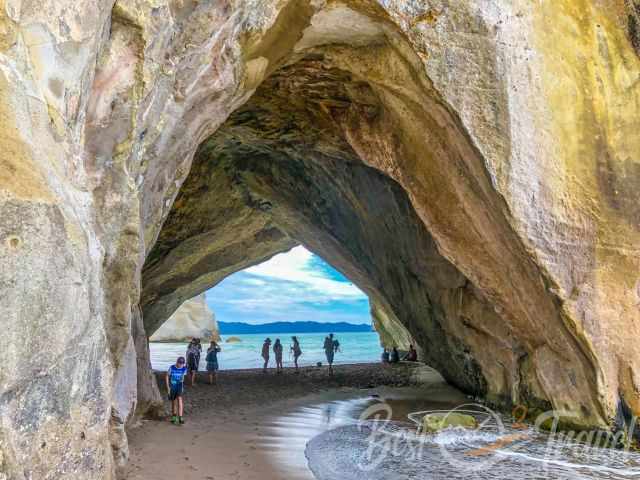 So start your walk from the car park or accommodation roughly an hour before low tide. That's the best time to walk through the dry cave rock arch. At high tide, you are not able to walk through it, and you miss out on the best part of this stunning beach.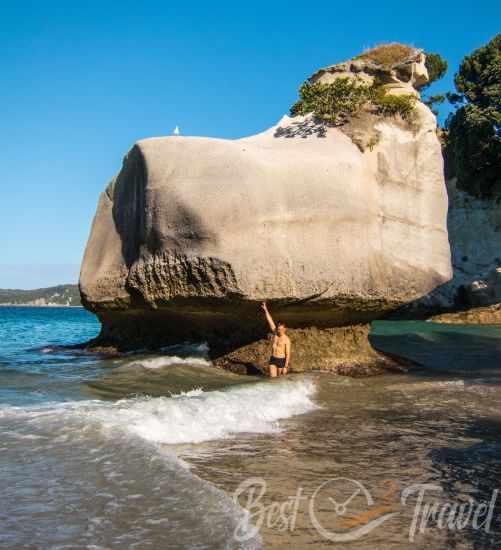 Don't miss the nearby Hot Water Beach two hours on either side of low tide! 
 
| | |
| --- | --- |
| | To plan your trip or explorer the Islands, we recommend the guidebook from Fodor's. It is packed with maps, carefully curated recommendations and everything else you need to simplify your trip-planning process and make the most of your time onsite. |
Weather and Crowds (Season Details)
Coromandel is a year-round destination because of the mild climate. The rainfall in the Coromandel Peninsula is occasionally significant, even in summer. The mountain range and the sea influence the weather. It is a crowded beach, especially in the summer, the peak season.
Spring (September-November)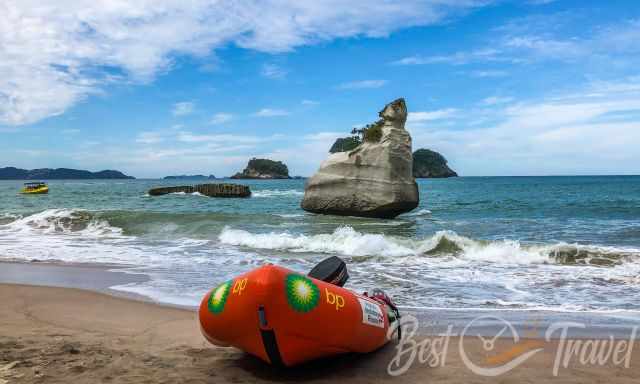 Shoulder Season! Precipitation decreases but is still relatively high in September, with an average daily temperature of 12°C and nights around 8°C, which is pretty chilly for camping. October improves with almost 14°C and above during the day. More people come to Cathedral Cove in November which is a pleasant month with lovely temperatures like in the summer.
Summer (December-February)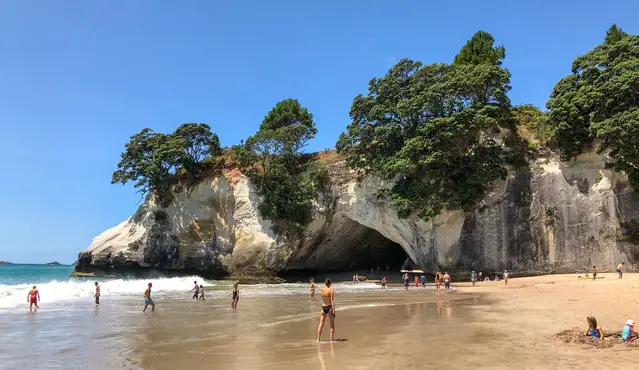 Peak Season! These are the driest and most pleasant months of the year, with an average temperature of 24°C and topping 30°C occasionally. The summer is also the most popular time to visit New Zealand. The sunset at Cathedral Cove is stunning, and only a few visitors come that early. Don't worry about the tides in summer. If you like to enjoy this magical place, try to avoid the crowds and arrive early. Cathedral Cove is frequently overrun during the day.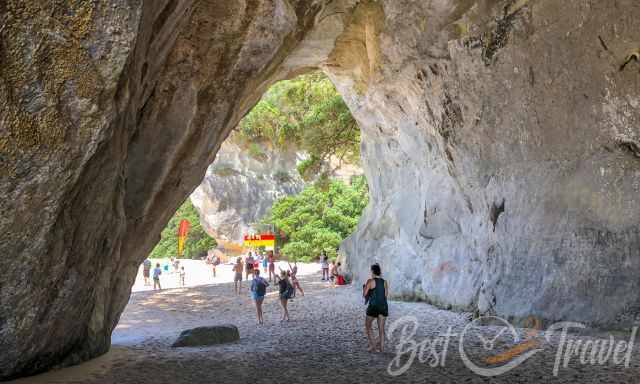 I recommend spending the entire day here to experience the beaches and cove during high and low tide, which means almost alone and busy. From December to March, the parking fills up quickly. Because of the popularity, there is nowadays a second parking area where a shuttle transfer is offered. Bring plenty of water and a sandwich for your visit there aren't any facilities at the beach.
Autumn (March-May)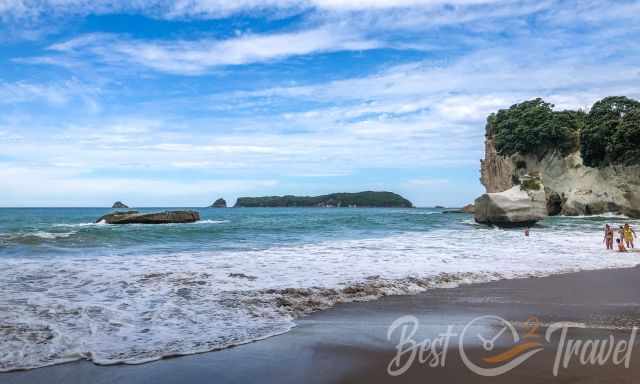 Peak and shoulder season! March and early April are still busy, but after Easter, the crowds thin out, and May is relatively quiet, In autumn, the temperature decreases, but the sea is still lovely for swimming until late April/May. Increasing rainfall in May. 
Winter (June-August)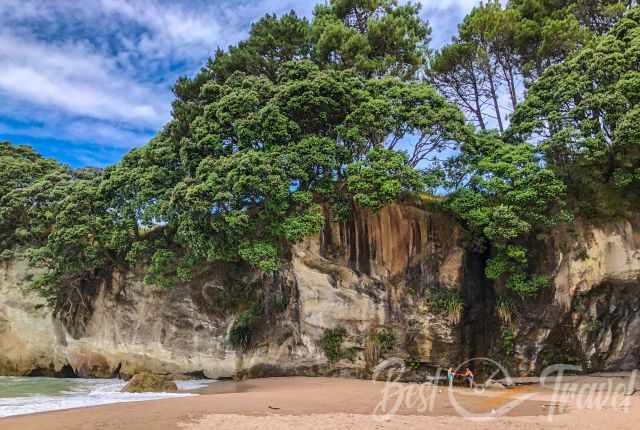 Low Season! If you come here during winter - the colder months from May to September, you may experience the beach and cove almost in solitude, but it's too cold for swimming. Most precipitation occurs in winter, with its peak in June, the coldest month. However, day temperatures are still pleasant ranging from 14°C-12°C and dropping to 8°C-6°C at night. This time of the year is quite chilly for camping.
Accommodations Hahei
Don't visit Cathedral Cove in a rush. Stay here at least one night. There is a huge variety of accommodations in Hahei. We spent two nights there, and even that was too short for Cathedral Cove, Hot Water Beach (we gave it a miss, unfortunately) and the Waiau Kauri Grove and Falls. 
We'd chosen an exceptional location for our stay in the Church Accommodation. We loved the dinner in the Church Bistro, which was initially a church made of wood in the 1900s.
If you like it hassle-free regarding parking and staying close to The Cove, check out my accommodation choice below (Where to Park).
Are you travelling on a budget? The Tatahi Backpackers is the best-located hostel ever. It is right on the pathway to the beach. You couldn't wish for better. The hostel has comfy beds, a clean kitchen, beautiful outdoor dining, and seating. Advanced booking is recommended; it's often fully booked. My nephew spent here a week and loved it. He provided some of the pictures.
My Recommended Tours
These are my recommended tours via GetYourGuide with 24 hours in the advance cancellation policy. Thx for booking via my website! With your support, I am able to provide all information first-hand. Tour prices are at no extra cost!
Location and Tips
Coromandel Peninsula
New Zealand

Cathedral Cove is a two-hour drive east of Auckland located in the Coromandel Peninsula.
Why is this Beach Called Cathedral Cove?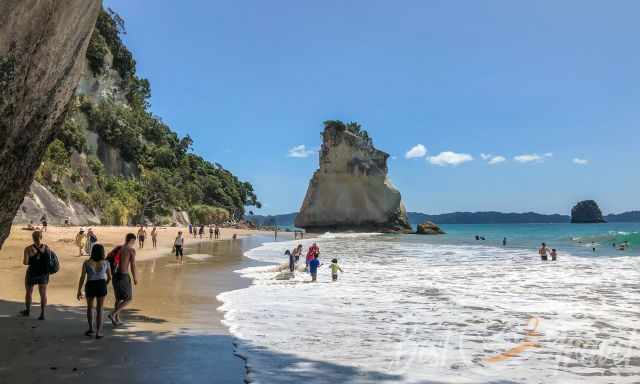 The name Cathedral Cove originates from the natural rock arch formation, which was developed by erosions. One day the cave roof collapses, and an off-shore stack remains like the Mare Leg Cove and its Smiling Sphinx Rock.
How to Get to Cathedral Cove? Trail Description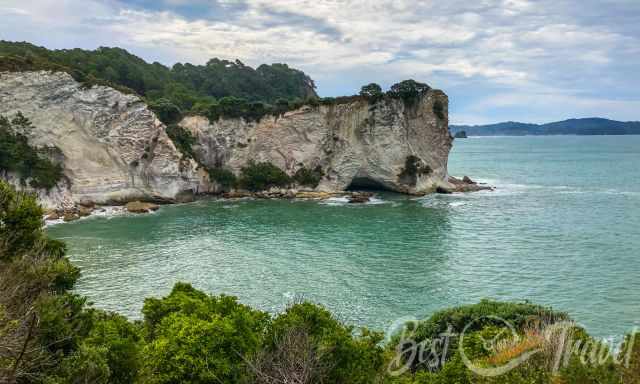 Cathedral Cove is accessible on foot, by boat (water taxi) or by kayak. It only takes 20 minutes to walk to the lookout and another 30 minutes to Cathedral Cove or Te Whanganui-A-Hei in Maori along dramatic cliffs and the three stunning bays and beaches. First, you pass by Gemstone Bay which is great for snorkelling, Stingray Bay and Beach, and Mare's Leg Cove.We loved this walk the beautiful scenery and went swimming of course.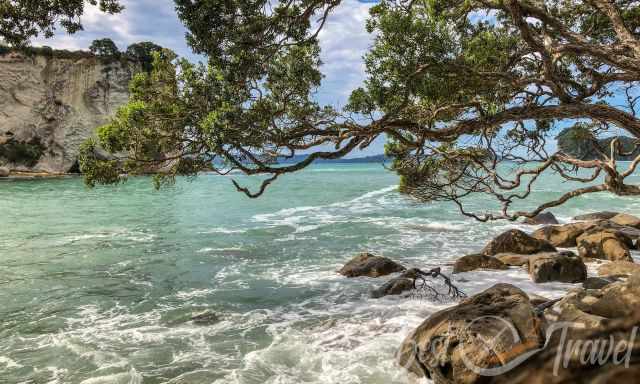 The first part of the walk is paved and easy to walk but gets steep and uneven when reaching different beaches and coves. Lots of steps lead to Cathedral Cove. The beach is separated by the famous rock arch, where you can walk through during low tide. Usually, at high tide, you can't walk through the colossal arch; the water level is too high. It's a breathtaking spot for swimming. Bring enough water and a picnic. There isn't any shop to buy beverages and food. 
3 Parking Possibilities (Car or Camper)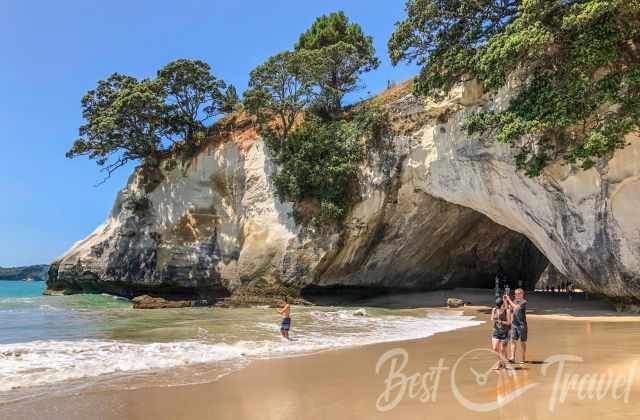 Parking can be an issue in the peak season, therefore, a second car park was constructed.  There is a third option available which I recommend as it's the most convenient one:
Cathedral Cove Lookout Car Park (Google Maps - Cathredal Cove Parking): This is the closest parking area. From here, it's a  30 - 40 minutes walk to The Cove. Gemstone Bay (10 minutes) or Stingray Bay (20 minutes) are even closer. PLEASE NOTE: As of 2018 this car park is CLOSED between October 1 and April 30! Due to the massive traffic in summer in Hahei village, they made this decision. The parking lot is still open in the low season from May until September. However, even during this time parking is limited to 4 hours for $15! Restrooms are available.
Carpark at Hahei Village Entry (Google Maps - Carpark Hahei Village): This one is new built in 2018. Free parking is available year-round. It can be found at the entrance to Hahei village on the right-hand side. There is also a toilet. From here you can either walk to Cathedral Cove (1:20 hours) or use the shuttle bus which takes you there. Prices for the shuttle are $5 round-trip per person, $3 for each child, and $10 for the whole family.
Stay at a Resort with free parking: This is the most comfortable choice because it's hassle-free. It gets even better: When you choose the right accommodation, it's a much shorter walk to The Cove. You can get there in the morning easily when it's still not crowded or enjoy the beautiful sunset and just walk back and relax. Our #1 choice is the Tatahi Lodge Beach Resort (compare prices here and bookmark the link): Another option is just a few meters from Tatahi Lodge on the same road: Tatahi Backpackers Hostel (check reservations here). This is the budget option but still excellent and also includes parking. It's the same walk to the Cove as from the Resort.
Places Nearby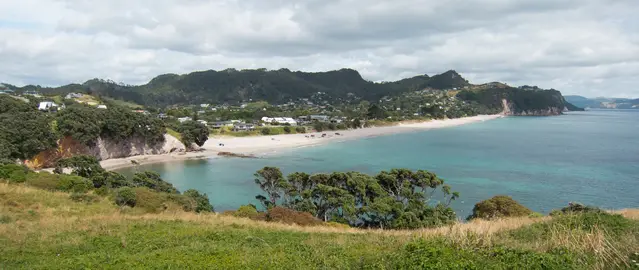 Hahei and Beach
Don't miss the unique experience at Hot Water Beach, just 9 km south of Grange Road parking. Here's the kicker: You can dig your own hot pool two hours on either side of low tide. No worries, spades can be hired in the shop, and this is an experience you definitely must put on your bucket list.
Must-Know Facts & Tips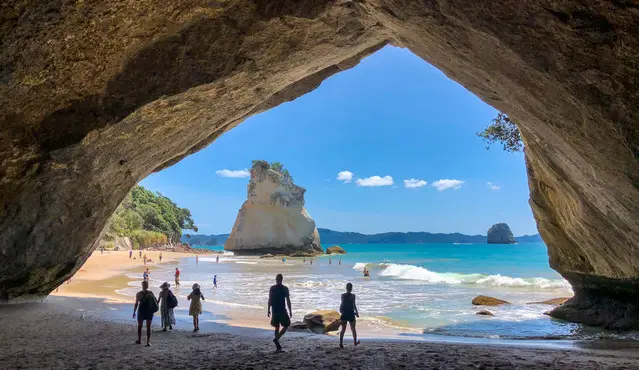 Parking at Cathedral Cove Lookout Car Park is closed throughout the summer from October until April! However, in winter, you can still park there for 4 hours for $15. Alternative: There is also a brand new parking area at the village entrance.
The beautiful coastal walk to Cathedral Cove from Lookout Car Park takes about 30 minutes. From Hahei Village, add another 20 - 60 minutes (depending on the location).
The easiest way is to make a reservation at a resort or hostel which are closer to The Cove and includes free parking (see above)
There isn't any shop at The Cove. Bring enough water and a snack or picnic.
Wear trainers for the walk.
Bring a towel and your swim clothes from spring to autumn. 
 
My nephew and I took these pictures. Do you want to obtain the usage right for our images? Contact me, but we will take action against picture theft.