When Is the Best Time
Don't miss the beautiful Piha Beach north of Karekare if you visit the Karekare Beach famous from the 1993 "The Piano" Movie. The Piha Beach is even more spectacular at low tide. You can walk to a hidden beach (in front of Taitomo Island) or climb to the top of Lion Rock. The trail is pretty steep, but the view is awesome. Tide times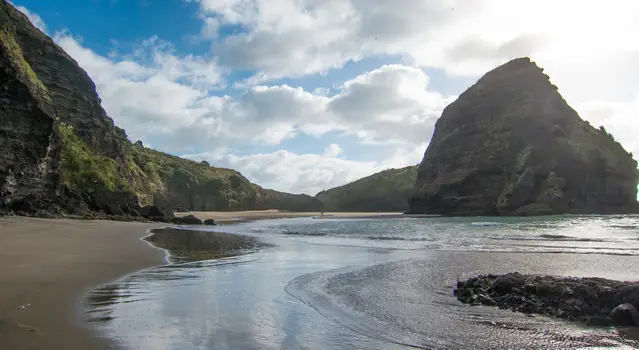 Hidden Beach at Piha; accessible at low tide only
The sunset at Piha Beach is famous and popular. Many visitors and especially young people stay here to watch the sunset before going back to Auckland or even better spend a night at Piha. You may have heard about the Piha Rescue, Surf Rescue or Deadly Surf. The lifeguards are pretty famous they were featured in a New Zealand reality show. 
Weather and Crowds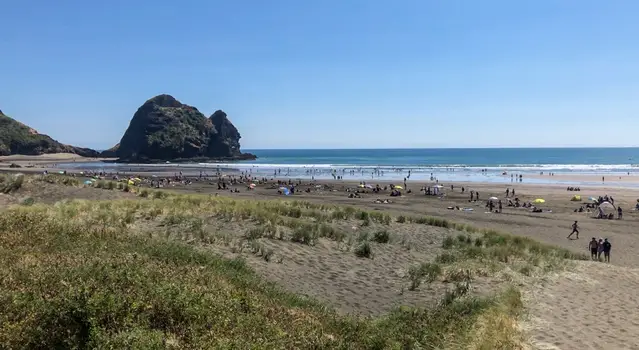 November until April is the most pleasant time with temps often above 20°C. Coldest months in winter are from June to August. However, day temperatures are often mild around 15°C though expect temps below 10°C at night. Most precipitation in winter but expect already increasing rainfall in May with its peak in July. The driest months are during summer from December to February/March. The best months for a bath are January until March with a sea temperature still below 20°C. The best months for a vacation are December to February; the peak season. Weekends are more crowded due to local beach visitors. If you like to dodge the crowds, November and March/April are better choices.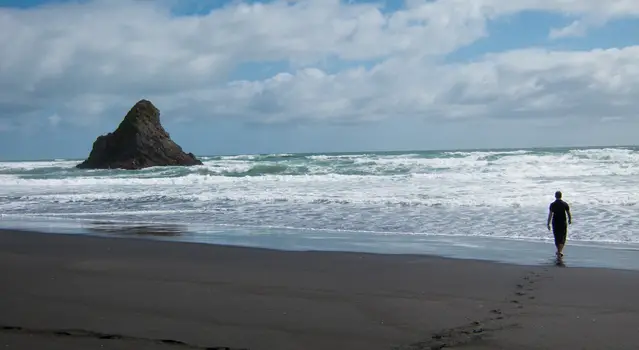 Karekare Beach
| | |
| --- | --- |
| | To plan your trip or explorer the Islands, we recommend the guidebook from Fodor's. It is packed with maps, carefully curated recommendations and everything else you need to simplify your trip-planning process and make the most of your time onsite. |
Location and Tips
Piha
New Zealand

Piha Beach is a popular surf beach on the rugged coastline close to Auckland. The beach is flagged for swimming during summer. Only during patrolled hours swimming is recommended. The lifeguards are famous due to 14 years of the broadcast about their rescue job at Piha. Don't underestimate the rip currents which occur. You may also know Piha and Karekare from the famous "The Piano" movie from 1993. Although the film is already 28 years old, the vast black sand beach of Karekare and Piha as well are still breathtaking locations.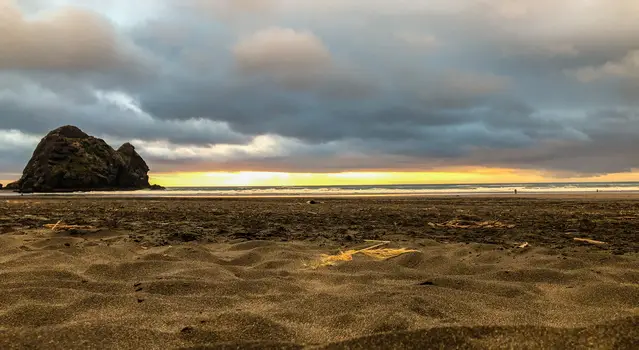 Nearby to the carpark is the Kitekite Falls. Several walks lead to the native forest in the Waitakere Ranges Regional Parkland. You can climb to the top of the waterfalls. Take a bath on top and enjoy the fantastic view. Unfortunately, parts of the Waitakere Ranges got closed due to the Kauri Dieback disease in May 2018, Check out which trails in the Waitakere Ranges are open and which ones are closed. PDF Hiking Trails Waitakere More information about the disease, and the status of closures for hikes and campgrounds can be found here. 
Where to Eat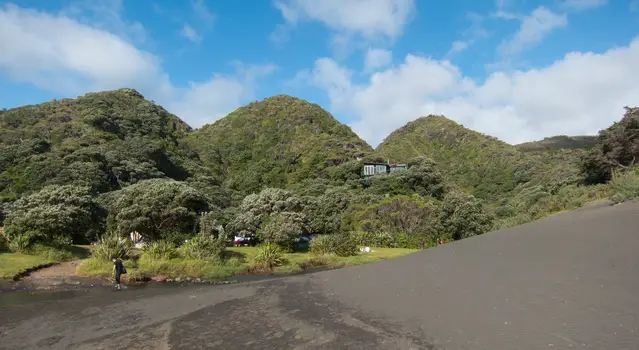 Close to Piha Beach is the RSA Club; delicious homemade dishes prepared by local people are offered.
Where to Stay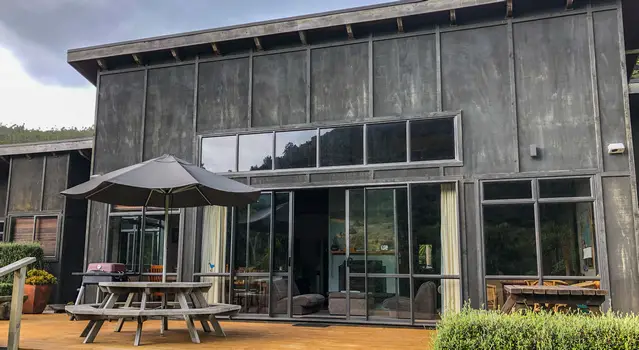 Don't come here in a rush. Although Piha and Karekare Beach are just one hour drive from Auckland, we decided to stay here for three nights. We spent an entire day on both beaches, the Waitakere Ranges and the Muriwai Gannet Colony. We had a lovely awesome stay and interesting chats with other travellers in the Piha Beach Stay. This beach house offers low budget and luxury rooms within walking distance to the stunning Piha Beach. You couldn't wish for better. Tip: Bring food and plenty of water. There isn't any in Piha