When Is the Best Time
Abel Tasman is one of the most popular National Parks in New Zealand. Peak season from mid-December to March (Easter). Often several hundred day-trippers visit the park for a hike between Awaroa and Marahau. The crowds thin out after Awaroa. The best months for a visit with pleasant weather and fewer hikers are November, March, and April. Continue reading to get all the needed information for each season.
For the Coast Track of 3-5 days, booking for the 4 huts and 19 campsites is essential for the entire year. For summer, advanced booking is recommended. Availability and booking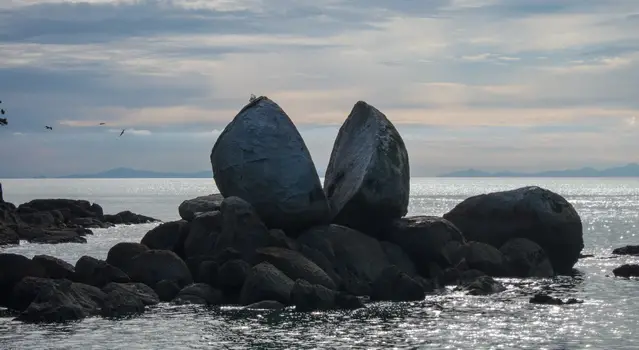 Split Apple Rock
Tide times must get as much consideration as the weather forecast for the coastal track and also for day hikes:
Crossing the stream at Onetahuti beach is only possible around low tide.
Awaroa inlet can be crossed only within 1 ½ hours before and 2 h after low tide. 
You can walk along the beach at Torrent Bay at low tide. At high tide, it's a long way around Cleopatra's pool which takes an additional hour.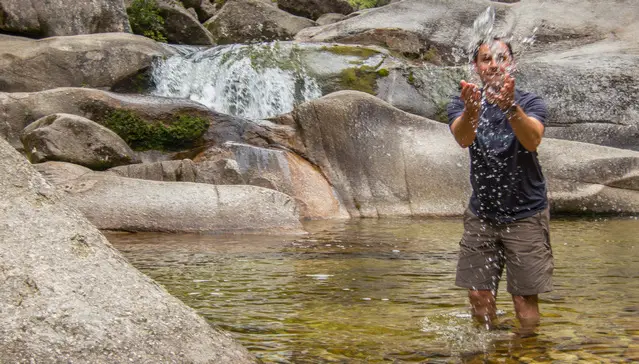 Cleopatras Pool
Tide times

A pick-up at Torrent Bay is not any longer offered. Limited drop-off between 9 a.m. and 12 p.m. exceptions for overnight guests and residents. The next opportunity is Anchorage and Bark Bay.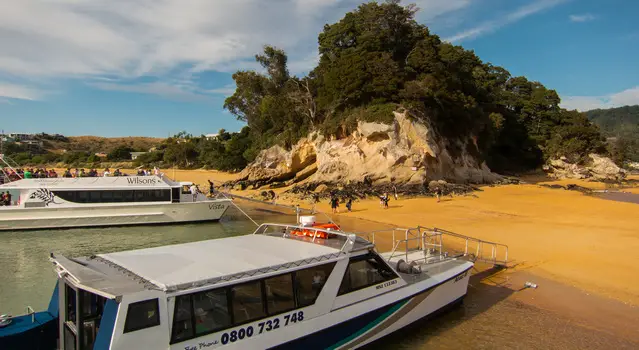 Water Taxis at Kaiteriteri

Tip: Even for a day trip, I highly recommend booking your water taxi in advance during the peak season in summer.
 
Weather and Crowds
It's one of the sunniest spots in NZ, with over 2.200 hours of sunshine annually.
Spring (Sept.-Nov.): Nature awakes, and the temps are perfect for hiking, with temps below 20°Cs on average. Nights are pretty chilly. It's the shoulder season and less crowded.
Summer (Dec.-Feb.): It's the best time of the year for hiking and swimming with less precipitation. From mid-December on, the park gets utterly crowded with visitors from around the world, as well as from AUS and NZ in their school holidays. Day temps are above 20°C, and nights are pleasant. January is the warmest month.
Autumn (March-May): Still pleasant temps and crowds thin out. Not a high amount of precipitation on average, 8 days a month. Temps are perfect for hiking. March and April are still very sunny. Night temps in May are often below 10°C.
Winter (June-Aug.): Day temps are around 14°C while there are one-digit temps at night. Camping is pretty cold. The coldest month is July, with a night temp on average around 6°C. Most rainfall occurs in June. It's the perfect time for photographers without crowds on the beaches, and the turquoise crystal clear sea looks breathtaking at this time of the year. Viewer people visit the park. 
 
Where to Stay in Kaiteriteri - Abel Tasman National Park
There are plenty of accommodations in Motueka but not many in Kaiteriteri. To get one of the early morning water taxis, we recommend staying within walking distance of the beach and the shuttle service. Kaiteri Motels and Apartments are just a 10 minutes walk from where the boats depart. The staff is lovely, and the view from here is spectacular. Book a studio and prepare your picnic for the stunning Abel Tasman National Park. 
Top Tips
Get up early and watch the breathtaking sunrise.


 
Don't miss the famous Wharariki Beach which is most picturesque at sunset north of Abel Tasman. You may know it from the Windows 10 Wallpaper. 


| | |
| --- | --- |
| | We recommend Fodor's guidebook to plan your trip or explore the Islands. It is packed with maps, carefully curated recommendations and everything else you need to simplify your trip-planning process and make the most of your time onsite. |
Location and Tips
Kaiteriteri
New Zealand

The famous National Park was established in 1942. Abel Tasman is a hiker's paradise with several stages. Hike the entire Abel Tasman Coastal Track or just one or two parts to get an idea of this beautiful subtropical paradise of white golden beaches, turquoise blue crystal-clear sea, and a lush coastal native bush with huge fern trees.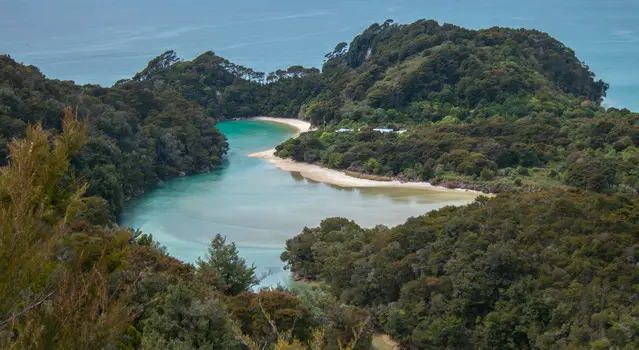 Frenchman's Bay 
The coastal track is one of the nine great walks in NZ managed by DOC; Department of Conservation. It's a once-in-a-lifetime experience to hike the whole trail of 60 km. It can be done in either direction. Because of the dependence on transport, it's better to hike from North to South. There is the possibility of hiking just a part with one night on one of the campgrounds or just a day hike. You get to the different stages by water taxi and to Wainui Bay by shuttle service on a gravel road. One thing is for sure don't miss this exceptional National Park on the South Island!
Abel Tasman Coastal Track in Stages from North to South
Totaranui to Whariwharangi Bay 9 km / 5.6 miles - Get there by water taxi. Or
Wainui Bay to Whariwharangi Bay is almost 6 km / 3.7 miles - A shuttle service is necessary.
Whariwharangi Bay to Awaroa 17 km / 10.6 miles - Note the tidal times.
Awaroa to Bark Bay 13.5 km / 8.4 miles - Note the tidal times.
Also, popular for day-trippers to visit the Onetahuti Bay beach and the Awaroa beach on a non-Doc track.
Bark Bay to Anchorage at low tide 8.4 km / 5.2 miles and high tide with detour 11.5 km / 7 miles
This is the most popular part for day-trippers along the 47 m-long falls river suspension bridge and to the Cleopatra pool.
Anchorage to Marahau 12.4 km / 7.7 miles
You need to be self-sufficient on this trail. Campgrounds and huts are provided with facilities and cooking shelters but without showers. Carry your own gas stove and cooking stuff. Using the hut facilities is prohibited for campers.
Tip: Bring insect repellent for sandflies!

Abel Tasman Coast Track Brochure  
Shuttle service for Wainui and water taxis