When Is the Best Time
When visiting the Pancake Rocks, you should not miss this walk to the gorgeous Truman Beach. It's overshaded by the Pancake Rocks but in our opinion a must. There are many photo ops best late afternoon to evening when the sun is shining into the bay. Schedule 1.5 hours for the walk and the awesome beach. A waterfall occurs most of the time but not in the drier summer. The access to the beach is safe around low tide only. Tide times Westport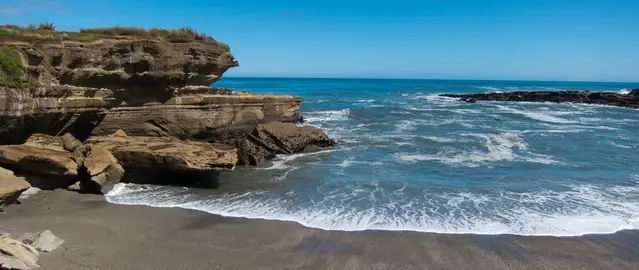 Weather (Westport)
Usually, the summer is pleasant and the winter mild. The day temps in summer are around 25°C/77°F, in spring and fall up to 17°C/63°F. A high amount of precipitation throughout the year on average each month more than 200 mm except February which is usually a little drier. Spring is the wettest season influenced by the winds from the Tasman Sea. The rain increases quickly closer to the mountains. A local saying "go deep, go steep, get wet".  Check conditions for hiking and the tides at the visitor center first.
Location and Tips
Punakaiki - Paparoa National Park
New Zealand

Truman Beach is a part of the Paparoa National Park; 3 km north of the Visitor Center and still not overrun. The track is well maintained. It's approx. 15 minutes walk through an unspoiled Nikau dominated forest with large rimu, rata, and matai trees until the trail opens to a spectacular view and platform. Stairs provide access to the beach. A waterfall is tumbling down from a ledge onto the beach except in the drier summer. The wind and waves created the scenic overhanging cliffs and cave. Unfortunately, it is not safe for swimming here!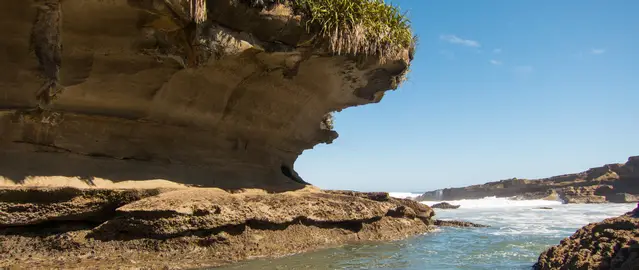 Parking is on the opposite of the trailhead.
Tip: Sandflies can be annoying here. Bring insect repellent!