When Is the Best Time
The Pohatu Marine Reserve is an incredible place to watch these cute little penguins up close with all needed protection. They come ashore in the evening before and after sunset to feed their chicks. Usually, there isn't any little penguin in the bay from mid-February to the end of April. It's mother nature and not hundred percent predictable. The details shall give you just an idea if it's worth to try or not. 
The first penguins arrive here end of April or May more in June.
Breeding season from late August until the end of December and moulting penguins until mid-February.
End of February the little blue penguins have already left Flea Bay. 
 
Weather
The summer from December to March has pleasant temps around 20 °C and up to 30 °C. January and February are the warmest while February and September are the driest months. The wettest months are during winter from June to August. However, be prepared for four seasons in one day.
Location and Tips
Akaroa, Flea Bay
New Zealand

About 2.000 Korora (in Maori language) better known little blue penguin and some yellow-eyed penguins breed at this largest little penguin colony on the mainland of New Zealand the protected Pohatu Marine Reserve. Little blue penguins are the smallest ones in the world with a maximum size of 25 cm and weighing around one kilo only. If you are lucky you can also spot yellow-eyed penguins. They are more common at the southeast coast of New Zealand but can occur here as well.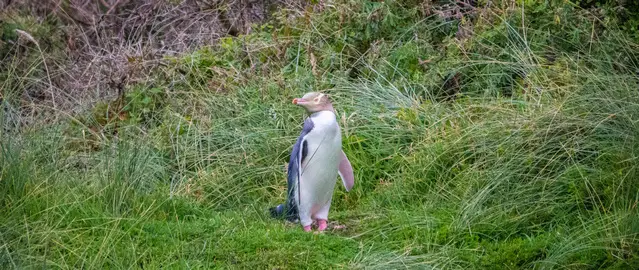 You can even stay in the reserve which is an awesome experience. Booking for one of the two cottages.
Guided sea kayak tours are offered where you may spot dolphins in Flea Bay as well. They either pick you up, or a 4 WD is necessary to get there. Unfortunately, we arrived at the end of February, and the little penguins were already gone.
More information and booking one of the penguin trips.