When Is the Best Time
The blowholes at Dolomite Point are best visited during high tide with the south-westerly swell: Tide times Westport The Pancake Rocks are easily accessible and a popular destination also for tour buses. It's less crowded in the evening, and the sunset is spectacular. The reason we spent several nights nearby and watched the sunset twice.
Weather (Westport)
Usually, the summer is pleasant and the winter mild. The day temps in summer are around 25°C/77°F, in spring and fall up to 17°C/63°F. A high amount of precipitation throughout the year on average each month more than 200 mm except February which is usually a little drier. Spring is the wettest season influenced by the winds from the Tasman Sea. The rain increases quickly closer to the mountains. A local saying "go deep, go steep, get wet".  However, some hikes include a river crossing, and it can be more difficult in spring due to heavy rainfall. Check conditions at the visitor center first.
 
Where to Stay (Nearby)
If you want to spoil yourselves close to the Pancake Rocks, this might be the best stay in the Punakaiki Forest Retreat.
Another option is the beautiful Hydrangea Cottages within walking distance of the Pancake Rocks. Perfectly located to watch the sunset.
Location and Tips
Punakaiki - Paparoa National Park
New Zealand

More than half of the park is mountainous and covered with lush native rainforest. It's fascinating, and some spots are truly mesmerizing. The Pancake Rocks are located 40 minutes north of Greymouth and 50 minutes south of Westport. We visited the Paparoa National Park already twice don't stop only for the Pancake Rocks; there is so much more to explore.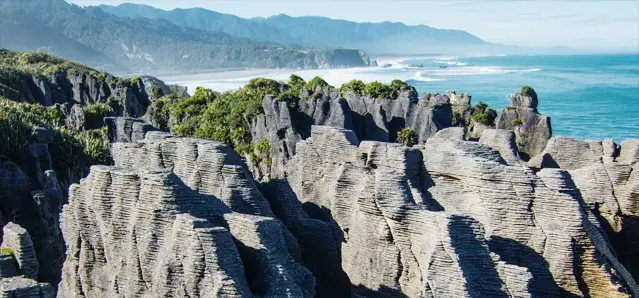 The Paparoa National Park was established in 1987 to protect the limestone karst area, and the park is famous for the Pancake Rocks and blowholes. The limestone rocks are stacked like pancakes. Some have been eroded, and blowholes were created. The pancake rocks and three blowholes are at Dolomite Point. A 20 minute paved loop walk leads to the impressive rocks, formed 30 million years ago and to the blowholes.
Wheelchair Accessibility at Pancake Rocks: The loop is accessible for wheelchairs although some outlooks can be reached by steps only.
 
Activities and Tips
An outstanding activity in the Paparoa National Park is kayaking on the Pororari River. 

 
Explore hidden beaches at the Paparoa National Park

 
Explore the Punakaiki Cavern

 
If you are into hiking, don't miss the outstanding Ballroom Overhang.

 
Even if you are limited in time; don't miss the Truman Beach at low tide. Still not crowded!

 
If your schedule allows; stay three nights minimum to explore beaches, rivers, and the fascinating rainforest.