When Is the Best Time
Mount Etna in Sicily is the highest active volcano in Europe. It often erupts several times a year and is constantly monitored by experts. For sure, Etna is a once-in-a-lifetime destination. Walking on the crater rim and watching the outcoming steam is jaw-dropping.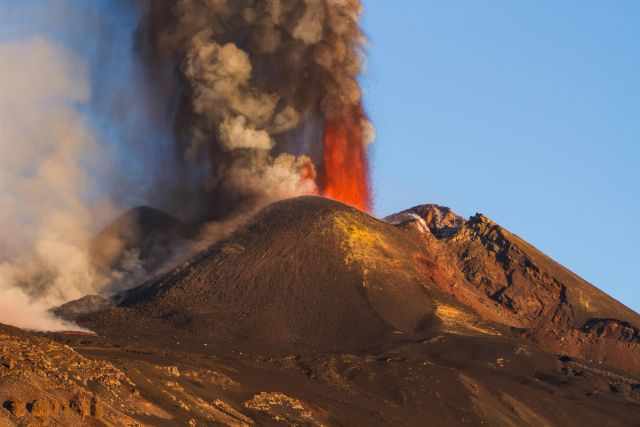 However, you do not have to hike to Etna's craters at 3,300 m elevation for the spectacular scenery. Guided tours are available for all fitness levels and also in lower elevations. If you are visiting Sicily and Etna, you may want to see as much as possible of the active volcano in one day. It is feasible, but you need to know some details before you go.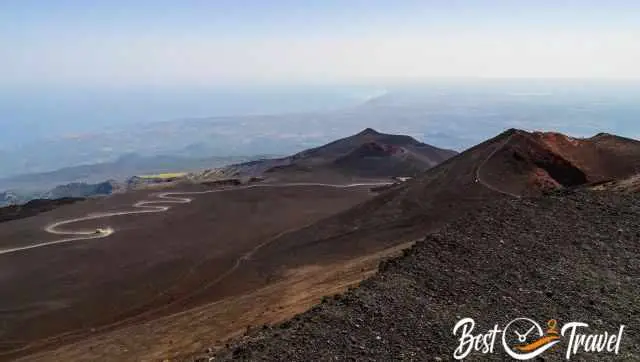 Read our detailed guide and tips; we answer all questions, giving you an idea about the best time and the best tours for a memorable experience on this beautiful island in Italy. Check out the table of contents for a quick overview.
Do I See Eruptions at Etna?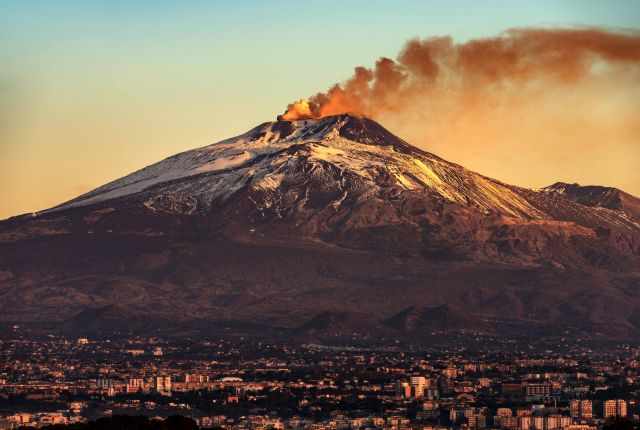 Yes, you are likely to see activity at Etna, sometimes more, sometimes less. You will see steam and ash clouds even from a distance. If you are ´lucky´, visiting during a more eruptive phase, you may also see glowing lava flows from save distance in the night. In this case, Etna tours will be restricted but still held.
Best Time to Visit Etna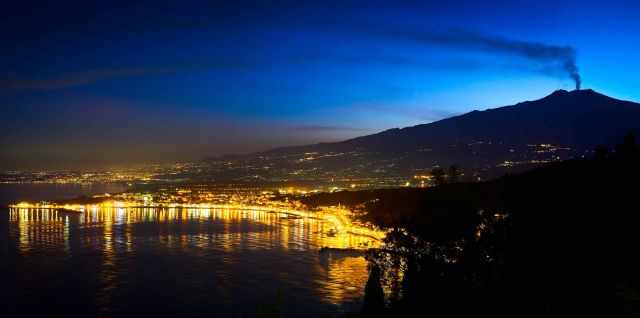 Exploring Etna means a journey at least 1,900 m above sea level, and Etna is 3,357 m high. Regarding the weather and crowds, the best time to visit Etna is May, June, September and October. Also, these months are busy, already before 11 am, but it is not as crazy as July and August are. Temperatures on the summit of Etna range from 3°C in May to 8°C in September, and nights experience sub-zero degrees.
Do I Need a Permit for Etna?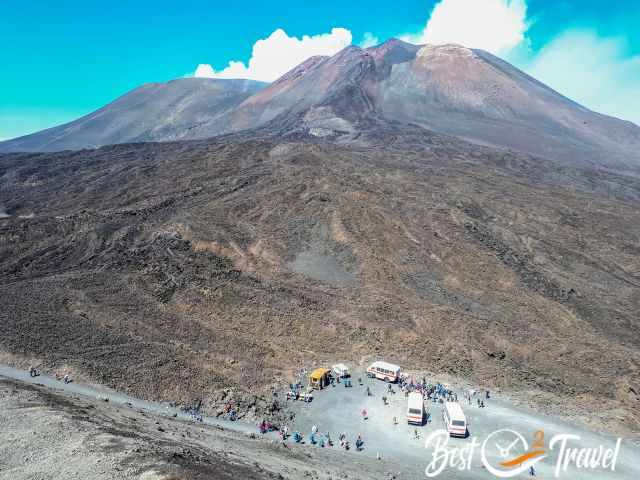 Yes, you do, and this permit is included in the guided tours. Usually, from a height of 2.900 m until the summit, the crater access is permitted with an authorised guide only for safety reasons, but currently, in 2023, already from the cable car station at 2,500 m.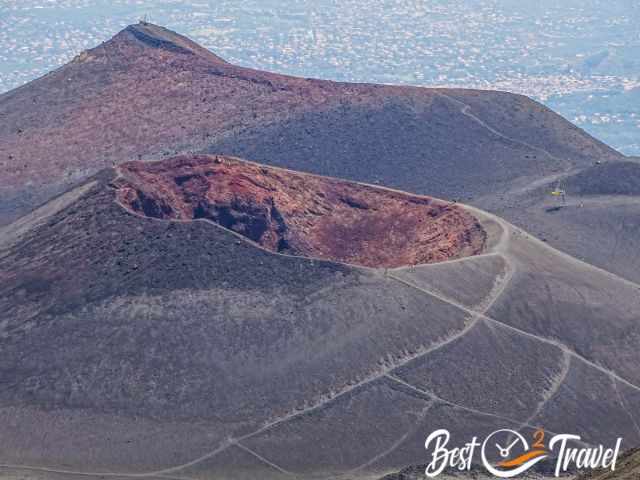 An unexpected sudden steam explosion occurred in March 2017 when a guided tour visited a lava flow that hit an ice sheet. A protective helmet and an experienced guide can be crucial in this situation. The guides have a vast knowledge of what to do in such cases. And better - they may prevent you from getting into such a situation. 
North vs South – Which Etna Side is Better?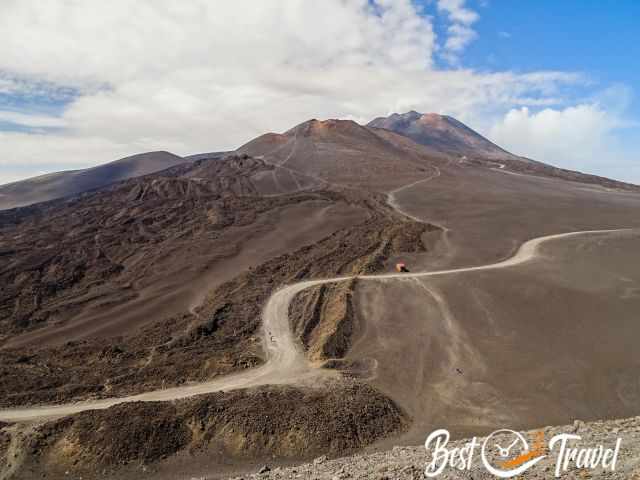 If you like to see the dramatic volcanic landscape with dozens of craters and slag cones, you must visit the south. The south side has very well-developed routes and transport facilities for an excellent experience around this volcano so that you are not forced to hike much. Spectacular tours for all fitness levels are offered, and also, without a tour, you can experience a lot.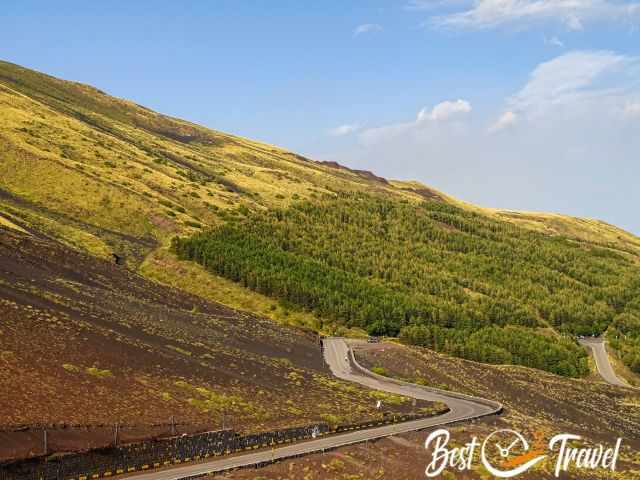 The north, in contrast, is definitely interesting, with lush vegetation and wildflowers but less spectacular and developed. You can go skiing here in the winter, and a ski lift is running. The north is less busy and more fantastic only when you reach the summit of Etna on a guided tour.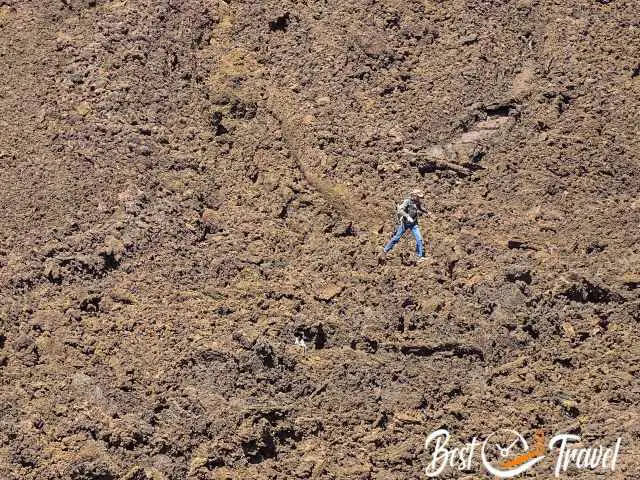 This means you are forced to go on a strenuous hike. Nevertheless, you can approach a fascinating lava tube cave from the north.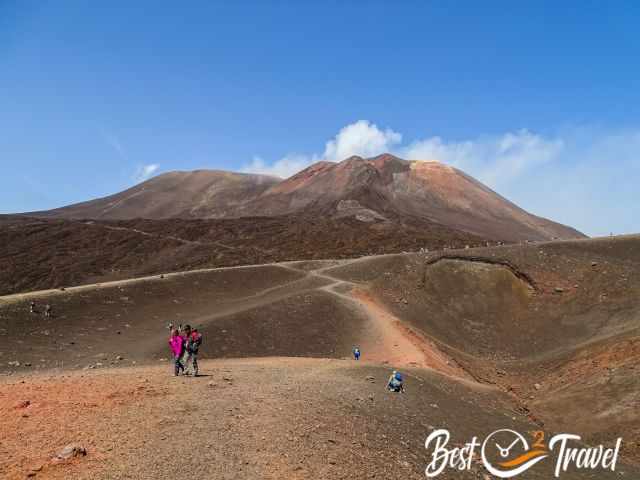 For this reason, I concentrate on the south side of Etna. Already the ride in your rental car or vehicle of the tour company is incredible.
How Can I Get to the Summit – the Craters of Etna?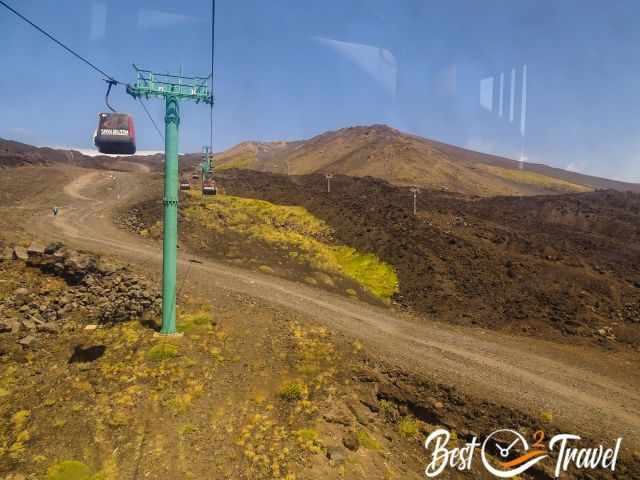 I like to introduce you to the different stages of getting to the craters of Etna.
You may come from Taormina or Catania, the main tourist spots for Etna, to the enormous parking lot at Refugio Sapienza – the cable car station at an elevation of 1,900 m. Google Maps Parking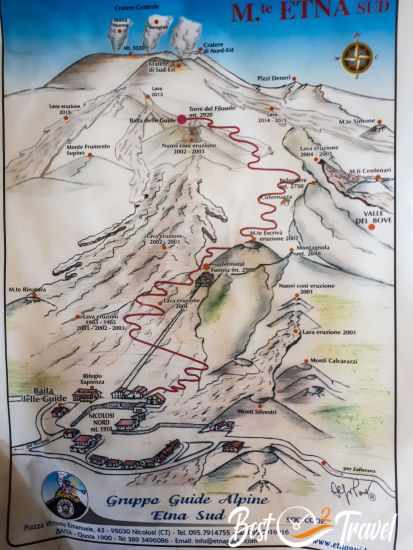 Please, display your parking ticket on the windshield; otherwise, you may get fined by the police.
Taking a taxi to Rifugio Sapienza is pricey, up to 100 €, and honestly, taking the bus is time-consuming. The added tour above offers a pick-up from your hotel around Taormina or Catania. Enjoy the Etna trip without any hassle and bustle. You also get the needed gear provided. Tour bookings are at no extra cost.
When you reach the ticket counter, you have to line up if you are not early to get your ticket. The cable car ride takes roughly 15 minutes to an elevation of 2,500 m – operating hours of the cable car from 9 am – 4 pm. Tickets are already available at 8.30 am, last cable car ride is at 3.50 pm.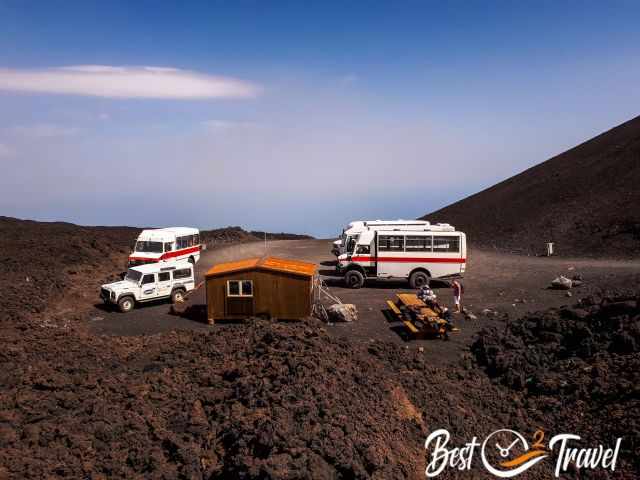 Now, the journey continues with one of the high-clearance jeep buses on a gravel road. This dirt road was already hit by flowing lava during an eruption and suspected to change. These vehicles transport you another 300 m up to an elevation of 2.800 m. From here, the crater and the shorter tours start.
5 Exceptional Tours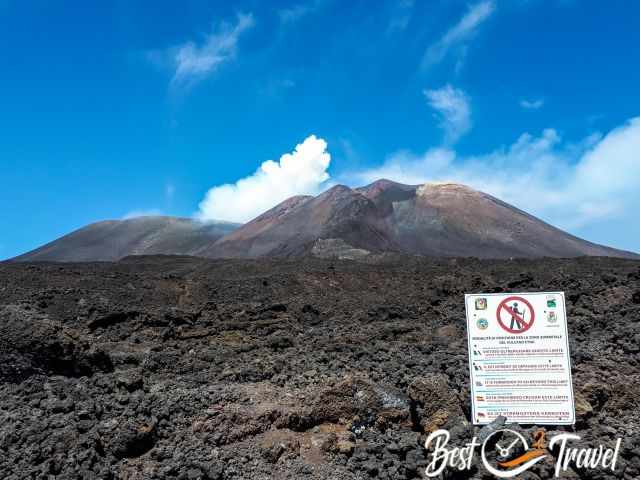 Currently (2023), guides are required already from the upper cable car station from 2,500 m elevation. There aren't any signs or information boards at the upper cable car station, so I highly recommend one of the knowledgeable guides for an exceptional visit.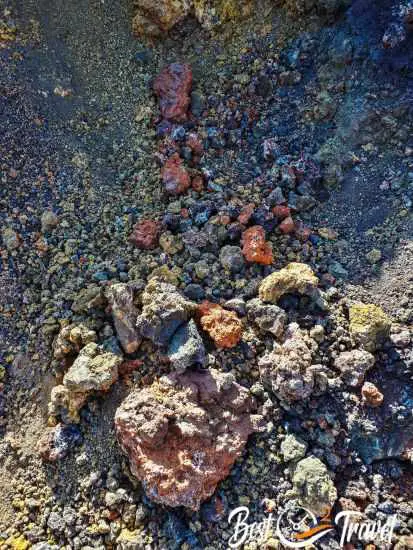 IMO, the tours and cable car rides are not expensive in comparison to what I am used to in the US, Austria, Switzerland, and Germany - it is half of it. 
1 The Crater Tour
That is simply the best tour of all, but you need an average fitness level. The tour leads through the rocky volcanic landscape. Wear hiking boots to protect your feet from sharp stones (for rent at the cable car station). If you wish to look inside the crater of Etna, I highly recommend an advanced booking. This is the most popular tour of all, included are the cable car ride and the off-road jeep. This is the most convenient tour, and usually, it is fully booked quickly. Meeting Point at the Sapienza Refuge in Nicolosi
2 The Mount Etna Morning or Sunset Tour
This tour leads to an elevation of 2000 m with craters exploration plus a lava tube cave. This is an alternative option if you fear altitude sickness, my sister Micha experienced it once in Tenerife because she climbed up to the summit of Mount Teide too fast. I had booked this tour, and I loved it, although I regrated that I didn't go up further. You get a pick-up in Catania. 
3 Crater Tour to 3000 m Elevation
This tour is a little less strenuous, a 2-hour hike and leads up to 3,000 m in elevation. If you do not carry hiking boots with you, they are included in the tour—meeting point opposite the cable car.
4 Mount Etna Off the Beaten Path
This tour starts at 2,000 m elevation and leads along old lava flows on quiet paths and to a lava cave. For your convenience, the entire equipment is included (hiking poles, shoes, and warm clothing – which you only need in this elevation but probably not for the rest of your vacation)
5 Sunset Tour and Stroll at Etna
If you wish to experience Etna on a relaxed tour, this may suit you best. You start with a tasting before you head up to Refugio Sapienza. Here you can walk around the Silvestri craters and watch the amazing sunset.
Seasons and Climate at Etna
Peak Season – Etna in Summer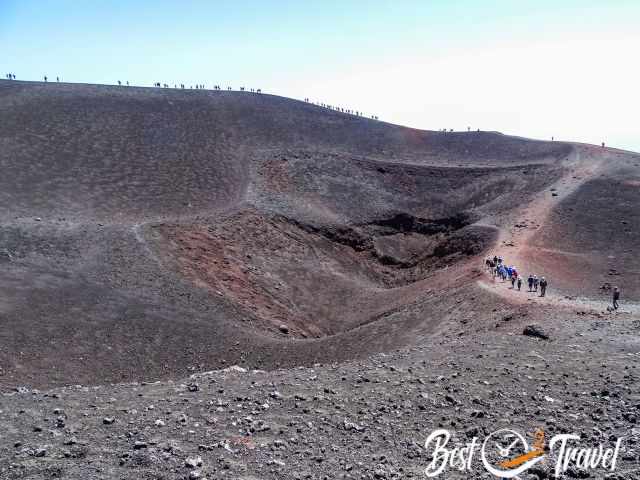 Etna is always busy, but the summer holidays, July and August, are crazy, and the sky is the limit for hotel rates. In August, the entire country is on vacation, and many factories are closed. Nevertheless, the summer is outstanding for swimming in the sea, and temperatures are bearable in such high elevations.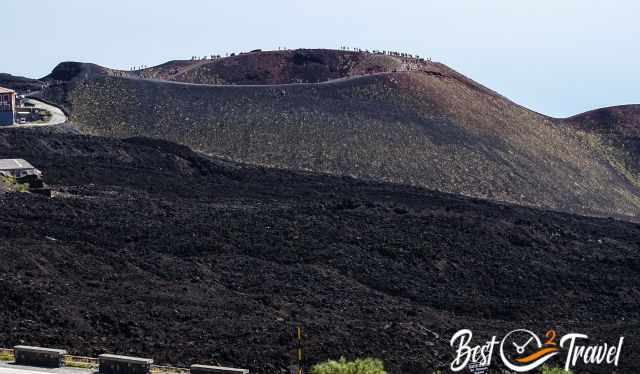 Day Temperatures in the shade on average in Catania are 32°C/90°F and Etna crater 11°C/52°F in August, and at night 20°C/68°F – -1°C/30°F
During summer, clouds build up during the day because of the high temperatures and the high humidity from the sea.
Shoulder Season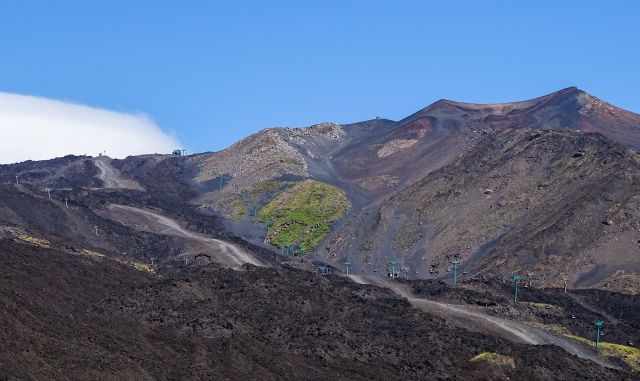 April is still colder, and more days are overcast at Etna, but not busy, May is already pleasant with 25°C/ 77°F, and more visitors stroll int the streets of Taormina. June feels like a summer month reaching almost 30°C/86°F, and it gets busier.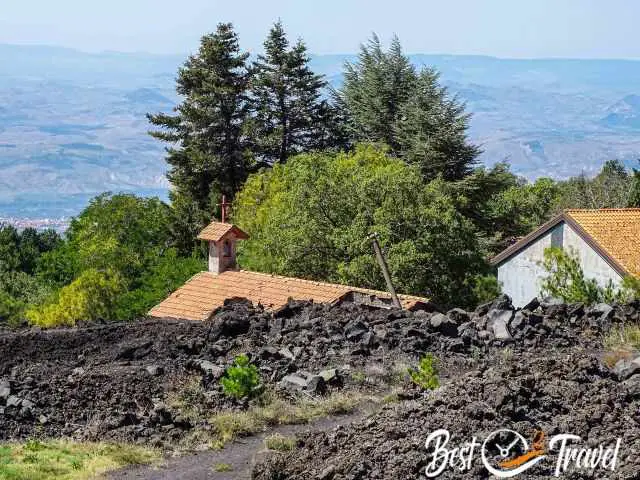 September is my favourite month in Italy, still sunny and warm, nevertheless, the crowds have thinned out. October brings colder temps, and the first snow at Etna's crater can fall, but still a good month and quieter.
Etna in Winter – Off Season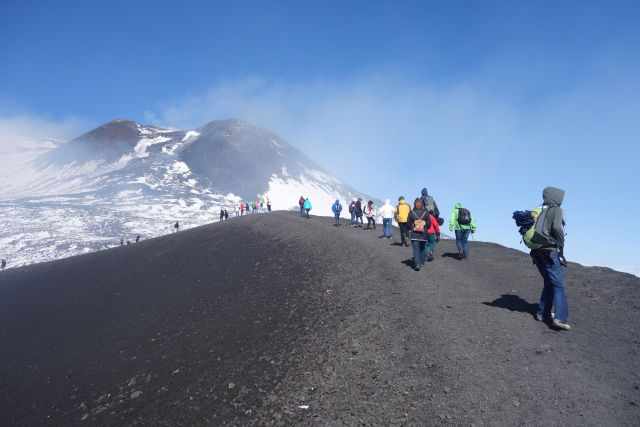 The first snow can already occur end of October and should vanish in April. It is a long winter up there. Tours on Etna are offered, and then it is quieter. Depending on the amount of snow, snowshoes are provided. You can also ski at Etna. Temperatures are below freezing throughout the day. Winter is a great time, but sections in higher elevations may be fully covered in snow. Etna experienced 2 m of snow in February 2023, so you were not able to see anything of this breathtaking volcanic landscape.
Curious how it looks at the moment at Etna? Check out the webcam but consider the time zone: Webcam Etna Upper Cable Car Station
Avoiding Crowds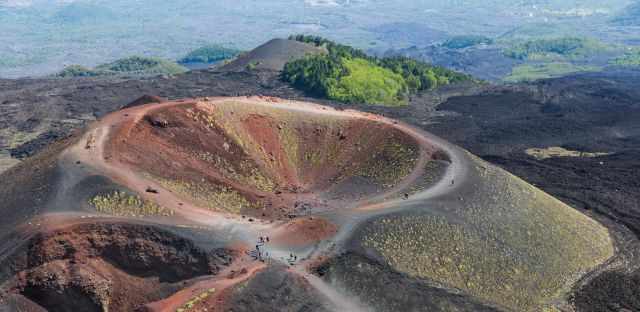 If you wish to avoid the crowds, avoid the summer months of July and August. The best way to enjoy Etna with fewer visitors is by getting up early and taking the first cable car in the morning. However, the guided tours are held in smaller groups, and you will have an awesome time on Etna.
Packing Checklist Mount Etna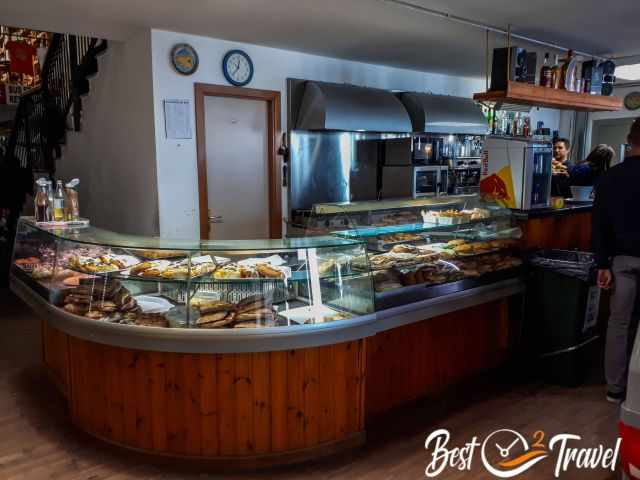 Even in the summer, carry a jacket in your bag. The temperature difference between the sea level and Etna summit is significant, often up to 45°F /25°C.
Wear proper hiking boots on sharp and rocky paths – check out my tour recommendations some provide hiking boots.
The sun is intense in such elevations, and protection is essential. Bring sunscreen, a hat, and sunglasses.
Drink plenty of water, especially at such high elevations. Carry a bottle of water and a snack or sandwich. However, you get beverages and snacks at the lower and upper cable car stations.
Hiking Poles are helpful for the ascent to the Etna summit but are also included in some of the guided tours.
7 Astonishing Facts About Etna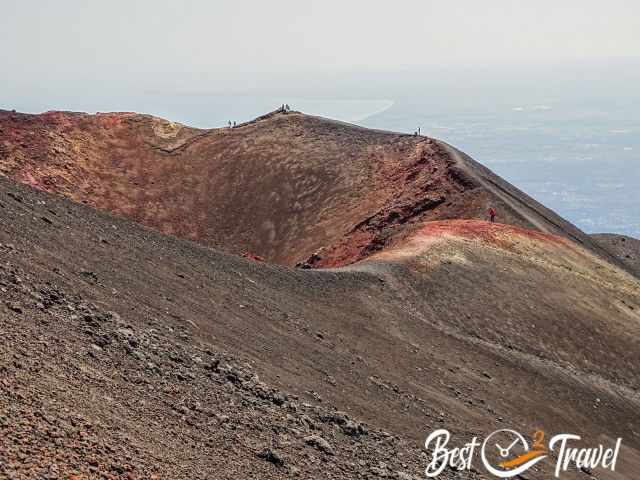 Height 3.357 m/11.014 ft
Etna has been active for roughly 300.000 years already.
The first eruption of Etna was recorded in written form in 693 B.C. 
Etna is the highest active volcano in Europe.
There are more than 200 lava caves.
Etna is a World Heritage Site.
Etna is popular for skiing in the winter.
Can Altitude Sickness be an Issue?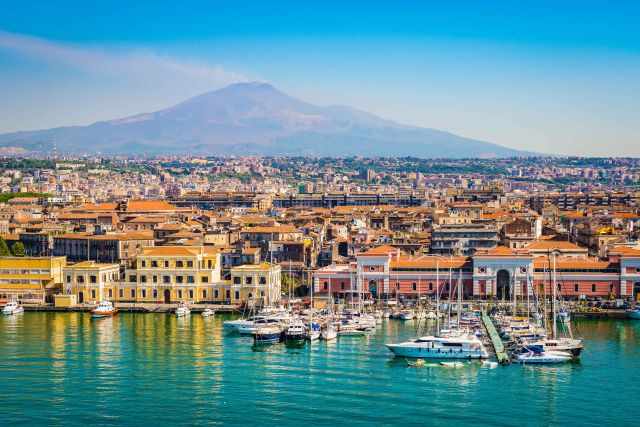 Yes, it can. Altitude sickness occurs already below 3000 m, and Etna is 3,357 m more than 11.000 ft high. If you are used to higher elevations or live in a higher region, you shouldn´t get in any trouble. If you are used to the sea level and do not call for an athlete condition, it can occur. My sister Micha experienced it once in Tenerife when she climbed Mount Teide too fast. It happened years before she moved close to the Alps.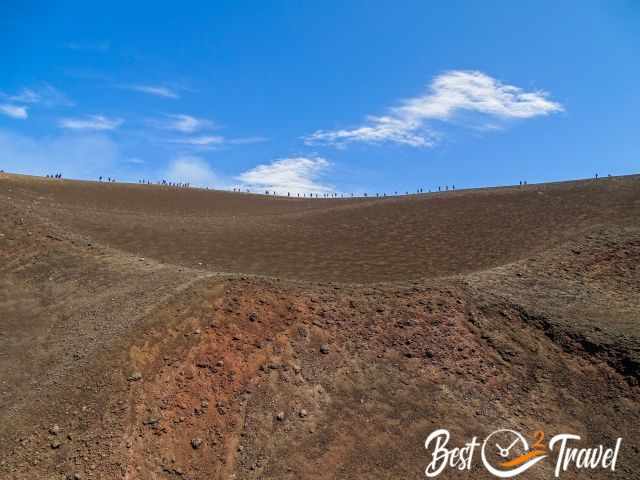 Most important is to adjust to the height or at least ascent slowly. (At Sicily, you may stay near the Mediterranean Sea and not in higher elevations.) Drink plenty of water already the day before. This will also help to avoid altitude sickness. The first symptoms are prickling fingers, headache, shortness of breath, and dizziness. However, it is rare for day tours like those described above. You should be aware of the symptoms and descent immediately if one occurs.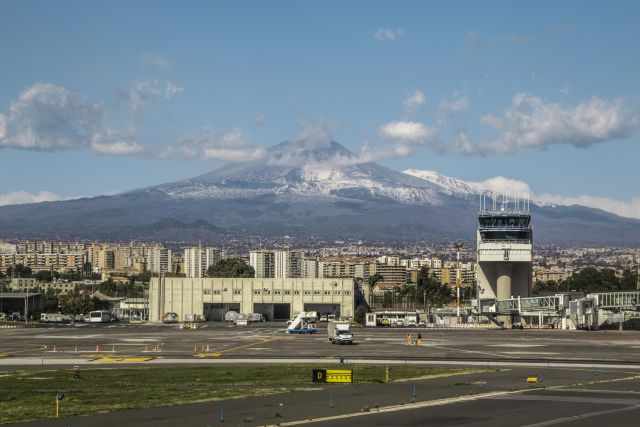 Do you wish to learn more about how volcanoes and lava caves developed? The following guides go deeper into it.
Location and Tips
Sicily, Catania
Italy

Climbing Etna or taking the cable car is a once-in-a-lifetime experience. Etna is a volcano of superlatives and one of the most active stratovolcanos on earth. Mount Etna was declared a UNESCO World Heritage Site in 2013.

My brother René and I wrote this Etna guide. He took most of the pictures. If you want to obtain the usage right for some images, contact me, but we will take action against picture theft. Why do I write this here? Hundreds of my pictures are used worldwide without any credit, nor did they get my permission. I don't mind giving permission, but I want to get asked for it and to be mentioned.
The world wide web changed a lot, and rewriting honest travel content is the new business for many fake travel websites. Do you wish to know more about this topic and how to unmask such websites quickly? Read this article, "The Truth About Fake Travel Websites and Picture Theft."