When Is the Best Time
The best months are June and September, although it is a year-round destination. Peak season is July and August, therefore, higher-priced and overcrowded with up to 10.000 visitors daily.
Crowds - Seasons - Entrance Fee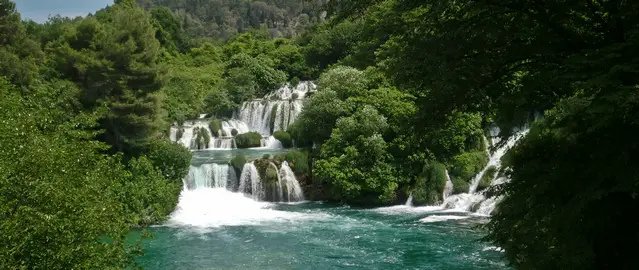 Low Season from November to March, but there isn't any boat service offered from Nov. to Feb. Therefore, you can't visit Visovac Island by boat. Swimming in the winter is not allowed, although some people do it. Enjoy the tranquillity of the park. The entrance tickets are pretty cheap. Adults 30 Kuna, Children 20 Kuna. (100 Kuna are 13,20 € in January 2021)
Shoulder Season from April until June plus September and October. These months are still busy, but the waterfalls are not overrun. It's the best time if you want to swim without crowds. Swimming is allowed until the end of September. The autumn foliage is a highlight in October. Tickets adults 110 Kn, Children 80 Kn
Peak Season in July and August. It's the busiest time of the year, up to 10.000 visitors each day. If possible, avoid these two months for your visit—tickets adults 200 Kn, Children 120 Kn. The price is reduced by 4 pm. The advantage is that it's less busy in the National Park and at Skradinski Buk, the most famous waterfall. However, plan an hour just for the boat ride. Too many people are queuing. Come here early or late, but the majestic natural wonder is too beautiful to spend here 2 hours only. 
Good to Know
You can purchase tickets on arrival or in advance online, which makes sense in the peak season. Link online tickets Krka
You may need to walk back as we did because the boat service will not run until the park closes. Have a look at the boat schedule from Skradin.
Weather
Krka National Park has a mix of continental and Mediterranean climate. Usually, the winter is mild, with an average of around 10°C (50°F) but can drop as well to single-digit temperatures. Summer temperature is on average around 22°C (72°F) but can climb up to 30°C (86°F) in July, which is typically the hottest month. Precipitation occurs year-round but is more likely in the winter months from November to February. August is the driest month.
Where to Stay
You can either stay in Sibenik, Lozovac or Skradin what we did. We highly recommend staying here minimum of one night. Krka is too majestic to rush although many people come here just for a few hours from Zadar or Split by bus. We'd chosen the Guesthouse Ankora in Skradin within walking distance to the boat transfer. Another option is Lozovac the other main entrance to Krka, although there are fewer restaurants and shops. The Apartments Slavica also have an excellent location for the National Park. 
Location and Tips
Skradin
Croatia

The highlight of the Krka National Park is doubtless the seven waterfalls along the river Krka. The most famous where you can take a bath at Skradinski Buk. It is the longest and most widely visible series of waterfalls and one of Croatia's best known natural beauties. It's mainly composed of travertine cascades. This material is very delicate and sensitive to natural changes as well as human activity. It's open for swimming in spring and summer only. There isn't any beach and much space to sit. You also have to watch your belongings while swimming.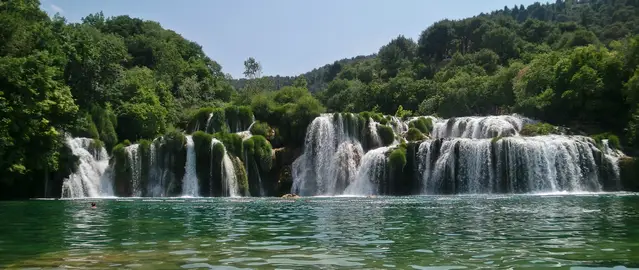 Bilusica Buk is the first waterfall 12km after the source. The river drops in two steps for 20m. Brian is the second waterfall 15 m high but only visible when the Krka has a high water level, mainly in spring. Followed by the greatest and most beautiful 60 m deep Manojlovac. Rosnjak, Miljacka slap, Roski slap are the remaining waterfalls. Schedule at least some hours for hiking through the National Park; for Skradinski Buk, minimum 1.5 hours.  

30 watermills can be discovered along the river. They were most important during medieval time and belonged to a system of pre-industrial water-based facilities along the Krka river. The most beautiful mill is located close to Skradinski Buk. It was rebuilt in the 18th century and renovated many times.  All mills are of exceptional cultural and historical significance.
If you ever saw the famous Winnetou movies, you will recognize that part of the shooting took place at the Krka waterfalls.
Top Tips for Krka
Besides good walking shoes, bring a swimsuit, sun lotion, a towel and shoes for the water. The rocks inside the water are sharp and slippery. 
Don't swim outside of the designated areas – otherwise, you'll get in trouble with the park rangers.
If you like to visit the monastery ( Visovac Island), bring appropriate clothing: women must have a scarf over the bare shoulders, men should wear knee-length trousers.